August, 8, 2012
8/08/12
5:53
PM ET
RENTON, Wash. -- "Welcome to the jungle" blared over loudspeakers while the crowd assembled at
Seattle Seahawks
headquarters awaited
Terrell Owens
' appearance on the practice field Wednesday.
That was about as wild as things got on Owens' first day with the team. A few things became clear before long:
Owens still runs pretty well. He got deep for a diving grab along the sideline.

Owens' hands held up. Though known for suffering too many drops over the years, he caught the ball well in this practice.

Owens will need time adjusting to contact. His new teammates have been hitting and jostling for a while. Owens hasn't faced NFL-caliber competition for a couple seasons. It showed when Seattle's physical corners roughed him up.

Owens wants to go under the radar at this point. He appeared to say little during practice. He was not at all demonstrative.
[+] Enlarge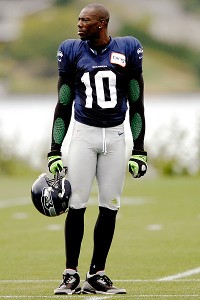 Joe Nicholson/US PRESSWIRETerrell Owens made his training camp debut with the Seahawks on Wednesday.
Dozens of reporters and fans with VIP passes crowded around the pathway leading from the locker room to the fields on a cool, cloudy day at team headquarters on Lake Washington. They craned in anticipation of a grand entrance, only to watch a procession of people other than Owens make their way onto the field.
Sidney Rice
and receivers coach Kippy Brown walked out, joining a sizable contingent already on the field. Fifteen other players, one scout and a team executive emerged before Owens, wearing No. 10 on a blue Seahawks jersey, finally appeared. Fans cheered. Owens, 38 and out of the NFL since 2010, was all business. He slapped hands with guard
Deuce Lutui
, but that was about it for pleasantries.
Doug Baldwin
appeared to initiate a conversation while the receivers lined up for stretching. Carl Smith, the Seahawks' quarterbacks coach, shared a laugh with Owens.
By this point, "Welcome to the Jungle" had given way to Phil Collins ("In the Air Tonight") and then AC/DC ("Back in Black"). Pete Carroll might be the NFL's anti-coach for allowing -- no, encouraging -- tunes to accompany practice.
So much has changed in the decade since Owens, then playing for division-rival San Francisco, celebrated a touchdown in the Seahawks' house by removing a Sharpie from his sock, signing the football and handing it to an associate seated in a suite owned by
Shawn Springs
, then a cornerback with Seattle.
Mike Holmgren, then the Seahawks' head coach, was so infuriated by the display that he excoriated Seattle players for failing to exact retribution.
The celebration seems quaint a decade later, particularly in relation to the hard miles Owens has accumulated in the interim. He's bounced from the 49ers to the
Philadelphia Eagles
,
Dallas Cowboys
,
Buffalo Bills
,
Cincinnati Bengals
and even to the Allen Wranglers of the Indoor Football League. He's gone broke and even allowed that he contemplated suicide during his darkest moments.
"The last two years have been life changing for me," Owens said. "I don't want to sit up here and try to emphasize how much I've changed. I think you'll kind of see that as these days go along."
It felt like a fresh start Wednesday. Owens sounded humble. He spoke quietly without sounding down or overly reflective. At times, it was hard to hear him.
"A lot of people probably don't expect me to use that word humble," he said, "but again, there's been a lot of moments within the last two years that have had me to face and say that word."
Facing the Seahawks' big, physical corners proved plenty challenging for Owens once practice got going. He did make a few impressive plays, none better than the diving grab he made on a deep ball up the right sideline. Owens tracked the ball and bobbled it while diving before securing it well enough to meet the approval of an officiating crew working practice. Another time, though, 6-foot-4 corner
Brandon Browner
locked onto Owens at the line and slammed the receiver to the ground. Owens did catch a pass against 6-3 corner
Richard Sherman
in one-on-one drills.
Browner, a Pro Bowl choice last season, showed plenty of swagger as he walked away from the play. He and the other defensive backs were primed to face a player with Hall of Fame credentials: six Pro Bowls, five Associated Press All-Pro selections, a spot on the 2000s All-Decade Team and career stats ranking among the top five in key categories.
Owens smiled when asked about such confrontations. He said he would need some time to shake off the rust after missing the 2011 season. He sounded confident and comfortable when discussing where he stood at this point in his career.
The other receivers seemed to step up their games.
Golden Tate
, already enjoying a strong camp, made multiple spectacular grabs, including a high deep pass inviting a big hit from Pro Bowl safety
Earl Thomas
. Tate held on to the ball.
Braylon Edwards
, the man likely most threatened by Owens' arrival based on their similar physical profiles, has had a couple strong practices.
Owens worked primarily with the second-team offense. He lined up opposite Edwards. Again, there was little fanfare. Owens went with the No. 10 jersey "because it was available" and because his preferred number, 81, belonged to Tate, who wasn't giving it up (as Tate explained, the jersey number had been through a lot, including the receiver's
infamous doughnut heist
).
"It's all about winning our division, getting to the playoffs and as everyone has seen the last 4-5 years, it's any team's game once you get to the playoffs," Owens said. "I'm looking forward to helping out in that challenge and the feat we have in front of us."
November, 28, 2008
11/28/08
8:24
AM ET
Posted by ESPN.com's Kevin Seifert
Let's close the book on the Detroit Lions' Thanksgiving Day abomination. It's better for everyone.
The Lions' 47-10 loss to Tennessee was their worst defeat in 69 years of playing on Thanksgiving. Drew Henson became the fifth quarterback to take a snap for them this season, and you know what they say about quarterbacks: If you have five, you have none.
Tom Kowalski of Mlive.com writes that this Lions team is the worst he's covered in 28 years on the beat. Ouch. And veteran place-kicker Jason Hanson, who tied an NFL record for most career field goals of 50 or more yards, said it was hard to argue with critics after Thursday's performance:
"Well, we only confirmed what everybody was thinking about us as far as outside of Detroit and in Detroit. I should say outside of the locker room. You can only say you're better than this so many times and then you can't say it anymore.''
Coach Rod Marinelli was asked afterward if he thought he would be fired immediately. But as Michael Rosenberg of the Detroit Free Press points out, nothing has changed about the alternatives:
Who replaces Marinelli? His defensive coordinator is his son-in-law, and replacing the head coach with his son-in-law would add a whole new layer of dark comedy. I mean, if the Lions do that, they'll have to sell the movie rights to the 2008 season to the Coen brothers. The offensive coordinator is Jim Colletto, who is overmatched already. You can't make him the head coach.
The other possibility would be Kippy Brown, the Lions' assistant head coach/passing game coordinator. But if the Lions hadn't fired Marinelli before, it's hard to imagine why they would be compelled to now.
Elsewhere around the NFC North as you prepare to hit the malls -- or run far, far away from them:
NFL SCOREBOARD
Sunday, 2/2
WEEKLY LEADERS