August, 27, 2014
Aug 27
8:00
AM ET
MINNEAPOLIS -- Lost in the discussion over the
Minnesota Vikings
' retooled offense -- with its slimmed-down tight end, recently installed starting quarterback and more aggressive passing game -- is the fact the unit has been operating to this point without its most important piece. While the Vikings have played three preseason games, moving the ball effectively with their starting offense, running back
Adrian Peterson
has watched from the sidelines, biding his time until the stakes are high enough to merit the physical toll contact will take on his 29-year-old body.
[+] Enlarge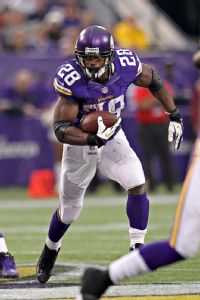 Brace Hemmelgarn/USA TODAY SportsThe Vikings want to get Adrian Peterson to the edge more often this season.
When the Vikings finally pull Peterson out of the garage Sept. 7 in St. Louis, they'll be inserting him in an offense that will ask the 2012 NFL MVP to handle some different tasks from the ones he's typically performed. The Vikings' desire to use Peterson in the passing game has been well-documented and will probably be the most profound change for him this season, but there also will be a subtle change in the ways they use him when he's carrying the ball.
Peterson has done most of his work between the tackles in recent years, often putting together some of his biggest plays on zone runs that gave the running back a chance to read the defense and cut back against the grain if he saw an opportunity. In 2012, Peterson gained 1,536 of his 2,097 yards inside the tackles, according to ESPN Stats & Information. Some of that production came on power runs, but cutback opportunities off zone blocking have always been a major part of Peterson's game. The Vikings' new offense will still have those plays, but it will have a heavier dose of power running looks, including some outside runs like they've shown in the preseason with guard
Charlie Johnson
pulling around the right side of the line. On those plays, Peterson will have to display enough patience to let his blockers get set up and follow them to a predetermined point of attack. The Vikings have had some of those runs in their playbook in the past; they'll have more of them this year.
"There's some lateral parts to the run game," running backs coach Kirby Wilson said. "It's a little bit different read for him -- his eyes are probably at a different spot and location than they have been in the past. Any time you're running lateral, there's a degree of patience that comes with it. I think that will help grow his game; he's already got a tremendous package of things he does really well. I think this will just add to it."
The Vikings want to get Peterson on the edge of the field more often, both to maximize his explosiveness and reduce the pounding on his body, and that will inherently put the running back in some new situations. He'll run out of shotgun sets and multiple-receiver formations more often. He'll have to be better in pass protection to stay on the field on third downs, and he'll have to be more reliable catching the ball. According to ESPN Stats & Information, Peterson has dropped 5.5 percent of the passes targeted for him over the last three seasons; that rate is still better than some prominent running backs with similar numbers of targets, such as
Marshawn Lynch
and
Darren McFadden
, but it is far higher than the 3.1 percent drop rate from two of the league's best dual-threat backs (Chicago's
Matt Forte
and Baltimore's
Ray Rice
).
It's all a significant change for a running back who, for his extraordinary talent, has been more of a specialist than a generalist during his first seven seasons. But Peterson has embraced the offense, saying the scheme is what he's been waiting for his whole career, and added Tuesday that Turner has been "trying to pretty much get me into any type of situation he can in this offense to put the ball in the running back's hands."
Said Wilson: "He's had good days, but there are some days where he's been spectacular in those areas. I'm excited to see what the new and improved Adrian Peterson is going to look like when the opener starts. I think this whole team is excited about what he could bring as a dual-threat player."
May, 16, 2014
May 16
7:40
PM ET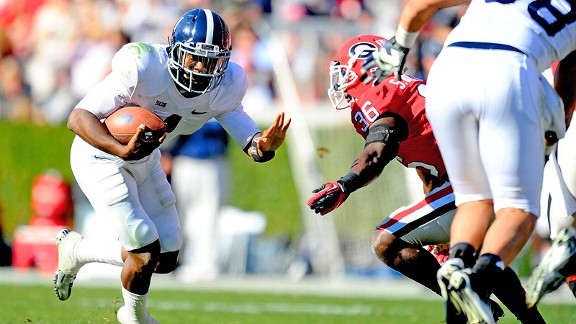 Dale Zanine/USA TODAY SportsAs a 5-9 option quarterback at Georgia Southern, Vikings draft pick Jerick McKinnon -- who will be used as a running back -- didn't exactly pick up pass protection.
EDEN PRAIRIE, Minn. -- The more film Kirby Wilson watched of the 5-foot-9 option quarterback from the fifth-largest school in Georgia, the more convinced he was that
Jerick McKinnon
could be a NFL running back, after all.
Yes, McKinnon was inexperienced, and yes, he would be coming to the NFL from a scheme that resemebles nothing like what professional teams run, but there was enough on tape of McKinnon to reward those willing to extrapolate.
There he was slicing through the middle of Georgia's defense in 2012. There he was banging into defenders as a blocker, lining up as a slot receiver and taking pitches in a win over Florida in 2013. Each clip led Wilson a little closer to the conclusion that putting McKinnon at running back might be a risk worth taking.
"At the end of the day, after reviewing every game and every snap, you came away convinced that if he fits character-wise and things check out, and he's capable of learning, he's got a chance," said Wilson, the
Minnesota Vikings
' running backs coach. "All those things just started adding up."
The sum total was enough to convince the Vikings to use the 96th pick in the draft on McKinnon, whom they hope can spell
Adrian Peterson
and add a dynamic element to the Vikings' offense that some of coordinator Norv Turner's best attacks have had: the diminutive, do-it-all running back who can hurt a defense in a number of different ways.
"The change-of-pace backs like LT [
LaDainian Tomlinson
] and [Darren] Sproles? Similar, very similar," coach Mike Zimmer said. "You'd have to ask Norv this, but from our conversations, he's been thinking a lot about ways we can use him."
If the Vikings intend to turn McKinnon into their version of Sproles -- who first blossomed as a return man and receiver for Turner in San Diego -- or
Brian Mitchell
(who became one of the league's great all-purpose threats while Turner was the
Washington Redskins
' head coach), they'll have to teach him plenty of new things. The first item on that list, Wilson said, would be pass protection; McKinnon got some work picking up blitzes at the Senior Bowl, but as a quarterback for a team that barely threw the ball in college, he wasn't in an ideal situation to learn it at Georgia Southern.
Still, Wilson saw McKinnon get better at blocking blitzers during his week at the Senior Bowl, and he recalled how willing he was to take on contact.
"You saw him improve every day, which was amazing," Wilson said. "You don't see that kind of progress unless you've got a guy who is detail-oriented, and has the physical tools to improve. If the heart is there, the rest can be added on. He showed an extremely high willingness to stick his face in there and block somebody."
Asked for the names of the running backs he'd like to emulate, McKinnon mentioned
LeSean McCoy
and
Jamaal Charles
, before name-checking Tomlinson and Sproles, almost like a young guitarist mentioning Hendrix and Stevie Ray Vaughan for credibility. The Vikings drafted him, though, because they believe he can be the newest utility knife in Turner's offense, and if their projection is right, it's possible McKinnon can follow Mitchell's and Sproles' lineage.
"I got a chance to practice it at the Senior Bowl, so I'm kind of a little bit comfortable with it," McKinnon said of playing a traditional running back role. "Only thing that's a little bit different is the pass protection. I really hadn't had any technique on it or coached on it. So I'm really just looking to get with Coach Wilson and learn from the older guys the techniques and practicing on it."
January, 25, 2014
Jan 25
6:15
PM ET
PITTSBURGH -- Mike Tomlin has another coaching spot to fill, and this time he has to replace one of his most trusted lieutenants.
Running backs Kirby Wilson is leaving Pittsburgh for the same position with the
Minnesota Vikings
, a source confirmed to ESPN.
The Pittsburgh Post-Gazette first reported Wilson's departure, which is not yet official, hours after reporting that Wilson was no longer a candidate to become the Ravens' offensive coordinator.
Wilson twice interviewed for the opening in Baltimore -- he was one of three finalists for the job -- and his departure leaves just five assistants on the staff who have been with Tomlin since he became the Steelers' head coach in 2007.
The Steelers permitted Wilson to pursue other jobs even though he had one year left on his contract and was significantly involved in crafting game plans.
The one question that will trail Wilson out of Pittsburgh is what might have been for the well-traveled assistant.
Wilson would have been one of the top candidates to take over at offensive coordinator in 2012 after the Steelers did not renew Bruce Arians' contract. But Wilson was badly burned in house fire about a month earlier, and he couldn't start working again -- even on a limited basis -- for more three months after the blaze that nearly cost him his life.
The Steelers hired Todd Haley to replace Arians, and when it became apparent that Haley would return in 2014 Wilson started looking around for other opportunities with Tomlin's blessing.
The loss of Wilson comes three days after the Steelers hired Mike Munchak as their next offensive line coach. Running backs coach is the only position Tomlin is expected to have to fill with both coordinators returning as well as linebackers coach Keith Butler.
Butler had been a candidate to join Ken Whisenhunt's staff in Tennessee as the defensive coordinator but he never interviewed for the position.
Wilson joins his sixth NFL organization after coaching running backs such as
Willie Parker
,
Rashard Mendenhall
and Bell with the Steelers.
Bell, under Wilson's tutelage, rushed for 860 yards in 2013 despite missing the first three games of the season. The second-round draft pick also broke Franco Harris' Steelers' record for yards from scrimmage by a rookie with 1,259 yards and established himself as a focal point of the offense in the coming seasons.
Wilson will join first-year coach Mike Zimmer in Minnesota, and he will work with the best running back in the NFL in
Adrian Peterson
.
Peterson rushed for 1,266 yards and 10 touchdowns in 2013 despite weathering foot and groin injuries, the latter of which sidelined him for two of the Vikings' last three games.
Peterson had groin surgery last week but the Vikings said he should be fully healthy after a six-week recovery period.
January, 21, 2014
Jan 21
2:15
PM ET
Baltimore Ravens
coach John Harbaugh named his four candidates for offensive coordinator on Tuesday: former
Washington Redskins
offensive coordinator Kyle Shanahan, former
Detroit Lions
offensive coordinator Scott Linehan, Ravens wide receiver coach Jim Hostler, and
Pittsburgh Steelers
running backs coach Kirby Wilson.
Three of the candidates (Shanahan, Linehan and Hostler) have previous coordinator experience, and Wilson was reportedly given additional responsibilities after the season when Todd Haley was retained as the Steelers' offensive coordinator.

As far as surprises, I'm wondering why Gary Kubiak isn't on this list. He has just as good -- if not better -- credentials than these finalists. His offenses with the
Houston Texans
(as the head coach) and
Denver Broncos
(as the offensive coordinator) were regularly in the top 10.
Here is my initial reaction to the Ravens' candidates:
If the Ravens want the most experienced coordinator who has the most proven track record, that's Linehan.
If the Ravens want a young play-caller with familiarity in the zone-blocking scheme, that's Shanahan.
If the Ravens want someone who maintains continuity with the staff and players, that's Hostler.
If the Ravens want to put the emphasis in reviving a historically bad running game, that's Wilson.
And here's a breakdown of the four candidates:
SCOTT LINEHAN
Age:
50
Coordinator experience:
Minnesota Vikings
(2002-04),
Miami Dolphins
(2005) and Detroit Lions (2009-13).
What to like:
The Lions ranked in the top six in offense the past three seasons. Linehan has nine years of experience as a coordinator.
What not to like:
Quarterback
Matthew Stafford
plateaued under Linehan. The Lions failed to score more than 20 points in the season-ending four-game losing streak.
KYLE SHANAHAN
Age:
34
Coordinator experience:
Houston Texans (2008-09), and Washington Redskins (2010-13).
What to like:
Under Shanahan, quarterback
Robert Griffin III
was the NFL Offensive Rookie of the Year in 2012. He also had the NFL's top passing attack in Houston in 2009, when
Matt Schaub
was his quarterback. Plus, last year was the fourth time in his six seasons as an offensive coordinator that his offenses ended up in the top 10 in total yards.
What not to like:
It's tough to forget he was involved in one of the ugliest seasons in NFL history with that implosion in Washington. The Redskins went from fourth in points per game a year ago to No. 23 this season.
JIM HOSTLER
Age:
47
Coordinator experience:
San Francisco 49ers
(2007).
What to like:
It would be a seamless transition with Hostler, who has been the Ravens' wide receivers coach since 2008. He's played a big part in the development of
Torrey Smith
and
Marlon Brown
.
What not to like:
It's that one year where he was the coordinator of the 49ers. Under Hostler in 2007, the San Francisco 49ers ranked last in total yards and points (13.7).
KIRBY WILSON
Age:
52.
Coordinator experience:
None.
What to like:
Hiring Wilson would be a statement that the Ravens are committed to running the ball again. In his seven seasons as the Steelers' running backs coach, Wilson has gotten the most out of the running backs who played under him, from undrafted runners (
Willie Parker
and
Isaac Redman
), to an overrated first-round pick (
Rashard Mendenhall
). He was supposed to be in line for the Steelers' offensive coordinator position when the team was replacing Bruce Arians, but he was severely burned in a house fire at the time.
What not to like:
Wilson is the only candidate who has never been an offensive coordinator at any level. The Steelers haven't been a great running team lately, ranking No. 26 in 2012, and No. 27 in 2013.
January, 21, 2014
Jan 21
2:05
PM ET
PITTSBURGH -- A surprising name has surfaced in connection with the opening the
Baltimore Ravens
have at offensive coordinator.
Coach John Harbaugh announced on Tuesday that
Pittsburgh Steelers
running backs coach Kirby Wilson is among four finalists for the job that became open when the
Detroit Lions
hired Jim Caldwell as their head coach.

Wilson is eminently qualified for the job, and he probably would have been promoted to offensive coordinator in Pittsburgh had he not been badly burned in a house fire in January, 2012.
The surprise is that the Steelers have granted Wilson permission to interview with their chief rival. Wilson is to meet with Harbaugh this week, presumably in Mobile, Ala., where NFL coaches are scouting Senior Bowl practices and interviewing draft prospects.
The Steelers could have blocked Wilson from interviewing with the Ravens since it is not for a head-coaching job. The guess here is that Mike Tomlin does not want to deny Wilson, who has been with him since 2007 in Pittsburgh, an opportunity given how loyal Wilson has been and what he persevered through to return to coaching.
Wilson would be attractive to the Ravens because of Baltimore's need to fix a running game that faltered badly in 2013. The Ravens averaged just 83.0 rushing yards per game, ranking 30th in the NFL in that cateogry. They averaged just 3.1 yards per cary, last in the NFL.
Wilson is the second Steelers assistant coach who has been linked to a coordinator job elsewhere.
Linebackers coach Keith Butler was considered one of the favorites to become new coach Ken Whisenhunt's defensive coordinator in Tennessee. But Butler, who is considered the heir apparent to Dick LeBeau in Pittsburgh, never interviewed for the job.
In addition to Wilson, the other finalists for the job in Baltimore are former Rams head coach and Lions offensive coordinator Scott Linehan, former Redskins offensive coordinator Kyle Shanahan, and Ravens wide receivers coach Jim Hostler.
There has been only one change to Tomlin's coaching staff so far, as he fired offensive line coach Jack Bicknell Jr., this month.
Former Titans coach Mike Munchak interviewed for the job of offensive line coach last week in Pittsburgh.
November, 8, 2012
11/08/12
12:59
AM ET
Steelers running backs coach Kirby Wilson knows who will be Pittsburgh's starting back and it's not one of the players who has gained more than 100 yards over the past three weeks.
Rashard Mendenhall
will remain the Steelers' starting running back when he's recovered from an Achilles injury. According to
The Pittsburgh Tribune-Review
, he is likely another week away from playing.
Mendenhall
"Rashard has always been our lead dog and our top runner," Wilson told the paper.
The Steelers have put together a productive ground game without Mendenhall.
Jonathan Dwyer
had consecutive 100-yard rushing games before missing Sunday with a quad injury.
Isaac Redman
rushed for a career-high 147 yards last Sunday.
Head coach Mike Tomlin said earlier this week that the running back who is having the most success during the game will get the ball the most. The first opportunity, according to Wilson, will go to Mendenhall, who had 101 total yards on Oct. 7 against Philadelphia (his only full game this season).
"Rashard is the complete package -- power, speed, explosiveness," Wilson said. "He is the guy who can take a 10-yard run and make people miss and get 20 more. We think Jonathan has things that he is great at. Isaac has some things that he is great at. But Rashard is the complete package. Rashard has proved that he can do it over the long haul."
I would've stuck with Dwyer based on his recent success and his running style. Dwyer became the first Steelers running back in four seasons to gain 100 yards in back-to-back games. He's earned the right to get the first shot at starting when everyone is healthy.
Another reason to go with Dwyer is he's a combination of Mendenhall and Redman. Dwyer can break long runs to the outside like Mendenhall and gain the tough yards in between the tackles like Redman. Mendenhall has a tendency to be impatient and wants to bounce runs to the outside too quickly.
There's a chance that the Steelers could go with a running back by committee. But offensive tackle
Max Starks
said this week that the offensive line favors one featured back because the blockers can get into a rhythm.
The Steelers may not have to make a decision about Mendenhall, who is considered questionable for Monday night's game against the Chiefs. Dwyer has a good shot at playing after being inactive last Sunday.
September, 13, 2012
9/13/12
8:05
PM ET
No one knows whether
Isaac Redman
,
Jonathan Dwyer
or
Rashard Mendenhall
will be the Steelers' featured running back Sunday against the
New York Jets
. The one certainty is that all take their direction from running-backs coach Kirby Wilson, who will be on the sideline for his first regular-season game at Heinz Field since being injured in a house fire in January.
[+] Enlarge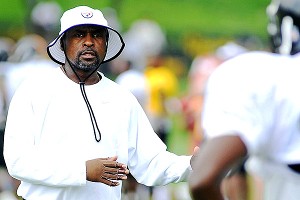 Zuma Press/Icon SMIKirby Wilson, seen here during training camp, suffered severe burns during a January house fire.
Wilson was burned on 45 percent of his body and spent two months in the hospital recovering from his injuries. When training camp began, Wilson was back yelling instructions to his players and even ran with them from drill to drill.
He has been overseeing one of the most banged-up groups on the team. Mendenhall, the team's leading rusher, returned to full practice after having surgery on his anterior cruciate ligament. Redman has had to deal with a hip injury, but he's no longer on the injury report. And Dwyer came back to practice Thursday after missing Wednesday with a foot injury.
While the road to recovery for these backs no way compares to what their coach had to endure, Wilson serves as the perfect role model for perseverance.
September, 13, 2012
9/13/12
3:39
PM ET
By
ESPN.com staff
| ESPN.com
Sunday NFL Countdown airs from 10 a.m. to 1 p.m. ET on ESPN. Here are some of the features you can see this week:
Giants' finish line:
Before the Giants' Super Bowl XLVI victory, as part of an inspirational speech, coach Tom Coughlin showed his underdog team a video that helped motivate his players. Coughlin's message all season was to finish, and that's what the Giants did against New England. A look at how Coughlin's speech and team video motivated New York to cap its season hoisting the Lombardi Trophy.
RG3 quotables:
Coming off a spectacular debut in New Orleans,
Robert Griffin III
gets set for his second career NFL regular-season game. Even though he's the first quarterback born in the 1990s to start a game, Griffin has become a leader in Washington -- posting quotes in the locker room. Hear Redskins veterans talk about Griffin, and the impact his quotes have had on the team in such a short time.
Kirby Wilson:
Just two days before Pittsburgh was set to face Denver in the 2011 playoffs, Steelers running backs coach Kirby Wilson's house caught fire. Wilson survived, but suffered second- and third-degree burns on more than half his body. It has been a long road to recovery, but after months of rehabilitation, Wilson is back on the sidelines, an inspiration to his family, his team and the community.
Hangin' with Jaws:
Ron Jaworski welcomes two high-profile quarterbacks into his film room as he dissects game film with
Joe Flacco
and
Michael Vick
, who square off Sunday afternoon.
Selling DeMarco Murray:
What made the Cowboys decide to draft Murray in the third round of the 2011 draft? A call from former Cowboys and Oklahoma coach Barry Switzer to sell Jerry Jones on the explosive running back.
April, 5, 2012
4/05/12
9:50
AM ET
The Steelers received a surprising visit Wednesday, and it wasn't from a free agent or a draft prospect. This one was more special than that.

Running backs coach Kirby Wilson made his first appearance at the team's facility since he was severely burned in a fire only days before Pittsburgh's wild-card game against the
Denver Broncos
, according to a report in the
Pittsburgh-Post Gazette
.
Football is a sport that often tests people's ability to recover, whether it's from a broken bone or torn ligament. Few in this league have had to fight like Wilson.
He sustained burns on 45 percent of his body and also suffered from smoke inhalation after his house caught fire while he was sleeping on Jan. 6. The remarkable part is that he showed up at the Steelers' facility only three months after being put in a medically induced coma.
"He is attacking the rehabilitation," Steelers coach Mike Tomlin said at last week's NFL owners meetings. "He is an extremely tough guy. ... We are excited about getting him back at some point."
Wilson, 50, is officially planning to come to work by the end of April, a source told ESPN's
Josina Anderson
on Wednesday.
He was reportedly in line to succeed Bruce Arians as offensive coordinator before the accident, but he will still play an integral role on this year's team. The Steelers are looking to replace their leading rusher for three seasons (
Rashard Mendenhall
had ACL surgery in January) and could use a draft pick as high as the second round on a running back like Virginia Tech's
David Wilson
or Boise State's
Doug Martin
.
According to the Post-Gazette, the Steelers greeted Wilson with cake in a team meeting room. Here's hoping he was greeted with a strong round of applause as well.
January, 7, 2012
1/07/12
10:00
AM ET
The injuries suffered by Steelers running back coach Kirby Wilson in a house fire early Friday aren't life-threatening, a source told
The Pittsburgh Post-Gazette
.
The paper reported Wilson has burns on 30 to 50 percent of his body. His official condition isn't known, and the fifth-year running backs coach didn't travel with the team to Denver for Sunday's wild-card playoff game.
"We're keeping him in our prayers and hope things aren't worse off for him," linebacker
James Farrior
told
The Pittsburgh Tribune-Review
. "It definitely put things in perspective. Football is not everything. Life is fragile -- that's a proper perspective."
Many of the Steelers players were stunned by the news.
"It's just crazy," wide receiver
Hines Ward
said. "Just yesterday we were laughing, and next thing you know, he's in the hospital. That's the thing, we just got to wait and see and get an update. We can't let that be a distraction. We've still got to go out there and play."
Isaac Redman
, who replaces injured
Rashard Mendenhall
as the team's featured back, said coach Mike Tomlin discouraged players from visiting the hospital.
"He's such a hard-working coach," Redman told the Post-Gazette of Wilson. "He was always the first guy in the building. He was always here. He takes pride in the running backs."
Members of the Broncos, who play the Steelers, passed along prayers for Wilson.
"We're all hoping for the best," Denver quarterback
Tim Tebow
told the Tribune-Review.
February, 14, 2011
2/14/11
11:03
AM ET
Anyone catch the "Sound FX" segment featuring Super Bowl XLV, currently airing on the NFL Network? Using microphones embedded around the field at Cowboys Stadium, the piece provided -- among other things -- some interesting insight into one of our pregame XLV posts.
As you might recall, we
discussed the possible mismatch
when the
Pittsburgh Steelers
ran behind right tackle
Flozell Adams
. From that post:
According to ESPN Stats & Information, the Steelers averaged 5.9 yards per carry during the regular season when they ran behind right tackle Flozell Adams, the second-highest total in the NFL. And for reasons that will be hard to pinpoint, the Packers' otherwise strong run defense allowed 5.2 yards per carry in that same direction during the season. That number placed them No. 26 overall among NFL teams in that category.
It wasn't entirely clear why the Packers' defense was weak in that direction, but "Sound FX" made clear the Steelers' assessment. At one point, running backs coach Kirby Wilson points to linebacker
Clay Matthews
' position on a grease board. Wilson tells backup running back
Isaac Redman
that the Steelers would target Matthews for the entire game.
[+] Enlarge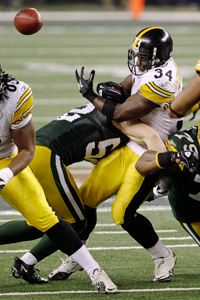 AP Photo/Kathy WillensRashard Mendenhall fumbled on his last carry of Super Bowl XLV.
"He doesn't want to take on the run," Wilson said. "He's a pass-rush specialist. He wants to pass rush Mike Vick. He wants to pass rush
Matthew Stafford
. ... We're going to keep pounding and make this guy quit."
We then see Matthews manning the right side of the Steelers offense, recognizing a formation that suggests the Steelers were planning to run in his direction.
"Watch the power! Watch the power!" Matthews says.
At the snap, Steelers guard
Chris Kemoeatu
pulls toward Matthews and flattens him. Running back
Rashard Mendenhall
scoots by on his way to a 19-yard run.
Next, Matthews is on the bench shaking his head about the play, noting that he recognized what was coming but lamenting that Kemoeatu is " just a big boy."
Kemoeatu is listed at 344 pounds, or 89 pounds more than Matthews.
Mendenhall finished the game with 14 carries. He gained 66 yards on runs that went to the right of center, based on a review of the official play-by-play. Mendenhall ran twice to the left, netting zero yards, and lost three yards on his only run up the middle.
It's not uncommon for power offenses to run toward elite pass-rushers, hoping either to guide them around the hole or capitalize on weight mismatches. Ultimately, the Packers minimized this mismatch in two ways.
First, their early 14-0 lead limited the Steelers' opportunities to run. Second, Matthews forced Mendenhall to fumble on the first play of the fourth quarter to end a Steelers' drive at the Packers' 33-yard line. Turnovers are the great equalizer, and this one recaptured momentum for the Packers. Instead of potentially giving up a 21-17 lead, their offense capitalized with an 8-yard touchdown pass to receiver
Greg Jennings
to give the Packers an 11-point lead.
The play was Mendenhall's last carry of the game.
NFL SCOREBOARD
Thursday, 10/23
Sunday, 10/26
Monday, 10/27