NFL Nation:

Knowshown Moreno
August, 24, 2013
8/24/13
11:18
PM ET
DENVER -- While
Peyton Manning
's night was done at halftime, the
Denver Broncos
took most of their starters into the third quarter of Saturday night's preseason meeting with the
St. Louis Rams
and came away with the same questions they carried into the contest -- turnovers on offense and special-teams play that is changing games in the wrong direction. The Broncos did, however, come away with a
27-26 victory
.

Some things to consider:
The Broncos kick-started the offense by going big. They opened the night in a three-wide-receiver set, their preferred look, but after Rams rookie linebacker Alec Ogletree broke free in the middle of the formation on a third-and-4 on Denver's first possession, the Broncos beefed things up a bit. They lined up in a two-tight-end look on 29 of the next 35 plays, including all 12 in a drive that ended with a blocked field goal. It is a versatile formation for the Broncos, one that forces defenses to decide whether to put a linebacker or safety on Jacob Tamme. In all, the Broncos put up 174 of their 290 yards in the first half out of the two-tight-end look. But for a team that signed Wes Welker in the offseason, it shows there is some work to be done. Welker was not in uniform Saturday because of an ankle injury and Andre Caldwell played as the third receiver with the starters.
Special teams have gone from a hey-there-is-time dilemma to a full-blown, what's-the-deal affair. The Broncos surrendered a 107-yard kickoff return for a score to go with a 33-yard punt return against the Seahawks a week ago. Saturday night, Tavon Austin took the Broncos' first punt 81 yards and added a 23-yarder in the second quarter; the Rams also blocked a field goal. Jeff Rodgers' units were consistently a strength in the 13-3 campaign of 2012, and more of the same was expected this season. Yet the Broncos are giving up lanes in the return game when they don't show the discipline they had last season and they aren't getting off enough blocks.
[+] Enlarge

AP Photo/Jack DempseyRonnie Hillman saw this second-quarter carry end with Alec Ogletree ripping the ball away and returning it for a touchdown.

For the second consecutive game, Broncos running back Ronnie Hillman saw one of his fumbles returned for a touchdown. Last week, it was Seattle's Brandon Browner who went 106 yards when Hillman fumbled into the end zone in Seattle. Against the Rams, Hillman committed a cardinal sin for a running back -- turning his back to the defender when his forward progress had been stopped. Ogletree ripped the ball out as Hillman was falling, back to the ground and ball exposed; Ogletree scooped up the loose ball and returned it 13 yards for the score. The Broncos have lost four fumbles in three preseason games, including Hillman's two. Hillman went back into the game to start Denver's next possession, so it hasn't affected his playing time … yet.
Knowshon Moreno, whose roster spot looked shaky early on in camp, has carved out some playing time in passing situations because of his reliability in protection. He got some snaps with the starters in the first half and more on the Broncos' first possession of the second half when all of the offensive starters, except for Manning, were in the game.
The Broncos figured out a way to get Von Miller into the game and still work in the linebackers who will have to replace him during his six-game suspension to open the regular season. Broncos coach John Fox said this past week he would play Miller in the final two preseason games, including the finale Thursday against Arizona -- a game most, or all, of the Broncos regulars are expected to sit out. With Robert Ayers (ankle/Achilles) and Derek Wolfe (neck) out of the lineup, the Broncos played Miller at defensive end, with Shaun Phillips in the base defense. That put Nate Irving in Miller's usual strongside spot in the base look, with Wesley Woodyard in the middle and Danny Trevathan on the weak side. Miller also stayed at end in the nickel and dime looks, which is where he normally plays in those packages.
Denver offensive coordinator Adam Gase has promised to push the pace at times, especially in the elevation of the team's home stadium, to see if defenses can keep up. The mistake-filled first half against the Seahawks camouflaged the fact that the Broncos ran 40 plays on offense for 209 yards. Saturday night, they made that look positively tortoise-like. Against the Rams, the Broncos ran an astounding 30 plays in the opening quarter and 49 for 290 yards in the first half. Hillman's fumble and an interception from Manning in the two-minute drill tempered the output, however. But it shows opposing defenses that they will have to be ready for that kind of pace.
Manning showed he has regular-season awareness when he caught the Rams with 12 men on the field with a quick snap, which drew a penalty flag.
Wide receiver Eric Decker had one catch for 10 yards in the first two preseason games combined. He was targeted eight times in the first half and finished with six catches for 66 yards. With Welker out, Decker worked out of the slot plenty.
Cornerback Dominique Rodgers-Cromartie, who left Thursday's practice after taking a knee to his lower back, started the game and played with the first-team defense through the first half.
And in the what-a-difference-starters-can-make department: With the majority of the first-team offense still in the game, Brock Osweiler opened the second half under center for the Broncos. On the second possession, the second-year player led the Broncos on an 11-play, 79-yard touchdown drive. With time to look things over, he showed a power arm, going 5-for-6 for 58 yards on the march. Playing behind backup linemen, Osweiler had been sacked seven times in the first two preseason games. Saturday, he was sacked on his first drop-back after the starting offensive line left the game, and he tossed an interception in the fourth quarter.
Left tackle Ryan Clady made his first preseason start and played into the second quarter. Clady, who had offseason shoulder surgery, had practiced more with the starting offense this past week. Chris Clark, Clady's replacement, was flagged for holding on his first play after entering the game for Clady. But Clady's return should settle things down up front, and the Broncos will be able to push the help in pass protection to the middle of the field.
August, 6, 2013
8/06/13
12:00
PM ET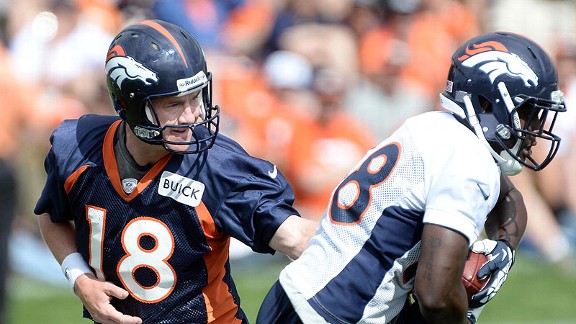 Ron Chenoy/USA TODAY SportsFor Denver rookie Montee Ball, protecting Peyton Manning is a higher priority than taking handoffs from him.
Since
Terrell Davis
powered his way to the 1998 NFL MVP award to go with 2,008 rushing yards in the Broncos' second of back-to-back Super Bowl seasons, since he was the unquestioned stopping point for a handoff in the offense, Denver has, by both necessity and choice, led the mix-and-match movement in the league's backfields.
Since the start of 1999, nine different running backs have led the Broncos in carries for at least one season. Over that 14-year span Denver has not had a running back lead the team in carries in three consecutive seasons.
And a team that once churned out 1,000-yard rushers like Apple products coming off the assembly line has now had just one back --
Willis McGahee
in the read-option season of 2011 -- in the past six years finish with 1,000 yards.
What gives?
"It's probably a combination of things," said Broncos coach John Fox. "There are injuries, changes in the offense, changes in your personnel and just the nature of the job. That's a high-impact job in a bigger, faster, stronger league. I'm not sure anybody really sits there these days -- unless you have one of the top, top guys -- and thinks one guy is going to get you through."
And fantasy football owners be damned, the Broncos stand poised to break out the committee to run the ball once again in 2013. But how those carries will be divvied up might surprise some who watch a group that includes
Ronnie Hillman
,
Montee Ball
,
Knowshon Moreno
and
Jacob Hester
.
Because while running the ball is great -- it's in the position's name after all -- for the Broncos' backs to get the ball, they're going to have to be good when they don't have it.
"I've said, whenever a young guys asks me, everybody who gets to the league can run, everybody can catch, but here, the way the game is played right now, you have to block," said Davis, a Broncos Ring of Fame member. "So, learn how to block, do the work and block. That's what I tell them, even if they haven't done it before because they were the main option, because that's what will get you on the field in this league and here, with this team."
Or as Broncos running backs coach Eric Studesville said, "Bottom line: The better you do in pass protection, the more run opportunities you're going to have. That's it. You aren't going to get the ball if we don't take care of the quarterback. They all know that, they are all aware of that. They don't get to run until we see the rest of it."
The Broncos certainly fit the league's profile for a passing team in a pass-first league. They have
Peyton Manning
at quarterback, they signed
Wes Welker
in free agency and their favorite formation on offense as the games grew in importance in 2012 was a three-wide receiver look.
They know defenses want to rush Manning in the middle of the formation, a formation they have to open up when they go to three wide receivers. That often puts the running back in the role of last man standing in pass protection, the guy who has to pick the most dangerous rusher who has broken free from the guys up front.
Make the right choice and there's a big play waiting in the offense. Make the wrong one and the quarterback will take a hit that almost always joins the list of biggest hits of the year and always carries the potential to crater a season.
[+] Enlarge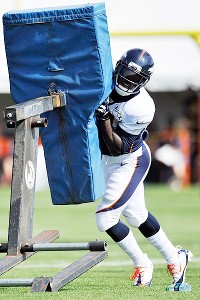 AP Photo/Jack DempseyRonnie Hillman is Denver's most explosive runner, but his ability to block will determine how much he'll get on the field.
So, open-field speed is great, vision in traffic a must, but the Broncos' runners know their to-do list has another rather large item on it that has nothing to do with any runs to glory. It's also why the committee appears to have formed again.
"We all know we have to keep Peyton from getting hit," Hillman said. "If you can't make the right choices in there blocking, you're probably not going to get the ball."
To that end, Hillman has put on about 15 pounds from last season and hovers closer to the 195-pound range, far better than the 178 pounds or so he came in at when the Broncos faced the Ravens in the playoffs in January. Hillman, entering his second season, is the most explosive runner the Broncos have, the big-play threat in an offense that wants more big-play runs this time around.
Ball, a rookie, spent plenty of extra time with Manning during offseason workouts in post-practice discussions about the nuances of protection schemes and the fine line between knowing when to stay in and block and when to leave the backfield to be the hot-read option.
Moreno, because of his knee troubles of recent seasons, and Hester have not shown the run skills in workouts the two youngsters have, but they are more proficient in those long-yardage responsibilities. Hester has appeared at both running back and fullback in practices, while Moreno, now up to 220 pounds, has also shown a proficiency in pass protection.
There is also the matter of audibles. Perhaps the biggest of Manning's many gifts at quarterback is his ability to change the play just before the snap to get his guys in the look that is the biggest problem for a defense.
Rams head coach Jeff Fisher, who faced Manning twice annually in Fisher's long tenure with the Titans, said, "He knows your intentions and he knows what to do, all before he snaps the ball. ... So even when you're right, there's a good chance you're wrong."
But for Manning's audibles to work, everybody else on offense has to be ready to make the changes as well. It's another hurdle for Hillman and Ball in their effort to be at the top of the rotation (when the Broncos released their first "official" depth chart of the preseason Sunday, Hillman was the No. 1 back).
"So, I always keep in my mind that they're two young guys, but we have to age them, in terms of their knowledge of the offense, rapidly," Studesville said. "The reality of our offense is we do what the quarterback can do, so they have to catch up, they've got to get it. We're not going to put people out there who slow the quarterback down. If they don't understand that and don't get it, they won't play."
It's all important because the Broncos know people defend them with Manning as a passer at the top of the list. So, against a vast array of nickel, dime and other specialty defenses designed to stop problems in the air, the Broncos have to find a way to wind the clock, convert first downs, pound it in the end zone from in close and create explosive runs.
And while one back used to be enough for the job, Denver is more than comfortable using several once again in 2013.
"When we get those friendly boxes because of the way people defend Peyton, we have to feel comfortable with whoever we put back there to run it," Studesville said. "And when we get to the season, I think we will. We like this group."
And that's group, as in more than one.
April, 23, 2009
4/23/09
2:44
PM ET
Posted by ESPN.com's Matt Mosley
| | |
| --- | --- |
| | |
| | Mark Cunningham/Getty Images |
| | The Eagles might be better off waiting until the middle rounds to pick a running back. Shonn Greene is one possibility. |
As we prepare to finalize the Beast draft board, which oddly enough looks almost exactly like Todd McShay's, something keeps bothering me. Yes, I know that Eagles fans and their local reporters have all but assured us the club will take a running back in the first round, but I'm still not buying it.
Maybe it has something to do with the Eagles not taking a running back in the first round since Keith Byars in 1986. Or perhaps it's the fact they recently gave All-Pro running back Brian Westbrook, a third-round pick in 2002, a long-term extension. I know he turns 30 this September, but it seems a bit premature to start planning his retirement party.
Even the Philadelphia Daily News' esteemed NFL columnist, Paul Domowitch, has issued a running back guarantee in the first round, although the Eagles had two picks at the time. The thought is the Eagles will select either Georgia running back Knowshon Moreno or Ohio State's Chris "Beanie" Wells with that No. 21 overall pick. My response to that is, "Why?"
If you don't think talented running backs grow on trees, you haven't looked around the NFC East lately. Over the last couple seasons, the Giants have had one of the best stable of running backs in the league. Starter Brandon Jacobs was taken in the fourth round out of Southern Illinois. His backup the past two seasons, Derrick Ward, was taken by the Jets in the seventh round in 2004, and he signed a four-year, $17 million contract with Tampa Bay thos offseason. And the man dubbed "Fire" in the Giants' version of "Earth, Wind and Fire," Ahmad Bradshaw, was the 250th pick in the 2007 draft.
The Cowboys are led by feature back Marion Barber (fourth-rounder), and former Georgia Tech star Tashard Choice (fourth round) appears to be an excellent complementary piece to Barber and first-rounder Felix Jones. When you throw in Westbrook, the top three running backs in the division were taken in the third round or later.
| | |
| --- | --- |
| | |
| | NFL.com Video |
| | An inside look at tight end Brandon Pettigrew from Oklahoma State. |
And if we're being too provincial, let's take a look at a team like the San Diego Chargers that has hit on backs like Michael Turner (fifth round) and Darren Sproles (fourth round). I could bring up the ultimate second-day guy in Terrell Davis, but this is starting to feel like overkill. (Priest Holmes anyone?)
So, explain to me again why the Eagles have to take a running back in the first round Saturday? In my mind, it would be a luxury pick, which is OK if you don't have a specific need at any position. But I happen to think the Eagles would be foolish to call Brent Celek their No. 1 tight end and just move on down the road -- especially with a potentially elite player such as Oklahoma State's Brandon Pettigrew sitting there. There, I've said it. I would take Pettigrew before either of the top running backs (Moreno and Wells). You might even be able to trade down a spot or two and still end up with Pettigrew.
In his latest seven-round mock draft, Todd McShay has Wells going to the Chargers at No. 16 overall and Moreno going to the Eagles at No. 21. I think most Eagles fans would be pleased with that result, but I think the Eagles would be better off taking someone like Iowa's Shonn Greene in the third round. Both Moreno and Greene have excellent instincts and would be good fits in the Eagles' zone running game. I've talked to scouts who've said that Wells would be much better suited in a power running game that features more angle blocking. And if you don't like my man Greene, take a look at LeSean McCoy in the second round. I just don't see a huge separation between the first-, second- or third-round running backs. Now if you want to refute some of the things I'm saying, check out this Bob Brookover story in the Philly Inquirer.
Though management hasn't admitted as much, perhaps the Eagles are a little gun shy about waiting on a running back this year because of their recent past. Spending third-round picks on Ryan Moats in 2005 and Tony Hunt in 2007 didn't exactly work out -- and so far the Lorenzo Booker experiment (acquired in a trade) isn't faring much better. Maybe they think it's time to end the 23-year streak of not taking a back in the first round.
In my mind, the Eagles are better off waiting at running back. This time of year, I talk to a lot of scouts. But sometimes it's important to talk to the men who are actually going to coach these players. I wanted to know why running backs seem to have an easier time making the transition to the NFL than other position players -- and why you can find so many of them throughout the draft.
"I think it's because that's where you put your best athletes," said the Jets' new running backs coach, Anthony Lynn. "The running back position is more instinctive than any of the other spots. That's something you can't coach. You either have it or you don't. And for whatever reason, the guys who have it aren't confined to the top of the draft."
If the Eagles stay at No. 21 Saturday, they'll have a decision to make at running back. My suggestion is that they stick to tradition -- and wait.
March, 27, 2009
3/27/09
10:11
AM ET
Posted by ESPN.com's Mike Sando

Rob Staton of Seahawks Draft Blog thinks Seattle would jump at the chance to draft Knowshon Moreno if the team were drafting in the 10th to 20th range. Staton: "Can they justify taking him fourth overall? Probably not. Adding a $60M running back to play as part of a three-pronged attack involving Julius Jones and T.J. Duckett could be too expensive."
Eric Williams of the Tacoma News Tribune thinks the Seahawks will choose between Eugene Monroe and Michael Crabtree with the fourth overall choice. He doesn't think quarterback Matthew Stafford will be available. The more I think about what the Seahawks might do at No. 4, the less sure I become. In theory, the team could be more likely to consider an offensive tackle after acquiring Cory Redding and signing T.J. Houshmandzadeh.
Also from Williams: The Seahawks put Aaron Curry through a private workout.

Kent Somers of the Arizona Republic provides a transcript for some of Ken Whisenhunt's comments during the NFC coaches' breakfast Wednesday at the NFL owners' meeting. On Matt Leinart: "My discussions with Matt, especially since we've re-signed Kurt [Warner], have been very positive, very mature. Matt expressed to me how much he learned this past season and how much he improved. I think it's unrealistic to think one quarterback in this league is going to last a whole year. In my discussions with Matt, we've talked about that. I believe that having played with Kurt last year and having seen Kurt play at the level he did, certainly helped Matt learn what it takes to be successful in this league."
Darren Urban of azcardinals.com quotes Sean Morey as saying he's in favor of rules outlawing blocking wedges from NFL games. Morey: "It's an exciting part of football, but it's always put people's health at risk because you are always forced to hit people with your head. You also have to consider with less guys in the wedge, there will be more double teams and more 'earhole' blocks. So it will still be a violent aspect. It is difficult to make kickoffs a safe part of the game. But it's a step in the right direction."
Also from Urban: Will the Cardinals open the regular season at home against the 49ers?

49ers scout Ethan Waugh updates which pro days he has attended. Waugh: "The pro days are more than just timing 40-yard dashes and measuring broad jumps. It is one more opportunity to talk to the player face to face and get a feel for his personality and demeanor. Additionally, it is one more chance to talk to the coaches, strength staff and training staff to clear up any gray areas."
Matt Maiocco of the Santa Rosa Press-Democrat sizes up the 49ers' needs heading toward the draft. Maiocco: "Regardless of whether Marvel Smith signs, the 49ers should not pass on an offensive tackle ... if they're convinced he is the best player on the board." Totally agree. I would expect the 49ers to sign Smith to a short-term deal and still look hard at tackle.

Jim Thomas of the St. Louis Post-Dispatch says the Rams are "99 percent" focused on the draft, though they could sign some lower-tier free agents in the coming week. Thomas: "It would be unrealistic to think that the Rams can address all of their needs in one draft. There are too many holes to fill: Offensive tackle, wide receiver, middle linebacker, defensive tackle, backup running back and cornerback come to mind. But at least the Rams scratched a few positions off their wish list by placing the franchise tag on free safety Oshiomogho Atogwe; re-signing cornerback Ron Bartell and guard-tackle Adam Goldberg; and adding center Jason Brown (Baltimore), strong safety James Butler (New York Giants), and fullback Mike Karney (New Orleans) in free agency."

NFL SCOREBOARD
Thursday, 12/18
Saturday, 12/20
Sunday, 12/21
Monday, 12/22
WEEKLY LEADERS