NFL Nation:

Kolb traded for Rodgers-Cromartie
July, 28, 2011
7/28/11
3:43
PM ET
Our long national nightmare is over.
Kevin Kolb
is a Cardinal in exchange for
Dominique Rodgers-Cromartie
and a second-round draft pick,
according to John Clayton
. Clayton also reports that the new contract Kolb will get to play quarterback for the Cardinals is a five-year, $63 million deal that includes more than $22 million in guarantees.
[+] Enlarge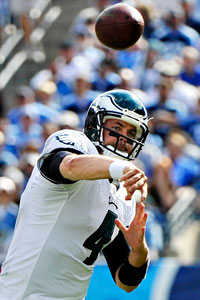 AP Photo/Frederick BreedonThe Cardinals gave Kevin Kolb a five-year, $63 million contract.
And the consensus first reaction seems to be that the Eagles pulled some kind of Jedi mind trick on the Cardinals and fleeced them. Which is fine. This is an NFC East blog, after all, so the perspective is likely to be Eagles-tinted. And Philadelphia did do well, getting the starting cornerback they needed, plus a high pick, in exchange for a backup quarterback who had one year left on his contract.
But as is the case with so many things in life, an honest appraisal of this deal depends on your perspective and might not be possible for a number of years.
If you're the Eagles, who want to win this next Super Bowl, you feel great about this.
Michael Vick
is your starting quarterback, you weren't using Kolb and you got great value for him. A starting corner and a second-round pick for a backup quarterback. You take that deal every single time.
But what if you're the Cardinals, and you really think Kevin Kolb is your present and future answer at the most important position on the field? What if the Cardinals are right, and Kolb really does turn out to be a good starting NFL quarterback -- one that deserves that kind of money. As recently as a year ago, Andy Reid was so willing to bet on Kolb as an NFL starter that he traded
Donovan McNabb
to a division rival and installed Kolb as his starter for Game 1 of the 2010 season. Had Kolb not been hurt in the first game, he could have played great (as Reid believed he could) and this whole Vick thing might never have happened.
Clearly, that's where the Cardinals are with Kolb. Whether they're right or wrong remains to be seen. But Arizona compensated the Eagles not as if they were getting a backup quarterback, but as if they were getting a starter -- and a long-term one at that. That's the bet they're placing, and if they turn out to be right, then the price they paid today will look anything but silly in retrospect. If Kolb becomes what the Cardinals think he can -- and what Reid thought he could at this time last year -- we could end up looking back on this deal and thinking it was the Eagles who got taken.
Just saying.
July, 28, 2011
7/28/11
3:40
PM ET
Coach Ken Whisenhunt has already pulled off the impossible in Arizona, helping the Cardinals go from perennial losers to the Super Bowl.
Recent history says his next challenge will be even tougher: coaxing sustained success from a quarterback who entered the NFL as a second-round draft choice. The chart below tells you what you need to know.
[+] Enlarge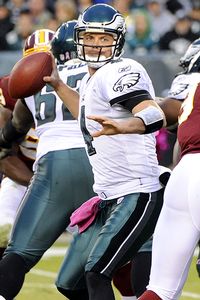 Howard Smith/US PresswireKevin Kolb pased for 2,082 yards, 11 touchdowns and 14 interceptions in 19 games with the Eagles.
The Cardinals' long-awaited play for
Kevin Kolb
is finally becoming a reality, with
ESPN's John Clayton saying
Arizona will send one-time Pro Bowl cornerback
Dominique Rodgers-Cromartie
and a second-round choice to Philadelphia.
The price Arizona pays is high and also highly overrated. If the Cardinals are right on Kolb, the price won't matter. If they're wrong, the damage done will far outweigh a 185-pound cornerback and the draft choice Arizona included with the deal.
Whisenhunt, whose contract runs through 2013, could be betting his job on Kolb, whose new deal will run through 2016 and pay him as much as $63 million.
That is OK.
Not landing a quarterback wasn't an option. The Cardinals needed to make a move for one, and if they valued Kolb the way this trade says they valued him, they needed to act.
Restoring clarity and hope to the position gives the Cardinals a shot at re-signing
Larry Fitzgerald
, whose contract voids after this season. Arizona has already lost too many key players in recent seasons:
Karlos Dansby
,
Antrel Rolle
and
Anquan Boldin
are but a few. Losing Fitzgerald following another quarterback train wreck would have threatened to set back the organization to its pre-Whisenhunt days. Phoenix is not Green Bay or Pittsburgh or even Seattle and San Francisco on the fan loyalty front.
Landing a quarterback with promise puts Arizona right back into the NFC West race. Go ahead and laugh, but if the
Seattle Seahawks
could beat the defending Super Bowl champs as 7-9 division winners last season, the Cardinals can keep a straight face liking their chances with Kolb behind center and Whisenhunt's 4-2 postseason record on their side.
We'll find out more about whether or not Whisenhunt can identify and develop talent at the position. Was he a driving force behind
Ben Roethlisberger
's historic rookie season in Pittsburgh, or mostly a beneficiary of it? Was he pivotal in restoring
Kurt Warner
's career by convincing Warner to reform his Mike Martz-coached penchant for the daring? Or did Whisenhunt luck into a Hall of Famer, with former coordinator Todd Haley taking the lead internally?
These questions may not have clear yes-or-no answers. But the narrative gets written in Whisenhunt's favor if Kolb, a second-round choice of the Eagles in 2007, becomes the next
Drew Brees
. As the chart shows, Brees is one of three second-round quarterbacks since 1995 to earn Pro Bowl acclaim. The other two,
Jake Plummer
and
Kordell Stewart
, had their moments during ultimately unsatisfying careers.
Kolb is just 26 years old. If he were a sure-fire franchise quarterback, the Eagles never would have traded him. They would have signed Kolb to a long-term deal even before
Michael Vick
emerged as the best option for them. Instead, they parlayed the 36th player drafted in 2007 into the 16th player chosen in 2008, plus a second-rounder.
The Eagles got the better of this deal based on what we know right now. The Cardinals could come out well ahead based on what they think.
They need to be right on this one.
As a bonus, and because a
Charlie Whitehurst
mention is always good for a few extra comments, let's also take a quick look at third-round quarterbacks drafted since 1995, arranged by team:
Schaub and Whitehurst, like Kolb, were among those who wound up commanding value in the trade market.

NFL SCOREBOARD
Sunday, 12/22
Monday, 12/23