NFL Nation:

Korey Stringer
August, 1, 2013
8/01/13
10:13
AM ET
Twelve years ago today, Minnesota Vikings offensive lineman Kory Stringer died of complications from heat stroke. His death is no less stunning now than it was then, and each year it provides us an unfortunate opportunity to remind the thousands of football players across the country that heat stroke is real, it's deadly and it's now entirely preventable.
Stringer
Moss
Here is a link to a
comprehensive guide to heat safety from the Centers for Disease Control and Prevention.
(Make sure you read all three pages.)
On a related note, I thought I would pass along
a relevant excerpt from a new book
published by former Vikings receiver Cris Carter and ESPN's Jeffri Chadiha. In it, they suggest that Stringer's death -- and the subsequent legal fallout -- was the original spark for Randy Moss' distrust of the team's authority figures. (The portion of the passage in quotes is attributed to an interview with former Vikings defensive end Lance Johnstone.)
Randy's bond with Kory made it all the more difficult when Kelci [Stringer] filed a $100 million lawsuit against the Vikings for not doing enough to prevent her husband's death (that suit started a long legal battle that ended in 2009, when the NFL reached a settlement with Kelci). "Randy has never told me this, but I believe that entire situation affected how he looked at management," Johnstone said. "He started to put up a wall at that point. Korey was Randy's best friend on the team and a lot of things were said after he passed. It was alleged that the Vikings could've done better when he started complaining about his [health] problems, and I know his wife wasn't happy about how the team responded after his death. Randy wound up in that camp as far as fighting the team."
My own sense of Moss' makeup is that if it weren't Stringer's death, he would have found personal affront in something else in the team's operation. But anyone who witnessed Moss bawling on national television the morning of Aug. 1, 2001, knows how profoundly Stringer's death impacted him.
August, 20, 2012
8/20/12
5:30
PM ET
We've referred to the work of Jeanne Marie Laskas before on the blog. Among other things,
she wrote a profile
for late Minnesota Vikings offensive lineman Korey Stringer that appeared in Esquire magazine a month after his death in August 2001. A decade later, Laskas has given us an equally revealing look at Detroit Lions defensive tackle Ndamukong Suh in
the September 2012 edition of GQ magazine
.
Laskas found Suh to be an intense and private man, one who apparently spends large portions of his offseason time living at his parents' house in Oregon. Suh wants to move past the narrative of his Thanksgiving Day stomp against the Green Bay Packers last season, but he continued to insist it was not intentional and suggested there wouldn't be a debate if he was actually trying to hurt NFL players.
An excerpt of Suh's conversation is below. His words are in quotes.
"If you slow down and analyze anything, it's going to look worse in my opinion. It was not intentional. If it was intentional, it could have been a lot worse.

"If I wanted to go out there to hurt somebody, I could hurt somebody. I don't want any part of that." Hurting is too easy. Too obvious. A yawn, in that regard. Beating someone is different from hurting someone. Beating someone, he says, that's the game.

"I mean, if I wanted to hurt you, I'd go for your quarterback. Because me stopping your play is going to frustrate you more than me physically hurting you. Because I'm just that much better than you. That's how I look at it. It's like killing somebody with kindness."
We've been over this before, but I don't think Suh is going to put the stomp narrative to bed by painfully parsing its details and taking anything less than full responsibility for it. He did it and must own that responsibility before he can move on. If stomping an opponent was merely a heat-of-the-moment reaction, wouldn't we see it more often in the NFL's rage-filled world?
July, 31, 2012
7/31/12
8:41
PM ET
EARTH CITY, Mo. -- The
St. Louis Rams
were deep into practice Tuesday when Jeff Fisher gathered players around him.
Reporters not yet familiar with Fisher's ways figured the team's new coach was calling an end to the session, a move that would have seemed merciful given the 103-degree heat and direct sunlight blasting down upon everyone in attendance.
But practice wasn't finished. Fisher, drawing upon research collected over the years, had called for a stretching session. Practice then resumed, with
Steven Jackson
breaking a long run in work featuring the starting units.
"We've come to realize that the third day (of camp) there's a an increased pull history," Fisher explained, "so we intended on just taking a moment and getting stretched out so we didn't have any fatigue issues and fatigue pulls in the weather."
NFL teams have become more proactive, particularly since
Minnesota Vikings
offensive lineman
Korey Stringer
died from the heat at training camp on Aug. 1, 2001.
The Rams weigh players before and after practices to ensure they've done enough to replace spent fluids. Times have changed.
"We're an air-conditioned society now," Fisher said. "In the old days, we spent summertime outside. I remember when you got in trouble, Mom said, 'Go to your room.' You say that now and they go, 'Yeah, cool, we got all kinds of stuff to do in the room.' Moms need to say, 'Go outside' now. ... We're very much aware of it."
[+] Enlarge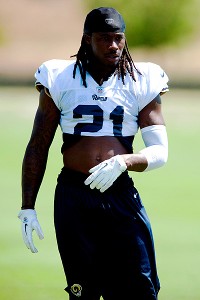 Jeff Curry/US PRESSWIRESecond-round pick Janoris Jenkins has impressed so far at Rams' training camp.
A few more notes from the Rams' latest practice:
That's it for now. I've got a long list of interviews to process before putting together our annual "Camp Confidential" file for later in the week. Those wondering about Bradford's performance to this point in camp should know he continues to perform at a high level, impressive coaches and teammates alike.
July, 30, 2012
7/30/12
8:16
PM ET
Those who have been around the
Minnesota Vikings
for a while were surely freaked out by the timing of
Adrian Peterson
's health emergency Monday at training camp. Almost exactly 11 years ago, offensive lineman Korey Stringer collapsed after the first full-pads practice of the summer. He was hospitalized on July 31, 2001 and died the next morning from complications of heat stroke.

Based on what current coach Leslie Frazier
told reporters in Mankato, Minn.
, Peterson was never in extreme danger. But he suffered an allergic reaction to seafood around mid-day, one that was serious enough for the team to call 911 and send him to a hospital via ambulance. Peterson experienced shortness of breath and his face swelled up, according to Frazier.
A few hours later, Peterson was resting in his dorm room and was expected to resume his knee rehabilitation on Tuesday.
"Everything is back to normal now," Frazier told reporters. "Little bit of a scare, but he's fine."
Every year, I try to post an item to honor Stringer, who was a good man, and reiterate how dangerous heat exposure can be for the thousands of young men who will soon begin high school and college football practice. For more information, here is
the CDC guide
to preventing heat stroke.
August, 1, 2011
8/01/11
3:32
PM ET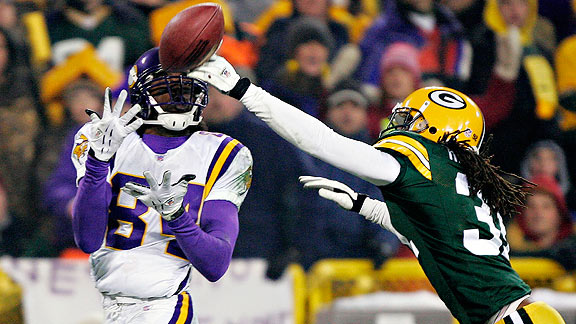 Brian Bahr/Getty ImagesRandy Moss' legacy is that he forced opposing defenses to devise new coverages and lineups.
GREEN BAY, Wis. -- Maybe it's appropriate that I was sitting at Lambeau Field when
Randy Moss
announced
his retirement
. No, not because Moss famously pretended to moon the crowd during a playoff game. It's because the
Green Bay Packers
were the first team to recognize that Moss had fundamentally changed the game.
As a rookie in 1998, Moss caught 13 passes for 343 yards and three touchdowns for the
Minnesota Vikings
in two games against the Packers.
In 1999, the Packers responded with the most transparent draft strategy imaginable: They selected a cornerback with each of their first three picks. Two of them,
Antuan Edwards
and
Mike McKenzie
, were over six feet tall. They landed in Green Bay with the specific hope of matching up against Moss, who at 6-foot-4 had dominated smaller cornerbacks throughout his rookie season.
As his career went on, opponents devised new coverages and exotic lineups in an attempt to slow down a unique physical specimen who referred to himself as "The Freak." Vikings offensive coaches often considered it a waste of time to scout their opponents' previous games because they never used traditional schemes against the Vikings when Moss was in the lineup.
[+] Enlarge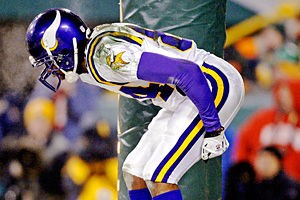 AP Photo/Morry GashRandy Moss famously pretended to moon the crowd at Lambeau Field.
These days, it's common to hear football people refer to having a safety "over the top" to cover the deep part of the field in case a receiver runs past the cornerback. It can also be known as a "bracket." These coverages were popularized because of Moss, whose combination of height and 4.35 speed made him uncoverable by one defender.
Rare is the player who can force draft decisions or schematic innovations, and to me that will be Moss' greatest legacy. I know there are many of you who think Moss will return to the game in the coming months, but I won't begin to try to guess what's going on inside his head. He is, however, fully capably of storming away from the game, never to be heard from again.
If Moss' career is in fact finished, he should go down as one of the best receivers ever to play the game.
As it stands, Moss is tied for second for the NFL's all-time list of touchdown receptions (153). He has the fifth-most receiving yards (14,858) and eight-most receptions (954).
History, of course, will intertwine Moss' football success with his personal failings. He wasn't an enigma, which most people associate with "unique." Moss was a flat-out mystery, and anyone who tried to figure him out was wasting brain cells.
On the 10th anniversary of
Korey Stringer
's death, I'm reminded of Moss sobbing hysterically at a nationally-televised news conference. At the same time, I'm reminded that he once lost his temper in downtown Minneapolis traffic and felt compelled to nudge a traffic officer with his car.
I recall him tossing NFL awards in the locker room trash can. I can't avoid the conclusion that he undermined every coach he played for in Minnesota, including Dennis Green -- the man who put his own reputation on the line by drafting him in 1998. Moss' verbal harangue at a group of corporate sponsors on the Vikings' team bus enraged then-owner Red McCombs and played a role in Green's ultimate departure from the organization in 2001.
I will remember some hilarious interview moments, including the time Moss detailed how he taunted then-coach Mike Tice with words from a boyhood bully who once, in Moss' words, "broke Tice's face." In truth, Moss had no respect for authority and resented its existence.
His respect for the game was circumspect as well. Pro Football Hall of Fame voters shouldn't consider his off-field issues when discussing his candidacy, but they absolutely should note how often Moss loafed on plays that weren't designed for him and how, early in his career, he walked off the field before its conclusion in several instances.
Moss won't, and shouldn't, be elected to sainthood. There is no way to sweep away his stunning lack of personal decorum. In all ways -- on the field and off -- Moss was one of a kind.
I think he will be elected to the Hall of Fame. But even that day will be wrapped in mystery. I used to joke with colleagues that Moss would probably skip his enshrinement ceremony into the Hall of Fame. I don't actually think he will. But if there is anyone who would ...
August, 1, 2011
8/01/11
10:00
AM ET
Every summer for the past 10 years, I've pulled out a wrinkled copy of the September 2001 edition of Esquire Magazine. The issue contains
Jeanne Marie Laskas' posthumous profile
of Korey Stringer, and it should be required reading for anyone interested in remembering what he stood for and how tragic it is when a life is cut short mid-blossom.
Ten years ago today, Stringer died from complications of heat stroke. He collapsed in high heat and humidity after the Minnesota Vikings' first full-pads practice of the summer and never regained consciousness.
[+] Enlarge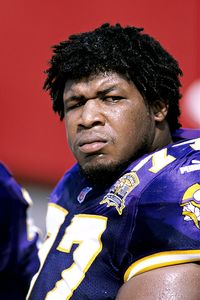 Al Messerschmidt/Getty ImagesKorey Stringer, the Vikings' first round pick in 1995, died of complications from heat stroke at the age of 27.
I was on the Vikings beat at the time, but I will make no claim to having known Stringer well. He had no interest in public life, and as Laskas writes, was incredulous that a national magazine planned a profile on him entitled "The Enlightened Man."
He had a tattoo that read "FTW." I can't spell it out for you, but needless to say, it wasn't a nice suggestion for The World. After he married, had a son and was named to the Pro Bowl, according to Laskas, Stringer re-imagined the tattoo's meaning. It now stood for "Find the Way."
That revelation has always warmed and broken my heart in equal measures. Stringer had fought through a number of obstacles in his life, the least of which was a lifelong battle with his weight, and finally had landed in a place he was proud of.
If there was a positive consequence of his death, it's that it serves as a reminder of the dangers of heat strokes just as training camps are opening for all levels of football. Each year,
according to the Centers for Disease Control and Prevention
, 6,000 people go to the emergency room with heat-related illnesses. We now know that all 6,000 episodes were preventable by taking steps to acclimate to heat, to remain hydrated and to understand warning signs.
(Here is the
CDC's full guide
to the prevention of heat illness.)
It's easy to forget details after 10 years. But at this time of year, I always hope that football players of all ages recognize that a completely healthy man, one just like them, walked onto a football practice field 10 years ago. Two hours later, he was overwhelmed by heat. About 14 hours later, he died.
So on this sad anniversary, please be aware. And while you're at it, Find The Way.
January, 16, 2010
1/16/10
12:16
AM ET
Here's a Mike Tice story that will tell Chicago fans all they need to know, for better and worse, about their
new offensive line coach
.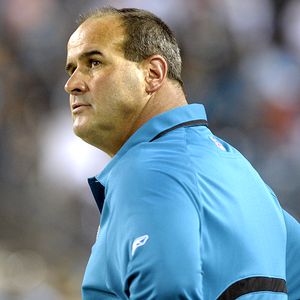 Al Messerschmidt/Getty Images Mike Tice is back in the NFC North as Bears' offensive line coach.
In the final month of the 2003 season, Tice's second as Minnesota's head coach, the Vikings were in the midst of a 3-7 collapse that would ultimately keep them out of the playoffs. Searching for a way to stabilize his team for a Soldier Field matchup with the Bears at Soldier Field, Tice decided to rely on the emerging skills of rookie tailback Onterrio Smith.
His message to players that week emphasized the need to toughen up and push through their struggles by getting back to the fundamentals of football. That's what they needed, Tice said, to win a game in Chicago. Tice repeated that message in every media interview he did, famously calling Chicago a "tough-guy town" that needed to be met strength-on-strength. He made no secret of his intention to run the ball down the throat of the Bears' defense.
Tice is 6-foot-8, has a deep voice and once told me that his "size-14 foot" would play a big role in player discipline. He always advocated the power running game, but it wasn't clear if his gameplan was based on a schematic philosophy or the otherwise irrelevant history of the city his team was scheduled to play in. Smith ran for 148 yards in the game, but the Bears still won, 13-10 -- in part because the approach shortened the game for the Vikings' mistake-prone offense, leaving them fewer possessions to score.
Tice soon realized the irrational nature of his game plan, however, and admitted it through a self-deprecating set of appearances on the Vikings' radio flagship. He recorded himself saying the names of most cities in Minnesota, and the station edited those names in front of his "tough-guy" quote. Throughout the offseason and the following summer, you could hear Tice saying:
"Minneapolis? Tough-guy town."
Or:
"St. Cloud? Tough-guy town."
Or:
"Stillwater? Tough-guy town."
To be clear, Tice was an emotional, tough-nosed advocate of power running who was always willing to admit and laugh at his mistakes. But make no mistake about this: He is a perfect offensive line coach for the Bears under Lovie Smith.
Before he was the Vikings' head coach, Tice was their excellent offensive line coach. He played a big role in the Pro Bowl status of center
Matt Birk
and right tackle Korey Stringer. Have you ever seen a center wave one of his hands to make a last-second line call? Tice developed that approach, and it's now copied around the league.
I have no doubt he'll continue Chris Williams' development and that he'll find a position and approach that will make
Frank Omiyale
a serviceable player. Although the Bears still don't have an offensive coordinator, they got better Friday by adding Tice.
The tough-guy coach finally landed in the tough-guy town. Just don't tell him that.
July, 13, 2009
7/13/09
5:46
PM ET
Posted by ESPN.com's Kevin Seifert

I broke away from the blog Monday afternoon to write
this news story
about the latest twist in the legal cases following the 2001 death of Minnesota offensive lineman Korey Stringer.
In all of the legal wrangling that has occurred since Stringer succumbed to complications from heatstroke, Monday's might have been the most significant. An Ohio judge wrote that Riddell Inc. -- manufacturer of the NFL's shoulder pads and helmets -- should have issued a formal warning that using its equipment in excessive heat could lead to heatstroke. U.S. District Judge John D. Holschuh set a Nov. 2 trial date to determine whether Riddell's failure to warn contributed legally to Stringer's death.
To be sure, this represents a small part of the legal path Stringer's widow has followed since Korey Stringer died Aug. 1, 2001. It's only a slice of the broad explanation for why Stringer died. But to me, the timing of this news is fortuitous in the big picture of heatstroke awareness.
At all levels of the game, preparations are under way for training camps across the country. Hopefully people will see the name "Stringer" and remember that a healthy, star player died as the result of practicing football on two consecutive steamy days.
Stringer collapsed after a full-pads practice on the second full day of Vikings training camp. His core temperature was 108.8 degrees by the time he got to the hospital and he died early the next morning. It happened that fast.
The Vikings claimed in court documents that they found products containing the since-banned stimulant ephedrine in Stringer's training camp locker. The Blue Earth (Minn.) County coroner did not test for ephedrine in his autopsy, and so we'll never know for sure if it also played a role in Stringer's death.
But from the big picture, I hope that players and coaches of all ages and levels will continue to use the Stringer tragedy to understand how serious heatstroke can be -- utilize every risk control at their disposal. If you need help, start here with the Centers for Disease Control and Prevention.
January, 26, 2009
1/26/09
2:31
PM ET
Posted by ESPN.com's Kevin Seifert
You might be surprised to know that nearly 7 1/2 years after his death, Korey Stringer's family is still fighting a legal battle with no end in sight.
| | |
| --- | --- |
| | |
| | Al Messerschmidt/Getty Images |
| | On Monday, the NFL settled its portion of a lawsuit with the family of Minnesota Vikings offensive lineman Korey Stringer, who died in 2001. |
Nevertheless, an important milestone occurred Monday when the
NFL settled its portion
of the family's lawsuit and agreed to support the creation of a heat illness prevention program for athletes of all ages. While there has indisputably been a financial element of the long-standing litigation, Stringer's widow has always maintained that her primary goal was to enact permanent change on the way organized sports deals with excessive temperatures.
Stringer died on Aug. 1, 2001 from complications of heat stroke after two hot and humid days in Minnesota's training camp. Kelci Stringer, his widow, has sued the Vikings, their medical staff, the NFL and even the makers of his shoulder pads and helmet in the ensuing years. All but a federal lawsuit against equipment manager Riddell Inc. have now either been settled or thrown out of court.
There has long been an undercurrent of ephdera use in connection with Korey Stringer's death. Team officials found bottles of several supplements that contained the since-banned ingredient, but no tests conclusively proved that Stringer had ephedra in his system at the time of death. Independent of that element, Kelci Stringer believes there was a series of missed signs and mistakes that contributed to the tragedy.
I visited Kelci and her son, Kodie, at their Atlanta home a few years ago and the phrase she kept using was this: "Somebody dropped the ball." She didn't believe that anyone had intentionally caused harm to her husband, but as she learned more about heat illness, she grew convinced that his death was preventable. She doubted whether she would see anywhere close to the figures thrown around by her attorneys -- whose initial lawsuit asked the Vikings for more than $100 million -- and professed not to care.
Instead, she considered the lawsuits a legal way to pressure sports leagues to adopt stricter heat standards and ditch their old-school approaches to practicing and playing in heat. In that context, Monday's news is as important a victory as she has gained over the years: The nation's most successful sports league will support that effort.
Stringer's legal fight is also bringing to light important studies on ways that football padding can contribute to heat illness. Check out this study by a professor at the University of Connecticut, who determined that athletes wearing standard 2001 helmets and shoulder pads experienced core temperature increases three times faster than those who did not wear them during similar activities.
Whether or not anyone was legally responsible for Stringer's death, this series of lawsuits has at least kept the pressure on the NFL and its suppliers to re-examine and improve their practices. Monday's news was a small victory in that endeavor.

NFL SCOREBOARD
Thursday, 8/21
Friday, 8/22
Saturday, 8/23
Sunday, 8/24
WEEKLY LEADERS