August, 19, 2011
8/19/11
11:39
AM ET
By
Brian Biggane, Special to ESPN.com
| ESPN.com
The one major question about the
Miami Dolphins
the entire offseason was never sufficiently answered.
So what is the deal at quarterback, anyway?

Chad Henne
was the unequivocal choice of general manager Jeff Ireland and coach Tony Sparano at this time last year. There was boundless confidence that the team's second-round pick in 2008 was ready to take the reins of an offense that was expected to be made more proficient by the addition of wide receiver
Brandon Marshall
.
The results were not pretty. On five occasions, all at home, Henne had the opportunity to win or tie a close game with a fourth-quarter scoring drive, and on all five he failed. Three of the subsequent losses were to also-rans Buffalo, Detroit and Cleveland, leaving Miami with a second straight 7-9 finish.
The failures almost cost Sparano his job, as owner Stephen Ross took a run at Jim Harbaugh, and for a time it seemed Henne might be replaced when Ireland engaged in negotiations for Denver's
Kyle Orton
that ultimately came up empty. When the dust settled, former Carolina Panther
Matt Moore
had been brought in as a backup, but nothing had really changed. Henne was still the one.
The team around him does appear to have gotten better. Coordinator Mike Nolan's defense, sixth in the league a year ago, has remarkable depth on the defensive line and is better at linebacker with the additions of
Kevin Burnett
and
Jason Taylor
. Ireland addressed a deficiency in speed at the skill positions with the acquisitions of
Reggie Bush
and fourth-round wideout
Clyde Gates
. First-round pick
Mike Pouncey
, a center, has brought stability to the offensive line.
But in the 12 years since
Dan Marino
retired, it has always come back to the quarterback. This year is no different.
Even Marshall, who at one point late last season said he was "not sure" he and Henne could coexist, had good things to say about his beleaguered quarterback who was actually booed at one preseason practice at Sun Life Stadium.
"Chad has been amazing this summer, getting the guys together," he said. "He's been the face of leadership."
Sparano was even more forthcoming.
"I've seen more people going to Chad for answers," he said. "You would have to envision when you're at Indianapolis or a place like that people are going to Peyton (Manning) for the answers. Well, more people are going to Chad for the answers now, and that's a direct reflection of what this young man has done."
Chad Henne and
Peyton Manning
in the same sentence … now that's a stretch for even the most loyal Dolphin fan.
Five days after Sparano made those comments, Henne started the first preseason game at Atlanta and was intercepted twice in five throws while Moore, playing both with and against second-teamers, was solid.
It may or may not happen, but certainly all the pieces for a year of quarterback controversy are in place.
THREE HOT ISSUES
[+] Enlarge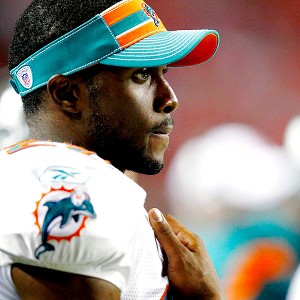 Josh D. Weiss/US PresswireWill Reggie Bush be able to revitalize a stagnant running game?
1. Can Bush and rookie Daniel Thomas make people forget Ronnie Brown and Ricky Williams?
From 2005-10 either Brown or Williams led the Dolphins in rushing, and four of those six years they finished 1-2. Both were getting older -- Williams is 34, Brown 29 -- and the running game ranked 30
th
in yards per carry (3.7) and 21
st
in yards per game (102.7) last season. Ireland decided it was time to move on. Thomas, a second-round pick, led the Big 12 in rushing at Kansas State the past two seasons and at 6-foot and 230 pounds, he can pound the middle. Bush, who has missed 20 games to injury the past two seasons, expressed a desire to be the feature back upon his arrival but seems more likely to line up all over the field. "The lack of experience is definitely a concern," admitted Sparano, whose stable of backs also includes unproven
Kory Sheets
and
Lex Hilliard
.
2. How will the season unfold for Marshall?
The simple fact Marshall was perceived to have a down year when he had 86 catches last season -- tied for second in franchise history behind O.J. McDuffie's 90 in 1998 -- demonstrates how high the expectations are for the man known as "The Beast." Marshall's off-field problems, which included the arrest of his wife after Marshall was found stabbed at his home in April, culminated with him being diagnosed and treated for borderline personality disorder this offseason. In camp this summer, it seemed every time Marshall went out for a pass, Henne was the one throwing it. If Gates can be the home-run threat Miami lacked after trading
Ted Ginn
Jr. last season, Marshall could benefit greatly.
3. Will new offensive coordinator Brian Daboll bring spice to a boring offense?
Miami's top two receivers last season, Marshall and
Davone Bess
, averaged 11.8 and 10.4 yards per catch. No wonder Henne came to be known as "Checkdown Chad." But in the Dolphins' first scrimmage this year, Daboll unveiled four-receiver sets and had Bush lined up everywhere from the backfield to wideout. Despite having
Josh Cribbs
, Daboll's offense didn't exactly light up the scoreboard in Cleveland, finishing 29
th
in total offense and 25
th
in yards per play. Sparano prefers the ground-and-pound, but Henne and Daboll must demonstrate they can keep up with prolific offensive units such as New England, San Diego and Houston -- which happen to be Miami's first three opponents.
BIGGEST SURPRISE
If a former first-round pick can qualify as a surprise, then second-year defensive end
Jared Odrick
has earned that distinction. Odrick was lost early in the opener against Buffalo last season with a broken leg. His comeback was then stopped six weeks later by a broken ankle, ending his season. Worse, it turned out his first injury was eerily similar to one he suffered as a sophomore at Penn State, raising questions as to whether he could remain healthy enough to be counted upon. But in the early weeks of camp, Odrick was a force, as he and partner
Tony McDaniel
moved ahead of last season's starters,
Randy Starks
and
Kendall Langford
, in team drills. That quartet as well as
Phillip Merling
and
Ryan Baker
give Miami inordinate depth at defensive end.
BIGGEST DISAPPOINTMENT
After losing
Justin Smiley
to chronic shoulder injuries, the Dolphins had a vacancy at right guard in 2010 and drafted
John Jerry
out of Mississippi in the third round. Jerry, the younger brother of Atlanta defensive tackle
Peria Jerry
, got 10 starts but struggled to beat out journeyman
Pat McQuistan
. When Miami selected Pouncey in the first round of the draft,
Richie Incognito
, who played both guard spots at times last season, was put on the left side and Jerry was given the opportunity to win the right guard spot. After seeing unsatisfactory results in the first two weeks of camp, Sparano moved
Vernon Carey
over from right tackle and brought in free agent
Marc Colombo
, who had been let go by Dallas.
OBSERVATION DECK
[+] Enlarge

Scott Cunningham/Getty ImagesThe Dolphins hope that pick Clyde Gates will be able to stretch the field like Ted Ginn Jr. did.

Two relatively obscure rookies provided two of the more intriguing storylines of training camp. Gates, of Abilene Christian, whose father was released from prison last fall after serving a lengthy sentence for first-degree murder, was one. Seventh-rounder Jimmy Wilson of Montana, who spent 26 months in jail before being acquitted of a first-degree murder charge, was the other. Gates, who ran the 40 in 4.37 at the combine despite nursing a sore groin, provides needed speed at wide receiver and Wilson is a big hitter and ball hawk in the secondary.

While first-round pick Pouncey was drawing favorable comparisons to his Steeler All-Pro twin brother Maurkice for his blocking and intelligence, his struggles snapping the ball were an ongoing concern as camp progressed. Pouncey, who moved to center as a senior at Florida after his brother left early, had some nightmarish games on shotgun snaps with the Gators and clearly doesn't have the technique down yet.

Marshall isn't known for being shy around a microphone, but he wasn't in a talkative mood the first three weeks of camp. He spoke only once, to reveal his diagnosis for borderline personality disorder, and took only a handful of questions. Of course, Marshall was in the middle of the Henne soap opera last season, so there was speculation he didn't want to stir up the water this year as he continues to undergo treatment for his disorder.

The only real battle for a starting job in camp has been at free safety. Third-year man Chris Clemons, last season's starter, was trying to hold off Reshad Jones, who made a favorable impression in limited opportunities as a rookie in 2010. Jones had a sack and an interception against Tennessee in one of his two starts and seems to be more of a playmaker.

The biggest mystery in camp surrounded the status of Pro Bowl tackle Jake Long, who was put on the physically unable to perform list early and did not work at all the first three weeks. Sparano said Long's injury did not involve his knee, which along with his shoulder, required surgery after last season.ÿ
June, 10, 2011
6/10/11
2:10
PM ET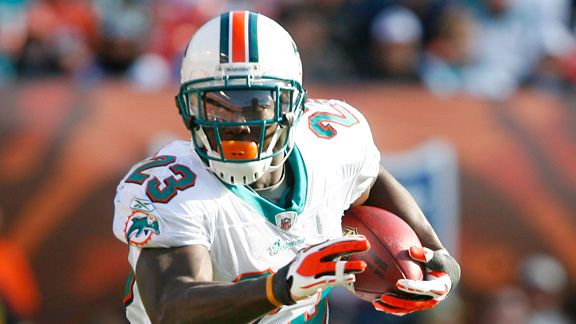 Mark Zerof/US PresswireRonnie Brown averaged 3.7 yards per carry last season, a career low.
Quite recently, the
Miami Dolphins
' running game was considered vibrant, cutting-edge and borderline dominant.
The Wildcat unleashed all sorts of possibilities for
Ronnie Brown
and
Ricky Williams
in 2008. They were an envied backfield tandem. Brown went to the Pro Bowl.
In 2009, with Brown battling injuries, Williams rushed for over 1,100 yards. The Dolphins tied for the NFL lead with 22 rushing touchdowns. They ranked fourth in run offense and eighth in average yards per carry.
Perceptions swung 180 degrees last year. The Dolphins went from a model of rushing excellence to anemic. They ranked 11th in carries, but 21st in yards. Their average carry plummeted 0.7 yards to a measly 3.7. Only the
Cincinnati Bengals
were worse.
What in the world happened?
A combination of inconsistent offensive line play, creeping age and lack of an offensive identity were to blame. Now, the two running backs many Dolfans thought could run for 1,000 yards apiece in the same season are free agents who might not be wanted anymore.
Before the draft, Dolphins head coach Tony Sparano told reporters at the NFL owners' meeting in New Orleans he thought Brown and Williams were fine last year.
"I honestly thought both players played well for us," Sparano said. "I really did. I said it during the season, I didn't have a problem with how either guy played."
Even with All-Pro left tackle
Jake Long
in place and the reliable
Vernon Carey
at right tackle, Sparano cited the offensive line's inability to bust holes into the defense's second level as a serious problem.
[+] Enlarge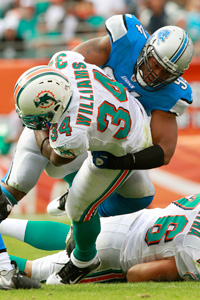 AP Photo/Hans DerykRicky Williams' carries and rushing yards in 2010 both shrank considerably from 2009.
ESPN Stats & Information came up with data to back that sentiment. The Dolphins ranked fifth in runs up the middle with 247 attempts, but their average tied for 27th at 3.5 yards. Of their runs up the middle, they scored a touchdown on only 2 percent (tied for 24th) and gained a first down on only 18.6 percent (26th).
No wonder they drafted Florida center
Mike Pouncey
with the 15th overall pick. The Dolphins also traded up to make Kansas State running back
Daniel Thomas
their second-round pick, adding him to a depth chart that also includes
Lex Hilliard
and
Kory Sheets
, who's coming off an Achilles injury.
But back to the offensive line for a moment. The Dolphins have been plagued by Sparano's seemingly uncontrollable tinkering on the interior. Pouncey should become the Dolphins' fourth starting center in as many seasons. At guard, they've shuffled through draft picks, waiver claims and street free agents. Sparano, an old offensive line coach himself, fired his first O-line assistant after just one season.
That's a significant reason why Brown went from hip to a blip. He's now an NFL afterthought at 29 years old.
NFL.com senior analyst and former
New York Jets
executive
Pat Kirwan recently rated Brown 31st among all running backs
and trending down from there. Kirwan wrote: "Teams seeking a backup for 10 carries and a Wildcat role should value Brown."
ESPN.com's fantasy football crew rated Brown the 45th-best
running back.
Williams, 34, has a worse outlook. Kirwan didn't list him at all. In fact, three other Williamses did make the chart, and one of them was
Arizona Cardinals
rookie
Ryan Williams
. On the fantasy rankings, Ricky Williams was the 53rd running back.
At the end of last season, Williams took a couple of swipes at Sparano's penchant for micromanaging.
But on Wednesday, Williams tweeted
"I'd love nothing more than to finish my career winning a Super Bowl with the Dolphins, but that's gonna take some cooperation from others."
"Cooperation," in this case, almost certainly is synonymous with "lovely contract."
Maybe Williams' change of heart has to do with Brian Daboll replacing Dan Henning as offensive coordinator. Daboll oversaw an impressive
Cleveland Browns
run game that featured
Peyton Hillis
.
Sparano has said Miami still will emphasize the run under Daboll.
"We're going to continue to run the football because that's my nature," Sparano said. "That might not be popular with everybody, but that's what I like to do. So we're going to continue to run the football."
And they will -- with or without Brown and Williams, running backs who were trendy a year ago, but aren't considered to be much of anything anymore.
August, 6, 2010
8/06/10
1:02
PM ET
ESPN.com NFL Power Ranking
(pre-camp): 13
DAVIE, Fla. -- The
Miami Dolphins
might be the best NFL team people don't notice.
They're often overlooked in the AFC East. The
New England Patriots
have at least tied for the division's best record in nine straight seasons, and the big-talking
New York Jets
, coming off an appearance in the conference title game, are a fashionable Super Bowl pick.
Miami shouldn't be discounted.
Head coach Tony Sparano, who dropped 55 pounds in the offseason, wants his players to be hungry. The theme of training camp is "Feed the Wolf," a slogan he put on T-shirts in response to the Dolphins sliding from 11-5 and a division championship to a losing record last year.
"I had a meeting with the group and kind of got into them a little bit during practice about 7-9 not being good enough and how this football team shouldn't be fat," Sparano explained. "They should be starving.
"One of the things that we talk about is feeding the wolf with little successes every day. ... We feed the wolf when we do something good, and that's what our guys understand. Small successes will lead to bigger successes down the way."
So when it comes to the AFC East race, dare we call Miami a sheep in wolf's silk-screened clothing?
THREE HOT ISSUES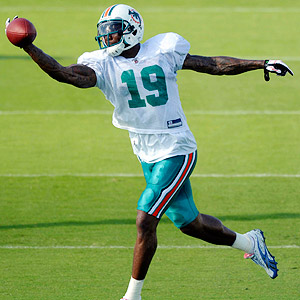 Steve Mitchell/US PresswireThe Dolphins hope the addition of Brandon Marshall can improve the passing game.
1. What will the Chad Henne-to-Brandon Marshall connection mean to the offense?
The Dolphins have been all about the ground game since Bill Parcells and Sparano took over in 2008.
Ronnie Brown
,
Ricky Williams
, rugged offensive line, the Wildcat, possession receivers ... Run, run, run.
Last year, the Dolphins ranked fourth in run offense and 20th in pass offense. Henne threw the fewest touchdown passes of any quarterback with at least 400 attempts. Just five of those touchdowns went to wide receivers.
Marshall's arrival can change that dramatically. While the Dolphins will continue to rely on their ground game, Henne now has a go-to target on third-and-critical or in the red zone. Marshall's amazing talents are on display every day at camp. He has sensational hands, outleaps helpless defenders and can snatch any ball remotely in his area.
Don't expect Marshall to extend his streak to four seasons of at least 100 receptions, but his presence gives Henne the kind of target who opens up all sorts of possibilities the Dolphins haven't had in years.
2. Will unproven outside linebackers provide enough of a pass rush with Joey Porter and Jason Taylor out the door?
The Dolphins' 44 sacks last season tied for third in the NFL. But four of their top six contributors, totaling 28 sacks, either are no longer on the team (Porter and Taylor), playing a new position (
Randy Starks
) or out for year (
Phillip Merling
).
The Dolphins are counting on
Cameron Wake
and rookie
Koa Misi
, a pair of tantalizing-but-unverified pass-rushers, to handle most of the workload. Starks has the most sacks of any returning player with seven. But he has been moved to nose tackle, a position where Pro Bowlers record one or two sacks a year.
Wake's 5.5 sacks were next on the list. By the looks of his performances in camp, he'll be a force on passing downs even if he can't stop the run as effectively as the Dolphins would prefer. Misi, a second-round draft choice, has handled first-team reps with aplomb.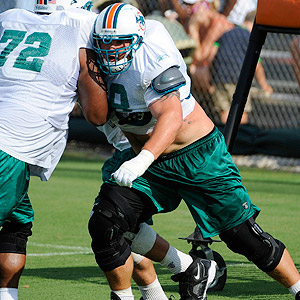 Doug Murray/Icon SMIFree agent Richie Incognito is one of the players battling for a starting spot on the offensive line.
3. What will the interior offensive line look like?
The Dolphins should have the makings of a nasty offensive line, but the inner three positions aren't solidified.
The Dolphins have had trouble settling on a center. Two years ago, they signed free agent
Jake Grove
and traded away
Samson Satele
. Now Grove is alternating first-team reps with
Joe Berger
for a spot that's up for grabs.
At guard, incumbent
Donald Thomas
, third-round draft choice
John Jerry
and free-agent signee
Richie Incognito
are fighting -- in Incognito's case, literally -- for jobs.
Sparano, an O-line aficionado at his core, wants his center and guards to be more than maulers in the run game. They must be better pass protectors.
"People think the left tackle's the only guy that [pass blocks on an island]," Sparano said. "But that's not true when you're turning the protection away from one of them. So to identify who can really handle those one-on-one battles is going to be important for us. That to me is what has to get better."
BIGGEST SURPRISE
Ikaika Alama-Francis
wasn't good enough to stick with the 0-16
Detroit Lions
. He was their second-round draft choice in 2007, but they cut the young defensive end after two seasons. He was on the street for two months before the Dolphins signed him in November. Alama-Francis was a healthy scratch for all six games he was on the roster and an afterthought heading into the offseason.
But with three workouts left until the Dolphins broke for the summer, they switched him to outside linebacker. Alama-Francis weighed 290 when he joined the Dolphins in November. He's an explosive 275 now.
"He looks like a linebacker out there, moving around right now," Sparano said. "He's a handful in the rush. He sets the edge of the defense pretty well, strong guy and very, very smart. I like what he's done."
BIGGEST DISAPPOINTMENT
Quarterback
Pat White
hasn't shown any obvious signs of development to contradict the general belief Miami wasted a second-round draft pick on him last year.
White missed the first day of training camp
because of unexplained personal reasons. One report, quoting a family member, suggested White wouldn't play this year. He arrived the next day, but he hasn't shown much.
White has gotten limited reps, buried behind Henne,
Chad Pennington
and
Tyler Thigpen
. When given the opportunity, White's passes are scattershot, albeit more accurate than last year.
Merling would have been the easy choice here had he made it to training camp. Before he could get there, he was charged with felony assault of his pregnant girlfriend and suffered a season-ending Achilles injury.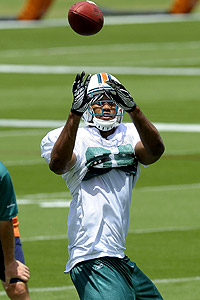 Steve Mitchell/US PresswirePatrick Turner has had his ups and downs during training camp.
OBSERVATION DECK
You can't comprehend the size of some players until you see them in person. Marshall and Karlos Dansby are two of those guys. We can lose perspective when we're inundated with athlete heights and weights that are often fudged, but Marshall (6-4, 230) and Dansby (6-4, 250) are monstrous for their positions.

Starks' transition from defensive end to nose tackle has been interesting. He's small for the job at 6-foot-3 and 305 pounds, but his speed and athleticism have created problems for the Dolphins' O-line.

Second-year receiver Patrick Turner is having an erratic summer. When I first laid eyes on him at rookie camp in 2009, I immediately was struck with how great his hands were. Turner made catching a football seem so effortless. He has been plagued by drops throughout this training camp, and when he does make a catch his teammates sound overly encouraging -- "Way to go, Pat!" -- to keep his confidence up. Turner was inactive for 14 games last year because he has no special-teams value. If the Dolphins can't trust him as a receiver, he'll have a hard time getting on the field.

Free safety Chris Clemons, a fifth-round draft choice last year, has looked like he belongs. The position was viewed as a question mark when the Dolphins axed Gibril Wilson, but Clemons has had some bright moments.

I'd be shocked if any star has signed more autographs in training camp than Marshall. After every open session, he slowly walks along the fence and puts his signature on every piece of memorabilia or scrap of paper thrust in front of him. Maybe he's doing his penance for past misdeeds, but Dolfans have no reason but to love him so far.

Tough break for running back Kory Sheets, who suffered a season-ending right Achilles injury while returning a kickoff Wednesday. He had a nice shot to make the roster and made one of the most eye-popping plays I saw during my stay. On Monday night, he exploded through the offensive line and got into the second level with such speed, his teammates reflexively screamed "Whooooo!"

Veteran cornerback Will Allen, rebounding from a knee injury, has been the team's nickelback. The Dolphins want sophomores Vontae Davis and Sean Smith to stay on the field. Although Allen would be a quality contributor, his contract could put him on the bubble. He has two years left on his contract with base salaries that total $10.7 million.

Two years ago, Greg Camarillo was the Dolphins' best receiver. Now he looks like the fourth receiver behind Marshall, Brian Hartline and Davone Bess. That's a nice problem for Miami to have.

Like the Buffalo Bills, the Dolphins aren't fooling around with extra legs in camp. They know Dan Carpenter will be their kicker and Brandon Fields will be their punter and aren't bothering to push them.

Just talking out loud here because I realize frustrating receiver Ted Ginn had to go, but what if the Dolphins still had his speed to stretch the field with Marshall? That would have been a challenge for opposing defenses.
November, 19, 2009
11/19/09
4:22
PM ET
A few thoughts about what to consider Thursday night while watching the
Miami Dolphins
play the
Carolina Panthers
in Bank of America Stadium ...


The Dolphins must win to keep their flickering playoff hopes alive.
For any other 4-5 team, I probably wouldn't bother mentioning the postseason as a significant storyline, but the Dolphins are better than most teams with losing records. The Dolphins can make a run. They have a decent chance of heading into December a game over .500 with a win over the Panthers and another next Sunday against the
Buffalo Bills
. The Dolphins' remaining opponents are a combined 32-21. They haven't lost consecutive games since September and came close to knocking off the top two teams in ESPN.com's Power Rankings.
Miami is coming off one of its gutsiest games in recent years and will need to dig even deeper against Carolina.
The Dolphins went into last week's game against the
Tampa Bay Buccaneers
without several key players, including outside linebacker
Joey Porter
, left guard
Justin Smiley
and tight end
Anthony Fasano
. Porter is expected to return Thursday night, but star running back
Ronnie Brown
is done for the year with a broken foot.
Ricky Williams
has been a phenomenal sidekick all year, but can he shoulder the load like it's 2004? The only other Dolphins running back with a carry this year is fullback
Lousaka Polite
.
The Wildcat could get even more creative, or it might disappear altogether.
Without Brown at the controls, the Wildcat won't be the same. Williams has taken a few of the direct snaps, but what makes the Wildcat work is when he's in the high-speed motion role. If the Dolphins put Williams behind the center, then a critical pre-snap component of the formation is eliminated. It's hard to imagine reserves
Lex Hilliard
or
Kory Sheets
getting enough practice reps to make it work, never mind their drop-off in ability. But Miami's staff is imaginative. They could find more ways for scrambly backup quarterback
Pat White
to contribute. Although it's technically not a Wildcat play when White's back there -- a non-quarterback has to take the snaps to qualify -- his running of the option two weeks ago against the
New England Patriots
indicated there might be more surprises we haven't seen yet.
Porter needs to have a big game to back up his big mouth.
Miami's yappy pass-rusher needs to make a statement on the field for a change. Porter has been battling a hamstring problem but didn't play last week because the organization benched him for disciplinary reasons. Last year's AFC sacks leader hasn't recorded a full sack since a Week 3 loss to the
San Diego Chargers
. The last time he was on the field, Patriots rookie left tackle
Sebastian Vollmer
shut him out in tackles and sacks. That was a few days after Porter popped off on the NFL Network, saying the Patriots should have asterisks affixed to their championships and that the league gave
Tom Brady
special treatment. Porter has been quieter, but not silent. On the NFL Network this week, he noted that the Dolphins' defense is good enough that the offense should need to score only 17 points to win.
November, 19, 2009
11/19/09
9:47
AM ET
Ricky Williams
has been having a great season as a complement to
Ronnie Brown
.
We'll find out over the next two months if he's still capable of being a workhorse.
The
Miami Dolphins
on Wednesday placed Brown on season-ending injured reserve with what's believed to be a broken foot. With very little backfield depth on their roster, the load will fall on Williams.
[+] Enlarge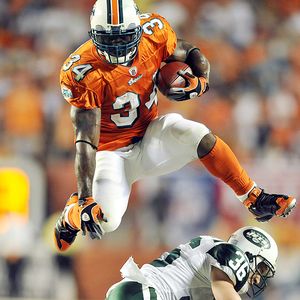 Steve Mitchell/US PresswireRicky Williams will be called on to carry more of the rushing load with Ronnie Brown done for the season.
On Thursday night, Williams should make only his second NFL start since 2005 when the Dolphins play the
Carolina Panthers
.
Brown handled more of Miami's workload. He had 42 more carries than Williams and was one of the year's most productive goal-line backs. Brown had six goal-to-go touchdown runs. Only
Adrian Peterson
and
Michael Turner
have more.
When you think of Williams during his glory years, you recall a relentless warrior. Former Dolphins coach Dave Wannstedt would call Williams' number again and again and again. Williams owns two of the NFL's top 14 seasons for rushing attempts, carrying the ball 775 times in 2003 and 2004.
But Williams is 32 years old, a couple of years beyond the standard expiration date for running backs.
Through nine games, he has been extraordinary. But as players such as
Edgerrin James
,
Shaun Alexander
and
Ahman Green
can attest, a guy can smack the wall in a hurry when he's a thirtysomething feature back.
The only other running back with any carries on Miami's active roster is fullback
Lousaka Polite
, who is averaging 2.9 yards mostly on short-yardage attempts. Second-year pro
Lex Hilliard
has zero NFL attempts. The Dolphins recently signed undrafted rookie
Kory Sheets
.
But if Williams' performances to date indicates what he will do in Brown's place, then the 1998 Heisman Trophy winner will have a special season.
Williams was on pace to rush for 992 yards as the sidekick. If he stays healthy, that figure should go up. If he can reach 1,000 yards, he would break the NFL record for going six years between 1,000-yard seasons.
Williams has more yards from scrimmage than Brown on 38 fewer touches. Williams is averaging 6.1 yards for every rushing attempt or reception. Brown averaged 4.6 yards.
August, 30, 2009
8/30/09
7:49
AM ET
Posted by ESPN.com's Mike Sando
Rookie quarterback Nate Davis, rookie running back Kory Sheets, and backup receiver Micheal Spurlock likely are not going to help the 49ers in meaningful ways this season. They did help the 49ers during their exhibition game Saturday night.
Davis rallied the 49ers in the second half. He completed 10 of 15 passes for 132 yards. He found Spurlock for a 35-yard gain, setting up Sheets' winning touchdown run.
The game was not televised in my area and I will not offer observations until I watch the NFL Network replay Sunday. But I do think we can say this: The first-team offense was not productive, starting with quarterback Shaun Hill.
As Hill said during the game, according to the 49ers: "I would have liked for it to have gone a bit smoother than it did. I don't know. You can't tell a whole lot right now. I just wish we could have put a few more points on the board."
Hill completed 9 of 17 passes for 79 yards, or 4.6 yards per attempt. I know offensive coordinator Jimmy Raye has said running back Frank Gore is the most important member of the offense, but teams generally must throw the ball efficiently to win meaningful games. Hill did miss practice time during the week after experiencing back soreness. That did not help.
More broadly, how much evidence have we seen suggesting the 49ers are developing momentum in their passing game this summer?
May, 9, 2009
5/09/09
9:45
AM ET
Posted by ESPN.com's Mike Sando

Jim Thomas of the St. Louis Post-Dispatch says the Rams didn't think Pisa Tinoisamoa had the size to fit their scheme, and the team wasn't going to pay him starter money if he didn't fit the defense. That makes sense in theory, but the Rams will also need players this season. Are they strong enough at linebacker to make this move if injuries sideline Chris Draft or one of the other starters? This move carries some risk.
VanRam of Turf Show Times wasn't surprised when the Rams released Tinoisamoa. We know this because he wrote about the possibility in February: "While talk of cutting or trading Torry Holt and Orlando Pace has dominated roster talk around Rams nation, Pisa's name has bubbled up here and there as a potential casualty of business. We know the Rams are in store for plenty of roster turnover, so don't be shocked if Tinoisamoa joins the long list of former Rams."

The 49ers' Web site provides an interview transcript featuring thoughts from free-agent running back Kory Sheets. Sheets: "I plan on breaking that myth about me being a perimeter guy or a third-down back. I want to show everybody that I can be an every down back." Also from Sheets: "Growing up I used to watch Barry Sanders all the time. My high school coach gave me a tape of his highlights and I used to watch that all the time. I used to watch it at least three times a week just to see how he ran the ball. I definitely patterned my game after him."

Darren Urban of azcardinals.com explains what Kurt Warner sees from new quarterbacks coach Chris Miller. Urban: "Warner believes Miller will help in the translation of game preparation to actual game-planning, noting that sometimes with coaches that haven't played quarterback, 'in their mind, [a play] works, but sometimes it doesn't necessarily work when you are seeing it as a quarterback on the field.'" Warner's former position coach, Jeff Rutledge, also played in the NFL. Miller also wants to help Matt Leinart improve his footwork.

Danny O'Neil of the Seattle Times recalls an NFL.com report that said Ken Lucas discouraged the Lions from acquiring him. Had the Panthers sent Lucas to the Lions in February, Detroit would have inherited Lucas' $5.6 million salary. Instead, the Panthers released Lucas, whose one-year deal with Seattle features $2.3 million in base salary and no bonuses.
John Morgan of Field Gulls draws from previous reports on Max Unger in putting together a detailed scouting report on Seattle's second-round draft choice. Morgan: "Health and muscle development will determine Unger's upside and downside. If knee injuries occur or worsen, he could lose enough agility and enough power to no longer be athletic enough to play in the league. If he fills out and develops better sustained power, he has the kind mastery of technique and innate athleticism to be a special, even Pro Bowl caliber, center or guard."
Greg Johns of seattlepi.com sizes up the Seahawks' running backs. T.J. Duckett says the organization is showing great faith in the current runners. I do not think the Seahawks were against adding to the position early in the draft. They found what they considered to be better values at other positions.
May, 1, 2009
5/01/09
10:10
AM ET
Posted by ESPN.com's Mike Sando

Darren Urban of azcardinals.com says Anquan Boldin showed up at the Cardinals' facility for a physical examination Thursday. Perhaps that means Boldin will participate in the post-draft camp. Darnell Dockett also showed up. The Cardinals' success in the playoffs undermines players' leverage in these situations, I think. Urban: "Now, whether Boldin practices, we'll have to see. He came down with a sore hamstring at last year's minicamp -- about the time his contract issues first reached a boil. There might be some maladies for those seeking new contracts. Again, we will see. At least the drama of a missing guy will be avoided, and I would assume Boldin -- and to a lesser extent, Dockett -- will be tops on the media's interview list after practice." Holding out would not make much sense.
Kent Somers of the Arizona Republic reports from Chris "Beanie" Wells' introductory news conference at Cardinals headquarters. Quarterback Kurt Warner stunned Wells by sending a text mesage Saturday welcoming the running back to Arizona. Wells: "I was in shock. Kurt Warner was sending me a text message. I remember a few years ago, I was maybe in the sixth and seventh grade, we were watching the St. Louis-Tennessee Titans Super Bowl, and watching him."

Bryan Burwell of the St. Louis Post-Dispatch checks in with Rams quarterback Marc Bulger on the eve of minicamp. Bulger: "Every year, winning cures all. Earlier in my career we were winning and my biggest attribute was that I was steady, low-key, and my teammates knew how much I wanted to win and everything was great. Then all of a sudden, you lose a few years and that's my greatest weakness."
Also from Thomas: "Assuming everyone is on hand today, and this minicamp is still 'voluntary' for the vets, there will be 87 players on the field this morning. Of that group, 47 have one season or less experience on an NFL regular-season roster. Only six of the 87 players are age 30 or older, headed by 34-year-old defensive end Leonard Little."
VanRam of Turf Show Times
addresses key questions facing the Rams. He thinks Bulger will bounce back this season.

Taylor Price of 49ers.com passes along comments from 49ers rookies as they arrived for post-draft minicamp. Michael Crabtree wasn't sure when he would be cleared to practice after recovering from offseason foot surgery, but he should be ready by training camp.
John Crumpacker of the San Francisco Chronicle expects Crabtree, Glen Coffee and Scott McKillop to contribute immediately as rookies. Crumpacker: "Coffee will back up Frank Gore, McKillop will do the same at inside linebacker behind Takeo Spikes, and Pascoe figures to see playing time initially as a blocking tight end."
Matt Maiocco of the Santa Rosa Press-Democrat says where he thinks the 49ers' rookie free agents fit in. Maiocco on running back Kory Sheets: "Sheets has a real chance to win a roster spot. His primary competition will be Thomas Clayton, the team's leading rusher during the past two exhibition seasons. If Sheets proves his worth, it's possible the 49ers could employ three backs, similar to what the N.Y. Giants had with Jacobs, Ward and Bradshaw."
Also from Maiocco: checking in with the 49ers' draft picks. Coffee appears bigger than his listed weight of 209 pounds.
More from Maiocco: The 49ers haven't spoken to the Panthers about a deal for Julius Peppers, but such a move would be logical.
Matt Barrows of the Sacramento Bee says 49ers rookie Nate Davis compares himself to Donovan McNabb.
Daniel Brown of the San Jose Mercury News says Crabtree nearly gave up football for basketbal while in high school. The 49ers are happy Crabtree's father asked the youngster to reconsider.
Also from Brown: Current stories about Crabtree sound strikingly familiar to what people wrote about J.J. Stokes more than a decade ago, including this passage from Clark Judge's story in the Mercury News: "Though [George] Seifert compared Stokes to Dallas All-Pro wide receiver Michael Irvin, the move was reminiscent of the 49ers' 1985 draft-day deal for wide receiver Jerry Rice. Like then, the 49ers are coming off a Super Bowl season. Like then, they have two veteran wide receivers -- Rice and Taylor instead of Dwight Clark and Freddie Solomon. Like then, they struck after two wide receivers -- Michael Westbrook and Joey Galloway instead of Eddie Brown and Al Toon -- disappeared early."

Eric D. Williams of the Tacoma News Tribune quotes Seahawks coach Jim Mora on why it's important for Leroy Hill to attend minicamps. As Mora told KJR radio in Seattle: "A majority of what we're doing on defense terminology-wise and assignment-wise will be different than what Leroy has done his first four years here. So, he is missing valuable time when he's not here in order for him to be a productive football player for us on the field next fall. To ask a guy to come in, in a new scheme, a week before the first regular-season game -- which happens a lot of times with these franchise guys -- and be productive is a pipe dream. It just doesn't happen very often."
John Morgan of Field Gulls sketches out how he thinks the Seahawks might use Hill in conjunction with Lofa Tatupu and Aaron Curry.
Michael Steffes of Seahawk Addicts quotes Mora on how Hill could be used, based on what Mora told KJR: "Leroy will play the &#3
9;Will', which is the weak inside linebacker position. Aaron will play 'Sam', which is the strong outside linebacker position. The way we structure our defense is that they are both typically off the line of scrimmage, playing behind defensive linemen and using their athletic ability to run. There is not a whole lot of differences in what they do. Some small subtle differences, but you'll see three fast, physical, athletic, linebackers working together, and it will be exciting to see."
April, 25, 2009
4/25/09
10:23
AM ET
Posted by ESPN.com's Mike Sando

Matt Maiocco of the Santa Rosa Press-Democrat says the 49ers would draft Michael Crabtree with the 10th overall choice, if available. He says the 49ers would draft Knowshon Moreno over Chris Wells in the unlikely event they decided to draft a running back early. The team would be happy to draft Andre Smith at No. 10, but taking Michael Oher in that spot might not be a slam dunk. LSU's Tyson Jackson could be the preferred defensive lineman, over B.J. Raji. The team probably wouldn't take Malcolm Jenkins at No. 10. Brian Orakpo? Probably not. And it's unlikely the team would take Aaron Maybin or Everette Brown that early, either. Rey Maualuga or Brian Cushing could be higher priorities than Maybin or Brown.
Matt Barrows of the Sacramento Bee forecasts which players he thinks the 49ers will select with each of their picks. The list: Oher, running back Shonn Greene, outside linebacker Paul Kruger, quarterback Stephen McGee, inside linebacker Scott McKillop, receiver Brandon Gibson, outside linebacker Pierre Walters, receiver/quarterback Julian Edelman and tight end Bear Pascoe.
Daniel Brown of the San Jose Mercury News says there's value in the later rounds. He points to Pat White, Brian Hoyer, Chase Patton, Austin Collie, Ramses Barden, Kory Sheets and Ian Johnson as later-round prospects to watch.
Gary Plummer of 49ers.com says NFL teams can't measure a player's heart. Plummer: "I was never even invited to the Combine and I was never drafted, but I went on to play 12 seasons in the NFL. With those experiences, I've always rooted for guys who don't get drafted."
Niners scout Todd Brunner says the team has spent recent days making sure it has discussed every draft-eligible player.
John Crumpacker of the San Francisco Chronicle says the 49ers' public-relations department shielded coach Mike Singletary from reporters in the days leading to the draft. Crumpacker: "It's just as well. General manager Scot McCloughan put the 49ers' draft board together and will be making the call for the club."
Ray Ratto of the San Francisco Chronicle made me chuckle with this description of the NFL draft: "Today is the worst day of the entire NFL draft process, because it is the day that all the speculation ends and your favorite team is stuck with the choice it made rather than awash in the dozens it could have."

Kent Somers of the Arizona Republic previews the Cardinals' draft in general terms. Forget about getting specifics from Rod Graves or Ken Whisenhunt.
Also from Somers: It appears receiver Anquan Boldin will remain with the Cardinals through the draft. Trades are often contingent on a player passing a physical. The acquiring team also needs time, in many cases, to work out a new contract with the player. Somers: "The Cardinals are surprised there hasn't been more interest from teams, who apparently think the cost is too high, considering they would also have to come to terms with Boldin on a contract that would pay him an average of $8 million to $10 million a year."
More from Somers: The Cardinals would have no interest in Titans running backs LenDale White or Chris Henry if Tennessee offered either player as part of a trade for Boldin.

Greg Johns of seattlepi.com previews the Seahawks' draft options. Johns: "As much as teams talk of drafting the best player available regardless of position, there is an impetus to pick athletes who will be in line to earn starting roles before long in order to justify their draft position and salary slot."
Eric D. Williams of the Tacoma News Tribune says the Seahawks' first-round picks haven't panned out all that well under general manager Tim Ruskell, who has one year remaining on a five-year contract. Yes, this draft is important for him and the organization.
Clare Farnsworth of Seahawks.com takes a peek inside the Seahawks' draft room at their new facility. It's 1,600 square feet, twice the size of the old one. The rapport between Ruskell and vice president Ruston Webster transcends location. Webster: "You know what's sad? When we say something at the same time. That scares me. But it really is good. I know how he thinks. And I think for him, it's important to have somebody who understands that. And he knows how I think. For the most part, we were kind of brought up in this business the same way, so our philosophy is the same."
Tyler Dunne of Scout.com says the Seahawks would draft Wake Forest safety Chip Vaughn in the third round if available.

Nick Wagoner of stlouisrams.com says the Rams are putting an emphasis on character in this draft. Wagoner: "Fortunately for the Rams, most of the players they are considering in this year's draft are about as well rounded and mature as any crop of recent potential draft picks. Offensive tackles Jason Smith and Eugene Monroe, linebacker Aaron Curry and USC quarterback Mark Sanchez have received rave reviews for their personality and attitude at every stop they've made along the way. Taking Curry as an example, he has invited 12-year-old Bryson Merriweather, a leukemia survivor from Madison, Ala., to be his special guest at the draft in New York City."
VanRam of Turf Show Times warns against dismissing talk that the Rams could draft Sanchez with the second overall choice.
Jim Thomas of the St. Louis Post-Dispatch says he would draft Curry from Wake Forest with the second overall choice if he were making the decision for the Rams. However, all signs point to the team selecting an offensive tackle.
Also from Thomas: The Rams' need at tackle appears too great to ignore early in the draft. Thomas: "Michael Crabtree, the wide receiver from Texas Tech, basically eliminated himself from consideration with what Rams Park sources said was a diva attitude during his pre-draft trip here. Apparently, his rock star mentality was a big turnoff to coaches and front office personnel. Couple that with his foot injury, and the feeling in Earth City was that he wasn't worth the trouble. As for Sanchez, what first looked like pure smokescreen seemed to turn into downright infatuation. To some at Rams Park, Sanchez possesses the leadership qualities -- the 'it' factor -- that may be lacking in Marc Bulger. But at the end of the day, the Rams appear committed to Bulger for at least one more season."
NFL SCOREBOARD
Sunday, 2/2
WEEKLY LEADERS