January, 15, 2012
1/15/12
4:16
PM ET
BALTIMORE -- Thoughts on the
Baltimore Ravens
' 20-13
win
over the
Houston Texans
in the divisional playoff game:


What it means
: It was an ugly and unimpressive win by the second-seeded Ravens, especially on offense. But Baltimore stepped up when it needed to do so, converting 17 points off three Texans turnovers. The Ravens improved to 9-0 at home and won a playoff game in Baltimore for the first time in 11 years. This also marked the fourth straight season that Baltimore has won a postseason game.
Coming up big
: Cornerback
Lardarius Webb
became the third Ravens player to make two interceptions in a postseason game. His first one led to a touchdown in the first quarter, and his second one turned the momentum in the fourth.
Ed Reed
picked off Texans rookie quarterback
T.J. Yates
in the final two minutes of the game for the fourth forced turnover by Baltimore.
Flacco struggles
:
Joe Flacco
threw two touchdowns but he finished 14-of-27 for 184 yards. He didn't get much help from his teammates. There were five drops by receivers. He was also sacked five times. His counterpart, Yates, was 17-of-35 for 175 yards and three interceptions.
Getting run down
: The Ravens' usually stout run defense showed major cracks against Houston.
Arian Foster
ran for 132 yards and one touchdown to become the first running back to gain more than 100 yards against the Ravens in 16 playoff games. The most rushing yards that Baltimore had given up to one running back was 91 against
Eddie George
in January 2001.
Critical call
: Leading by four points (17-13) late in the third quarter, the Ravens decided to go for the touchdown instead of settling for the field goal at the 1-yard line.
Ray Rice
chose to drive into the middle of the line rather than leap and got stopped short. It ultimately didn't hurt Baltimore.
Converting on mistakes early
: The Ravens jumped out to a 17-3 first-quarter lead because they converted two turnovers into two Flacco touchdown passes. A fumble on a punt return (deep in Texans territory) led to a 1-yard Flacco touchdown pass to blocking tight end
Kris Wilson
, and a Yates interception resulted in a 10-yard scoring pass from Flacco to
Anquan Boldin
.
What's next
: The Ravens advance to their second AFC championship game in four seasons. Baltimore plays at top-seeded New England next Sunday at 3 p.m.
July, 28, 2011
7/28/11
10:05
PM ET
November, 22, 2010
11/22/10
8:08
PM ET
SAN DIEGO -- San Diego superstar tight end
Antonio Gates
will not play Monday night against Denver. It was determined he was unable to play effectively because of a foot injury.
It is the second straight game Gates will miss after playing in 94 straight games.
Mike Tolbert
is expected to start at running back for San Diego. As expected, rookie running back
Ryan Mathews
is out with an ankle injury. He didn't practice all week. Both Tolbert and Mathews have 382 rushing yards.
Receiver
Legedu Naanee
remains out with a hamstring injury.
Patrick Crayton
takes his place. Current No. 1 receiver
Malcom Floyd
is returning after missing several games with a hamstring injury.
Because of the injuries at tight end and running back, San Diego has signed Korry Sperry (tight end) and Curtis Brinkley (running back) off the practice squad. Both players are active Monday night. Backup tight end
Kris Wilson
is also inactive, so expect to see a lot of
Randy McMichael
in both phases of the offense.
For Denver, cornerback Andre Goodman (hip) is out as is linebacker
Robert Ayers
(foot). Ayers may be getting close to playing. Denver running back
Laurence Maroney
is inactive for the second straight game. He was acquired from New England in September for a fourth-round pick.
Because of a recent San Diego State game, there are big patches of rough grass at heading toward the East end zone.
Meanwhile, in other AFC West-related news, Oakland coach Tom Cable confirmed that starting defensive end Trevor Scott did tear the ACL in his knee and he is out for the season, as expected. He was hurt on a special teams play Sunday in a 35-3 loss at Pittsburgh.
The Buffalo Bills are unsure if linebacker Shawne Merriman will play the rest of the season because of an injury. Sound familiar, Chargers' fans? Buffalo claimed him off waivers last month. He was cut in San Diego because he couldn't stay healthy. Merriman is a free agent at the end of the season.
November, 5, 2010
11/05/10
6:03
PM ET
Three of the better players in the AFC West are doubtful to play in Week 9. All of their absences would be felt greatly by their teams.
Oakland is preparing for its biggest game since 2002 with star cornerback
Nnamdi Asomugha
and standout tight end
Zach Miller
being listed as doubtful
to play against first-place Kansas City. Also, San Diego star tight end
Antonio Gates
is doubtful to play at Houston.
Asomugha and Miller would be big losses for Oakland against the Chiefs. Neither player practiced all week. Asomugha has an ankle injury and Miller has a foot problem.
Asomugha is widely considered one of the best cornerbacks in the NFL.
Stanford Routt
and
Chris Johnson
, who is coming off a concussion, will get more playing time if Asomugha doesn't play.
Kansas City has the No. 1 running attack in the NFL and relies on the run. However, if Asomugha doesn't play, expect Chiefs quarterback
Matt Cassel
to challenge Oakland's cornerbacks more than he would if Asomugha were healthy. Miller is a favorite target in Oakland and a top third-down weapon.
San Diego's passing game will be a mess if Gates can't play. He has plantar fasciitis on one foot and an injured toe on the other, and didn't practice all week. San Diego quarterback
Philip Rivers
will be without his top four receivers, and if Gates – Rivers' favorite target – doesn't play, Rivers will be in a lurch. Backup tight ends
Randy McMichael
and
Kris Wilson
and receiver
Patrick Crayton
will the have to carry the receiving load along with running back
Darren Sproles
.
Rivers has thrown for 2,649 yards this season, which is more than any quarterback in NFL history after eight games. He might be challenged like he has never been before this week. Oakland and San Diego have a bye in Week 10, so these three players will get a chance to heal next week.
Meanwhile, Kansas City guard
Ryan Lilja
(hand) and receiver/returner/rusher
Dexter McCluster
(ankle) are both questionable to face Oakland.
August, 3, 2010
8/03/10
1:08
PM ET
ESPN.com NFL Power Ranking
(pre-camp): 10
SAN DIEGO --
Philip Rivers
, with the benefit of solid protection, dropped back, scanned the field and let loose with what is very likely the NFL's prettiest deep ball.
Galloping down the right sideline,
Malcom Floyd
skied high in double coverage and brought down a spectacular catch, breaking away from coverage and reaching the end zone. A large training camp crowd erupted. It was just another big play from the explosive
San Diego Chargers
offense during this camp.
The Chargers are not spending the early days of camp worrying about who isn't in attendance and how are they going to survive without them. Instead, the Chargers are acting like a team preparing for a Super Bowl run with the players who are in camp.
"We're going every day and we're going hard," San Diego coach Norv Turner said. "Sure, we'd like everyone here, but they aren't here and we feel good with what the guys who are here are doing. There is a calmness here."
The Chargers could be excused if there was a sense of panic at camp. They are practicing without Pro Bowl receiver
Vincent Jackson
, left tackle
Marcus McNeill
and linebacker
Shawne Merriman
, all of whom are holding out. Jackson and McNeill are expected to hold out well into the season. Merriman's status is less clear.
The attitude in San Diego is not one of a season that is about to be lost. Training camp is being used as a time to get everyone ready for a long run.
"I'm not going to say we don't miss those guys, because we do," Rivers said. "I miss throwing the ball to Vincent and I miss standing on the sidelines jawing with Marcus. Those are important guys. But at the same time, we are moving forward. We feel very comfortable with the guys who are here. We're getting a lot done."
THREE HOT ISSUES
[+] Enlarge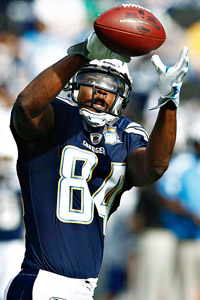 Robert Benson/US PresswireBuster Davis is getting increased time on the field with Vincent Jackson holding out.
1. Do the Chargers have enough depth to prepare effectively without their veteran holdouts?
It is only the first week, but there appears to be little doubt San Diego will leave training camp feeling good about the positions where players are holding out.
The key is San Diego's tremendous depth. Chargers general manager A.J. Smith may get some grief for not giving in and signing the holdout veterans, but he also has his team in position to survive the losses. San Diego is deep at many key positions. Smith has been careful to mix proven veteran talent with intriguing young prospects.
Last year, the Chargers lost defensive tackle
Jamal Williams
for the entire season and center
Nick Hardwick
for virtually the entire regular season in Week 1. The Chargers plugged in people and went 13-3 in the regular season.
"We've been through this before in a lot of ways," Turner said. "We feel good with the young players here."
Jackson is being replaced by
Legedu Naanee
and
Buster Davis
, both of whom are having terrific camps. McNeill is being replaced by
Brandyn Dombrowski
. He was a valuable injury replacement at guard and right tackle last season. There is also veteran
Tra Thomas
, who can help as well. Merriman is being replaced by 2009 first-round pick
Larry English
, who was drafted to replace Merriman in case he departed through free agency. English appears to have made great strides this offseason after a lackluster rookie season.
2. Will Ryan Mathews be up for the challenge of replacing a legend?
This is a landmark time in Chargers history. The team is moving away from the
LaDainian Tomlinson
era. He was cut in February after nine seasons in San Diego. Tomlinson had a Hall of Fame career, but he faltered the past two seasons.
While Tomlinson is still a respected figure in San Diego, it is clear that the Chargers are relieved to move on and help ignite the run game, which ranked No. 31 in the NFL last season.
It's Mathews' job in training camp to make the team feel comfortable that he is up to the task of bringing balance back to San Diego's offense. Mathews was the No. 12 overall pick and people in the organization have been raving about him.
"He does not seem affected by having to replace LaDainian," Rivers said. "He's very humble and very confident. It doesn't seem too big for him. We expect a very productive training camp from him."
[+] Enlarge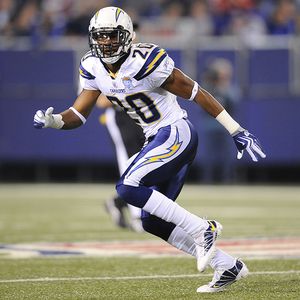 Rich Kane/Icon SMIAntoine Cason is hoping to make people forget about Antonio Cromartie.
3. Is Antoine Cason the answer at right cornerback?
While
Antonio Cromartie
is far from the legacy player Tomlinson was, he is a high-profile departure. He was traded to the Jets on the first day of the trading season. He is being replaced by Cason, San Diego's first-round pick in 2008.
The Chargers are excited about the change. Cromartie had 10 interceptions in 2007, but he had a total of five in the next two seasons. Cromartie made many mental mistakes, he was poor against the run and he had some off-field concerns.
The Chargers believe they will be in better shape with Cason, who has been lauded for his intelligence and preparation. Cromartie may be a big name, but the Chargers believe Cason will continue to prove in camp that Cromartie isn't a big loss.
BIGGEST SURPRISE
You would think that the Chargers would be nervous about not having Jackson, McNeill and Merriman in camp. It doesn't seem like they miss them at all. Practices have been crisp and dynamic. Players are very confident and replacements for each absent player don't appear to be intimidated at all. The Chargers will surely miss these guys on the field if it gets to that point, but there is no wallowing in the early stages of camp. This team means business.
BIGGEST DISAPPOINTMENT
Merriman needs to be in camp. He is holding out because he wants assurances that the Chargers won't trade him. He has been upset that he was the subject of trade talk during the past year. The Chargers won't give him those assurances, but Smith has said he has no current plans to deal Merriman. Merriman really has no leverage here. We all know he's going to play this year. This is a huge season for the rest of his career. He has to prove he can be a dominant pass-rusher again as he enters the final year of his contract. He is just wasting time by not being at camp.
OBSERVATION DECK
[+] Enlarge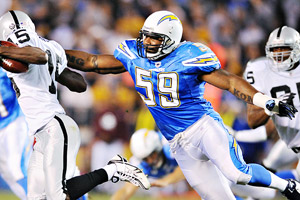 Christopher Hanewinckel/US PresswireThe Chargers have high expectations for linebacker Brandon Siler.
Quietly, many in San Diego think the offensive line is ready for a big season. The unit may be motivated by critical comments made by Tomlinson. Among his many excuses for his dramatic lack of production last season was the offensive line play. The line isn't saying anything about it, but the word is this group is very inspired.

The Chargers are excited about inside linebacker Brandon Siler. He came on strong last season and should have a big role on the defense this season.

Look out for linebacker Antwan Applewhite. He was hurt last year, but the Chargers think he could be a secret weapon. He is a special-teams ace and could play a role as a pass-rusher. He is a fierce player.

Turner is excited to have veteran tight end Randy McMichael. The two were together in Miami in 2002-03 and Turner thinks the veteran can help. Known as a good receiver, McMichael is an underrated blocker, Turner said. The Chargers are also high on backup tight end Kris Wilson.

Undrafted rookie receiver Jeremy Williams from Tulane has had a good early camp and is the favorite to be the No. 5 receiver.

While losing Rivers would be devastating, the Chargers have one of the best backups in the NFL in Billy Volek. The guy is a pro and has looked sharp.

Expect big fullback Mike Tolbert to give San Diego a boost in the short-yardage game. The 5-foot-9, 243-pound Tolbert is a load.

The Chargers were thrilled with the play of right guard Louis Vasquez last season as a rookie. The word is Vasquez is continuing to make strides and the Chargers think they have a real find.
March, 5, 2010
3/05/10
3:02
AM ET
The
Chicago Bears
are
bringing in
tight end
Brandon Manumaleuna
for a visit on Friday.
Chicago may offer Manumaleuna enough make him sign while on his visit. He is a blocking specialist, who the Chargers would want back, but at the right price. San Diego may be preparing for Manumaleuna to depart.
ESPN's John Clayton has reported that the Chargers have re-signed tight end
Kris Wilson
to a two-year contract worth $1.7 million.
The Denver Post
is reporting that the Broncos are lining up several visits for Friday. Most of these visits are for interior linemen on both sides of the ball as Denver tries to get bigger.
Expect Friday morning and afternoon to offer more news about visits and signing around the division.
March, 3, 2010
3/03/10
6:19
PM ET
Denver

Potential unrestricted free agents:
P
Mitch Berger
, S
Vernon Fox
, T
Brandon Gorin
,
Nick Greisen
, G
Ben Hamilton
, G
Russ Hochstein
, DE
Vonnie Holliday
, CB
Ty Law
, WR
Brandon Lloyd
Potential restricted free agents:
LB
Elvis Dumervil
, OL
Chris Kuper
, WR
Brandon Marshall
, QB
Kyle Orton
, TE
Tony Scheffler
, DT
Le Kevin Smith
Franchise player:
None.
What to expect:
The Broncos' restricted class is talented. That will be the focus. It has been reported that Marshall, Orton, Dumervil, Scheffler and Kuper will all get one-year tenders. Marshall very well could be traded. It wouldn't be a shock if Dumervil gets some action on the restricted market. Miami could be interested.
Kansas City

Potential unrestricted free agents:
OL
Andy Alleman
, S
Mike Brown
, WR
Chris Chambers
, WR
Terrance Copper
, TE
Sean Ryan
, C
Wade Smith
, LB
Mike Vrabel
, WR
Bobby Wade
Potential restricted free agents:
RB
Jackie Battle
, QB
Brodie Croyle
, LB
Derrick Johnson
, LB
Corey Mays
, OL
Ikechuku Ndukwe
, OL
Rudy Niswanger
, OL
Ryan O'Callaghan
, S
Jarrad Page
Franchise player:
None.
What to expect:
The Chiefs are interested in keeping some of their unrestricted free agents. General manager Scott Pioli said at the combine the team has been in contact with several of their free agents. Chambers is the focus. The team is trying to keep him. Brown and Vrabel could also return with new deals.
Oakland

Potential unrestricted free agents:
S
Hiram Eugene
, G
Cornell Green
, T
Langston Walker
, LB
Sam Williams
Potential restricted free agents:
LB
Jon Alston
, OL
Khalif Barnes
, LB
Ricky Brown
, LB
Jon Condo
, QB
Charlie Frye
, QB
Bruce Gradkowski
, LB
Thomas Howard
, RB
Luke Lawton
, OL
Chris Morris
, LB
Kirk Morrison
, CB
Stanford Routt
, RB
Gary Russell
Franchise player:
DE
Richard Seymour
.
What to expect:
The Raiders franchised Seymour and signed kicker
Sebastian Janikowski
to a record deal, so they've already been busy. It will be interesting to see how they tender Howard and Morrison. The Raiders could use some new life at linebacker and this could be the start of it.
San Diego

Potential unrestricted free agents:
DT
Alfonso Boone
, TE
Brandon Manumaleuna
, C
Dennis Norman
, WR
Kassim Osgood
. T
Jon Runyan
, DT
Ian Scott
, TE
Kris Wilson
Potential restricted free agents:
OL
Jeromey Clary
, LB
Tim Dobbins
, WR
Malcom Floyd
, DT
Antonio Garay
, OL
Eric Ghiaciuc
, LB
Marques Harris
, WR
Vincent Jackson
, DT
Travis Johnson
, OL
Marcus McNeill
, LB
Shawne Merriman
, RB
Darren Sproles
, QB
Charlie Whitehurst
Franchise player:
None
What to expect:
The Chargers have their hands full. It's been reported they will give high tenders to Jackson, Merriman, McNeill and Floyd. Jackson and McNeill could still attract some interest on the restricted market. Sproles is not expected to be tendered, making him a free agent. The Chargers want him back. But if Sproles hits the open market, the multifaceted weapon could be scooped up quickly.
February, 15, 2010
2/15/10
1:00
PM ET
»
AFC Free Agency
:
East
|
West
|
North
|
South
»
NFC
:
East
|
West
|
North
|
South
An early look at the free-agent situation in the AFC West.
Note
: These projected lists reflect notable unrestricted free agents for each team. The NFL will not issue an official list of free agents until the signing period begins March 5.
[+] Enlarge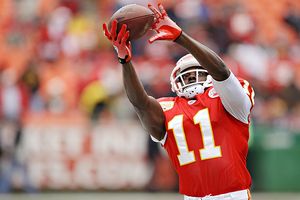 AP Photo/Charlie RiedelKansas City wide receiver Chris Chambers had 608 yards on 36 receptions after being acquired off waivers in November.
Denver Broncos
Unrestricted free agents
: P
Mitch Berger
, S
Vernon Fox
, T
Brandon Gorin
,
Nick Greisen
, G
Ben Hamilton
, G
Russ Hochstein
, DE
Vonnie Holliday
, CB
Ty Law
, WR
Brandon Lloyd
.
Key figures
: There isn't much here. The team could bring back Hochstein, Holliday and Law, but they are all complementary pieces. It's all about the restricted free-agent class in Denver. The Broncos have to figure out what they are going to do with receiver
Brandon Marshall
, defensive end
Elvis Dumervil
, quarterback
Kyle Orton
and tight end
Tony Scheffler
.
Kansas City Chiefs
Unrestricted free agents
: S
Mike Brown
, WR
Chris Chambers
, WR
Terrance Copper
, TE
Sean Ryan
, C
Wade Smith
, LB
Mike Vrabel
, WR
Bobby Wade
,
Key figures
: Chambers will be Kansas City's priority. He gave the Chiefs' offense a big spark after he was claimed off waivers in November. The team's brass really likes what Brown and Vrabel bring to the team and both could be back in Kansas City at the right price. Wade also could be brought back.
Oakland Raiders
Unrestricted free agents
:
Hiram Eugene
, G
Cornell Green
, K
Sebastian Janikowski
, DE
Richard Seymour
, T
Langston Walker
, LB
Sam Williams
Key figures
: It's all about Seymour and Janikowski. The Raiders are trying to get long-term deals with both players done. If new deals aren't struck, watch for Oakland to put the franchise and transition tags on them. Oakland will do anything it can not to lose either player.
San Diego Chargers
Unrestricted free agents
: DT
Alfonso Boone
, TE
Brandon Manumaleuna
, C
Dennis Norman
, WR
Kassim Osgood
. T
Jon Runyan
, DT
Ian Scott
, TE
Kris Wilson
Key figures
: The team would like to bring back Osgood, one of the best special-teams players in the NFL. But Osgood wants a chance to be a receiver and the opportunity might not be in San Diego. The Chargers will spend most of their energy on their restricted class. The priorities are receiver
Vincent Jackson
, tackle
Marcus McNeill
, linebacker
Shawne Merriman
, running back
Darren Sproles
and receiver
Malcom Floyd
.
January, 17, 2010
1/17/10
5:46
PM ET
SAN DIEGO -- Oops, I forgot one.

When I wrote Friday about all of the San Diego receiving game options, I failed to mention third-string tight end Kris Wilson. I guess I didn't mention him because, well, he's the third-string tight end.

Wouldn't you know it – Wilson scored the first touchdown of the game Sunday, on a 13-yard pass from Philip Rivers. San Diego has a 7-0 lead with 12:11 to go in the half.

The fact that Wilson scored, shows just how deep San Diego's receiving crew is; I don't think the Jets, ultimately, will have an answer for it .
September, 7, 2008
9/07/08
3:26
PM ET
Posted by ESPN.com's Bill Williamson

San Diego -- Here are the inactive lists for both Carolina and San Diego.
Carolina: Matt Moore, Ryne Robinson, C.J. Wilson, James Anderson, Donte Curry, Mackenzy Bernadeau, Hilee Taylor and Frank Omiyale.
San Diego: Charlie Whitehurst, DeJuan Tribble, Anthony Waters, Nick Hardwick, Marcus McNeill, Buster Davis, Kris Wilson and Brandon McKinney.
No major surprises here. As expected, the Chargers will be without two standout offensive linemen: center Nick Hardwick (foot) and left tackle Marcus McNeill (neck). Jeremy Newbery will play center and L.J. Shelton will play for McNeill and try to keep Panthers sack master Julius Peppers away from San Diego quarterback Philip Rivers.
NFL SCOREBOARD
Sunday, 2/2
WEEKLY LEADERS