NFL Nation:

Kurt Schottenheimer
February, 9, 2011
2/09/11
6:08
PM ET
Thoughts after the
Arizona Cardinals
announced
Pittsburgh Steelers
secondary coach Ray Horton's hiring as defensive coordinator:
Horton has paid his dues. He's been a secondary coach or assistant secondary coach for each of his 16 seasons on NFL coaching staffs. A natural question: Why didn't he advance more quickly? One potential reason: Horton's bosses kept leaving the game. He has worked for Bruce Coslet, Steve Mariucci and Bill Cowher over the years. Those guys haven't been in position to help him get better jobs elsewhere.
The Steelers allowed Horton to reach the final year of his contract. They made sure linebackers coach Keith Butler remained on staff, presumably as their future coordinator. The Cardinals also wanted Butler first. That may or may not reflect negatively on Horton. It might just mean these teams prefer Butler.
Horton gives the Cardinals the Pittsburgh flavor they've sought for their defense. That could give the team a more focused vision regarding the players Arizona seeks through the draft. Coach Ken Whisenhunt should be more comfortable with this defensive coordinator.
Horton spent seven seasons under Steelers defensive coordinator Dick LeBeau in Pittsburgh and four seasons under him in Cincinnati. Ron Lynn was the defensive coordinator when Horton broke into the NFL as an assistant with the Washington Redskins in 1994. Norv Turner was head coach. Kurt Schottenheimer was defensive coordinator when Horton was coaching the secondary for the Detroit Lions under head coaches Marty Mornhinweg and Steve Mariucci.
The Cardinals have invested substantial sums in their secondary. Adrian Wilson and Dominique Rodgers-Cromartie are coming off disappointing seasons. Horton must get more from them. Horton coached Hall of Famer Darrell Green, who has worked with Rodgers-Cromartie during offseasons.
Arizona was among eight NFL teams that went into the 2010 season with an offensive-minded head coach and a defensive coordinator running a 3-4 scheme. Six of the eight defensive coordinators had backgrounds coaching linebackers. One traced his coaching roots to the defensive line. The Packers' Dom Capers was the only one with a background in the secondary. He had been a head coach twice before joining Green Bay.
The Cardinals have a news conference set to begin momentarily. Back with more in a bit.
August, 7, 2010
8/07/10
1:38
PM ET
SANTA CLARA, Calif. -- The
San Francisco 49ers
call it taking ownership.
Coach Mike Singletary sets aside a portion of practice for players to step forward and coaches to step back. Quarterback
Alex Smith
gets to call whichever offensive play he thinks will work for the situation. Inside linebacker
Patrick Willis
makes the call on defense.
"Good ownership, Alex," Pro Bowl tight end
Vernon Davis
hollered as he ran back upfield after snatching Smith's 40-yard pass in the back of the end zone Friday. "I like that ownership. You're part of the team now, baby!"
Smith isn't nearly as outspoken, but in his own way, he made sure Willis, the 49ers' Pro Bowl linebacker, knew which side's play call prevailed. And if anyone remained unsure, all he had to do was consult Davis, one of the brashest and most freakishly athletic players anywhere. Davis, and his mouth, always seem to be open.
"Vernon brings an attitude now that we're going to out there and we're going to make plays and we're going to shove it down your throat," Smith said. "And when we make plays, you're going to hear about it. We're going to be hooting and hollering. I'm not going to do that, but those perimeter guys are. You love that attitude."
Even the 49ers' defensive players love it. They know how hard Davis works and, besides, this team is tight. For all the offensive coaching changes the 49ers have endured -- five coordinators since Smith entered the NFL in 2005 -- the team's core players have been together for at least three seasons in most cases.
All the key components are back from a team that finished 8-8 last season. An improving offense and questions elsewhere in the division give the 49ers their clearest shot at a playoff berth since the days of
Jeff Garcia
and
Terrell Owens
. Just ask Davis.
"You have Ted Ginn outside with a lot of speed and you have to keep an eye on him," Davis said. "Then you have [Michael] Crabtree, who is just like a cat in the night. I mean, he just runs his routes so well. Then you have to worry about
Josh Morgan
. When all of us are on the field and
Frank Gore
, I mean, they can't stop us."
THREE HOT ISSUES
[+] Enlarge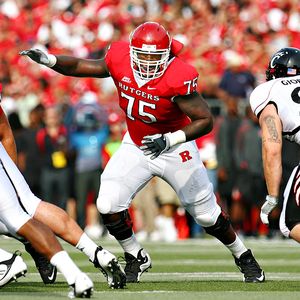 Ned Dishman/Getty ImagesThe 49ers need rookie tackle Anthony Davis to make a quick transition to the NFL.
1. How will Frank Gore's role evolve?
Gore rushed for 1,120 yards and 10 touchdowns last season, so it's not like he wasn't a big part of the offense. Still, perceptions linger that Gore and Smith weren't particularly compatible. Smith seemed most comfortable operating from looser formations. Gore has always preferred running behind a fullback out of a more traditional offense. To answer the question, though, check out Gore's stats over the final four games of the 2009 season. He averaged 23 carries for 113 yards in those games. Expect the 49ers to continue feeding Gore as long as the running back holds up physically. That was where the offense was headed in December.
2. What impact will Ted Ginn Jr. have on the offense?
Forget about what Ginn accomplished -- or failed to accomplish -- with the
Miami Dolphins
. In Miami, Ginn was measured against expectations for a first-round draft choice. The expectations aren't the same in San Francisco, where the 49ers already have established offensive stars (Davis and Gore) and one of the better up-and-coming wideouts in second-year pro Crabtree. All Ginn has to do for the 49ers is use his speed to attract safety help against the deep ball. Ginn has been able to do that in practice. His speed is obvious, and it should lead to more favorable coverages for the other receiving targets, notably Davis and Crabtree.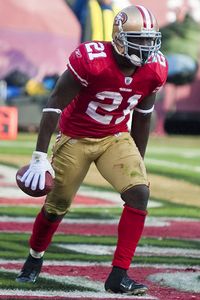 Jason O. Watson/US PresswireExpect Frank Gore to remain the centerpiece of San Francisco's offense.
3. Will the offensive line improve?
The three hottest questions in 49ers camp concern the offense. That is fitting for a team whose defense has held up its end in recent seasons. While the 49ers are excited about adding first-round linemen
Mike Iupati
and
Anthony Davis
, both players face learning curves as they transition to the NFL. The 49ers play three of their first four games on the road, where communication can be difficult and experience helps a great deal. Iupati and Davis will upgrade this line over the course of the season, but the line could face some issues early on.
BIGGEST SURPRISE
Nate Clements.
The veteran cornerback seems like his old self: confident, outspoken, having fun. He's been bantering with Davis and seems to have moved past a difficult 2009 season. Clements spent his offseason training in Arizona, with an emphasis on fundamentals. He looks good so far.
BIGGEST DISAPPOINTMENT
Aubrayo Franklin.
The 49ers' franchise player remains unsigned. It's a given that Franklin will report before the regular season. Singletary has confidence Franklin will report in good condition, so there won't be any
Albert Haynesworth
-style conditioning issues. But with the team setting aside $7 million for Franklin this season, it would be nice to have him in camp.
OBSERVATION DECK
Shawntae Spencer could be the best cornerback on the team even if Clements regains past form. He played well last season and should gain momentum in his second season back from knee surgery.

[+] Enlarge

Kevin Terrell/Getty ImagesThe 49ers are in no rush to make rookie Taylor Mays a starter this season.

Cornerback-turned-safety Reggie Smith is getting significant reps as an extra defensive back in camp. I'm not sure what that means for rookie second-round choice Taylor Mays, but it would be foolish to think the 49ers will not find playing time for Mays this season. It's just a matter of how quickly they feel comfortable working him into the defense. There's no rush to make Mays a starter as long as veteran Michael Lewis is healthy.

Brandon Jones has a chance to make the situation at receiver more interesting. Crabtree and Morgan are the starters. Ginn appears likely to earn a spot among the top three or four. Jones, a disappointment last season after an injury set him back, has the talent to become more of a factor. He seems to be having a good camp so far.

The 49ers' low-stakes gamble on Travis LaBoy suffered a setback when the veteran pass-rusher suffered a concussion early in camp. Concussion problems factored into the Tennessee Titans' decision against re-signing LaBoy years ago. The 49ers might not have an elite pass-rusher, but they ranked third in the NFL for sacks last season, and their outside linebackers have very good quickness. Diyral Briggs has stood out recently and could provide depth for a group featuring Parys Haralson, Manny Lawson and Ahmad Brooks.

Brit Miller has made a positive impression early in camp, but it's an upset if veteran Moran Norris isn't the starting fullback.

One upside to Franklin's absence: Ricky Jean-Francois is getting significant reps at nose tackle. As Franklin proved, the 49ers can develop players at that position.

Singletary drew national attention for physical practices last summer when he unveiled nutcracker drills in which players rammed into one another. That storyline has run its course. Singletary has modified the drills and limited reps for linemen, who are already doing plenty of hitting. Technique is the primary point of emphasis in the drills.

Spread passing games in college have made it tougher to evaluate inside linebackers for 3-4 schemes, but the 49ers think they've found a potential good one in third-round choice Navorro Bowman. They're working him at the "Ted" linebacker position as a possible successor to dependable veteran Takeo Spikes.

Backup running back Glen Coffee added weight this offseason in an effort to improve upon what he considered a subpar rookie season. He hasn't stood out in camp to this point, however.

New special-teams coach Kurt Schottenheimer has slid under the radar to this point. That will change if the team suffers continued problems in the return game. Ginn should upgrade kickoff returns. Preseason games should tell us whether rookie receiver Kyle Williams can salvage the punt-return game. Williams could stick as the fifth or sixth receiver if he can make a positive impact on punt returns this summer.

Iupati stands out for his run blocking, but he's getting lots of reps and could wear down in the short term. Incumbent starter David Baas continues to miss time with a concussion.

Veteran Barry Sims and slimmed-down second-year tackle Alex Boone could be competing for the ninth and likely final spot among offensive linemen. Once Iupati and Davis become starters, the top three backups would likely become Baas, Adam Snyder and Tony Wragge.
July, 29, 2010
7/29/10
1:50
PM ET
Jesper from Denmark continues to see his NFC West blog legacy grow.
What began as
his critical look
at the
St. Louis Rams
has turned into a four-part series. We're back with a look at the
San Francisco 49ers
after
covering
the
Seattle Seahawks
on Wednesday.
Thanks to all who reached out and volunteered to engage me in conversation.
Facebook
friend Aaron was the first to come through with his thoughts, so here we go ...
Quarterback
[+] Enlarge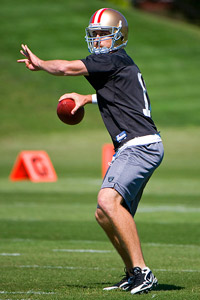 Kyle Terada/US PresswireAlex Smith threw for 2,350 yards and 18 touchdowns last season.
Aaron:
Alex Smith
is coming off of his best statistical season and for the first time in his career is going to have a true No. 1 receiver in
Michael Crabtree
, a Pro Bowl target in
Vernon Davis
and the same offensive coordinator. There are still questions about whether he can put the team on his back and win, but if he can show some of what he did against Seattle back in 2007, then there is a chance he could start climbing the QB ranks.
David Carr
has more arm strength than
Shaun Hill
and might finally be over his shell-shocking in Houston.
Nate Davis
has the tools as a No. 3 quarterback who can develop. Verdict: improved just because Alex will be more comfortable and farther ahead in the playbook than a year before.
Sando:
I'd rather have Hill than Carr as a backup if I were the 49ers. He won games as the 49ers' starter, knew the offense and had the respect of teammates. I also understood the thinking in going with a more physically talented player. The 49ers wanted someone with more long-term starting potential. The 49ers should be better at quarterback as Smith becomes more experienced in the system.
Running back
Aaron:
Frank Gore
is Frank Gore; I love him he does everything you want a back to do. He has the power you don't expect out of someone his size. His ankles are what worry me, though. Two years in a row, he has had to miss games because of them.
Glen Coffee
and
Anthony Dixon
have not earned any of my trust. It almost feels like they are slower less powerful versions of Gore, with worse vision. Verdict: same or slightly better because the offensive line should improve.
Sando:
Coffee should be improved in his second season. As a rookie, he was thrown into the lineup before he was ready and struggled behind a floundering line. As with quarterback, I think the situation has improved more than the talent has improved. The 49ers have had an offseason to set up their offense in a way that suits Gore and Smith together. They essentially had two offenses last season, one for Gore and one for Smith. There's still reason to wonder whether a back best suited for running out of the I-formation can produce consistently playing with a quarterback most comfortable with spread-type formations. But the 49ers have had plenty of time to remedy the situation. Gore should be in better position as a result.
Wide receiver
Aaron:
Crabtree gets a full offseason to get the playbook and develop chemistry with Smith. He looked like a pro when he came in and now he truly gets to show his stuff. I see a possible Pro Bowler.
Josh Morgan
is a solid No. 2 who can show flashes of breaking away. Ted Ginn Jr. -- if he catches the ball -- can be a game-changer from the slot or out wide. Even if he's just a decoy, Ginn will help with what I feel is the one weakness on offense -- speed.
Jason Hill
, I love, and I wish he could stay healthy and get a good chance. I feel he'd be a better No. 2. In the games he's played in, he's produced. The rest of the guys are playing for the No. 5 spot on the team. I'm not so sure
Brandon Jones
will make it or is worth what we spent on him. Verdict: better.
Mike Sando:
The 49ers haven't had the personnel at this position recently to justify putting three wide receivers on the field during early downs at the expense of
Delanie Walker
or
Moran Norris
. Their three-receiver stuff was reserved mostly for third downs last season. This is one area where the 49ers need to diversify. Ginn is the key variable. The threat of what he can do could matter as much as what he actually does. The speed factor could upgrade this largely inexperienced group. The 49ers' wide receivers have 26 career touchdowns. Only the Rams' wideouts have fewer (13) among division teams. That isn't necessarily bad, but it's a reminder that this group must prove itself.
Isaac Bruce
's retirement opens a roster spot for a player who might develop. Crabtree should improve with a full offseason of practice.
January, 18, 2010
1/18/10
4:26
PM ET
The 49ers' hiring of Kurt Schottenheimer to coach their special teams should work out because the team has good personnel at snapper, kicker and punter.

But replacing Al Everest with Schottenheimer is a curious move. Everest was known as a solid special-teams coach (he could wind up with the Steelers). Schottenheimer has a long history as an NFL assistant coach, but he has not coached special teams since 1994.

The 49ers' return game was poor in 2009. I think that was because they lacked a good return specialist, not because Everest forgot how to coach returners.

Schottenheimer otherwise inherits a solid situation. The 49ers are set at snapper, kicker and punter. They have one of the NFL's very best special-teams players in Michael Robinson. Coach Mike Singletary has made toughness a priority, and toughness is critical for good special teams.
January, 5, 2009
1/05/09
11:05
AM ET
Posted by ESPN.com's Kevin Seifert
Yikes. The National Football Post, a Web site that has multiple connections inside the Green Bay organization, is reporting Monday morning that the Packers have fired every defensive coach with the exception of assistant head coach/linebackers Winston Moss.
The Post reported Sunday that defensive coordinator Bob Sanders was fired, news that has since been confirmed by the Wisconsin State Journal. But Monday's report means that defensive ends coach Carl Hairston, defensive tackles coach Robert Nunn, secondary coach Kurt Schottenheimer, cornerbacks coach Lionel Washington and defensive quality control coach Joe Whitt Jr. are all out as well.
Moss is a well-regarded assistant and has interviewed for the St. Louis Rams' open head coach position.
The Packers have yet to confirm any of these moves but did announce the retirement of special teams coordinator Mike Stock last week.
If these moves all come to fruition, McCarthy would have effected tremendous staff turnover following a 6-10 season. It also means that the candidates he has in mind as Sanders' replacement -- Mike Nolan and Jim Haslett are among those being mentioned -- are veteran coordinators who would want their own staff of defensive assistants. It's also possible that Moss will get the job but will not have to perform the dirty work of firing former colleagues.
Finally, McCarthy seems poised to enter 2009 with an entirely new set of coordinators in comparison to the group he hired three years ago. His original offensive coordinator, Jeff Jagodzinski, left after the 2006 season to take the head coaching job at Boston College.

NFL SCOREBOARD
Thursday, 8/21
Friday, 8/22
Saturday, 8/23
Sunday, 8/24
WEEKLY LEADERS