NFL Nation:

Kurt Warner retires
February, 2, 2010
2/02/10
4:31
PM ET
MIAMI -- Kurt Warner strode through radio row at Super Bowl media headquarters Tuesday with his head up, shoulders back and a spring in his step.

The Cardinals' recently retired quarterback reported feeling not even a hint of regret since announcing his decision Friday. We should have known it would be this way when Warner made it through his retirement news conference without crying. He teared up briefly when referring to support his wife and children have provided during his career, but this decision was a long time in the making, not a hasty reaction to a physically and mentally demanding season.

"I'm not worried about it, fretting what happens in the fall," Warner said between radio interviews. "I just knew it was the right time. I'm not willing to give what it would have taken moving forward and I didn't want to lose sight of that after the season once I got away. I knew that during the season and I had to make my decision off of that."

Cardinals coach Ken Whisenhunt made it clear to Warner that the organization would accommodate him if he wanted to scale back his commitments.

"When I told him I was leaning toward it (retirement), it was basically, 'Whatever you need, whatever we can do to get you refreshed and back,' " Warner said. "The hardest part wasn't the fact that I wasn't refreshed going into the season. It's just how much it took within our circumstances and with what I expected of myself during the season. I could have been as refreshed as all get out, but if I was still going to put in that much time and expect that much from myself, then it wasn't going to change anything."

Warner essentially talked himself into returning for the 2009 season. The fact that he would walk away from $11.5 million in scheduled compensation for 2010 affirms as much. Warner was ready to walk away.

"I just couldn't deny it any more," Warner said. "Trying to deny it, saying, 'OK, that was just this one year, it was a long year, Super Bowl, this next year is going to be different.' When I felt it again, where I just wasn't enjoying it like I used to, it was just confirmation that this is it, it's time. Time off or not going to training camp or not having to run, that is not going to do it. The expectation from Monday through Saturday is not going to change. It's always going to be the same because I've set the standard and I just can't give what it takes."
January, 29, 2010
1/29/10
4:40
PM ET
Kurt Warner
joked during his retirement news conference that Cardinals coach Ken Whisenhunt wanted to run the ball every play with three tight ends and two running backs.
Warner was using exaggeration to laud Whisenhunt's flexibility.
[+] Enlarge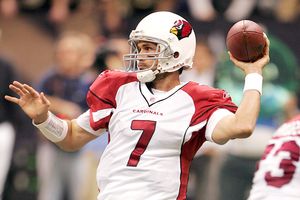 Gene Lower/Getty ImagesMatt Leinart passed for 2,547 yards during his rookie season of 2006, but has had a limited role since.
Now that Warner is finished, though, we should expect the Cardinals' offense to become more run-oriented.
Matt Leinart
will start at quarterback unless the Cardinals sign a free-agent veteran to compete for the job. Leinart was the player Arizona envisioned as its starter when Whisenhunt arrived as head coach for the 2007 season. The team was assembling personnel as though Leinart would be leading an offense with a power running game. Tackle
Levi Brown
, drafted fifth overall in 2007, lined up on the right side in part to protect the left-handed Leinart's blind side.
The plan changed when Warner emerged as the starter right before the 2008 season.
While Whisenhunt changed the offense to suit Warner's strengths as a shotgun passer, the Cardinals have continued adding personnel with the longer-range future in mind.
Beanie Wells
, chosen 31st overall in 2009, gave the Cardinals a big, physical running back to pair with
Tim Hightower
. Tackle
Herman Johnson
, a promising fifth-round choice in 2009, also fit the power mold.
Whisenhunt and the offensive staff generally did a good job blending those power elements into a pass-oriented offense.
Arizona still has the wide receivers in place to spread the field and pass the ball frequently.
Anquan Boldin
is entering the final year of his contract, though, and the team could trade him. Leinart isn't nearly as adept as Warner at anticipating throws and throwing accurately against pressure.
Whisenhunt and the coaching staff deserve credit for getting the most from Warner. They named him the starter in 2008 only after Warner demonstrated he would not be so careless with the football. In retrospect, naming Warner the starter unconditionally would have been a mistake. Warner learned to adapt his freewheeling, Mike Martz-inspired mindset to an offense with more conventional philosophical roots.
The next coaching challenge for Arizona becomes finding a way to get the most from Leinart. Leinart has talent. The Cardinals won three of his final four rookie starts in 2006, with Leinart posting passer ratings of 100.3, 89.3 and 137.3 in those games. Leinart completed 23 of 37 passes for 299 yards, one touchdown and one interception during a 23-20 victory over the Seahawks in Week 2 of the 2007 season.
Injury wrecked Leinart's 2007 season. Warner took over and threw more touchdown passes than any NFL player, even
Tom Brady
, during the second half of that season.
Leinart has started only one of the Cardinals' past 43 regular-season games. He didn't look good in relief this past season.
Warner's retirement dramatically lowers outside expectations for the Cardinals. The 49ers will emerge as favorites among some, but as Warner pointed out during his retirement news conference, perceptions aren't always correct.
Leinart is no Warner, yet I'm not sure the Cardinals would trade him for any other quarterback in the division, either.
January, 29, 2010
1/29/10
3:40
PM ET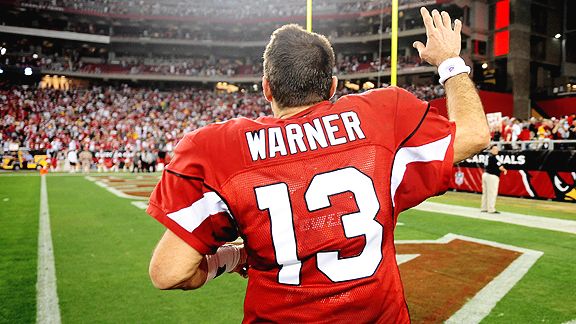 Mark J. Rebilas/US PresswireQuarterback Kurt Warner retired from the NFL on Friday after 12 seasons.
Kurt Warner
leaves the
Arizona Cardinals
following their first 10-win season since the 1970s.
He leaves at the peak of his powers, on his terms, health apparently intact, less than three weeks after throwing five touchdown passes in a playoff game.
Warner will go down in NFL history as the owner of a remarkable legacy, having gone from supermarket shelf-stocker to the leading figure in the restoration of two inept franchises. It's an upset if Warner doesn't land in the Pro Football Hall of Fame.
"It's been an amazing ride," Warner said at his retirement news conference Friday. "I don't think I could have dreamed that it would play out the way it has."
Warner retires with two league MVP awards, one Super Bowl MVP award, four Pro Bowls, a Super Bowl title and a legacy that extends far beyond the field.
"I want people to remember that anything is possible," Warner said.
Hey, if the Rams and Cardinals could become Super Bowl teams and an undrafted quarterback from Northern Iowa could lead them there ...
"Wow, man," Warner's former Rams teammate,
Aeneas Williams
, said Friday morning. "I don't know how to put in words having an individual be a part of historically changing the fortunes of two franchises. But when I think of Kurt, I can't think of any other player that has the potential to impact you just as much off the field as they do on the field. His philanthropy and what he does in community, to be able to say that it is parallel to what he does on the field, I believe is a rarity."
Williams, three years older than Warner, had six Pro Bowls on his NFL résumé when the Cardinals traded him to the Rams. It wasn't long before Williams, himself a legitimate Hall of Fame candidate, came to view Warner as a mentor. He also quickly came to view Warner as a great quarterback.
"When I was traded here [to the Rams], our first practice, and I'll never forget this, we're playing the Cover 2 defense in practice and I am the roll-up corner, so my coverage area would be the flat and I would also have to alter if they ran a deep corner route behind me," Williams said. "Prior to me coming here, I could tell whether quarterbacks were throwing in the flat or throwing behind me. I can remember the first day of practice and it took me a little while to realize, I could not tell and it was very difficult to stop the route behind me because I had no idea initially of seeing any distinction of the level of his shoulders. Typically, when a ball is thrown deeper, the quarterback's shoulders are tilted. With Kurt, that wasn't the case. That was when I began understanding the difference between the average and great quarterbacks."
Warner clearly could have played at least one more season at a high level.
The hit he took against the Rams in St. Louis left Warner with a concussion and another reminder that the timing for retirement might be right.
"I won't say that was a determining factor," Warner said. "But all those things go into it."
Warner expects to spend more time with his family, get more involved in Christian ministry efforts and find a way to remain involved in football as well.
It was clear in listening to him Friday that Warner was at peace with this decision, and that the decision had been a long time in the making. I highly doubt he would ever consider returning.
"There is something to be said for being able to leave on your terms and playing at the level that you want to play at," Warner said.
January, 29, 2010
1/29/10
3:33
PM ET
Rams owner Chip Rosenbloom released the following statement following
Kurt Warner
's retirement announcement:

Warner
"Kurt Warner epitomizes the finest qualities that can be attributed to any athlete. He is a gentleman, competitor and, most of all, a winner whose achievements and contributions go far beyond the field of play. Kurt is one of the most compelling success stories in the history of sports. His well chronicled journey included two NFL MVP awards, a Super Bowl Championship and countless honors for his philanthropy. In a time when many shun the label of role model, Kurt embraced it and exemplified it. He is a man of our time and for our time. We all learned great lessons from Kurt's humility, dignity and grace. We will forever be thankful for the success he brought us and the unparalleled generosity he has shown the St. Louis community and beyond. On behalf of my sister, Lucia, our partner, Stan Kroenke, and the entire Rams organization, I want to wish Kurt, Brenda and their beautiful family the very best as they move ahead with their lives. We are honored and privileged to have Kurt as a treasured member of the Rams' alumni family."
Warner took time during his announcement news conference to thank the Packers, Rams and Cardinals for giving him a chance.

NFL SCOREBOARD
Thursday, 8/28
WEEKLY LEADERS