August, 15, 2013
8/15/13
7:46
PM ET
CHICAGO --
Chicago Bears
defensive end
Julius Peppers
will be sidelined for the second time this preseason Thursday against the
San Diego Chargers
, the team announced before the game.
Bears coach Marc Trestman said on Tuesday he anticipated Peppers and wide receiver
Brandon Marshall
making their preseason debuts against the Chargers, but the veteran pass-rusher was a late scratch due to coaches' decision.
Peppers, who has been battling a minor hamstring injury the past week and a half, was on the field watching the rest of his teammates going through pregame warm-ups.
However, Marshall and defensive end
Corey Wootton
are in uniform and scheduled to see action with the Bears starters for at least one quarter.
Also sitting out for the Bears: running back
Armando Allen
(hamstring), linebacker
D.J. Williams
(calf), defensive tackle
Henry Melton
(concussion), wide receiver
Earl Bennett
(concussion), long snapper
Patrick Mannelly
(ribs), offensive tackle
Jonathan Scott
(knee), fullback
Harvey Unga
(ribs) and tight end
Kyle Adams
.
San Diego rookie linebacker
Manti Te'o
has previously been ruled out due to a sprained foot.
October, 23, 2012
10/23/12
10:48
AM ET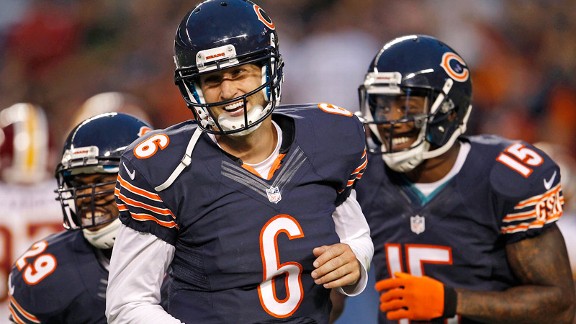 Nuccio DiNuzzo/Chicago Tribune/MCTThe Bears have the second best record in the NFC while the Lions may be on the brink of a lost season.
CHICAGO -- It's late and I'm loopy, so let's play a silly little game just for the heck of it. If the NFL season ended Monday night, three NFC North teams would be playoff bound. The fourth would own a top-10 draft choice.
Commissioner Roger Goodell would never call off a season after seven weeks, of course.
(Think of all the lost ticket revenue!)
We're not even at the season's midpoint, but already, I think, we're beginning to see some clarity in this division. The
Chicago Bears
,
Green Bay Packers
and
Minnesota Vikings
have each put themselves in position for the division title, while the
Detroit Lions
are on the brink of 2012 extinction.
That's right. After a
13-7 defeat
of the Lions in a game that wasn't that close, the Bears have the second-best record (5-1) in the NFC. According to the
updated standings,
the Vikings (5-2) rank fifth and the Packers (4-3) sixth in the conference. The Lions, on the other hand, have more losses at 2-4 than 24 of the NFL's 32 teams.
I realize there is more football left to be played this season than has been played. But this is the time of year when patterns emerge and stories start getting written, and Monday night we saw the Bears emerge from their bye as sharp as they entered it. They forced four turnovers, three in the red zone, and were 30 seconds away from their first shutout in three years. And the Lions looked no different than the team that has won this season only when mounting a fourth-quarter comeback.
"This was two evenly matched teams," Lions coach Jim Schwartz said afterward. "When you're playing a good team like Chicago, one that's leading the NFC North, we're on the road, we're not going to win the way we played."
To be clear, the Lions had a chance to steal this game largely because the Bears' offense slowed considerably after quarterback
Jay Cutler
suffered bruised ribs late in the second quarter. But there was never a time when I thought the Lions were matching the Bears blow for blow, as evenly matched teams do.
Evidence? Bears cornerback
Charles Tillman
did the impossible, matching up all night with Lions receiver
Calvin Johnson
and limiting him to three catches on the 11 passes he was targeted on. The Bears surprised the Lions by blitzing more often than usual, on 28.8 percent of
Matthew Stafford
's dropbacks, according to ESPN's Stats and Information. And the Bears' two-deep safety look didn't give up a pass longer than 23 yards.
The Lions, in fact, absorbed most of the blows Monday. Bears defenders stripped the ball from running backs
Mikel Leshoure
and
Joique Bell
in the red zone. And in a sequence that defined the current situations for both teams, the Bears fought off the Lions at their most vulnerable moment.
It began when Lions defensive tackle
Ndamukong Suh
sacked Cutler violently but legally -- and cleanly, according to all involved -- with 4 minutes, 52 seconds left in the second quarter.
Cutler missed five plays while getting the injury attended to. (Asked if he received a pain-killing injection at halftime, Cutler said: "We did some stuff back here in the back room.") When he returned to open the third quarter, it was clear Cutler couldn't step into and drive his throws. He was short to tight end
Kyle Adams
on second down and managed a pair of 2-yard passes to tailback
Matt Forte
before the Bears punted.
"It was on my right side," Cutler said. "I couldn't really follow through. Couldn't get through the ball. It had an impact on our play calling, but defense was playing so well, we thought we could ride it out a little."
Still, at that moment -- with Cutler debilitated and the Lions' defense seemingly energized -- you could sense the potential for a turning point. But the Lions'
Stefan Logan
muffed the ensuing punt, and three minutes later the Bears took a 13-0 lead that stood until the final seconds of the game.
Schwartz kept it positive afterward, saying: "We can battle back. We've battled back in games, we can do it in the season." But the Lions now have six very similar games on their resume -- slow starts, special teams miscues and last-second dashes -- that suggest they have some fundamental issues they might not be equipped to address immediately.
"If I had all the answers," Stafford said, "it would be nice."
If the Lions seem stuck in a rut, the Bears appear as well-rounded and disciplined as they've ever been under coach Lovie Smith. Tillman and linebacker
Lance Briggs
are having All-Pro seasons, and Monday they had reason to rally around their quarterback for positive reasons.
You might not realize it, but the Bears are 10-1 in Cutler's past 11 starts dating back to last season. While there was never a (rational) reason to doubt his toughness, Monday night felt like the moment when he earned his stripes in Chicago.
"That's what you should have as your Chicago Bear quarterback," Smith said. "And he does it time after time."
Put it all together, and the Bears are in their best-case scenario after six games. The Vikings and Packers aren't far behind. The Lions are on the short end of things. But no division is perfect, right?
September, 13, 2012
9/13/12
4:00
PM ET
GREEN BAY, Wis. -- Here are 10 random pregame morsels for you to chew on during, uh, the pregame:
Here is a handy string of everything we've written about this matchup between the Chicago Bears and Green Bay Packers. It'll change your life if you haven't seen it yet. And remember, I'll spend most of Thursday night's game in our live "Countdown Live" chat. The module will appear on the blog this evening.
The Packers have won the past four games of this series, but the Bears have a 92-86-6 lead in the all-time rivalry.
Only twice in their history have the Packers opened the season with consecutive losses at home. The others came in 1988 and 2006, and they missed the playoffs both seasons. Under the current playoff format, the Packers haven't made the playoffs after starting 0-2 no matter where those games were played.
Our friends at ESPN Stats & Information note that Bears quarterback Jay Cutler is a good opponent for a defense that has struggled to force turnovers and sacks in recent games: "Since the start of 2008, Cutler has thrown two touchdowns and nine interceptions on throws at least 15 yards downfield against the Packers. In fact, Cutler has thrown at least one interception on such throws in each of his last six games against the Packers, and hasn't thrown a touchdown against Green Bay since 2009."
The Packers haven't always succeeded in getting downfield against the Bears' defense, as we discussed this week. But we should point out that tight end Jermichael Finley has often been a beneficiary of the Bears' focus elsewhere. In his past three games against the Bears, Finley has caught 19 passes for 220 yards and four touchdowns.
Gary Horton of Scouts Inc.: "The Packers can still be productive in their passing game if the deep ball is taken away, but that requires patience to put long drives together."
Former Packers executive and current ESPN analyst Andrew Brandt offered some thoughts on the Bears-Packers rivalry.
Sarah Spain of espnW has a pregame read on the road Bears tight end Kyle Adams took to this game.
As of this afternoon, the Packers were five-point favorites in this game. ESPN's 14-member panel of experts split 7-7 on picking a winner.
Rain in Green Bay is expected to end by mid-afternoon, and temperatures will hover around 59 degrees.
September, 12, 2012
9/12/12
4:45
PM ET
If it's Wednesday, it's really Friday for half of our division. Henceforth, let's get inside our first Wednesday/Friday injury report of Week 2:

Chicago Bears:
Cornerback
Charles Tillman
(shin) returned to practice and, as we've discussed over the past few days, appears on track to play Thursday night at Lambeau Field even though he is listed as questionable. Linebacker
Brian Urlacher
(knee) also practiced and is officially listed as probable. Tight end
Kyle Adams
(shoulder) participated in a limited portion of practice Wednesday and is also questionable.

Green Bay Packers:
We already noted
the Packers have listed receiver
Greg Jennings
as doubtful because of a groin injury. Also doubtful are cornerback
Davon House
(shoulder) and running back
James Starks
(toe). Starks practiced Wednesday for the first time since suffering a turf toe injury in the preseason opener, but that means he is in the conversation for the Packers' Week 3 game at the
Seattle Seahawks
. Linebacker
Terrell Manning
(concussion) won't play. Defensive end
C.J. Wilson
(groin) and linebacker
Jamari Lattimore
(ankle) are questionable.
September, 11, 2012
9/11/12
6:09
PM ET
Checking out the Tuesday-Thursday practice report with kickoff at Lambeau Field now about 48 hours away:
Chicago Bears:
Cornerback
Charles Tillman
(shin) and linebacker
Brian Urlacher
(knee) did not practice. Coach Lovie Smith said that Urlacher will start Thursday night. It appears that Tillman has a decent chance of playing as well. Tight end
Kyle Adams
(shoulder) was a limited participant in practice.
Green Bay Packers:
Receiver
Greg Jennings
(groin) sat out practice and it's not clear if he'll be ready to play with the short turnaround. It sounds as if coach Mike McCarthy
needs to see him practice
in some way Wednesday before making a determination about his availability. "We're dealing with the groin," McCarthy told reporters. "How he responds to it will be an endurance issue." Running back
James Starks
(toe) and linebacker
Terrell Manning
(concussion) also sat out practice. Cornerback
Davon House
(shoulder) continues to practice with limited participation.
September, 3, 2011
9/03/11
6:49
PM ET
Check here
for a complete list of the
Chicago Bears
' roster moves.

Surprise move:
The Bears have now bid farewell to three locker room stalwarts: Center
Olin Kreutz
, receiver
Rashied Davis
and now tight end
Desmond Clark
. The Bears released Clark as part of Saturday's roster cutdown, deciding to keep undrafted rookie
Kyle Adams
instead. Clark
said via Twitter
that "I played my butt off but sometimes it's more about the business." The Bears indicated that he was released with an injury. Regardless, intentionally or otherwise, the Bears have at least temporarily created a player leadership void.
No-brainers:
After last week's communication fiasco, there was little doubt that running back
Chester Taylor
would be
part of this cutdown
. The Bears need only two tailbacks behind starter
Matt Forte
, and those roles will be filled by
Marion Barber
and
Kahlil Bell
. They also kept fullback
Will Ta'ufo'ou
. I don't know if the Bears entered training camp planning to keep undrafted rookie receiver
Dane Sanzenbacher
, but his quick ascension as a slot receiver was obvious by the midpoint of the preseason. Quarterback
Jay Cutler
loves throwing to him.
What's next:
The Bears' depth at linebacker is a little scary. They kept only five at the position, with
Brian Iwuh
and undrafted rookie
Dom DeCicco
as the reserves behind
Lance Briggs
,
Brian Urlacher
and
Nick Roach
. You would think the Bears would at least scan the waiver wire for additional depth, especially with Briggs nursing a knee injury. And with Barber and Bell having suffered preseason injuries, the Bears might check out emergency running back depth as well.