February, 20, 2014
Feb 20
3:00
PM ET
PHILADELPHIA -- Mike Mayock, the Philadelphia-area native and NFL Network analyst, made some waves this week by touting Auburn defensive end
Dee Ford
as a possible first-round pick for the Eagles this year.
Ford had a terrific Senior Bowl, and the Eagles do have a history of drafting players who show up in Mobile. But the 6-foot-2, 240-pound Ford is often compared to
Trent Cole
, a very good pass-rushing defensive end who was forced into the uncomfortable role of 3-4 outside linebacker last season. Do the Eagles, who also have 2010 first-round pick
Brandon Graham
playing out of position, really want another 6-2 defensive end learning how to drop into coverage?
The answer will depend on just how effective GM Howie Roseman and his staff believe Ford will be at getting to NFL quarterbacks. It remains a valued skill, which is why an edge player -- whether it's an outside linebacker or defensive end -- has to be near the top of the Eagles' list of offseason needs.
With that, here are some players the Eagles could be looking at during this week's combine in Indianapolis:
[+] Enlarge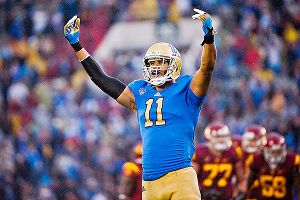 Jonathan Moore/Getty ImagesAnthony Barr is rated as the second-best outside linebacker in the draft by Scouts Inc.
Anthony Barr, UCLA linebacker.
A lot of early evaluations had Barr in the top 10 of draft-eligible players. He seems to be dropping, which could say something about the utility of early evaluations or something about the find-the-flaw nature of film study.
If the 6-foot-4, 245-pound Barr drifts into the teens, could the Eagles find a way to trade up and take him? It depends on how much they like him, of course, and they will get a much better feel for that this week.
Kony Ealy, Missouri defensive end.
Everybody is talking about his teammate,
Michael Sam
, but Ealy is the Mizzou player most likely to go in the first round. At 6-foot-4 and 275 pounds, Ealy is closer to Chip Kelly's physical specs.
Mayock has Ealy as his
second highest-rated
defensive end, behind only
Jadeveon Clowney
. But NFL Network's
Nolan Nawrocki says
Ealy "could also draw looks as a 3-4 rush linebacker." The combine will give Roseman, Kelly and defensive coordinator Bill Davis a firsthand look at him.
Stephon Tuitt, Notre Dame defensive end.
At 6-foot-6, 303 pounds, Tuitt is not going to be a linebacker. But he is
described by ESPN's scouts
as "Ideal fit as a 5-technique for a base 3-4 scheme." The Eagles have
Fletcher Cox
at one end. They like
Cedric Thornton
at the other. But a strong, deep defensive line can only make the rest of the defense better. A long shot, but interesting.
Trent Murphy, Stanford.
Murphy lined up as an outside linebacker in college. He was used as a defensive end in the Senior Bowl, and Mayock has him as his fifth-best end.
If the Eagles have interest in the 6-foot-5, 252-pound Murphy -- who had 14 sacks last season -- it would be as a linebacker. He could be a second-round option.
Dee Ford, Auburn.
His big-game production is compelling. Ford had two sacks in the national championship game and two of
Johnny Manziel
when Auburn beat Texas A&M.
Ryan Shazier, Ohio State linebacker.
The 6-foot-2, 226-pound Shazier looks more like a weakside linebacker in a 4-3 scheme, but his coverage ability is hard to overlook in today's game.
Kyle Van Noy, BYU linebacker.
Another second-round name to watch. Van Noy is 6-foot-3 and 244 pounds -- a little light but a versatile player who could potentially add a little upper-body weight and strength.
February, 20, 2014
Feb 20
10:15
AM ET
Like most other NFL organizations, the
San Diego Chargers
are a team that builds and maintains its roster through the draft. General manager Tom Telesco doesn't necessarily put any more value on securing impact players through the draft, versus trade or free agency.
But annually selecting rookies that can make an impact on a team's roster is important, particularly when you consider the player will be under the team's control for at least four years, likely at an inexpensive salary.

So getting detailed medical evaluations and vetting players through the intense interviewing process are the most important things for teams this week at the NFL scouting combine in Indianapolis. Of the 53 players that finished the season on San Diego's roster, 23 were secured through the draft, compared to 27 free agents, two through trades, and one claimed off waivers.
The Chargers have seven original picks in this year's draft, one in each round beginning with the No. 25 overall pick. So they will be paying close attention to the more than 330 players invited to this year's combine.
Along with evaluating draft prospects, Telesco will have an opportunity to meet with middle linebacker
Donald Butler
's representation as the Chargers try to get him signed to a multi-year deal before he hits free agency next month.
Here are five things to keep an eye on regarding the Chargers.
1. Physical cornerbacks who can turn and run:
A major area of need for San Diego is improving the overall talent and depth at cornerback. Last year's top free agent signee
Derek Cox
likely will not be back after being supplanted in the starting lineup by
Richard Marshall
. San Diego's 2013 fifth-round selection
Steve Williams
could work into the conversation at corner in 2014. The Cal product sat out his rookie year after suffering a torn pectoral muscle during preseason play. But the Chargers need to add a couple physical corners who can cover -- through the draft, free agency or trade. Some names to keep an eye on include Oklahoma State's
Justin Gilbert
, Ohio State's
Bradley Roby
and Florida's
Loucheiz Purifoy
. Those players stand out to me because of their length, athleticism and playmaking ability.
2. Edge rushers needed:
The Chargers have several veterans at this position, but you can never have enough athletes who can rush the passer. And San Diego struggled at creating consistent pressure, particularly on third down. Three guys potentially available on Day 1 of the draft who could make an impact include Missouri's
Kony Ealy
, BYU's
Kyle Van Noy
, and Auburn's
Dee Ford
.
3. A run-stuffing defensive tackle:
San Diego gave up an average of 4.59 yards per carry on defense in 2013, No. 29 in the NFL.
Cam Thomas
started the most games at defensive tackle, but will be a free agent in March.
Sean Lissemore
finished as the team's starter at the end of the season, but needs to add some bulk to effectively fill this position. San Diego could certainly use a two-gap defensive tackle to control the middle of the defense, similar to
Dontari Poe
in Kansas City. Potential candidates in the draft include Notre Dame's
Louis Nix III
, Minnesota's
Ra'Shede Hageman
, and Penn State's
Daquan Jones
.
4. Improved interior offensive line depth:
With center
Nick Hardwick
contemplating retirement and veteran guard
Jeromey Clary
a potential salary-cap causality, the Chargers need to add some depth to the interior of the offensive line. Mississippi State's
Gabe Jackson
and Stanford's
David Yankey
are the top rated guards in this year's draft. And USC's
Marcus Martin
could be the long-term answer for a team at center.
5. Add a couple explosive playmakers:
San Diego could use some help in the return game.
Keenan Allen
should not be the team's main punt returner. He's too valuable on offense. And the Chargers could use someone with some juice in the kick return game. Washington's
Bishop Sankey
, Oregon State's
Brandin Cooks
, and Oregon's
De'Anthony Thomas
makes some sense because of their ability to create explosive plays on offense and in the return game. Chargers quarterback
Philip Rivers
needs a few more weapons on offense to make his job easier, and all three of these players would fit the bill.
January, 25, 2014
Jan 25
8:00
AM ET
MOBILE, Ala. -- It was a productive week for the
Jacksonville Jaguars
at the Reese's Senior Bowl. The information the coaching staff gained by their hands-on experience with the players is invaluable and will certainly help in draft evaluations.
The coaches were able to see how the players handled themselves in meetings, transferred what they learned onto the field, and reacted to unfamiliar situations. That's information they can't get at the combine, a school's pro day, or in interviews. That could be a tie-breaker on draft day.

Here are 10 players from the South team who could end up on the Jaguars' roster -- either as draft picks or free agents -- by the start of training camp. Obviously, not all of them will be available, but it wouldn't be surprising if three or four ended up in Jacksonville:
LB Jerry Attaochu (Georgia Tech):
He's one of the players the Jaguars tried out at their "Leo" position (hybrid end/linebacker) and that is where they would play him if they drafted him. He has a good burst off the line and was one of the more athletic linebackers on the roster.
QB Derek Carr (Fresno State):
He had the best week of all the South quarterbacks. He's more polished than the others, and you can tell he has benefited from his older brother's help. He's got a quick release, too, although he doesn't have ideal size (6-foot-2). He's likely the Jaguars' top quarterback target if they opt to take a pass-rusher in the first round.
DE Dee Ford (Auburn):
Ford is explosive off the edge and blew by offensive tackles all week. He's only 243 pounds, but his quickness more than makes up for his lack of bulk.
WR Kevin Norwood (Alabama):
The Jaguars need to add size to their receiving corps, and Norwood certainly brings that (6-2, 197). He's got good hands and ball skills. He can make plays on 50-50 balls, which is something the Jaguars lack. The only drawback is he doesn't have great speed.
C Bryan Stork (Florida State):
He might be a little undersized, but the guys at Scouts Inc. -- Todd McShay, Steve Muench and Kevin Weidl -- raved about his toughness all week. The Jaguars need a center to replace
Brad Meester
. Stork is smart and plays with a bit of a nasty edge.
DT Will Sutton (Arizona State):
He was the most impressive defensive lineman all week. He doesn't have ideal size (6-1, 315 pounds) so he'll have to get by on his quickness. He's more of a fit as a three-technique tackle, and he has shown the ability to rush the passer from the interior.
RB Lorenzo Taliaferro (Coastal Carolina):
What stood out about him was his pass blocking. He was clearly the best this week, and had no trouble locking up linebackers. He has good size (6-0, 231 pounds), runs downhill, and also showed he can be a factor in the passing game.
DE Brent Urban (Virginia):
He moves very well despite having a huge frame (6-7, 298 pounds) and did a good job shedding blockers and maintaining the edge. Though he's more of a run-stuffing end, his length makes him a factor as a pass-rusher. He's a fit for the spot that
Tyson Alualu
mans.
OLB Kyle Van Noy (BYU):
His athleticism really showed up this week. He was one of several players the Jaguars tried at the "Leo" position, and he did a solid job.
CB Jaylen Watkins (Florida):
He's versatile enough to play inside and outside (he did both in college) and his man coverage skills were the best of the group. He had some good battles with former Vanderbilt receiver
Jordan Matthews
, who was the best receiver this week. Watkins said his ability to recognize routes and his press coverage skills are because of his experience at Florida, where the Gators play nearly exclusively man coverage.
January, 21, 2014
Jan 21
7:20
PM ET
MOBILE, Ala. -- Here are 10 observations/thoughts from Tuesday's Senior Bowl practice(s) and interviews:
After practicing Monday on a mild 65-degree day, players had to deal with temperatures in the 50s and wind gusts of more than 20 mph. Naturally, it wasn't an easy day for the quarterbacks, who had trouble throwing the ball into the wind. It also was an issue for the punt and kick returners, who had trouble adjusting to the ball. Jalen Saunders (Oklahoma) did the best job of any of the South returners. Lorenzo Taliaferro (Coastal Carolina) completely whiffed on one punt and Mike Davis (Texas) dropped two kickoffs.
Three South players are out with injuries: offensive tackle Ja'Wuan Jones (Tennessee) suffered a sprained knee; tight end Marcel Jensen (Fresno State) suffered an abdominal strain; and defensive end Ed Stinson (Alabama) suffered a groin strain. Former Colorado State tight end Crockett Gillmore has been added to the roster and was scheduled to arrive Tuesday night.
One of the more fun drills to watch was the running back/tight end pass-blocking drills. Taliaferro was the most impressive of the backs, which shouldn't be surprising considering he's the biggest back on the roster (231 pounds). He handled linebacker Christian Jones (Florida State) and stuffed linebacker Telvin Smith (Florida State) before finally getting beat by defensive end Kyle Van Noy (BYU). Jones rebounded nicely, though, and consistently got by the other backs. He also beat tight end Arthur Lynch (Georgia) twice, including once with a nasty spin move.
Running back Antonio Andrews (Western Kentucky) more than held his own in the pass-blocking drill despite being much shorter than the players he was blocking. Andrews is 5-foot-10 but a solid 225 pounds. He also showcased his agility with a nifty juke after catching a swing pass that left linebacker Lamin Barrow (LSU) on the ground.
Smith's size is becoming an issue. He was a 6-3, 217-pound linebacker at FSU but he's having trouble getting off blocks and has been pushed around too easily at times.
It's clear that Jordan Matthews (Vanderbilt) is the South team's top receiver. He made a twisting sideline catch after adjusting to deep ball that got caught up in the wind and showed the ability to fight through press coverage. He also caught a short pass on a drag route with a defensive back all over him.
Give the Senior Bowl staff credit for putting offensive tackle Billy Turner on the South team. Why is that interesting? Turner helped North Dakota State win three consecutive FCS national titles. The Jaguars are coaching the South team and head coach Gus Bradley played and coached at North Dakota State. "We talked a little bit. There's a saying up there, once a Bison always a Bison," Turner said. "I don't know if it'll help me but it's kind of a connection. I think that my play on the field will help me the most." Turner certainly has the size to be an NFL tackle (6-5, 316 pounds) but he has struggled a bit adjusting to the speed on the edge. Defensive end Chris Smith (Arkansas) blew by him quite easily in 11-on-11.
Cornerback Jaylen Watkins (Florida) had an impressive day. He broke up several passes, including one intended for Matthews, and had an interception. He's comfortable in press coverage, which was what he played most of the time at Florida under coach Will Muschamp. Watkins (5-11, 194) has experience at field and boundary.
Quarterback Derek Carr spent about 20 minutes throwing to Matthews after practice. He worked on slants and in routes because he missed several of those throws during practice. He wasn't just doing it for the field of scouts, either. It's part of his competitive nature, he said, and his commitment to continually improve. "If I miss a throw I'd be wrong to not throw it again after practice," Carr said.
One outside linebacker who has flown somewhat under the radar so far this week is Jordan Tripp (Montana). The 6-3, 237-pound Tripp isn't flashy and doesn't have the speed and quickness of some of his SEC teammates but he always seemed to be around the ball. He is a two-time FCS All-American and was twice a finalist for the FCS defensive player of the year award.
NFL SCOREBOARD
Sunday, 2/2
WEEKLY LEADERS