September, 4, 2010
9/04/10
10:29
PM ET
Check
here
for a full list of Jacksonville's roster moves.

Biggest surprises:
Three undrafted rookies won spots -- offensive tackle
Kevin Haslam
, defensive end
Aaron Morgan
and linebacker
Jacob Cutrera
. Getting anything for
Reggie Nelson
was big, and GM Gene Smith managed to send the safety to Cincinnati for
David Jones
. That's a surprise. That they also cut another veteran safety,
Gerald Alexander
, before adding one, also qualifies as a surprise. They seem sure to add someone in the coming days. Right now the starting pairing would come from
Anthony Smith
,
Sean Considine
,
Tyron Brackenridge
and
Courtney Greene
. I bet
Peyton Manning
and
Matt Schaub
endorse that. It's not clear who the third wide receiver will be with
Troy Williamson
gone.
Atiyyah Ellison
was a feel good story a year ago, now he's gone too. The team has three fullbacks with
Greg Jones
,
Montell Owens
and
Brock Bolen
.
Kynan Forney
was competing for a starting guard job, lost it and lost his place on the team.
No-brainers:
Not a ton. Three linebackers --
Teddy Lehman
,
Alvin Bowen
and
Tony Gilbert
-- of a weak group of reserves didn't make it and another (
Kyle Bosworth
) was placed on IR.
What's next:
Work at safety, first and foremost. The Jaguars will be thorough in their examination and consideration of the waiver wire and free agents. They have room at the back of the roster for upgrades. After safety, look for linebacker to be the spot that gets the most attention as the Jaguars have just five on the roster.
August, 28, 2010
8/28/10
1:20
PM ET
Three things I'll be watching for in Jaguars at Tampa Bay:
Guard play:
Sounds like we'll see
Uche Nwaneri
at center in this game, with
Kynan Forney
at left guard and
Vince Manuwai
at right guard. The guard who plays the best will be designated the starter on the right side, with Nwaneri on the left and
Brad Meester
at center. Pretty big stakes for Forney and Manuwai. UPDATE: Tania Ganguli reports
Forney won't play
. In that case,
Justin Smiley
will get a chance to make his case. The opportunity remains immense for Manuwai.
A showing from a safety:
The idea that the team will shop for a safety on the waiver wire is growing. But they are not going to find two new ones, so it would be great if one of four guys --
Reggie Nelson
,
Anthony Smith
,
Gerald Alexander
or
Sean Considine
-- had the sort of game that made coaches confident in him.
Another solid effort from Terrance Knighton:
He could be the team's best defensive player, and he did some nice work in the Jaguars' loss to Miami. If he keeps it going, he can be the touchstone guy for
Tyson Alualu
, the defensive front and maybe the whole defense to work off of.
August, 4, 2010
8/04/10
10:03
AM ET
ESPN.com NFL Power Ranking
(pre-camp): 26
JACKSONVILLE, Fla. -- The 2009
Jacksonville Jaguars
were a fourth-place team that lost its final four games.
Seems to me the logical goal would be trying to move out of the basement and establish some upward mobility in a tough division. But
Jack Del Rio
and his troops aren't thinking that way, and who does, really?
They are thinking bigger.
Jack Del Rio has talked to them about contending for a championship.
"I kind of cut my teeth in Baltimore on the same staff with Rex Ryan [under] Brian Billick," Del Rio said. "You can't tiptoe in and hope you don't wake the guy up and you're going to sneak up on somebody and, 'Oh, shh, here we come and be quiet.' In many respects in the NFL, you've got to take what you want. You've got to set some goals and then go after them. And I don't think there is anything wrong with having a goal of being champs."
"Now the reality is, we've got to cover a lot of ground. I'm not unrealistic with that. But I'm not going to concede anything. We're going to work our tails off to maximize our potential. We can say this is our goal, this is our mission to do these things, but our focus has to be on squeezing what we can out of every day."
Or as
Maurice Jones-Drew
said, you never run a race you once lost aiming to finish second-to-last.
THREE HOT ISSUES
[+] Enlarge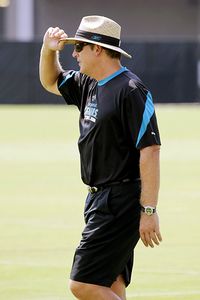 AP Photo/John RaouxJack Del Rio will need to keep his eyes on the safety position this season.
1. Are the safeties enough?
They have faith in
Gerald Alexander
at strong safety, though he's not a guarantee to lock down a spot all season. But free safety is a huge issue.
Reggie Nelson
struggled badly last season with botched coverages and missed tackles and
Anthony Smith
didn't do a lot to displace Nelson last year. Word is Nelson has been better, but neither guy has made a big impression in practices I've seen so far.
They need the free safety to consistently play a reliable center field. And if he can't make a tackle, he at least has to hold the ball carrier up long enough for help to arrive.
With two games against
Peyton Manning
and two against
Matt Schaub
, if one of those guys can't provide help to corners
Rashean Mathis
and
Derek Cox
-- even if there is a vastly better pass rush -- the Jaguars could have some long AFC South afternoons.
They could look for an additional option on waivers.
2. Is there enough weaponry to go with Jones-Drew and Mike Sims-Walker?
Jones-Drew is a top-flight weapon taking handoffs or running under short passes and Sims-Walker did well establishing himself as a go-to guy for
David Garrard
. But beyond them, do the Jaguars have the playmakers to take the next step?
They certainly have a large pool of candidates.
Marcedes Lewis
averaged 16.2 yards per catch last season, the best number in the league for a tight end, and another tight end,
Zach Miller
, is a potential big-play option.
Troy Williamson
hasn't created buzz yet as he did last camp, but I still think they'd like him to secure the starting role opposite Sims-Walker because of his field-stretching speed. The three receivers from the 2009 draft --
Mike Thomas
,
Jarett Dillard
and
Tiquan Underwood
-- are an intriguing pool. I anticipate Thomas can really grow into a nifty slot option.
They also like sixth-round pick
Deji Karim
from Southern Illinois, a quick back who could earn some touches and can win the kick return job. He'll probably have to get past
Rashad Jennings
to be a factor on offense, and I feel like they still like Jennings plenty too.
[+] Enlarge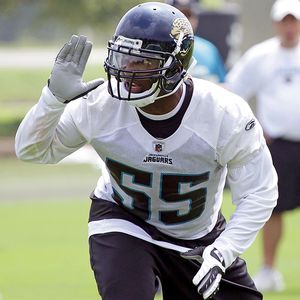 AP Photo/John RaouxThe Jaguars will need linebacker Kirk Morrison to lead.
3. Do they have sufficient leadership?
While they are relying on a load of young talent, particularly on defense, the two significant veteran imports -- free-agent defensive end
Aaron Kampman
and trade-acquisition middle linebacker
Kirk Morrison
-- need to lead the way.
"You want to give the young guys everything that you've seen in the league," Morrison said. "I've been in the league five years already. I've seen what losing can do, how it can separate a team. I'm saying this is what needs to be done, if you want to go out and win games, you've got to work like this. Losing was not fun. There are things I can bring over here like my toughness. I've never missed a game in the National Football League."
The best way to lead is to produce. Morrison can be a tackling machine, and if Kampman returns healthy to a 4-3 defense a year after major knee surgery, he's a constant threat to the quarterback.
BIGGEST SURPRISE
Defensive end
Jeremy Mincey
has been productive on a daily basis so far. With a crowd at defensive end including Kampman,
Derrick Harvey
and rookies
Austen Lane
and
Larry Hart
, can Mincey stay healthy and wedge himself onto the roster? The line overall is a young bunch, but its new position coach, Joe Cullen, has the group absolutely flying around and setting a tone the entire team would be wise to follow.
[+] Enlarge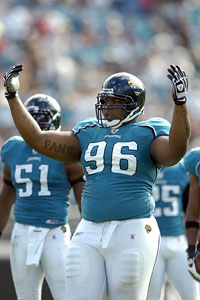 AP Photo/Stephen MortonThere have been concerns about defensive tackle Terrance Knighton's weight.
BIGGEST DISAPPOINTMENT
Defensive tackle
Terrance Knighton
's got a good head on his shoulders and has time to get where he needs to be. But he was 346 pounds on Monday, and the team would like him close to 330. If his play drops off, they could be in trouble in the middle no matter how good first-round pick
Tyson Alualu
is, and he's been real good from what I've seen of him at OTAs and in his debut camp practice. The team can't move into Knighton's house and feed him, but how did his weight get so out of hand?
OBSERVATION DECK
Vince Manuwai's flipped from left to right guard and the Jaguars will make that their power side for the run game. But if he doesn't bounce back from a poor 2009, when he was coming off reconstructive right knee surgery, the team could look to Kynan Forney as the next best interior run blocker.

Undrafted running back Chad Kackert catches everything and can turn and go… Are there too many guys on this team who can play good to great special teams but not contribute on offense or defense?

I like the way Ted Monken teaches receivers on the field -- with pointed-but-encouraging detail. I watched him spell out to Roren Thomas how and why he needed to be patient and allow a play to develop for his quarterback after he'd run a short route way too quickly.

Harvey and Hart have created some buzz. Are they off to really good starts, or is a slow start by right tackle Eben Britton contributing?

The Jaguars really like second-year corner Don Carey, and it would seem he'd make sense to be the nickel. But Del Rio left the door open that Carey could even earn a starting spot. Left unsaid is whether Del Rio thinks that would impact veteran Mathis or second-year man Cox, whom they loved as a rookie. Or perhaps he's just looking to light fires.

I hope offensive coordinator Dirk Koetter runs some option with tight end Zach Miller taking snaps. It'd create excitement and a wrinkle for a team that can be limited on offense and wouldn't suffer for taking some snaps from Garrard.

An early Achilles injury to third-round defensive tackle D'Anthony Smith already puts a dent in the depth there. Walter Curry will be a beneficiary.
June, 3, 2010
6/03/10
1:00
PM ET
By
Scouts Inc.'s Matt Williamson
| ESPN.com
»
NFC On the Radar
:
East
|
West
|
North
|
South
»
AFC
:
East
|
West
|
North
|
South
A player, coach or issue that should be on your radar as training camp approaches.
Jacksonville needs better play from the center position, and undrafted rookie
John Estes
from Hawaii has a shot to make an impact in the middle of the Jaguars' offensive line.
[+] Enlarge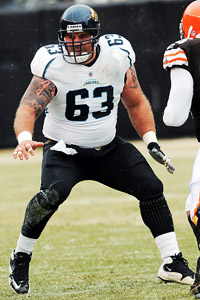 Tom Cammett/Getty ImagesBrad Meester, above, may need to fight off undrafted free-agent center John Estes at center.
Brad Meester
, 33, has battled a lot of injuries. But even when he was on the field last season, Meester's run blocking was a problem. Replacing him makes a lot of sense, but at the minimum, Jacksonville needs to put pressure on its current starting center's hold on the job.
If Meester is replaced, the most likely scenario would be for
Uche Nwaneri
to move from guard to the pivot. Considering the volatility of this offensive line last year, Nwaneri -- while far from spectacular -- should be considered rather dependable. Plus, Jacksonville did just trade for
Justin Smiley
, creating is a bit of a logjam at guard with
Vince Manuwai
and
Kynan Forney
. So moving Nwaneri seems like a logical move after the acquisition of Smiley.
But where does Estes fit in -- and, to a lesser extent,
Cecil Newton
, who is a year older than Estes? If Nwaneri can prove that he is the best option for the starting center spot, Meester could be shown the door, which would open up a possibility for one of these youngsters. Estes is the guy I would expect to take advantage of that opportunity.
Estes isn't a particularly big offensive lineman and Jacksonville certainly does value size up front, but he moves well and is tough and durable while playing the game with a bit of a mean streak. He isn't extremely powerful, but was a four-year starter, is very aware in protection and has a good feel for maximizing his leverage advantage. There are tons of examples of offensive linemen who enter the league and prove very difficult for their coaching staff to cut from the roster. Estes might just be next.
May, 27, 2010
5/27/10
4:06
PM ET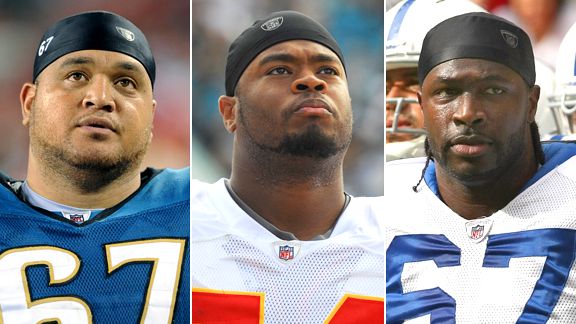 Getty ImagesVeteran offensive linemen Vince Manuwai, Wade Smith and Tony Ugoh are expected to take on different roles or positions this season.
Be it running up the middle or stifling pass-rushers coming that way, the AFC South's looking for change on interior offensive lines heading toward the 2010 season.
The
Tennessee Titans
, who blocked for just the sixth 2,000-yard rusher in league history, have made an alteration. The
Indianapolis Colts
, the defending AFC champs who allowed a league-low 13 sacks, are auditioning interior candidates. The
Houston Texans
and
Jacksonville Jaguars
both identified the interior line as an area in need of improvement, too.
Yet of 32 draft picks by the four teams, just two were used on offensive linemen -- a fourth-rounder by the Colts for guard
Jacques McClendon
and a sixth-rounder by the Texans for guard
Shelley Smith
. And only three veteran additions seem like they can influence the mixes --
Justin Smiley
in Jacksonville,
Wade Smith
in Houston and
Andy Alleman
in Indianapolis.
Said Matt Williamson of Scouts Inc.: "Didn't
anyone
in this division address the interior offensive line during the draft with any pick of substance? That seems odd."
So here's a team-by-team look at what's going on inside, with some thoughts from Williamson:
Jacksonville
The Jaguars appear willing to have true competitions to hash things out.
Last year's interior trio of left guard
Vince Manuwai
, center
Brad Meester
and right guard
Uche Nwaneri
is back. But the team is willing to shuffle, and at least two others are in play now as well -- Smiley, a guard acquired recently from Miami in a trade for an undisclosed draft pick believed to be a conditional seventh, and
Kynan Forney
, a backup guard last year.
At minicamp the weekend following the draft, Jags head coach Jack Del Rio and offensive line coach Andy Heck had flipped Manuwai to the right side, figuring he and right tackle
Eben Britton
are the team's best run-blockers. With the aid of tight end
Marcedes Lewis
and fullback
Greg Jones
, the Jaguars could send
Maurice Jones-Drew
that direction and dare people to stop it.
But at organized team activities (OTAs) this week, Manuwai wasn't working with the starters and Del Rio was talking about how the torn ACL the guard suffered back in the season opener of 2008 was still a factor for him.
"I think he's still a little bothered by that but at some point you've got to get beyond that and go and he knows that," Del Rio said. "I think Vinny still has a ways to go. I think Vinny's working at it. He's got his weight down. He's trying but he needs to play better. I think he knows that. He's working hard it and trying …
"We clearly [come] out of last year saying, 'Look, we've got to have better play with our line, period,' and our two young tackles [
Eugene Monroe
and Britton] we know are going to grow and get better but our interior line needs to pick it up as well. And they are working at it and they are challenging and competing and we expect them to play at a much higher level for us."
I honestly think it's wide open, but I'd be very surprised if Manuwai, who can be a very effective run-blocker, isn't in the starting lineup for the opener against Denver.
Williamson says
: "Adding Smiley could pay dividends, as this offensive line (especially on the interior) really was a problem area last year. Their protection up the gut was really poor. While I have some real doubts any more about Meester, I do like Manuwai quite a bit and expect more from him this year."
Houston
The Texans' run troubles were in large part because of their backs. But they lost guards
Chester Pitts
and
Mike Brisiel
early and it's a tough order for any team to replace 40 percent of its line and keep plugging.
Steve Slaton
had a miserable year as he tried to deal with a neck injury, couldn't hold onto the ball and wound up on injured reserve.
Pitts is a free agent who won't be back and Brisiel has been working as a backup so far in OTAs. The team's lined up with
Kasey Studdard
at left guard,
Chris Myers
and at center and
Antoine Caldwell
at right guard. But Smith's been rotated in some early at center.
With offensive line guru Alex Gibbs gone, the team will still be using his principles. But the three remaining coaches who oversee the position -- John Benton, Frank Pollack and Bruce Matthews -- may have fresher eyes and a willingness to shuffle. And odds are it's second-round pick
Ben Tate
getting many of the carries behind that line.
We should see some real competition for all three slots. I've repeatedly hear good things about Myers. And because Caldwell was a third-rounder, I expect the team would probably like to see him stake a claim.
Gary Kubiak said Studdard and Caldwell have earned the right to say they are starters "right now."
"We are as competitive in there as we've ever been as a team," Kubiak said. "It's going to be hard to hold a job, and it's going to be very competitive to get one. So that makes the team better."
Williamson says:
"I thought Myers played real well and he is an excellent fit in this system. Their interior offensive line is loaded with no-name guys, but overall they are well coached and effective enough. Still, an upgrade at one of the starting guard spots would have been a real nice addition. … Smith is an ideal sixth guy, but not a liability as a starter."
Indianapolis
The Colts paid him a bonus, but still cut
Ryan Lilja
who seemed pretty effective to me at left guard last season. Team officials have worked hard to deflect the idea the Colts made the move because they want to be bigger on the line. But it's a sensible time for a change with Pete Metzelaars taking over for Howard Mudd as line coach and the team looking to be more effective in clutch third-and-short situations and the like.
Tony Ugoh
, who lost out at left tackle, has worked at left guard in recent offseason practice sessions.
Jeff Saturday
is entrenched as
Peyton Manning
's guy at center.
Kyle DeVan
is the incumbent right guard, who came out of nowhere last season.
Presuming no other tackles are shifted inside and that left tackle remains
Charlie Johnson
's job, Ugoh and DeVan face their competition from Alleman, McClendon and 2008 second-rounder
Mike Pollak
.
Bill Polian has talked about throwing everybody out there and seeing what happens. With a new position coach, the fight for roles may not start with any true favorites. While they have to continue to favor pass blocking above all else, I do think it's in their best interest to be a bit more determined to be able to call for and execute runs in key situations with more success.
Williamson says:
"Saturday is obviously the leader and his symbiotic relationship with Peyton carries a ton of weight. He is smart and very technically sound. I do think his game is falling off ever so slightly though. I was shocked that they let Lilja go and thought he was far and away their best guard. Now, they really need to count on youngsters and those youngsters still have a lot to prove."
Tennessee
[+] Enlarge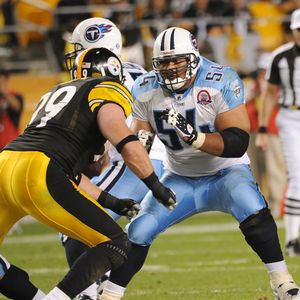 George Gojkovich/Getty ImagesEugene Amano will be taking over at center for Kevin Mawae.
The Titans had the least concern here as they considered their roster, but with
Kevin Mawae
getting older and
Leroy Harris
on the bench and ready to play, they decided to go with youth and size. So last year's left guard,
Eugene Amano,
is replacing Mawae at center, with Harris taking over at left guard.
Tennessee loses leadership and experience in the equation, but gains significant strength. Harris is very much an interior guy, but he's athletic and smart enough that he played effectively at right tackle in a win at San Francisco last season.
A Hall of Famer as a player, line coach Mike Munchak knows when a guy is ready, and he's fully endorsed this plan or the Titans wouldn't be going with it. Whether
Chris Johnson
or someone like
LeGarrette Blount
is running up the middle, I think they'll find a bit more daylight. And
Vince Young
should feel less inside rush closing in on him.
Williamson says:
"You have to wonder how much Mawae will be missed. It isn't that he played great -- and clearly he isn't what he once was -- but just from the standpoint of making the calls and especially from a leadership perspective. So, this interior line is in transition. Right guard
Jake Scott
probably hasn't quite lived up to what Tennessee was expecting to get from him when they signed him in free agency, but he is a quality starting guard. I think Harris has a good amount of ability and could surprise with more playing time."
March, 4, 2010
3/04/10
5:34
PM ET
A few updates on developments in the division as the clock ticks toward the start of the new league year:
The Colts
have reportedly declined to offer restricted free-agent tenders to
Marlin Jackson
,
Tim Jennings
and
Aaron Francisco
. Jackson is the surprise. He tore up a knee for the second time in two years this season. But in time -- if his rehab goes well -- I'm certain someone will jump at him and could get a good player with a cheap incentive-laden contract.
No word yet on tenders for nine other Colts who are slated to become
restricted free agents
.
The Jaguars
, meanwhile, signed defensive tackle
Atiyyah Ellison
to a contract, preventing him from becoming a restricted free agent. They also signed reserve guard
Kynan Forney
, who was set to become an unrestricted free agent. No word on tender offers for
Clint Ingram
, the linebacker, or defensive lineman
Greg Peterson
, the teams' only other restricted free agents to-be.
March, 4, 2010
3/04/10
9:12
AM ET
Houston Texans

Potential unrestricted free agents:
CB
Dunta Robinson
, WR
Kevin Walter
, RB
Chris Brown
, DT
Jeff Zgonina
, G
Chester Pitts
, S
Brian Russell
, S
Nick Ferguson
, LS
Bryan Pittman
, LB
Chaun Thompson
, QB
Rex Grossman
, LB
Khary Campbell
, G
Tutan Reyes
, T
Ephraim Salaam
, P
Matt Turk
.
Potential restricted free agents:
DL
Tim Bulman
, S
John Busing
, OT
Rashad Butler
, TE
Owen Daniels
, RB
Ryan Moats
, S
Bernard Pollard
, LB
DeMeco Ryans
, G
Chris White
.
Franchise player:
None.
What to expect:
I don't think the Texans will jump out and make any monumental moves. But by deciding not to tag Robinson they created another hole and saved themselves big dollars. With needs at corner, running back, free safety, interior offensive line and defensive tackle they may have more than they can address in one draft. That means they could jump out for one significant free agent – like they did last year with defensive lineman
Antonio Smith
-- and maybe another less expensive one or two.
Indianapolis Colts

Potential unrestricted free agents:
MLB
Gary Brackett
, K
Matt Stover
.
Potential restricted free agents:
WR
Hank Baskett
, S
Antoine Bethea
, S
Melvin Bullitt
, OL
Dan Federkeil
, CB
Aaron Francisco
, LB
Tyjuan Hagler
, CB
Marlin Jackson
, CB
Tim Jennings
, DT
Antonio Johnson
, OT
Charlie Johnson
, LB
Freddy Keiaho
, DT
Dan Muir
, CBPR
T.J. Rushing
.
Franchise player:
None.
What to expect:
Brackett is priority one and the team has indicated a plan to pay him as an upper-echelon guy. The restricted list includes a lot of key guys who will remain big factors next year. Indy is not a team that looks to bring in many outsiders for big roles and it won't start now. Bill Polian's said the Colts will sit back and see how things unfold in the new capless landscape.
Jacksonville Jaguars

Potential unrestricted free agents:
DE
Reggie Hayward
, G
Kynan Forney
.
Potential restricted free agents:
DT
Atiyyah Ellison
, LB
Clint Ingram
, DL
Greg Peterson
.
Franchise player:
None.
What to expect:
The Jaguars are draft-reliant, but will also shop for bargains in free agency, hoping to plug a couple holes with high-character guys with upside who fit what they are doing. As for a big splash, it's unlikely based on their recent busts with big-name free agents like
Jerry Porter
and
Drayton Florence
and the direction they've moved since.
Tennessee Titans

Potential unrestricted free agents:
DE
Kyle Vanden Bosch
, C
Kevin Mawae
, LB
Keith Bulluck
, TE
Alge Crumpler
, CB
Nick Harper
, CB
Rod Hood
, DE
Jevon Kearse
, S
Kevin Kaesviharn
.
Potential restricted free agents:
DE
Dave Ball
, DT
Tony Brown
, TE
Bo Scaife
, LB
Stephen Tulloch
, DT
Kevin Vickerson
, RB
LenDale White
.
Franchise player:
None.
What to expect:
The Titans will undergo a youth movement, especially on defense where Vanden Bosch and Bulluck, who's recovering from ACL repair, are going to be allowed to walk. Mawae been told his only chance to return is as a backup at a backup price. Brown, Scaife and Tulloch are important guys they'll want to retain. Beyond that, expect mostly bargain shopping.
August, 30, 2009
8/30/09
11:51
AM ET
Posted by ESPN.com's Bill Williamson
Thoughts from the Chargers' 27-24 defeat at Atlanta:
The Chargers' offense was clicking. San Diego converted 7 of 8 third-down situations. Quarterback Philip Rivers was fantastic, as was receiver Vincent Jackson. This team is ready to go.
The Chargers allowed just one sack Saturday night. Last week against Arizona, Rivers was sacked four times.
The Chargers also improved in their kick coverage.
The Louis Vasquez-Kynan Forney battle continued at guard and may continue for a few more weeks.
Rookie running back Gartrell Johnson displayed his downhill running ability with a 42-yard gain.
Top pick Larry English made his preseason debut and displayed his famous motor. He is going to be able to help this team early.
Veteran running back Michael Bennett scored on a 48-yard touchdown catch. Bennett is valuable and he should make the team.
June, 16, 2009
6/16/09
12:05
PM ET
Posted by ESPN.com's Bill Williamson
A look at the key loss and his replacement for each team in the division:
Who's out: Jay Cutler, quarterback, traded to Chicago.
Who's in: Kyle Orton, quarterback, acquired from Chicago.
Outlook: It would be impossible for Broncos fans to expect Orton to have the same impact that Cutler had. Orton simply isn't as talented as Cutler.
But in new Denver coach Josh McDaniels' system, the team is confident Orton, who was named Denver's starting quarterback over Chris Simms on Saturday, can manage games and help win games.
The Replacements
• Tuesday: AFC North | West
• Wednesday: AFC South | East
• Thursday: NFC South | East
• Friday: NFC North | NFC West
Orton was a decent player in Chicago. Cutler was becoming a great player in Denver before he butted heads with McDaniels. Orton probably never will make the highlight-film plays that Cutler does and he never will amass the passing yardage Cutler does. But McDaniels believes Orton will work well in the system. Denver wants the run to set up the pass and Orton has the best receiving weapons of his career. He may not be fancy and he won't make people forget about Cutler's arm, but Orton has a chance to succeed in Denver because of the system that helped Matt Cassel enjoy fast success in New England last year.
Who's out: Tony Gonzalez, tight end, traded to Atlanta.
Who's in: Brad Cottam, tight end.
Outlook: Cottam will have some competition, including journeymen Sean Ryan and Tony Curtis. But the team likes Cottam, who was a third-round pick last year. The thing is, Cottam is more of a blocking tight end and will not remind anyone of Gonzalez, who is the greatest receiving tight end of all time.
But Cottam will get dirty and help in the running game. New Kansas City coach Todd Haley used the tight end sparingly as the offensive coordinator in Arizona. So, Cottam won't have that much pressure on him to make an impact in the receiving game.
Who's out: Kwame Harris, left tackle, cut.
Who's in: Mario Henderson, left t
ackle.
Outlook: Khalif Barnes was signed as a free agent to replace Harris, who flopped in one season in Oakland. However, the San Francisco Chronicle reports that Henderson is beating out Barnes heading to training camp.
Oakland coach Tom Cable likes Henderson, a third-year player. Still, Barnes was brought in to start. So, Henderson will have to earn the job. This has long been a problem position for Oakland. Perhaps it will be the young Henderson who offers stability.
Who's out: Mike Goff, guard, signed with Kansas City as a free agent.
Who's in: Louis Vasquez, guard.
Outlook: Vasquez will battle with veteran Kynan Forney, who was originally expected to replace Goff, whom the team did not pursue in free agency.
However, Vasquez, a third-round pick, has been outstanding in the spring. If Vasquez has a strong training camp and preseason, expect him to win the job. The Chargers are looking for a long-term answer at the position and they believe it could be Vasquez.
February, 26, 2009
2/26/09
5:46
PM ET
Posted by ESPN.com's Bill Williamson
San Diego general manager A.J. Smith held a 45-minute press conference to address the team's status heading into free agency. There were several interesting developments. Of course, the most important part of the press conference centered around a situation that is still unresolved.
Smith said talks on restructuring LaDainian Tomlinson's contract were ongoing, but he wouldn't go into specifics about the situation. If Tomlinson, who is due more than $6.7 million this season, doesn't take a restructured deal to reduce his 2009 pay, he will likely be cut.
The talks could last several days. There is no hard deadline. The fact that the talks, which began in earnest Sunday, are taking this long could be a sign of difficulty. However, both sides want Tomlinson to remain in San Diego so the talks will continue.
Meanwhile, San Diego cut linebacker Anthony Waters, who was a third-round pick in 2007. The team had high hopes for Waters last season but he was injured and never made an impact when he was healthy. Still, it is a bit surprising the team gave up on him so early in his career.
Smith said the team will not pursue any of its four remaining unrestricted free agents: defensive lineman Igor Olshansky, guard Mike Goff, linebacker Marques Harris and center Jeremy Newberry. That proclamation is not surprising.
The team wasn't pleased with Olshansky's and Goff's play last season and Harris and Newberry are role players. The Chargers re-signed guard Kynan Forney on Wednesday and he could take Goff's place. Smith said the team would monitor movement in free agency but wouldn't say how much of a player the team would be. The Chargers will likely sign one or two players but not be particularly busy.
Also, Smith said left tackle Marcus McNeill had knee surgery three weeks ago but he is expected to be ready for training camp. McNeill was hampered by a neck problem last season.
August, 30, 2008
8/30/08
7:19
PM ET
Posted by ESPN.com's Pat Yasinskas
Biggest surprise: It wasn't as much a surprise that Joey Harrington was cut as it was that D.J. Shockley made the team. Shockley is a bit of a local cult hero because he played at the University of Georgia, but this move wasn't about popularity. It was about Shockley's potential. Yes, he's a project, but the Falcons think they might be able to develop Shockley into something. They'll have time because rookie Matt Ryan is going to be the starter and veteran Chris Redman will be the backup.
No-brainer: You could see the release of veteran guard Kynan Forney coming for a while. It's sad, but true. Forney had been with the team since 2001 and started most of his career. But Harvey Dahl emerged as a starter and the Falcons weren't going to keep paying Forney starter's money.
What's next: With Thomas Brown going on the injured reserve list, the Falcons still may be in the market for a running back. They're set with Michael Turner and Jerious Norwood as their top two backs, but they may look to upgrade over Jason Snelling, who made the roster.
August, 30, 2008
8/30/08
6:12
PM ET
Posted by ESPN.com's Pat Yasinskas
The Falcons placed running back Thomas Brown on injured reserve. They also released:
NFL SCOREBOARD
Sunday, 2/2
WEEKLY LEADERS