NFL Nation:

LaDainain Tomlinson
April, 28, 2013
4/28/13
11:55
AM ET
Is Dan Fouts next?

In an eyebrow-raising revelation,
former San Diego running back great LaDainian Tomlinson said he met the Charger's new brass at the NFL combine in February and that general manager Tom Telesco and coach Mike McCoy asked him to come out of retirement.
Tomlinson said the men said he could carry the ball 10-12 times a game. Tomlinson, who turns 34 in June, said he was flattered, but he had mentally moved away from the game. He retired after the 2011 season. Tomlinson spent his first nine seasons with the Chargers, leaving after the 2009 season.
What do I make of the offer? Well, I think Telesco and McCoy want to get better, and they will consider anything. I truly think it's for the best that Tomlinson isn't coming back. He didn't have much in the tank in his last few years.
The Chargers have since added depth behind
Ryan Mathews
at the spot.
July, 4, 2012
7/04/12
12:00
PM ET
Longevity and Super Bowl hardware led the way.
In a surprising landslide,
Marcus Allen
crushed
LaDainian Tomlinson
in our poll
, asking readers to name the best running back in AFC West history. As of 11:25 a.m. Wednesday, Allen received 64 percent of the vote, while Tomlinson received 36 percent.
I can easily see why Allen won. But it should have been closer.
Allen played 16 NFL seasons -- 11 with the
Oakland Raiders
and five with the
Kansas City Chiefs
. He is in the Hall of Fame.
Allen, who earned a Super Bowl ring and Super Bowl MVP award with the Raiders, had 12,243 yards and averaged 4.1 yards per carry. He had 123 rushing scores. He added 587 career receptions for 5,411 yards with 21 receiving touchdowns.
Tomlinson recently retired with the
San Diego Chargers
after re-signing with them. He played with San Diego from 2001-09 before playing the final two years of his career with the
New York Jets
.
Tomlinson had 13,684 yards in 11 NFL seasons and he averaged 4.3 yards per carry. He scored 145 rushing touchdowns. Tomlinson added 624 career catches for 4,772 yards with 17 receiving touchdowns. He should be a first ballot Hall of Famer in 2017.
Tomlinson has several more dominant years than Allen did, but Allen played a lot longer and won the ultimate prizes. You could go either way and be happy with this one. Thanks to everyone who played along.
March, 4, 2011
3/04/11
1:26
PM ET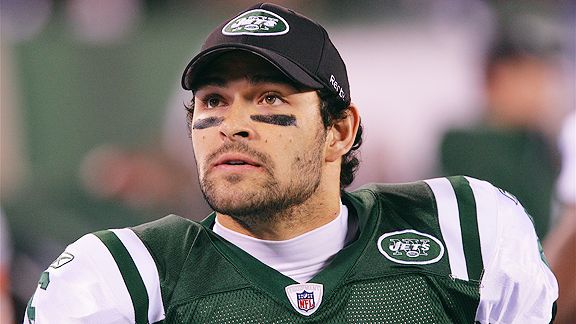 Richard A. Brightly/Icon SMIMark Sanchez is set to earn $14.75 million in base salary next season, the most in the AFC East.
Sports labor squabbles often are described as billionaires arguing with millionaires over money.
While that's a catchy rhyme that sums up fan frustration, the phrase is not entirely true.
Inspired by a blog entry from the
minister of all things AFC South, Paul Kuharsky
, I looked at NFL Players Association files to count up the number of AFC East players scheduled for $1 million base salaries in 2011.
Granted, up-front bonuses and incentives can make base salaries misleading. But base salaries are the only figures that create a common ground, player for player.
You'll see a vast majority of NFL players make much less than $1 million a year. Although many will make seven figures before they walk away from the game, careers are short and treacherous. They'll never see that kind of cash again for the rest of their lives.
That's why they're fighting for every dollar now.
Of the 226 players under contract in the AFC East, only 62 of them (27.4 percent) will make base salaries of $1 million or more.
The NFLPA hasn't acknowledged any franchise tags that have been signed. Those players are marked with an asterisk and not factored into the totals.

Buffalo Bills
Base salaries of $1 million or more:
19
Players under contract:
54
Percentage of roster making $1 million or more:
35.2

Miami Dolphins
Base salaries of $1 million or more:
15
Players under contract:
55
Percentage of roster making $1 million or more:
27.3

New England Patriots
Base salaries of $1 million or more:
14
Players under contract:
60
Percentage of roster making $1 million or more:
23.3

New York Jets
Base salaries of $1 million or more:
14
Players under contract:
57
Percentage of roster making $1 million or more:
24.6