NFL Nation:

Ladarius Green
January, 5, 2014
1/05/14
4:16
PM ET
CINCINNATI -- A few thoughts on the
San Diego Chargers
'
27-10 win
over the
Cincinnati Bengals
in the AFC wild-card round:

What it means:
San Diego's Cinderella season lives on. The Chargers kept Cincinnati's 22-year playoff-victory drought alive and in the process earned their first postseason win since the 2008 season. San Diego advances to the AFC divisional round, where the Chargers will face a familiar foe in the
Denver Broncos
. The Chargers split with the Broncos during the regular season, losing 28-20 in San Diego on Nov. 10 and winning 27-20 in Denver on Dec. 12.
Turnover bonanza:
San Diego's defense forced the Bengals into four turnovers on Sunday -- a fumble by running back
Giovani Bernard
and three costly miscues by quarterback
Andy Dalton
, a fumble and two interceptions. The Chargers scored only six points off those turnovers, but defensively, they did a nice job of putting consistent pressure in Dalton's face.
Cool-hand Rivers:
While Dalton again struggled in the postseason, Chargers quarterback
Philip Rivers
showed the value of having a franchise quarterback. Rivers didn't throw for a ton of yards, but he didn't need to. Rivers finished 12-of-16 for 128 yards, including a 4-yard touchdown to tight end
Ladarius Green
. More importantly, Rivers and the San Diego offense finished with zero turnovers.
Stock watch:
Scheduled to be an unrestricted free agent this offseason, Chargers linebacker
Donald Butler
showed why San Diego should consider keeping him around. Butler finished with a team-high 11 tackles, a forced fumble and a tackle for a loss.
What's next:
The Chargers travel to face the Broncos in the AFC divisional round playoffs at 4:40 p.m. ET Sunday in Denver.
November, 24, 2013
11/24/13
10:19
PM ET
KANSAS CITY, Mo. -- Even as
San Diego Chargers
tight end
Ladarius Green
blazed past
Kansas City Chiefs
defensive backs
Quintin Demps
and
Brandon Flowers
as if the two were standing still for a 60-yard touchdown reception, something else ran through his mind.
"I just hoped I didn't trip," Green said, smiling. "Or fall down and fumble or something. I was just so excited. I don't think I ran by him. I think he took a bad angle. It just looked kind of deceiving. C'mon now, I'm not that fast."
San Diego quarterback
Philip Rivers
begs to differ.
"He's the fastest guy on the team," a smiling Rivers said in the locker room afterwards. "That might make some of the receivers mad, but it's true in my opinion."
As promised, the Chargers used Green more often against Kansas City, and it paid big dividends. Green was targeted four times, and finished with three receptions for 81 yards, including his first career touchdown reception in
San Diego's 41-38 victory
.
Those numbers do not include what would have been a 35-yard reception in the second half that was called back because of an ineligible player downfield penalty on San Diego offensive lineman
Jeromey Clary
.
The heir apparent to
Antonio Gates
, Green still has some work to do, according to his mentor.
"I try to do as much as I can to help mold him into a starter in this league," Gates said. "I see that in the future for him. I was once a guy in that situation. Unfortunately I played and started as a rookie. I think once you put everything you have into a situation like I have and my career, and you play with a guy and are like, 'Wow, he's starting in the league and he's working.'"
Rivers and Reid get cozy:
After completing a pass to Green near the Kansas City sideline, Rivers argued with the officials when Kansas City head coach Andy Reid stepped between the San Diego quarterback and the referee, bumping him from behind as if telling Rivers to get back out on the field.
Rivers had a few words with Reid before running back to the huddle.
"He kind of bumped me, but it was all in fun," Rivers said. "He probably coaches a lot like I play, with a lot of passion, respect and love for the game. That's how I played today. I had a lot of interaction with the fans behind me, but it was all good clean fun."
Injury update:
Running back
Ryan Mathews
suffered a hamstring injury in the second half and was replaced by
Ronnie Brown
. Offensive lineman
D.J. Fluker
suffered what looked to be a leg injury, but should be OK. Receiver
Eddie Royal
had to leave the game in the final quarter with a chest injury according to U-T San Diego, and did not return. And defensive lineman
Corey Liuget
suffered an unknown injury on the final play of the game, and had to be helped off of the field.
November, 6, 2013
11/06/13
9:00
AM ET
SAN DIEGO -- At 4-4 overall at the midpoint, the
San Diego Chargers
are about where they should be heading into the season's backstretch.
Quarterback
Philip Rivers
' bounce-back season has been one of the main storylines for this team, along with the return of a competitive spirit established by first-year head coach Mike McCoy.
Still, the Chargers face a daunting schedule if they want to reach the playoffs for the first time since 2009. San Diego still has five AFC West division contests left -- two each against division leaders Kansas City and Denver.
September, 22, 2013
9/22/13
7:26
PM ET
Observed in the locker room after the
San Diego Chargers'
20-17 loss
to the
Tennessee Titans
on Sunday.
On to the next:
After his team squandered a fourth-quarter lead for the second time in three games, San Diego running back
Danny Woodhead
told the Chargers Radio Network he won't spend time worrying about what could have been. "I think that's how it has to be, because we've got to get ready for the next one," Woodhead said. "That's part of the NFL. You can't sit and whine or be mad about it. You're not happy, but you've got to move on and get better at the things that we've got to get better at."
Prayers unanswered:
San Diego tight end
Ladarius Green
had a solid day, finishing with two receptions for 48 yards, including a 34-yard catch. However, Green told the Chargers Radio Network that he had his eyes elsewhere when Tennessee quarterback
Jake Locker
found
Justin Hunter
for the go-ahead score. "I honestly wasn't looking up at it," Green said. "I had my head down, praying."
Heads-up play:
Tennessee tight end
Delanie Walker
knew he should have made the catch over the middle that bounced off his hands on the final drive. But with San Diego defensive back
Marcus Gilchrist
taking in the ball for a drive-ending interception, Walker quickly atoned for his mistake by knocking the ball out of Gilchrist's hands. Walker's heads-up play gave Tennessee the chance for the go-ahead score four plays later. "That's a huge play. If he quits on that play, feels sorry for himself because he dropped it, the game is over," Locker said.
August, 15, 2013
8/15/13
11:50
PM ET
Random thoughts on the
San Diego Chargers
' 33-28
loss
at the
Chicago Bears
on Thursday night:
There's no getting around it: San Diego's first-team offense was awful.
It's the preseason and I have never been an August alarmist, but the problems that plagued San Diego in Chicago are the same issues that sabotaged the team in recent years. They were the reason why new head coach Mike McCoy was brought in.

San Diego looked good offensively against Seattle last week, but it was a disaster on Thursday night. The first-unit offense committed four turnovers (backup quarterback
Charlie Whitehurst
was on the field with the rest of the starters for one of them).
Quarterback
Philip Rivers
threw an interception and lost a fumble on a sack. Turnovers have been a problem for Rivers the past two years. He also hasn't gotten much protection. That was an issue again Thursday night as Rivers was sacked three times in three series. That's ridiculous, but it's nothing new.
According to ESPN Stats & Information, Rivers was sacked every 11.9 times he dropped back to pass last season -- the worst rate in the NFL. The pace was much higher in this game. It has to get better or the Chargers and Rivers will falter regardless of the good work McCoy and his staff are doing.
Max Starks started over King Dunlap at left tackle. Dunlap started last week and has been the starter most of camp. Dunlap played the second drive and is considered the favorite to win the job. Starks was beaten badly on a play Rivers was sacked and where he lost a fumble on the third drive. The performance could go a long way in giving Dunlap the job.
Guard D.J. Fluker, the No. 11 overall draft pick this year, has struggled in pass protection, but has been awesome in run-blocking. That's the book on him as a rookie.
Running back Ryan Mathews looked good. He ran hard and had 45 yards on nine touches. He will be fine if he can finally stay healthy.
Whitehurst had a solid night. He completed 9 of 13 passes for 97 yards and two touchdowns. He improved from last week and his performance in Chicago quieted talk that he could be replaced as the backup.
Rookie quarterback Brad Sorensen was also good as he went 8-for-14 for 127 yards and a touchdown.
The first-team San Diego defense was decent, considering all the turnovers it had to deal with. The unit has some holes, but it's further along than the offense at this point.
The Chargers have been beyond shaky on special teams in two preseason games. They were alarmingly bad in all phases at Chicago. McCoy believes the team will be better in the regular season because of injuries. Guys are playing who won't be in a few weeks.
Rookie receiver Keenan Allen's chances of winning the punt-returning job decreased when he badly muffed a punt and it was recovered by Chicago. Can't do that, rookie.
Running back Danny Woodhead did not play as he comes back from an undisclosed injury. He is expected to make his preseason debut next week.
Second-year tight end Ladarius Green had a touchdown catch for the second straight game and he totaled five catches for 78 yards for the night. He is showing he may be a factor this season.
Former Green Bay linebacker D.J. Smith continued to look good for San Diego.
Key backup cornerback Johnny Patrick was shaken up.
Undrafted rookie safety Jahleel Addae continued to make a push to make the 53-man roster.
Detroit is reportedly signing defensive tackle Justin Bannan. The Chargers had interest in him earlier this summer and could still use depth on the defensive line.
August, 9, 2013
8/09/13
12:20
PM ET
A few thoughts on the
Chargers' 31-10 home loss
to Seattle on Thursday night:
All in all, it was a positive night for the Chargers. Only in the preseason can that be said about a three-touchdown loss at home.

The Chargers' backups were throttled Thursday night. We all know the Chargers are not a deep team. If the injuries continue to pile up, it will be a problem. But the good news is the Chargers' first-stringers looked strong against a very good team in Mike McCoy's first preseason game.
Sure, teams want to see the entire program do well. But if you had to pick one unit to look good, of course, it would be the frontliners. San Diego hung well with Seattle's first-stringers. San Diego led 3-0 after the first quarter.
The focal point of the McCoy regime, quarterback
Philip Rivers
, looked great. He completed 5 of 6 passes and led the Chargers on a 12-play drive that resulted in a field goal. The first-string offensive line, the biggest question mark, did well and running back
Ryan Mathews
ran with a purpose.
Defensively, San Diego held a potent Seattle attack to no scores on two drives. Key newcomers
Dwight Freeney
and
Manti Te'o
both were active.
Rookie receiver
Keenan Allen
got some action as a punt returner. Expect him to be a big part of the team as a rookie.
Safety
Sean Cattouse
, linebacker
D.J. Smith
and tight end
Ladarius Green
stood out as depth players.
Backup quarterback
Charlie Whitehurst
struggled as he threw two interceptions. But rookie
Brad Sorensen
, who was up-and-down in camp, had a nice day. He was 7-for-10 and connected with Green on a 31-yard touchdown.
August, 8, 2013
8/08/13
12:00
PM ET
SAN DIEGO -- Gone is the omnipresent GM lurking from the large deck that hovers over the practice field.
Gone is the comfortable head coach who went at his own pace.

It's a new day for the
San Diego Chargers
. There is new energy in America's Finest City.
Change was badly needed. The Chargers arguably had the best roster in the NFL five years ago, but it never paid off. The lack of success finally cost general manager A.J. Smith and coach Norv Turner their jobs after another lackluster season in 2012.
The Chargers' fans demanded new leadership for the stagnant franchise. They got their wish. The Chargers now have some of the youngest, freshest leaders in football as the team moves past the stale days of the Smith-Turner era.
Smith was famous for watching practice from the deck of his office. New general manager Tom Telesco, 40, watches practice from the sideline. There are no messages of pecking order being sent from the general manager's office. Telesco, in a camp-issued T-shirt and shorts, could easily be mistaken for an equipment manager.
The head-coaching switch from Turner to Mike McCoy, 41, is almost as distinctive as the change at GM. McCoy's practices have appeared to be crisper and more detailed-oriented than in the past. There isn't much downtime in San Diego's practices. Everyone's moving at all times. That wasn't always the case under Turner.
"I think we're getting a lot done," quarterback
Philip Rivers
said. "Coach McCoy clearly has a plan. It's been impressive. ... The big thing is everyone has bought in to him. The reality is we are .500 over the past three years. It was pretty easy to buy in what's now going on here."
THREE HOT ISSUES
[+] Enlarge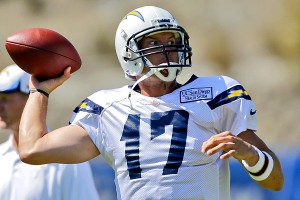 AP Photo/Lenny IgnelziPhilip Rivers threw 15 picks last season to just 26 touchdown passes.
1. The quarterback:
Rivers is a major focal point of this training camp. Telesco hired McCoy, Denver's former offensive coordinator, with an eye toward fixing Rivers. The quarterback has struggled the past couple of years, particularly with turnovers. McCoy and new offensive coordinator Ken Whisenhunt, the former head coach of Arizona, form a strong quarterback-coaching tandem and quarterback coach Frank Reich is also highly regarded. All three men believe in Rivers, and it seems to be paying off. Rivers has looked fantastic in training camp. His confidence is high, and his passes are accurate. It is vital for both Rivers and the Chargers that he has a good season and the team continues build around him. If not, it could be a crossroads season for both the franchise and Rivers' career.
2. The offensive line:
Because of injuries, this unit has been terrible the past couple of years. No matter how much Rivers improves, he won't have much of a chance if he doesn't have protection. The Chargers' line has four new starters. It is not a great unit, and there will be some growing pains. But the group is getting rave reviews for being athletic and tough. Rivers is impressed and trusts the group. He thinks it's deeper with players such as rookie
D.J. Fluker
at right tackle and veterans
King Dunlap
and
Max Starks
competing at left tackle. Dunlap is leading the race. But if there are injuries, this group appears better equipped to weather them than last year's squad.
3. The rookie linebacker:
The Chargers are thrilled with inside linebacker
Manti Te'o
. He will start in the team's 3-4 schemes. He has looked good in training camp and has fit in with the locker room. The hoax he was involved in at Notre Dame is not a factor. The Chargers love the way he works and practices. He is instinctive, and he plays faster on the field than his combine times suggested. The Chargers think Te'o is ready to make a big impact.
REASON FOR OPTIMISM
[+] Enlarge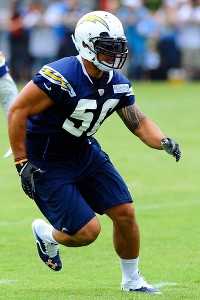 Christopher Hanewinckel/USA TODAY SportsThe Chargers are happy with the progress of second-rounder Manti Te'o, who's slated to start at inside linebacker.
The Chargers are loaded with young talent on defense. Any defense that has
Eric Weddle
at safety, Te'o and
Donald Butler
at inside linebacker and
Corey Liuget
and
Kendall Reyes
at defensive end is an impressive group.
I think these players will be the core to one of the better defenses in the coming years. The Chargers are doing backflips over the combination of Liuget and Reyes. Liuget is entering his third NFL season, and Reyes is entering his second. Liuget was terrific all of last season, and Reyes showed serious pass-rush potential toward the end of the season.
While this defense has some holes, there are some exciting pieces here.
REASON FOR PESSIMISM
The Chargers are pretty thin in a lot of places. I think this team is on the rise, but it may not be a quick fix. There are too many positions where depth is an issue.
San Diego has dealt with the injury bug already. Pass-rusher
Melvin Ingram
, the No. 18 overall pick in 2012, suffered a torn ACL in May. Starting receiver
Danario Alexander
and backup linebacker
Jonas Mouton
suffered the same injury during camp.
Alexander's and Ingram's injuries are particularly worrisome. This team can't afford to lose high-end talent before the season starts. Other positions vulnerable to injuries include the offensive line (even though the depth is better than in the past), defensive tackle, edge rushers and the secondary. There isn't much wiggle room on this roster.
OBSERVATION DECK
The Chargers appear to be well-coached. The influx of offensive coaches and the return of several defensive coaches, led by coordinator John Pagano, makes for a nice mix. Most of the new blood was needed on the offensive side of the ball.

The team feels great about Dwight Freeney, who was signed to replace Ingram. The Chargers are convinced Freeney still has something left in the tank and will be a difference-maker.

The Chargers like the progress of nose tackle Cam Thomas, who they think is ready for a breakout year. Coaches and teammates are talking him up big.

San Diego is looking to add depth on the defensive line. Free agent Justin Bannan on is still on the team's radar. I think we will see the Chargers be active on the waiver wire at a few positions.

Free-agent guard Chad Rinehart is showing solid leadership skills.

The team loves free-agent running back Danny Woodhead. He has been a camp star and should take pressure off starter Ryan Mathews. Expect to see Woodhead used in several different ways. He could be a poor man's Darren Sproles, perhaps.

Yes, tight end Antonio Gates hasn't had a superstar season in years because of injuries, but the team likes what they see from him. He may have another year or two left in the tank.

Ladarius Green, Gates' potential successor, is still growing. But he has shown flashes. He has natural pass-catching ability.

While there are questions at cornerback, the Chargers feel like Derek Cox and Shareece Wright will be an upgrade over last year's starting duo of Quentin Jammer and Antoine Cason.

Rookie quarterback Brad Sorensen has been up and down. He has a good enough arm to keep him on the 53-man roster.

Cornerback Johnny Patrick has looked good. He could see a lot of action in nickel situations.

Fifth-round pick Tourek Williams is getting looks at both defensive end and outside linebacker. The team would like for him to contribute at linebacker.

Robert Meachem, a big-money, free-agent bust last season, has been given new life after Alexander's injury. Still, I have my doubts that Meachem will make much of a difference. He hasn't been a standout in camp.
July, 19, 2013
7/19/13
12:00
PM ET
NFC Eight in the Box:
East
|
West
|
North
|
South
»
AFC:
East
|
West
|
North
|
South
What are the three key camp issues facing each AFC West team?

DENVER BRONCOS
Offense: The Wes Welker Factor
Peyton Manning
has a new toy. But with the wealth of options in this offense, it seems unlikely Welker will match his production from his days with
Tom Brady
. Manning will love exploiting the mismatches Welker creates from the slot. Welker's experience in New England's up-tempo offense should pay off as Denver transitions to a similar pace. It is difficult to find weaknesses in the Broncos' offense right now.
Defense: Pass-rush issue
Elvis Dumervil
is now playing for Baltimore.
Von Miller
is one of the league's premier defensive players and pass-rushers, but more is needed. Where will it come from?
Derek Wolfe
showed some flashes as an inside pass-rusher during his rookie season and on passing downs.
Robert Ayers
should also be effective when moved inside. Will the edge player opposite Miller -- Ayers on early downs and
Shaun Phillips
, most likely, on passing downs -- be able to produce? The wild card here is rookie
Quanterus Smith
.
Wild card: Pass coverage in the middle
Denver had a lot of problems last season covering opposing tight ends in the middle of the field. On paper, it doesn't look as though the problem has been addressed. Denver's safety play is average at best, but the middle linebacker spot manned by
Joe Mays
is the real issue. Look for opposing offenses to keep Denver in base defensive personnel and attack the middle of the field.

KANSAS CITY CHIEFS
Offense: The Alex Smith Factor
Smith needs plenty of resources to be successful. But if he just makes fewer mistakes at the position than
Matt Cassel
did a year ago -- something that seems highly likely -- then Kansas City will be much more competitive. Smith also has underrated running skills, and the Chiefs should orchestrate plenty of designed quarterback movement and runs.
Defense: Interior pass rush
The Chiefs were among the worst defenses in the NFL last season at creating pressure on the quarterback between the tackles. Although the team made drastic changes across the roster, this area was not addressed. Unless
Dontari Poe
steps up in his second season -- and pass rush isn't really his game -- little should change for Kansas City.
Wild card: Secondary receivers
The Chiefs are very light at wide receiver outside of
Dwayne Bowe
. They have three strong tight ends and could employ plenty of multiple tight end sets.
Jamaal Charles
should see plenty of passes thrown his way, but another outside threat needs to step up.
Donnie Avery
has the speed to open up room for others, but his hands are highly inconsistent.
Jon Baldwin
and
Dexter McCluster
have yet to find their place in this league. Keep an eye on
Devon Wylie
.

OAKLAND RAIDERS
Offense: Man-blocking scheme
For some unknown reason, the Raiders switched in 2012 from a predominantly man-blocking scheme, in which
Darren McFadden
thrived, to a zone-blocking scheme. That was a failed experiment, especially for McFadden, who is entering the final year of his contract. Switching back could allow him to be the foundation of Oakland's offense.
Defense: No pass rush
I fear the Raiders will be among the worst defenses in the NFL next season at rushing the passer.
Lamarr Houston
is a very talented player, capable of greatness, but he isn't a typical edge pass-rushing defensive end.
Andre Carter
has had success in this area, but his best days are behind him. I like the additions of
Pat Sims
and
Vance Walker
at defensive tackle, but both are run-stuffers. Opposing quarterbacks are going to have a lot of unobstructed time in the pocket this season. Calling
Jadeveon Clowney
...
Wild card: Building blocks
The Raiders are not going to win the Super Bowl. Instead, they must determine which players are their building blocks. I was impressed by the way the front office, despite many limitations, addressed the team's needs during the offseason. But many of their signings were only one-year deals. Which players do they want to bring back? Many players on Oakland's roster are auditioning this season.

SAN DIEGO CHARGERS
Offense:
Pass protection
Philip Rivers
needs to be protected, which San Diego hasn't been able to do lately. Although the Chargers used a first-round pick on
D.J. Fluker
, who is a much better run blocker than pass blocker, I don't see noticeable upgrades on the offensive line. I also don't see much upside or potential star power in the group. Changing scheme could help by getting the ball out of Rivers' hands quicker, but he could be headed for another punishing season.
Defense:
Time to step up
The Chargers have several promising young defensive players who could be ready to break out.
Eric Weddle
is among the league's best safeties, and
Corey Liuget
has already established himself as a real force on San Diego's defensive line.
Kendall Reyes
might not be far behind Liuget and should become more of a household name this season.
Manti Te'o
could have an instant impact in his rookie season and pair with
Donald Butler
to be one of the better inside-linebacker tandems in the league.
Wild card:
Receiver situation
Antonio Gates
isn't what he once was, but he still makes plays, and Rivers trusts him. The Chargers have many other receiving options now:
Danario Alexander
,
Malcom Floyd
,
Keenan Allen
,
Vincent Brown
,
Robert Meachem
,
Eddie Royal
,
John Phillips
,
Ladarius Green
,
Danny Woodhead
and
Ronnie Brown
. How will that sort out? My favorites are Allen, Vincent Brown and Green. Getting these young weapons plenty of reps could pay off in the long term for San Diego.
September, 16, 2012
9/16/12
5:30
PM ET
SAN DIEGO – The
San Diego Chargers
look good.
They are hammering Tennessee,
17-0 early in the second quarter
.
The Chargers are dominating on both sides of the ball. Offensively, they have improved from their 1-for-5 effort in the red zone in a 22-14 win at Oakland last week. San Diego is 2-for-3 from the red zone so far.
I tell you what; this San Diego defense is much improved. San Diego's pass rush hasn't been this strong since
Shawne Merriman
's heyday of the mid 2000s.
It also a good day so far for the San Diego tight ends without star
Antonio Gates
, who is out with a rib injury. Backup
Dante Rosario
caught two touchdown passes from
Philip Rivers
in the first quarter. However, Rosario has a calf injury and his return is questionable.
Fourth-round pick
Ladarius Green
marked his NFL debut with a nice run-and-catch on a 31-yard play to setup a field goal early in the second quarter. Many people think Green can be Gates' successor and he looked nice on his first NFL catch.
August, 8, 2012
8/08/12
12:00
PM ET
SAN DIEGO -- With the outside perception of the
San Diego Chargers
taking a major tumble, the team, which for so long was built from the inside, changed philosophy in 2012 in a last attempt to keep that proverbial Super Bowl window from slamming shut and causing major upheaval in the organization.

After two playoff-less seasons and a reprieve from ownership, San Diego general manager A.J. Smith made an uncharacteristically heavy play in free agency. Taking advantage of one of the deepest classes in history, the Chargers nabbed more than a dozen free agents to infuse new life into a roster that was still talented but no longer arguably the stoutest in the NFL.
"I love what they have done around here," said safety
Eric Weddle
, one of the Chargers' homegrown mainstays. "We hit the lowest of the lows the past two years by not making the playoffs. Getting new blood in here has helped."
Among the veterans San Diego brought in were running backs
Le'Ron McClain
and
Ronnie Brown
, receivers
Robert Meachem
and
Eddie Royal
, linebacker
Jarret Johnson
and defensive tackle
Aubrayo Franklin
.
"The thing about the new guys is they all love football," San Diego quarterback
Philip Rivers
said. "They love it. We need guys like that here. … It gives us a new start. Those guys won't worry about the past. They weren't here for the slow starts or the six-game losing streak last year. It's all a new start."
If this cleansing of the roster doesn't work, the next restructuring will likely occur up top with the firing of coach Norv Turner and possibly Smith. Yet, in a season of new beginnings, spirits are high.
"I think we can be special," Weddle said. "There's still a lot of talent here, with a bunch of new talent. … People may not be expecting much from us this year because we haven't done anything, so that's fair. But it's kind of nice to be under the radar for once."
THREE HOT ISSUES
[+] Enlarge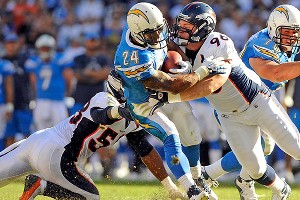 Christopher Hanewinckel/US PresswireThe Chargers aim to lean even more heavily on running back Ryan Mathews this season.
1. Ryan Mathews' workload:
Outside of Rivers, there is likely not a more important player in this camp than Mathews. The Chargers all know if Mathews flourishes in his third NFL season, the team will have a strong chance to be successful. Mathews, the No. 12 overall pick in 2010, had a solid second season as he ran for 1,091 yards and averaged a terrific 4.9 yards per carry. This year, the Chargers want to see Mathews become consistent and stay healthy. He will likely be given the chance to to carry the ball 25 times a game, catch several balls out of the backfield and be a factor on third down and in short yardage. This camp is designed to get him prepared for a heavy workload. From what I saw and heard, it seems like Mathews might be up to the task.
"He's working hard," Rivers said. "Ryan knows what is expected of him."
2. Sparking the defense:
While the offense in San Diego needs some tweaks, the bigger fixes are necessary on defense, where former linebackers coach John Pagano is in charge of fixing a unit that fell apart last season. He replaces Greg Manusky, who was fired after one season on the job. The biggest issue -- it is a major point of emphasis in camp -- is getting off the field on third down. San Diego was last in the NFL in third-down defense in 2011. It gave up a first down on 49.2 percent of all third downs -- according to ESPN Stats & Information, the worst percentage in the NFL since the 1995
Cleveland Browns
. The Chargers have added several pieces to the defense and it has a chance to be much more active -- particularly on passing downs, when No. 1 pick
Melvin Ingram
will be given a chance to make an instant impact as a pass-rusher.
3. Protect the quarterback:
The San Diego offensive line was in shambles for much of last season, and it was a big reason why Rivers struggled for the first 10 games. Mainly due to poor health, San Diego used 13 offensive linemen last season -- literally taking players off the street at one point in November. With
Jared Gaither
, claimed off waivers from Kansas City, solidifying the left tackle spot, the unit improved dramatically late in the season. Gaither was re-signed and is being counted on to protect Rivers' blind side. The steady
Tyronne Green
takes over for the departed
Kris Dielman
. Green has fared well when he's had to play. If this unit remains in good health, it should protect Rivers well. If not, trouble could persist. So far, the unit looks good in camp.
REASON FOR OPTIMISM
The passing game looks to be top-notch. After a sloppy start to last season, Rivers finished 2011 strong. He has looked good in camp, and has an interesting group of receivers. Yes, standout
Vincent Jackson
is gone, but the Chargers have an ensemble group that includes
Malcom Floyd
, free-agent signees Meachem (New Orleans) and Royal (Denver) and second-year player
Vincent Brown
. Together, this group should offer Rivers plenty of help.
"We like what we have there," Turner said. "We like all the pieces. We think we can get some things done in the passing game."
If the Rivers-led passing attack is back at an elite level, the Chargers will be a threat to win every game. When Rivers is on, San Diego has a chance to score every time the offense hits the field.
REASON FOR PESSIMISM
The Chargers must prove they are totally past their doldrums. The team feels good about itself, but it does every summer. We will not know if San Diego is out of its funk until it's out.
Yes, the depth looks good, but will it be enough if injuries pile up for a fourth consecutive year? Yes, cutting down on turnovers is a point of emphasis in camp, but once the season starts, will the hard work pay off or will the killer interceptions and fumbles continue?
It has gotten to the point where we can't trust this team until it shows it is has indeed rebounded.
OBSERVATION DECK
[+] Enlarge

AP Photo/Lenny IgnelziReceiver Eddie Royal, an offseason pickup, appears to have clicked with Chargers QB Philip Rivers.

Tight end Antonio Gates is turning heads on a daily basis. After dealing with foot-related injuries for four years, Gates is finally completely healthy. He's slimmed down and he is making a lot of plays. If his health remains, the 32-year-old should make a huge impact.
Denver might have lost interest in Royal, but there is a place for him San Diego. Expect Royal to get a lot of work. He has impressed the coaching staff this summer and I expect him to be as favorite a target for Rivers during the season as he has been this summer.
The Chargers love what they see in Johnson. He is tough, smart and excellent against the run. They think he can bump the defense up a notch.
Linebacker Donald Butler looks good after a strong 2011 season, which was essentially his rookie season because he was injured in 2010. He is just another fascinating young defensive piece on this team.
Undrafted rookie quarterback Jarrett Lee looks like a keeper. He got extra work because of a knee injury to Charlie Whitehurst. I could see Lee making this roster. The Chargers were burned last year when they tried to sneak undrafted rookie quarterback Scott Tolzien onto the practice squad; he was claimed by San Francisco. If Lee continues to impress, I think the Chargers will find room for him on the 53-man roster. They need to develop a young quarterback at some point and Lee might be it.


The Nate Kaeding-Nick Novak battle at kicker will go down to the wire. If Kaeding stays healthy and kicks well in the preseason, he should win the job.
The Chargers love the skill level of Meachem. Perhaps he was lost in the shuffle of the dynamic offensive weaponry in New Orleans. He'll get his shot in San Diego.
The Chargers are pumped about McClain, a free-agent pickup from Kansas City. He will play a lot and should be in the mix for some carries. They like the veteran stability he brings to the offense.
Center David Molk, a seventh-round pick, is getting some second-team reps. He may have a future.
The Chargers are very happy with pre-camp signings Franklin and running back/special-teamer Jackie Battle. Though they both signed late, I see them both being contributors.
Keep an eye on ex-Chief Demorrio Williams. The linebacker has been a camp stud, boasting terrific speed. The Chargers like him in coverage.
The Chargers will keep their eyes open for help at certain positions, including cornerback and offensive line, as the summer progresses.
Third-round pick Brandon Taylor, a safety, might not make an instant impact, but Taylor has impressed and will get some valuable time behind veteran pickup Atari Bigby, who himself has been outstanding this summer.


Brown has been getting looks as the third-down back and will be an occasional Wildcat threat.
Running back Curtis Brinkley flashed talent at times last season, but because of the logjam at running back, he is a long shot to make the team.


Rookie tight end Ladarius Green has nice receiving skills. I can see him making an impact behind Gates and Dante Rosario (a very nice backup). Green, a fourth-round pick, needs to learn to block at an NFL level, but he has terrific hands and natural size.
Undrafted rookie tackle Mike Harris has taken advantage of an early camp injury to Gaither, getting some reps with the first team. The UCLA product has a chance to make the team. Rivers has joked that Harris has gotten more first-team reps than any undrafted rookie tackle in the history of the NFL.
August, 2, 2012
8/02/12
10:45
PM ET
SAN DIEGO -- The
San Diego Chargers
will have some late-training camp visitors this month.
The Chargers announced they will host the
Dallas Cowboys
for two combined practice on Aug. 20-21 at Chargers Park. The practices are not open to the public.
The workouts will occur after the Chargers host the Cowboys at Qualcomm Stadium on Aug. 18. Often, when teams practice together, the combined workouts occur prior to the preseason game.
Thursday evening post-practice notes:
Receiver Robert Meachem was practicing Thursday after he left Wednesday night's practice with an injury, Meachem is fine.
Several veterans were given the day off Thursday to rest.
Running back Ryan Mathews looked good in goal-line situations. He is going to have an increased role, so his work at the goal line is important.
Fourth-round pick Ladarius Green had a nice day of practice. The tight end looks comfortable in the red zone. He still needs to learn how to block, but he has NFL-ready hands.
April, 28, 2012
4/28/12
1:16
PM ET
The Broncos' compensation in the
Tim Tebow
trade is a gift for Tebow's replacement,
Peyton Manning
.
Denver took Baylor center
Philip Blake
with the No. 108 pick, in the fourth round. That was the primary pick the Jets gave up in the Tebow trade.
Interestingly, Blake will backup/compete with
J.D. Walton
, a former Baylor teammate. Denver took Walton two years ago and he has been the team's starter. Manning has been working closely with Walton since Manning signed in Denver last month. Blake likely won't compete with Walton right away.
The Broncos made an interesting pick early in the fourth round in the in the form of Arizona State cornerback
Omar Bolden
. He missed all of last season with an ACL injury. He has excellent cover skills and, if healthy, he likely would have been a second-round pick last year.
Bolden is now healthy. It's a worthwhile pick for Denver since they are looking for young cornerbacks who don't have to start right away. This pick has a chance to be a steal.
The Chiefs love small, return types. They drafted
Devon Wylie
of Fresno State in the fourth round. Wylie is dynamic player. He is fast and NFL-ready, yet he is just 5-foot-9, 188 pounds. He can also kelp in the return game, where the Chiefs have several options. Wylie is similar to 2010 second-round pick
Dexter McCluster
.
He and McCluster can be on the field together with McCluster being in the backfield. With big receiver
Dwayne Bowe
and
Jon Baldwin
, the Chiefs continue to give themselves matchup options.
The Chargers began to start thinking about a post-
Antonio Gates
world by taking Louisiana-Lafayette tight end Ladarius Green in the fourth round. Like the Chargers' first three picks, Green was expected to go earlier in the draft. He is an interesting prospect for down the road.