NFL Nation:

LaGarrette Blount
February, 27, 2014
2/27/14
5:00
AM ET
With various top free agent lists starting to surface, let's narrow things down to the Patriots with a snapshot look at the team's free agents:
1.
CB Aqib Talib
-- Difference-maker when healthy and added a different dynamic to the cornerbacks room since November of 2012. A top priority for the team.
2.
WR Julian Edelman
-- Deserves everything coming to him after a terrific 2013 season. Patriots would obviously like him back, but if another team ups the bidding, he's probably gone.
3.
RB LeGarrette Blount
-- Mutual interest in his return. A player who seemingly has more value to the Patriots than most others, which makes us think it's a greater likelihood he's back.
4.
LB Brandon Spikes
-- The way 2013 ended makes it unlikely he returns.
5.
C Ryan Wendell
-- A scrappy heady performer, Wendell maximizes his talents. I don't evision the Patriots extending their budget to ensure his return, but if a market doesn't develop for him, he'd surely be welcome back in a situation where there might be top competition for the No. 1 job.
6.
TE Michael Hoomanawanui
-- Played his role well in 2013. Would think he's back unless another team unexpectedly ups the ante.
7.
LB Dane Fletcher
-- One of the Patriots' best special teams players. Would think there is a competitive bid to retain him.
8.
DE Andre Carter
-- They don't get much better from a locker-room perspective, but we'd be surprised if the team makes his return a priority at this point.
9.
TE Matthew Mulligan
-- More of a blocking presence, he filled his role well in 2013. Although the Patriots will probably look to add to the position, it wouldn't be a surprise if Mulligan competes for a roster spot again.
10.
WR Austin Collie
-- Veteran was dependable and should warrant serious consideration to re-sign.
11-.
OT Will Svitek
-- Smart, versatile veteran probably will see his spot go to a youngster, unless
Sebastian Vollmer
's recovery doesn't look promising.
January, 22, 2014
1/22/14
12:00
PM ET
The first focus for the Patriots in free agency will be their own key players who are set to hit the market.

The list is plentiful, and it starts with cornerback
Aqib Talib
. Talib's work as a shutdown cover man was as good as the Patriots have seen in Bill Belichick's 14 years as coach, which is why he is viewed as the centerpiece to the team's offseason approach.
If Talib isn't back, the Patriots are back to what we saw in the AFC Championship game ... and the drop-off was notable.
Meanwhile, receiver
Julian Edelman
and running back
LeGarrette Blount
are two others the club would likely hope to retain, with center
Ryan Wendell
also in that mix.
In the draft, the Patriots have their full complement of picks -- 1, 2, 3, 4, 6, 6 and 7. The fifth-rounder went to Philadelphia in the
Isaac Sopoaga
trade this year, with the additional sixth coming from the Eagles in that same deal.
The other aspect to consider is the fluid nature of salary-cap space. One important offseason storyline will be if the team gets salary-cap relief from
Aaron Hernandez
's contract, which would play a major role in building the team.
January, 17, 2014
1/17/14
10:00
AM ET
And then there were two -- two teams that know most of what there is to know about each other, two future Hall of Fame quarterbacks who add to their legacies with every pass, all with a Super Bowl trip on the line.
The
Denver Broncos
and
New England Patriots
, who have faced each other in each of the past three seasons and in the divisional round of the 2011 season, took it to overtime Nov. 24. The Broncos let a 24-0 halftime lead get away, and the Patriots won 34-31 after a punt bounced off Broncos cornerback
Tony Carter
's leg in overtime on a frigid night in Foxborough, Mass.
ESPN.com Broncos reporter Jeff Legwold and Patriots reporter Mike Reiss discuss Sunday's AFC Championship Game in Sports Authority Field at Mile High.
Legwold:
Peyton Manning
and Bill Belichick yet again. Do you think, in all your time around Belichick, that he tries to bring something new to the table every time he faces Manning? Or does he assume Manning has done the homework and put his efforts into getting people in the right position?
Reiss:
I'd say there's always a new wrinkle or two, Jeff. Belichick has said in the past that Manning is too smart to just do the same thing over and over again -- both within a game and from matchup to matchup. Part of that discussion is also the state of the Patriots' personnel entering the matchup. A player like rookie linebacker
Jamie Collins
, for example, might give Belichick the flexibility to introduce something unique based on his breakthrough since the Nov. 24 meeting between the teams.
The weather forecast looks promising for Manning. No icy cold forecast. How do you think he approaches this game compared to the Nov. 24 contest? Do you think he will be less reluctant to hand the ball off?
Legwold:
It will be a postcard day Sunday with the temperature expected to be 58 degrees with 0 percent chance of rain and light winds. So any decisions the two teams make on offense will have to do with what's in front of them on defense only. Manning will be inclined to hand the ball off if he sees the Patriots in some of those lighter personnel groupings deployed to handle Denver's three-wide-receiver look. Offensive coordinator Adam Gase has a run option built into most things Manning can change into at the line of scrimmage. The Broncos certainly like how
Knowshon Moreno
and
Montee Ball
are trending in the run game. They have split carries down the stretch, and both run with tackle-shedding power.
Gase, with coaching DNA that includes his time with Mike Martz, is an aggressive sort. With the next-generation numbers the Broncos' offense has put up this season, it's easy to forget they still averaged 28.8 carries per game and topped 30 carries per matchup nine times this season. If they get a look from the New England defense that calls for a run, the Broncos will be inclined to pound away.
Where is
Tom Brady
's game and the offense right now after some rough moments early in the season? Has Brady benefited from a run-heavy approach down the stretch and into the postseason?
Reiss:
The biggest benefit for Brady with the run-heavy approach has been how it opens play-action opportunities.
Danny Amendola
's 53-yard catch in the divisional round is one of the best examples. Also, part of the reason the Patriots have gone so run-heavy is that it's the area where they have their most assets. They are limited when it comes to pass-catchers who create consistent separation at tight end and receiver. As for Brady's game, there have been no signs of decline in arm strength, accuracy or decision-making. The main reasons for the struggles early in the year, from my view, were more about the changes around him. That's not to say Brady didn't make his mistakes, but it's sort of interesting to look back on some of the media-based discussion around Weeks 6 to 8 about how maybe Father Time had caught up to him.
Now that we're a full season in, how would you sum up the
Wes Welker
signing? Just as the Broncos hoped for? Better? Worse?
Legwold:
Welker finished the regular season with 73 catches for 778 yards and 10 touchdowns. His presence in the slot, along with
Julius Thomas
at tight end, is part of the reason the offense had a historic season. With the Broncos lining up in a three-wide-receiver set the majority of the season -- and every snap of the divisional round win over the
San Diego Chargers
-- they force defenses into some difficult choices. Thomas is often in the slot on one side of the formation, and Welker is in the slot on the other side. When Thomas missed two games earlier this season with a knee injury, both the Patriots and the
Kansas City Chiefs
(Dec. 1) elected to double-team Welker. He missed three games after suffering his second concussion in a four-week span Dec. 8 against the
Tennessee Titans
but played last week against the Chargers without issue.
Welker did have some spells this season when he had a cluster of dropped passes -- three against the Patriots on a frigid night to go with drops against Washington and San Diego in the regular season. Overall, though, he was exactly what the Broncos hoped he would be in their offense. He meshed with Manning quickly and was a big part of the plan right from his nine-catch performance against the
Baltimore Ravens
in the season opener.
The Patriots did not face Thomas in the Nov. 24 meeting. Do you think they will try to match up Collins on Thomas this time around?
Reiss:
That seems like the natural matchup, especially after seeing Collins splitting out wide on Colts tight end
Coby Fleener
on Saturday night and playing very well. Collins is unique in that, at 6-foot-3 and 250 pounds, he is fast enough to be competitive down the field in coverage (e.g., fourth-quarter interception versus the Colts) but powerful enough to play in the box and deliver a blow in the running game and as a pass-rusher. The Patriots' top draft pick in 2013, selected 52nd overall out of Southern Mississippi, he is an intriguing player whom Patriots fans really got their first extended look at Saturday as he played every snap against the Colts. He had been groomed behind the scenes up to that point, playing just 25 percent of the defensive snaps on the season in more of a reserve role.
Thomas may not have played in the first game between the teams, but
Von Miller
did. How does Miller's season-ending knee injury affect the Broncos' defense?
Legwold:
Of all the players who were signed in the weeks after the initial leaguewide binge in free agency, the Broncos' signing of
Shaun Phillips
was easily one of the best. Denver signed Phillips to a one-year, $1 million deal during the draft weekend in April, well over a month after free agency had opened, a deal that didn't have a signing bonus but did have some incentives based on sack totals.
Phillips was initially how the Broncos planned to deal with the loss of
Elvis Dumervil
in free agency. When Miller was suspended for the first six games of the season, Phillips had 5.5 sacks in those games to lead the way. He finished the regular season with 10 sacks to lead the team. In Sunday's win, with Miller on injured reserve, Phillips had two sacks against the Chargers. He is the single-most important player in the Broncos' pass rush in Miller's absence. Denver may have to take more risks without Miller on the field, and that's always a tough choice against someone like Brady, who can easily find the holes in coverage. But if Phillips can consistently create pressure -- with both sacks on three-man rushes against San Diego -- it allows the Broncos to move things around a little more and cover more of the bases.
Did Belichick make a conscious effort to get big backs like
LeGarrette Blount
and
Stevan Ridley
in the lineup when he knew he would get smaller defensive personnel against the team's passing attack?
Reiss:
That's fair to say, as the Patriots pride themselves on creating those matchups during the game, with coordinator Josh McDaniels finding his groove in recent weeks. They refer to themselves as a "game plan" offense because they tailor their plan weekly based on what they perceive to be the weakness of the opposition. They'll shuttle in different personnel groupings early -- multiple receivers, two backs, two tight ends, etc. -- to get information on how the opponent is matching up and then focus on the one they like best. This week, what's fascinating to me is that I think they probably see vulnerability in the Broncos' secondary, but I wonder how they feel about their own personnel in being able to exploit it. So that could keep them grounded.
The Patriots have been running the ball very well. How is the Broncos' run defense?
Legwold:
In a year when the Broncos have been forced, by injuries and Miller's suspension, to mix and match on defense, their run defense has likely been more consistent in comparison to some of the other issues they've had. When defensive tackle
Kevin Vickerson
went to injured reserve Nov. 27 with a hip injury, they did wobble a bit, surrendering 159 yards rushing to the Chiefs and 177 yards rushing to the Chargers in two of the three games that immediately followed.
They have regained their balance a bit since, moving
Paris Lenon
into the middle linebacker spot in the base defense, and rookie defensive tackle
Sylvester Williams
has played better each week. Overall, the biggest issue for the Broncos will be how they defend the run if the Patriots get them in nickel or dime personnel on defense and then run the ball at the smaller looks. The Broncos' safeties will have to tackle and tackle well to make it work.
Belichick has always tried to make "other" people beat him and take away an offense's front-line players. How do you think he would rank the Broncos' threats in the passing game, and where do you think the one-on-one matchups will be?
Reiss:
One insightful point that ESPN analyst
Tedy Bruschi
made in his weekly chat was the idea of defending the Broncos from the inside-out. Manning is still an accurate marksman, one of the greatest of all time, but I'm guessing that even he would agree that some of the downfield and outside-the-numbers throws he used to make don't come as easily to him. So it makes sense that the Patriots would focus more resources on the inside part of the field, where it would seem we would most likely see Welker and Thomas. With this in mind, I could envision the Patriots matching up cornerback
Aqib Talib
with
Demaryius Thomas
on the outside and cornerback
Alfonzo Dennard
with
Eric Decker
and taking their chances that those one-on-one matchups will be competitive. Trusting those cornerbacks in those one-on-one matchups would allow the defense to focus extra attention/personnel to the inside part of the field.
Any X factors or special-teams contributors we should keep on the radar?
Legwold:
The Broncos have usually been lockdown tight on special teams -- opening the season with two touchdown returns and two blocked punts, one of those returned for a score, in the first four weeks of the season. Those normally reliable units, however, have wobbled plenty down the stretch. The Chiefs'
Knile Davis
had a 108-yard kickoff return for a touchdown, the Titans'
Leon Washington
had a 95-yard kickoff return, and the Texans'
Keshawn Martin
had a 51-yard punt return. Toss in the first blocked punt of
Britton Colquitt
's career in Oakland to go with
Trindon Holliday
's occasional adventures catching the ball, and it's been an unpredictable stretch. But Holliday is always a threat to uncork a return because of his breathtaking speed. The Broncos used wide receiver Decker as the primary punt returner against the Chargers last week, and he had a 47-yarder. So the Broncos have the potential to pop one at any time, especially in Denver, where Holliday returned both a kickoff and a punt for touchdowns in last January's playoff loss to the Ravens.
January, 17, 2014
1/17/14
7:00
AM ET
ENGLEWOOD, Colo. -- When Jack Del Rio looks at the
New England Patriots
' offense he sees
Tom Brady
. And who wouldn't?
Brady's going to the Pro Football Hall of Fame, after all. Brady was behind center when the Patriots went undefeated in the 2007 regular season, the league's only team to ever finish a regular season 16-0, and Brady's won three Super Bowls.
But even as the
Denver Broncos
' defensive coordinator wraps both his head and his game plan around stopping Brady, Del Rio knows he has to live with an old scouting adage. He has to trust his eyes.
And his eyes have seen the Patriots earn some glory by pounding the rock over the past three games, including New England's win over the
Indianapolis Colts
last Saturday night in the AFC's divisional round.
[+] Enlarge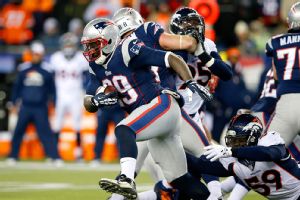 AP Photo/Elise AmendolaLeGarrette Blount and the Patriots' run game has been dominant in the past three games. The Patriots rushed for 116 yards against the Broncos during their Nov. 24 meeting.
"So that's definitely some of the tape that's fresh in our minds," Del Rio said. "They have made a concerted effort to be the more physical team and have done so and so we understand that we can't allow that to happen."
In a 41-7 victory over the
Baltimore Ravens
in Week 16 of the regular season the Patriots rushed for 142 yards. In a 34-20 win over the
Buffalo Bills
in Week 17 they rushed for 267 yards. And in the win that earned them a trip to Denver for the AFC Championship Game, they rushed for 234 yards. It appears to be a late-season adjustment from Bill Belichick and offensive coordinator Josh McDaniels. But the Patriots certainly have a history when it comes to pounding away at the Broncos defense.
Especially if the Patriots believe they can find some room against some of the Broncos' specialty packages on defense, including the nickel (five defensive backs). Last season the Patriots pounded out 251 rushing yards against the Broncos on 54 carries in a 31-21 New England win. The Patriots gained 140 of those yards on runs against the Broncos' nickel package out of a warp speed no-huddle offense that kept the Broncos from getting themselves out of the personnel grouping or making any substitutions in it.
In that game the Patriots kept the Broncos in the nickel, even on early downs. New England ran the ball 21 times on first down against the Broncos nickel look -- 14 of those were in the first half.
Earlier this season, the Patriots choose to run the ball, at least some, against the Broncos nickel package. In the first three quarters of the Nov. 24 game -- which New England won 34-31 in overtime -- the Patriots had 65 of their first 87 rushing yards against the Broncos' nickel package.
At the moment Belichick is using the 250-pound
LeGarrette Blount
and the 220-pound
Stevan Ridley
to do much of the heavy lifting in the backfield. Blount has eight rushing touchdowns in the past three games, including four last weekend in the win over the Colts. Blount, in particular, has overwhelmed the safeties who have tried to tackle if the Patriots offensive line can get him through the defensive line at the point of attack.
It puts tackling at a premium.
"Now they've got those guys up there and they're trying to run the football," said linebacker
Wesley Woodyard
. "I think they're averaging around 200-some yards within the past two games. So when they get in there, you know what kind of mentality it is. It's a smash-mouth game, and you've got to be ready to come downhill."
However, it will take at least some adjustment for the Patriots if they choose to try to pound away at some of the Broncos' specialty looks on defense. Del Rio hasn't traditionally answered with the Broncos' nickel or dime packages until offenses go to three wide receivers in the formation.
But over the past three games, the core of the run-first look from New England, the Patriots opened in a two-tight end look against the Ravens and opened games against the Bills as well as the Colts with a two-back look. The Broncos have been better defending the run out of their base 4-3 defense.
"I think you've just got to know your personnel," said Broncos defensive tackle
Terrance Knighton
. "When Ridley is in there, he's more of a threat to bounce it outside with his speed. Blount will come in there and hit it downhill. So you've just got to know who's out there and know the formations and know what they like to do and things like that. Then they've got (running back Shane) Vereen, who comes in, who can line up at receiver and line up in the backfield. It's tricky, but ultimately we've just got to do what we do and play gap-sound defense and tackle."
It's also meant that Brady has had 14, 14 and 13 completions over the last three games with just two touchdown passes.
"Oh, of course yeah they can still throw it," said Broncos defensive end
Shaun Phillips
. "... Play(-action) pass shots and some of the quick game they do out of opened-up formations. Tom is one of the top quarterbacks in the league, so when you have a guy directing it like that obviously you're going to be very good at it, but the thing they really are doing is physically they are getting after people, they're winning the battle in the trenches and running the ball right at people with Blount doing a large portion of the running. ... But we know they can come right at you, come right at you and then try to take advantage of you and put the ball down the field, too. We know it's a challenge and we have to be up to the challenge."
January, 14, 2014
1/14/14
9:00
AM ET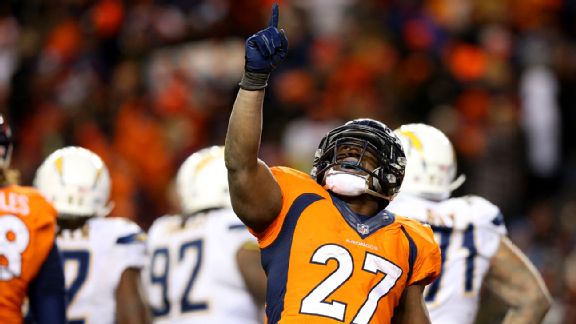 Matthew Emmons/USA TODAY SportsKnowshon Moreno and the Broncos rushed for 133 yards on 34 carries against the Chargers.
ENGLEWOOD, Colo. -- The
Denver Broncos
are the face of a passing league.
They launched 675 passes this season, but it probably seemed like more to the defenses caught in the vapor trail. Quarterback
Peyton Manning
finished out the regular season with 5,477 passing yards and 55 touchdowns. If you're thinking about an NFL offense, there is a good chance you're thinking about Manning and the Broncos' fast-break, no-huddle attack first, or you don't get too far down the list before you do.
But in the postseason? The postseason brings the potential of defenses good enough to take away a team's preferred option. It also brings with it weather, with the kind of wind that grounds flights, let alone quarterbacks.
"We always want to have that option," Broncos running back
Knowshon Moreno
said of the team's ground game. "If they start calling our numbers, no question Montee [Ball] and I want to be ready to be those guys."
The highest-scoring offense in league history has already played its wild card in these playoffs. The Broncos ran the ball 34 times for 133 yards in their divisional round win over the
San Diego Chargers
.
There is a feeling around the team that even with Manning and a passing attack that features a staggering five different players with at least 60 catches, the Broncos will need to go by land from time to time.
[+] Enlarge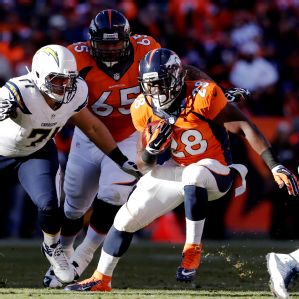 AP Photo/Joe MahoneyRookie running back Montee Ball had 10 carries for 52 yards against the Chargers.
Sunday, the Broncos pounded when they needed to pound, they kept the Chargers off-balance enough that Manning was not sacked, and the Broncos threw the ball just two more times than they ran it. In the regular season, the Broncos threw the ball on 58.4 percent of their offensive snaps.
"It was critical; we stressed all week being productive on first and second down," Manning said. "We did not do that last time we played San Diego and got into some third downs and didn't convert those. We were good on third down because we were good on first and second down. That was the point of emphasis all week, and we carried that from the practice field to the playing field. It was good to see that pay off. A mix of some runs and some short passes to keep moving the chains. So it was a good job by the guys up front. I thought Montee and Knowshon both ran really hard."
The Broncos were certainly not alone this past weekend. The four winning teams in the divisional round ran the ball a combined 149 times. In fact, the average rushing line in the four games was 37.25 carries for 166.75 yards. The Patriots ran for 234 yards, the Seahawks ran for 174 yards, the 49ers ran for 126, all to go with the Broncos' 133 yards.
That's a whole lot of dirt under a whole lot of fingernails for a league that has supposedly left grind-it-out football behind. But there is plenty of logic to go with the necessity. With passing attacks like the Broncos and Patriots have, defenses often answer with smaller personnel groupings in both the defensive line and in the secondary.
Against defenses built for speed, New England coach Bill Belichick has even taken the approach a step further. They not only run against those lighter groupings, they can repeatedly pound away with the mammoth
LeGarrette Blount
, at 250 pounds, or the 220-pound
Stevan Ridley
.
The Patriots ran the ball on 62.5 percent of the their offensive snaps in Saturday night's victory over the
Indianapolis Colts
.
And the last time the Broncos and Patriots faced each other this season -- Nov. 24 on a frigid, blustery night in Foxborough, Mass. -- the Broncos ran for 280 yards, with all but one of their 48 carries coming out of a three-wide receiver formation. They had 38 of those runs with Manning lined up in shotgun.
"When we're efficient in our running game, that is when you're looking for that balance." Gase said. "When we're able to move the ball efficiently in the running game and the passing game, that's when you get that. It's never really going to be 50-50. You try to get that. A lot of times it's probably more 60-40 for us ... And that is on me to make sure we make the adjustments we need to make and then stick with the run."
Because of the constant threat of the passing game all across the league, defenses are built more for situational football, for moving people in and out of the lineup, to defend wide-open formations and uberquarterbacks. Some defenses just aren't built to dig in, down after down, and defend, helmet on a helmet, the point of attack in run defense.
It's not so true in the NFC, where the two remaining teams in the postseason both finished in the league's top 10 in run defense -- San Francisco was fourth and Seattle was tied for seventh. In the AFC, however, only two teams in the playoff field (the Broncos and Cincinnati) finished among the league's top 10 in run defense (Cincinnati No. 5, Denver No. 7).
"We always feel like, as a defense, we need to be ready for when offenses line up and come right at us," Broncos defensive tackle
Terrance Knighton
said. "I think in this time of year, teams are always going to look to run the ball. I think it's always been that way."
"I think balance is important, keeping the ability to do both [on offense]," Broncos head coach John Fox said. "It keeps defenses guessing a little better. It' s not easy to do, something you stress, something that I believe is important, especially in playoff season."
November, 3, 2013
11/03/13
11:00
AM ET
FOXBORO, Mass. -- Here are three keys to victory for the Steelers -- and three things that can't happen if they are to upset the Patriots at Gillette Stadium
The Steelers will win if ...
Brady
Tom Brady picks a different week to play like Tom Brady circa 2012:
The Patriots are 6-2 in spite of Brady's statistical struggles. The eight-time Pro Bowler has completed just over 52 percent of his passes in New England's last four games, and he has thrown for just nine touchdowns while tossing six interceptions. Brady is still adjusting to his wide receivers, some of whom are both young and new, and he has never looked more human as a quarterback since becoming the Patriots' starter.
They attack on defense:
The Steelers were aggressive the last time these teams met, and they held Brady to a season-low 198 passing yards in a 25-17 win over the Patriots two years ago at Heinz Field. The Steelers surprised the Patriots by playing press coverage, and they were successful in disrupting Brady's timing with his receivers. They should force the Patriots to adjust to what they are doing, and if the Steelers go down in what is a must-win game they should at least go down swinging.
Le'Veon Bell has his first 100-yard rushing game:
The running game regressed in Oakland, but the numbers say that it should rebound this week. The Patriots are No. 31 in rushing defense (130.8 yards allowed per game), and they are still trying to fill holes in the middle of their defense that are a result of season-ending injuries sustained by nose tackle
Vince Wilfork
and inside linebacker
Jerod Mayo
. A big game by Bell would go a long way toward stabilizing the offense as well as the Steelers winning in New England for the first time since.
The Steelers will lose if ...

Woodley
They can't get to Brady:
The Steelers are averaging 1.4 sacks per game and they need to more than double that number against a quarterback who has been surprisingly vulnerable in the pocket this season. Brady is on pace to get sacked 46 times, and he will have a new right tackle on Sunday.
Marcus Cannon
takes over for
Sebastian Vollmer
, who suffered a season-ending leg injury, and the Steelers have to take advantage of this matchup.
LaMarr Woodley
was unstoppable the last time the Steelers played the Patriots, and the left outside linebacker could be primed for another big game against New England.
The running game flops:
The Steelers have gone 15 games without a 100-yard rusher so there are no guarantees for Bell, even if he is playing against one of the worst rushing defenses in the NFL. The Patriots have
allowed just one 100-yard rusher this season (the Jets' Chris Ivory), and they traded for defensive tackle Isaac
Sopoaga last week to help shore up their run defense. The Steelers have to stay committed to the run, which means they can't fall behind early as they did last week in Oakland and become one-dimensional on offense. They also have to try to establish a ground game without their best run-blocker as right guard
David DeCastro
is out with an ankle injury.
They can't stop the run:
The Patriots' backs aren't exactly household names, but they are effective.
Stevan Ridley
,
LeGarrette Blount
and
Brandon Bolden
are all averaging more than 4 yards per carry and the Patriots have rushed for more than 120 yards per game. Putting Brady in third-and-long consistently is paramount for the Steelers. And their run defense needs to make a stand after giving up almost 200 rushing yards in Oakland.
October, 22, 2010
10/22/10
4:02
PM ET
»
NFC Final Word
:
East
|
West
|
North
|
South
»
AFC
:
East
|
West
|
North
|
South
Five nuggets of knowledge about Week 7:
[+] Enlarge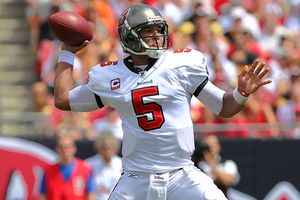 Kim Klement/US PresswireThrough five games this season, Josh Freeman has completed 59.1 percent of his passes and thrown for over 1,000 yards.
Air it out.
There's a lot of talk about Tampa Bay's struggles in the running game. It's all valid because
Cadillac Williams
hasn't been able to do much of anything. People are suggesting the Bucs should turn to undrafted rookie
LeGarrette Blount
or move
Earnest Graham
from fullback to tailback. Do you really think either of those moves is going to fix the running game? I have another suggestion: Let quarterback
Josh Freeman
throw the heck out of the ball. This kid's been pretty good so far and keeps getting better. He has a nice group of young wide receivers and a great tight end in
Kellen Winslow
. I know balance is supposed to be an important concept in an offense. But if you're not getting anything out of the running game, why bother? At least in the short term, let Freeman throw 35 or 40 times. If he does it well enough, the Bucs can gradually sneak the running game back into the offense because defenses won't be looking for it.
Stepping back?
With Cincinnati coming to town with receivers
Chad Ochocinco
and
Terrell Owens
, I'm curious to see how Atlanta's defense responds. This unit had been playing well up until last week's loss in Philadelphia. It looks like the Falcons will be without injured cornerback
Dunta Robinson
and linebacker
Sean Weatherspoon
. Remember, those were the guys the Falcons added to this defense in the offseason. Their speed and aggressiveness helped during the Falcons' four-game winning streak. Can the Falcons continue to play that way without them or do they suddenly become last year's defense again?
Breakout game.
When you think about Carolina wide receiver
Steve Smith
, you need to think a little differently because Smith is different. There's a lot of frustration in Carolina. But, in Smith's case, frustration might be a good thing. He's coming back from an ankle injury that forced him to miss one game, and the quarterback chaos limited his production before that. But Smith is one of the league's more competitive players. He's way overdue for a breakout game. Against a struggling San Francisco team, it could happen if
Matt Moore
can just get the ball into Smith's hands a few times.
Sitting pretty.
Are the Saints for real? Even though they beat up on the Bucs last week, we really don't know because we don't know how good the Bucs are. But here's what we do know: The Saints are 4-2 and have Cleveland coming into the Superdome. Even though the Saints have some injuries, there is no reason they shouldn't come out of this at 5-2. They have a Sunday night game with Pittsburgh on Oct. 31. After that, they don't play another team that presents a serious challenge until Baltimore on Dec. 19.
Count on it.
Most of you know I generally stay away from predictions. But I'm going to make one here. I'm saying New Orleans'
Marques Colston
scores his first touchdown of the season Sunday. This guy is too good to stay quiet.