January, 26, 2014
1/26/14
1:00
PM ET
MIAMI -- There is something terribly wrong with the
Miami Dolphins
. Their process of finding someone --
anyone
-- to become their next general manager should open some eyes within the organization that something internally must change.
After a long and arduous process, the
Dolphins hired Dennis Hickey
on Sunday to become their next general manager. Hickey replaces the embattled Jeff Ireland, who parted ways with the team after six seasons.
But today is not about Hickey as much as it is about the Dolphins' questionable internal structure. This is not a media creation. Multiple candidates legitimately ran away from the chance to be GM of the Dolphins. It's clear that people around the NFL are not buying how Miami wants to run its franchise.
In the past 24 hours, Nick Caserio of the
New England Patriots
and Lake Dawson of the
Tennessee Titans
, in order, were offered the job and turned it down for smaller roles with their current teams. Ray Farmer of the
Cleveland Browns
, an early favorite, took his name out of consideration Thursday night when he was closing in on the gig. At least four other high-profile candidates declined the opportunity for an interview to even hear what the Dolphins have to say.
Many didn't believe the job the Dolphins were offering was a true GM position. Hickey has no power beyond the 53-man roster. Dolphins owner Stephen Ross didn't want the GM to be above coach Joe Philbin and vice president of football administration Dawn Aponte. All three will start on equal footing and answer directly to the owner, which can create an atmosphere where factions develop and sniping can occur. That's pretty much the story of Miami's 2013 season between Ireland, Philbin and Aponte.
But Hickey is willing to take the plunge and must mesh with Philbin and Aponte. The Dolphins may try to put a good face on the situation and say Hickey was their top choice all along. Yet it's clear Hickey was not Miami's first, second or third choice. Hickey probably wasn't in the top seven when Miami's brass created its initial list. But he was the first person willing to take the job.
On paper, the Dolphins' GM position should have been a quality opening.
The Dolphins are not a rebuilding project. This is an 8-8 team with a promising young quarterback in
Ryan Tannehill
, four Pro Bowlers and
solid cap room
entering the offseason. A few good roster improvements here and there and Miami could be in playoff contention in 2014.
But the internal workings and behind-the-scenes drama in Miami made its GM position significantly less attractive. The Dolphins must look in the mirror, re-examine themselves and figure out if this is the smartest way to do business moving forward.
January, 10, 2014
1/10/14
2:22
PM ET
TAMPA, Fla. -- The common theme emerging from the
Tampa Bay Buccaneers
' search for a general manager is that they're looking for someone who hasn't held that title before.

The reported candidates include Lake Dawson, Lionel Vital and Morocco Brown. All three are widely respected in league personnel circles and are viewed as up-and-comers. Those are not bad qualities to have in a general manager.
But the direction in which this search apparently is headed leaves me wondering why the Bucs aren't even looking at some people who have been general managers before. There are experienced guys out there like Jerry Angelo, Mike Tannenbaum and Tim Ruskell.
None of their names have surfaced in connection with the Tampa Bay opening. That is a little surprising since the Bucs made it a point to get a coach with head-coaching experience in the NFL in Lovie Smith.
That the Bucs hired Smith might be the very reason they are attempting to land a first-time general manager. One of the conditions for Smith accepting the job was that he would get final say on personnel matters. That little detail could make experienced general managers lose interest in the Tampa Bay position.
Maybe that is why the Bucs are looking for a first-time general manager.
January, 9, 2014
1/09/14
7:45
PM ET
PITTSBURGH -- Steelers director of football administration Omar Khan is among those that the
Miami Dolphins
have requested to interview for their general manager job, league sources told ESPN NFL Insider Adam Schefter.
Khan, the Steelers' point man on contract negotiations and a key behind-the-scenes figure in the organization, has twice interviewed for general manager openings. Khan, 36, was a runner-up last year for the
New York Jets
job, which went to John Idzik.
The Dolphins, per Schefter, have also requested interviews with Cardinals vice president of player personnel Jason Licht and Browns assistant general manager Ray Farmer.
Giants vice president of player evaluation Marc Ross and Titans vice president of personnel Lake Dawson will interview for the opening in Miami, according to Schefter, as well as Dolphins assistant general manager Brian Gaine.
The loss of Khan,
who I profiled here
, would be a significant one for the Steelers, but his reputation is such that it seems only a matter of time before he is at least offered the opportunity to run his own team.
The Steelers have braced for his possible exit as they hired Samir Suleiman last year to assist Khan in contract negotiations and salary cap planning.
Suleiman had spent the previous 10 years as the Rams' director of football operations.
January, 9, 2014
1/09/14
2:49
PM ET
MIAMI -- Three additional names have emerged Thursday for the
Miami Dolphins
in their search to find their next general manager.
ESPN's Adam Schefter reports
Tennessee Titans
vice president of player personnel Lake Dawson and
New York Giants
vice president of player evaluation Marc Ross will both interview for Miami's job. ESPN.com
Cleveland Browns
reporter Pat McManamon also reports the Browns granted permission for Miami to interview Cleveland assistant general manager
Ray Farmer
.
The Dolphins will begin their general manager interviews on Friday. Former general manager Jeff Ireland parted ways with the team on Tuesday after six seasons.
January, 5, 2013
1/05/13
4:42
PM ET
The Carolina Panthers' search for a general manager won't be limited to the borders of the United States.

Long-time Canadian Football League general manager Jim Popp is getting some attention and likely will be one of five or six candidates to interview for the job next week, according to league sources. Although Popp has spent the bulk of his career in Canada, he does have some ties to the Carolinas.
He's a native of Elkin, N.C., and also was an assistant coach at The Citadel and the University of North Carolina. Owner Jerry Richardson is a North Carolina native, and has always shown a willingness to hire people from the Carolinas.
The Panthers also reportedly will talk to Dave Gettelman, Marc Ross and George Paton, and there has been one report that they also could be interested in Lake Dawson.
But, as I've been saying, don't rule out the possibility of Richardson simply promoting interim general manager Brandon Beane. Although Beane doesn't have a deep scouting background, he's a longtime Carolina employee, who worked his way up through the ranks to become the right-hand man of former general manager Marty Hurney and had been taking on added responsibilities in recent years. Beane already knows the landscape in Carolina, and has a good relationship with Richardson.
Saturday's news that Ron Rivera will
stay as the coach
also could work in Beane's favor. Rivera and Beane worked well together, and the Panthers won the final four games of the season and got contributions from several players Beane signed.
January, 5, 2013
1/05/13
1:52
PM ET
Ron Rivera is staying as the coach of the
Carolina Panthers
, but that doesn't mean he's off the hot seat.
Owner Jerry Richardson's Saturday decision to keep his coach means Rivera will enter the 2013 season on a seat that might be the hottest in the league. Richardson wants to win and he wants to win immediately.
[+] Enlarge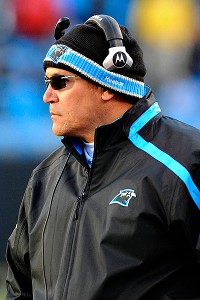 Sam Sharpe/US PresswirePanthers coach Ron Rivera will have to win next season with a roster that won't be bolstered much in free agency.
The only NFL owner to play in the league is very impatient, because the Panthers haven't had a winning season since 2008 and haven't won a playoff game since 2005. So why does Richardson think Rivera can get the job done in 2013?
There's no doubt Richardson likes the fact Rivera, and the Panthers finished 2012 on a four-game winning streak. Richardson also must believe that Rivera can turn around his early season trend of losing close games.
I can see Rivera turning things around and getting the Panthers to the playoffs, which would be the only way he'll keep his job in 2014. But it's not automatic.
Rivera probably will have to tweak his coaching staff a little bit. I've heard the chemistry on the offensive coaching staff wasn't great. Rivera also is going to have to change his ways a little bit, perhaps becoming a bit more aggressive, and it wouldn't hurt him in the eyes of the fans to become just a bit more animated on the sidelines.
But the biggest thing Rivera needs to do is get more out of the players that stay on his roster. The Panthers face a
salary-cap nightmare
, and lots of veterans are going to depart just to get the Panthers under the cap in mid-March.
The Panthers aren't going to be players in free agency. Their cap situation means the only way they can add any talent to the roster will be through the draft.
That means they have to get more out of the players that stay on the roster. But I still can see the nucleus for a playoff team.
Guys like quarterback
Cam Newton
, linebacker
Luke Kuechly
, defensive end
Charles Johnson
, center
Ryan Kalil
and running back
Jonathan Stewart
still are going to be around. They'll have to step up and be better than ever, and so will some other guys.
If that happens, Rivera will be just fine. If not, the Panthers will be looking for his replacement at this time next year.
Now that Rivera is set, the Panthers have to hire a new general manager. There's talk that Dave Gettelman, Marc Ross and Lake Dawson are candidates from the outside, and there could be others.
But I think there's at least a decent chance interim general manager Brandon Beane could become the permanent general manager, but that might come with some restructuring of the personnel department. The Panthers already have pro personnel director Mark Koncz, college scouting director Don Gregory and salary-cap manager Rob Rogers in place, and all are competent. But fans might not be very happy if the Panthers simply elevate Beane and stick with what they've got. I can see a situation in which Beane is promoted, but someone with a strong personnel background is brought in to oversee the personnel department.
However the Panthers structure things, they have to win in 2013, because Richardson isn't going to be patient any longer.
January, 5, 2013
1/05/13
10:27
AM ET
Carolina Panthers
owner Jerry Richardson reportedly is
meeting
with Ron Rivera on Saturday, but that doesn't mean the coach's fate is going to be decided immediately.

Indications are that Richardson wants to hear what lessons Rivera learned from a 7-9 season and what personnel and staff changes he wants to make. In other words, it's almost like Rivera is interviewing for his job. If he can convince Richardson he can win big next season, he'll stay. If not, he'll go.
But I'm not expecting Richardson to make the decision immediately. I think he'll listen to Rivera and then take a little time to make a decision. But Richardson can't wait too long, especially if he is going to make a change. Other vacancies are being filled and the pool of candidates is shrinking.
Plus, deciding Rivera's fate isn't the only major issue Richardson is facing. He also has to decide on a general manager. Interim general manager Brandon Beane is expected to get an interview. Several personnel executives from around the league (Dave Gettelman, Marc Ross and Lake Dawson) also are likely to be interviewed. And at least one candidate that was not employed by an NFL team this season already interviewed before the season ended.
Richardson has moved very slowly on all this. But at least he and Rivera are finally sitting down to talk. Again, I don't think that means a decision will come Saturday. But, at least this is a step toward some clarity on who will coach the Panthers in 2013.
January, 4, 2013
1/04/13
11:07
AM ET
It's sounding more and more to me like owner Jerry Richardson, not a new general manager, will be the one to decide if Ron Rivera remains as coach of the
Carolina Panthers
.

Rivera
Joseph Person reports the
much-awaited meeting
between Rivera and Richardson will take place this weekend. This is just my hunch, but I don't think Richardson is heading into that meeting with any decision already made. If he had already decided Rivera wasn't coming back, I think the coach already would have been fired.
I think this will be a meeting where Rivera is asked what he learned from this season and what changes he has planned for staff and personnel if he stays. If Richardson likes what he hears, I think there's a good chance Rivera, who won his final four games to finish 7-9, will stay.
According to Person, a choice on a general manager won't come until after Richardson and Rivera meet. Interim general manager Brandon Beane is a candidate to take over the position on a permanent basis. New York Giants' executives Marc Ross and Dave Gettelman also reportedly will interview and Person reports
Tennessee Titans
personnel guru Lake Dawson also could be a candidate. The Panthers also interviewed at least one candidate, who is not presently employed by another team, before the regular season ended.
Richardson is moving very slowly, but that might not be a bad thing. He clearly is agonizing over the Rivera decision. That's understandable because Richardson likes Rivera and there have been some signs he can be a successful head coach, but the results so far haven't been spectacular.
It's going to be up to Rivera to use this weekend to convince Richardson he can get the Panthers to take the next step.
January, 18, 2012
1/18/12
3:09
PM ET
How much do the Titans value vice president of pro personnel Ruston Webster and vice president of football administration Lake Dawson?
Enough that they
shuffled their front office
to keep St. Louis and Jeff Fisher from plucking either one away to become the Rams' new general manager.

The team promoted Mike Reinfeldt to senior executive vice president/COO after serving as the team's general manager for the past five seasons, and Webster was elevated to executive vice president/general manager after serving two seasons as the VP of player personnel. Dawson has been promoted to vice president of player personnel, replacing Webster.
It's a bold move to keep together a trio the organization likes a great deal.
Reinfeldt will now serve as the primary Nashville connection to Houston-based owner Bud Adams and both Webster and coach Mike Munchak will be able to take issues to him. The last person to hold such a post, Steve Underwood, retired before the 2011 season.
"Mike has done a nice job for us as our general manager, but I believe we need someone in place who oversees the entire franchise there in Nashville," owner Bud Adams said. "Mike is uniquely qualified for that position with his previous experience. Our VP's have done an outstanding job over the past couple of years managing their departments, but this will streamline things to have someone on site to direct the entire organization and who will execute things the way I want them done.
"With this shuffle, we really have the best of both worlds -- as you might remember our final two candidates when we were filling the general manager position five years ago were Mike (Reinfeldt) and Ruston Webster. We now have both of them working for us and Ruston will take over the general manager role."
It's an effective move by the Titans to play keep-away with Webster and Dawson who were candidates for the general manager post in St. Louis, where Jeff Fisher is the new coach.
January, 13, 2012
1/13/12
5:58
PM ET
NFL teams generally would not welcome a proven winning coach to a division rival.
The
Arizona Cardinals
won't mind seeing Jeff Fisher land in St. Louis, however, because the move eliminates their defensive coordinator, Ray Horton, from consideration for the job. Horton interviewed for the position and could have been appealing relative to the other candidates beyond Fisher.
A look at other potential beneficiaries of Fisher's hiring, beyond the Rams:
Gregg Williams, New Orleans Saints defensive coordinator. Williams worked under Fisher in Tennessee. He had chances to reunite with Fisher previously, but stayed with the Saints. His contract is set to expire after this season, however. That could clear the way for Williams to leave if Fisher decides to target him for the job in St. Louis.
Lake Dawson, Titans vice president of football operations. Dawson interviewed for the general manager's job in St. Louis while the Rams were trying to land Fisher. Dawson worked with Fisher in Tennessee. A former NFL receiver, Dawson's personnel roots run back to Ted Thompson when both were together with Mike Holmgren in Seattle. Fisher's hiring improves Dawson's chances.
West Coast-based offenses. Fisher is not known for having strong opinions on specific offensive schemes. I would expect him to take into account input from Rams quarterback Sam Bradford. Bradford fared well as a rookie while running a West Coast offense. Fisher's teams in Jacksonville ran a Mike Shanahan-based variation of the West Coast scheme, similar to what the NFC West last saw when Jeremy Bates was Seattle's offensive coordinator in 2010 (Bates worked under Fisher's former coordinator in Tennessee, the late Mike Heimerdinger, when both were under Shanahan in Denver). ESPN's Mark Schlabach and others have noted that Jacksonville Jaguars offensive coordinator Dirk Koetter, the former head coach at Boise State and Arizona State, could be a consideration as coordinator for the Rams.
Fisher has had time to formulate plans in his mind. We should see signs of clear direction on the GM and coaching staff fronts before long.
January, 13, 2012
1/13/12
2:58
PM ET
The
St. Louis Rams
can finally exhale with
news
that Jeff Fisher has agreed to become their head coach.
With all due respect to the other candidates the Rams dutifully considered, the organization needed to secure its top choice to proceed with confidence.
Replacing Steve Spagnuolo with another unproven coordinator candidate wasn't going to give the Rams the credibility they need to win over a skeptical St. Louis market. Fisher also stands a better chance to make the Rams competitive on the field. His
Tennessee Titans
teams posted double-digit victory totals six times in his final 12 seasons, including as recently as 2007 and 2008.
[+] Enlarge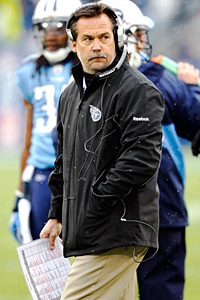 AP Photo/Paul SpinelliJeff Fisher chose the St. Louis Rams over the Miami Dolphins.
Fisher is not the perfect candidate.
Critics will conveniently ignore his five 8-8 seasons when they say Fisher posted only six winning seasons in 17 years. How good would 8-8 look to the St. Louis Rams after they went 10-38 under Spagnuolo and 15-65 since 2007? Even if Fisher brings mediocrity to the Rams, the franchise will be better off exponentially.
The NFC West now has four head coaches with playoffs on their resumes. At their best, Fisher's teams in Tennessee played with a nasty edge on defense. They ran the ball on offense and still managed to produce a co-MVP at quarterback in the late Steve McNair.
We should expect Fisher to draw on his vast experience in assembling a quality staff. Concerns about his choice for offensive coordinator appear valid. Les Steckel, the late Mike Heimerdinger and Norm Chow were his coordinators in Tennessee. Fisher will need to find a coordinator to help quarterback
Sam Bradford
bounce back from a rough, potentially damaging second NFL season.
Fisher clashed with
Vince Young
in Tennessee. Bradford is easy to get along with, a coach's dream. The stability Fisher projects should allow Bradford to grow from a solid base.
The Rams' ability to beat out Miami reflects poorly on the Dolphins and their ownership, particularly after stories emerged suggesting owner Stephen Ross would not be outbid. Similar stories circulated before the Dolphins fell short in their pursuit of Jim Harbaugh last offseason.
Landing Fisher also reflects favorably on the Rams, who have their own stadium issues and, as a result, cannot be certain of their long-term viability in St. Louis. Fisher is a credible coach. He has succeeded under difficult circumstances, including when the Houston Oilers moved to Tennessee. He does not flinch easily.
Fisher made the smart choice. He'll be able to participate in the hiring of a general manager. That seems counter to the old ideal calling for teams to hire GMs, who then hire coaches. But smart coaches with Fisher's experience and leverage wisely insist upon making sure the right GM is in place.
Pete Carroll, having learned the hard way in New England, participated in John Schneider's hiring as GM in Seattle. The Carroll-Schneider relationship has worked well so far. The team has acquired young talent that has fit well with what Carroll wants to do on the field. In San Francisco, the 49ers had already hired Trent Baalke as GM when they landed Harbaugh, but the two felt comfortable with one another. They were also hired at roughly the same time, allowing them to start fresh together.
Fisher will get that opportunity in St. Louis. We should expect the Titans' Lake Dawson to emerge as a leading candidate as GM. Fisher worked with Dawson in Tennessee. Dawson is already familiar with the NFC West, having worked for the Seahawks during the Mike Holmgren years.
I see no real negatives for St. Louis here based on the options available to them. They were justified in firing Spagnuolo based simply on the 10-38 record. But they needed to find someone as good or better. Fisher passes that test, but he'll need better players to win. Holding the second overall choice in the 2012 draft gives Fisher and the team's next GM a head start.
March, 30, 2011
3/30/11
6:59
PM ET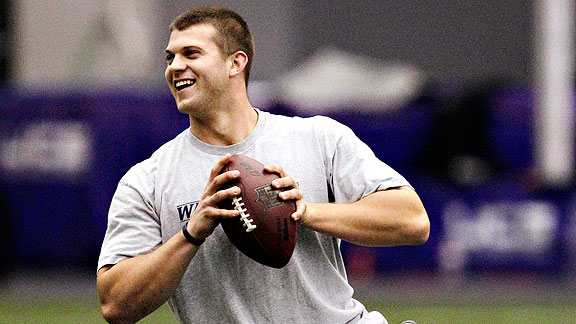 AP Photo/Elaine ThompsonWashington quarterback Jake Locker didn't appear to do anything to hurt his draft status at his pro day on Wednesday.
SEATTLE -- The guest list for
Jake Locker
's pro day at the University of Washington offered up a few surprises.
Former
Seattle Seahawks
running back
Shaun Alexander
, in town on business, dropped by the Dempsey Indoor facility. Former NFL officiating czar Mike Pereira, in town for a meeting related to his role as interim head of Pac-10 officials, also attended.
Former Washington quarterbacks Warren Moon, Damon Huard, Brock Huard (working for ESPN), Hugh Millen, Cary Conklin and Sonny Sixkiller were there.
The quarterback-needy
Tennessee Titans
sent a large contingent featuring vice president of player personnel Ruston Webster, offensive coordinator Chris Palmer and pro scouting director Lake Dawson. Keith Gilbertson (
Cleveland Browns
), Randy Mueller (
San Diego Chargers
), Bob Ferguson (
Indianapolis Colts
) and Mike Sheppard (
Jacksonville Jaguars
) were among the former Seahawks staffers in attendance.
The Seahawks' current decision-makers and most of their coaches drove over from team headquarters, no surprise given the proximity and coach Pete Carroll's ties to Huskies coach Steve Sarkisian, his former USC assistant.
But if the Seahawks' division rivals have any interest in Locker, they hid that interest quite well. The
Arizona Cardinals
and
San Francisco 49ers
did not send representatives, to my knowledge. They certainly did not have any high-profile staffers in attendance. That comes as a bit of a surprise given their obvious needs at quarterback and Locker's potential availability early in the second round, if he slips outside the first.
"I never read anything into which teams attend pro days," Locker's agent, David Dunn, said on the field following the workout. "I've had too many players selected by teams that weren't at pro days or didn't even visit with players."
Fair enough, but teams generally pay closer attention to quarterbacks. The 49ers sent Jim Harbaugh to
Blaine Gabbert
's pro day at Missouri. Cardinals coach Ken Whisenhunt ran Auburn's
Cam Newton
through various throws at a recent workout.
"With quarterbacks, you want to be able to touch and feel and see how they are as people as well as athletes and players," Dunn said.
Locker was not the only Washington prospect performing for scouts, but he was the main draw. He did nothing obvious to damage his draft stock during the workout. He completed all but a couple of passes while showing fluidity in his drops and a short delivery, according to scouts who agreed to speak in general terms and not for attribution.
"I've never nitpicked a guy like I've nitpicked Locker," one of them said. "The guy is a winner, and at the end of the day that has to count for something."
Locker has been working with former NFL quarterback Ken O'Brien to bring his hand over the top more quickly when delivering the ball.
The controlled environment was set up to make him look good. No NFL coaches or personnel people asked Locker to perform unscripted throws. They watched Locker zip the ball with ample velocity and accuracy most of the time, save for a couple high throws that his overworked wide receiver, D'Andre Goodwin, snatched away from his body.
"I'm focusing on the fluidity of the drop, getting my feet in the right spot and just bringing the hand over the top as quickly as I could, rather than dragging my hand," Locker said afterward. "I have a tendency to do that sometimes. I want to bring my hand over the top and really point that finger at my target. I have been spinning the ball a lot better and it's been coming off my hand a lot better."
Locker's relatively low completion percentage at Washington and his inexperience running a pro-style offense have raised questions about his readiness for the NFL. Can he read defenses? Can he throw accurately and on time from the pocket? To what degree did a weak offensive line and receiving corps hamstring him in college?
I've heard differing opinions from scouts as to how well Locker would fit with the NFC West teams that need quarterbacks (Seattle, Arizona and San Francisco).
"A lot of people seem to have him pinpointed to Seattle at No. 25, but I don't think that makes any sense at all," Matt Williamson of Scouts Inc. said. "It works for people who do not know the X's and O's of it all. At 25, he has some value. He went to school in that area. It is easy to say that is a good fit, but I think Seattle is going more and more to a pure West Coast offense, and Locker doesn't fit the West Coast offense at all."
The Cardinals pick fifth and the 49ers pick seventh, earlier than Locker is expected to come off the board. Seattle is one of the few quarterback-needy teams picking later in the first round, when Locker figures to become a more likely selection.
"Jake seems to be an acquired taste," Dunn said. "The more you watch him on film, the more that you are around him, the more you like him."
How well Locker would fit with the Seahawks could hinge on the degree to which Williamson is right in his assessment of how Seattle's offense will evolve.
New coordinator Darrell Bevell comes from the Andy Reid/Mike Holmgren branch of the West Coast offense, a branch that relies more heavily on short, precise passes. Before Bevell replaced Jeremy Bates, the Seahawks had been running Mike Shanahan's version of the West Coast system featuring more quarterback movement, hard play-action fakes and deeper throws requiring greater arm strength.
Carroll, who attended the workout Wednesday, has said the Seahawks do not plan to significantly diverge from the system they ran last season. But it's plausible to think that Bevell's background could steer them away to some degree.
"You do have to be a precise passer in a Bill Walsh, traditional West Coast offense," Rob Rang, senior analyst for NFL Draft Scout, said from the Dempsey Indoor facility. "But I like any offense that is going to use Jake Locker's mobility as an asset rather than just keeping him pinned in that pocket. If you can use his legs as a weapon, that is where he has been his most accurate. He made significant improvements in his accuracy from the so-called pocket in this workout, but at the same time, his strength remains throwing on the move."
Rang said he would draft Locker in the first round as long as the team in question has a veteran starter in place.
I stood next to Moon, the retired Hall of Famer, throughout the workout. Moon said he sees the NFL game evolving to favor quarterbacks with mobility. Life for traditional pocket passers is getting tougher, in his view. Locker's athleticism and scrambling ability separate him from most prospects. He has run the 40-yard dash in 4.52 seconds, a time that holds up against those posted by some wide receivers. But quarterbacks must also succeed as pocket passers to make it in the NFL.
"Locker is pretty accurate outside the pocket," Williamson said, "but as far as going 1-2-3 and getting it out, having good footwork, hitting a guy in stride, he is terrible. I don't see that fit at all. I do not think he is going to be the precise passer Harbaugh is looking for, either. I can see someone like Arizona being really interested in him in Round 2. They might like a more 'toolsy' guy, like a
Ben Roethlisberger
."
Williamson sees Locker appealing to a coach such as Shanahan, who might see Locker as a cross between
Jay Cutler
and
Jake Plummer
, two quarterbacks Shanahan coached in Denver. That's the type of quarterback Seattle was seeking when Jeremy Bates was coordinating their offense. It's the type of quarterback the Seahawks might still value if Bevell installs the type of system Carroll has favored previously.
"I don't know in the NFL right now if people run different offenses," Sarkisian said. "It's so much of a copycat league and everybody runs so many things that are similar that it's hard to say that New England is different than Pittsburgh that is different than Seattle that is different from the Chargers. They all have their focal points, but at the end of the day, there are a lot of similarities. Things will be tailored for him [Locker], like they are for every quarterback, but I just think he fits in as an NFL quarterback."
January, 27, 2011
1/27/11
7:51
PM ET
Mike Reinfeldt is a trusted Bud Adams employee. He played for Adams' Houston Oilers from 1976 through 1983 and has been Titans executive vice president and GM since 2007.
[+] Enlarge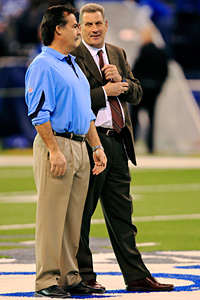 AP Photo/Michael ConroyTitans general manager Mike Reinfeldt will play a key role in determining Jeff Fisher's replacement.
Since he replaced Floyd Reese in 2007, two of his three biggest hires -- vice president of player personnel Ruston Webster and director of pro scouting Lake Dawson -- are guys he was connected to from his previous NFL jobs.
I expect Reinfeldt will play a big role in putting Jeff Fisher's ultimate replacement in front of Adams.
Reinfeldt was in Green Bay from 1991 to 1998 and in Seattle from 1999 to 2006, with a year off during that time to attend to family matters.
I wouldn't be surprised if one or two of these names I culled from those staffs surfaced as possibilities to replace Fisher:
Mike Sherman, Kurt Schottenheimer, Jeff Jagodzinski, Bo Pelini, Mike Sheppard, Tom Rossley, Sylvester Croom, Ray Sherman, Larry Beightol, Darrell Bevell, Mark Duffner, Ed Donatell, Bob Slowik, Jim Zorn, Larry Brooks, Nolan Cromwell.
And here's one other name I've heard could be a dark horse through an old connection through Webster, not Reinfeldt: New Chargers special-team coach Rich Bisaccia, who just joined the Chargers after a long term in Tampa Bay.