NFL Nation:

Lance Alworth
December, 16, 2012
12/16/12
7:48
PM ET
A look at another bad day for the Chargers:
What it means:
In a season of lows, this game ranks up there on the disappointment level. The Chargers were completely manhandled by a team that came into the game 4-9. There was a sparse crowd and the few fans who bothered to come out booed the home team lustfully. After an impressive win at Pittsburgh last week, San Diego fell flat again. The Chargers are 5-9 (they went 0-4 against the NFC South) and officially out of the playoff race. The Norv Turner-A.J. Smith regime has two more weeks to go in San Diego.
Tolbert bites Smith back:
One reason Smith is very likely to be fired is he let too many talented free agents walk.
Mike Tolbert
is one of them; San Diego's underwhelming run game misses him. Tolbert scored the first two touchdowns of the game.


Tough day for Rivers:
San Diego quarterback Philip Rivers' fumbling issues were a problem again. He fumbled four times and lost two. It was a bad day for Rivers, whose offensive line is in shambles. For the fifth straight game, San Diego's offense failed to gain 300 yards. It tallied a paltry 164 yards. It just gets uglier.
Mathews hurt:
The injuries keep piling up for San Diego running back
Ryan Mathews
, who has been unable to take the next step in his third year. He suffered a shoulder injury and did not return. The Mathews' pick in 2010 is also a reason why Smith is in trouble.
Update:
U-T San Diego reports Mathews broke his left clavicle and is out for the season. Mathews broke his right clavicle during the preseason in what has been a miserable year. The Chargers had expected much from him this season, but Mathews finishes with just 685 yards on 180 carries and a score.
Milestone for Gates:
There was some good news for the Chargers. Star tight end
Antonio Gates
caught his 81st career touchdown reception. He tied Lance Alworth for most in franchise history.
What's next:
The Chargers travel to face the
New York Jets
on Sunday in their final road game of the season. That's a long way to go just for pride.
November, 29, 2012
11/29/12
3:41
PM ET
Calvin Johnson
's award for NFC Offensive Player of the Month brings a natural opportunity to continue putting his season in perspective. Let's consider it in bullet-point fashion:
Johnson

Johnson had one of the best Novembers for a receiver in NFL history. His average of 154.8 yards per game (over four games) was the highest for a player since Lance Alworth averaged 156.3 in 1963.
He had at least 125 receiving yards in each of those four games, one shy of an NFL record, according to the Elias Sports Bureau. The only player who has had more than four consecutive games with at least 125 receiving yards is former Lions player Pat Studstill, who did it in five consecutive games in 1966.
As we discussed earlier this week, Johnson is on pace to challenge Jerry Rice's record of 1,848 receiving yards in a season. Even if he doesn't reach that mark, which would require an average of about 120 yards per game for the rest of the season, Johnson can already make this boast: In his past 15 games, dating back to last season and including the playoffs, he has 2,028 receiving yards.
Johnson spoke to reporters Thursday in Detroit and acknowledged the mixed feelings of individual achievement amid the team's 4-7 record. But he made clear
he's aware of Rice's record
and wouldn't feel any less proud if he breaks it.
"Well, put it like this," Johnson said. "If it was to happen, it wouldn't be hollow at all because of all the work we put into it. It's not like we're coming out here dogging it every day. We've been putting in good work, just been grinding so it would be a feat for that to happen."
June, 23, 2011
6/23/11
11:06
AM ET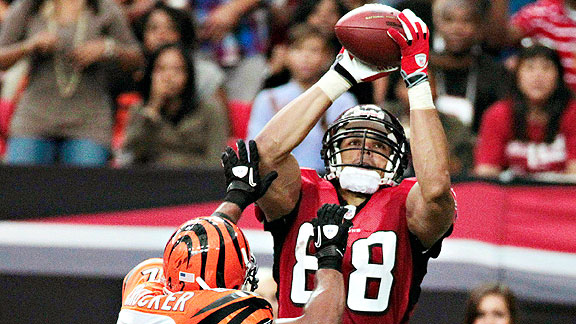 AP Photo/John AmisIs Tony Gonzalez, who holds nearly every tight end record, a first-ballot Hall of Famer?
When it comes to
Tony Gonzalez
the question isn't if he'll get into the Pro Football Hall of Fame. There's no doubt the man with the best tight end statistics in just about every category that can be measured will be selected.
The question is, when will it happen?
Common sense would lead you to believe Gonzalez will retire from the
Atlanta Falcons
and, five years later, he'll get in on the first ballot. But recent history tells us that common sense may not apply when it comes to putting tight ends in the Hall of Fame, especially on the first ballot. Tight end is a unique position, and voters obviously view it that way.
Take a look at
this list of Hall of Famers
, sorted by position. You'll see that kickers are the only group with less representation than tight ends. There are more than double the amount of "contributors'' than there are tight ends in the Hall of Fame. Same for coaches.
There are currently just seven tight ends in the Hall of Fame. That number will increase to eight later this summer when
Shannon Sharpe
is inducted. The mere mention of Sharpe's name and Hall of Fame voting shows that it's not a slam-dunk that Gonzalez will go in on the first ballot.
A few years back, Sharpe was in pretty much the same spot Gonzalez will be in. Sharpe retired in 2003 as the holder of virtually every all-time record for tight ends. He also had three Super Bowl rings.
When Sharpe was first eligible for the Hall of Fame in 2009, he was passed over. The same thing happened in 2010. There's a school of thought that some Hall of Fame voters wanted to make Sharpe wait for a couple of years, simply because he was a tight end.
"When Shannon retired, he was the most prolific tight end in all the categories, and if that's not a Hall of Famer, then I'm trying to figure out what the definition of the Hall of Fame is," Hall of Fame defensive back
Rod Woodson
said after Sharpe came up short in his second year of eligibility. "There hasn't been a tight end ever on the first ballot, but this was his second, so I was thinking and hoping that they would do the right thing.''
[+] Enlarge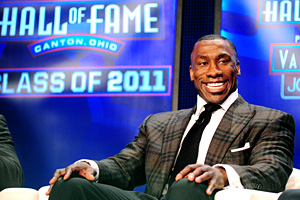 Mark J. Rebilas/US PRESSWIREThe Hall of Fame voters made Shannon Sharpe -- arguably the game's best tight end before Tony Gonzalez -- wait to earn induction into Canton.
I'll make a case right now that the right thing to do with Gonzalez when the time comes is to put him in on the first ballot. Anything else would be flat-out wrong.
Gonzalez is simply the best tight end ever. Sharpe might have held that title for a while. But, within a few of years of Sharpe's retirement, Gonzalez started breaking all of his records. The two aren't even close in most statistical categories anymore. Gonzalez has 12,463 receiving yards. That's almost 2,403 more than Sharpe. Gonzalez has 1,069 career receptions. That's 254 more than Sharpe.
The gap is only going to get bigger. At 35, Gonzalez may not be what he was in his prime as he was back in 2004 with Kansas City when he set a single-season record for catches by a tight end with 102. But in an Atlanta offense that's already good and could be even better with the addition of rookie
Julio Jones
, Gonzalez remains an important role player.
Let's just say Gonzalez has another season something like last year, when he caught 70 passes for 656 yards and six touchdowns. Anything close to that, and he adds another layer of insulation between his records and what Sharpe did.
Anything close to last year and Gonzalez will have numbers that basically double what Hall of Famer
Kellen Winslow
did. With the
San Diego Chargers
back in the 1980s, Winslow revolutionized the tight end position. Tight ends used to be pretty much just blockers, but Winslow made catching passes part of the job description.
In other words, Winslow changed the game and the position. If you do that, you should be a Hall of Famer. Gonzalez has done that. He's left Winslow and Sharpe far behind in the argument about the greatest tight end ever.
Gonzalez is the guy who opened the door for a generation of former basketball players to start becoming as important as wide receivers in many offenses. That brings us to another point about Gonzalez and why he should go in on the first ballot.
He's a tight end, but he's got numbers that are just as good as some Hall of Fame wide receivers. Gonzalez has more receiving yards than guys like Charlie Joiner, Don Maynard,
Michael Irvin
and Lance Alworth.
Yeah, those guys played in different generations when the league wasn't as geared toward the passing game. But Gonzalez created a whole new generation of tight ends. Yeah, it sometimes takes too long even for wide receivers to get into the Hall of Fame. Guys like Lynn Swann and John Stallworth were placed on a waiting list for about two decades and there's a backlog still sitting there.
But Gonzalez shouldn't have to wait just because he's a tight end. Gonzalez currently is No. 6 all-time with 1,069 receptions. The only guys ahead of him are
Jerry Rice
,
Marvin Harrison
,
Cris Carter
,
Tim Brown
and
Terrell Owens
.
If Gonzalez catches 34 more passes, he'll move up to No. 2. He'll be behind only Rice, which says a lot. When Rice was first eligible for the Hall of Fame, voters skipped over the usual ritual of making wide receivers wait. That's because there was a universal agreement that Rice was the best wide receiver ever to play the game.
There's universal agreement Gonzalez is the best tight end ever to play the game, and he deserves the same treatment.
There's one other argument that could be used against Gonzalez. He's never played on a Super Bowl champion. He's never even gone deep into the postseason. For the longest time, a lot of Hall of Fame voters seemed to think a Super Bowl ring was a requirement for selection.
That idea seems to have faded some in recent years. But there is one way Gonzalez can make sure that's not an issue. He can go out and help the Falcons win a Super Bowl this season. Then, he could go out in a blaze of glory or he could even stick around and pad his résumé for another year or two.
But Gonzalez shouldn't have to worry about adding much more to his résumé. He's already done enough to be a first-ballot Hall of Famer.
February, 3, 2010
2/03/10
11:17
AM ET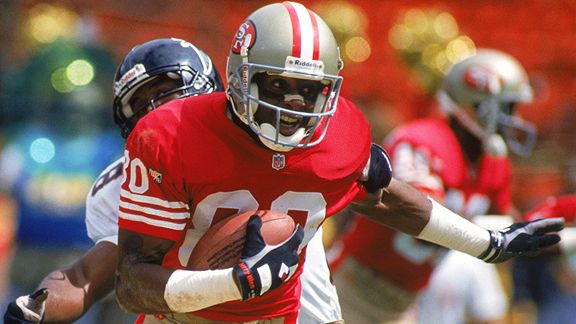 George Rose/Getty ImagesWide receiver Jerry Rice retired with his name all over the National Football League record book.
MIAMI -- Anyone advocating Jerry Rice as the greatest player in NFL history can bury the opposition in statistics.
Rice averaged 1,145 yards receiving and more than 10 total touchdowns per season -- for 20 NFL seasons.
Rice caught 69 touchdown passes -- more than the career totals for Art Monk, Michael Irvin, Charlie Joiner, John Stallworth and numerous other Hall of Fame receivers -- during a five-season span ending in 1993. Rice then caught 28 touchdown passes over the next two seasons, more than half the career total for Hall of Famer Lynn Swann.
He retired holding NFL records for:
Touchdowns (208), receiving TDs (197), receiving TDs in a season (22), consecutive games with a TD reception (13), TDs in Super Bowls (8), receiving TDs in a single Super Bowl (3) and postseason TDs (22).

Receptions (1,549), consecutive games with a reception (274), receptions in Super Bowls (33) and postseason receptions (151).

Receiving yards (22,895), receiving yards in a season (1,848), receiving yards in Super Bowls (589), receiving yards in a Super Bowl (215), postseason receiving yards (2,245) and seasons with at least 1,000 yards receiving (14).
Rice, whose selection to the Pro Football Hall of Fame is a formality Saturday, probably enjoyed the greatest NFL career. He was probably the greatest wide receiver despite some arguments for Don Hutson. But was he the greatest player, period?
"Oh, yeah," Hall of Fame defensive back Rod Woodson said almost reflexively during Super Bowl media day.
Woodson, perhaps mindful of history as a member of the NFL's 75th Anniversary team, then showed he could still backpedal a bit.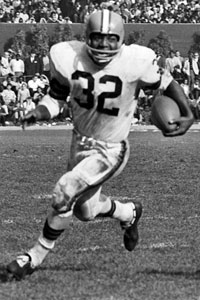 Getty ImagesWhen talking about the greatest players ever, Jim Brown needs to be in the conversation.
"I mean, he is definitely up there," he said. "I don't think one player is the greatest player ever, but he is in that water-cooler conversation. Now, if you say greatest receiver, absolutely. But the greatest player, to make him the most dominant player ever in NFL history or just say pro football history, that is a profound statement. But I can say that he will be in that argument time in and time out."
The conversation might include Otto Graham, Jim Brown, Sammy Baugh, Lawrence Taylor, Joe Montana, Johnny Unitas, Hutson, Walter Payton and Barry Sanders among players no longer active. And that list is probably shortchanging defensive greats such as Deacon Jones and Dick Butkus.
But
Ray Lewis
, arguably the greatest defensive player of the current era, didn't hesitate in singling out Rice.
"I don't know what argument you are going to make why he is not," Lewis said.
And that might be what separates Rice from the rest. There really isn't a great case against him. No one played at such a high level for as long with such grace.
"Jerry Rice doesn't
rank
in the all-time greats," said Saints safety
Darren Sharper
, a five-time Pro Bowl choice and member of the 2000s All-Decade team. "He
is
the greatest receiver and maybe the greatest football player of all time."
Maybe?
"I can't comment on eras that I didn't perform in," retired cornerback Deion Sanders said, "but the era I performed in, Jerry Rice is the best football player to play in that era."
On what grounds beyond the numbers?
"Work ethic, precision, routes, physical toughness, awareness, that hunger," Sanders said. "Jerry stayed hungry until the day he retired."

NFL SCOREBOARD
Thursday, 9/18
Sunday, 9/21
Monday, 9/22
WEEKLY LEADERS