July, 26, 2010
7/26/10
2:25
PM ET
The
Seattle Seahawks
weren't worried about losing CEO Tod Leiweke to the NHL until the Tampa Bay Lightning offered an ownership stake in the team.
The Lighting made the ownership offer and Leiweke could not resist, taking a CEO job with equity in the team in a move announced Monday.
[+] Enlarge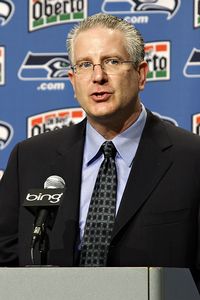 AP Photo/Ted S. WarrenReplacing CEO Tod Leiweke will be an important hire for the Seahawks.
Leiweke's departure from his role over the Paul Allen-owned Seahawks, Portland Trail Blazers and Seattle Sounders has the potential, at its worst, to destabilize those franchises. But the Seahawks said Leiweke would stay onboard to help choose a successor and if that is the case, the organization can come out of this OK. Leiweke's involvement in hiring a replacement is critical because Allen's other advisers have proved less skilled in the processes used to identify management talent.
Leiweke leaves a strong legacy despite the Seahawks' recent on-field struggles and their front-office implosion earlier this offseason. Former coach Mike Holmgren has called Leiweke the best thing to happen to the organization. And while I suspected Holmgren sometimes intended the statement as a dig toward former team president Tim Ruskell, Leiweke was indeed a person the organization could trust. He always had the Seahawks' best interests in mind and he knew how to build a brand.
The Seahawks already had their new stadium when Leiweke arrived in June 2003, but their season-ticket base was around 30,000 and the organization had not reconnected with its fan base following Ken Behring's tumultuous ownership run. Allen, despite good intentions, didn't enjoy success as Seahawks owner until Leiweke came aboard. That was not a coincidence. Leiweke's people skills and business sense made an immediate impact.
Leiweke overhauled the business side of the Seahawks' organization and changed the team's marketing focus. The team became friendlier, for sure, and the results are easily quantified. The Seahawks expect to have 62,000 season-ticket holders for the 2010 season after making available additional tickets beginning last week. Leiweke has similarly remade the Blazers' image after taking control of that organization in 2007. Separately, the Sounders quickly became profitable under his watch.
Those three Leiweke-operated franchises -- the Seahawks, Blazers and Sounders -- have enjoyed a combined 201 consecutive sellouts under his watch, according to a news release.
It's not yet clear who Leiweke might suggest as a replacement. Chief operating officer John Rizzardini could be a logical choice if the team makes a hire from within. Senior vice president and general counsel Lance Lopes helped coordinate the hiring of Pete Carroll from USC, so his name might be worth keeping in mind.
Making the wrong hire could undermine the legacy Leiweke has built. In the short term, it could undermine Carroll and new general manager John Schneider. The Seahawks and their fans can feel better about Leiweke's successor if Leiweke himself signs off on the hiring.
January, 19, 2010
1/19/10
10:23
AM ET
Choosing John Schneider over Floyd Reese
as Seahawks general manager would qualify as a mild upset on the surface.
Reese was the one with known ties to new coach Pete Carroll. Schneider was the one with ties to the previous Seahawks administration, having worked in Seattle under Mike Holmgren.
Seahawks general counsel Lance Lopes would be the common thread through Carroll and Schneider. Lopes' brother worked with Carroll at USC. Lopes and Schneider worked together in Green Bay.
Reese had more experience than Schneider -- he is more than 20 years older -- but Schneider has a strong personnel lineage with roots in the approach Ron Wolf used to remake the Packers. Schneider has worked closely with Packers GM Ted Thompson, Holmgren's former right-hand man in Seattle.
More to come.
January, 12, 2010
1/12/10
3:58
PM ET
RENTON, Wash. -- Seahawks CEO Tod Leiweke was referencing the league-high number of procedural penalties against visitors to Qwest Field when a voice cut through the auditorium loud and clear.
"Yeah, baby!"
It was new coach Pete Carroll, waiting for his turn at the podium on the day Seattle introduced its newest head coach.
Carroll, highly successful at USC, paced along the auditorium's perimeter like a prize fighter waiting to approach the ring. The excitement he felt was palpable and presumably genuine. I say "presumably" because what fans have seen hasn't matched what they've gotten from the organization in recent years.
[+] Enlarge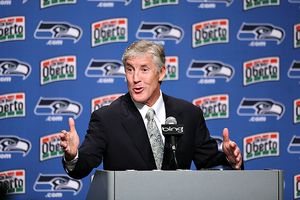 Otto Greule Jr./Getty ImagesThe Seahawks on Tuesday introduced Pete Carroll as their new head coach.
And even though Carroll is in place, quite a few important questions persist.
1. How much power will Carroll wield?
Lots. Everyone associated with Carroll knew he would likely never take an NFL job without being the No. 1 decision maker within the organization.
Carroll referred to the organization having one door and one voice, both belonging to him.
Leiweke referred to "collaboration" as his top priority. It's clear that collaboration will be done on Carroll's terms. Carroll will sit in on interviews with general manager candidates. That means the team will hire a GM on Carroll's terms. That will define the relationship in a way that assures Carroll's power ultimately.
The Seahawks will have a strong leader and it will be Carroll.
Keep an eye on Seahawks general counsel Lance Lopes. He helped broker the deal for Carroll through his brother, who works at USC. Lopes' profile could rise as a result.
Former president Tim Ruskell and former coach Jim Mora were Leiweke guys. Leiweke spoke fondly of both and said he apologized to Mora for the way the organization handled the coach's final days.
2. What type of staff will Carroll put together?
It could be a good one. Carroll expressed hope that he would hire veteran offensive line coach Alex Gibbs, one of the few people in the NFL who might qualify as an upgrade over Mike Solari. Gibbs will presumably have another title such as assistant head coach.
If Carroll can make it happen, good for him and good for the Seahawks.
The defensive philosophy will remain somewhat the same, Carroll said. His system shares a similar coaching lineage as the one Jim Mora and staff installed last season. That should help.
Expect a new system on offense with an emphasis on running the football.
3. What does Carroll's arrival mean for key players?
Carroll endorsed quarterback
Matt Hasselbeck
as the starting quarterback.
That was about as far as he was willing to go without spending more time analyzing the roster.
4. Does the organization have a clear vision of its preferred structure?
Not really. The front-office structure could vary depending on which GM candidate the team hires, Leiweke said.
This favors Carroll, obviously. He's the one already on the job.
[+] Enlarge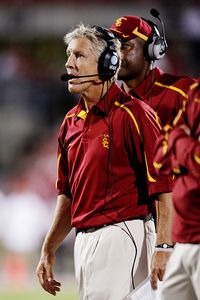 Andy Lyons/Getty ImagesPete Carroll was 97-19 in his nine years coaching at USC.
"We have some interesting young guys who are GM candidates," Leiweke said. "We've also got some guys who have done it before. Some of this final structure will depend on the ultimate candidate."
Again, Carroll is the top dog.
5. What about Leslie Frazier and the Rooney Rule?
The Seahawks' interview with Vikings assistant Leslie Frazier took place after reports said a deal with Carroll all but done. This raised
questions about the Rooney Rule
, which requires NFL teams to interview minority candidates.
My question for Leiweke was this: "Everyone knew from Pete's background that he wasn't going to take an NFL job unless he had enough control for himself. So, all the reports when he was hired were that he is going to be that man. Then we hear from the head of the Fritz Pollard Alliance that, 'Hey, this is the same job that Leslie Frazier would be going to.' Then we see Pete today say there is one door to knock on. So, where are we at?"
Leiweke: "Well, the fact is, it wouldn't have been the same job that we talked to Leslie about. I don't think so. Leslie was a heckuva candidate. At the end of the day, we are going to build a highly collaborative model and I learned lessons from how this was working over the last two or three years, and it was hard. I'm highly confident. There could be three doors. There could be a cap/contract door, a general manager door and Pete will have his own unique door. But one of the things that attracted Pete here is that we said, 'Look, you are going to sit in on these GM interviews. You are going to help us select a guy. We are going to make sure you are 100 percent comfortable with where we ultimately end up.
"Leslie Frazier is going to be a head coach in this league. He is a super impressive guy. I went to Minnesota not knowing if we would get it done with Pete. There were some significant issues and I spent the better part of the day and an evening watching football with a guy who I just came away hugely impressed with. As I flew to L.A., I knew if it didn't work out with Pete, there were some excellent candidates out there, specifically Leslie."
Carroll was the guy Seattle wanted all along. The "significant issues" Seattle had to overcome with Carroll had to do with putting together a staff and which people Carroll would bring from USC.
6. Has Carroll changed since his previous NFL coaching jobs?
Yes and no. Carroll said his approach to players will remain the same. He wants to maximize communication with players so coaches can find the best way to use their talents.
The difference between the 2010 Carroll and the one who coached the Jets and Patriots in the 1990s?
The new Carroll has a much better idea how to articulate his philosophy.
Carroll said he was "embarrassed to say" that he didn't really find himself as a coach until leaving the Patriots. The vision he has now is much clearer and more defined. Expect the Seahawks to adopt Carroll's vision, not the other way around.
NFL SCOREBOARD
Thursday, 12/5
Sunday, 12/8
Monday, 12/9
WEEKLY LEADERS