NFL Nation:

LaRoy Reynolds
January, 2, 2014
Jan 2
2:00
PM ET
Arrow indicates direction team is trending.

Final Power Ranking:
29
Preseason Power Ranking:
29
Biggest surprise:
When the Jaguars signed defensive tackle
Sen'Derrick Marks
to a one-year, $1.5 million contract last April, they thought he'd be a good fit in coach Gus Bradley's system. Turns out he was a perfect fit. Marks plays the three-technique, which means he lines up on the guard's outside shoulder, and that position is supposed to provide interior pass rush. Marks finished with four sacks, nine quarterback pressures and eight pass breakups -- all numbers that equaled or surpassed the totals from his first four seasons. He seemed to make at least one impactful play every game and he accounted for two forced fumbles and three fumble recoveries. His play earned him a four-year contract extension as one of the building blocks of the defense.
Biggest disappointment:
The Jaguars' inability to consistently run the ball, especially early in the season, was vexing. The Jaguars switched from a predominantly man-blocking scheme to a zone-blocking scheme, and the offensive line had trouble with the transition. Four of the five starters at the beginning of the season also started in 2011, when
Maurice Jones-Drew
led the NFL in rushing. The Jaguars mixed in more man-blocking schemes as the season progressed and things got better, but the problem wasn't "fixed." In addition, Jones-Drew clearly was not the same player he was two years ago. He missed all but six games last season with a Lisfranc injury and also battled ankle, knee and hamstring issues this season.
Biggest need:
The Jaguars have a pretty long list of needs, but two stand out above all others: quarterback and pass-rusher. Quarterback is the top need because former first-round pick
Blaine Gabbert
isn't the answer and neither is
Chad Henne
, who will be a free agent but wants to return to Jacksonville in 2014. The Jaguars haven't had a bona fide threat at quarterback since coach Jack Del Rio put
Mark Brunell
on the bench for
Byron Leftwich
in 2003. New general manager David Caldwell and Bradley need a player around which to build the franchise, and the Jaguars will have the opportunity to possibly find one when they pick third overall in May's draft.
Team MVP:
The first impulse is to go with middle linebacker
Paul Posluszny
, whose 161 tackles ranked second in the NFL. He was clearly the team's best defensive player and arguably the best overall player. However, what Henne did to stabilize the offense earns him MVP honors. Gabbert had played terribly in the first part of the season (seven INTs, one TD) and Henne stepped in and played the most consistent football of his career. He didn't always light it up and he made some poor decisions and mistakes, but he kept the Jaguars in games in the second half of the season and made enough plays to go 4-4 after the bye. He threw nine touchdown passes -- including the game winner against Cleveland with 40 seconds to play -- and five interceptions over the final five games.
November, 11, 2013
11/11/13
8:00
AM ET
A review of four hot issues from the
Jacksonville Jaguars
'
29-27 victory
over the
Tennessee Titans
:
[+] Enlarge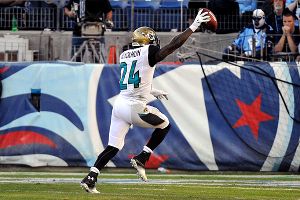 Frederick Breedon/Getty ImagesThe Jaguars went "back to basics" on defense and forced four turnovers, one of which Will Blackmon returned for a touchdown.
Simple success:
Apparently, simpler is better for the Jaguars' defense. Coach Gus Bradley and defensive coordinator Bob Babich spent part of the bye week going over the defensive game plans from the first half of the season and decided that trimming the amount of coverages, blitzes and personnel groups would help. The result was the defense's best performance of the season. The Jaguars forced four turnovers -- the most they'd had in a game in three years -- and held the Titans to just 83 yards rushing. The Jaguars were last in the NFL in rush defense (161.8 yards per game) entering the game. "We got back to basics," linebacker
Paul Posluszny
said. "Early on or even the last couple weeks ... we had games we were trying to do a little too much, and we scaled our package down for this week. I think we had a really good plan going into the game, very basic, not complex. It was stuff that we knew really well and we felt like we could play really fast with."
Special teams:
Kick returner
Jordan Todman
nearly got benched this week after bobbling three kickoffs against San Francisco, but he responded with a huge game against the Titans. He averaged 33 yards on three returns, including a season-long 46-yarder. That came on his final return and it helped set up another big play on special teams, when
LaRoy Reynolds
downed
Bryan Anger
's punt at the Tennessee 1-yard line. The Jaguars got a safety two plays later on a holding call in the end zone, which ended up being the winning margin. The Jaguars' special teams have improved markedly since training camp, thanks mainly to an overhaul of the bottom of the roster and the addition of players such as
J.T. Thomas
and
John Lotulelei
.
No stupid penalties:
Did the Jaguars make mistakes on Sunday? Plenty, such as
Chad Henne
's terrible throw to
Marcedes Lewis
that got intercepted and
Brad Meester
's shotgun snap that bounced off receiver
Ace Sanders
. But the Jaguars didn't commit the stupid penalties that were a regular occurrence during the team's first eight games. They were penalized four times for a season-low 19 yards. Meanwhile, the Titans did commit a couple of costly penalties: a holding call in the end zone for a safety and a roughing-the-passer flag on
Bernard Pollard
that extended a drive that ended with a touchdown.
Commitment to the run:
The Jaguars didn't have a lot of success on the ground, rushing for only 54 yards and averaging just 1.8 yards per carry, but offensive coordinator Jedd Fisch stayed committed to it all day. The Jaguars had only 56 offensive snaps and Fisch called 30 runs, including 21 by
Maurice Jones-Drew
. That's the kind of balance Fisch wants in terms of runs and passes. Obviously the production needs to increase on the ground.
October, 7, 2013
10/07/13
12:30
PM ET
A review of four hot issues from the
Jacksonville Jaguars
' 34-20
loss
to the
St. Louis Rams
:
TO troubles:
The Jaguars are not 14 points worse than the Rams, but they ended up that way because they continue to hurt themselves with turnovers. The
Blaine Gabbert
pass that sailed over
Justin Blackmon
's head and was intercepted and returned for a touchdown was one of his worst throws of the season.
Clay Harbor
's fumble on the sideline, which led to a Rams TD, happened because he didn't cover the ball as he was going to the ground. Gabbert's second interception was to a completely covered
Cecil Shorts
in the end zone on fourth down. The Jaguars are now minus-7 in turnover margin this season. "There are so many times when these games come back to the small security of making good decisions with the ball," Jaguars coach Gus Bradley said. "We will continue to emphasize that."
[+] Enlarge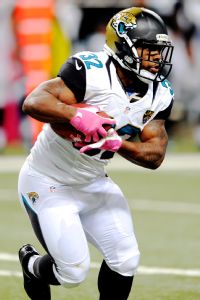 AP Photo/L.G. PattersonMaurice Jones-Drew rushed for a season-best 70 yards against the Rams.
Run game makes progress:
The Jaguars entered the weekend averaging just 49.0 yards per game rushing, but nearly doubled that against the Rams, running for 96 yards on 25 carries.
Maurice Jones-Drew
ran for a season-high 70 yards on 17 carries and had his first big run of the season, a 20-yarder that helped set up a field goal. This came with a new right tackle (
Austin Pasztor
) and the third player to play left tackle in a week (
Cameron Bradfield
). The Jaguars had success later in the game running the ball out of the pistol and having center
Brad Meester
slide down the left side of the line to help block the edge. "That's how the run game goes," Jones-Drew said. "At first it's like 2 yards, zero, negative-3, and then after a while you start breaking runs. The offensive line did a great job of capturing the edge and we were able to make some runs. We want to continue building on that and it takes time."
More TE damage:
Bradley disagreed with an assessment earlier last week that the Jaguars were having trouble handling tight ends. Guys weren't getting beat one-on-one. There were coverage busts, especially against Seattle. Both happened again against the Rams.
Lance Kendricks
and
Jared Cook
combined to catch seven passes for 63 yards and a touchdown. Nearly half of those receptions were key plays, too. Kendricks had a 16-yard TD catch and also had another 16-yard catch on second-and-9. Both came on play-action rollouts in which Kendricks shadowed Bradford across the field and eluded linebackers. Cook had a 14-yard catch in the middle of the field against safety
Johnathan Cyprien
on a third-and-10 play and he also was the beneficiary of a 21-yard pass interference penalty by cornerback
Will Blackmon
.
More mistakes:
Committing only four penalties for 45 yards normally would be a laudable stat, but nothing is that simple with the Jaguars.
LaRoy Reynolds
' illegal block above the waist wiped out
Ace Sanders
' 88-yard punt return for a touchdown and Blackmon's pass interference penalty jump-started a scoring drive that ended with a field goal.
August, 17, 2013
8/17/13
5:10
PM ET
Three things I'll be paying special attention to Saturday evening when the
Jacksonville Jaguars
play the
New York Jets
at MetLife Stadium.

1. The quarterback.
Blaine Gabbert
was poor last week in his preseason debut, but he didn't have a lot of help. Many of the team's best players didn't play. He was sacked, one of his passes was dropped, and he had accurate pass tipped and turned into an interception. But he has to help make things better, not be a victim and he has to take more command. The coaches want him to be their quarterback -- that's part of the reason he's getting a second start instead of playing behind
Chad Henne
. What he does in this game isn't likely to make a giant difference in whether he's the starter or not. Every chance he has, however, he can gain something. Running back
Maurice Jones-Drew
and receiver
Justin Blackmon
are slated to play with him.
2. Speaking of Jones-Drew ...
He downplayed his re-emergence and that's not a bad approach on his part. But he has not been involved in a game since Oct. 21, 2012, when he suffered the Lisfranc injury in his left foot at Oakland. He remains the franchise's most notable player and while receiver
Cecil Shorts
may turn out to challenge him as the team's best and most productive skill player, MJD holds that slot for the time being. The scheme has changed some under new coordinator Jedd Fisch. Let's see if the Jaguars can get some push up front and how Jones-Drew looks getting into a hole, through it and bouncing off defenders.
3. New guys on defense.
I believe second-round pick
Johnathan Cyprien
, the safety, has a chance to be the biggest impact newcomer on defense in the division. He sat out the early weeks of camp with a hamstring issue, but started practicing on Monday and is slated to play in his first preseason game against the Jets. Let's see how he settles in, if he carries the practice attitude we saw in the early summer into game action and what sort of bearing he can have on the rest of the secondary. Another guy to watch on defense could be president of the undrafted rookie class. With
Russell Allen
hurt, outside linebacker
LaRoy Reynolds
is expected to get a start. He's been a playmaker in camp and can really introduce himself to the league in this opportunity.
August, 6, 2013
8/06/13
12:55
PM ET
JACKSONVILLE, Fla. -- Through the late years of Jack Del Rio's nine-season tenure and Mike Mularkey's one awful year, plenty of
Jacksonville Jaguars
lacked faith in the coaches above them.

New coach Gus Bradley believes trust is as important as any ingredient in his team, and in the early stages of a big rebuild he has earned a great degree of it from his players.
"It's been really refreshing, his whole approach from day one," said
Jason Babin
, the team's most proven pass-rusher. "The way he's laid out how we're going to do things, the way we'll go about our business, the way things are going to be here is genuine. As you know coaches often say one thing, and it's not always entirely true."
"To have a coach like that with the genuine sincerity is special. You believe him when he talks to you, and he's done a great job developing relationships."
Belief is big for a team that is coming off a disastrous 2-14 season, lacks a proven quarterback and has some areas of questionable talent. Bradley has preached a simple, core theme from the very start. He's not talking playoffs, he's
not talking wins
, he's not talking success. He's constantly talking improvement.
Bradley is high energy, and while he's not trying to stamp his personality on his players, the enthusiasm can't help but be contagious.
"He's like a breath of fresh air, it's like night and day," tight end
Marcedes Lewis
said. "I've always said you can have good coaches but bad people. He's actually a great coach and a good person who actually cares about you. You can tell when you come into work. It's just a better working environment.
"When he first came in and we met him, I thought his enthusiasm was fake. Like it wouldn't last. But that's who he is, every single day. You can't do anything but appreciate it."
While Bradley would like his team to start fast, his bigger emphasis is on finishing strong. For a team that might not have a lot of success in the standings, it seems a smart approach. Because if you talk all about starting fast and you don't, then what?
THREE HOT ISSUES
[+] Enlarge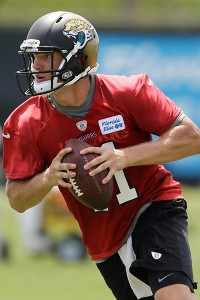 AP Photo/John RaouxThis season could be Blaine Gabbert's last chance to assert himself as Jacksonville's QB.
1. The quarterback.
The Jaguars steered clear of a quarterback in the draft, as they didn't see an answer to their issues and had plenty of other areas to address. So they move forward with
Blaine Gabbert
's big, and final, chance. The new offense is tailored to help Gabbert be better -- he will roll out and go on the move more. His weapons are better and more reliable, with the emerging
Cecil Shorts
paired with
Justin Blackmon
(once he's healthy and after a four-game suspension to start the season) along with
Ace Sanders
and
Mike Brown
, who has been quite good in camp. The protection is far better with No. 2 overall pick
Luke Joeckel
at right tackle. The initial depth chart has Gabbert as co-No. 1 with
Chad Henne
, and the team will pump up the competition for as long as it can. But those boosting Henne and suggesting he'll win the job haven't seen practices where Henne rarely seizes real command and is regularly worse than Gabbert.
2. Maurice Jones-Drew's foot.
He looked good during my visit, very much the same guy we've become accustomed to. He could easily be the centerpiece of the offense just as he was before he suffered a serious Lisfranc foot injury in the team's sixth game last season. We need to see him in games, over time show that the foot isn't an issue. We need to see how effective the rest of the team can be so that it's not overreliant on him. And we need to see how he takes on the final year of his contract when he desires a big new deal, but exists in a league where even effective running backs are devalued as they approach 30. While the team will run more zone plays, MJD said the rush offense won't look that different from what we saw in the last few years of Del Rio's regime.
3. The shape of a new scheme:
Bradley ran Seattle's defense under Pete Carroll, and the scheme put a heavy emphasis on big physical cornerbacks and pass-rushing Leos. Do the Jaguars have the guys to fit those roles? Third-round pick
Dwayne Gratz
looks like a good get. But Babin is the team's best rusher, and he was let go by the Eagles during the season last year, not a great sign. The second option at Leo, 2012 second-rounder
Andre Branch
, remains mostly invisible. Jacksonville had 20 sacks last season. The end pool hasn't really changed, though
Tyson Alualu
has shifted outside. The new interior guys --
Sen'Derrick Marks
,
Roy Miller
,
Kyle Love
and
Brandon Deaderick
-- will solidify the run defense. But will they penetrate and get quarterbacks to move off their spot?
REASON FOR OPTIMISM
[+] Enlarge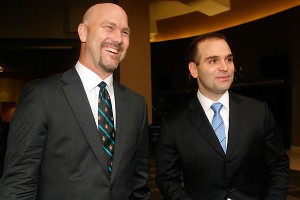 Phil Sears/USA TODAY Sports Coach Gus Bradley, left, and GM Dave Caldwell have made a positive impression as they rebuild the Jags.
David Caldwell and Bradley. The new GM and coach are both in their jobs for the first time. They are enthusiastic partners in building this team, not afraid to say there are things they don't know yet, as opposed to storming in and claiming they have all the answers. We won't be able to judge them for a few years as they need to assemble and deploy talent. And we don't know too much about Bradley's staff. But people who have worked with Caldwell and Bradley in the past, and people who are working with them now, have great reviews. I'm impressed with both, and they are the best thing the team has going for it right now.
REASON FOR PESSIMISM
The talent gap. How many Jaguars would start for the two-time defending AFC South champion Houston? Joeckel would be the right tackle.
Paul Posluszny
, if he fit into a 3-4, could be a two-down inside guy next to
Brian Cushing
. Shorts would be a top-three receiver. That's probably it. The Jaguars might be moving in a good direction, but the distance between their talent and the talent at the top of the division, conference and league is substantial. The more talented teams don't always win, but you'd rather not be the team that has to remind itself that all the time.
OBSERVATION DECK

NFL SCOREBOARD
Sunday, 2/2
WEEKLY LEADERS