November, 12, 2013
11/12/13
4:35
PM ET
INDIANAPOLIS -- The
Indianapolis Colts
are lacking depth at safety.
Injured safety
Larry Asante
was waived on Monday and
Delano Howell
has missed the past two games with a neck injury. Howell hasn't practiced this week and his status for Thursday's game at Tennessee is up in the air.
That leaves
Sergio Brown
as the only backup safety behind
LaRon Landry
and
Antoine Bethea
.
That leads us to
Ed Reed
.
Reed was released by the
Houston Texans
on Tuesday. He and Colts coach Chuck Pagano have a history together at the University of Miami and with the
Baltimore Ravens
. Pagano was the Hurricanes' secondary coach from 1995-2000, the Ravens' secondary coach from 2008-10, then their defensive coordinator the following season.
"It's really the first time that I've heard that. I just came off the practice field," Pagano said. "I didn't even realize that Eddie had been waived."
Reed obviously isn't the same player who caused havoc for so many years with the Ravens. The Colts are set with Landry and Bethea, who hasn't missed a game since 2007.
Would Reed be able to handle being a backup?
Not according to ESPN.com Texans reporter Tania Ganguli. She wrote Tuesday that Reed "never bought into the idea that his limited role was best for the team." Reed said the Texans were "outplayed and outcoached" during their loss to Arizona last weekend.
The Colts don't need those types of distractions. They're too close of a team and they're trying to figure out ways to be productive without receiver
Reggie Wayne
and without a running game.
The Colts may lack depth at safety, but they're better off taking a pass on Reed, who is 35 and only totaled 16 tackles in seven games this season.
November, 10, 2013
11/10/13
6:00
PM ET
INDIANAPOLIS -- Observed in the locker room after the
Indianapolis Colts
' 38-8
loss
to the
St. Louis Rams
:
McAfee
An emotional surprise
: The Inocencio family thought they were getting a new Toyota at halftime that was donated by Colts punter
Pat McAfee
. It turns out the family got something better than the car. Army Sgt. Jeremy Inocencio surprised his family by being inside the car after returning home from an overseas deployment. Inocencio's emotional surprise caused a lot of hugs and tears of joy. "Those things are so awesome," McAfee said. "Anytime you see a kid going up to his dad, who he hasn't seen in months. His dad is a hero fighting for our country. It's an unbelievable moment, and I hope they will remember it forever because their dad is such a hero."
Wanted to continue playing
: Colts quarterback
Andrew Luck
said his preference was to finish the game despite being down by 30 points midway through the fourth quarter. Coach Chuck Pagano pulled Luck because the outcome had already been decided and they play again on Thursday at Tennessee. Sunday was only the second time in Luck's career that he did not take every offensive snap. "I think any competitor is going to want to stay in the game," Luck said. "You understand at the end of the day, Coach Pagano is making the decisions, and he's thinking on a much more macro scope of things. Understand his decisions are final."
Injury update
: Guard
Mike McGlynn
left the game in the second half with a thumb injury. He's scheduled to get an MRI. Safety
Larry Asante
went out with a hamstring injury. Pagano said he didn't know the extent of his injury.
August, 31, 2013
8/31/13
6:50
PM ET
Most significant move
: Defensive lineman
Fili Moala
didn't play in the preseason because was he was still rehabbing a knee injury from late 2012, but that didn't stop him from making the roster. Keeping Moala put an end to fellow defensive lineman
Drake Nevis
' time with the Colts. Fullback
Dominique Jones
was cut, leaving the Colts with only one fullback on the roster,
Stanley Havili
.

A feel-good story
: Linebacker
Caesar Rayford
kept hearing from NFL teams over the years that they liked what they saw out of him on video while he played in the Arena Football League. Rayford, however, never got an invite to a training camp from any of those teams. That changed this year when the Colts, led by general manager Ryan Grigson's willingness to search anywhere for talent, invited Rayford to camp. Rayford didn't disappoint, either. He had a team-high five sacks during the preseason. Rayford now has a spot on the 53-man roster. The 27-year-old rookie's best bet to get on the field will likely be on special teams. He'll take it after getting looked over for so many years while he played in the Canadian and Arena Football League.
What's next
: Grigson and his staff aren't going to sit tight. They'll continue to monitor which players -- especially offensive linemen and possibly fullback -- around the league were released, and don't be surprised if the roster the Colts take into their season opener against Oakland on Sept. 8 is completely different than the current one. The Colts will likely add quarterback
Chandler Harnish
and linebacker
Daniel Adongo
to the practice squad if both players clear waivers. Adongo didn't play in the preseason, but the Colts are intrigued by the former rugby player. Harnish was on the practice squad last season.
Colts cuts
: LB: Daniel Adongo,
Josh McNary
,
Monte Simmons
,
Shawn Loiseau
. DB:
Larry Asante
,
Marshay Green
,
Sheldon Price
,
Daxton Swanson
. OL:
Thomas Austin
,
Ben Ijalana
,
Bradley Sowell
,
Lee Ziemba
,
Emmett Cleary
. DL:
Lawrence Guy
,
Drake Nevis
,
Martin Tevaseu
. QB: Chandler Harnish. FB:
Robert Hughes
. TE: Dominique Jones. WR:
Jeremy Kelley
,
Jabin Sambrano
,
Lanear Sampson
August, 29, 2013
8/29/13
11:39
PM ET
CINCINNATI -- No
Andrew Luck
. No
Reggie Wayne
. No
Cory Redding
. No
Antoine Bethea
or
Robert Mathis
, either.

In what's the biggest yawner of the preseason because starting players rarely play, the preseason finale against the
Cincinnati Bengals
was all about borderline players trying to make one final impression on front office officials and the coaching staff before the 53-man roster has to be set by Saturday evening.
Here are other observations from the Indianapolis Colts'
27-10 loss
to the Bengals:
What's next:
The Colts open the regular season against the
Oakland Raiders
at Lucas Oil Stadium in Indianapolis on Sept. 8.
October, 16, 2011
10/16/11
3:16
PM ET
TAMPA, Fla. – After practicing just three days in the last 56 weeks, safety
Tanard Jackson
will be in Tampa Bay's starting lineup Sunday against the
New Orleans Saints
.
Jackson was reinstated by the NFL on Tuesday, after serving a suspension of slightly more than one year for violating the league's substance-abuse policy. Jackson returned to practice Wednesday and the Bucs made the decision to activate him to the 53-man roster Friday.
Cody Grimm
, who had been starting at the free safety spot, already is out for the season with an injury. The Bucs had been getting by with
Corey Lynch
and
Larry Asante
sharing playing time at that spot.
September, 25, 2011
9/25/11
3:02
PM ET
August, 17, 2011
8/17/11
12:12
PM ET
TAMPA, Fla. -- Sit down with Mark Dominik even for just a few minutes and you'll quickly hear his theory on why the term "youth movement'' shouldn't come with negative connotations.
"Don't confuse youth with immaturity,'' the general manager of the
Tampa Bay Buccaneers
said. "There's a big difference between those two things. I'm sure we've all met 23-year-olds that act like they're 28 and we've met people that are 28 but act like they're 23. I feel like we're a mature, young football team, which is important.''
Yes, the Bucs, who were the NFL's youngest team last season, are going to be young again. They have only three players 30 or older and they're counting on big things from a lot of rookies and second-year players.
But this is a team that won 10 games last season with a lot of young players in key roles, and all of them should be a year better. That experience only encouraged the Bucs to continue with their youth movement and steer clear of making any dramatic moves in free agency. Instead of worrying about regressing, like a lot of fans and media are predicting, the Bucs fully expect to take another step forward.
"It doesn't matter how old you are,'' quarterback
Josh Freeman
said. "It matters how well you're playing and if you have the ability to step up in big situations.''
Freeman epitomizes what Dominik was talking about. The quarterback is 23, but spend a few minutes with him or think about how he led his teammates through workouts during the lockout and you'd swear he was 28. Or 38.
"It's about the type of player we're looking for,'' Dominik said. "Certainly, the skill level has a lot to do with it. But it's also very much about the type of player we're looking for in terms of their demeanor. Plus, I have a lot of confidence in our coaching staff as far as getting guys prepared.''
The Bucs hit it big when they drafted Freeman, and pickups such as receiver
Mike Williams
and running back
LeGarrette Blount
have made quick impacts. That's part of the reason why they plan to plug rookie
Adrian Clayborn
in as an immediate starter at defensive end and why they're willing to put rookie
Mason Foster
at the all-important middle linebacker position.
"When we talked to Adrian Clayborn and Mason Foster in the draft process, we felt that sense of someone who was wise beyond his years,'' Dominik said. "It gives you confidence to be able to see a young man who takes his game and his craft seriously and puts time into it and it's important to him. That's the kind of thing that's important to us. We have a young team that we like very much and we look forward to it growing older together.''
THREE HOT TOPICS
[+] Enlarge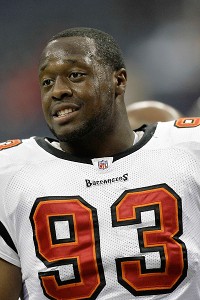 Brett Davis/US PresswireThe Buccaneers have invested several high draft picks in their defensive line, including the No. 3 overall pick in 2010 on defensive tackle Gerald McCoy.
1. Where will the pass rush come from?
The Bucs were among the worst in the league at pressuring quarterbacks last season. That's why they drafted Clayborn in the first round and fellow defensive end
Da'Quan Bowers
in the second in April. A year ago, the Bucs used their top two draft picks on defensive tackles
Gerald McCoy
and
Brian Price
.
There's a lot invested in those young defensive linemen and the Bucs expect immediate results. Sure, they wouldn't mind getting some sacks from blitzes by their linebackers or defensive backs, but it's not like the Bucs have some other pass-rushing defensive end hidden up their sleeves.
Throughout camp, Clayborn's looked even better than the Bucs thought he was when they drafted him. Bowers, coming off knee surgery in January, hasn't been quite at Clayborn's level. But he has looked better than the Bucs expected him to be at this point. At worst, Clayborn will start right away and Bowers will be used as a situational rusher. At best, Bowers might get on the field more than that and show every team that let him slide to the second round that his knee is fine.
2. Can Blount be a complete running back?
That's the hope and the plan, but Blount is a work in progress. We learned quickly last season that he can run between the tackles. He didn't take the starting job from
Cadillac Williams
until midseason, but he still managed to rush for 1,007 yards.
Williams thrived as a third-down back last season, but he left via free agency, creating a void. When Blount was on the field last season, it was pretty obvious the Bucs were going to hand the ball to him. He only caught five passes and the team was hesitant to rely on Blount to pick up on blitzes on pass plays.
Earnest Graham
and
Kregg Lumpkin
can do some of those things, but the Bucs have been working hard to make Blount a more balanced player. The coaching staff said he's now up to speed on pass blocking and he has worked a lot on catching the ball out of the backfield in camp. If Blount can do everything this season, Tampa Bay's offensive intentions no longer will be telegraphed.
3. Was Freeman's first full season as a starter misleading?
Not at all. He threw for 25 touchdowns with only six interceptions and pretty much carried an offense that had to do a lot of shuffling through a series of injuries.
Freeman took over as leader of the team last season, and he only reinforced that with the way he kept the Bucs together during the lockout. Those workouts only increased his chemistry with Williams,
Arrelious Benn
,
Sammie Stroughter
and tight end
Kellen Winslow
. Freeman is capable of throwing for 30-plus TDs and passing for more than 4,000 yards.
BIGGEST SURPRISE
[+] Enlarge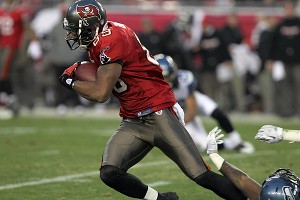 Kim Klement/US PresswireTampa Bay is counting on a big contribution from receiver Dezmon Briscoe this season.
The Bucs had a pretty strong feeling about receiver
Dezmon Briscoe
when they made the unconventional move of signing him to the practice squad, but paying him like he was a member of the regular roster at the start of last season. Briscoe later earned his way onto the regular roster and has made the Bucs look like geniuses throughout camp and in the first preseason game. The team believes Benn is coming along well after suffering a torn ACL late last season. But the Bucs don't want to rush Benn. That's why Briscoe could end up starting at the "Z'' position opposite Williams early in the season. The long-range promise of Briscoe is off the charts because he can play all three receiver spots.
BIGGEST DISAPPOINTMENT
It's not so much that the Bucs have been disappointed with what they've seen from McCoy and Price when they've been on the field. The problem is the two second-year defensive tackles simply haven't been on the field a lot. The hopes are still high for these two, but Price is coming off a rare surgery on his pelvis and is being brought along slowly. McCoy, who had his rookie season end with a triceps injury just when he was starting to blossom, has missed some of camp with a shoulder injury.
Roy Miller
is a consistent player and the Bucs don't mind starting him. But they need McCoy and Price to be on the field and making big plays.
OBSERVATION DECK
The arrival of Clayborn and Bowers also helps the offensive line. In the old days, left tackle Donald Penn rarely had to break a sweat in practice because he worked against Stylez G. White.

There's concern on the outside about depth in the secondary. A lot of that concern stems from the uncertain situations of cornerback Aqib Talib and safety Tanard Jackson. Talib could face suspension by the league for an offseason incident in which he was charged with aggravated assault, and Jackson is out until at least late September as he finishes a one-year suspension for violating the NFL's substance-abuse policy. The Bucs have no idea what's going to happen with Talib. If Jackson returns to them, they view it as a bonus. But the team isn't nearly as concerned with the depth situation as fans are. Coaches are comfortable with Sean Jones and Cody Grimm as starting safeties and think they've found quality backups in Larry Asante and Corey Lynch. At cornerback, the Bucs believe E.J. Biggers could step into a starting role if anything happens to Talib, and there's hope that second-year pro Myron Lewis could succeed as a nickel back.

The Bucs like what they've seen from Lumpkin during camp and think he might be a reliable backup for Blount. But Graham is a nice fall-back option. He's been playing fullback, but played tailback earlier in his career. With Erik Lorig getting time at fullback last season, the Bucs have flexibility to move Graham around.

Although Foster is expected to start in the middle, the Bucs aren't going to overload the rookie. At least in the short term, outside linebacker Quincy Black will wear the radio helmet and call the defensive plays. Part of that is because Black will be on the field all the time, and Foster will come out when the Bucs go to the nickel package.

Attention, fantasy football players: Consider drafting Winslow. He was good last season, despite missing a lot of practice time with an achy knee. Winslow said the knee feels better than it has in years. He spent most of the offseason working out with Freeman in Tampa and their chemistry should be even better than last season.
December, 5, 2010
12/05/10
3:26
PM ET
TAMPA, Fla. – The Buccaneers appear to be catching a bit of a break on the injury front.
Linebacker
Quincy Black
, who was listed as questionable, is expected to play and start today. His backup
Dekoda Watson
(shoulder) has been declared inactive.
The other inactives for the Bucs are Larry Asante, Brandon Carter,
Will Barker
,
Preston Parker
, Dezmon Briscoe and
Frank Okam
.
Rudy Carpenter
has been designated as the third quarterback.
The Bucs also are saying
James Lee
will start over
Jeremy Trueblood
at right tackle. Trueblood had been the starter. He missed some time with an injury and Lee played well in his absence. Now that Trueblood is close to full health, coach Raheem Morris has indicated the two will compete for the starting job each week.
Also, at least according to the depth chart, the Bucs will start
Corey Lynch
at free safety. That spot came open when
Cody Grimm
suffered a season-ending injury. But don't be surprised if cornerback
Ronde Barber
gets some work at safety.
September, 4, 2010
9/04/10
9:47
PM ET
Check
here
for a full list of Cleveland's roster moves.

Biggest surprise
: The biggest surprise is that Cleveland waited until after 9 p.m. ET Saturday to announce its moves. Supposedly, it was a strategic decision so other teams were not aware of players the Browns made available. I don't think it makes a difference, especially because the Browns are not a team rich with talent to begin with. As far as players, Browns cornerback
Brandon McDonald
's name stood out most on this list. His career has been up and down, but he brought a wealth of starting experience (27 starts) to a young secondary. McDonald may have helped seal his own fate when he made negative headlines this summer for an offensive tweet aimed at
Cincinnati Bengals
receiver
Terrell Owens
. The Browns were not pleased with McDonald's poor judgment.
No-brainers
: Quarterback
Brett Ratliff
had no shot of making this team, because the Browns already have their three players at the position in
Jake Delhomme
,
Seneca Wallace
and rookie
Colt McCoy
. New Browns president Mike Holmgren and general manager Tom Heckert made several additions at cornerback this offseason, including veteran defensive back
Sheldon Brown
and rookie first-round pick
Joe Haden
. That made it very tough for young corners such as
Coye Francies
to make the team. Receiver
Syndric Steptoe
has talent and may get interest elsewhere, particularly as a kick returner. But with Pro Bowl returner
Josh Cribbs
in Cleveland, the Browns have no use for Steptoe.
What's next:
Despite Cleveland establishing its 53-man roster, the Browns should still be active on the waiver wires. This roster overall is not very deep, especially compared to its AFC North counterparts. So the Browns could make some additions in several areas to improve the bottom of their roster. Backups shouldn't get too comfortable in Cleveland.
May, 26, 2010
5/26/10
1:30
PM ET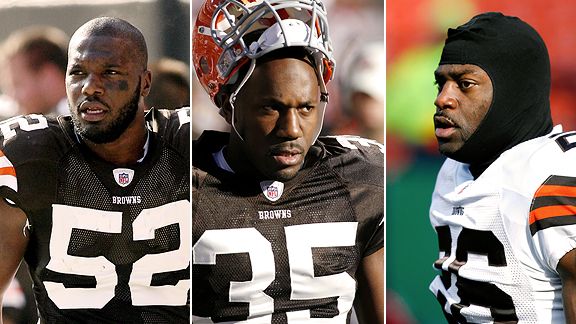 Icon, Getty, APSix Cleveland starters did not report for OTAs, including D'Qwell Jackson (left), Jerome Harrison and Abram Elam.
BEREA, Ohio -- Here is a bad sign for the
Cleveland Browns
: The team has more contract disputes (six) than wins (five) accumulated last season.
While Cleveland attempts to climb out of the basement in a highly competitive AFC North division, a half dozen starters (including the kicker) are skipping offseason workouts in hopes of getting a larger contract.
Linebacker
D'Qwell Jackson
, safety
Abram Elam
, kicker
Phil Dawson
, pass-rush specialist
Matt Roth
and running backs
Jerome Harrison
and
Lawrence Vickers
were missing from the start of the Browns' organized team activities last week. (
Editor's note
: The Plain Dealer reported Thursday that Harrison "has been participating in organized team activities this week despite not signing his one-year tender.") Roth reportedly went as far as
to request a trade from Cleveland
, while Jackson and Elam have publicly made statements about their unhappiness. Everyone except Dawson is a restricted free agent and has yet to sign their one-year tender.
These are problems that Cleveland's new braintrust of president Mike Holmgren and general manager Tom Heckert must resolve before the start of the 2010 season. Although the players in question are solid, this power pair didn't draft any of them, and thus have no personal attachments to this group.
That makes the chances of Cleveland giving out various contract extensions to unhappy players even dicier, leading to this current standstill.
"You want them all to be here," Browns head coach Eric Mangini said at OTAs. "It's voluntary right now, and they have to make the decisions that they have to make. The thing that it does do for the guys that are here is it creates extra reps for them, which is positive because we do have quite a few guys [competing] at positions."
April, 27, 2010
4/27/10
1:00
PM ET
»
NFC Big Question
:
East
|
West
|
North
|
South
»
AFC
:
East
|
West
|
North
|
South
Will the Cleveland Browns go with a rookie starting safety this season?
Rarely is an NFL coach stumped by a football question.
But after the Browns took cornerback
Joe Haden
in the first round of the NFL draft, coach Eric Mangini was quizzed on his starting safeties, which caused some hesitation.
[+] Enlarge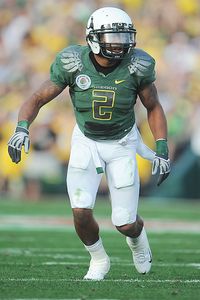 Chris Williams/Icon SMIThe Browns hope T.J. Ward can step in and be a starter at safety.
"It's a ways away," Mangini said. "So I can't really say that definitively right now."
Over the next two days, the Browns drafted a pair of safeties --
T.J. Ward
of Oregon and
Larry Asante
of Nebraska. The Browns are hoping one of these players matures quickly and earns a starting role this season alongside veteran
Abram Elam
.
Safety was arguably Cleveland's biggest need entering the draft. It was a major reason many projected
Eric Berry
or
Earl Thomas
to land with the Browns in the first round.
Berry was a target for Cleveland at No. 7. But when he went off the board at No. 5 to the
Kansas City Chiefs
, the Browns turned their attention to Haden. It also forced Cleveland to look very hard at safeties in the second round.
Some draft experts felt the team reached for Ward at No. 38. But Ward was a player the Browns really liked.
"When I looked at him and spent time with him he reminded me a lot of
Lawyer Milloy
," Mangini said. "I think he's got outstanding instincts in the running game. He's one of these guys that can navigate through traffic and it's almost like the blockers don't exist. Very rarely does he miss tackles."
The Browns selected Asante in the fifth round. He has similar skills to Ward in terms of being an aggressive hitter at safety. Right now, Ward is the favorite to be the Week 1 starter. But both rookies will have plenty of opportunities to impress Cleveland's coaching staff in training camp.
"Just like with the other guys, he will battle at safety for playing time," Browns general manager Tom Heckert said of Asante. "We do think he is a good player. He played at a big-time level of competition, which is always a nice thing to have."
With opposing quarterbacks on the schedule such as
Drew Brees
,
Tom Brady
,
Joe Flacco
,
Ben Roethlisberger
and
Carson Palmer
, the Browns need at least one of these rookie safeties to be fast learners.
April, 25, 2010
4/25/10
12:00
PM ET
I'm not big on grading an NFL draft 24 hours after it's complete. But I know a lot of people are.
So we bring in ESPN draft guru Mel Kiper to do the heavy lifting and provide his evaluations for the AFC North:
Baltimore Ravens
Kiper's draft grade:
A
Analysis:
Only two teams received the highest grade possible from Kiper, and the Ravens were one of them. To fully appreciate what Baltimore did in the draft, you have to consider the team began the week with just five draft picks. Then the Ravens shrewdly traded out of the first round with the
Denver Broncos
for three picks later in the draft, and that's when the Ravens went to work. Kiper loves the second-round selections of linebacker
Sergio Kindle
and defensive tackle
Terrence "Mount" Cody
. Kiper also believes the team grabbed a pair of quality tight end prospects in
Ed Dickson
and
Dennis Pitta
. Baltimore acquired as much talent as anyone without having a single selection in the first 42 picks.
Pittsburgh Steelers
Kiper's draft grade:
B
Analysis:
Kiper doesn't believe the Steelers drafted any huge impact players. But he liked the solid acquisitions, which resulted in a solid grade. I haven't seen anyone so far who doesn't like the choice of first-round pick
Maurkice Pouncey
. The former Florida center seems like a perfect fit in Pittsburgh's interior offensive line and should bring toughness to that unit. Linebackers
Jason Worilds
and
Thaddeus Gibson
were risky in terms of need, but Kiper believes they can help for now on special teams. Kiper highlighted running back
Jonathan Dwyer
as a possible sleeper.
Cincinnati Bengals
Kiper's draft grade:
C
Analysis:
Outside of the opening pick of tight end
Jermaine Gresham
, Kiper wasn't all that impressed with the Bengals' draft. Kiper, like most draft experts, believes defensive end
Carlos Dunlap
is a boom-or-bust player who underachieved despite great physical tools. Third-round cornerback
Brandon Ghee
potentially could help in sub packages against multiple-receiver sets, where Cincinnati struggled last season. No mention of receiver
Jordan Shipley
from Kiper. But he does think former Kansas receiver
Dezmon Briscoe
, who was taken in the sixth round, might surprise.
Cleveland Browns
Kiper's draft grade:
C
Analysis:
The first draft of the Mike Holmgren era in Cleveland also received an average grade from Kiper. He praised the pick of cornerback
Joe Haden
at No. 7 overall. But otherwise Kiper felt safety
T.J. Ward
and tailback
Montario Hardesty
were drafted too high and considered them reaches. Cleveland traded up in the second round to get Hardesty, who Kiper likes but didn't think the move up was necessary. Kiper also questioned why the Browns drafted Ward and
Larry Asante
, who are both considered "in-the-box" safeties. Kiper feels quarterback
Colt McCoy
at the end of the third round was a good value pick.
January, 29, 2010
1/29/10
1:00
PM ET
You could make an argument that all four NFC teams are approaching the 2010 with a significant need at safety.
So where should our teams look? On Thursday,
we noted
Nebraska's
Larry Asante
for his apparently strong work during Senior Bowl practices in Mobile, Ala. Via
Twitter
,
@cgoldberg13
suggests an alternative: Former Florida State safety
Myron Rolle
, who was out of football last year while studying at Oxford University as part of his Rhodes Scholarship.
If you have an Insider subscription, you can read Todd McShay's evaluation of Rolle
here
. Among other things, McShay wrote that teams want to know how serious Rolle is about playing football.
Over on
si.com
, Tony Pauline wrote that Rolle was one of the most surprising players this week during Senior Bowl practices.
Pauline added: "Rolle certainly did not look like someone who has not played football in over a year. He never embarrassed himself on the field. In fact by weeks end he was making plays and playing at a higher level than many of his teammates."
At Florida State, Rolle was known more for his physicality than his coverage skills. At 223 pounds, he would be a pretty big safety in the NFL. As the draft evaluation process continues, I'll be interested to see if he projects as a full-time safety or a hybrid player.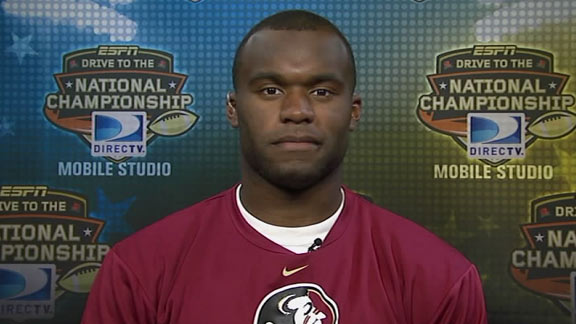 NFL SCOREBOARD
Thursday, 12/18
Saturday, 12/20
Sunday, 12/21
Monday, 12/22