January, 5, 2014
Jan 5
12:45
PM ET
INDIANAPOLIS -- The
Indianapolis Colts
were back at the team's facility Sunday morning getting treatment and lifting weights before heading home in the snowstorm to hop on their couch and get ready to watch the
Cincinnati Bengals
-
San Diego Chargers
game.
That game means a lot to the Colts because it'll determine who they'll play in the playoffs next weekend.
Peyton Manning
and the
Denver Broncos
or
Tom Brady
and the
New England Patriots
.
That's like choosing between Magic Johnson and Larry Bird.
Good luck.
"I'm not sure there's much of a difference," Colts linebacker
Jerrell Freeman
said. "Both of them do a lot of things. Both of them make a lot of checks at the line of scrimmage. They both have some pretty good offenses. It doesn't matter who we play it's going to be a tough battle."
The Colts will travel to New England if the Chargers are able to pull off the upset. They'll go to Denver for a rematch against Manning if the Bengals win.
Manning led the league in passing and touchdowns. Brady was sixth in the league in passing despite being forced to get the most out of a relatively unknown receiving group.
The Colts beat the Broncos 39-33 in Week 7 despite Manning passing for 386 yards and three touchdowns.
The Colts and Patriots played in the regular season in 2012. New England easily won that game 59-24 with Brady throwing for 331 yards and three touchdowns.
Manning and Brady have combined to win four Super Bowls in their careers.
"Either way it's a huge undertaking, a huge challenge as we know, two of the best that ever played the game," Colts coach Chuck Pagano said. "We've faced both, we know both. It'll be a huge challenge. They're both great quarterbacks and they're both winners. Got Super Bowl rings to prove it."
December, 18, 2013
12/18/13
9:00
AM ET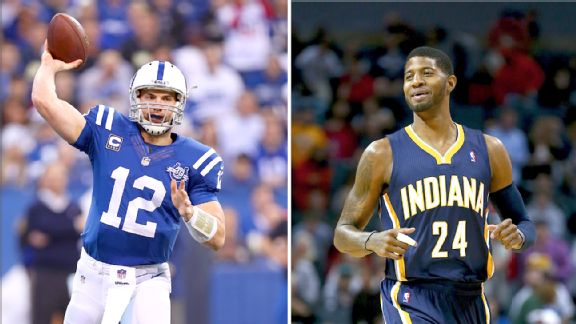 Getty ImagesAndrew Luck, left, and Paul George are the biggest sports stars in Indianapolis.
INDIANAPOLIS -- Indianapolis is part of the 34th-largest metropolitan area in the country. It's a small-market city in the Midwest that is considered rather vanilla. It lacks the bright lights of New York. It doesn't have the sandy beaches of Miami or Los Angeles. It's a big deal in Indianapolis when Justin Timberlake is sitting courtside at Bankers Life Fieldhouse.
But located in the heart of downtown, and just a long
Andrew Luck
pass apart, are two venues where two of the best young players in their respective sports play. They're two players who have caused eyes from around the country to focus on Indianapolis' two professional sports teams in a way that hasn't happened since Reggie Miller was launching 3-pointers for the
Indiana Pacers
and
Peyton Manning
was picking apart defenses for the
Indianapolis Colts
.
[+] Enlarge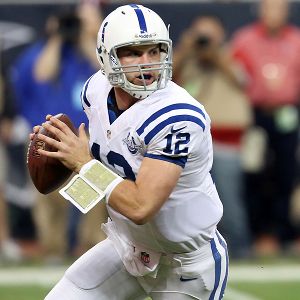 Thomas B. Shea/Getty ImagesAndrew Luck has led the Colts to the playoffs in consecutive seasons.
Paul George
of the Pacers and Luck of the Colts are two who represent the state well. They're both under 25 and they both have their teams in a good position for years to come.
"It's cool that this city has two up-and-comers that are restoring what used to be here with Reggie and Peyton," George said. "There are not many cities that can say that. The Colts have been good for a while outside of that one year, which helped them get Andrew, and we've worked way up to where we believe we're starting to get respect finally."
USA Today ran a story Dec. 9 ranking the
winningest sports cities
in North America.
The city sitting on top?
Not New York or Miami.
Indianapolis.
The Pacers, a win away from reaching the NBA Finals last season, have been on a mission to knock the
Miami Heat
off their throne as NBA champions. They won their first nine games of the season and have the best record in the Eastern Conference at 20-4 heading into Wednesday's showdown against the Heat. Luck has led the Colts to their first AFC South title in three years.
"To have young studs at the top of their field in the NBA and NFL, it's a tribute to Indy being a true sports town," Colts linebacker
Robert Mathis
said. "It started out as a basketball state, we were able to nudge them a little bit and get football on the Hoosiers' mind, and now the Pacers are back."
"

A lot of people in the country will be looking at Indianapolis for a long time because we have two people in key positions in our sports franchises that the nation will be talking about.

"

-- Indianapolis Mayor Greg Ballard on Andrew Luck and Paul George
The Pacers have been looking for a franchise player since Miller gave a final wave to his 18-year Hall of Fame career more than eight years ago.
The 23-year-old George has stepped up to fill that void by becoming one of the NBA's premier all-around players and an MVP candidate. George, an All-Star last season, is averaging 23.8 points, 5.8 rebounds and 2.0 steals while defending the opposing teams' best perimeter player each game.
Luck's task was even tougher. The 24-year-old was selected to replace Manning, the person responsible for leading the Colts to two Super Bowls and having Lucas Oil Stadium built, less than two months after the team released Manning. All Luck has done is lead the Colts to the playoffs in his first two seasons.
"They both represent Indianapolis very, very well," Indianapolis Mayor Greg Ballard said. "You can't just win in Indianapolis and in Indiana, you have to win the right way otherwise it's not accepted. I'm not sure they would be as well received in the city or the state without strong character traits. A lot of people in the country will be looking at Indianapolis for a long time because we have two people in key positions in our sports franchises that the nation will be talking about."
Don't ask George or Luck to talk about themselves, though. They'd rather praise their teammates because they wouldn't have their success without them, according to Luck.
George declined to do a one-on-one with ESPN earlier this season. He would agree to the interview only if the entire starting five took part. Luck has been beat up like a punching bag by defenses because of poor blocking by the offensive line. But he refuses to point the finger at that group. His reasoning for it is that he needs to get rid of the ball quicker or take a step up in the pocket to avoid the rush.
[+] Enlarge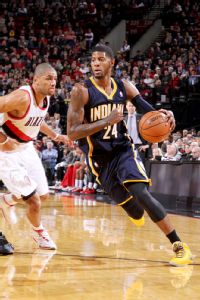 Sam Forencich/NBAE/Getty ImagesPaul George and the Pacers currently sit atop the Eastern Conference.
"I think one, I was taught to have a respect for the game, for sports growing up," Luck said. "Football is the ultimate team sport. It's so cool that the quarterback has to rely on a 315-pounder who has an incredibly different skill set. Any time one person does well, you know there are 10 other guys doing their job. It's such a team sport, so why not make it about everybody else?"
The path the two took to get where they are couldn't be any more different.
Luck was the can't-miss No. 1 overall pick, the best quarterback coming out of the draft since Manning in 1998. The thought that there was even a debate over whom to take between Luck and
Robert Griffin
III is laughable today.
George was a relatively unknown player out of Fresno State who was projected to be selected late in the first round or early in the second when he first put his name in the 2010 draft. Pacers fans had hoped that
Gordon Hayward
, an Indianapolis product, would be available when the team picked at No. 10. Team president Larry Bird avoided having the state upset at him when the
Utah Jazz
selected Hayward at No. 9, making it an easy decision to select George over North Carolina's
Ed Davis
.
Both teams made the right choice and both teams, along with the rest of the country, know they have a bright future.
"Paul George is emerging as a superstar, an MVP candidate, and Andrew Luck, anybody with a brain knows he'll be an MVP in the future," Colts punter
Pat McAfee
said. "Winning now is awesome, but to have that certainty of winning in the future is good for both franchises and for the city. I think it'll attract people to our city."
October, 15, 2013
10/15/13
10:00
AM ET
IRVING, Texas --
Josh Wilson
thought he had a clean shot on
Tony Romo
.
He was left with nothing.
The
Dallas Cowboys
quarterback shook free from the blitzing
Washington Redskins
cornerback, got settled and found wide receiver
Terrance Williams
in the corner of the end zone for a third-quarter touchdown pass in the 31-16 win.
[+] Enlarge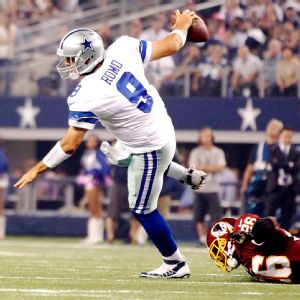 Tim Heitman/USA TODAY SportsTony Romo got away from Washington's Josh Wilson before finding Terrance Williams in the end zone.
Romo has escaped from trouble so many times that it almost seems routine. He has spun away from defensive ends coming from his blindside. He has eluded linebackers up the middle. He has even shook off his own offensive lineman (
Montrae Holland
). On Sunday he broke free from a cornerback right in his face.
"I think that the No. 1 trait for Tony Romo as a quarterback is instincts," coach Jason Garrett said. "He's got a great feel for the game. He sees a lot of different things. He's got a great feel for people around him, and he's got just kind of this funny way of getting away from people. And not only does he get away from them, but quickly to have your eyes down the field to make that kind of a throw under that kind of duress, was an exceptional play."
It was that "funny way of getting away from people," comment that drew attention. At 6-2, 236 pounds, Romo is not the flashy, elusive quarterbacks who flourishes in today's game, like
Robert Griffin
III or
Colin Kaepernick
.
His athleticism is an underappreciated part of his game. But quarterbacks like
Tom Brady
and
Peyton Manning
have a subtle way of side-stepping defenders even if they are not blessed with the greatest physical talents (aside from their right arms, of course).
"I think you can be an elusive guy without being overly skilled, overly impressed from a motor skills standpoint -- guys who run fast and jump high and have this rare quickness," Garrett said. "There have been some great athletes through the years who kind of get away from people. The great Larry Bird seemed to get away from people for a long time, right?"
October, 17, 2012
10/17/12
10:57
AM ET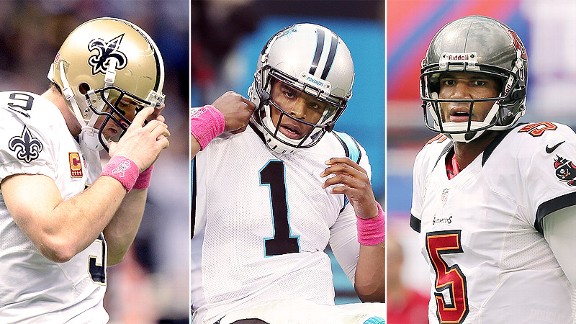 Getty Images, US PresswireWill it be Drew Brees, Cam Newton or Josh Freeman that elevates his team to NFC South No. 2?
Unless Mike Smith gives
Roddy White
his Twitter password back, the
Atlanta Falcons
aren't going to say it.
And Larry Bird isn't participating in 3-point competitions these days. So I'll take it upon myself to ask the most relevant question in the NFC South right now:
Who's playing for second place?
Let's not worry about hurting feelings here. The Falcons are going to run away with the division, unless it suddenly is discovered they've been running a four-year bounty program and there are mass suspensions.
Everyone else is playing for second place, which might be the most open race in the NFL right now. Take a look at the NFC South standings. After the Falcons at 6-0, you've got the
Tampa Bay Buccaneers
at 2-3, and the
New Orleans Saints
and
Carolina Panthers
each at 1-4.
Does anybody really want second place? From the looks of things, nobody is stepping forward to claim it.
I know there are small pockets in Louisiana (and parts of Alabama and Mississippi) and the Carolinas that think the Saints and Panthers can come off their bye weeks, make a huge run and get into the playoffs. Tampa Bay fans have learned to aim low, but there might be even a few of them who think the Bucs can go on a run.
What makes anyone think the Bucs, Saints or Panthers still can make the playoffs? Certainly nothing we've seen so far this season.
I strongly doubt we'll see two NFC South teams in the playoffs this season. But, going back to the original question, someone has to finish second.
Let's take a look at each of the candidates and then take a look at their odds of finishing second in the division:

Carolina:
Back in the preseason, I picked the Panthers to finish third in the division, but I thought they had a chance to go something like 9-7 and maybe even slip into the playoffs. In the back of my mind, I even thought there was a chance the Panthers could leap the Saints or Falcons.
After all, they had quarterback
Cam Newton
coming off a wonderful rookie season. They had injured guys such as
Thomas Davis
,
Jon Beason
and
Ron Edwards
coming back on defense, and they used a first-round pick on linebacker
Luke Kuechly
.
The Panthers already had a good offense, and any improvement on defense, theoretically, would make them a good team.
As it turns out, the Panthers are a bad team. The defense is no better. Offensive coordinator Rob Chudzinski, who some thought would be a head coach after last season, probably will be coaching tight ends somewhere next season. The Panthers have no rhyme or reason on offense. They've got $80 million tied up in running backs
DeAngelo Williams
,
Jonathan Stewart
and
Mike Tolbert
, but they're letting them be rag dolls as they take hits when Newton fakes to them on the read option. Speaking of Newton, the Panthers long ago should have made a decision on whether they want him to be a running back or a real quarterback. They still haven't decided.
Bottom line:
I give the Panthers a 25 percent chance of finishing second in the NFC South and a zero percent chance of getting to the playoffs. This team might have more individual talent than New Orleans or Tampa Bay, but it's starting to look as dysfunctional as the 2010 squad coached by John Fox. Even people in the building aren't showing much optimism the Panthers can turn things around.

New Orleans:
Nobody said it would be easy because we all knew the Saints were encountering something never seen before. They had their head coach (Sean Payton), assistant head coach (Joe Vitt) and general manager (Mickey Loomis) suspended in the bounty drama. They were supposed to have some players suspended as well, but we have yet to see that due to the appeals process.
Still, I thought the Saints could win the division or at least finish second to the Falcons and make the playoffs. I thought any team with
Drew Brees
at quarterback automatically set the low end of the bar at .500, and I thought Steve Spagnuolo's defense might lead to some improvement on that side of the ball.
None of that has happened, and the Saints started 0-4 before finally pulling one off against San Diego.
Bottom line:
I give the Saints a 35 percent chance of finishing second in the NFC South and a 10 percent chance of making the playoffs. They are coming off the San Diego win and a bye, and they do play Tampa Bay on Sunday. They also get Vitt back as their head coach after the Tampa Bay game, so there is at least a glimmer of hope for the Saints -- but it's a small one.

Tampa Bay:
No NFC South team entered the season with fewer expectations surrounding it. At best, the hope was the Bucs would be better with Greg Schiano replacing Raheem Morris as the head coach. The Bucs are better. They already have won two games (and at least been competitive in their others), and that's a lot better than last season, when they lost their final 10 games, most of them very badly.
Sure, there have been some valleys. Until Sunday's victory against Kansas City, it didn't look like the Bucs had any idea of what they wanted to be on offense, and that symptom could return when they face better teams.
Bottom line:
I give the Bucs a 40 percent chance of finishing second in the NFC South and a 10 percent chance of making the playoffs. That really has little to do with the fact the Bucs have one more win than the Panthers and Saints at this point. It's based on one simple fact: Outside of the Falcons, the Bucs are the only team that has shown improvement since the preseason. That's why, among this group, they're the ones who still could realize more upside this season.
October, 26, 2010
10/26/10
3:04
PM ET
»
NFC High Energy
:
East
|
West
|
North
|
South
»
AFC
:
East
|
West
|
North
|
South
A look at a player who gave his team a significant boost in Week 7.
[+] Enlarge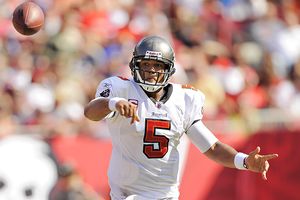 Scott A. Miller/US PresswireTampa Bay quarterback Josh Freeman has led his team to five fourth-quarter comeback victories since the mid-point of last season.
There are stories from back in the 1980s about how legendary Boston Celtics forward Larry Bird would, on occasion, walk into the huddle or locker room and say, "Hop on my back boys. I'll carry you.'' It's tough to imagine quiet and humble Tampa Bay quarterback
Josh Freeman
saying anything so brash.
But it's getting to a point where he no longer has to verbalize that kind of thought. When things get tough, the Buccaneers are automatically hopping on Freeman's back because they now believe the second-year quarterback will find a way to win.
He did it again Sunday, finding running back
Cadillac Williams
with a 1-yard touchdown pass with 10 seconds remaining to give the Bucs an 18-17 victory against St. Louis. Since taking over as the starter near the midpoint of last season, Freeman has led five fourth-quarter comebacks for victories.
He has done it three times this season and the Bucs still have 10 more games to hop on Freeman's back. They don't have much consistency in the running game and the defense hasn't been as good as hoped. But none of that really matters because Freeman is way ahead of the learning curve and he's carrying the Bucs.
August, 27, 2010
8/27/10
7:42
AM ET
The linebackers are next in our series of NFC South position rankings and this one took a lot longer and was way more agonizing than our previous installments on safeties and cornerbacks.
It started right at the very top because this division has two linebackers I'd put up against anybody. Everyone knows
Jonathan Vilma
and
Jon Beason
are absolutely great. But how the heck do you pick between the two? I don't want to overdramatize this, but my gut said this was like picking between Larry Bird and Magic Johnson or Mickey Mantle and Joe DiMaggio. You make a call, but there's a part of you that feels like you're slighting the other guy.
For all of these rankings, I rely on conversations with coaches, personnel guys and players to make my decision. When it came down to making the call between Beason and Vilma, I reached for the phone and made even more calls. The sources are anonymous, but I called some high-ranking people that I trust most on this one and they also were torn.
I took what they said, processed it and analyzed it and came to the decision that ultimately was mine. Here it is:
[+] Enlarge

Streeter Lecka/Getty ImagesJon Beason edged out New Orleans' Jonathan Vilma as best linebacker in the division by a hair.

Jon Beason, Panthers. What it really came down to was this: I viewed Beason and Vilma as equals in virtually every sense based on the past. These rankings are based to some degree on projections for the 2010 season and that's where I saw a slight edge emerge. Beason is moving from middle linebacker to the weak side and that's very significant because coordinator Ron Meeks runs a Tampa Two defense. In that scheme, the weakside linebacker takes on huge importance. Think of Derrick Brooks in the Tampa Bay glory days. Beason might not have the supporting cast around him that Brooks did, but he's going to have a chance to make more tackles and more big plays than he did in the middle.

Jonathan Vilma, Saints. You couldn't ask for a more complete middle linebacker and that's a very important spot in New Orleans' scheme. I don't know that there's a smarter defensive player in the division. Vilma also is a fantastic leader. Not sure if this works as a consolation prize for Vilma, but I'll say something I never thought I would. As someone who was born and raised hearing and seeing Penn State called Linebacker U., I'll admit Beason and Vilma have forced me to give the nod to Miami -- at least for the moment.

Curtis Lofton, Falcons. This guy makes me worry that I'll be trying to sort out a three-way race at this time next year. Lofton had a very good rookie year, got better in his second year and everybody I talk to believes he's ready to step to the elite level this year. Much like Vilma, he's a middle linebacker that can do it all.
Geno Hayes, Buccaneers. This may come as a shock to some Tampa Bay fans who believe Barrett Ruud is the Buccaneers best linebacker. That's no knock on Ruud and we'll come to him very soon. But the people around One Buccaneer Place keep singing Hayes' praises and they're all saying he's poised for a breakout season. Hayes is going to be an every-down linebacker. Now that the Bucs are back to playing the Tampa Two scheme, Hayes should be in position to make a lot of big plays.

Barrett Ruud, Buccaneers. Ruud does what he's supposed to do in this system. He makes tackles and he should make more this year because the Bucs did him a favor by putting so much emphasis on adding defensive tackles early in the draft. Ruud's been wanting a contract extension for some time and it hasn't happened. If he goes out and makes some big plays and shows he's the leader of the defense, he might get his wish. But the middle linebacker in the true Tampa Two isn't the most important guy on the field.

Dan Connor, Panthers. Before you go bringing up the Penn State angle, you should know this. Two of my panelists urged me to put Connor ahead of Ruud. I went against them because Ruud has a track record and Connor really doesn't. The Panthers are throwing him into the middle and we'll see how he does. But Carolina wouldn't have moved Beason to the weak side to take the spot of the injured Thomas Davis (he'd be high on this list if he were playing) unless the coaching staff had a lot of faith in Connor.

[+] Enlarge

David Butler II/US PresswireJonathan Casillas is replacing Scott Fujita on the outside of the Saints' linebacking corps.

Jonathan Casillas, Saints. This is a bit of a leap, but I saw very good things out of Casillas in training camp and early in the preseason. He moves well and he tackles well and I don't think the Saints are going to miss Scott Fujita all that much. It also won't hurt Casillas that he'll be lining up next to Vilma.

Sean Weatherspoon, Falcons. He's a rookie, but he's incredibly talented. The Falcons say he can play the strong side or the weak side equally well. My guess is Weatherspoon ends up starting on the strong side and making an immediate contribution.

Mike Peterson, Falcons. He's a question mark as he nears the end of his career. But the Falcons believe Peterson has at least a year in him. Their sudden depth at linebacker might cut into his versatility.

Stephen Nicholas, Falcons. He started last year and was average. With Nicholas and Coy Wire, the Falcons think they have quality linebacker depth. If Nicholas ends up starting again, the Falcons wouldn't be all that upset.

James Anderson, Panthers. He'll get the first shot at the starting job on the strong side. Anderson's been a quality backup and special-teams player and we'll find out if he can do more than that.

Quincy Black, Buccaneers. The Bucs have been praising Black just as much as Hayes. But there's one difference. Hayes will stay on the field with Ruud when the Bucs go to their nickel package.

Scott Shanle, Saints. A very dependable veteran and he helped the Saints win the Super Bowl last season. But Shanle's skills as a run defender might be starting to erode.

Jamar Williams, Panthers. While Anderson will open as the starter on the strong side, he hasn't really distanced himself from Williams. If Anderson stumbles at all, the Panthers won't hesitate to start Williams.
Previous position rankings
:
June, 12, 2009
6/12/09
11:56
AM ET
| | |
| --- | --- |
| | |
| | Crystal LoGiudice/US Presswire |
| | Versatile running back Reggie Bush may be ahead of his time. |
Posted by ESPN.com's Pat Yasinskas
METAIRIE, La. -- As obvious as it is, do not take the easy way out and compare Reggie Bush to Deuce McAllister.
They are not the same guy.
If you still want to compare Bush to someone, stay in the Gulf Coast region, but switch sports. Think basketball. Think Pete Maravich.
Think about guys who were, depending how you look at it, either on the cutting edge or ahead of their times. About 40 years and a sport apart, Bush and Maravich might have a lot more in common than you think.
I picked up a copy of Mark Kriegel's fine book "Pistol: The Life of Pete Maravich'' in the Tampa airport before I flew to New Orleans for Saints minicamp last week. I was somewhat intrigued because I have some vague memories of Maravich playing in the NBA in the mid-1970s when I first became interested in sports. I kind of recalled that Maravich had been a pretty good player at Louisiana State.
Kriegel filled me in on the rest and it was a lot. The short version of it is that, back in the late 1960s, Maravich introduced basketball to a region that only had known football. Maravich made passes behind his back, dribbled between his legs and averaged around 45 points in his college career. He set himself up for a high draft selection and a contract that seemed absurd at the time. Although Maravich had a very good NBA career (including a stint with the New Orleans Jazz), the tragic undertone of the book is that he was born 10 or 15 years too soon.
The suggestion is, had Maravich played in the NBA in the glory days of Magic Johnson, Larry Bird and Michael Jordan, his talents might have been fully appreciated because they would have fit the time frame. Instead, Maravich never quite lived up to the hype and expectations that followed him out of college.
That's where Bush comes in. When he came out of USC as the No. 2 overall pick in 2006, the natural assumption was that Bush would run for 1,500 yards a season because that's what great running backs are supposed to do. Instead, Bush has run for 1,550 yards -- in three seasons.
But let's not go calling Bush a "bust" because he hasn't run for 1,500 yards a season. There's still time for him to be a whole lot more.
"I think the direction where the NFL is headed toward, you don't see those type of running backs anymore,'' Bush said between minicamp practices Saturday. "You see guys splitting time. Guys who are able to play running back and multiple positions. I think those days of the one-running back system are over.''
Think about it a bit and look around the NFL. The days of the Saints giving the ball to McAllister up the gut 25 or 30 times a game are over in New Orleans. They may be over in a lot of places. Look at Carolina's "Double Trouble'' with DeAngelo Williams and Jonathan Stewart or Tennessee's "Smash and Dash'' with LenDale White and Chris Johnson.
Maybe Bush is right. Maybe this is a turning point in the NFL, a time when running backs don't have to fit the profile of Earl Campbell or Jerome Bettis.
"I hear it debated about because I think the framework of how people try to fix the position and we don't have to worry about that,'' Saints coach Sean Payton said. "Since he's been here, we've changed a lot in how we move the football. The most important thing is, are we scoring points and are we moving the football? If the answer is yes to that and he's a big part of that, then all that other stuff will sort itself out.''
There are some people who will say Bush isn't a true running back and can't run between the tackles. Let's get this out of the way now because Bush resents that.
"I can run the ball between the tackles,'' Bush said. "Anybody can run the ball between the tackles. I don't feel like that is going to make me or break me. I don't feel like running the ball between the tackles is going to win us the Super Bowl or help me win the MVP. It's being versatile, being able to run the ball between the tackles, outside the tackles, returning punts, catching the ball out of the backfield and catching the ball down the field. That's what I do. That's who I am.''
Maybe, just maybe, Bush realizes who he is before the rest of the world. He's right about the versatility thing. Think about it -- there have been running backs who could catch the ball out of the backfield (LaDainian Tomlinson and Marshall Faulk for example) and running backs who could return punts (Gale Sayers).
But has there ever been a running back who could line up at receiver and beat just about any cornerback in the league, who could return two punts (almost three in one half against Minnesota last year) and run inside and outside the tackles?
Go ahead and say Bush is less than a running back. I say he's more than a running back.
Give him a full and healthy season. Bush missed six games last year and four in 2007 because of injury. As a rookie, he sat a lot because of McAllister.
"(The coaches) know I can run the ball between the tackles,'' Bush said. "That's not a question. It's just a matter of me staying healthy. I think that's more of the question.''
Give him a full season of Pierre Thomas sharing the duties at running back. Give him a full season with quarterback Drew Brees. Give him a full season with Payton, who just might be the most progressive offensive mind in the league. And give him a season where the New Orleans' defense gets off the field every now and then.
Let it all come together and let Bush be Bush. Maybe then Bush can avoid the same fate as Maravich. Maybe Bush isn't too late or too early. Maybe Bush has arrived at just the right time to redefine the game.

NFL SCOREBOARD
Sunday, 2/2
WEEKLY LEADERS