July, 31, 2014
Jul 31
4:59
PM ET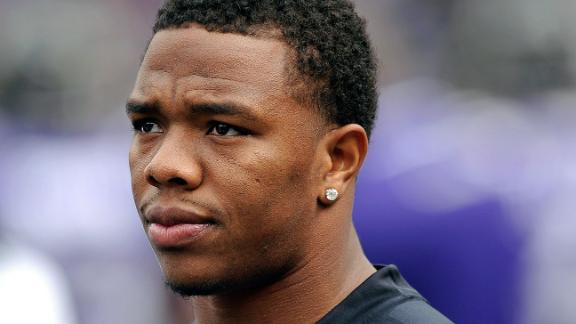 OWINGS MILLS, Md. -- In stark contrast to
Ray Rice
's awkward news conference in May, the
Baltimore Ravens
running back showed Thursday that he finally understood the weight of his actions from the alleged altercation with his then-fiancée in February.
He delivered the correct message, one the NFL failed to do last week with the two-game suspension, by not only apologizing to his wife, Janay Palmer, but also expressing a desire to become an advocate for domestic-violence causes.
Rice was compelling in his contrition, calling it the biggest mistake of his life. He stood in front of the microphone alone, without his wife standing by his side, and took full responsibility for the incident. Perhaps more importantly, Rice actually said the words "domestic violence," which weren't heard in his statement two months ago.
"My actions were inexcusable," Rice said. "That's something I have to live with the rest of my life."
Before anyone pats Rice on the back, this is what he should have said the first time when he broke his silence in May. Instead, Rice nervously fumbled through notes on his phone and apologized to team officials and his sponsors. That debacle of a news conference came across as damage control to his image.
His 17-minute news conference Thursday hit the right tones. He apologized to all women affected by domestic violence. He accepted the blame for losing the respect of fans. Rice came across as genuinely sorry.
"I let my wife down, I let my daughter down, I let my wife's parents down, I let the whole Baltimore community down," Rice said.
Rice's biggest misstep was not talking about what happened in the elevator. He was asked twice about it and declined to answer both times. His stance against domestic violence would have resonated stronger if he had explained his transgressions.
"I'll be honest: Like I said, I own my actions," Rice said. "I just don't want to keep reliving the incident. It doesn't bring any good to me. I'm just trying to move forward from it. I don't condone it. I take full responsibility for my actions. What happened that night is something that I'm going to pay for the rest of my life."
The only way Rice can move forward from this incident and show he's truly sincere is through his actions. It's not by his words. It's not by a hefty donation, which is merely a gesture. It's by proving this will remain a "one-time incident" and by supporting domestic-violence causes.
Thursday represented a small step forward for Rice. But it was an important one.
August, 7, 2013
8/07/13
10:00
AM ET
Some of my impressions after watching the first episode of the
Cincinnati Bengals
on the HBO series "Hard Knocks:"
Someone needs to tell HBO that Marvin Lewis, and not running backs coach Hue Jackson, is the head coach of the team. The verbose and funny Jackson dominated a big chunk of the hour-long show. It began with Jackson telling his running backs at a dinner that training camp is going to be a grind. The cameras then followed Jackson trash-talking with defenders and blowing kisses to them.
Quarterback Andy Dalton really loves his wife. She has gotten him into Pilates in the offseason, and you watched her put him through the entire routine, which included something called planking (not sure what it's meant to do but it looked uncomfortable). Dalton also wears a black rubber wedding ring while practicing, which drew ribbing from teammates and coaches. Something tells me there are no Mark Sanchez videos in Dalton's future.
James Harrison is the Frank Underwood (House of Cards reference) of the Bengals, the show's clear-cut antihero. When offensive coordinator Jay Gruden informed Harrison not to touch Pro Bowl receiver A.J. Green, Harrison said, "I'm not going to kill him but I'm not going to let him do his job. Do we understand?" There was also an entire segment of Harrison flashing a certain finger at cameras several times and closing doors on cameras several times. The shot that best sums up Harrison was one where the linebackers are circled around a table in the meeting room and he was at desk in the corner with his back to everyone. You don't know whether you should be appalled by his antics or appreciative of the fact that he doesn't pretend to be a nice guy.
The "Rex Ryan language award" goes to defensive coordinator Mike Zimmer. He delivered the first, second and third expletives of this year's Hard Knocks. Luckily it's on cable. You wouldn't understand anything he said if the show had to bleep him. On a side note, Zimmer is one of the most respected coordinators in the game. Here's hoping that the show is a vehicle to get him a head coaching job in the future.
Running back Giovani Bernard showed he can take a hit and some hazing. Jackson got on Bernard for driving a minivan, which happens to be a car belonging to his girlfriend's mother. The 5-foot-9 rookie was the team's tackling dummy for the early part of camp, receiving elbows and late hits. It only stopped after Lewis gathered the team around and told the defense not to take cheap shots on the second-round pick.
The Bengals and their fans could breathe a sigh of relief once again after watching A.J. Green take a tumble and injure his knee. The cameras went into the training room, where it was revealed that the injury wasn't serious. "We dodged a bullet," Lewis told Zimmer afterward. There was a real sense that the positive news on Green saved the Bengals' season.
The episode ended on the most emotional storyline of the night. Defensive tackle Larry Black, an undrafted rookie, was just starting to make a name for himself in camp until he suffered a season-ending ankle injury. It was painful to watch him laying on the field after getting injured. Then, in a phone call to his parents, a teary-eyed Black could barely get the words out to tell them that he was on his way to the hospital.