NFL Nation:

Larry Centers
December, 28, 2014
12/28/14
3:55
PM ET
MINNEAPOLIS -- A few thoughts on the
Chicago Bears
'
13-9 loss
to the
Minnesota Vikings
at TCF Bank Stadium.
What it means:
The season is mercifully over. With team matriarch Virginia McCaskey and team chairman George McCaskey in attendance, the Bears' record dropped to a disappointing 5-11, the franchise's worst single-season finish since 2004 (also 5-11). Embattled head coach Marc Trestman awaits word on his future after posting a futile 13-19 record in two years on the job. For weeks, Trestman refused to directly answer questions related to job security, but ESPN.com's
Michael Wright reported Sunday
morning that at least three assistant coaches expect to be fired. Now it's only a matter of time before the general public learns Trestman's fate.
General manager Phil Emery's future is unknown. Emery hit on recent draft picks
Alshon Jeffery
,
Kyle Long
and
Kyle Fuller
, but he's responsible for two colossal blunders: hiring Trestman and awarding quarterback
Jay Cutler
a lucrative contract extension. Emery watched Sunday's game in a private suite alongside the McCaskey family.
Stock watch:
Defensive coordinator Mel Tucker is not a popular figure in Chicago. However, the defense turned out to be the least dysfunctional of the club's three groups. Tucker's defense limited Minnesota to three points and 118 total yards of offense in the first half. On multiple occasions throughout the year, the defense did enough to keep the Bears in games, only to be let down by the offense. Sunday was no exception. Fuller's early third-quarter interception, and subsequent return, gave the offense the football at the Vikings' 9-yard line. Sadly, the Bears had to settle for a field goal.
Eventually, the defense made its share of mistakes in the second half -- including a busted coverage on Adam Thielen's 44-yard touchdown reception -- but the effort was evident. The Bears even stopped Minnesota on fourth-and-goal from the 1-yard line.
Trestman's offense predictably struggled in Week 17, even with Cutler back at quarterback in place of concussed
Jimmy Clausen
. The Vikings' 15th-ranked total defense stymied the Bears for much of the afternoon. The Bears end 2014 without scoring more than 28 points in a single game.
Forte milestones:
Bears tailback
Matt Forte
passed Larry Centers for the most single-season receptions by a running back (102). Forte also topped the 1,000-yard rushing plateau for the third consecutive season and the fifth time in his seven-year NFL career.
Game ball:
In a lost year, Forte again proved to be one of the most versatile all-purpose tailbacks in the league, topping the Bears in rushing yards and catches. His current contract is set to expire following the 2015 season, meaning Forte's agent is likely to press the Bears for another extension in the offseason.
What's next:
The Bears return home to Lake Forest, Illinois, for exit physicals and one final team meeting on Monday. While the team is scheduled to hold an open locker room period Monday for reporters, the Bears have not released any further media information.
February, 2, 2011
2/02/11
4:57
PM ET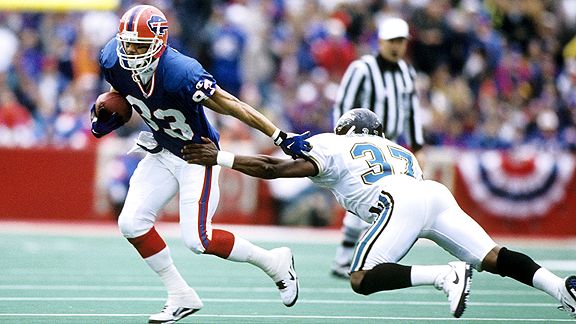 US PRESSWIREFormer Bills receiver Andre Reed finished his career with 951 catches for 13,198 yards and 87 TDs.
Receptions come a lot cheaper these days.
The game has changed, and all you need for proof is a glance at Paul Warfield's career stats. He caught more than 50 passes once. He gained more than 1,000 yards once. In some of his Pro Bowl seasons, his numbers wouldn't have justified a roster spot in your 10-team fantasy league.
Yet Warfield is considered one the most dangerous receivers NFL history, a first-ballot Pro Football Hall of Famer.
"Our game is beginning to resemble baseball in which everyone is looking at numbers," Warfield said this week from his home in Rancho Mirage, Calif. "Numbers tell the story to a degree, but I like to look at one's full body of work.
"I'm from the old-school generation. You might be termed a wide receiver, but you should be a football player first."
Steve Largent is another example of how stats don't quantify a receiver's worth like they used to. Largent retired after the 1989 season as the NFL's all-time leading receiver with 819 catches. He, too, was a first-ballot Hall of Famer.
Twenty-one years later, Largent ranks 20th in receptions behind such names as
Derrick Mason
,
Torry Holt
,
Keenan McCardell
,
Muhsin Muhammad
and fullback
Larry Centers
.
In 1985, only four players had caught 600 passes. The list is 55 players long now.
"It doesn't necessarily undermine a player's ability to get into the Hall of Fame because he had great stats or doesn't have great stats," Largent said Monday from his office in Washington D.C. "You're looking for a guy who was the total package."
With that in mind, you might consider
Andre Reed
's stats if you choose when deciding if he belongs in the Hall of Fame. They're sterling -- if a little outdated and discounted by time.
To both Largent and Warfield and other legendary receivers, Reed qualifies for Canton without even looking at the numbers.
"I saw the value Reed had to that team not only as a receiver, but also as a leader," Largent said. "There are some attributes you don't keep statistics of, but you become aware of as one player watching another play the game."
Reed is Largent's "total package" and Warfield's unequivocal embodiment of "football player."
"It's long overdue for Andre," Warfield said.
Reed is among the 15 Pro Football Hall of Fame finalists who will learn Saturday whether they will be included in this year's induction class.
The star
Buffalo Bills
receiver has been a finalist five times. There's a belief this year offers his best chance yet. In previous years, he has shared the ballot with at least one receiver who took precedence because they were icons (
Jerry Rice
,
Michael Irvin
) or had been waiting longer (
Art Monk
).
Reed could become the sixth Hall of Famer from a team that went to four straight Super Bowls but failed to win one.
Already enshrined are Bills quarterback
Jim Kelly
, running back
Thurman Thomas
, defensive end
Bruce Smith
and head coach Marv Levy. Wide receiver
James Lofton
also is in Canton, but he didn't play on all four Super Bowl teams, and is more closely associated with the
Green Bay Packers
.
"I was a part of something special, and I'll take that to my grave," said Reed, 47. "We were a family. But the Hall of Fame, I don't know how I would react. It would be a validation of your work and what you did.
"Hopefully on Saturday I can be in that fraternity with them, but every year it's a tough ballot."
The other finalists include running backs
Marshall Faulk
and
Jerome Bettis
, receivers
Tim Brown
and
Cris Carter
, tight end
Shannon Sharpe
, center
Dermontti Dawson
, tackle
Willie Roaf
, defensive ends
Richard Dent
,
Charles Haley
and
Chris Doleman
, defensive tackle
Cortez Kennedy
, cornerback
Deion Sanders
and NFL Films patriarch Ed Sabol.
The Hall of Fame's 44-member selection committee will decide Saturday. The group includes NFL writers, one representative per franchise, 11 at-large voters and one from the Pro Football Writers Association. The committee will pare the group of 15 finalists down to 10 and then to five. At that point, a vote will be held, with 80 percent agreement needed for induction.
Up to five modern-era candidates may be elected each year. First-time nominees Faulk and Sanders are virtual locks to get inducted. That leaves three spots available for Reed and the other finalists to get in.
Buffalo News reporter Mark Gaughan will make the case for Reed's induction. It's a compelling one.
"He certainly had a great career, one of the great clutch receivers," Warfield said. "He was consistent, one Jim Kelly could always go to and always find open in a situation where they're trying to make a big play. He's an all-encompassing receiver."
Reed was third on the NFL's all-time receptions list when he retired after the 2000 season with 951 catches, behind only Rice and Carter. Reed was a seven-time Pro Bowler and a superstar on a team that won four conference championships in a row.
"He was as dangerous a receiver as there is," former Bills quarterback
Frank Reich
said. "Versus press coverage, he was almost impossible to stop, coming off the ball. We always felt if they tried to play tight man on Andre it didn't matter who was guarding him. Any shutdown corner in the league in press coverage, Andre was going to beat him."
Reed was a force on the big stage. In 19 postseason games he had 85 receptions for 1,229 yards and nine touchdowns. He didn't score any Super Bowl touchdowns, but he did have 27 receptions for 323 yards.
In the Bills' epic comeback against the Houston Oilers in the 1992 postseason, he made eight catches for 136 yards and three touchdowns.
Reed is known as tremendously durable. He played 253 games, counting playoffs. He often darted into traffic to make plays in a crowd of defenders.
"No fear," Reich said.
Reed was one the greatest ever when it came to yards after the catch, second perhaps only to Rice.
[+] Enlarge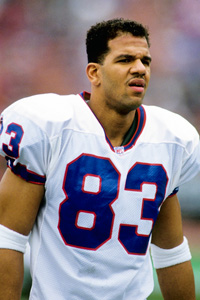 US PresswireAndre Reed, on playing for the Bills: "I was a part of something special, and I'll take that to my grave,"
"Most people that were on that team or played against us will remember how explosive he was in run-after-the-catch," said Reich, now
Peyton Manning
's position coach with the
Indianapolis Colts
. "He rivaled Jerry Rice in that category. Like Jerry Rice, his 40 time was good and probably not great. But there was nobody faster with the ball in his hands."
What put Reed's production in even greater context is a closer look at Buffalo's offense in the 1990s.
Many fans, even those who closely followed the Bills then, recall a prolific aerial attack. They remember Kelly running the no-huddle, K-Gun offense and slinging the ball all over the field to Reed and Lofton.
As Gaughan will point out again Saturday, the Bills ranked 17th in passing offense throughout Reed's career. In Reed's six prime seasons from 1988 through 1993, the Bills passed 51 percent of the time. By comparison, the
Washington Redskins
' famed "Hogs" offense passed 50 percent of the time when Monk was there.
Reed didn't have much receiving help either. He played with Lofton for four seasons, but Lofton was 33 years old when he joined Buffalo. In 1988, for instance, Reed's second and third receivers were Trumaine Johnson and
Chris Burkett
.
So far, the chief impediment for Reed's induction hasn't been his resume, but the other names on the ballot.
A wide receiver has been inducted each of the past four years, and in seven classes out of the past decade.
Gaughan noted there is room in Canton for at least two more receivers from the 1990s. A breakdown of membership shows seven receivers who predominantly played in the 1960s, four from 1970s, four from the 1980s and two from the 1990s.
Reed, Carter and Brown are the worthiest receiver candidates to join Rice and Irvin from that decade.
There's a velvet rope. This is Reed's fifth year as a finalist. Carter has been a finalist four times, Brown twice.
Reed apparently jockeyed to the head of the receiver line last year. In the selection process, Carter and Brown didn't make the top-10 stage, but Reed did.
That development has raised Reed's hopes for 2011.
"I'll be more nervous because of the way the voting went last year," Reed said. "I feel I'm more deserving of it. It was pretty close. The anticipation is enhanced this year."
But there are no guarantees. Several legendary receivers have waited longer than five years to get the Canton call. Don Maynard, John Stallworth and Monk got in on their eighth time as finalists. Lynn Swann was a finalist 14 times. The Seniors Committee was necessary to induct Bob Hayes 34 years after his last NFL game.
Reed admitted he has fantasized about the phone call too many times to count. He's even tried to research the moment.
"I've talked to a bunch of Hall of Famers who say when they get the call they're at a loss for words," said Reed, who plays a lot of golf and sells his own line of barbeque sauce in the San Diego area. "They don't know how to react.
"I'll just have to wait and see."
And hopefully not have to wait some more.
July, 2, 2010
7/02/10
10:00
AM ET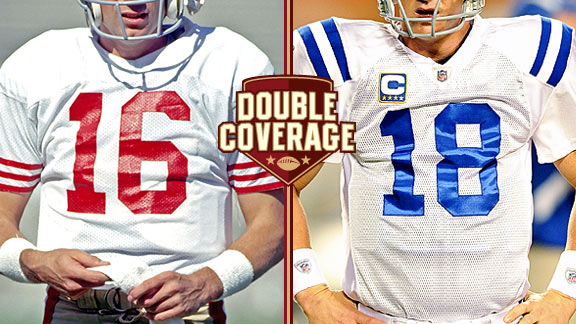 US PresswireLongstanding records would likely fall if the NFL moved to an 18-game regular season. But does that matter in the long run?
Who's up for more football?
The NFL would like to expand the regular season to 18 games and eliminate two preseason games by 2012. Seems like a no-brainer.
But at such a politically charged time, the NFL Players Association isn't willing to concede anything. There are reasons against lengthening the regular season. Injuries are prominent in the discussion, and players would like to be paid for playing additional games.
If the NFL wants an "enhanced season," as it's calling the proposal, then the players would like "enhanced compensation."
Beyond that, however, there are many reasons to debate the idea. That's why ESPN.com's Tim Graham and Bill Williamson are squaring off over it.
Tim Graham:
Let's waste no time here, Bill, and get to a fundamental aspect about the proposed expanded season. We can deliberate on injuries and tradition and whether the NFL needs to increase revenues -- and we will. But the root of the 18-game concept is that fans want more meaningful action and less preseason silliness. Season-ticket holders must pay full price to watch undrafted rookies and retreads with no shot of making the roster run around in exhibitions. Those games are irrelevant. What matters is the enthusiasm NFL fans have for getting the season started as early as possible. Take a look at the message boards and listen to the talk shows. They're frothing in anticipation of the upcoming season. More and sooner is better.
Bill Williamson:
OK, slick, let's get this right: We're supposed to see the greatest sport of mankind completely change its world because fans shouldn't have to pay for parking during the preseason? I totally agree the preseason is a waste of time after the first two games. But cutting back the preseason to add two games to the regular season -- risking further injury and mucking up the tradition of the game -- just doesn't make any sense. Cut the preseason to two games, keep the 16-game regular-season slate and be done with it. That's a win-win to me.
TG:
You know darn well lopping off two preseason games won't cut it with the owners, especially guys like Jerry Jones and Robert Kraft and Woody Johnson. Those games are moneymakers for the individual teams because they can sell local broadcast rights and advertising without having to share with the
Buffalo Bills
and
Jacksonville Jaguars
. That kind of cash grab can't evaporate without a trade-off. Two more regular-season games increase revenue streams for all 32 teams. As for your contention it would completely change the greatest sport of all time, I disagree. The fact the game is so remarkable is why we should be able to watch more of it.
BW:
Tim, you hit on two points that are going to be the reasons we ultimately end up seeing an 18-game regular season: revenue and fan base. Roger Goodell is a fine commissioner. He is a visionary. He is going to capitalize on the country's absolute rabid desire for the NFL. Fans will jump at the chance to see an 18-game regular-season slate (two more weeks of beer and chicken wings is admittedly appealing), and the owners will bathe in more money. But that doesn't make it right. Sometimes, enough is enough, and Goodell is going to be messing with a good thing. The players are the product, and they are going to suffer because of this. Then, in turn, the game is going to suffer. Who wins there?
[+] Enlarge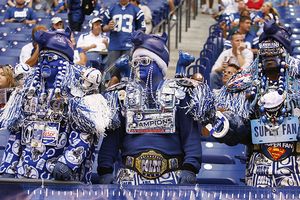 Brian Spurlock/US PresswireSundays during the regular season have become an event for NFL fans.
TG:
You just mentioned chicken wings and beer. I can think of two winners already.
BW:
Tim, I think we can both agree the toughest task for any NFL team to navigate a 16-game season is staying healthy. Nothing ruins a Super Bowl dream like a couple ripped-up knees. Going to an 18-game season will only increase season-ending injuries. Look, it's a month before training camp starts and there already have been several players lost for the season, including
Willie Colon
,
Limas Sweed
and
Thomas Davis
. It's a nasty game. Why make these guys risk further injury and further dampen their teams' Super Bowl hopes by playing two more games in the regular season?
TG:
I agree additional games will escalate the likelihood a given player gets seriously hurt. But some injuries are going to happen no matter what.
New England Patriots
receiver
Wes Welker
, for example, crumpled to the Reliant Stadium turf while making a cut in the regular-season finale. He wasn't touched. Who's to say he wouldn't have suffered the same injury the following Wednesday at practice?
BW:
Right, injuries happen all the time. That's my point. Why increase the season by 14 days and give players 14 more chances to get hurt in a game or in a practice? In an 18-game world, a team would have to play a minimum of 21 games to win a Super Bowl. It's currently 19 games. It may be only two more games, but that is a big difference down the stretch. It would be physically and mentally draining for players to wake up Dec. 1 and realize they have two extra games to play to reach their ultimate goal.
TG:
Wake up on Dec. 1 and then realize they have two extra games? Will the expanded schedule make comas more prevalent? The players, coaches and training staffs will prepare their players for the extra games from the start of the offseason conditioning program. Maybe, for once, organized team activities will become truly voluntary. Subtract some of those workouts. But there are possible in-season remedies too. I understand players will get beaten up with the accumulation of hits and strains. So return to a two-bye schedule, increase the roster size or do away with game-day inactives to give a team more players to use. The NFL also is talking about another developmental league to replace NFL Europa. That would help improve the quality of substitute players.
[+] Enlarge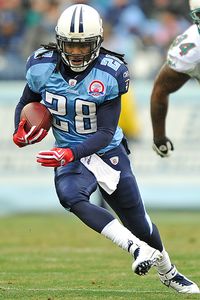 Don McPeak/US PresswireChris Johnson eclipsed 2,000 yards in 16 games. What would his target be in 18 contests?
BW:
The 16-game slate has been in play for 32 years, and it's working great. Every Sunday in the NFL is an event. Even in Detroit and Oakland, where the losses have been suffocating, game day is a cherished occasion. That's because there are only 16 game days a year. An NFL Sunday is a rarity. I love baseball. But if I miss my San Francisco Giants (who are killing me these days, by the way) on a busy Tuesday night, I know I'll have Wednesday to catch them. That's not the case with the NFL. Sundays in the fall are must-see NFL days. It also makes the season more urgent for the participants. "Don't mess up one of these 16 chances" is often the message from NFL coaching staffs to players. Increasing the number of games would take away from the game. What's next? Twenty games? Twenty-four games? Stop the madness. The football season is compact and intense. Why change it?
TG:
NFL games are events not because of how many there are, but because your team plays once per week. Fans revel in or grouse about the last game from the final whistle until about Wednesday morning, when they start looking forward to the upcoming opponent. The tension rises steadily as they talk trash about what's going to happen, they set their fantasy lineups, they maybe wager a few bucks, they attend a tailgate party and then settle into their seats for the opening kickoff. It's an unfailing routine. That's why fans go through a hangover the moment the season is over, and why they can't wait for the next season to commence. NFL games would remain an event if we had a 52-game schedule.
BW:
Let's not underplay the value of records. There are some stirring records out there that will be broken by the virtue of two extra games. That's not cool. Let baseball corner the market on asterisks. Why should the NFL have to play that game? It's just one more reason why moving to an 18-game slate would damage the integrity of the game. It's just not worth it. My message to Roger Goodell is this: Be happy with what you got. It's perfect.
TG:
Records, schmecords. NFL milestones stood up when the schedule was lengthened to 16 games in 1978. Running backs still target 1,000-yard seasons, but they stopped being special a long time ago. Last year,
Fred Jackson
hit quadruple digits. He'll be called a 1,000-yard rusher for the rest of his life.
Chris Johnson
rushed for 2,000 yards, and he was lumped in with O.J. Simpson, who did it in 14 games. Besides, records don't mean nearly as much as they used to because the game itself has changed. Steve Largent retired as the NFL's all-time leading receiver in 1989.
Derrick Mason
and
Larry Centers
, a fullback, have more catches, for crying out loud. Eighteen games. Bring it on.
June, 26, 2009
6/26/09
9:45
AM ET
Posted by ESPN.com's Tim Graham
To get in the spirit of ESPN.com's all-decade week, I asked readers on Monday to select their AFC East team for the 20-aughts.
Although some insisted on submitting ballots that included a 4-4-4 defensive scheme and somebody kept signing on under different usernames to stuff the box for guard Adam Levitre (I think "they" meant Buffalo Bills rookie Andy Levitre), the results were sound.
Here are your picks along with my own.
| | |
| --- | --- |
| | |
| | Al Pereira/NFL |
| | The Jets' Curtis Martin eclipsed 1,000 yards rushing in five seasons this decade. |
OFFENSE
Quarterback: Tom Brady.
Of note: One vote came in for anybody other than the two-time Super Bowl MVP. Chad Pennington was the recipient.
My pick: Brady.
Running back: Curtis Martin.
Of note: There have been some stellar rushing seasons in the AFC East, but not much longevity. Martin's closest competition was Ricky Williams. Beyond that, nobody received more than two mentions. Thurman Thomas, who had 28 carries this decade, got a vote.
My pick: Martin.
Fullback: Tony Richardson.
Of note: Richardson's career credentials are remarkable. He has blocked for five 1,000-yard rushers. But last year was his first in the AFC East.
My pick: Larry Centers. He spent only three seasons in the AFC East, but he had 80 catches for the Bills in 2001, earning him Pro Bowl honors.
Receivers: Randy Moss, Laveranues Coles.
Of note: The only thing worse than Richardson getting votes after one year would be Terrell Owens after zero. Thankfully, nobody made that mistake. Moss and Coles were clearly ahead of the field, with Lee Evans coming in third and Chris Chambers fourth.
My picks: Moss, Eric Moulds.
Tight end: Randy McMichael.
Of note: Aside from Brady, no player was more unanimous at his position than McMichael.
My pick: McMichael.
Tackles: Vernon Carey, Matt Light.
Of note: Only four tackles were nominated, with Light edging out Jason Peters by one vote. Kareem McKenzie was a distant fourth.
My picks: Light, Peters.
Guards: Logan Mankins, Stephen Neal.
Of note: Ruben Brown, a nine-time Pro Bowler at left guard, received only six votes.
My picks: Brown, Mankins. If Neal can learn right guard without playing a down in college, then Brown can learn how to play there on my team.
Center: Kevin Mawae.
Of note: Nick Mangold came in second with half as many votes as Mawae, a player many readers felt should have been on the NFL's all-decade offense instead of Olin Kreutz.
My pick: Mawae.
DEFENSE

Defensive ends: Jason Taylor, Richard Seymour.
Of note: Not even close.
My picks: Taylor, Seymour.
Defensive tackles: Vince Wilfork, Pat Williams.
Of note: Williams edged out Kris Jenkins, who's coming off his lone season in the AFC East.
My picks: Wilfork, Ted Washington. Washington was a Pro Bowler for the Bills in 2000 and won a Super Bowl with the Patriots in 2003.
Linebackers: Zach Thomas, Mike Vrabel, Tedy Bruschi.
Of note: Thomas was omitted from the NFL all-decade defense, but he received the most votes of any AFC East linebacker. Joey Porter finished fourth, four votes behind Bruschi.
My picks: Thomas, Vrabel, Takeo Spikes. Many folks overlook Spikes because his teams never had success.
Cornerbacks:
Ty Law
,
Asante Samuel
.
Of note: Aside from Brady, nobody received more votes at his position than Law.
My picks: Law, Patrick Surtain. While Samuel was a Pro Bowler i
n 2007, he started only three seasons for the Patriots. Surtain went to three Pro Bowls and was named All-Pro once this decade.
Safeties: Rodney Harrison, Brock Marion.
Of note: Marion edged Lawyer Milloy by a single vote.
My picks: Lawyer Milloy, Marion. Harrison had one All-Pro season with New England. Milloy was a two-time Pro Bowler and had productive seasons for the Patriots and Bills.
SPECIAL TEAMS
Kicker: Adam Vinatieri.
Of note: Some clown voted for Olindo Mare.
My pick: Vinatieri.
Punter: Brian Moorman.
Of note: Tom Tupa received a couple votes, but Moorman was the obvious selection.
My pick: Moorman.
Kick returner: Terrence McGee.
Of note: Leon Washington might have been impacted by readers splitting their votes for him between punt and kickoff returner.
My pick: Washington. He ran back three kicks in 2007, led the NFL in all-purpose yards last year and still might be getting better.
Punt returner: Roscoe Parrish.
Of note: He led the NFL in punt return yardage the past two years.
My pick: Parrish.

April, 6, 2009
4/06/09
9:10
AM ET
Posted by ESPN.com's Mike Sando

Lowell Cohn of the Santa Rosa Press-Democrat says Jay Cutler would have been "all wrong" for the 49ers. Cohn: "He is not a winner, has a losing career record: 17-20. Did you know that? You don't build a winner around a loser. He has a big mouth and he sulks. He has a reputation for being undisciplined and for coming unglued precisely when a quarterback is supposed to stay glued. Say what you will about [Shaun] Hill's limitations, he is supremely poised -- poise is his main virtue. The Broncos gave up on Cutler precisely because he's immature bordering on goofy and unstable."
David Fucillo of Niners Nation wonders if Dashon Goldson will stay healthy long enough to realize his potential as the 49ers' free safety.

Darren Urban of azcardinals.com checks in with the Cardinals' cheerleading tryouts because, hey, someone has to do it. This handy photo gallery is probably setting an NFC West offseason record for page views.
Revenge of the Birds' Andrew602 looks at some of the greatest fullbacks in Cardinals history. Ernie Nevers, Ollie Matson, Jim Otis and Larry Centers are part of the conversation.

Bernie Miklasz of the St. Louis Post-Dispatch says the Rams made a smart move in signing Kyle Boller as a backup quarterback. Looking ahead to the draft, Miklasz sees evidence the Rams will select an offensive tackle with the No. 2 overall choice. At the same time, can they really go into the season with Keenan Burton as a starting receiver?
Jim Thomas of the St. Louis Post-Dispatch says Boller's deal with the Rams, initially reported as a two-year contract, is really for one season.
Turf Show Times' Tackle Box examines the Rams' running backs while looking at available free agents and potential late-round draft prospects. The conclusion? "So, at this point, I really want the Rams to take a strong and long look at Warrick Dunn. I think with him in the fold, the Rams' offense becomes absolutely powerful. Plus, adding him takes away from our lack of experience at the WR position since you'd have the possibility of Steven Jackson, Warrick Dunn, and Randy McMichael running routes which would definitely keep defenses honest and should free up Donnie Avery deep."

Dan Arkush of Pro Football Weekly says Seahawks defensive line coach Dan Quinn is "very excited" about the team's versatility at defensive tackle. Arkush echoes the general feeling that Seattle will not seriously consider a defensive tackle with the fourth overall choice in the draft. The Seahawks have not drafted a defensive tackle among the top 20 overall choices since selecting Sam Adams eighth in 1994. The team has drafted five defensive linemen in the top 10: Steve Niehaus (1976), Jacob Green (1980), Jeff Bryant (1982), Cortez Kennedy (1990) and Adams. All but Niehaus played in at least 167 regular-season NFL games.