September, 3, 2011
9/03/11
3:12
PM ET
A running list of Saturday cuts around the AFC South so far, per reports from people in the know…

Houston
Indianapolis
Jacksonville
Tennessee
August, 3, 2011
8/03/11
1:02
PM ET
JACKSONVILLE, Fla. -- The Jaguars aren't looking for parades or pinwheels as congratulations. But in the two years since Gene Smith took over as general manager, they've basically gutted the roster. And while setting about a major rebuilding project, they remained competitive with a 7-9 season and an 8-8 campaign.

After another draft and an active free-agency period, they now feel the rebuild is complete.
"There is an expectation level in this league to win, and I think having some horses makes us all smile in this building," Jaguars coach Jack Del Rio said. "I think we went out and acquired some guys for the second and third level of our defense where we talked about needing some help. ... It's going to help us be a whole lot better.
"The pressure, the demands, that's part of what we do, and I love that part of it. It becomes a little more enjoyable when you know you're getting closer to being on equal footing."
Del Rio's not buying that the Colts are slipping, and he's not waiting for them to. The in-house expectation is that this team is capable of competing for the AFC South crown no matter what any other team in the division has going for it.
Bolstered by four upgrades among the top 12 players on defense, Jacksonville is a team that should be much improved. The Jaguars won't be a popular pick, but they could be a surprise, emergent team.
THREE HOT ISSUES
[+] Enlarge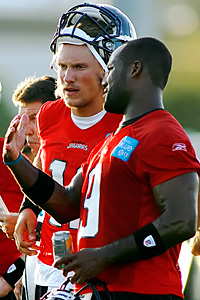 Phil Sears/US PresswireThe Jaguars say they will develop Blaine Gabbert (left) slowly and have David Garrard take the snaps as the team's starter.
1. Will there be a quarterback controversy?
The team stands firmly with
David Garrard
and intends to bring first-round pick
Blaine Gabbert
along slowly. But Gabbert has looked great early, while Garrard tends to be inconsistent. There are bound to be times during the season when there is some pressure to make a change from inside team headquarters, not just from media and fans.
"If we ever get to the point where we think Blaine is better than Dave, that's good for the Jaguars," offensive coordinator Dirk Koetter said. "Because I think Dave is good enough to win with; I think we can win our division with Dave Garrard at quarterback. If Blaine is better than Dave, shoot, that's good for us."
Del Rio and Koetter could have a complicated job managing how and when to play Gabbert if they feel he's forcing his way into the lineup.
"I've got a healthy appreciation for the desire out there to make it a story," Del Rio said. "For us, we're about maximizing our opportunities as a football team, playing the guys who give us the best chance to win games and working on the preparation. ...
"Through the course of competition and exposure and based on health, those factors kind of take care of themselves. I don't think we have to get ahead of the story. I think we can just let it play out, and at least we are doing so from a position of strength. There is no reason to make it dysfunctional, make it unhealthy. What purpose does that serve? It's not going to help us win more games."
It sounds good, but it can get complicated. Garrard's the guy right now, and the team and the quarterback need to do a better job of making sure he gets hit far less so he can make consistently good decisions with the ball.
Factor tight ends
Marcedes Lewis
and
Zach Miller
and running backs
Maurice Jones-Drew
and
Rashad Jennings
into the mix with the receivers, and the Jaguars have sufficient weapons to complement a run-based offense.
Mike Thomas
,
Jason Hill
and
Cecil Shorts
could be a better three-pack of receivers than many people think.
2. How much better can the revamped defense be?
If this defense doesn't improve from 32nd against the pass, 28th overall and 27th in points allowed, Del Rio will lose his job.
The team shelled out $37 million guaranteed to three prime free agents: linebackers
Paul Posluszny
and
Clint Session
and safety
Dawan Landry
. The Jags also added nickelback
Drew Coleman
.
That group, plus rookie defensive backs
Chris Prosinski
and
Rod Issac
, should vastly improve the defensive production and depth.
Smith wanted to build foundations early and spent his first two drafts working on the lines. Defensive tackles
Tyson Alualu
and
Terrance Knighton
should take up all kinds of blockers and create space for the two new linebackers and the underrated
Daryl Smith
to make a lot of impact plays.
"Jacksonville's interior D-line really stood out," Posluszny said about his research as a free agent. "They've got two studs in the middle that are very active, get to the ball a lot and certainly are going to take up a lot of blockers."
Safety play last season was horrific, and Landry will be a significant upgrade even though he didn't bring
Ed Reed
with him from Baltimore.
"I'm not looking for any grace period to assemble this defense," Del Rio said. "Guys we're assembling and counting on for the most part are veterans. ... We're going to expect to play coming out of the gate as a winning football team, and defensively we've got a lot of work to do."
3. Can they play well late in the season?
December is a debacle for this team.
In the past three seasons in games played in December and beyond, the Jaguars are 4-11. They need to learn to finish games and seasons better. What can change it?
"I think in Week 13 or something, we had a better record than the Packers did last year," Daryl Smith said. "They got hot, and who would have thought they would go on to win? That could be us. Why not? We have to try to stay off of that roller coaster, try to be consistent, just get better each week. Steady, steady, steady, then come late November or December, get hot."
"I've been in the playoffs twice since I've been here and that's been the formula. … We can't feel like we arrived when we have a good game or played well and won a couple games."
Del Rio says that with a more talented roster, he has to guide it to better work in the last quarter of the season.
BIGGEST SURPRISE
[+] Enlarge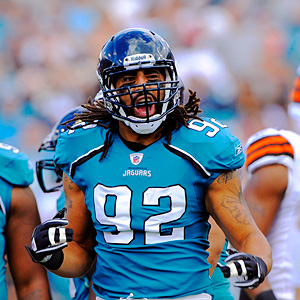 Scott A. Miller/US PresswireJacksonville could look to Austen Lane to help solidify their defensive line.
Beat writers and fans call
Austen Lane
"The Bringer of Pain." It's funny. But he looks like a guy who will make it hard for the team to look anywhere else for its second starting defensive end. He can be a ball of fury, and that will fit right in with the tone and tempo of the rest of the defensive front.
BIGGEST DISAPPOINTMENT
Right tackle
Eben Britton
came in with a reputation as a nasty player, and the team missed him last season when he was lost with a shoulder injury. I've picked him as a breakout-caliber guy this season. But word is he has not been great so far. Perhaps he's still being cautious and easing his way back, but he needs to take things up a big notch soon.
OBSERVATION DECK
Two years ago, people were writing off center Brad Meester. But defenses were taking advantage of weak guard play to get to him. He rebounded well last season and is a guy whom coaches love as a reliable offensive line leader.

Knighton's weight always will be an issue. The defensive tackle is a great player and superlikable guy. The team cannot hold his fork for him. The more he can control it, the more impact and money he will make.

Prosinski could well be in the opening day lineup as the free safety. He worked with the first team early in camp and might be up to a pairing with Landry in the middle of the secondary. Rashean Mathis and Derek Cox need to play better at corner, but the Jaguars will improve from the safety upgrades and from the presence of veteran nickelback Drew Coleman.

Looking for an underdog to root for? How about undrafted free agent Marc Schiechl? He set a Football Championship Subdivision record for sacks at the Colorado School of Mines.

Scotty McGee isn't working with defensive backs regularly anymore. Can he stick as strictly a punt-return specialist? He caught 185 punts on one day of camp. And the team should move away from using Thomas in the role, although McGee is hardly the only alternative.

I like Miller, and the team raves about his potential. But he's been inconsistent early in camp with too many drops. He's got great hands, so it seems to be a focus issue.

Larry Hart may be in the doghouse for coming back from the lockout overweight. At defensive end, he currently ranks behind Aaron Kampman, Lane, Jeremy Mincey and Aaron Morgan.

Fourth-round receiver Cecil Shorts was great in camp early, and I bet the undrafted crop of wideouts has at least one NFL-caliber guy. Keep your eyes on Armon Binns, Jamar Newsome and Dontrelle Inman.

Third-year receiver Jarett Dillard is running well after a couple of injuries cost him the bulk of his first two seasons.

Watch how much better punter Matt Turk gets now that he will be a beneficiary of the Jaguars' topflight cover guys, Montell Owens and Kassim Osgood.

The Jaguars may be content to use Jones-Drew, coming off a knee operation, very minimally in camp and preseason games.

Veteran Jason Spitz has not been on the field yet, but I think the team would like for third-round pick Will Rackley to win the open left guard spot.
March, 31, 2011
3/31/11
1:30
PM ET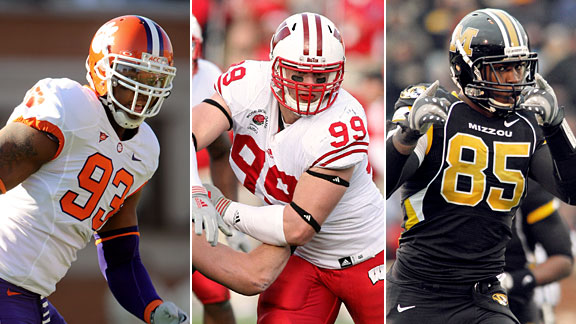 Icon, Icon, US PresswireDa'Quan Bowers, J.J. Watt and Aldon Smith are likely first-rounders who are under the microscope.
It's the right year to need a defensive lineman in the first round, and in the AFC South, it wouldn't be a huge surprise if all four teams spent their first pick in the draft on a tackle or an end.
Speaking briefly Tuesday night before a charity event, Titans general manager Mike Reinfeldt offered nothing substantive on his quarterback-needy team's feelings about the quarterback prospects.
But the guy running the team's draft is also in need of a couple of defensive linemen, and joined the chorus raving about the talent available.
"I think it's going to be very tempting because I think there will be 14 or 15 defensive linemen that go in the first round," he said. "So that'll make an interesting choice for a lot of people in the first round."
NFL Draft Scout rates seven ends and two tackles as clear first-rounders and another two ends and four tackles as possible first-rounders. Some of those ends could wind up as pass-rushing outside linebackers in a 3-4.
At the NFL scouting combine, many of the hot defensive linemen expressed pride in the strength of their position in this draft.
"I look at it like, if you go back in the history of watching football, before the game was started, it started up front," said
Marcell Dareus
, the Alabama tackle who's expected to be the first defensive lineman off the board. "Some people were scared and backed up off the ball. But the real bulls stayed up front and played the game."
The compelling group that could have guys coming to try to hit
Peyton Manning
and
Matt Schaub
and slow
Arian Foster
,
Maurice Jones-Drew
and
Chris Johnson
includes a guy who plays the guitar and the drums (Clemson end
Da'Quan Bowers
), another who had a brain tumor removed five years ago (North Carolina end
Robert Quinn
) and a third who started out not in football, but in rugby (Oregon State tackle
Stephen Paea
).
I asked one college scout from the AFC and Matt Williamson of Scouts Inc. to pair each AFC South team with a defensive lineman likely to be available at each team's slot. Here's what they said.
Tennessee (No. 8)
Scout:
Bowers
"Add him to a young
Derrick Morgan
and Titans would have bookend defensive ends with pass-rush ability for many years. Look at the Titans' current DEs:
Jacob Ford
(potential free agent) is a nickel pass-rusher;
Dave Ball
(free agent and injuries) is a rotational player only;
Jason Babin
(free agent) is a one-year wonder and honestly just a pass-rusher;
William Hayes
is a base/run-down end. So the need is there for sure. Players that can play the run and rush the passer usually never hit free agency, they aren't allowed to because they are so hard to find. If there wasn't a issue with the knee, Bowers wouldn't be there at eight."
Williamson:
Auburn tackle
Nick Fairley
or Quinn
"Value and upside. Both players are dripping with upside, but have some questions. The Titans' new line coach, Tracy Rocker, comes from Auburn and already has a relationship with Fairley. He is just too good of a prospect to pass up at that point of the draft. And Tennessee's line has enough guys already that they could sort of ease either player into his respective role."
Texans (No. 11)
Scout:
Wisconsin end
J.J. Watt
"A great choice for a 5-technique player. High motor, excellent size with potential to add to frame, great kid with a huge upside. I am ignoring obvious pass-rushers because they are outside linebackers in a 3-4 defense and you wanted a lineman. The [Texans] are in need of a pass-rusher more than a 5-technique end --
Mario Williams
,
Shaun Cody
and
Antonio Smith
all fit that position.
Amobi Okoye
is a quick nose tackle, but not a true nose. They will need to upgrade that spot as well, but there is not a value nose tackle for them with the 11th pick."
Williamson:
Watt or Cal end
Cameron Jordan
"For Houston, I think they would love to get a 5-technique like JJ Watt or Cameron Jordan. Nose tackle is the bigger need, but taking [Baylor's]
Phil Taylor
there is too early."
Jacksonville (No. 16)
Scout:
Missouri end
Aldon Smith
"An excellent pass-rusher. Young, inexperienced but has a huge upside. Should grow into his frame and maintain athletic ability. They lack true pass-rushers.
Larry Hart
is a situational rusher at best.
Austen Lane
is a run-down player… at best.
Derrick Harvey
hasn't worked out. And they are already solid in the middle. [Miami end]
Allen Bailey
, [Iowa end]
Adrian Clayborn
and Cameron Jordan are too close to what they have already. The only other option would be [Purdue end]
Ryan Kerrigan
, but he and
Aaron Kampman
are similar in skills and limitations. Aldon has true edge pass-rush ability."
Williamson:
Aldon Smith
"I like Smith a lot for Jacksonville. They are set at tackle, so they only would look for an end up front in my opinion. He is loaded with upside. And with all this defensive line talent in this draft, he could be a real value pick where they select."
Indianapolis (No. 22)
Scout:
Illinois tackle
Corey Liuget
"He would be a great choice for them. A very athletic defensive tackle with size, effort and upside. He can play the run as well, but helps with pressure on inside. He is a very good combo DT playing run/pass equally well. They are set at defensive end.
Jerry Hughes
will come around and they will have three solid players at the spot. Liuget adds to depleted interior group."
Williamson:
Taylor or Liuget
"Indy might pounce on Taylor to clog up the middle or if Corey Liuget is still there, he would be ideal. I would say it is unlikely, but Bill Polian doesn't care about what others think and he likes 'his type of players' ... so
Drake Nevis
from LSU could be someone he really likes."
March, 10, 2011
3/10/11
12:29
PM ET
»
NFC Draft Watch
:
East
|
West
|
North
|
South
»
AFC
:
East
|
West
|
North
|
South
Each Thursday leading up to the NFL draft (April 28-30), the ESPN.com blog network will take a division-by-division look at key aspects of the draft. Today's topic: Needs.

Houston Texans
Where to start? The defense needs a major personnel infusion, starting at safety, where this draft is weak.
Eugene Wilson
(cut) and
Bernard Pollard
(not tendered in case he would be restricted) are not going to be back. They need candidates for both starting spots.
Outside linebacker in Wade Phillips' 3-4 is a void, where rehabbing 4-3 end
Connor Barwin
is slated to be one guy and there is a blank on the other.
The team has talked confidently about
Shaun Cody
, who got a two-year contract, and second-year man
Earl Mitchell
being capable of playing the nose for Phillips. They can certainly upgrade.
The best answer for a group of too-young cornerbacks would be a veteran, not a rookie, but who knows how the next guy arrives? And a No. 2 wide receiver better than
Kevin Walter
who can do what they'd hoped
Jacoby Jones
would do would be nice.

Indianapolis Colts
We've been hearing about the need to get a tough yard in a crucial situation with the run game for some time and haven't seen the personnel changes necessary. Then Bill Polian said during the season that yes, offensive tackle
Rodger Saffold
(drafted by the Rams in the second round) could have helped the Colts. The team needs offensive linemen, plural. At least one high-quality guy who can contribute from opening day would be big.
When they're healthy, Indianapolis has a great four-pack of receivers in
Reggie Wayne
,
Austin Collie
,
Pierre Garcon
and
Anthony Gonzalez
. But health questions on Collie and Gonzalez will linger; none of those guys looks to be an heir to Wayne's role, and the
Peyton Manning
-era Colts have spent premium picks on skill guys.
The corner depth proved pretty good, but even if they are ultimately able to re-sign
Melvin Bullitt
, the Colts need some depth at safety.

Jacksonville Jaguars
While
Courtney Greene
may be a serviceable NFL safety,
Don Carey
probably is not. Odds are the Jaguars draft one and sign one at a position that was a big weakness in 2010.
Linebacker is also a spot of need.
Daryl Smith
is locked in, but the team probably will allow
Kirk Morrison
and
Justin Durant
to walk as free agents, meaning they need a starter on the middle and the outside.
Defensive end wouldn't seem a need considering the team drafted
Larry Hart
and
Austen Lane
last season after adding veteran
Aaron Kampman
. But the pass rush is not where they want it, and a rush end could well be a position they address.
Inconsistent quarterback
David Garrard
needs to see the team have a legitimate alternative, and he should come from this draft. And those two quarterbacks plus
Luke McCown
need a No. 1-caliber receiver to head a group that won't bring
Mike Sims-Walker
back.

Tennessee Titans
It starts under center, where the Titans do not have a No. 1 or No. 2 quarterback. They intend to add one veteran and one rookie and could easily spend their first or second pick on a signal-caller.
The team needs to get bigger and more durable on the defensive line. A beefy tackle and a rugged defensive end are on the wish list, and both could help make things easier for the rest of the defense. The interior didn't collapse the pocket a lot, and the smallish ends wore down. Three of them are heading for free agency --
Jason Babin
,
Dave Ball
and
Jacob Ford
.
Stephen Tulloch
is heading for free agency, and the Titans didn't get enough plays out of the linebackers last year, so they could upgrade.
Chris Hope
's replacement at strong safety doesn't appear to be on the roster. While it's a thin draft at the spot, the Titans need to find a candidate.
February, 24, 2011
2/24/11
2:27
PM ET
INDIANAPOLIS -- The
Jacksonville Jaguars
clearly need help in the middle of their secondary. General manager Gene Smith said it's reasonable to expect the team will draft one safety and acquire another in free agency.
But when I asked him about the balance between the pass rush and the coverage for a team that spent its first four draft picks on defensive linemen last year and signed free agent end
Aaron Kampman
, Smith left the door open for more pass-rush help.
"We're still going to improve the pass rush so it's not out of the realm of possibility that if a defensive end is the best available player that we'd add a defensive end," he said. "I'm always going to try to be heavy in numbers on the offensive and defensive lines.
"We've certainly got to improve on both ends, on the front end creating more rush -- even though we improved, we're not where we need to be yet -- and on the back end making plays on the ball. We were certainly delinquent at the safety position, I don't think that's any secret, and hopefully we're able to address some things there to help us moving forward."
The Jaguars have significant investments in picks, money or both in Kampman,
Derrick Harvey
,
Austen Lane
and
Larry Hart
. But they could be done with Harvey if he doesn't show a major spark.
A lot of draftniks have paired the Jaguars with Ryan Kerrigan, because he played four years at Purdue and seems to fit the Smith mold in terms of experience, work ethic and leadership. But there could be other guys of value in the conversation at No. 16 such as Wisconsin's J.J. Watt in what's expected to be a first round loaded with defensive end selections.
August, 4, 2010
8/04/10
10:03
AM ET
ESPN.com NFL Power Ranking
(pre-camp): 26
JACKSONVILLE, Fla. -- The 2009
Jacksonville Jaguars
were a fourth-place team that lost its final four games.
Seems to me the logical goal would be trying to move out of the basement and establish some upward mobility in a tough division. But
Jack Del Rio
and his troops aren't thinking that way, and who does, really?
They are thinking bigger.
Jack Del Rio has talked to them about contending for a championship.
"I kind of cut my teeth in Baltimore on the same staff with Rex Ryan [under] Brian Billick," Del Rio said. "You can't tiptoe in and hope you don't wake the guy up and you're going to sneak up on somebody and, 'Oh, shh, here we come and be quiet.' In many respects in the NFL, you've got to take what you want. You've got to set some goals and then go after them. And I don't think there is anything wrong with having a goal of being champs."
"Now the reality is, we've got to cover a lot of ground. I'm not unrealistic with that. But I'm not going to concede anything. We're going to work our tails off to maximize our potential. We can say this is our goal, this is our mission to do these things, but our focus has to be on squeezing what we can out of every day."
Or as
Maurice Jones-Drew
said, you never run a race you once lost aiming to finish second-to-last.
THREE HOT ISSUES
[+] Enlarge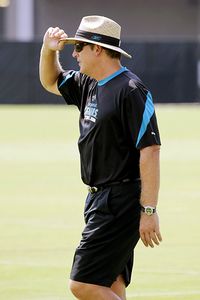 AP Photo/John RaouxJack Del Rio will need to keep his eyes on the safety position this season.
1. Are the safeties enough?
They have faith in
Gerald Alexander
at strong safety, though he's not a guarantee to lock down a spot all season. But free safety is a huge issue.
Reggie Nelson
struggled badly last season with botched coverages and missed tackles and
Anthony Smith
didn't do a lot to displace Nelson last year. Word is Nelson has been better, but neither guy has made a big impression in practices I've seen so far.
They need the free safety to consistently play a reliable center field. And if he can't make a tackle, he at least has to hold the ball carrier up long enough for help to arrive.
With two games against
Peyton Manning
and two against
Matt Schaub
, if one of those guys can't provide help to corners
Rashean Mathis
and
Derek Cox
-- even if there is a vastly better pass rush -- the Jaguars could have some long AFC South afternoons.
They could look for an additional option on waivers.
2. Is there enough weaponry to go with Jones-Drew and Mike Sims-Walker?
Jones-Drew is a top-flight weapon taking handoffs or running under short passes and Sims-Walker did well establishing himself as a go-to guy for
David Garrard
. But beyond them, do the Jaguars have the playmakers to take the next step?
They certainly have a large pool of candidates.
Marcedes Lewis
averaged 16.2 yards per catch last season, the best number in the league for a tight end, and another tight end,
Zach Miller
, is a potential big-play option.
Troy Williamson
hasn't created buzz yet as he did last camp, but I still think they'd like him to secure the starting role opposite Sims-Walker because of his field-stretching speed. The three receivers from the 2009 draft --
Mike Thomas
,
Jarett Dillard
and
Tiquan Underwood
-- are an intriguing pool. I anticipate Thomas can really grow into a nifty slot option.
They also like sixth-round pick
Deji Karim
from Southern Illinois, a quick back who could earn some touches and can win the kick return job. He'll probably have to get past
Rashad Jennings
to be a factor on offense, and I feel like they still like Jennings plenty too.
[+] Enlarge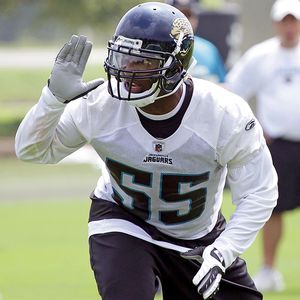 AP Photo/John RaouxThe Jaguars will need linebacker Kirk Morrison to lead.
3. Do they have sufficient leadership?
While they are relying on a load of young talent, particularly on defense, the two significant veteran imports -- free-agent defensive end
Aaron Kampman
and trade-acquisition middle linebacker
Kirk Morrison
-- need to lead the way.
"You want to give the young guys everything that you've seen in the league," Morrison said. "I've been in the league five years already. I've seen what losing can do, how it can separate a team. I'm saying this is what needs to be done, if you want to go out and win games, you've got to work like this. Losing was not fun. There are things I can bring over here like my toughness. I've never missed a game in the National Football League."
The best way to lead is to produce. Morrison can be a tackling machine, and if Kampman returns healthy to a 4-3 defense a year after major knee surgery, he's a constant threat to the quarterback.
BIGGEST SURPRISE
Defensive end
Jeremy Mincey
has been productive on a daily basis so far. With a crowd at defensive end including Kampman,
Derrick Harvey
and rookies
Austen Lane
and
Larry Hart
, can Mincey stay healthy and wedge himself onto the roster? The line overall is a young bunch, but its new position coach, Joe Cullen, has the group absolutely flying around and setting a tone the entire team would be wise to follow.
[+] Enlarge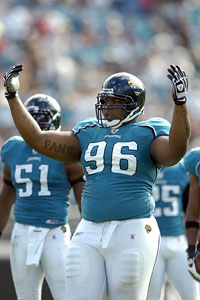 AP Photo/Stephen MortonThere have been concerns about defensive tackle Terrance Knighton's weight.
BIGGEST DISAPPOINTMENT
Defensive tackle
Terrance Knighton
's got a good head on his shoulders and has time to get where he needs to be. But he was 346 pounds on Monday, and the team would like him close to 330. If his play drops off, they could be in trouble in the middle no matter how good first-round pick
Tyson Alualu
is, and he's been real good from what I've seen of him at OTAs and in his debut camp practice. The team can't move into Knighton's house and feed him, but how did his weight get so out of hand?
OBSERVATION DECK
Vince Manuwai's flipped from left to right guard and the Jaguars will make that their power side for the run game. But if he doesn't bounce back from a poor 2009, when he was coming off reconstructive right knee surgery, the team could look to Kynan Forney as the next best interior run blocker.

Undrafted running back Chad Kackert catches everything and can turn and go… Are there too many guys on this team who can play good to great special teams but not contribute on offense or defense?

I like the way Ted Monken teaches receivers on the field -- with pointed-but-encouraging detail. I watched him spell out to Roren Thomas how and why he needed to be patient and allow a play to develop for his quarterback after he'd run a short route way too quickly.

Harvey and Hart have created some buzz. Are they off to really good starts, or is a slow start by right tackle Eben Britton contributing?

The Jaguars really like second-year corner Don Carey, and it would seem he'd make sense to be the nickel. But Del Rio left the door open that Carey could even earn a starting spot. Left unsaid is whether Del Rio thinks that would impact veteran Mathis or second-year man Cox, whom they loved as a rookie. Or perhaps he's just looking to light fires.

I hope offensive coordinator Dirk Koetter runs some option with tight end Zach Miller taking snaps. It'd create excitement and a wrinkle for a team that can be limited on offense and wouldn't suffer for taking some snaps from Garrard.

An early Achilles injury to third-round defensive tackle D'Anthony Smith already puts a dent in the depth there. Walter Curry will be a beneficiary.
July, 29, 2010
7/29/10
11:08
AM ET
We see teams go first-to-worst or worst-to-first all the time in the NFL -- except in the AFC South, where the Colts have won the division crown in six of eight chances since realignment and have won 12 games or more seven years running.
Indianapolis' successes, and its four-time MVP quarterback, make it hard to predict a dramatic, upside-down season in the division.
The question is more about who can close the gap on Manning and the Colts; how the Texans, Titans and Jaguars stack up; and if one of them can find a door into the playoffs as a wild card.
The Texans and Jaguars begin their push with camp practices Friday. The Titans open Saturday, and the Colts are on the field Monday.
FOUR BIG QUESTIONS
[+] Enlarge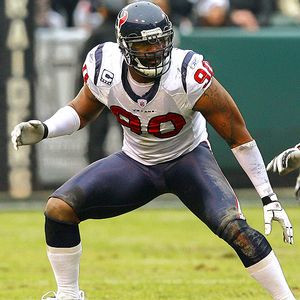 Kevin Terrell/Getty ImagesMario Williams has 35 sacks the past three seasons.
Houston Texans: How does the defense better defend the pass?
Veteran corner
Dunta Robinson
is gone, first-round pick
Kareem Jackson
is in as the team's top corner. Is a secondary of Jackson and
Glover Quin
at corner,
Eugene Wilson
at free safety and
Bernard Pollard
at strong safety enough to slow down opposing offenses? Not without two other major developments.
The defensive front must apply more consistent and effective pass pressure. A monster season from
Mario Williams
, a big second year from
Connor Barwin
and more toughness from
Amobi Okoye
could do the trick. Okoye in particular needs a big camp or he could lose reps to rookie
Earl Mitchell
.
Matt Schaub
and
Andre Johnson
and a better run game could help a great deal, too -- if Houston is able to put up big points, some opponents won't be able to take advantage of that secondary enough to keep up.
Indianapolis Colts: How do the receivers shake out?
If
Anthony Gonzalez
is healthy and back to form, the Colts could be stacked at receiver. Provided
Pierre Garcon
and
Austin Collie
can build on what they did with Gonzalez out for all but the first game last season, the Colts should be four-deep at receiver with those three behind
Reggie Wayne
. With Wayne leading the way and tight end
Dallas Clark
also coming off a 100-reception season,
Peyton Manning
could have his best group of pass-catchers ever.
I think if everyone is healthy, everyone will get chances. Perhaps certain games and certain matchups will call for certain guys to be used more. But I can't see Gonzalez, Garcon or Collie with a significantly minimized role unless one of them plays his way to the bench or is injured.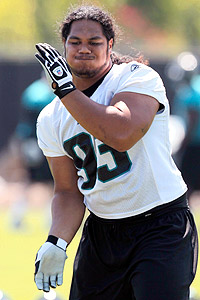 AP Photo/John RaouxTyson Alualu was the first of four defensive linemen the Jaguars drafted in 2010.
Jacksonville Jaguars: How will the defensive line rotation develop?
New line coach
Joe Cullen will want his best guys on the field the most, but he's also going to have to get them some rest so they can play fresh. Presuming
Aaron Kampman
and
Derrick Harvey
start at end and
Terrance Knighton
and
Tyson Alualu
start at tackle, who will be the guys behind them that ensure minimal drop-off?
Rookie ends
Larry Hart
and
Austen Lane
and rookie tackle
D'Anthony Smith
will all have opportunities as the Jaguars try to get to the quarterback a lot more often a year after collecting just 14 sacks. If the rush is better, watch the linebackers and secondary become better, too.
Tennessee Titans: Have the Titans cured their return game woes?
Things were so bad a year ago that when the Titans found guys who could fair catch punts while backing inside the 10-yard line it was considered a moral victory. Coach Jeff Fisher considers himself a return expert because of his own experience as a player. To his credit, he confessed he botched it last year by being overly reliant on unproven rookies. The solution? The Titans hope it's unproven rookie
Damian Williams
, a third-round receiver out of USC.
If he's muffing punts and kicks in camp, we should also see rookie
Marc Mariani
fielding punts, and we could see
Kenny Britt
back to fetching kickoffs. Merely being able to avoid mistakes shouldn't be good enough. The Titans should expect to make plays in the return games.
HOTTEST SEATS
Colts: Offensive line coach Pete Metzelaars:
He's got the confidence and full backing of president Bill Polian and coach Jim Caldwell. But replacing legendary coach Howard Mudd is a large charge. And it's widely held that the group he's working with isn't composed of great run-blockers and benefits a great deal in the passing game from Manning's propensity for getting the ball out quickly. During summer workouts, players said that Metzelaars had already tinkered with
some technique
and re-energized the group.
[+] Enlarge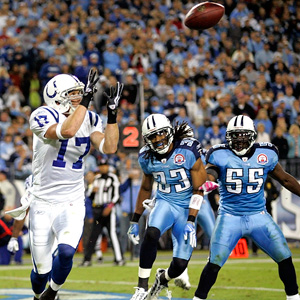 AP Photo/Wade PayneA Pro Bowler in 2008, Michael Griffin had a subpar season in 2009.
Jaguars: David Garrard.
Jacksonville's quarterback is 32 years old, and while his term as a starter began relatively late, he's at a point where a lot of people give him the underwhelming description of "he is what he is." If things unfold according to how a play is drawn up, he can be good. But things rarely unfold like that. He can be too inaccurate and doesn't execute in the clutch often enough. Good season or not, the Jaguars are expected to look to draft a first-round quarterback in 2011.
Texans: Kareem Jackson.
You hate to be overly reliant on a rookie, but the Texans have put themselves in that spot. First-rounder Jackson has to be able to cover tightly and find the ball if Houston stands a chance to so much as split with the Colts while Manning is dropping back and looking into the Texans' secondary. They could have eased the pressure on their new No. 1 corner with an option beyond Eugene Wilson at free safety, but failed to address the position at all.
Titans: Michael Griffin.
Tennessee is counting on a lot of young guys who are taking on bigger roles to be productive. But even if they are all good, it may not matter if Griffin, a Pro Bowl safety in his second season, plays as poorly as he did in his third. Distracted by off-the-field personal issues, he bit on play-action, took terrible angles and missed tackles he has to make while the Titans' pass defense fell apart. That won't work with two games against Manning, two against Matt Schaub and matchups against
Eli Manning
,
Tony Romo
,
Philip Rivers
and
Donovan McNabb
.
[+] Enlarge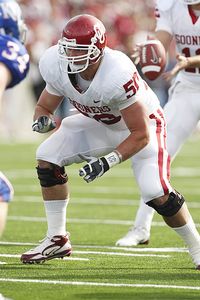 WD/Icon SMIThe Colts are hoping fifth-round pick Brody Eldridge can make a difference in the running game.
SECRET WEAPON
Colts TE Brody Eldridge.
The Colts did not make a major addition to their offensive line mix after Bill Polian called the group out for its Super Bowl performance. The stretch play, once a staple of their run game, has largely disappeared without edge blockers who can lead it effectively. But fifth-round pick Eldridge can be a big influence in this department. Expect him to displace
Gijon Robinson
. And watch him work effectively as a pass-catcher as well.
INTERIOR DESIGNS
All four AFC South teams could
look different
on the interior offensive line on opening day. The Colts are looking at busted left tackle
Tony Ugoh
as a guard. The Jaguars brought in
Justin Smiley
, could be finished with aging
Brad Meester
and haven't been wild about
Vince Manuwai
's play since he returned from a 2008 knee injury. The Texans added veteran
Wade Smith
and would like second-year man
Antoine Caldwell
to seize a spot. Those three lines need sorting out.
The Titans, who had a 2,000-yard rusher and gave up only 15 sacks, have also made changes, shifting left guard
Eugene Amano
to center to replace
Kevin Mawae
, an unsigned free agent, while inserting
Leroy Harris
in Amano's old spot.
It's possible all four teams run better up the middle and shield their signal-callers from the inside rush better than they did a year ago.
May, 3, 2010
5/03/10
9:43
PM ET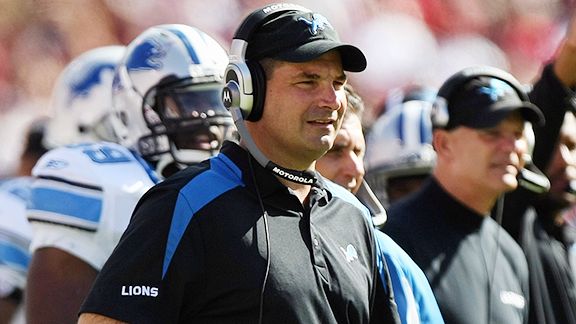 Jed Jacobsohn/Getty ImagesJoe Cullen is back in the NFL, bringing energy and high-decibel levels to the defensive coaching staff.
JACKSONVILLE, Fla. -- The volume's been turned up to 11 over at the defensive line area of the Jaguars' practice.
Joe Cullen prowls and hollers, prods and hoorays as he pushes a revamped group that's expected to revitalize Jacksonville's defense.
Last year's 14 sacks were the fifth-worst total in the league since it started keeping sack stats in 1982. Enter Cullen, a once successful coach in Detroit who made national headlines for passing through a drive-through naked, a stunt that ultimately landed him out of the league.
Now he's been given a second chance as well as the first four picks of the Jaguars' draft and a veteran rusher in free-agent addition
Aaron Kampman
.
The Jaguars didn't do much behind that line. Veteran linebacker
Kirk Morrison
, acquired in a trade with Oakland, is the only real notable addition. A better pass rush, they say repeatedly, will do much to cure other ills like those at safety.
As Cullen had each lineman weave through four tackling dummies at minicamp practices that wrap up Monday, clubbing and ripping each one before turning left and flattening a fake quarterback, he left little unsaid.
"It's time to get double-digit sacks around here Harv," he bellowed to end
Derrick Harvey
, the team's top draft pick in 2008. "Not four sacks. That's what you were brought here to do: Rush."
He urged "tempo, tempo" and his assistant, Ben Albert reminded the troops: "We've got to reclaim the line of scrimmage."
"I think this is a great group they've given me to work with," Cullen said. "…It all starts up front. Basically the organization and the team is depending on us to lead the team, to lead the troops."
Two veteran linemen, newcomer Kampman and
Reggie Hayward
who came here in 2005, both love Cullen so far.
"I love his passion," said Kampman, the former Green Bay star. "The position is so much about relentlessness, tenacity and obviously those are some of his strong characteristics as a coach. He knows a lot about rushing the quarterback. He's learned from a lot of great guys in his career and one thing I've learned is you always look at the pedigree."
Those influences include Chicago defensive coordinator Rod Marinelli and Indianapolis defensive line coach John Teerlinck.
Said Hayward: "[Cullen's] whole motto is to work hard, to go after it. He's an intense little guy from upper New York or Jersey or somewhere. He says 'tonic' and not 'soda' and he's a little fireball. That's what you need, man. I think he's perfect for what we've got going on."
"The identity of the D-line is going to be hard work. We may not be as big as
John Henderson
or
Marcus Stroud
. But most of the time making plays is just effort. Do you give up? Or do you continue to work?"
The Jaguars
hired Cullen
in January with
the blessing
of commissioner Roger Goodell.
The quick recap of his fall: Cullen drove through a suburban Detroit Wendy's naked in 2006 -- a scene later revisited through a
Jon Kitna
Halloween costume. Cullen was arrested for that and separately for a DUI, incidents that led to a suspension for one game by the team, another game by the league and a fine of $20,000 for conduct detrimental to the league.
The two cases resulted in fines and 10 days of community service as well as a judge's order to attend outpatient treatment and Alcoholics Anonymous meetings.
"Motivated guys are great, right?" asked head coach Jack Del Rio. "Players or coaches, that's what you want… I know Joe's very hungry for an opportunity, when he's been in the league and the line's he's worked with he's done a nice job with and I think he's very thankful for a second shot."
"All I know is that there isn't a single one of us that's perfect, I know I'm not," Kampman said. "This profession obviously puts you in a fishbowl and the great thing is that I know he's addressed it with the group and is moving forward. Each and every one of us needs to be about redemption."
Cullen started off our chat with an emphasis on how grateful he is to owner Wayne Weaver, GM Gene Smith and Del Rio for the second chance.
In three seasons in the same post in Detroit, he had pretty good line play on pretty bad teams. In 2007 the Lions jumped from 24th to ninth in the NFL in sacks, and the defensive line accounted for 28.5, seventh-most in the league.
But he was exiled in 2009 when the Lions started over with a new coaching staff. He spent the year as an assistant at Idaho State.
He and his 2010 draft class will get a lot of attention this year. His rookie pupils include tackle
Tyson Alualu
, the 10th overall pick from Cal, third-round tackle
D'Anthony Smith
and fifth-round ends
Larry Hart
and
Austen Lane
.
"They're very talented, they're very gifted," Hayward said. "This is the time for someone to say, 'Hey, we've got a lot at stake here. Now do you want to mess it up by being a goof off or do something special?'"
Cullen isn't so much worried about quantity as quality in the sack department. He said he craves "impact sacks," the kind that come with strips or turn field position at a crucial spot in a game.
The defensive line won't be judged on sacks and can affect games in many more ways, Smith said.
"I think it's about making the quarterback move," Smith said. "You'd like to get him down a lot. But you make him move, most quarterbacks who can't set their feet to throw, cannot throw the ball accurately. So you get opportunities for more pass break-ups, for interceptions and you certainly get opportunities to get off the field with an incompletion."
Cullen's hardly set modest goals, especially considering it's a team with one very big star in running back
Maurice Jones-Drew
.
"We're going to be the face of the organization and really be the group that creates a relentless attitude about getting to where we want to be," he said. "So we've got to not just be good, we've got to be great in everything we do."
April, 24, 2010
4/24/10
1:29
PM ET
When the
Jacksonville Jaguars
went off the map in the first round, I
defended them
.
But through four picks, a critical eye without anything close to a full read on their recent picks sees a team obsessing over its defensive line, and perhaps getting a little excited about some small school talent.
They have gone defensive tackle, defensive tackle, defensive end and defensive end with their first four picks. They didn't have a second rounder and traded their fourth for Kirk Morrison.
The fifth-round ends are
Larry Hart
, No. 143 pick out of Central Arkansas, and
Austen Lane
, No. 153 out of Murray State.Hart may be a linebacker for the Jaguars. If so, they've spread out a bit more.
PFW says Hart, who wasn't at the combine, is a productive leverage rusher and that Lane is a lanky finesse rusher.
The Jaguars are now fully stocked at end. They already have Aaron Kampman, Derrick Harvey, Reggie Hayward.
Jacksonville just traded their third fifth-rounder, No. 158, to New Orleans. I don't see details of what they got for it yet.