December, 1, 2010
12/01/10
12:00
PM ET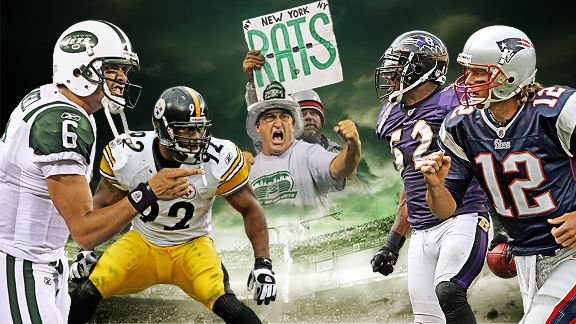 ESPN.com IllustrationTwo of our NFL bloggers weigh in on which division boasts the better rivalry.
Two of the NFL's hottest rivalries will take center stage in Week 13. Lucky for us.
The
Pittsburgh Steelers
will visit the
Baltimore Ravens
on Sunday night. The
New York Jets
then will visit the
New England Patriots
on Monday night. Combined record of the four teams: 34-10.
Millions of football fans will be tuned in to see both marquee matchups with superstars and storylines aplenty.
But which pairing represents the NFL's best divisional rivalry?
Each matchup has a history, quality quarterbacks and plenty at stake for the playoffs. A couple of feisty bloggers -- James Walker from the AFC North and Tim Graham from the AFC East -- will state a case for why his division has the better rivalry.
James Walker:
Tim, I just want to apologize in advance, because I don't think you have much of a leg to stand on comparing these two rivalries. Do you accept my apology?
Tim Graham:
If that's really what you think, then the only thing to accept is your resignation. The Jets-Patriots rivalry goes back 50 years, showcases ESPN's team of the decade versus the biggest media sensation, involves espionage, features incredible player and coaching crossover and will generate significantly more attention this week than the Steelers and Ravens. Yet I don't have a leg to stand on? This should be amusing.
Walker:
OK, let's get down to business. First, I'm going to tell you why the Jets-Patriots rivalry doesn't stack up to Ravens-Steelers. For starters, the Jets aren't even the Patriots' biggest rival in the AFC. The Colts are. Indianapolis and New England have played eight straight years in much bigger games -- sometimes with the Super Bowl at stake.
Meanwhile, there is no debating the Steelers and Ravens are each other's biggest rival. Both teams have played on the biggest stages, including the AFC Championship Game in 2008, when the Steelers went on to win Super Bowl XLIII. Finally, here's another difference: Pittsburgh and Baltimore both have championships within the past decade. When both rivals are able to reach the pinnacle while beating up each other along the way, that's when a rivalry is truly special. The Ravens and Steelers have it. The Colts and Patriots have it. The Jets and Patriots? I don't think so.
[+] Enlarge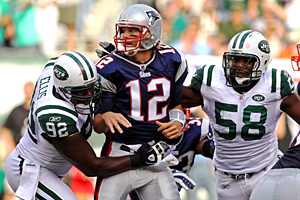 Ed Mulholland/US PresswirePatriots quarterback Tom Brady said earlier this season that he hates the Jets.
Graham:
Your opinion about the Colts representing a bigger rival than the Jets would be pertinent if the Patriots agreed with it.
Tom Brady
earlier this year declared "I hate the Jets," and he wasn't joking. The Patriots play the Jets twice a year. Division games are worth more than any other game in terms of importance. A Patriots-Colts game is more like a playoff exhibition.
You do make a good point about the Ravens and Steelers each winning a Super Bowl in the past decade. But recent titles don't necessarily make rivalries. If they did, then the Packers, Vikings and Bears don't have rivalries. Storylines and animus make rivalries. In that regard, Jets-Patriots is unsurpassed.
Walker:
Brady says he hates the Jets, but a rivalry is a two-way street. How much hatred does New York really have for the Patriots? It can't be too deep-rooted. Most of New York's key people recently came from the AFC North and other teams, including head coach Rex Ryan. I'd be willing to bet
Santonio Holmes
hates the Ravens more than he hates the Patriots. I know
Bart Scott
hates the Steelers. We've talked about it several times while he was in Baltimore.
Braylon Edwards
? He hyped his return to Cleveland 10 times more than this week's game against New England. Do you really think key players like Edwards,
LaDainian Tomlinson
and
Antonio Cromartie
have a feel for the Jets-Patriots rivalry? I doubt it.
But there is legitimate, two-way hatred between the Steelers and Ravens.
Hines Ward
hates the Ravens.
Ray Lewis
hates the Steelers. The markets of Pittsburgh and Baltimore simply cannot drive the point home like bigger cities New York and Boston can. For example, Ravens defensive end
Terrell Suggs
basically told me he doesn't like the Steelers, either, which is similar to what Brady said about the Jets. Yet it didn't get any attention. The Jets-Patriots rivalry may be unsurpassed in hype. But the Ravens-Steelers rivalry is unsurpassed in substance.
Graham:
Come on, James. You need to do more than take a glance at 2010 rosters to understand the Jets-Patriots rivalry. Every team has free agents who need to learn a rivalry. The point about Brady's hatred was that he never said that about the Colts, which you propose is a bigger rival for the Patriots than the Jets are.
But you want substance? How about Bill Parcells taking the Patriots to the Super Bowl and then leaving them for the Jets amid such controversial circumstances the NFL forced New York to send four draft picks to the Patriots over three years, including the first-round pick in 1999, as a penalty? How about the infamous
Curtis Martin
defection from the Patriots to the Jets and the infamous "poison pill" contract? How about Parcells abdicating his Jets job to Bill Belichick and then Belichick writing his resignation on a cocktail napkin moments before the Jets thought they were introducing him as their next head coach? How about the Jets blocking Belichick from joining the Patriots until he filed a federal lawsuit and then settling on the Patriots shipping five draft picks to the Jets over three years, including their 2000 first-rounder? How about Patriots defensive coordinator Eric Mangini departing to be Jets head coach and leaving the bridge in cinders? How about the Patriots filing tampering charges against the Jets on receiver
Deion Branch
? How about a little thing called Spygate? How about
Damien Woody
,
Danny Woodhead
,
Ty Law
,
Vinny Testaverde
,
Roman Phifer
,
Larry Izzo
,
Hank Poteat
and
Chris Baker
(among many other role players) wearing both uniforms within the past decade? Steelers-Ravens has nothing even remotely close to a third of that rundown.
[+] Enlarge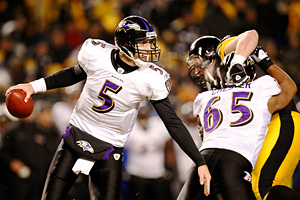 Gregory Shamus/Getty ImagesJoe Flacco will have to constantly prove himself against the Steelers and Ben Roethlisberger.
Walker:
Why you think playing for both teams makes it more of a rivalry is beyond me. I think it lessens your argument. I can't imagine
Ed Reed
or Lewis wearing a Steelers jersey. Ward would never sign a deal to play for the Ravens. Not in a million years. These two teams hate each other too much. Yet all these Jets and Patriots players simply flip-flop between teams at their leisure? That's weak and not the sign of a hated rivalry, in my opinion.
Graham:
That's rather Pollyanna to think Ravens would never go play for the Steelers or vice versa. Do you honestly believe if the Steelers had hired Ryan, then all of those players who followed him to the Jets wouldn't have gone to Pittsburgh? Please. Players pursue the best opportunity based on money, playing a system they love and a chance to win a title.
Here is how players switching teams make for a better rivalry: It thickens the plot. Fans who used to wear a player's jersey burn them. The expatriate player shares playbook secrets and other intelligence. That player has a chip on his shoulder and comes back to haunt his old team.
Walker:
Moving onto quarterbacks. I think there are some similarities between the teams' four passers.
Joe Flacco
is the third-year upstart trying to get to the championship level of
Ben Roethlisberger
, who already has two rings. Much of Flacco's status eventually will be determined by how much success he has against Roethlisberger and the Steelers within his division. It seems the Ravens and Steelers are always in the way and have to go through each other to have a deep run in the playoffs and get to the Super Bowl. What dynamic do you see developing with Brady and a young
Mark Sanchez
?
Graham:
I don't know if there's much of a quarterback comparison beyond the glamour element at this stage. Brady and Sanchez have a lot in common from an off-the-field standpoint. They sell a lot of jerseys, attract a lot of ladies, walk a lot of red carpets, appear in a lot of photo shoots and do a lot of cameos. But they're too far apart in experience to compare résumés.
[+] Enlarge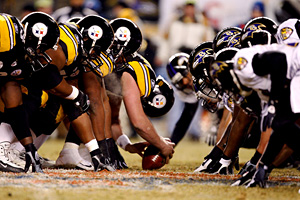 Streeter Lecka/Getty ImagesThe Ravens and Steelers have competed recently in many high-profile matchups -- including the 2008 AFC Championship Game.
I see the Jets and Patriots as more of a fan base and organizational rivalry: teams from two of the greatest sports markets, with two of the NFL's most influential owners, and two of the best defensive coaches in the game -- heck, two of the most controversial coaches of this generation. Ever since Ryan took over as Jets head coach, he has been tweaking Belichick. Some thought the rivalry would wane when the Jets fired Mangini, but Ryan -- a guy who helped build the Steelers-Ravens rivalry, by the way -- came along and made it juicier.
Walker:
Now is our favorite part. It's prediction time. It's no secret the Steelers and Ravens are built and play similarly. So it's usually a close game. Baltimore is going for its first series sweep since 2006, but Roethlisberger didn't play in the first meeting because of a suspension. Now he's back and is 7-2 all-time against Baltimore. But I have a feeling this is the Ravens' week. They are healthier overall, 5-0 at home and appear to be peaking at the right time. The Steelers, on the other hand, have been up and down. Both teams usually bring out the best in each other, but I'm picking the Ravens to win, 20-17. So who are you picking between the Patriots and Jets, Tim? Don't chicken out.
Graham:
I predict the loser of the Jets-Patriots game will have the same record as the team that wins the Ravens-Steelers game. Predicting a score has no bearing on our debate of which rivalry is better. But I will say the Jets and Patriots provide a rare showdown between teams with the NFL's best two records. This is only the fifth time in "Monday Night Football" history two clubs with records of 9-2 or better will play, and the first game under those circumstances that doesn't involve the
Joe Montana
-led
San Francisco 49ers
in Candlestick Park.
This is a special game befitting a special rivalry. Your game features clubs that needed overtime to beat the
Buffalo Bills
. I'll expect that resignation letter by kickoff.
July, 20, 2010
7/20/10
9:56
PM ET
New York Jets
nose tackle
Kris Jenkins
beamed into the NFL Network studios and
delivered some pointed remarks
about Jets fans and some former teammates.
"NFL Total Access" host Rich Eisen asked Jenkins to advise nervous Jets fans how to approach a season full of expectations but also question marks because of such key departures as running backs
Thomas Jones
and
Leon Washington
, guard
Alan Faneca
and safety
Kerry Rhodes
.
[+] Enlarge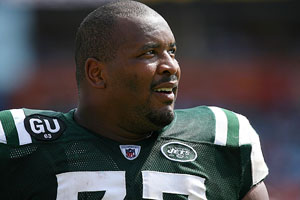 Doug Benc/Getty ImagesJets' nose tackle Kris Jenkins has a message for departed teammates: "We've had some real men come in and step in for the women that we lost."
"Suck it up. That's what y'all being doing so far," Jenkins said of the fans. "Look, you've got to understand that this is football, and if I could make a public-service announcement, I will say this: New York fans, we love you. This is Kris Jenkins. I am a little bit of a clown in my free time, so if I hurt your feelings I'm really not going to apologize because this is my time right now. ...
"If we win, then you get all your dreams coming true. If we lose, then you all get to do what you've been doing for a long time and talk about us until you basically run us out of the city. So you're going to get what you want either way. But we're going for a Super Bowl. So sit back, enjoy the ride. We're planning on doing it big."
Jenkins continued with a curious and disparaging comment about players who have left -- without naming names.
"We have great guys who have come in to step up, to fill in the void of some of these big losses that we have had this season," Jenkins said.
"Then in some other cases, we've had some real men come in and step in for the women that we lost. So we're going to be OK. Don't worry about it."
Jenkins probably was being that aforementioned clown, but Eisen didn't follow up with another question to clarify who Jenkins was referring to. Some players left on rougher terms than others. Many Jets weren't pleased to see guys like Jones, Faneca and kicker
Jay Feely
leave.
Rhodes would be a good guess as to one player Jenkins meant. But Jenkins did say "women" plural.
For the record, Jets who were on the final 2009 roster but not currently with the team (in addition to those listed above) are receiver
Wallace Wright
, defensive tackler
Howard Green
, defensive end
Marques Douglas
, linebackers
Marques Murrell
and
Ryan Fowler
, cornerbacks
Lito Sheppard
and
Donald Strickland
, special-teams ace
Larry Izzo
and long snapper
James Dearth
.
Douglas reportedly will re-sign with the Jets later this week.
June, 30, 2010
6/30/10
1:30
PM ET
Notable players:
QB
Tom Brady
, RB
Corey Dillon
, WR
Deion Branch
, WR/DB
Troy Brown
, TE
Daniel Graham
, T
Matt Light
, DE
Richard Seymour
, OLB
Willie McGinest
, OLB
Mike Vrabel
, ILB
Tedy Bruschi
, CB
Ty Law
, CB
Asante Samuel
, S
Rodney Harrison
, K
Adam Vinatieri
, ST
Larry Izzo
.
[+] Enlarge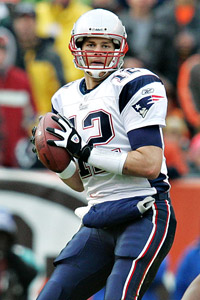 Matthew Emmons/uS PresswireTom Brady and the Patriots collected their third Super Bowl win in four seasons.
Analysis:
The
New England Patriots
are the only AFC East club with three championship seasons to consider, and one could argue with conviction their best team didn't win the Super Bowl.
But 2004 stands apart. The Patriots claimed their third Vince Lombardi Trophy in four seasons to establish themselves as one of the all-time great teams. Brady and head coach Bill Belichick ensured their place in Canton.
The Patriots picked up where they left off after winning Super Bowl XXXVIII the year before. They increased their win streak to an NFL record 21 games. They ranked fourth in scoring and second in points allowed. They lost two games all season, Week 8 at the
Pittsburgh Steelers
and Week 15 at the
Miami Dolphins
.
After beating the
Indianapolis Colts
for the second time and holding
Peyton Manning
's offense to three points in the divisional round of the playoffs, the Patriots scored 41 points to avenge their defeat in Pittsburgh.
In Super Bowl XXXIX, the Patriots beat the
Philadelphia Eagles
more comfortably than the 24-21 score indicates. Adam Vinatieri didn't need to drill a field goal in the closing seconds for a change.
Most impressive win:
The Patriots never were more dominant than they were in Week 10 against the
Buffalo Bills
, a borderline playoff team that won three out of four heading into Gillette Stadium and six straight afterward. The Patriots rolled up a season-high 428 offensive yards and limited the Bills to 125 yards to win 29-6.
What can Brown do for you?
Pretty much whatever you could ask of him. Brown caught only 15 passes in the regular season, but in Week 9 against the
St. Louis Rams
, he entered the game as an emergency defensive back when Samuel went down with an injury. Brown finished the season with three interceptions (one shy of the team lead) and broke the Super Bowl record for punt returns.
Honorable mention
2007:
It's the greatest NFL team not to win the championship. Brady,
Randy Moss
and
Wes Welker
rewrote a good chunk of the offensive record book, but the Patriots fell short of finishing the season undefeated, losing in the Super Bowl to the
New York Giants
.
2001:
New England won its first championship with an offense that ranked sixth in scoring and a defense that ranked sixth in points allowed. Belichick's controversial decision to stick with Brady when
Drew Bledsoe
returned to health created a superstar.
2003:
New England went 14-2 to win its second title in three years. The offense was pretty mediocre, but the defense posted three shutouts, gave up six points or fewer five times and averaged 11.9 points against over the final 10 weeks of the regular season.
1976:
Patriots fans thought a storybook season was unfolding in the bicentennial. Steve Grogan and Sam Cunningham led the Pats to an 11-3 record, but a controversial late-hit call helped them lose to the
Oakland Raiders
in the playoffs.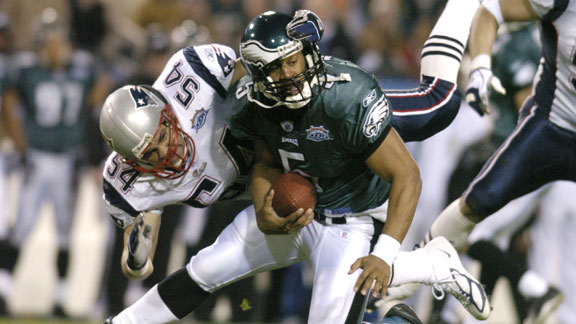 March, 22, 2010
3/22/10
6:25
PM ET
ORLANDO, Fla. -- The NFL has awarded a league-high four compensatory draft choices to the
New England Patriots
.
The
Miami Dolphins
received one. The
Buffalo Bills
and
New York Jets
didn't get any.
The picks were revealed Monday night at the NFL owners meetings at the Ritz-Carlton Orlando Grande Lakes.
Compensatory picks are awarded to clubs based on a secret formula more guarded than Colonel Sanders' recipe. We know the formula involves the number of free agents gained and lost the previous offseason and how well those players performed the ensuing season. We think the formula factors in the players' salaries, playing time and awards.
New England lost five qualifying free agents (running back
LaMont Jordan
, fullback
Heath Evans
, receiver
Jabar Gaffney
, linebacker
Larry Izzo
and long-snapper
Lonie Paxton
) and signed only one (safety
Brandon McGowan
).
The NFL compensated the Patriots with one sixth-round pick and three seventh-round picks. The selections are Nos. 205, 247, 248 and 250.
Miami lost two qualifying free agents (cornerback Andre Goodman and safety
Renaldo Hill
) and signed two (center
Jake Grove
and center
Joe Berger
).
The Dolphins were given a seventh-round pick, No. 252.
March, 4, 2010
3/04/10
8:26
AM ET

Buffalo Bills
Potential unrestricted free agents:
DE
Ryan Denney
, LB
Chris Draft
, DB
Todd Johnson
, G
Seth McKinney
, WR
Terrell Owens
, WR
Josh Reed
, S
Bryan Scott
, G
Kendall Simmons
, LB
Josh Stamer
.
Potential restricted free agents:
LB
Keith Ellison
, QB
Gibran Hamdan
, G
Richie Incognito
, TE
Joe Klopfenstein
, TE
Derek Schouman
, T
Jonathan Scott
, S
George Wilson
, CB
Ashton Youboty
.
Franchise player:
None.
What to expect:
The Bills are in a rebuilding mode and shouldn't be in too much of a hurry to sign their free agents. In fact, they took the unusual step of publicly announcing they wouldn't offer Owens, Reed or Denney contracts. The most attractive players are Incognito and Wilson. Most of the rest were bit players and injury replacements.

Miami Dolphins
Potential unrestricted free agents:
NT
Jason Ferguson
, CB
Nate Jones
, QB
Chad Pennington
, OLB
Jason Taylor
.
Potential restricted free agents:
RB
Ronnie Brown
, TE
Anthony Fasano
, OLB
Quentin Moses
.
Franchise player:
None.
What to expect:
The Dolphins have a tough decision to make on Ferguson. He'll turn 36 during the 2010 season and is coming off a serious quadriceps injury. Without him, however, the Dolphins have a massive void in their 3-4 defense at a position that's difficult to replace. Pennington, Jones and Taylor all could be gone.

New England Patriots
Potential unrestricted free agents:
OLB
Tully Banta-Cain
, CB
Leigh Bodden
, OLB
Derrick Burgess
, RB
Kevin Faulk
, DE
Jarvis Green
, P
Chris Hanson
, G
Stephen Neal
, ILB
Junior Seau
, TE
Benjamin Watson
.
Potential restricted free agents:
K
Stephen Gostkowski
, G
Logan Mankins
, OLB
Pierre Woods
.
Franchise player:
NT
Vince Wilfork
.
What to expect:
Several starters are about to go up for bids, and the Patriots can't keep them all. Expect Faulk to be re-signed without much fuss. Neal, Bodden and Banta-Cain comprise a group they'd have trouble replacing. All three could fetch offers the Patriots would rather not match. Don't count on Watson coming back.

New York Jets
Potential unrestricted free agents:
LS
James Dearth
, DE
Marques Douglas
, K
Jay Feely
, LB
Ryan Fowler
, TE
Ben Hartsock
, LB
Larry Izzo
, FB
Tony Richardson
.
Potential restricted free agents:
QB
Kellen Clemens
, CB
Drew Coleman
, WR
Braylon Edwards
, DT
Howard Green
, T
Wayne Hunter
, WR
Brad Smith
, S
Eric Smith
, RB
Leon Washington
.
Franchise player:
None.
What to expect:
As a "final eight" team, the Jets have to window shop until one of their UFAs sign elsewhere. General manager Mike Tannenbaum is creative. Don't be surprised if the Jets use trades to upgrade. The key restricted free agent to monitor will be Washington, who received a second-round tender. His agent has been tweeting alarms the Pro Bowler could sign an offer sheet and dare the Jets to match.
February, 4, 2010
2/04/10
11:21
AM ET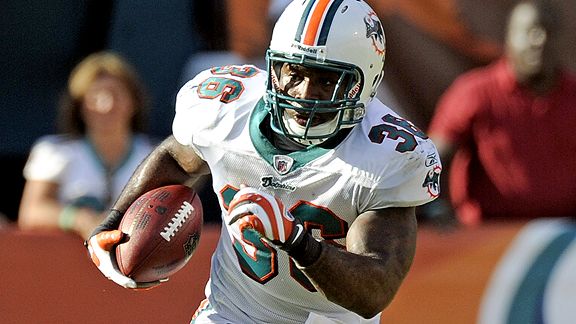 Richard C. Lewis/Icon SMIThanks to the dogged support of blog readers, Lousaka Polite got the nod for the All-AFC East team over the New York Jets' Tony Richardson.
A week ago, I solicited your help to select the
AFC East's best players at every position
for 2009.
Your votes have been counted and your comments read at ESPN.com and on
my Facebook page
. I believe we've come up with a rock-solid All-AFC East team.
In almost every case, the player who received the most votes made the squad. So consider this the team you selected. The only time I had to make a call was to break a tie or for a position that generated scant attention.
I also exercised my right as AFC East blog czar to revoke a ballot for stupidity and only considered the votes of people who made an honest effort to field an entire ballot -- not just throw out a name or two of a player from their team. Anybody who submitted an idiotic selection --
Buffalo Bills
rookie
Andy Levitre
at left guard over two Pro Bowlers? -- got their entire ballot killed on account of credibility.
The biggest debate involved fullbacks
Tony Richardson
and
Lousaka Polite
, for whom passionate Dolfans made a convincing case. The vote was close enough that my influence would have allowed me to pick Richardson for the All-AFC East team, but you Polite zealots wore me down.
The biggest surprises from my perspective:
Dolphins running backs Ricky Williams and Ronnie Brown received a combined four votes and finished third and fourth behind Thomas Jones and Fred Jackson. Based on the crush of support for Polite, you would think Williams and Brown would receive more votes through mere homerism. That's a credit to Dolfans and actually played a factor in my being won over on Polite. You voted with your heads.

Response for Bills inside linebacker Paul Posluszny. New York Jets leading tackler David Harris had one of the spots locked up. I thought New England Patriots linebacker Jerod Mayo, the NFL's top defensive rookie in 2008, would be the other. But Posluszny received almost twice as many votes as Mayo.
The close votes I made the final call:
January, 24, 2010
1/24/10
10:00
PM ET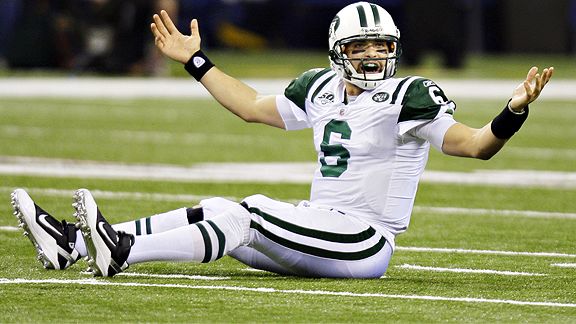 AP Photo/Michael ConroyJets quarterback Mark Sanchez made great strides Sunday in the AFC Championship Game, but fell just short.
INDIANAPOLIS -- There's no way to think beyond the pain when the incision still stings and the inflammation throbs.
The
New York Jets
weren't interested in talking about great accomplishments or exceeding logical expectations, not so soon after
Peyton Manning
's surgical performance drained their postseason life.
"It's too fresh of a wound to say anything to make yourself feel better," Jets safety
Jim Leonhard
said of any buck-up-little-camper talk.
The Jets' charmed season ended Sunday amid a blizzard of blue and white glitter fired from sideline cannons in Lucas Oil Stadium. The
Indianapolis Colts
came from behind to jilt the
Jets 30-17 for the AFC crown
.
"Everybody's disappointed that we didn't go to the Super Bowl, especially when we were this close," Jets left tackle
D'Brickashaw Ferguson
said, almost spitting out the words. "We didn't do everything that we needed to win. But at the same rate, we did do a lot of great things.
"I can't even say we're second. Nobody wants to be third or fourth. Maybe in a week or two it will be different."
Implausible as it seemed before the game, the Jets looked like they would sabotage the coronation, giving the crowd of 67,650 a collective coronary by building an 11-point lead late in the second quarter.
Manning calmly swayed momentum before halftime and, by the third quarter, staked the Jets in the heart -- repeatedly.
"With Peyton Manning, if you can't disrupt his rhythm he's going to kill you," Jets coach Rex Ryan said, "and we couldn't disrupt it enough."
And so it ended for the Jets, their captivating run falling about 23 minutes short of the Super Bowl.
The Jets have plenty to be thrilled about for the future, but they couldn't bring themselves to consider any of it.
"It's hard to be proud right now, but we came a long way," left guard
Alan Faneca
mumbled with a dismissive shrug. "We fought through a lot of stuff. We came together as a team. Yeah, there's stuff to be proud of."
The Jets defied the odds over the past couple months.
They trudged onward without Pro Bowl nose tackle
Kris Jenkins
, Pro Bowl kick returner and running back
Leon Washington
and special-teams legend
Larry Izzo
, all lost to season-ending injuries along the way.
They helped rookie quarterback
Mark Sanchez
decipher the NFL in the nick of time. Even though Ryan declared them mathematically eliminated from the postseason race after Week 15, they won their final two games and received an astronomical amount of outside help to slip into the playoffs.
On the road throughout the playoffs, the Jets upset a pair of division champs to reach Indianapolis, known as the Crossroads of America.
The Jets might look back on Sunday as the crossroads of their organization.
"Maybe this football team needed to get here and have this experience in order to take the next step," Leonhard said. "We thought we were ready this year. Maybe we weren't. We have to take this experience and learn from it."
[+] Enlarge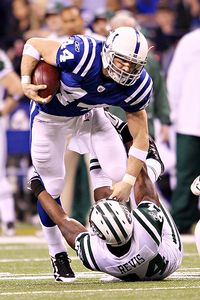 Andy Lyons/Getty ImagesAll-Pro cornerback Darrelle Revis didn't have much of an impact against the Colts.
There were all sorts of reasons for Sunday's loss:
Even so, dissecting what went into the final score of a single excruciating game is pointless when you have much broader issues to reflect upon and such a luminescent future ahead.
The Jets are an organization on the rise. As Leonhard mentioned a few times, "You never know when an opportunity like this is going to come again." But the Jets established themselves as a team to fear for years to come.
A foundation for long-term success is well in place. They're a defensive colossus and will get Jenkins back next season. The Jets might have the NFL's best offensive line, with Pro Bowlers from center to left tackle.
Perhaps even more significant, Sanchez grew up before our eyes over the final five weeks. He played with poise Sunday, completing 17 of 30 passes for 257 yards and two touchdowns with one interception that was overthrown but also tipped.
"Mark played great, and hopefully that's the thing that we're seeing from this point on," Ryan said. "You see that confidence that he has. He knows our offense. He's comfortable.
"When we come back, we'll be able to hit the ground running, which obviously is a lot different than how we entered this season."
We probably saw the baton passed from veteran running back
Thomas Jones
to Greene. Second-year tight end
Dustin Keller
emerged as a money target with a touchdown reception in each of their three playoff games.
"We're close. There is no question," Ryan said. "We accomplished a heck of a lot. We thought we could win it all. We really did. We don't need a whole lot."
Except maybe some time to heal.
Posted by ESPN.com staff
Buffalo Bills
Terrell Owens fills just one hole in Buffalo's lineup.
Coach Dick Jauron says Owens will get a clean slate with the team.

Miami Dolphins
New England Patriots
New York Jets
February, 17, 2009
2/17/09
12:58
PM ET
Posted by ESPN.com's Tim Graham
New England Patriots
Buffalo Bills
Miami Dolphins
New York Jets
November, 9, 2008
11/09/08
8:08
PM ET
Posted by ESPN.com's Tim Graham
FOXBOROUGH, Mass. -- All of those Little League World Series, Chatsworth High and career backup references should be shelved.
Matt Cassel is an NFL quarterback. And he is starting to play like the most valuable player on a team that happens to be tied for first place in the AFC East without Tom Brady, its top three running backs and a defensive captain.
| | |
| --- | --- |
| | |
| | David Butler II/US Presswire |
| | Patriots QB Matt Cassel , who threw for 234 yards against the Bills, isn't playing like a backup anymore. |
Three weeks ago, many would have scoffed at the thought of Cassel outplaying Trent Edwards, but that's what happened Sunday at Gillette Stadium, where the New England Patriots beat the Buffalo Bills 20-10.
Cassel was ridiculed because of his inexperience, a novice compared to the iconic Brady. Doom was predicted for the reigning AFC champs.
But Cassel has helped lead the Patriots to a 6-3 record. It's plausible Brady would have them in the same position -- although his passing stats might be more extravagant.
"He was criticized greatly," Patriots guard Logan Mankins. "I would rather have Matt than about 99 percent of the quarterbacks in the league. He's playing great. We're winning games with him. He's doing everything asked of him."
Cassel is the most underrated player in the AFC East. He has been steadily improving and is allowing offensive coordinator Josh McDaniels to open up the playbook more and more each week.
Cassel is calmer.
"I think, early on, the heart rate was definitely through the roof, especially when you get into that first quarter and there's obviously the adrenaline that goes along with playing this game," Cassel said. "But as the weeks go on, you kind of get into a routine and start to realize how to manage yourself.
"It's a little bit easier now than it was earlier in the season."