November, 25, 2011
11/25/11
1:30
PM ET
»
NFC Final Word
:
East
|
West
|
North
|
South
»
AFC
:
East
|
West
|
North
|
South
Five nuggets of knowledge about Week 12:
The NFC West "race" continues.
The
San Francisco 49ers
were in position to clinch the division title with a victory against Baltimore and a Seattle defeat at home to Washington. But with the 49ers losing to the Ravens on Thursday night, it is still technically possible for the Seahawks or
Arizona Cardinals
to match San Francisco's victory total this season. The 49ers play three of their final four on the road. The home game is against Pittsburgh. The Seahawks play their next three at home against losing teams, followed by a road game against the quarterback-challenged Bears. If the 49ers beat St. Louis in Week 13 and win at Arizona in Week 14, they'll win the NFC West. If they were to drop that Arizona game and then lose to the Steelers, a four-game winning streak by Seattle would make the Week 16 game between the Seahawks and 49ers meaningful. The 49ers have two games remaining against the Rams, making it nearly impossible for them to do anything but win the West.
[+] Enlarge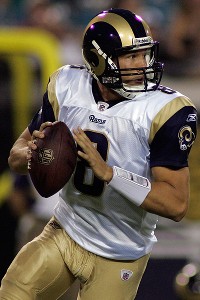 Phil Sears/US PresswireRams quarterback Sam Bradford is throwing down the field more this season, but that hasn't translated into success for St. Louis' offense.
Airing it out, or erring it out?
The Rams have followed through on their pledge to seek bigger pass plays down the field. Quarterback
Sam Bradford
averaged 6.4 air yards per pass attempt last season, the lowest figure in the league among 43 players with at least 100 attempts. Bradford ranks ninth this season. On average, his passes have traveled 8.9 yards past the line of scrimmage before reaching their targets. The longer passes have not paid off, however. Bradford's completion percentage has dropped, as would be expected for a quarterback attempting longer passes, but his average for yards per attempt has remained flat at a mediocre 6.0. The Rams have taken sacks on 10 percent of pass attempts, up from 5.8 percent during Bradford's rookie season.
Defending the run.
Arizona (11), St. Louis (nine) and Seattle (five) have allowed 25 individual 100-yard rushing performances since the 49ers last allowed one 34 games ago. The Seahawks' best run defender,
Red Bryant
, missed three of those five games and most of a fourth.
About those dynamic tight ends.
The NFC West loaded up on tight ends during the offseason. Seattle signed
Zach Miller
. Arizona signed
Todd Heap
and
Jeff King
. St. Louis drafted
Lance Kendricks
in the second round. The results have been underwhelming. Heading into Week 12, the NFC West featured no players among the 15 most-targeted tight ends in the league, according to ESPN Stats & Information. The 49ers'
Vernon Davis
ranked 16th with 51 targets. Davis, teammate
Delanie Walker
and the Cardinals' King are the only NFC West tight ends with touchdown receptions this season. Six NFC West tight ends had scoring catches last season.
Uncomfortable fan dynamics.
Franchise relocation can create strained relationships between teams and their former players, to say nothing of fans caught in the middle. We've seen Rams great Jack Youngblood complain about the organization's efforts to embrace players from its time in Los Angeles. This week, the Cardinals return to St. Louis, the city they left following the 1987 season. They are seeking their seventh consecutive victory at the Edward Jones Dome, which would represent the longest road winning streak against a single opponent in franchise history. The Cardinals are also planning alumni events for a long list of St. Louis-era players, including Mel Gray, Jackie Smith, Roger Wehrli and Larry Wilson.
July, 27, 2010
7/27/10
6:29
PM ET
The blog feels a bit like a radio station lately with several recent entries dedicated to audio.
Here's another one
:
San Francisco 49ers
great Ronnie Lott on KNBR in San Francisco, paying tribute to former
Oakland Raiders
safety Jack Tatum, who died Tuesday.
A clearly emotional Lott credited Tatum for establishing a style and level of play for younger safeties to emulate. NFL.com has made available
this video
ranking Tatum as one of the most feared tacklers (Lott was fourth and that video is
here
, complete with the collision that cost him his pinkie finger).
The
Arizona Cardinals
'
Adrian Wilson
is the one current NFC West safety with some of the same characteristics in terms of physical play and hitting ability (hits on
Vernon Davis
and
Trent Edwards
come to mind).
My all-time list of big-hitting NFC West safeties -- those who played for teams currently aligned with the division -- would feature Lott, Wilson, Cardinals Hall of Famer Larry Wilson and the
Seattle Seahawks
' Kenny Easley. Chuck Cecil played only one season for the Cardinals, but he also deserves mention.
There have certainly been others. Who's missing?
There's more to playing the position than hitting, of course. Lott has pointed to his understanding of the game as his most important attribute. He touched on that aspect during the KNBR interview when recalling what made Tatum an excellent player. Delivering crushing hits frequently requires getting in position to make those hits, which requires understanding situations.
Lott and Tatum did that better than most.
July, 8, 2010
7/08/10
12:00
PM ET
By
Matt Mosley
| ESPN.com
A weeklong look at current or former players or coaches with Hall of Fame potential in the division.
Cowboys
: Cliff Harris, free safety
[+] Enlarge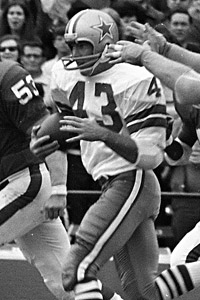 AP PhotoCliff Harris was the safety by which others were measured for years after he retired.
Claim to fame
: Member of the 1970s all-decade team. Wasn't drafted out of Ouachita Baptist University in Arkansas, but immediately won the free safety role. Nicknamed "Captain Crash," he was one of the most feared defenders in the game.
Case for enshrinement
: He was a finalist in 2004 and certainly deserves to be in the Hall. For years, safeties entering the league were compared to Cliff Harris. He was the rare player who was excellent against the pass but could also blow up running plays. He took Tom Landry's complicated flex defense and added his own spin. Harris, a highly intelligent player, finally made it into the club's hallowed Ring of Honor in 2004.
Harris studied opponents for hours at a time and he punished wide receivers who ventured over the middle. Cardinals great Larry Wilson, who's in the Hall of Fame, has said that Harris was the best safety he'd ever watched. Harris went to six Pro Bowls and he and Ken Houston were considered the best safeties from the '70s.
Case against enshrinement
: It's tough to build a case against Harris. But the fact that he had only 29 career interceptions probably works against him. Wilson had 52 and Houston finished with 49. Harris walked away from the game after the '79 season when he was still going to Pro Bowls (age 31). I'm sure he could have collected 10 to 15 more interceptions.
And those Super Bowl losses to the Steelers in the '70s didn't help matters. If the Cowboys win one of those games, they probably would have two or three more players in the Hall than they have. I think Harris would've been one of those players.
Bottom line:
In a lot of ways, Harris redefined how the safety position was played, and that should be rewarded by the selection committee.
Best player who will never make it:
For my money, it's Drew Pearson. His stats don't hold up in this era, but he played a huge role in Roger Staubach's success. And though he had only a couple of 1,000-yard seasons, he made clutch catches seemingly all the time. Ask Redskins fans from the '70s if they think Pearson belongs in the Hall of Fame.
Eagles:
Donovan McNabb
, quarterback
Claim to fame:
Took over as the full-time starter in 2000 and took the Eagles to five NFC title games and one Super Bowl in that decade. Has been selected to six Pro Bowls and has the fourth lowest interception percentage of all time. Became the first NFL quarterback to throw 30 touchdowns and fewer than 10 interceptions in 2004. The best quarterback in the history of the Eagles.
Case for enshrinement:
His numbers compare favorably to Hall of Famer
Jim Kelly
, who never won a Super Bowl. And McNabb put up monster numbers with average to subpar wide receivers (except for
Terrell Owens
).
DeSean Jackson
was a rookie when McNabb led the Eagles to the NFC title game in '08. Other than the Patriots, the Eagles were the most dominant team of the past decade and McNabb played a huge role in their success. McNabb also compares favorably to Hall of Famer
Steve Young
, although he's missing one very important piece of jewelry. McNabb's one of only six quarterbacks to pass for 25,000 yards and rush for 3,000. And his lower-body strength still makes him one of the most difficult quarterbacks in the league to sack. McNabb's lost some of his athleticism, but he still has a cannon for an arm.
Case against enshrinement:
Those five NFC title games we discussed? Well, the Eagles lost four of them. And it's not as if McNabb strung together excellent performances in those games. He'll also be remembered for throwing three interceptions against the Patriots in the Super Bowl following the '04 season. It was the beginning of the end of the McNabb-T.O. relationship.
I think McNabb will always be appreciated more by the national media more than the folks in Philly. Every game has been dissected, so Eagles fans simply got to know him a little too well. His career has honestly been more consistent than
Kurt Warner
's. But Warner has the ring and he finished strong with the Cardinals.
Bottom line:
Another trip to the Super Bowl would help his cause immensely, but he's already in the Canton conversation.
Best player who will never make it:
Wide receiver Harold Carmichael's numbers might not look special compared to
Randy Moss
and Owens, but he was an elite receiver from his era. His numbers completely trump Hall of Famer Lynn Swann's. Carmichael finished with 254 more receptions and 28 more touchdowns than Swann. Of course, Swann has the four rings and that's the biggest reason he's in Canton.
Giants:
Tiki Barber
, running back
[+] Enlarge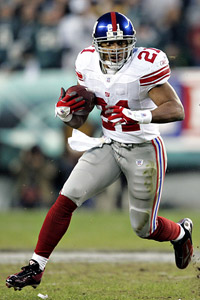 James Lang/US PresswireTiki Barber finished his career with five consecutive seasons of at least 1,200 yards rushing.
Claim to fame:
For the record, I'd originally chosen former defensive end
Michael Strahan
, but his "no-brainer" status for the Hall doesn't lend itself to a good argument. Barber may have left a sour taste with his early retirement, but he put up some impressive numbers. As Daily News columnist Gary Myers once pointed out, Barber may have left 3,000 yards on the table. He's the greatest running back for one of the most storied franchises in the league. Doesn't that count for something?
Case for enshrinement:
He finished strong with five consecutive seasons of at least 1,200 yards rushing. And his 15,632 yards from scrimmage (rushing and receiving) ranked him 10th on the league's all-time list upon his retirement following the '06 season. In 154 regular-season games, Barber averaged 101.5 yards from scrimmage per game. That puts him in an elite group with the likes of Walter Payton and
Barry Sanders
.
Barber led the franchise in all-time receptions with 586 at the time of his retirement. And he was still on top of his game when he walked away after '06 -- as evidenced by a 200-yard performance against the Redskins. He was the Giants' leading rusher in 80 consecutive games from 2002 until 2006, which speaks to his consistency.
Case against enshrinement:
Super Bowl rings talk, and Barber retired a season before the Giants broke through in '07. And he certainly left a lot of yards on the table when he walked away at age 31. There's a chance that he could've had at least two more highly productive seasons. Like
Emmitt Smith
, he had the ability to avoid the big hits that knock running backs out of games. Barber was one of the best backs in the league over his final five seasons, but I suspect that won't be enough. And it doesn't help that
Ricky Watters
is ahead of him on the all-time rushing list. Watters isn't getting in the Hall -- and Barber probably will meet the same fate. By the way, can any of you make a case against Strahan? I'd be interested to see what that looks like. I guess you could point out the fact that
Kevin Greene
has nearly 20 more career sacks. But that's about as far as I got.
Bottom line:
Barber's early retirement probably cost him a shot at the Hall.
Best player who will never make it:
I realize that
Phil Simms
has said he wouldn't elect himself, but I think he deserves honorable mention. He took a beating his first few years in the league and then had to deal with Bill Parcells, a man who chews up quarterbacks. What Simms did in Super Bowl XXI was remarkable. His 22-of-25 performance earned him the Super Bowl MVP. Simms was a huge part of Parcells' success with the Giants, so I'd have no problem with him being in the Hall of Fame.
Redskins:
Gary Clark
, wide receiver
[+] Enlarge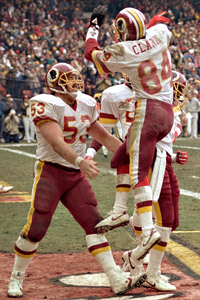 AP Photo/Scott StewartGary Clark caught 65 touchdowns during 11 NFL seasons.
Claim to fame:
He didn't have the longevity of
Art Monk
, but he was brilliant during his eight seasons with the Redskins. In the late '80s and early '90s, I thought he overtook Monk as the best receiver on the team. He could stretch the field with his speed, but he was also willing to go across the middle -- as evidenced by his annual appearances on the All-Madden team.
Case for enshrinement:
The thing that always jumps out at me is that Clark had 65 touchdowns in only 167 games. Art Monk's in the Hall of Fame with 68 touchdowns in 224 games. But I don't want to turn this into an anti-Monk argument. I think they probably both deserve to be in the Hall.
The fact that Clark was the top receiver on what I thought was the best Redskins team ever ('91) holds a lot of weight with me. He caught 70 passes for 1,340 yards and 10 touchdowns that season. Clark also had seven catches for 114 yards and a touchdown in the Super Bowl win over the Bills.
Clark was a player who inspired all of his teammates. And as of a couple of years ago, he was still inspiring the Redskins.
Santana Moss
told me about a time when Clark showed up to practice and told him to kick it into gear. Moss went on to finish the season strong after that talk in '07. Of all those great players from the Gibbs I era, Clark's the guy who always stands out to me. Perhaps he's hurt by the fact that Monk and
Ricky Sanders
were both so good.
Case against enshrinement:
He simply didn't do it for long enough. And one of his Super Bowl rings came in a strike-shortened season. If he'd played 16 games in the strike-shortened '87 season, I believe Clark would have had another 1,300-yard season. Those were pretty rare in those days, but he made it look easy.
Clark got a late start because he spent a couple of seasons in the USFL. Those are two years he could've put up big numbers for the Redskins in the mid-'80s. But to nearly reach 11,000 yards in a relatively short career (compared to Monk's) is pretty remarkable.
Bottom line:
Despite his brilliance, he just doesn't have the numbers to get in.
Best player who will never make it:
I hope I'm wrong about this one, but it's unlikely left tackle
Joe Jacoby
will enter the Hall. The Hogs finally have a representative with Russ Grimm. I think those dominant teams of the '80s that blew open holes for John Riggins deserve more, but it probably won't happen. Jacoby was a trailblazer of sorts because he didn't get in a three-point stance on obvious passing situations. He was one of the first players to do that, and it soon caught on around the league. I think it's pretty much a wash when you put Grimm and Jacoby next to each other, but that's just me. I'm also a big fan of defensive end
Charles Mann
's work in the '80s and early '90s.
Now, let's hear some of your arguments.
February, 24, 2010
2/24/10
1:59
PM ET
»
NFC Busts/Gems
:
East
|
West
|
North
|
South
»
AFC
:
East
|
West
|
North
|
South
»
Draft Watch
:
Biggest needs
(2/17) |
Busts/gems
(2/24) |
Schemes, themes
(3/3) |
Recent history
(3/10) |
Needs revisited
(3/17) |
Under-the-radar needs
(3/26) |
History in that spot
(3/31) |
Draft approach
(4/7) |
Decision-makers
(4/14) |
Dream scenario/Plan B
(4/21)
Each Wednesday leading up to the NFL draft (April 22-24), the ESPN.com blog network will take a division-by-division look at key aspects of the draft. Today's topic: Busts and late-round gems.
Arizona Cardinals

Gems:
With the 129th choice of the 1963 NFL draft, the Cardinals selected ... Jackie Smith, tight end, Northwestern State. Smith spent 15 seasons with the organization during a Hall of Fame career, earning him high standing on any list of Cardinals draft gems. Hall of Famer Larry Wilson, chosen 74th overall in 1960, also belongs in the conversation. More recently, the team found
Anquan Boldin
,
Aeneas Williams
,
Adrian Wilson
and
Darnell Dockett
outside the top 50 overall choices.
Busts:
Quarterbacks George Izo and Kelly Stouffer combined to play two games for the Cardinals, both by Izo, despite joining the team as top-five overall selections. Izo, the second player chosen in the 1960 draft, tossed 12 career touchdown passes with 32 interceptions, most for the Redskins. Stouffer, picked sixth in 1987, never signed with the Cardinals, missing his rookie season before landing in Seattle via trade. The Cardinals have whiffed on quite a few other players, but these two stand out.
San Francisco 49ers

Gems:
Jesse Sapolu
, Tommy Hart, Dwight Clark and Jerry Mertens earned Pro Bowl berths as position players despite being selected between the 239th and 289th overall choices in their draft classes.
Charles Haley
,
Terrell Owens
and
Joe Montana
were chosen between the 82nd and 96th choices.
Busts:
Quarterback
Alex Smith
(2005) and receiver Harry Babcock (1953) are the only players drafted first overall by the 49ers. Smith still has a chance to change his legacy, but so far it's not looking good. The 49ers whiffed on Steve Spurrier with the third overall choice in 1967.
Jim Druckenmiller
stands out as a memorable first-round disappointment in more recent years.
Seattle Seahawks

Gems:
Michael Sinclair
and
Michael McCrary
became Pro Bowl defensive ends after Seattle made them seventh-round choices in the early 1990s. Running back
Chris Warren
was a fourth-round find in 1990. Overall, though, the Seahawks haven't unearthed a long list of draft gems. Trading up in the second round to select three-time Pro Bowl linebacker
Lofa Tatupu
was an impressive move.
Busts:
Rick Mirer
(1993) and Steve Niehaus (1976) never lived up to expectations as the second overall choices in their draft classes. Ownership's decision to select quarterback
Dan McGwire
with the 16th pick in 1991 looks even worse when one considers that coach Chuck Knox wanted
Brett Favre
instead.
St. Louis Rams

Gems:
Finding defensive end Andy Robustelli with the 228th choice of the 1951 draft stands out as significant even though Robustelli spent much of his Hall of Fame career with the Giants. Larry Brooks, Harold Jackson and Drew Hill all went to Pro Bowls after the Rams drafted them 323rd overall or later. Pass-rusher
Kevin Greene
was a fifth-round find in 1985. The Rams found Hall of Famer
Jackie Slater
in the third round (1976).
Busts:
Terry Baker won the Heisman Trophy and played in the Final Four while at Oregon State, but that didn't do the Rams much good after they drafted the quarterback first overall in 1963. Baker played three NFL seasons without completing a touchdown pass. The selection of
Lawrence Phillips
with the sixth choice of the 1996 draft stands out as one of the team's worst draft decisions in more recent memory. As of 2009, Phillips was serving a 31-year prison sentence.
October, 13, 2009
10/13/09
11:00
AM ET
»
NFC Stock Watch
:
East
|
West
|
North
|
South
»
AFC
:
East
|
West
|
North
|
South

Posted by ESPN.com's Mike Sando
Falling
1.Dre' Bly, CB, 49ers.
The veteran corner suffered a major humiliation Monday, a day after his post-interception showboating precipitated a fumble during the 49ers' 45-10 home defeat to the Falcons. San Francisco trailed, 35-10, when Bly put his right hand behind his helmet a la Deion Sanders, only to have Falcons receiver
Roddy White
strip the football from him. "Dre's gonna be Dre," Bly said afterward. The 49ers pretty much called a news conference to say Dre's not gonna be Dre. "I want to come to you all publicly apologize for [Sunday]," Bly said. "My comments were totally inappropriate. I apologize to coach. I am not a selfish guy. I didn't mean to embarrass him, if I did embarrass my team, embarrass the ownership, embarrass the fans. I'm a prideful guy. I like to have fun. It was totally inappropriate. I got caught up in the moment. It was wrong."
2. Shaun Hill, QB, 49ers.
San Francisco's offensive line was arguably more to blame than Hill, but the line's stock was already low. Hill had managed to overcome the line's problems this season in becoming one of the NFL's more efficient quarterbacks in key situations, including third downs and fourth quarters. Hill appeared completely flustered Sunday. He had no answers for what the Falcons were throwing at him. Perhaps taking a cue from his head coach, Hill seemed to lose his composure at times. His final stat line was in
JaMarcus Russell
territory: 15 of 38 passing for 198 yards and an interception.
3. Mike Singletary, 49ers coach.
Singletary could seemingly do no wrong during the 49ers' 3-1 start. By his own admission, the performance he turned in Sunday showed Singletary remains a work in progress. He called timeout to rally his defense, only to have the Falcons complete a 31-yard touchdown pass on the next play. Bereft of timeouts later in the half, Singletary could not challenge a questionable call. As the game progressed, Singletary lost his cool to the point that he jawed with Falcons guard
Harvey Dahl
during the game. It's OK for a head coach to show emotion. Singletary certainly must be true to his personality. He crossed the line in this game and seemed to realize the error of his ways. Singletary owned up to his mistakes and even said the 49ers were outcoached in terms of preparation. Not a good week.
Rising
1. Matt Hasselbeck, QB, Seahawks.
The Seahawks went from down and almost out to feeling like a leading contender to win the NFC West. The way Hasselbeck played in returning from broken ribs changed everything for Seattle. Hasselbeck showed the fire of a linebacker from the moment he ran out of the tunnel for pregame introductions at Qwest Field. He scrambled freely and popped back up quickly when taken down. Hasselbeck also made all the necessary throws in completing four touchdown passes. Only four quarterbacks have higher ratings this season. Hasselbeck has seven touchdowns -- more than
Tom Brady
,
Philip Rivers
,
Aaron Rodgers
or
Kurt Warner
-- despite missing 10 quarters to injury.
2. Dominique Rodgers-Cromartie, CB, Cardinals.
The precocious second-year cornerback was right last week when he said teams would eventually pay for throwing his way. Rodgers-Cromartie's 49-yard interception return for the winning touchdown with 2:20 remaining against the Texans gave "DRC" a needed boost after a disappointing start to the season. The 2008 first-round choice has Pro Bowl potential. He was suffering through a sophomore slump even before he suffered a broken right index finger during an embarrassing home defeat to the Colts in Week 3. The injury made his interception even more impressive, although teammate
Adrian Wilson
was right when he put the brakes on comparisons to Cardinals Hall of Famer Larry Wilson, who famously picked off a pass with casts on both wrists.
3. Aaron Curry, LB, Seahawks.
The fourth overall choice in the 2009 draft has played the enforcer role effectively during all three home games. His fumble-forcing sack on Jaguars quarterback
David Garrard
set up a 26-yard return for teammate
Cory Redding
. The turnover led to a touchdown that gave Seattle a 27-0 lead on its way to a 41-0 blowout. Curry finished the game with nine tackles, one sack, one forced fumble, one pass defensed and one crushing hit on special teams. Curry brings a menacing attitude to the Seahawks' defense, particularly at home. His performance Sunday provided additional evidence that Curry can be an effective pass-rusher, answering questions raised about him before the draft. Curry has one fumble-forcing sack in each of the Seahawks' last two home games.
October, 17, 2008
10/17/08
9:54
AM ET
Posted by ESPN.com's Mike Sando
Matt Barrows of the Sacramento Bee gets 49ers linebacker Patrick Willis' take on Giants running back Brandon Jacobs. The two became friends at the ESPY Awards in July. "He's just a cool, down-to-earth, funny guy," Willis says.
John Crumpacker of the San Francisco Chronicle says Willis figures to be busy against Jacobs and the Giants.
Also from Crumpacker: The 49ers claim an offensive lineman off waivers while one of their current starters tangles with linebacker Roderick Green.
Matt Maiocco of the Santa Rosa Press-Democrat says the 49ers will have to play more physical to hang with the Giants at the Meadowlands.
Dan Brown of the San Jose Mercury News looks at 49ers linebacker Takeo Spikes, who is suddenly forcing turnovers.
Steve Korte of the Belleville News-Democrat
says the Rams have confidence in Adam Goldberg if Orlando Pace can't start at left tackle.
Jim Thomas of the St. Louis Post-Dispatch says the Rams haven't scored more than 19 points in a game this season.
Bill Coats of the St. Louis Post-Dispatch says the Rams will wait until Sunday before determining whether Pace plays this week. Pace doesn't have to practice in order to play.
Greg Bedard of the Milwaukee Journal Sentinel says former Rams linebacker Brandon Chillar has become a key player for the Packers on defense. Chillar has helped Green Bay defend opposing tight ends.
Frank Hughes of the Tacoma News Tribune says the NFL stands by the holding call that wiped out Julius Jones' 51-yard run against the Packers. I watched the play closely and thought Mike Wahle did hold on the play, at least technically. He grabbed the defender's jersey. This was not a blatant hold, however, and referees routinely allow much more flagrant holds. That makes it tough for an offensive lineman to know how a call might be applied.
Jose Romero of the Seattle Times gives Seneca Wallace a good chance to start at quarterback for the Seahawks at Tampa Bay.
Art Thiel of the Seattle Post-Intelligencer envisions a Seahawks future without quarterback Matt Hasselbeck. Are age and injuries catching up to the former Pro Bowl passer?
Clare Farnsworth of the Seattle Post-Intelligencer checks in with Seahawks defensive coordinator John Marshall. Seattle has forced only four turnovers this season. Marshall says it's no mystery why.
Michael Steffes of Seahawk Addicts says the Seahawks' Jones has managed to tick off another opponent with bulletin-board comments.
Scott Johnson of the Everett Herald says the Seahawks have allowed 71 points in their last two games.
Dan Bickley of the Arizona Republic says the Cardinals are grabbing the national spotlight. Great quote from Cardinals Hall of Famer Larry Wilson following Arizona's overtime victory over Dallas: "I tell you what, my chest has been puffed out all week, and almost since the start of the season. When you whip up on Dallas, it's pretty special. I'm running into people who are telling me, 'Way to go! Way to go!' What the hell did I do?"
Bob McManaman of the Arizona Republic says the Cardinals are fielding an effective pass rush.