NFL Nation:

Larry Zierlein
January, 3, 2014
Jan 3
3:25
PM ET
PITTSBURGH --
Pittsburgh Steelers
coach Mike Tomlin has fired offensive line coach Jack Bicknell Jr. after just one season.
The move comes as a bit of a surprising considering the progress the offensive line made this season despite constant shuffling because of injuries.

The offensive line allowed just seven sacks in the Steelers' final seven games. It also helped rookie running back
Le'Veon Bell
rush for 214 yards in the final two games of the season.
The Steelers lost two starting centers during the course of the season, including Pro Bowler
Maurkice Pouncey
(torn ACL) in the opener. They had to deal with in-game injuries, it seemed, on a weekly basis, and the loss of Pouncey scuttled the Steelers' plans to employ a zone-blocking scheme in 2013.
"I have decided to go in a different direction with respect to the coaching of our offensive line," Tomlin said in a Steelers release. "I want to thank Jack for his contributions during the 2013 season, and I wish him well in the future."
The Steelers will have their fourth offensive line coach under Tomlin as Bicknell had followed Larry Zierlein and Sean Kugler.
Tomlin fired Ziegler after the 2009 season, and Kugler left after 2012 to become the head coach of UTEP, his alma mater.
The Steelers will begin a search for Bicknell's successor, and Tomlin could wait to talk to prospective candidates at the Senior Bowl, which will be held Jan. 20-25 and is a veritable job fair for those looking for work.
Bicknell had previously served as the offensive line coach for the Chiefs (2012), Giants (2009-11) and at Boston College (2007-08), his alma mater.
February, 5, 2013
2/05/13
4:45
PM ET
A few thoughts after the Arizona Cardinals announced Bruce Arians' initial coaching staff for the 2013 season:

More resources: Former head coach Ken Whisenhunt had 16 assistants last season, three or four fewer than the NFC West norm. The number wasn't alarmingly low; New England has had the same number at various points. Arians has 20 assistants, counting four holdovers whose names I've bolded in the chart below.
OL committee: The Cardinals do not have an offensive line coach by title. With Arians calling offensive plays, coordinator Harold Goodwin will take the lead with the line. Larry Zierlein, the Pittsburgh Steelers' line coach for three seasons ending in 2009, is the assistant O-line coach.
Familiar name: Former Cardinals running back and return specialist Stump Mitchell will coach running backs. He spent nearly a decade on Mike Holmgren's staff in Seattle before following Jim Zorn to the Washington Redskins. He was then head coach at Southern University. Mitchell still holds the Cardinals franchise record for all-purpose yards (11,988).
Experience rules: Arians is a first-time NFL head coach, but his staff has veteran seasoning. Tom Moore, Tom Pratt, Zierlein, Rick Christophel and Nick Rapone each have more than 30 years of NFL and/or college coaching experience.
The chart compares the Cardinals' final staff under Whisenhunt to their current one under Arians.
October, 20, 2011
10/20/11
3:30
PM ET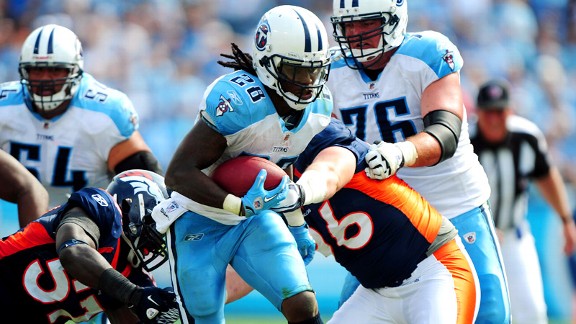 Don McPeak/US PresswireThe Titans are looking for a way to get running back Chris Johnson on track.
NASHVILLE, Tenn. -- It's everybody's fault.
Five games into the
Tennessee Titans
' season,
Chris Johnson
is not running the ball well. The team is fortunate to be 3-2 and heading into a game where it can establish itself as the division favorite without much of a contribution from the guy who's supposed to be their top playmaker.
And everyone involved says they have a role in it.
If the Titans' biggest weapon continues to struggle, the fortunes are going to turn.
So what's wrong?
The consensus is that he has been too hesitant and that the line is not blocking well enough.
"The Titans' interior offensive line and fullback haven't played as well, the guards in particular," one high-ranking NFL personnel man said. "Johnson isn't pressing the hole with as much confidence and hasn't been as decisive on his cuts, but a lot of that is controlled by what movement you're able to get up front to create some creases."
Those are pretty simple conclusions and there are two answers to them:
Play better, which this group has shown before it can do. "We've proven we can get it done," left guard Leroy Harris said.

Change some of the personnel involved.
Let's examine some of the key issues here.
CJ's mentality:
He's saying all the right things and all the same things -- he just needs to continue to play and do all the same things and it will all work out. He has used the word slump.
"We don't want to get into I'm blaming the offensive line or the offensive line is blaming me," he said. "We've just basically got to work with what we've got."
Running backs coach Jim Skipper said he has worked to keep Johnson upbeat, so that he's not carrying concern around and letting it affect his game. Skipper's emphasis is on staying positive, which sounds simple but can be one ingredient that helps a turnaround.
"You've got to keep practicing hard and be optimistic and be positive," Skipper said. "And that's what we're doing. Just go back and just be Chris. His timing is coming back, things are a bit quicker for him, and hopefully it starts paying some dividends. ... You don't add anything or do anything different. You just play football and do what the play is designed to do."
Former NFL offensive line coach Larry Zierlein watched the Titans' loss to the Steelers.
"The thing that struck me in that game was that Chris Johnson was very indecisive, particularly when running the outside zone/stretch play, which I believe is their signature play," he said. "That play can go inside or outside but the runner must decide by his fourth step, based on his key of the defensive end, whether he is going inside or outside. It appeared to me that he was pre-determining to go outside and running laterally well beyond his fourth step. And when that wasn't there, by the time he took it back inside the backside pursuit had closed that off, too."
Team mentality:
Coach Mike Munchak thinks the running game made big strides in the win in Cleveland and that a stall against the Steelers is hardly unusual.
"I still think he's in a better position than people think he's in," Munchak said of Johnson. "Yes, he's not had a great start. We are not happy with where we are in the run game. There's no doubt about that and we know if we're going to win the game this weekend or win any games or win our division, we're going to have to run the ball a lot better.
"It's hopefully staying in the game. The two games we lost, he had 12 carries and 13 carries. We can't afford to let that happen in this game against the Texans. We have to run the football if we're going to win, just like they have to."
Offensive coordinator Chris Palmer's play calling in Cleveland returned to some of unconventional
counter-action
that has helped Johnson before. Anything that gets the defense leaning the wrong way can be a big help to Johnson.
[+] Enlarge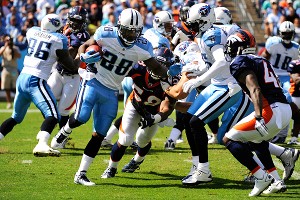 AP Photo/Frederick BreedonChris Johnson has found little room to run in the Titans' first five games this season.
Space:
Right guard
Jake Scott
said there are not regular busted assignments up front, that Johnson is the same and what's going on "is not him." Get him into space and he's as dangerous as ever.
The thing is, Johnson's rarely been in space. To get into space he first has to get through traffic, and so right now how good he can be running in traffic is the biggest question.
I'd like him to spin, dive and squirm to turn a no-gain into a yard and to turn a 1-yard run into a 2-yard run. That may be the start of a turnaround as much as a home run.
And he's got to do some of that to make up for what's been insufficient blocking.
"Oh, the run blocking has been hideous," said Aaron Schatz of Football Outsiders. "The total opposite of the pass blocking. Dead last in our Adjusted Line Yards stat. But Johnson doesn't seem to have the same burst, either. He doesn't have the long highlight runs he normally gets, even when he is able to get a hole."
Potential for change:
Munchak and offensive line coach Bruce Matthews, both Hall of Fame offensive linemen, have steadfastly supported Harris and center
Eugene Amano
, the young guys who have been the weakest line links. The organization deferred to that stance when making moves to adjust the roster before the season and most analysts, myself included, tend to still give those coaches the benefit of the doubt.
But Munchak was asked recently if the team was considering any changes to the line and he said "not yet." That's the first acknowledgement that it's possible they'd pull someone.
Fernando Velasco
is the primary alternative on the interior, and he has played well in limited chances.
Both Amano and Harris said they are appreciative of the support from their coaches, but know they need to play better to continue to earn it.
"You never can get too comfortable," Harris said. "You always want to play like your job is on the line."
"You've got to be consistent at what you do each and every week in order to be relevant," Amano said.
The contract:
It has been a bad five games. But it's far, far too early to decide conclusively that the Titans blew it by giving Johnson a big extension -- ending Johnson's preseason holdout by adding four years and $53 million with $30 million guaranteed to the two years he had remaining. It's far, far too early to say conclusively that Johnson's not the same player now that he got paid.
I understand the temptation to rush to judgment. I am here to try to temper it. Things can turn around in a week. But the longer he struggles, the bigger the worry.
July, 31, 2008
7/31/08
8:47
AM ET
Posted by ESPN.com's James Walker
Morning take: Perhaps last week's surprising chants of "D.A.! D.A.! D.A!" rattled Quinn early.
Morning take: Can he pass protect?
Morning take: As a former Bengals beat writer, I've seen this happen in practice before, and Johnson always gets the last laugh. Fortunately for White, Johnson will be rehabbing his right ankle for a few more weeks.
Morning take: I've heard of Webster, Enos and Sergeant, but never a Chad Slaughter. We will find out soon if he can play.
NFL SCOREBOARD
Thursday, 11/20
Sunday, 11/23
Monday, 11/24
WEEKLY LEADERS