NFL Nation:

LaVar Arrington
March, 4, 2012
3/04/12
10:57
AM ET
News the NFL's
bounty investigation will expand
from New Orleans to Washington cannot be good for the
St. Louis Rams
' new defensive coordinator.
Gregg Williams was coordinating the Saints' and Redskins' defenses when those teams' defensive players allegedly earned extra cash for knocking out opponents. And with
similar revelations
coming out from Buffalo, where Williams was once head coach, Williams appears additionally vulnerable to NFL discipline.
Williams' cooperation with the NFL's investigation into the Saints, signaled by his recent
statement of contrition
, will presumably help his cause. However, Williams' cooperation with investigations into the Redskins and/or Bills would seem to work against him.
Williams is in prime position to cooperate with the Saints investigation. He no longer works for the team, so he would not face internal pressure to withhold information. Williams loses nothing if the Saints incur fines or lose draft choices. The league obviously has much invested in making an example of the Saints, adding value to whatever Williams can tell them. But if the NFL determines Williams was a driving force behind bounty systems in Washington and Buffalo, then what?
Coy Wire
, a former safety for the Bills during Williams' tenure there, described a culture of "malicious intent" toward opposing players, according to the Buffalo News. Another teammate said the culture was mostly player-driven.
"There were rewards,"
Wire told the News
. "There never was a point where cash was handed out in front of the team. But surely, you were going to be rewarded. When somebody made a big hit that hurt an opponent, it was commended and encouraged."
The NFL will have to determine just how far it wants to go in changing the culture of its game. Formal bounty systems obviously cross the line. But if a pass-rusher could privately guarantee knocking out the opposing quarterback every week, let's face it, that player would rank among the highest-paid in the league. Punishing quarterbacks will always be a top priority.
Former Redskins linebacker
LaVar Arrington
, appearing on Sirius radio, framed what happened during his Washington tenure within the broader NFL culture.
"My intent was to deliver what would be considered a kill shot within the framework of what football is,"
Arrington said
. "Not trying to hurt somebody or injure them, but again, the reality that exists, we all know what happens in pileups, from the names that are called during pileups to what ankles might get turned, private parts get punched and grabbed, people get scratched. There are a lot of things that go on."
January, 18, 2011
1/18/11
8:00
AM ET
One of the more pressing questions in the AFC West is what will the
Denver Broncos
will do with the No. 2 overall pick?
The Broncos will likely consider trading the pick to get more draft picks to help rebuild the team. Denver only has six picks. The problem is that it is very difficult to get out of the No. 2 spot.
I just didn't realize how difficult it has been. I asked the fine folks at ESPN Stats & Information to check on the trade history of the No. 2 pick. The results were eye opening.
The No.2 pick hasn't been moved in 11 years. So, the odds are very high that the Broncos will keep the pick and look at players such as Auburn defensive tackle Nick Fairley, Clemson defensive end Da'Quan Bowers or LSU cornerback Patrick Peterson in an attempt to fix the NFL's worst-ranked defense.
The No. 2 pick has moved 13 times since 1967. It was traded three times in the 1990s, but 2000 was the last time it was moved. Below is a look at the trade history of the No. 2 and many thanks to ESPN Stats & Information for the help.
April, 16, 2010
4/16/10
4:01
PM ET
Ricky Williams
and
Desmond Clark
are the only active players remaining from the 1999 blockbuster trade that featured Mike Ditka trading the Saints' entire draft, plus two high future choices, for one pick.
The trade came to mind after
suggestions
that Cleveland could have interest in acquiring the first overall pick from the Rams. I'd be
surprised
if the Browns gave up what it would take to
land the top pick
. Their entire draft is worth 2,692 points on the
draft value chart
. The chart probably overvalues the top choice by assigning a 3,000-point value, but even if the top pick were discounted to 2,000 points, the Browns would be giving up the seventh and 38th overall picks.
The Saints gave up 1,575 points worth of 1999 picks, plus first- and third-round choices in 2000, to get the fifth overall choice in the 1999 draft from the Bears. The chart values the fifth choice at 1,700 points.
The deal drew initial criticism, but the players drafted with the Saints' old picks -- Clark,
LaVar Arrington
,
D'Wayne Bates
,
Cade McNown
,
Khari Samuel
,
Lloyd Harrison
,
Billy Miller
, Nate Stimson -- didn't meet expectations in most cases.
Browns president Mike Holmgren
on moving up to draft quarterback Sam Bradford: "'Look it, he's a coveted young man. To be able to go up and change somebody's mind ahead of us, you'd have to mortgage the ranch. You remember when coach Ditka did that with his picks and then he went and played golf.' Absolutely, we love the player, as do a lot of people. But in the real world, we're probably going to go in a different direction there.''
February, 4, 2010
2/04/10
7:47
PM ET
FORT LAUDERDALE, Fla. -- The
Buffalo Bills
transition to a 3-4 defense couldn't have been better news for pass-rusher
Aaron Maybin
.
Last year's 11th overall draft choice struggled through an awful rookie season as a 4-3 defensive end. Maybin's undetectable performances frustrated a fan base that hoped for an impact player and could rattle off a dozen names the Bills could've had instead.
[+] Enlarge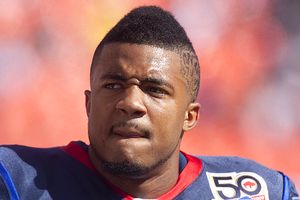 Ronald C. Modra/Getty ImagesThe Bills calculated that Aaron Maybin made only 18 tackles during his rookie season.
The Bills on Thursday announced they will switch to a 3-4 with new defensive coordinate George Edwards. That would move Maybin to outside linebacker.
Maybin's mentor, former
Washington Redskins
linebacker
LaVar Arrington
, had an immediate reaction to the news.
"Love it! I love it!" said Arrington, who has been spending time on Radio Row in the Super Bowl media center. "For Aaron, I think it's the perfect defensive scheme. He's a bookend. He's not a true, run-stop defensive end, where you keep him out there, going head-to-head-to-head-to-head with those 300-pound guys every single play.
"You give him more of an opportunity to be successful if you get him in positions where he's in space, getting the offensive linemen in an uncomfortable situation with having to deal with him in open space."
Maybin was a middle-schooler in Ellicott City, Md., when he met Arrington at a community event staged by
Baltimore Ravens
linebacker
Ray Lewis
. Arrington and Maybin hit it off. Their bond became stronger when Maybin decided to attend Penn State, Arrington's alma mater.
Arrington also knows Edwards well. Edwards was the Redskins' assistant defensive coordinator and linebackers coach in 2002 and took over all of the coordinating duties in 2003. Arrington went to the Pro Bowl each of those seasons.
"I think George Edwards being signed is an awesome deal," Arrington said.
Maybin was overmatched as a rookie. He was a one-year starter at defensive end for Penn State and entered the draft after his junior season. He bulked up once he joined the Bills, but never looked right in his uniform.
Maybin didn't start a game for a team that went into the season desperate for an improved pass rush. Based on stats calculated by the Bills' coaching staff, Maybin made 18 tackles, two for losses. He had zero sacks and no forced fumbles.
"The more Aaron Maybin has a chance to develop and mature mentally and physically and emotionally, he's going to be a special player in this league," Arrington said. "I just hope that he gets a fair opportunity to get to that point."
A 3-4 outside linebacker can be sleeker than a 4-3 defensive end. That will allow Maybin to carry a more natural weight on his 6-foot-4 frame and "be himself," Arrington said. "He doesn't have to be out of his character for that position."
Maybin must learn how to work out of a two-point stance and master some basic pass coverages.
"I think he's athletic enough to adapt and adjust," Arrington said. "You've got to figure that as a bookend he's going to drop into the hook, into the curl and he may have the flat. They may, once they see how he develops, have him carry routes.
"But for the most part they're going to have him in certain drop zones anyway. He should be able to adjust to that."
May, 1, 2009
5/01/09
1:40
PM ET
| | |
| --- | --- |
| | |
| | Ned Dishman/Getty Images |
| | The Buffalo Bills hope rookie defensive end Aaron Maybin can provide a serious pass-rush threat that was missing in 2008. |
Posted by ESPN.com's Tim Graham
ORCHARD PARK, N.Y. -- The scene was typical for a teenage boy and his father.
Together in a van on a long drive, the father began to preach a little. In this particular case, he really was a preacher. With nowhere to escape, his son stared out the window and looked for anything amid the passing landscape to distract him from the lecture.
Only this wasn't some mundane interlude. The teen wasn't ignoring the speech or rolling his eyes. He was absorbing every word. The tears welled.
"It was a very pivotal time for me in my life," Buffalo Bills rookie defensive end Aaron Maybin said of the intimate talk he had four years ago with his father.
Maybin was 17 and on his way to Penn State for a Nike camp. College football recruiters from across the country had begun to notice his athletic ability. He had the size, the speed, the explosiveness that made them slobber. He was on the verge of landing a full scholarship to practically any college in the East.
"Everything was really starting to come together," he said.
Michael Maybin reminded Aaron of what they had endured, shared some painful regrets. Aaron's mother died while delivering his little sister. He was 6.
Michael Maybin was the 12th of 14 children and the son of a steelworker. Nobody in the family earned a college degree. He attended Penn State for a while but didn't finish. That kept him from being the provider he wanted to be.
"Before we both knew it we both were looking out the window, trying not to make eye contact with each other because we were both crying," Aaron Maybin said. "He spent a lot of time relaying how badly he wanted to see his son be successful.
"That was a time when he allowed himself to be vulnerable and express to me how much he really loved me. We expressed to each other what our feelings were. We both put it out on the table how important it was for us to see that moment happen for us the right way."
One day after his father's seminal speech, Aaron Maybin was incandescent at that Nike camp. Penn State coach Joe Paterno offered him a scholarship that opened the door for all sorts of glorious possibilities.
The tears returned Saturday. Aaron Maybin's dream of being in the NFL came true.
The Bills drafted him 11th overall. He left Penn State a year early, but he's looking at a contract that will pay him around $4 million a year and about $14 million in guarantees.
"This whole thing is mind-blowing," said Michael Maybin, a fire inspector and associate minister at Transformation Church of Jesus Christ in Baltimore. "He went into a press conference at his school as Aaron Maybin, a defensive end heading to Penn State and walked out a corporation."
April, 29, 2009
4/29/09
4:06
PM ET
Posted by ESPN.com's Tim Graham
ORCHARD PARK, N.Y. -- Former Penn State and NFL star LaVar Arrington was knocking around the Buffalo Bills' facility Sunday with his protégé, Aaron Maybin.
Arrington has been mentoring him for years. Maybin was in middle school when he met the three-time Pro Bowler, so one could understand why Arrington was wearing a Bills T-shirt a day after they made Maybin the 11th overall pick in the draft.
| | |
| --- | --- |
| | |
| | AP Photo/John Ulan |
| | Cameron Wake collected 31 sacks during two seasons with the CFL's BC Lions. |
I'll have more on Maybin and his inner circle later this week, but I also had the opportunity to ask Arrington about another Penn State pass-rusher who's entering the AFC East this year.
The Miami Dolphins in January signed Canadian Football League sackmaster Cameron Wake, who played under the name Derek Wake at Penn State.
Wake arrived at Happy Valley with comparison's to Arrington, who turned pro the year Wake got there. Wake, however, left Penn State undrafted. He got into banking, then personal training and had to reinvent himself with the BC Lions, recording 31 sacks in two seasons.
The Dolphins signed him to a four-year, $5 million deal, the richest contract ever given to a CFL import.
"That's a heck of a story," Arrington said. "He's like Cinderella Man. That's one of those stories where you've got to say 'Man, if you don't believe that dreams can come true, then he's one of those you have to look at.'
"He has to say 'If I didn't go that extra mile, if I didn't work a little bit harder, I actually cheated myself out of possibly realizing my dream.' That personifies what he represents."
Arrington remains blown away by Wake's athleticism, but pointed to a lack of dedication that often drew Joe Paterno's ire.
"He went there and was athletic as all get-out," Arrington said. "There never was a question about his athletic ability. It was a question about his desire and his intensity.
"What happened from that time when he left Penn State to when he started playing in Canada, I don't know. But it wasn't the same man. It's not the same guy. That's pretty awesome that he's getting an opportunity to play in the NFL after all that."
March, 15, 2009
3/15/09
5:56
PM ET
Posted by ESPN.com's Matt Mosley
The folks at Real Clear Sports blog put together a top 10 list of the "most damaging egos in sports." Some of you might be surprised to see three current or former members of the Dallas Cowboys organization on the list.
Cowboys owner Jerry Jones and former wide receivers Terrell Owens and Keyshawn Johnson were all included. It's not shocking to see T.O. and Jones on the list, but making Johnson a top-five choice is ridiculous. If his ego was so damaging when he was with the Jets, I'm not sure why Bill Parcells was so eager to sign him in 2004. What happened in Tampa was simply a stare-down contest between Johnson and Jon Gruden.
You'd be hard-pressed to find any of Johnson's ex-teammates who would accuse him of having a "damaging ego." Is there anyone else who should've been included on the list from the NFC East? Does LaVar Arrington deserve honorable mention? Jeremy Shockey? Freddie Mitchell? Hollywood Henderson? Duane Thomas?
Let me hear from you. Hat tip to the JJT blog.

NFL SCOREBOARD
Thursday, 9/18
Sunday, 9/21
Monday, 9/22
WEEKLY LEADERS