NFL Nation:

Laveraneus Coles
February, 12, 2010
2/12/10
2:36
PM ET
The
Cincinnati Bengals
will sign free agent receiver
Matt Jones
to a contract Friday in an attempt to improve their passing game, according to ESPN's Chris Mortensen.
[+] Enlarge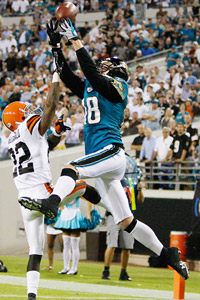 Sam Greenwood/Getty ImagesMatt Jones is a low-cost addition, but how will he perform after a year away from football?
Here are some initial thoughts on the signing:
Monetarily this isn't a big risk, but the Bengals would take a huge hit publicly if Jones' previous problems are not behind him. It will be interesting to see where Jones is in his personal life. He had a solid season in 2008, yet no team wanted to touch him in 2009. That leads me to believe his personal issues were at "code red." The Bengals are counting on things to be different for Jones in 2010.

On the field, the biggest issue is rust. Missing a year in the NFL and coming back is not easy, especially at the receiver position where precision and timing are so important. The Bengals cannot afford to wait a year for Jones to get his legs back under him. Cincinnati needs immediate help at receiver next season if it wants to repeat as AFC North champs. Can Jones be the same player he was two years ago? Only time will tell. But a chance to get into the team's offseason program early will help.

This signing makes me question whether the Bengals have any serious interest in pending free agent receiver Terrell Owens. As evidenced by their reported flirtations with Matt Jones, Adam "Pacman" Jones and Donte' Stallworth, Cincinnati is looking to go cheap. These are all bargain-basement reclamation projects who make me wonder if the Bengals will suddenly pour out multi-millions of dollars to land someone like Owens or another big-name receiver in free agency to help quarterback Carson Palmer.

Finally, what does Jones' signing mean for Laveranues Coles? He signed a $28 million contract last year and underperformed in 2009. Coles, 32, isn't getting any younger. He's clearly on the downside of his career but the Bengals still owe him a lot of money. Keep an eye on what the team decides to do, if anything, with this situation.
March, 18, 2009
3/18/09
12:30
PM ET
| | |
| --- | --- |
| | |
| | Rob Tringali/Sportschrome/Getty Images; Andy Lyons and Tom Hauck/Getty Images |
| | The AFC North has lost some star power, with Bart Scott and T.J. Houshmandzadeh departing through free agency and Kellen Winslow Jr. sent off in a trade. |
Posted by ESPN.com's James Walker
With the busiest portion of free agency coming to an end, it is officially time to evaluate the decisions made by all four AFC North teams.
The range of activity in free agency varied this year. For instance, the Baltimore Ravens were extremely active in signing and losing players, while the defending champion Pittsburgh Steelers only visited with a couple of players without reaching deals.
Let's examine the moves.
Baltimore Ravens

Grade: B
Key pickups: CB Domonique Foxworth, C Matt Birk, TE L.J. Smith, CB/KR Chris Carr
Key losses: LB Bart Scott, C Jason Brown, S Jim Leonhard, CB Chris McAlister (released), Samari Rolle (released)
Analysis: Going into free agency, I thought the Ravens were doomed for failure with the amount of big names set to hit the open market. Baltimore certainly lost some of those players, but a creative and cost-effective plan allowed general manager Ozzie Newsome to soften the blow. The Ravens lost three key starters in linebacker Bart Scott, center Jason Brown and safety Jim Leonhard. They also released starting cornerbacks Samari Rolle and Chris McAlister. But Baltimore quickly added talent in free-agent cornerback Domonique Foxworth, veteran center Matt Birk, tight end L.J. Smith and return specialist Chris Carr. Keeping Pro Bowl linebackers Ray Lewis and Terrell Suggs were vital. And if the Ravens put together another solid draft class, which is Newsome's forte, Baltimore should be fine in 2009. This good grade is given to the Ravens for their resiliency in coming up with a plan to stay in contention despite losing a wealth of talented players.

Grade: C+
Key pickups: WR Laveranues Coles, QB J.T. O'Sullivan, P Ryan Plackemeier
Key losses: WR T.J. Houshmandzadeh, QB Ryan Fitzpatrick, DL John Thornton (still unsigned), OT Stacy Andrews, C Eric Ghiaciuc (still unsigned)
Analysis: No one was surprised when former Pro Bowl receiver T.J. Houshmandzadeh left Cincinnati for the Seattle Seahawks. But it was surprising when the Bengals paid former New York Jet Laveranues Coles $28 million over four years-- including a whopping $9.75 million in his first year -- to replace Houshmandzadeh. Houshmandzadeh had 90-plus receptions the past two seasons, while Coles is more of a 60 to 70 catch receiver. Someone will have to make up that missing production whether it is a bounce-back year from Chad Ocho Cinco or a career year from one of the young receivers -- Chris Henry, Andre Caldwell or Jerome Simpson -- in the No. 3 role. Keeping tailback Cedric Benson was important, but the team still needs a big-play threat at that position. J.T. O'Sullivan was a decent pickup to back up quarterback Carson Palmer. With Palmer's return, a stellar draft could put Cincinnati in position to surprise next season.
Grade: D+

Key pickups: LB Eric Barton, LB David Bowens, TE Robert Royal, DL C.J. Mosley, OL John St. Clair
Key losses: S Sean Jones, TE Kellen Winslow Jr. (trade), WR Joe Jurevicius (released), OT Kevin Shaffer (released), LB Andra Davis, LB Willie McGinest, RB Jason Wright
Analysis: The Browns are cleaning house, and they probably are not done yet. New coach Eric Mangini and first-year general manager George Kokinis are turning over the roster quickly through every avenue possible. The Browns have not retained most of their in-house free agents such as safety Sean Jones and linebackers Andra Dav
is and Willie McGinest. They also cut offensive tackle Kevin Shaffer and receiver Joe Jurevicius and traded former Pro Bowl tight end Kellen Winslow Jr. for a pair of draft picks. The replacements have not been overwhelming. Former Jets linebackers Eric Barton and David Bowens are both stop-gap players who are 30-plus. Royal is not nearly as dynamic a tight end as Winslow, and Cleveland still has a lot of holes left to fill in the draft. The Browns are clearly starting from scratch, which is why they are attempting to stockpile draft picks. Coming off a 4-12 season, Cleveland appears to be headed for another transition year in 2009.
Pittsburgh Steelers

Grade: C-
Key pickups: None
Key losses: CB Bryant McFadden, OT Marvel Smith, QB Byron Leftwich (still unsigned), WR Nate Washington
Analysis: Pittsburgh hasn't signed anyone outside of its building. Instead, the team placed its focus on keeping together last year's championship team. The Steelers retained three starters from their offensive line in guard Chris Kemoeatu and tackles Willie Colon and Max Starks and brought back a host of backups and special-teams players. They are staying true to their identity of not being major players in free agency. But it would have been beneficial to add at least one or two offensive linemen from the outside to compete and provide depth. That probably won't happen until next month's NFL draft. Starting cornerback Bryant McFadden bolting to the Arizona Cardinals could be softened if William Gay continues to develop in 2009. The Steelers are banking on it. Pittsburgh also brought in a few intriguing free agents, such as receiver Joey Galloway and cornerback/return specialist Chris Carr, for visits. But its reluctance to pay much on the open market this offseason forced those two players to sign with other teams.