December, 10, 2013
12/10/13
6:45
PM ET
SAN DIEGO -- For the first time in many weeks, the
San Diego Chargers
had all 53 players on the active roster participate in practice Tuesday -- a good sign for a team facing the
Denver Broncos
, who are undefeated at home.
"The last couple weeks coming out of games we've been fairly healthy," San Diego coach
Mike McCoy
said. "Every game you're going to have some dings, but nothing serious. So it's been a good couple weeks for us."
Receiver
Eddie Royal
(toe), center
Nick Hardwick
(neck), cornerback
Shareece Wright
(foot) and defensive back
Johnny Patrick
(ankle) were limited in practice.
Receiver
Keenan Allen
(shoulder), tackle
D.J. Fluker
(ankle), defensive end
Lawrence Guy
(toe), linebacker
Jarret Johnson
(hand), defensive tackle
Sean Lissemore
(toe) and defensive end
Corey Liuget
(knee) were full participants.
Royal had not practiced since injuring his toe against Indianapolis on Oct. 14. Royal missed just one game over the past seven because of the injury, against Cincinnati. With less practice time, Royal said he put in more film study and mental reps to make sure he was prepared to play.
"I just had to study more than normal," Royal said. "Because when you're out there running the plays, you don't normally have to go home and look at it for hours. But now that you're not doing it, you want to make sure that you're detailed in what you're doing. There's a lot of little things that you have to pay attention to when you're not out there practicing every day."
November, 4, 2013
11/04/13
8:00
AM ET
A review of four hot issues from the
Washington Redskins
'
30-24 overtime win
over San Diego:
Ground attack:
The Redskins have excelled on the ground in the past five games -- and, not so coincidentally, they're 3-2 in that stretch. In these five games, the Redskins have averaged 173.6 rushing yards per game, second only to San Francisco, according to ESPN Stats & Information. And their 4.93 yards per rush ranks fourth in the NFL over that time.
Alfred Morris
had a season-high 25 carries, allowing the Redskins to use all of their play-action game, and that consistently hurt the San Diego defense. For as talented as quarterback
Robert Griffin III
is, it's Morris who powers the offense. The more success Morris has, the better opportunities Griffin will have to throw. Also, those three
Darrel Young
touchdowns will provide defenses something else to worry about at the goal line.
[+] Enlarge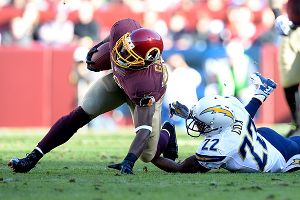 Patrick McDermott/Getty ImagesPierre Garcon had seven catches for 172 yards in Sunday's win.
Getting in rhythm:
Receiver
Pierre Garcon
was wide open on the first play of the game, but Griffin's pass was low and behind him. But after that pass they were mostly in sync -- and if they weren't, then Griffin put the ball close enough to Garcon for him to make a tough catch. The only other pass-catcher on the roster capable of making those grabs is tight end
Jordan Reed
. Griffin and Garcon need to be on the same page because otherwise the passing game just won't threaten many teams. The other wideouts might make a big play once in a while, but none come close to scaring a defense. Garcon can do just that, especially in the intermediate area. The more Griffin throws with trust to Garcon, the more big plays he can make. And with Griffin's accuracy off this season, it's important to have another player with a wide catch radius.
Missing rush:
Outside linebacker
Brian Orakpo
played the run well against San Diego, penetrating to the inside on a couple of occasions to make stops. But in the last two games, with opposing quarterbacks throwing a combined 90 passes, Orakpo has not been credited with even a quarterback pressure.
Peyton Manning
and
Philip Rivers
do a good job avoiding hits by releasing the ball quickly. And it's not as if the Redskins are generating much pressure from elsewhere -- they have a combined three sacks and five quarterback hurries the past two games. Orakpo's presence helps no doubt, but if the Redskins really want to make a run, he'll have to make more noise as a pass-rusher.
Special teams mishaps:
On both field goals it appears the kicks were too low.
Kai Forbath
needs to kick it a little low when attempting a kick from more than 50 yards, but his first one was from only 25 yards.
Lawrence Guy
, who blocked it, barely jumped. It's tough to say whether the fact that the laces were facing the wrong way made a difference. Regardless, it was low. Forbath did make a 47-yarder later in the game. Meanwhile, the punt coverage has improved statistically since it allowed Devin Hester's 81-yard return for a score in Week 7. It helps that only two of
Sav Rocca
's next 12 punts were returned, gaining a combined 14 yards. Six punts have gone out of bounds.
November, 3, 2013
11/03/13
10:40
PM ET
LANDOVER, Md. -- One of the few bright spots on an otherwise disappointing day for the
San Diego Chargers
was the performance of the special teams' unit.
Guy
Defensive end
Lawrence Guy
has been on the roster for only four weeks, but he made an impact against Washington, blocking a 25-yard field goal attempt by
Kai Forbath
, the Chargers' first blocked field goal attempt in 11 years.
"Every time I line up in that situation, my focus is on getting penetration and blocking the ball," Guy said. "So that's basically what I did. We got some penetration, I got my hands up and I blocked the ball."
The play was Guy's second blocked field goal this season. He also blocked a 48-yard field goal attempt by Seattle kicker
Steven Hauschka
that safety
Delano Howell
returned for a 61-yard score while Guy played for Indianapolis last month.
Guy also knocked down a
Robert Griffin
III pass attempt that teammate
Sean Lissemore
caught in the end zone for a touchdown -- San Diego's first defensive touchdown of the season.
"It was kind of suspended in the air between people and all sorts of stuff," Lissemore said about the play. "So I looked down, saw something brown and held onto it. It was kind of tough down there. People were pawing at it and grabbing it, but we ended up getting the touchdown."
Defensive end
Corey Liuget
also blocked a 59-yard Forbath field goal attempt at the end of the half.
San Diego punter
Mike Scifres
also had a good day, finishing with two punts downed on the 1-yard line.
The first punt was an impressive play by receiver
Seyi Ajirotutu
. As the gunner, Ajirotutu raced down the field, diving and batting the ball back into the field of play before it reached the end zone. Safety
Darrell Stuckey
downed the ball on the 1-yard line.
The other one was a shorter, 35-yard kick that Scifres angled toward the sideline, with the coffin-corner kick bouncing out just before it reached the goal line.
Scifres said it's the first time he's had two punts downed on the 1-yard line in a game.
"He made a great play on the first one," Scifres said. "And on the second one, on that short of field, we just played the sideline."
October, 11, 2013
10/11/13
10:55
AM ET
SAN DIEGO -- It's pretty unusual to make a game-changing play for one team, and then line up against them the following week.
Guy
But new
San Diego Chargers
defensive end
Lawrence Guy
could get that opportunity on Monday, when the
Indianapolis Colts
come to town.
Guy blocked a field goal attempt by Seattle kicker
Steven Hauschka
that was returned 61 yards by
Delano Howell
in the Colts' 34-28 win over the Seahawks last Sunday. Guy played 23 snaps on defense and another 16 on special teams.
A day later the Colts waived Guy to make room on the 53-man roster for receiver
LaVon Brazill
, who was suspended for the first four games for violating the NFL's substance abuse policy.
Guy hopes he's active on Monday night so he can play against his former teammates.
"I can't wait," Guy said. "I spent almost a year and a half playing against those guys in practice, so if they activate me, it's going to be fun going against those familiar faces again."
A Las Vegas native who played at Arizona State, Guy said he's pleased to be back on the West Coast where most of his family is located. And he should not face a big adjustment in terms of scheme, with the Colts and Chargers both running a 3-4 defensive alignment.
At 6-foot-4 and 318 pounds, Guy will be asked to give San Diego depth at defensive end.
While there are little secrets between teams in the league, with Guy, recent practice squad addition running back
Kerwynn Williams
and general manager Tom Telesco all having ties to the Colts, San Diego coach Mike McCoy should have a good idea of Indianapolis' scheme, personnel and tendencies in game-day situations.
"We're trying to do what's best for the football team," McCoy said. "And we're trying to get players that can help us win, and that's what we're looking to do every week, week in and week out. It just happened that we're playing them this week.
"So we made some changes on the roster, obviously. They came from Indy, so we'll ask them a few questions."
October, 7, 2013
10/07/13
12:30
PM ET
INDIANAPOLIS -- A review of three topics from the
Indianapolis Colts
'
34-28 victory
over the
Seattle Seahawks
.
[+] Enlarge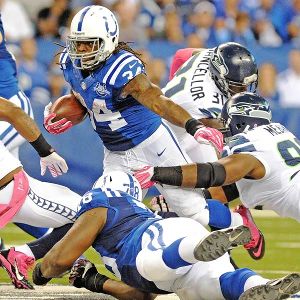 Thomas J. Russo/USA TODAY SportsColts RB Trent Richardson finished Sunday's game against Seattle with 56 yards on 18 carries.
DPOY:
You should have Colts linebacker
Robert Mathis
on your defensive player of the year list if you didn't have him on there before. Mathis has made any thoughts about him not being able to be a force without former teammate
Dwight Freeney
vanish. Mathis leads the league in sacks with 9.5 after picking up two Sunday. He also became the 30th player in league history to reach 100 career sacks when he recorded a strip sack on the final play of the first half. "I can appreciate it and never take it for granted because it is a big milestone," Mathis said. "Appreciate it and I'm very blessed."
Finding a rhythm:
Running back
Trent Richardson
had a brutal first half -- and that's being polite -- when he ran for 2 yards on six carries. But things changed for him in the second half when he averaged 5.4 yards on his 12 carries. You had a feeling Richardson would have a better second half when he took off for 16 yards, his longest run of the season, on his first carry. His best run came when he went off the left tackle for a 10-yard gain on third-and-5 to keep a drive alive in the fourth quarter.
Adam Vinatieri
later made a 49-yard field goal to put the Colts up 34-28. Richardson is still working to find a rhythm, with his play in the second half being a step in the right direction. "Everything is starting to slow down for me," he said. "At first, you know it was pretty fast, trying to learn. Now I've played three games. With that, I'm still a professional, so at the same time I got to be on my P's and Q's. I've got to know what's going on."
Special teams were special:
It was a rough start on special teams. The normally reliable
Pat McAfee
shanked his first punt -- 34 yards -- giving the Seahawks the ball near midfield. Then the Seahawks overloaded the middle and ran a pick-and-roll (excuse the basketball terminology) on snapper
Matt Overton
, allowing
Jermaine Kearse
to block McAfee's punt.
Jeron Johnson
couldn't gather the ball before it went out of the back of the end zone, giving Seattle a safety. The Colts countered the Seahawks' blocked punt when defensive lineman
Lawrence Guy
blocked Steven Hauschka's 48-yard field goal attempt. Safety
Delano Howell
picked up the loose ball and returned it 61 yards for a touchdown, barely outrunning Seattle holder
Jon Ryan
. "He was kind of quick," Howell said. "I wasn't expecting that. Respect to him. I heard he was a wide receiver at one point." Sunday marked the fourth time in team history that the Colts have returned a blocked field goal for a touchdown.
September, 25, 2013
9/25/13
6:50
PM ET
INDIANAPOLIS – The
Indianapolis Colts
will be without starting defensive tackle
Ricky Jean Francois
against the
Jacksonville Jaguars
on Sunday.
Jean Francois injured his groin in the second half of their win over San Francisco last weekend.
"Groin injury looks to be a little bit worse than anticipated," Colts coach Chuck Pagano said. "(He) might be out a week or so."
The Colts gave an indication that Jean Francois' injury would cost him some time when they re-signed defensive lineman
Lawrence Guy
on Tuesday.
Jean Francois wasn't the only Colt not to practice Wednesday. Safety
Antoine Bethea
(toe), running back
Ahmad Bradshaw
(neck) and safety
LaRon Landry
(ankle) also missed practice. Bradshaw's injury is surprising because Pagano didn't mention him when he ran down the list of injured players during the media session.
Linebacker
Pat Angerer
(knee) and center
Samson Satele
(elbow) both were limited in practice after missing the 49ers game. Satele will start with Mike McGynn moving back to guard if he's able to play against the Jaguars.
The Colts signed receiver Da'Rick Rogers and running back
Kerwynn Williams
to the practice squad Wednesday. Both players were released from the 53-man roster Tuesday. To make room for Williams and Rodgers, the Colts released receiver Danny Coale and running back Miguel Maysonet from the practice squad.
September, 24, 2013
9/24/13
10:35
AM ET
INDIANAPOLIS -- The first sign that
Indianapolis Colts
defensive lineman
Ricky Jean Francois
' groin injury could cause him to miss some time came Tuesday morning when the team announced that it re-signed defensive lineman
Lawrence Guy
. The Colts also signed offensive tackle Xavier Nixon off Washington's practice squad.
Jean Francois was injured in the second half of Sunday's victory in San Francisco.
Guy is a familiar name for the Colts. He was with the Colts last season, starting two of the nine games he appeared in. He was cut by the team last month.
The Colts could also use extra bodies on the offensive line. Center
Samson Satele
missed the 49ers game with an elbow injury and guard
Donald Thomas
is out for the season with a torn quad.
August, 31, 2013
8/31/13
6:50
PM ET
Most significant move
: Defensive lineman
Fili Moala
didn't play in the preseason because was he was still rehabbing a knee injury from late 2012, but that didn't stop him from making the roster. Keeping Moala put an end to fellow defensive lineman
Drake Nevis
' time with the Colts. Fullback
Dominique Jones
was cut, leaving the Colts with only one fullback on the roster,
Stanley Havili
.

A feel-good story
: Linebacker
Caesar Rayford
kept hearing from NFL teams over the years that they liked what they saw out of him on video while he played in the Arena Football League. Rayford, however, never got an invite to a training camp from any of those teams. That changed this year when the Colts, led by general manager Ryan Grigson's willingness to search anywhere for talent, invited Rayford to camp. Rayford didn't disappoint, either. He had a team-high five sacks during the preseason. Rayford now has a spot on the 53-man roster. The 27-year-old rookie's best bet to get on the field will likely be on special teams. He'll take it after getting looked over for so many years while he played in the Canadian and Arena Football League.
What's next
: Grigson and his staff aren't going to sit tight. They'll continue to monitor which players -- especially offensive linemen and possibly fullback -- around the league were released, and don't be surprised if the roster the Colts take into their season opener against Oakland on Sept. 8 is completely different than the current one. The Colts will likely add quarterback
Chandler Harnish
and linebacker
Daniel Adongo
to the practice squad if both players clear waivers. Adongo didn't play in the preseason, but the Colts are intrigued by the former rugby player. Harnish was on the practice squad last season.
Colts cuts
: LB: Daniel Adongo,
Josh McNary
,
Monte Simmons
,
Shawn Loiseau
. DB:
Larry Asante
,
Marshay Green
,
Sheldon Price
,
Daxton Swanson
. OL:
Thomas Austin
,
Ben Ijalana
,
Bradley Sowell
,
Lee Ziemba
,
Emmett Cleary
. DL:
Lawrence Guy
,
Drake Nevis
,
Martin Tevaseu
. QB: Chandler Harnish. FB:
Robert Hughes
. TE: Dominique Jones. WR:
Jeremy Kelley
,
Jabin Sambrano
,
Lanear Sampson
December, 30, 2012
12/30/12
8:21
PM ET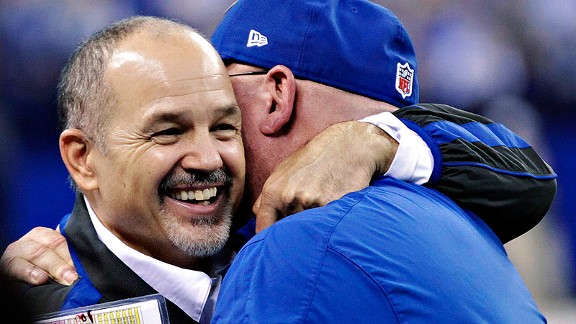 AP Photo/AJ MastColts coaches Chuck Pagano and Bruce Arians celebrated an emotional win over the Texans on Sunday.
INDIANAPOLIS -- The Colts took possession with 9:46 remaining in their regular-season finale.
Andrew Luck
might have handed the game ball to Chuck Pagano right then and there.
The rookie quarterback let the play clock run down, took 15 snaps, watched his team convert three third downs and forced the Texans to burn their last two timeouts.
Indianapolis arrived at the two-minute warning needing only to kneel out the clock,
assuring a 28-16 win over Houston
. And so Pagano, back after three months away for leukemia treatment, found offensive coordinator Bruce Arians and hugged the man who'd led the team while he was away.
"We have a 2:00 offense, we have a 4:00 offense, now we have a 9:00 offense,"
Reggie Wayne
said. "Andrew came in the huddle, he let it be known we need to shut the door on this drive. Guys just bit down on their mouthpieces and found ways to get it done."
"Being a defensive guy… it's glorious, it unbelievable to watch, because you don't have to go back out there," Pagano said. "They just kept grinding it out, grinding it out."
And so the Colts' storybook regular season ended with their 11th win just a year after they were 2-14, fired their top people and hired replacements who gutted and restocked their roster.
"They believe, they have faith, they have trust and the love one another," Pagano said with amazement.
The
Houston Texans
have still never won in Indianapolis. The Texans may have more talent than Indianapolis, but they do not head into the playoffs as a better team. Houston hasn't had the same kind of struggle to rally around, and has lost a great degree of what the Colts spent Saturday night talking about: mojo.
"I doubt anybody's lost confidence," Texans running back
Arian Foster
said.
It's what you say when you were 11-1 and finish 12-4. But there simply has to be an issue with psyche at some level for a few Texans that has the potential to linger into next week's home game against sixth-seeded Cincinnati.
Meanwhile, the guys who wear horseshoes on their helmets spoke of their pride in putting forth a winning effort in a game which gained them nothing in terms of playoff positioning. As the No. 5 seed, they will travel to Baltimore to take on the No. 4 Ravens next weekend.
They signed up for a 16-game season, Pagano said, and they intended to play it out.
After the coin toss, a short video rolled showing highlight of the season and moments when the team rallied for its touchstone cause. Then the cameras showed Pagano on the sideline and the crowd exploded for him.
"It was like a rock star coming out of the tunnel with all the cameras flashing when he walked out," Luck said.
Houston scored 10 points in the third quarter to move ahead 16-14. But fortunes turned quickly after Shayne Graham's third field goal, a 37-yarder.
Deji Karim
took the ensuing kickoff 101 yards straight down the middle of the field for one score and Luck hit
T.Y. Hilton
for a 70-yard touchdown. Then cornerback
Vontae Davis
collected his second interception of
Matt Schaub
, this one in the Colts' end zone, to set up the 9:46 of keep-away.
The Colts won a good share of games this season that the stats suggested should have gone the other way. They were outgained by the Texans, 352 net yards to 265. But Davis' two takeaways were the game's only turnovers. The Colts were better on third down, were more effective in the red zone and played a cleaner game in terms of penalties.
Likely NFL defensive player of the year
J.J. Watt
got to Luck just once, and his half sack was washed away when the resulting fumble was changed to an incomplete pass on replay review.
The Colts sacked Schaub four times. One came from one-day Hall of Famer
Dwight Freeney
. The other three came from guys hardly anyone's heard of: defensive end
Lawrence Guy
was playing in his ninth game with the team, defensive tackle
Clifton Geathers
was appearing in his eighth and linebacker
Jamaal Westerman
suited up for the fourth time.
Pagano took a long time to emerge for his postgame interview, and through the door leading to the locker room we heard a long-lasting wild rumpus. (See
Robert Mathis
dance and Pagano talk and accept a game ball,
here
.)
Pagano said he never reflected on the darkest days of his leukemia treatment, just getting lost in the game.
Wayne's relationship with Pagano dates all the way back to his time at the University of Miami, when Pagano was part of the Hurricanes' coaching staff.
The receiver credited his coach with holding tears back throughout the day, though he said the team was giving its coach a pass on it.
"He's put the fight in this team," Wayne said. "He makes us go out there, and whatever nick, bruises you have, it's nothing, no comparison. Whenever you think you're hurt, you're not hurt. Our general, he was hurt."
Maybe, down the road, football games will just be football games again for this team.
Whatever it has left this season isn't going to be like that.
"To listen to a guy that beat leukemia in 13 weeks and then comes back to the sideline, is unreal," said punter
Pat McAfee
. "It's something like a movie. The speech he gave today, the highlight of it was basically, 'Week-in and week-out, you get a chance to give people hope just like you did for me when I was fighting for my life…'"
"I think that was a big-time tear-jerker. In situations like this, we realize it's much bigger than us. There are a lot of things going on that we can't control, but we can help. It was really cool."
In a discussion this week of whether Colts first-year general manager Ryan Grigson is executive of the year, we noted the team's remarkable turnover. Sixty-eight percent of the current roster wasn't here last year.
"Ryan Grigson had quite a task, he had to renovate a team," McAfee said. "We refused to use the word rebuild. We used the term reload, Robert Mathis kind of termed that. He brought in a new group of faces, a lot of young guys, a whole new coaching staff, a whole new offense for a brand-new rookie [quarterback] so the guy would have nobody to turn to with questions, he would have to figure it out himself. A defense that's come together around a guy from Canada making a bunch of plays in
Jerrell Freeman
. Get a trade from Miami who's paid off huge in the long run [in Davis].
"We're just a team of misfits that's come together around one big cause which is our leader, giving us inspiration and hope that is much bigger than us."
December, 30, 2012
12/30/12
12:30
PM ET
INDIANAPOLIS -- Greetings from Lucas Oil Stadium, where Chuck Pagano will lead his Colts out of the tunnel in under an hour and coach his team for the first time since September after being treated for leukemia.

The offense will be introduced in a regular fashion unless players in the locker room force Pagano to lead them out. The plan at this point is for a video that's about a minute long to run after the coin toss. It highlights the season and touches on Pagano's plight.
Then the cameras that provide video for the JumboTrons at Lucas Oil Stadium will focus on Pagano, and Indianapolis will have a chance to salute his return.
Once things kick off, Indianapolis has line issues that are likely to be a factor against the Texans.
A.Q. Shipley
will start again at center. And two of the three starters on the defensive line are out, with
Cory Redding
and
Antonio Johnson
inactive.
Lawrence Guy
will start for Redding and
Martin Tevaseu
will be the nose tackle.
The inactive lists:
Texans
Colts
DE Cory Redding
NT Antonio Johnson
July, 28, 2011
7/28/11
5:49
PM ET
The
Detroit Lions
will be the first NFC North team to get on the field for a training camp practice, and so it makes sense for them to have made signing their draft class a high priority. After a flurry of agreements Thursday afternoon, the Lions are down to one unsigned rookie: First-round pick
Nick Fairley
.
The Lions have a 10:15 a.m. practice scheduled for Friday morning.

Chicago Bears
Signed
Unsigned

Detroit Lions
Signed
Unsigned

Green Bay Packers
Unsigned

Minnesota Vikings
Unsigned
July, 27, 2011
7/27/11
1:51
PM ET
Amid the frenzied free agent market, NFL teams are also trying to get their draft classes signed in time for the training camps they want to open in the coming days. So lets resurrect our annual draft tracker to keep you abreast of who has signed and who is left.
To this point, the
Chicago Bears
are the only team with confirmed draft pick signings at this point.
I'll post new versions of this bad boy regularly but not necessarily after every transaction.
Chicago Bears
Signed
Unsigned
Detroit Lions
Unsigned
Green Bay Packers
Unsigned
Minnesota Vikings
Unsigned