NFL Nation:

LeCharles Bentley
September, 19, 2013
9/19/13
5:30
PM ET
ALLEN PARK, Mich. -- LeCharles Bentley showed up in
Larry Warford
's home last December, iPad in tow, ready to make his pitch.
It was a recruitment that began before Warford and Bentley first talked or actually met. It started with a television remote control, an obsession with college football and the need to flip through college games.
Bentley found Warford, now the
Detroit Lions
' starting right guard, while watching Kentucky play Western Kentucky. The former NFL offensive lineman didn't care about the score. He observed Warford, his hip movement and how his explosion jumped off the screen. It made Bentley track the kid and eventually make his pitch.
[+] Enlarge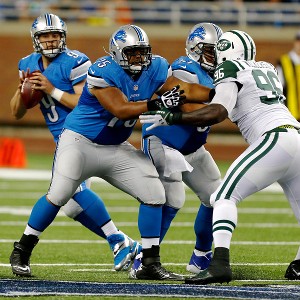 AP Photo/Scott BoehmLions guard Larry Warford has a champion in former NFL offensive lineman LeCharles Bentley.
Which is how he ended up in Warford's home three months later, offering his services to the soon-to-be NFL rookie. By the time the meeting ended, Warford remembered thinking simply: "Cool. Let's go."
"The deal was sealed once the meeting was over," Bentley said. "I knew what he wanted and he knew what I wanted and I knew that he was going to be willing to buy in. It takes time to develop that trust between athlete-trainer, athlete-coach. Obviously it was a little bit of trepidation there in that I only have X amount of time to get this thing right. 'OK, I got this, OK, we're going to get it done.'
"He understood what I was trying to get done, which was the exact opposite of what he had been hearing from so many different people. He just had to trust the process."
It began with making Warford, who weighed 343 pounds at Kentucky, leaner. Using a system without intense treadmill or high-impact aerobic workouts -- a system Bentley won't divulge -- he systematically made Warford thinner, stronger and more NFL-ready.
This helped impress scouts, general managers and coaches leading up to the draft. The weight shift also gave Bentley something to work with when Warford needed to transition to football training from the time organized team activities ended until training camp.
Among those who noticed were the Lions, who coached Warford during the Senior Bowl. After the game, he became a priority target. They drafted him hoping he'd one day be a starter.
The two months from OTAs to training camp shifted the timetable. Warford contended right away. He was able to compete because of small technical tweaks suggested by Lions offensive line coach Jeremiah Washburn during OTAs, and then again by Bentley when they resumed working out in Arizona.
"I was taking too big a step just off my first kick," Warford said. "I was really shifting my balance too much from one side to the other.
"All my weight would be distributed to my outside foot, so that would get me off-balance. You really don't notice it until somebody else says something to you. Even on film, it's hard to say, 'Am I really doing that?' Because you really can't tell."
Washburn and Bentley stayed in touch during the summer, exchanging text messages about Warford's progress. By the time Warford started camp, Washburn said Warford was more focused. More intent.
[+] Enlarge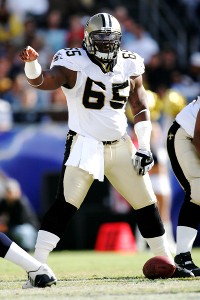 AP Photo/David DrapkinLeCharles Bentley was a two-time Pro Bowler with New Orleans.
Bentley said that unlike a lot of other young players, Warford started working harder once he was drafted instead of relaxing. Part of his early success, too, has to do with Warford playing next to veteran center
Dominic Raiola
, who helps teach toughness and professionalism to the rookie.
It was similar to an experience Bentley had as a rookie right guard playing next to Jerry Fontenot in New Orleans.
Both Washburn and Bentley credited each other for helping with the transformation of Warford into a player who has taken every snap for Detroit already this season.
"We did notice a big change in him when he came back in training camp as far as attitude, body," Washburn said. "Again, spending those however-many weeks in Arizona with LeCharles made a big difference.
"Then just his attitude, we knew he was going to make a significant push."
When Warford arrived at Bentley's facility after OTAs, he mentioned that the speed of everything overwhelmed him. So Bentley started to explain what he needed to do and how it would be counter to his likely plan of action.
Warford needed to give himself more space instead of crowding into a defensive lineman. It may not seem like much, but the one-to-two-tenths of a second Warford buys by stepping back to read what is going on has contributed to his success thus far.
"You have to literally think about your step, just take a step, take a step, shorten it, shorten it, shorten it," Warford said. "It has to get to where you have to do it so many times that you don't have to think about it anymore, you just have to do it. 'OK, that's it.'
"It's such a simple fix, but it makes the biggest of differences. That's the crazy thing about [the] offensive line. It's the subtle things that make the biggest differences."
One of the subtleties goes back to Bentley's initial plan -- to help Warford drop weight. Once Bentley changed his client's weight (he's now at 333 pounds), he knew Warford had the body type, the hip explosion and the skills to become a quality NFL offensive lineman.
Warford will have to watch his weight his whole career, but here's the scary part for opponents. What Detroit is seeing now could be the beginning.
"Larry is, he's a sports car naturally. Genetically, that's what he is," Bentley said. "But he just had this dump-truck frame. He's a guy that if you remove layers of what's presented to you, more and more of that sports car is going to come out.
"The really cool thing about Larry is he's not even near where he's going to be as he continues to grow in the NFL in terms of body composition. This is just the first year."
August, 29, 2013
8/29/13
2:45
PM ET
There is plenty of fine print in the
public version
of the NFL's
landmark concussion settlement
, and I think at least one portion merits further discussion.
The NFL actually has 20 years to pay out the $765 million agreement; the league is also required to pay the players' legal fees on top of the $765 million. According to a court summary distributed to the media, the payment plan requires "approximately 50 percent of the settlement amount" to be paid over the next three years. The balance would be paid over the final 17 years.
Before legal fees, that works out to about $127.5 million in each of the next three years and then $22.5 million per year thereafter. That plan would work because the case won't pay out equally to each plaintiff. Instead, according to the document, "the precise amount of compensation will be based upon the specific diagnosis, as well as other factors including age, number of seasons played in the NFL and other relevant medical conditions."
I won't pretend to be a financial genius. But when an industry with $9 billion in annual revenues can pay out a landmark legal settlement over 20 years, I think we can politely call it manageable. A case that
once threatened the league's existence
has turned into a relative financial blip.
That realization spread quickly after Thursday's announcement, and I thought former NFL player LeCharles Bentley offered passionate but fair commentary on the topic via Twitter. Among his tweets:
Embarrassing, half the money now and rest over 17 years!! I'm going to lift weights, so disgusted. Sorry, to the players that deserved this.

— LeCharles Bentley (@LeCharlesBent65) August 29, 2013
765 million.... The league will get that back in fines in what.... Three weeks of cracking down even more in "illegal" hits.

— LeCharles Bentley (@LeCharlesBent65) August 29, 2013
To be clear, the NFL doesn't funnel fine money into its general fund. Instead, the league has said
the funds go to "charitable purposes."
But Bentley's point is well-taken. While $765 million sounds like a lot of money and is a lot of money, the payment schedule offers quite a soft landing.
May, 12, 2012
5/12/12
10:00
AM ET
The first day of rookie minicamp was supposed to represent a new start with running back
Trent Richardson
and quarterback
Brandon Weeden
getting on the field for the first time. Instead, the day was marred by the
Cleveland Browns
' continued run of bad luck.
Head coach Pat Shurmur announced that defensive tackle
Phil Taylor
would need
surgery to repair a torn chest muscle
and could miss the upcoming season.
Taylor
"It was just one of those things that happens," Shurmur said Friday. But why does it always seem to happen to the Browns?
In May 2005,
Kellen Winslow
's season ended when he
tore the anterior cruciate ligament
in his right knee in a motorcycle crash. In July 2006,
LeCharles Bentley
's season was done after he sustained
an injury to his left knee
on the first team drill of training camp. And middle linebacker
D'Qwell Jackson
missed 26 games in 2009-10 because of two pectoral muscle injuries.
The latest rough turn of events occurred Thursday when Taylor injured himself. It didn't occur on the field and it wasn't the result of a hit. Taylor tore his left pectoral muscle while doing bench presses in the weight room.
Taylor posted this message on Twitter: "Just a bump in the road. Got [to] work hard and come back -- Strong."
Injuries aren't the only reason why the Browns have lost 117 games since returning to the league 11 seasons ago. The instability in the front office and coaching staff shows Cleveland has struggled to find and develop talent.
It just seems like the Browns are dealing with a setback even before the regular seasons begins. This time, the injury hurts an already weak spot on the Browns team.
Even with a run-stuffer like Taylor, the Browns gave up 147.4 yards on the ground per game last season, which was third-worst in the NFL and last in the AFC. In comparison, the Ravens (92.6 yards rushing allowed), Steelers (99.8) and Bengals (104.7) all ranked in the top 10 in run defense last season.
The likely replacement is rookie sixth-round draft pick
Billy Winn
. Third-round nose tackle
John Hughes
could also figure into the competition. The interesting part is Winn and Hughes are roommates.
"We've already started to create that little bond," Winn told the
Cleveland Plain Dealer
. "We're roommates so we've been doing a little chatting and going over the playbook. We'll help each other out and compete against each other and make each other better."
December, 21, 2010
12/21/10
11:00
AM ET
There are a lot of things you can criticize about the inconsistent play of the
Cleveland Browns
(5-9) this year. Yet, one thing that has been consistent is the team's toughness.
But as the Browns wrap up the final month of the season, is their physicality starting to fade?
[+] Enlarge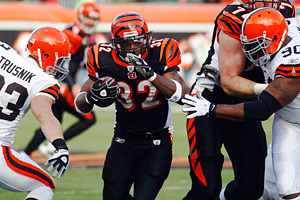 AP Photo/David KohlCedric Benson racked up a lot of carries (31) and rushing yards (150) against Cleveland Sunday.
The Browns were manhandled in the trenches of back-to-back losses against the lowly
Buffalo Bills
(4-10) and
Cincinnati Bengals
(3-11), and now whispers of the infamous "S" word are starting to permeate in Cleveland.
Is it possible the Browns are going "soft" down the stretch?
Former two-time Pro Bowler and Cleveland radio personality
LeCharles Bentley
believes that's the case.
On ESPN's WKNR 850AM
Monday Bentley, a former offensive lineman for Cleveland and the
New Orleans Saints
, didn't hold back when he described the Browns as "green-sticker nice guys" and not nearly as tough as they thought they were.
Ouch!
A few weeks ago toughness was never a question. Despite their lack of talent, the Browns were willing to bang heads with anyone for four quarters offensively and defensively, which made for competitive games. Only two of Cleveland's nine losses this year have come by more than a touchdown.
But lately the Browns have looked uninterested while getting pummeled by inferior opponents. Buffalo and Cincinnati outgained Cleveland in rushing by an astounding 380-164 margin. Bengals tailback
Cedric Benson
and Buffalo's
Fred Jackson
-- not necessarily household names -- combined for 262 rushing yards.
Whether it's a two-week anomaly for Cleveland remains to seen. But the Browns' toughness certainly will be tested down the stretch against two of the NFL's biggest bullies: the
Baltimore Ravens
(10-4) and
Pittsburgh Steelers
(10-4).
Will the Browns rediscover their physicality to end the season or continue to get pushed around?
March, 3, 2010
3/03/10
5:01
PM ET
Brad Butler
has politely declined interview requests.
Until Butler decides to speak about his decision to retire, we'll be left to wonder how he came to the surprising conclusion he was done with the NFL at 26.
The NFL almost always decides its done with you first.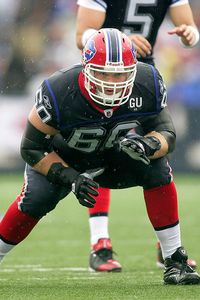 Luc Leclerc-US PRESSWIREIt remains unclear why Bills starting offensive lineman Brad Butler decided to retire at age 26.
Butler, a
Buffalo Bills
' starting offensive lineman the past three opening days, walked away two weeks ago. He eschewed all the spoils that go along with being a professional football player.
All we've
heard from Butler was a statement
the Bills distributed, but last week at the NFL scouting combine I had the chance to sit down in Lucas Oil Stadium with another offensive lineman who suffered a knee injury when he was 26 and could've returned, but came to terms with the fact he just didn't want to play anymore.
"You've got to follow your heart," two-time Pro Bowl center
LeCharles Bentley
said.
Bentley posted four great seasons with the
New Orleans Saints
and signed a handsome deal with his hometown
Cleveland Browns
for 2006. On the first play of 11-on-11 drills on the first day of training camp, Bentley blew out his knee and never played again.
"All of a sudden, football lost its importance to me," Bentley said. "I wasn't distraught. I was more relieved than anything. I wanted to leave the game being able to stand on my own two feet, and I was able to do that.
"It's a difficult transition for those that don't prepare for it. That's true for most athletes. You never see your mortality. You feel that you're immortal and it's going to last forever. A lot of guys fail to understand that there is life after football. Those wheels will fall off at some point."
Bentley had offers to return and admittedly overpriced himself with the
Detroit Lions
. But he eventually figured he didn't want to return at any price. Bentley has pursued a broadcast career in Cleveland and covered the combine for
his Web site, O-lineWorld.com
.
"There's no groupies in blogging," Bentley said with a laugh. "There's no love in that."
Tell me about it.
Butler's career options are more substantial. He majored in government studies at Virginia and spent time on Capitol Hill during the 2008 offseason as an intern for Kemp Partners in Washington D.C. Kemp Partners was founded by former Congressman and legendary Bills quarterback Jack Kemp.
Butler also has participated in the NFL's business management and entrepreneurial programs at the Harvard Business, Stanford Business and Wharton Schools.
"For him to make the kind of decision he made, he's probably pretty far along in his decision-making process," Bentley said. "A lot of the milestones that players have to go through, he's probably already gone through them. I would have a hard time believing he's uncomfortable with that decision. There's something else out there for him. You don't make that type of decision without something profound pulling you in that direction."
Bentley recalled how difficult it was to retire when so many people around him wanted him to stay in the game. The fame, the glory, the money are alluring not only to the player, but also those who benefit from being close to him.
Butler also had to come to grips with the idea of leaving his teammates in a lurch. The Bills already were hurting along the offensive line before he told the team he was through with football.
"I lost some people because my decision wasn't a popular decision," Bentley said. "My ability as an athlete afforded some people around me luxuries that they wouldn't have had without me. Those people are no longer around.
"You get the velvet-rope treatment your entire life. Guys don't want to let that go. There's a psyche to growing up being The Man their entire life. Once you take off that helmet, those shoes, that jersey, you're who you are as a man. That's a bitter reality a lot of players aren't ready for."
February, 25, 2010
2/25/10
5:59
PM ET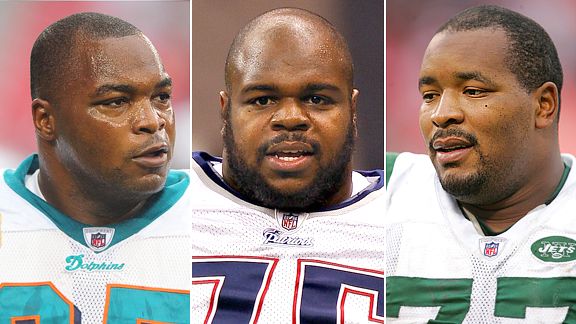 Getty Images
AFC East nose tackles Jason Ferguson, Vince Wilfork and Kris Jenkins are vital to their team's 3-4 defenses.
INDIANAPOLIS -- Teams that intend to run a 3-4 defensive scheme have an elephantine problem when they're missing the keystone.
Without a nose, the face of the defense disappears.
"If you don't have a good nose guard, you don't have a 3-4 defense," two-time Pro Bowl center
LeCharles Bentley
said at the NFL scouting combine in Lucas Oil Stadium.
"You can build everything else around it. You can have a great pass-rusher. You can have a great safety like
Troy Polamalu
. But if you don't have a solid nose guard? You can't run a 3-4. That's the whole basis of the defense."
Nose guards, nose tackles, those mammoth ogres in the middle -- whatever you want to call them -- never have been a more valuable NFL commodity than they've been this offseason.
For proof, look no further than the AFC East, the only division where all four teams will operate out of a 3-4 design and have concerns at nose tackle.
The
Buffalo Bills
simply need one. They're switching from a 4-3.
Miami Dolphins
nose tackle
Jason Ferguson
is a free agent recovering from a torn quadriceps muscle. The
New England Patriots
placed the franchise tag on
Vince Wilfork
and are trying to negotiate a long-term deal.
New York Jets
stud
Kris Jenkins
is coming off a knee injury.
As more teams convert to the 3-4, the need for nose tackles increases. Fewer of them are available.
"There are only so many big guys walking on this earth," Dolphins general manager Jeff Ireland said. "It's a big priority in any defense. When you find them, you've got to keep them."
How rare are athletic humans who weigh 350 pounds? Rob Rang, the senior analyst for
NFLDraftScout.com
, considers this year's class of nose tackles to be "pretty strong compared to past years" with only three top prospects: Tennessee's
Dan Williams
, Alabama's
Terrence Cody
and North Carolina's
Cam Thomas
.
"There aren't a lot of guys with that kind of size and any speck of athletic ability," Rang said.
Bills head coach Chan Gailey said his criteria in identifying a nose tackle includes "huge, big, fast, nasty." But he might have to settle for whatever he can find.
"Everybody's looking for a certain type of guy," said Gailey, who doesn't seem to have a decent candidate on his roster but owns the ninth pick in April's draft. "There's not a lot of them, to be perfectly honest. You either have to take people that you have and adapt, or you don't have to play the same type of 3-4.
"While we're all looking for that prototypical nose guy, there's a lot of good football players out there that don't fit that prototype, but at the same time can be productive players for you on the field. If you can't get it, you adjust."
To look at their stats, nothing suggests a nose tackle's significance to a defense. They don't register many sacks. They're not among their team's tackle leaders or turnover creators.
Wilfork, for instance, is considered an elite nose tackle. Last season, he had no sacks or quarterback hits and was fifth in tackles for the Patriots. He forced one fumble and didn't recover any.
But what a quality nose tackle does is absorb linemen and disrupt lanes for a defense that's susceptible to the run merely by nature of its design. Before every snap, there are large bubbles over both guard positions to run through. Nose tackles plug those holes.
"A 3-4 defense allows you to create more mismatches," said Bentley, who is covering the combine for
his Web site, O-lineWorld.com
. "You can be as exotic as you want to be. Defensive coordinators can become mad scientists. Bill Belichick and Rex Ryan are prime examples of that. Those blitz packages they can throw at you are unbelievable.
"The nose guard is a one-man show. He makes you play honest football."
No wonder three teams used the franchise tag to keep a free-agent nose tackle from hitting the open market: Wilfork,
Aubrayo Franklin
of the
San Francisco 49ers
and
Ryan Pickett
of the
Green Bay Packers
.
Unless a long-term deal can be negotiated, the franchise tag guarantees a one-year deal for the average of the five highest-paid players at his position. This year's franchise figure for defensive tackles is a shade above $7 million.
"The tag's not outrageous, price-wise," 49ers general manager Scot McCloughan said. "It makes good business sense not only from the standpoint of financials, but also because of the importance of the position."
By using the franchise tag to keep nose tackles from hitting unrestricted free agency, front offices essentially are price-fixing. It's not collusion, per se, but general managers realize the price tag for nose tackles would skyrocket if they went to the auction block.
Teams know a good nose tackle is worth more than $7 million a year even though they don't sell tickets or jerseys.
"They don't want to pay those guys the salaries of the most important guy on the defense," Bentley said. "It's going to be very hard to justify and a very difficult pill to swallow when you're paying your nose guard $9 million a year. People think, 'You don't pay those guys. All they do is take up space.'
"But if you don't have them, you don't have a defense."
January, 23, 2009
1/23/09
8:43
AM ET
Posted by ESPN.com's James Walker
Here are the most interesting stories Friday in the AFC North:
Morning take: Pittsburgh's Heath Miller has been solid in the postseason, averaging 16.5 yards per catch. He could be a sleeper in this game.
Morning take: This is not a bad position to fill now that John Thornton likely won't return. But a lineman on either side would work.
Morning take: In reading this story, it doesn't sound like Bentley is too eager to return to football, which is somewhat surprising.
Morning take: Sapp is in the majority. There aren't many who think Lewis should be in another uniform next season.
July, 14, 2008
7/14/08
8:45
AM ET
Posted by ESPN.com's James Walker
Here is your one-stop shopping for the best stories around the AFC North:
Walker's take: This is an odd time to find work as front offices spend most of July on vacation and negotiating rookie contracts. Bentley will get a look somewhere, even if it's not at the start of training camp.
Walker's take: Two years ago, Ravens rookie head coach John Harbaugh and new assistant Jerry Rosburg may have been the top special teams coaches in the NFL. Now those two minds are together in Baltimore.
Walker's take: I am in total agreement. See for yourself.
Christopher L. Gasper of the Boston Globe did a profile on Donte' Stallworth's move from the New England Patriots to the Cleveland Browns. In the article Stallworth says, "I've been kind of joking with Randy [Moss] and some of the guys that the road to the Super Bowl goes through Cleveland."
Walker's take: Has the road to the Super Bowl ever gone through Cleveland? The last time the Browns won a football championship was in 1964, before the NFL/AFL merger.