NFL Nation:

Lee Roy Jordan
November, 21, 2013
Nov 21
7:04
PM ET
By
ESPN.com staff
| ESPN.com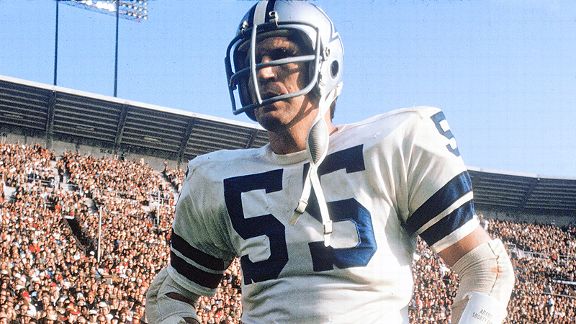 James Flores/Getty ImagesFormer Cowboys linebacker Lee Roy Jordan was a rookie at the time of President Kennedy's death.
The former Cowboys linebacker reflects on the 50-year anniversary of the assassination of President John Fitzgerald Kennedy:
"I came out and got in my car that morning and started to go to the training room and it was all over the news. They're chasing Lee Harvey Oswald downtown. He shot the president. It was just an unbelievable shock and feeling that you had when you hear something like that. I wasn't at [the facility] yet because I had been injured two or three weeks before and I was just going in for rehab and stuff. I was on my way to the training room to get rehab work done on my body. I had punctured a kidney two or three weeks before and was out for the rest of the season.
"Everybody was just in shock that it could happen. Coach [Tom] Landry was the same way. He just couldn't believe this could happen in our country, much less our city.
"We were all so caught up with the tragedy. That's what it was. We were all just in shock I think through the meetings and through practice also. Coach Landry was very calm but I think he was very stressed out by this thing happening here in the city of Dallas. I think emotionally he was disturbed by it but he was calm, which is what you would expect from Coach Landry.
"I didn't make the trip to the game. I had to stay here. I watched it on television but we kept thinking that it would be canceled or they would cancel the entire schedule that week, but that didn't happen. I think there were mixed emotions. Maybe, well, if we go on it might take people's minds off the bad thing that happened here. I still don't know if it was a bad or good thing. I think the commissioner [Pete Rozelle] thought later on he wished he had not made the decision to play that weekend.
"I don't remember them having not talked about it on television. I'm sure it was mentioned that the president had been shot in the city of Dallas, but he was already dead and Jack Ruby, I guess he shot Lee Harvey Oswald by then. It all happened so quick.
"The next few years when we played out of the state in Philadelphia or New York or Los Angeles, they treated us like we had done the assassination. Some not-so-pretty things we had to listen to, the name-calling going on in the stadiums as we'd go on the field and come back with the people at the overhangs of the tunnel. They weren't nice to the Dallas Cowboys. They blamed the city of Dallas and the Cowboys and everything with it. I think once we started winning in '65, '66 and '67, I think it started to take some of that energy out of those people and get them back. Maybe they were like, 'They're not only a good football team, but we need to give them a little respect for that, too.'
"I still think it's such a tragedy and we had to deal with it. I guess we all wished we would've been somewhere else in another state when it happened. That wasn't the case. We couldn't opt out and say we wanted to be somewhere else. We had to go on being with the Dallas Cowboys and living in Dallas and raising our families in Dallas. That was important. We all stuck together and worked hard to overcome the stigma Dallas had for the assassination of the president.
"It was a tough situation. I was a rookie, but I had some really good friends and some really good teammates, so we were able to share it together and not let anyone deal with it alone."
--Jordan, 72, as told to ESPN.com Cowboys reporter Todd Archer
February, 3, 2011
2/03/11
4:00
PM ET
By
Matt Mosley
| ESPN.com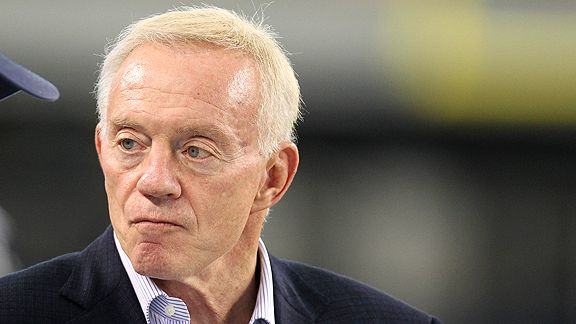 Matthew Emmons/US PresswireJerry Jones had hoped his team would be playing in Cowboys Stadium for the Super Bowl XLV title.
ARLINGTON, Texas --
Pittsburgh Steelers
backup center
Doug Legursky
had a difficult time making eye contact with reporters during the NFL carnival known as Super Bowl media day on Tuesday. It's not that he was being disrespectful, but like a kid seeing snow for the first time (or ice in North Texas), Legursky was awestruck by a JumboTron that hovered over 60 yards of the field like a spaceship in search of a docking station.
No matter what you think of
Dallas Cowboys
owner Jerry Jones -- and Forbes Magazine indicates you really, really dislike him -- the man's a marketing genius. He has somehow kept the Cowboys national brand strong despite all the losing over the past 15 years. The man presides over the most relevant 6-10 team in the NFL. And I'm already hearing the national media talk about the Cowboys as a bounce-back team in 2011.
Much like the New York Yankees, there's always going to be interest in the Cowboys. Given the option of flexing out of a nationally televised matchup involving a 5-8 Cowboys team, I don't think any network would pull the trigger. Jones began a news conference Tuesday at the Super Bowl media center by saying he didn't want to take anything away from the Steelers and Packers. Then he spent the next 42 minutes doing just that.
Over the past 15 years, Jones has become the league's leading illusionist. He has somehow been able to keep the Cowboys in the conversation despite producing only two playoff wins in that span. The
Oakland Raiders
may be the laughingstock of the league, but they've at least been to a Super Bowl since the Cowboys' dynasty ended in the mid-1990s. Meanwhile, the Steelers are in the midst of putting together a dynasty that could rival Chuck Noll's run in the 1970s. They've now been to three Super Bowls in six seasons. And against all odds, the Rooney family has done it without switching head coaches every couple of years -- or ever.
Steelers president Art Rooney II could take a seat on radio row, which I wouldn't advise, and not be recognized by 75 percent of the talk-show hosts. If Jones showed up, they'd treat him like Brooklyn Decker in a two piece. I'm pretty sure I saw Rooney standing off in the distance during media day, surrounded by a handful of reporters. Not far away, reporters breathlessly asked defensive end
Brett Keisel
about his beard grooming. (One male reporter asked and was granted permission to run his fingers through Keisel's beard, which somehow seemed appropriate on that day.)
The Rooneys almost seem amused that folks find their belief in continuity so revolutionary. Steelers coach Mike Tomlin would have to do something like naming his offensive line coach defensive coordinator to even get them to raise their eyebrows. Oh wait, that's another Pennsylvania team.
I'm sure Rooney didn't think he was saying anything profound Tuesday, but something on the 67 quote sheets I received via BlackBerry really got my attention. The Steelers' president was asked why his organization rarely made splashy moves, say, signing
Terrell Owens
or
Albert Haynesworth
.
"Panic doesn't seem to work," he said. "Let's put it that way. There are enough people that seem to have gone through that mode and our feeling is that you pick good people and you try to stick with them if you have good people. There are ups and downs in any sport, but if you have the right people in place, you'll always have a chance to be successful and that's what we do. Every year, we have a single goal, and that's to try and put a championship team on the field and everybody in the organization understands that is the goal. We don't try and make it too complicated."
What I love is that some of my friends try to constantly separate Jerry Jones the owner from the Cowboys' general manager. There's a belief, which doesn't make sense to me, that Jones is a great owner, but a terrible general manager. I certainly think he's an excellent stadium-builder and salesman, but I always thought that part of owning a successful company was hiring the right people -- and letting them do their jobs.
[+] Enlarge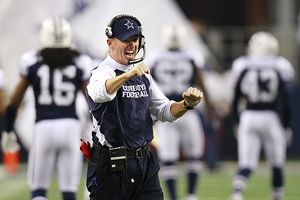 AP Photo/Mike FuentesJason Garrett has been charged with turning the team around on the field.
Jones has constantly undermined his head coaches over the past 15 years because players know that he's ultimately pulling the strings. Yes, I know that he hired a strong head coach in Bill Parcells in 2003, but he has admitted (to a hidden camera in a seafood restaurant) that Parcells was here to help him convince taxpayers to contribute to his crown jewel, Cowboys Stadium.
New head coach Jason Garrett, God bless him, stood up at his introductory news conference last month and talked about doing things the "Cowboy way." But no one really knows what the hell that means anymore. I guess it's a reference to the Jimmy Johnson years, but that's ancient history by NFL standards.
My colleague
Mike Sando wrote a column Thursday
about how the once-proud 49ers organization has been in the wilderness for years. But the Cowboys are in a much different situation. At least 49ers fans realize how awful their team has become. Mark my words that by August or whenever the lockout ends, fans and media will convince themselves that the Cowboys are ready to challenge for a Super Bowl. These are the Sultans of September -- except for this past season of course.
At least Jones has attempted to own up to his team's failure during his public appearances, which are numerous.
"I've done my worst work when I thought I had a pretty good hand," he said. "We certainly didn't play, didn't coach, didn't general manage, didn't own up to expectations."
But within moments, Jones was talking about how the Cowboys could make like the Packers and return to the Super Bowl next season. He did surprise everyone with his recent pronouncement that Garrett would have "final say" when it comes to hiring and firing coaches. But I'm pretty sure Jones has retained the right to fire Garrett.
I spent some time this week talking to Cowboys legends such as Tony Dorsett and Lee Roy Jordan about what the Cowboys have become. They both like Jones on a personal level, but remain somewhat skeptical that things will change.
"The first time [Jones] overrides Jason with one of the players, then Jason will have lost credibility or any discipline," Jordan said. "Every time he overrides the coach from then on, it will steamroll. I hope for everyone involved that Jerry has learned his lesson."
And for Cowboys fans, it never hurts to dream.
June, 22, 2010
6/22/10
11:00
AM ET
By
Matt Mosley
| ESPN.com
Notable players
: QB
Troy Aikman
, RB
Emmitt Smith
, FB
Daryl Johnston
, WR
Michael Irvin
, G
Nate Newton
, C
Mark Stepnoski
, OT
Erik Williams
, TE
Jay Novacek
, DT
Russell Maryland
, LB
Ken Norton
, DE
Charles Haley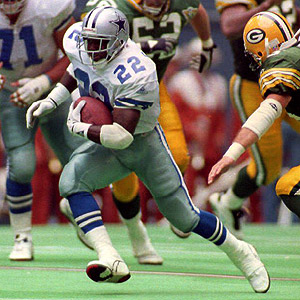 Tim Roberts/AFP/Getty ImagesEmmitt Smith held out to start the season, but once he returned, it all came together for the Cowboys.
Analysis
: I could make the argument that the '94 team that lost to the 49ers in the NFC title game was the best, but I'll save that one for another day. In '93, Jimmy Johnson and the Cowboys had an enormous target on their backs and the team began the season with Smith in a holdout. Disgusted by an 0-2 start without Smith, Jerry Jones quickly signed the running back to a new contract. The Cowboys ran off seven straight wins and finished the season 12-4.
Dallas sent 11 players to the Pro Bowl after the season, and they could've had a few more on defense. If not for Smith's holdout, this was the type of team that may have made a run at a perfect season. The Triplets were unstoppable, and the Cowboys had perhaps the best offensive line in the league. The Roger Staubach teams of the '70s were formidable, but I just don't think they were as deep as Johnson's teams of the early '90s.
The Doomsday defense from the late '70s trumps the defense from the early '90s, but the Triplets surpassed what Staubach, Tony Dorsett and Drew Pearson accomplished.
Most impressive win
: It's too easy to say the Super Bowl, so give me the overtime victory in the Meadowlands over the Giants to end the regular season. The win gave the Cowboys the division title and a wild-card bye week. In that 16-13 win, Smith had one of the best individual efforts in club history. Playing with a separated shoulder, he rushed for 168 yards and caught 10 passes.
Best player:
How can you not go with the guy who won the NFL's MVP award, the Super Bowl MVP and the rushing title in the same season? Let's go with Emmitt.
Honorable mention
1977
: The Super Bowl champions were dominant on both sides of the ball. Dallas began the season 8-0. The Broncos didn't belong on same field in the Super Bowl. Ed "Too Tall" Jones, Harvey Martin and Randy "Manster" White put the "Doom" in Doomsday.
1992
: You almost forget how Jimmy Johnson could send waves of pass-rushers at quarterbacks.
Tony Tolbert
had more sacks than Haley in '92. And Maryland and
Leon Lett
were just beginning to figure things out. The collection of talent was remarkable. The Triplets truly began to impose their will on opponents.
1971
: Some of the great defensive players from the early days -- Bob Lilly, Chuck Howley, Lee Roy Jordan -- finally got their championship. The offense scored 29 points per game and the Cowboys won by an average of 13.1 points per game.
NFL SCOREBOARD
Thursday, 12/12
Sunday, 12/15
Monday, 12/16