NFL Nation:

LeGarrett Blount
December, 30, 2013
12/30/13
5:41
PM ET
TAMPA, Fla. -- His 11-21 record over two seasons got
Tampa Bay Buccaneers
coach Greg Schiano fired. But Schiano said Monday that he's proud of how he changed the culture of the franchise.
"This is what Buccaneer football is supposed to be," Schiano said. "That was one of my goals -- to return it to that kind of feel, that kind of culture. And I believe it is. I believe that's a big undertaking and one that has moved very, very well. But I can't impress this enough. My responsibility is to win football games in the National Football League, so we didn't win enough games."
Schiano took a beating for his coaching, but let's give the man some credit for changing a franchise for the better in some ways. When Schiano came in, the locker room predecessor Raheem Morris left behind was out of control. Schiano proceeded to get rid of
Kellen Winslow
,
LeGarrette Blount
and
Aqib Talib
. All three were talented, but all three were trouble.
Schiano also unloaded
Josh Freeman
, who once was regarded as a potential franchise quarterback. Freeman started the first three games of the season before being benched in favor of rookie
Mike Glennon
. Freeman, who was late to or missed several team events, eventually was cut.
"That whole situation is a very, very tough situation," Schiano said. "I don't think there was any good way that was going to work unless it went the way that we thought it might go. That's being very productive. When it didn't, that's a tough situation. We did make decisions collaboratively as a group, especially big decisions. Myself, Mark Dominik and our ownership. One part of the job I really enjoyed was the open conversation and discussions. But then once a decision is made, whether I agree, disagree or somewhere in between, once a decision is made as an organization, I'm going to execute that like it's my own decision."
Schiano said he thinks Glennon has a bright future in the NFL.
"I think we did get it right," Schiano said. "We just got it right late. I think this guy is going to be very good."
Schiano also said he thinks whoever takes over the Bucs will inherit a good situation.
"Did I think we had an opportunity to move this forward? I still do," Schiano said. "I think that whoever takes over in this job is taking over a good situation now, a real good situation. Had I been coming back next year, I'd be excited about the potential of this team and where we're headed. But I'm not."
Schiano's name has been included in speculation about a possible opening at Penn State. But Schiano, who had three years remaining on his contract, said he's not sure what his future holds.
"I know this, I'll lean on my wife and my kids, my family and on my faith and kind of figure out where the next stop is for us," Schiano said.
September, 22, 2013
9/22/13
6:20
PM ET
FOXBOROUGH, Mass. -- For the third time in as many weeks, the
New England Patriots
had a new leading rusher, as running back
LeGarrette Blount
paced the team with 65 yards on Sunday against his old team, the
Tampa Bay Buccaneers
.
"I thought all our backs ran well," Patriots coach Bill Belichick said. "
Brandon [Bolden
] did a good job for us but
Stevan [Ridley
] and LeGarrette, they all had some good runs, some key runs for us."
And while Blount's production was critical, the biggest spark was provided by the second-year back Bolden, playing for the first time this season and amassing 100 yards of total offense (51 rushing, 49 receiving) in a convincing
23-3 win
.
[+] Enlarge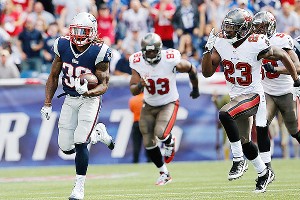 Jim Rogash/Getty ImagesBrandon Bolden couldn't go the distance, but did break free for 46 yards on a third-quarter run.
"Just missing the first few games, if that doesn't get you excited, I don't know what will," Bolden said of his return.
Bolden was the first back to have his number called, as he was on the field to start the game and finished with eight total touches.
He said following the game that he and his fellow running backs don't have a feel for how the Patriots' running back rotation will play out during the course of a game, and, interestingly, said they don't care.
"I can speak for Blount and Ridley. We don't care about that," Bolden said of the mix-and-match. "They call our name, they call our name; if they don't, they don't. But we're going to encourage that guy that does go in to go out there and make the best effort he can. And I think today you got the best effort from all three."
Ridley, who has been the bell-cow back for much of the past two seasons, was limited to just 35 yards on 11 carries. He's struggled out of the gate this season, registering a fumble in Week 1 and gaining just 3.4 yards per carry thus far.
And while a sluggish start for most team's lead back would be a major hindrance to an offense, the Patriots' depth has proved invaluable in the early going.
Bolden said that having three capable running backs stresses a defense.
"That's three different looks a defense has to deal with in the running game and also in the passing game, because all three of us can stay in there for third down, do blitz pick-up and all three of us can take it on first and second down," he said.
The Patriots already have been thinned at the position with third-year back
Shane Vereen
(wrist) on the injured reserve list with the designation to return (meaning he's out until Week 11), but Sunday was a reaffirmation that the team has power in numbers in the backfield.
Blount was called upon to bleed the clock late in the game, as he had a team-high 10 fourth-quarter carries.
He made the most of his expanded workload, as Blount bumped his season rushing average up from 2.36 to 3.96 yards per carry. His big-bodied frame helped wear down a tired Tampa Bay defense late in the game, likely a sweet escape for Blount facing his old teammates.
Ridley, at least for today, was the least effective of the group, as his touches didn't translate into production.
But in a way, that has defined what makes this Patriots rushing attack effective dating back to last season: the ability to spread the production out from one Sunday to the next.
And on this Sunday it was Bolden leading the way, putting together his most productive day since Week 4 of last season.
Truth be told, Bolden left yards on the field, as he had a 46-yard run -- a career-best -- that could have been even more had he not been caught from behind.
He said with a smile that that was exactly what was going through his head as his path cleared and he ran into open space.
"Don't get caught, but that didn't work for me unfortunately," he added. "But it was great, just to -- like I said, just to get back out and play with everybody."
How the Patriots split reps going forward remains to be seen -- Bolden's big day won't necessarily dictate how he is used a week from now -- but their spread-the-wealth mentality was on display again on Sunday, something this offense will continue to need as it finds its way through the early part of the season.
November, 14, 2010
11/14/10
7:49
PM ET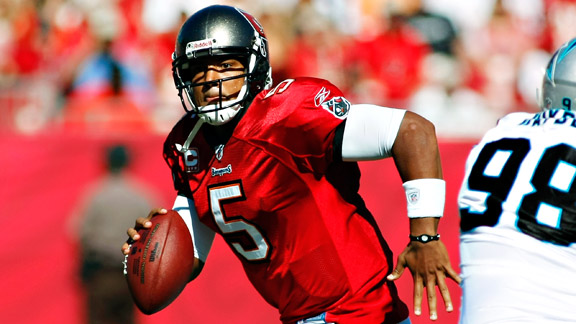 AP Photo/Brian BlancoBucs QB Josh Freeman completed 18 of 24 passes for 241 yards and two TDs against Carolina.
TAMPA, Fla. -- Once upon a time -- as in any time before Sunday -- the talk in these parts was about if the
Tampa Bay Buccaneers
could make the playoffs. Times have changed. Fact is, the Bucs
should
make the playoffs.
Look at their schedule. If the Bucs simply do what they should do, they will be in the playoffs.
That's precisely what the Bucs did Sunday as they defeated the
Carolina Panthers
31-16
. It wasn't particularly pretty and it came against a very bad team.
But guess what? The Bucs are now 6-3. Look at their remaining schedule. In San Francisco, Washington, Detroit and Seattle, the Bucs have four opponents that aren't much better than the Panthers. They've also got games with Baltimore, Atlanta and New Orleans. Pull off a surprise in one of those and the Bucs could even end up with an NFC South title or at least be above the No. 6 seed in the playoffs.
"We'll get better and better as the process of the season goes on,'' Tampa Bay coach Raheem Morris said.
They might because they already have improved more than anyone could have imagined in doubling their win total from last season. But just for the moment, let's say the Bucs go 4-3 the rest of the way and let's also say the
Atlanta Falcons
and
New Orleans Saints
do what they're supposed to do.
There could be a few variables from the NFC East and NFC North. But let's forget variables for now. If the Bucs do what they should do, they're 10-6, and that should get them into the playoffs and could give the NFC South three teams in the postseason.
You couldn't judge it from the crowd because Raymond James Stadium was far from sold out again. But some people are starting to believe.
"We feel as a whole in this locker room that there's unfinished business,'' said veteran center
Jeff Faine
.
There was some evidence of that on the field as Carolina's 16 points basically represented an offensive explosion for the Panthers, fourth-string running back
Mike Goodson
rushed for 100 yards and the Bucs committed 10 penalties for 80 yards.
Keep in mind, though, Tampa Bay started seven rookies Sunday, some by choice and some because of injuries.
"We like to say it's the non-blink factor,'' Morris said. "All these guys have the ability to go out and contribute.''
The Bucs didn't do much blinking as rookie
Arrelious Benn
caught a touchdown pass for the second straight game and rookie running back
LeGarrette Blount
rushed for 91 yards and a touchdown. All that came a week after the Bucs lost an emotional and physical game to Atlanta in the final minutes.
Pretenders blink after a loss like the one in Atlanta. Contenders do what the Bucs did against the Panthers.
As they've done all season, the Bucs simply relied on second-year quarterback
Josh Freeman
and hoped a few other guys stepped up. Freeman, who seems to get better each week, turned in a nearly flawless performance. He completed 18 of 24 passes for 241 yards, two touchdowns, no interceptions and had a 134.2 passer rating. He also found tight end
Kellen Winslow
in the end zone for the first time this season.
"When we took over this program, [general manager] Mark Dominik and I sat down together and said we know it's a lot easier to win with a quarterback,'' Morris said. "It wasn't a popular decision at the time to go against our defensive town, but it's a lot more fun to win like this with a quarterback. And it's a lot easier to win when you have a quarterback of this caliber that can go out there and get the ball to all these weapons.''
There now is no doubt drafting Freeman last year was the right call. And it sure looks like the Bucs made the right calls in the offseason to set him up with a good, although extremely young, receiving corps. For the first time in franchise history, the Bucs are a team that can win with the quarterback after generations of playing great defense and asking the quarterback to be a game manager.
"I keep saying it, but it is fun to watch,'' Morris said.
Morris was talking about watching the emergence of guys like Freeman, Benn, Blount and rookie receiver
Mike Williams
. He's right. These Buccaneers could be the most exciting offense Tampa Bay has seen since the days when Steve Spurrier was calling the plays for the Bandits of the United States Football League.
It's kind of sad, though, that much of Tampa Bay isn't seeing it in person or live on television. Last year's 3-13 record, the economy and Florida's transient population often are cited as reasons the Bucs haven't had a sellout this season after selling out every previous home game since Raymond James Stadium opened in 1998.
According to the Bucs, Sunday's paid attendance was 44,264, and the game was blacked out on television in the Tampa Bay market. The sudden winning hasn't caused attendance to jump -- yet.
Intentionally or not, the Bucs might have pulled off a marketing coup last week when they announced 2011 ticket prices would either stay the same or drop (depending on the location) and offered a 10-month payment plan.
Gee, Christmas is coming and maybe more than a few stockings will be stuffed with season tickets. Much like it's easier to win with a quarterback, it's easier to sell tickets when you've got a serious playoff contender with lots of upside for the future. Even though the Bucs are probably another offseason away from having the talent to go deep in the playoffs, they should at least get there, if they just do what they're supposed to do.
"We have the skill level to get things done and take care of business,'' Faine said. "It's going to be competitive all the way down to the end.
"And it's definitely going to be a good race.''