July, 24, 2014
Jul 24
12:00
PM ET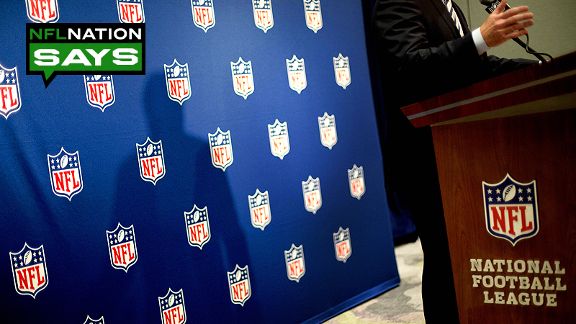 AP Photo/David GoldmanWhat would our panel of Hall of Famers change about today's game if they could?
There's little doubt that the NFL has seen a rise in popularity over the past several decades, perching it atop the American sports landscape.
But as the game has grown, rules have changed. Much of the emphasis has been on player safety, with quarterbacks and other offensive players increasingly afforded greater protection.
Reaction to the changes has been mixed. To some, it's part of a natural evolution toward a faster-paced, speed-based game. To others, football has shifted away from its roots as a physical sport.
Given the chance to be NFL commissioner for a day, which rule would you change?
That's the question we asked several Pro Football Hall of Famers at the Hall's inaugural Fan Fest in Cleveland in May. From stars of the 1960s to players who earned their gold jackets playing a more modern version of football, there was no shortage of opinions about how to change the game -- even some you wouldn't expect.
"Well, I'd put the head slap back in," former defensive lineman Carl Eller cracked.
Eller, a member of the
Minnesota Vikings
' famed "Purple People Eaters" of the early 1970s, took a more serious note when he offered a popular commentary about the modern NFL: It's becoming too much of an offensive game.
Here are more proposed rule changes and thoughts from Hall of Famers in our latest NFL Nation Says:
Contributing:
Coley Harvey, Pat McManamon and Michael C. Wright.

"I would probably ease up on the fining of guys. I know the player-safety thing is a big issue, which is a great thing. But a lot of those things they are emphasizing, those rules have been in place for quite a long time. So just emphasize rules the way they should be, clarify the rules. Probably one thing I really want to see -- I know we're probably not gonna get full-time refs for all of them -- but at least give me full-time [with] the head refs. The guys that are wearing the white hats, give me 20 of those guys, who know the rules, who can interpret the rules. We don't have to go to some common place on the sidelines to interpret what rules are being broken on a consistent basis."
-- Steelers DB Rod Woodson, Class of 2009
---

"They'll get mad at me probably, but I'd cut the teams. I'd cut the rosters. I wouldn't protect the quarterback. I would let the defensive backs mug that receiver until that quarterback released the ball. I'd get a tighter holding rule on the offensive linemen and make them be inside that framework, sort of wrap them around. I'd get it back to a contact sport. And in that way kind of create and enforce a little more of the running game."
-- Patriots G John Hannah, Class of 1991
---

"Holy cow, man. I don't know (laughs). Maybe I'd still let the guys celebrate a little bit. How's that? I think it's OK to show a little excitement when you score a touchdown. The dunk -- what's wrong with that? I'm not sure what I would change, but I would let them have a little more fun when they score."
-- Vikings G Randall McDaniel, Class of 2009
---

"I think they need to throttle today's players a little bit, too. You go out there and you play. You don't go out there and celebrate and dance around and jump up in the stands. I guess that's what the fans maybe want. But I'd fine the living daylights out of a player if I was a coach. If you jump in the stands, maybe it's costing you $50,000. So you jump up there as many times as you want. Why risk injuring yourself doing something foolish? Maybe it's just me, but I think it's just ridiculous. And you'll find a guy where, team's behind 20 points, it's the fourth quarter, he breaks through and sacks the quarterback and you'd think he just broke the world record for something, celebrating and pumping his fists. That's not what you're out there for. You've got to utilize some good common sense."
-- Redskins LB Chris Hanburger, Class of 2011
---

"I would give all the old guys a raise. Get some money to them. In the 1950s, pro football was looked upon like professional wrestling today. ... Guys struggled. And then ... because we put on a product that was pleasing to the public, people started coming through the turnstiles. TV got involved -- ESPN and others -- and now all the sudden you got this big thing going on. Teams have these hundreds of millions of dollars, in some cases billion-dollar stadiums, they got all this parking, all these loges, all these sky boxes -- everybody's making big money. These young guys who make $20-30 million a year, if they think they're getting it just because they're so great, nobody's going to pay you a million dollars that's not making a million and a half themselves. The reason why the owners are making that million and a half is because what we did for them. These guys don't understand. They only make that money because a lot of guys made a lot of sacrifices. All these stadiums, it's amazing. And if I was commissioner, I would make it very, very clear to the athletes today that you owe -- you don't owe, you should say thank you to the old-timers to be able to get that contract. The game has changed so much because guys made big sacrifices with their bodies and everything else, and I just feel like the commissioner or somebody needs to do something."
-- Packers LB Dave Robinson, Class of 2013
---

"Well, I'd put the head slap back in. They've made a lot of changes. There's been massive changes. They've been mostly offensive oriented. I feel for the guys that are in the defensive backfield. They really have a tough time. And it's become a passing game, a scoring game. So I don't know, I'd tighten up some of those rules and not be so lax on the receivers."
-- Vikings DE Carl Eller, Class of 2004
---

"Concussions are up on a higher level now. So to take some of the things out of the game, it would still be football. But maybe increasing the helmet protection as best as they can may be a way to reduce a lot of the concussions that are going on."
-- Lions CB Lem Barney, Class of 1992
---

"I would make it required that the running backs have to get the ball at least 30 times a game (laughing). That's what I would do. But I understand it's a passing league. Just being kind of funny or whatever, but I would love to see the running backs be a little more part of the game than they are today."
-- Bills RB Thurman Thomas, Class of 2007
---
Contributing: Coley Harvey, Pat McManamon, Michael C. Wright
February, 7, 2011
2/07/11
4:15
PM ET
Lem Barney called Sunday afternoon to talk about
Andre Reed
's inability to break into the Pro Football Hall of Fame.
Barney has been one of Reed's biggest supporters for enshrinement in Canton.
Reed was the only wide receiver to make the cut from 15 to 10 finalists Saturday, but the
Buffalo Bills
star
wasn't among the five players put to a final vote
.
"I try to keep him encouraged," Barney told me. "I'm going to call Dre as soon as I get off the phone with you to tell him not to give up hope."
Barney was a member of the 1992 induction class after a brilliant career as a cornerback and kick returner for the
Detroit Lions
. He served a similar pick-me-up role for teammate Charlie Sanders, who finally made it in 2007 as a senior nominee.
There are multiple reasons for Reed to remain optimistic. He has been a finalist five times. Pro Football Hall of Fame researcher Saleem Choudhry calculated
83 percent of all finalists have eventually been inducted
. But subtract the 10 candidates from this year's ballot (many of whom will get in) and the success rate improves to 94 percent.
"When you get on that finals list, it's like going to church," Barney said. "You have no idea who might shout."
Also in Reed's favor is that for the second year in a row he went farther in the process than receivers
Tim Brown
and
Cris Carter
. That suggests Reed will be the next receiver to get inducted.
Barney compared Reed to Paul Warfield, Charley Taylor and Bobby Mitchell as a complete receiver.
"These guys were not only speed guys, but they ran precise routes and they were disciplined in their training," Barney said. "I thought Dre was a wonderful receiver, not only with the ball, but he was a tremendous blocker.
"Dre certainly has the numbers, the years, the service."
August, 5, 2010
8/05/10
11:03
AM ET
Had Dick LeBeau's life taken a slightly different path, he says he probably would've been a golf instructor.
Instead LeBeau is entering the Hall of Fame as a three-time Pro Bowl cornerback and one of the greatest defensive minds in football history.
[+] Enlarge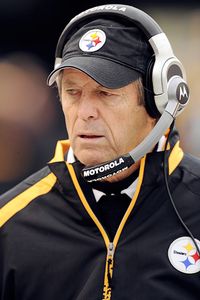 AP Photo/Don WrightDick LeBeau's zone blitz has changed the way teams play defense in the NFL.
LeBeau spent his college days playing football for Ohio State in the fall and enjoying golf in the offseason. Legendary golfer Jack Nicklaus had a heavy influence on LeBeau's career choice.
"I played with Jack, then I decided I really should concentrate on football," LeBeau said with a chuckle. "I would not have been a golf player like Jack Nicklaus or Tom Weiskopf. But I can make a par or two, and I love to teach. So instead of a football coach, I probably would have been a golf coach."
LeBeau realized around his sophomore year at Ohio State that he wanted to coach football. He was hoping to last a few years playing professionally before making that transition. But LeBeau wound up playing 14 seasons in the league as a member of some great cornerback tandems with the
Detroit Lions
, teaming with Lem Barney and Dick "Night Train" Lane during his career.
Once LeBeau got into coaching, he made an even greater contribution to the NFL. His invention of the zone blitz changed the way many teams play defense and has been a huge part of LeBeau's Hall of Fame career.
"The largest impact that it has on me is that you're going to be a piece of National Football League history forever," LeBeau said. "That just makes me kind of shake my head a little bit, but I just feel truly blessed. No, it hasn't hit me. I'm not sure that it ever will. It's 10,000 dreams come true. I just count my blessings every day."
Out of respect, the Steelers organization re-worked its training camp schedule this year to fit in a bus trip to Canton, Ohio, to see LeBeau. Head coach Mike Tomlin said the entire team will be in attendance to see their popular defensive coordinator get enshrined.
"We're excited about it. What a great opportunity to have a field trip, if you will, for a football team," Tomlin said. "The camaraderie, coming together for a little bus ride, but more important it's a guy that we all love and admire. It's a very special day for him and by no means do we intend to miss it."
July, 1, 2010
7/01/10
11:00
AM ET
Notable players:
Running back Mel Farr, center Ed Flanagan, tight end Charlie Sanders, linebacker Paul Naumoff, defensive tackle Alex Karras, cornerback Lem Barney, cornerback Dick LeBeau.
[+] Enlarge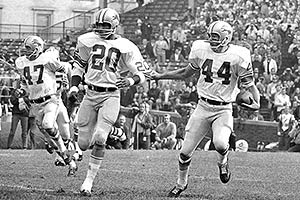 AP Photo/Jim PalmerCornerbacks Lem Barney and Dick LeBeau combined to snag 16 interceptions during the 1970 season.
Analysis:
I'm fully aware that this franchise played for four NFL Championships during the 1950s, winning in 1952, 1953 and 1957. It was without question the golden age of Lions football, but you can make a decent argument that the best team came two decades later.
The 1970 Lions ranked second in the NFL in points scored and points allowed, won their first two games by a combined score of 78-3 and finished the season with the league's second-highest average point differential (10.4), according to pro football-reference.com. They had the best turnover ratio in the league, were the victims of Tom Dempsey's then-record 63-yard field goal and produced an impressive five-game winning streak to end the regular season.
This team fielded two Hall of Fame cornerbacks, and both Barney and LeBeau had the best seasons of their careers. LeBeau intercepted nine passes, while Barney had seven -- returning two for touchdowns. The Barney/LeBeau team helped the Lions limit the powerful Dallas Cowboys to five points in the playoffs, and that total should have been enough for an offense that put up at least 28 points in six of its regular-season games.
But the offense inexplicably fell flat that day in a 5-0 defeat, leaving Lions fans their first in a series of torturous "what-ifs." At the time, there was a feeling the Lions were
bound for a Super Bowl victory
had they gotten past the Cowboys.
I realize there is some room for discussion here. But the 1970s were a newly competitive era for the NFL, and that's where I landed when comparing this team with the 1950s teams.
Most impressive victory:
I'll go with a tie for the Lions' collective performances in shutting out Green Bay twice -- 40-0 in the season opener and 20-0 in the season finale. The Packers weren't a good team that year but they did win six of their other 12 games.
Did you know?
The 1970 Lions were the first wild-card playoff team in NFL history. When the league merged with the AFL, the postseason was expanded to eight teams -- three division winners and one wild-card team.
Did you know, Part II?
Soul musician Marvin Gaye had a failed tryout for the 1970 team.
Honorable mention
1952:
A high-powered offense scored 40-plus points five times on the way to a 9-3 record and an NFL Championship.
1953:
A similar team scored a touchdown in the final minutes of the championship game to become the third team in NFL history at that point to win back-to-back titles.
1957:
The Lions overcame the training camp resignation of coach Buddy Parker and the broken leg of quarterback Bobby Layne to win its last NFL title.
February, 10, 2010
2/10/10
10:01
AM ET
I appreciated the thoughtful debate you produced Monday on Dick LeBeau's pending enshrinement to the Pro Football Hall of Fame. I asked if you
considered LeBeau a Hall of Famer
independent of his stellar coaching career, and from the top I should tell you how the voters themselves considered his candidacy.
[+] Enlarge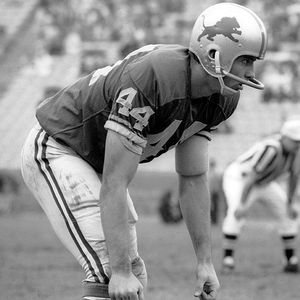 David Boss/US PresswireDick LeBeau went to three Pro Bowls as a member of the Detroit Lions.
As NFL vice president Greg Aiello
points out
, coaches aren't eligible for enshrinement until five years after they retire. LeBeau remains Pittsburgh's defensive coordinator, so by definition that means the Hall's 44 voters were required to evaluate him solely on the merits of his playing career.
I've independently confirmed that with voters. They elected LeBeau based on his performance as a Detroit cornerback from 1959-72. That said, I thought some of you made a reasonable leap by suggesting LeBeau's tenure as an elite defensive coordinator at least kept his name fresh for this generation of the seniors committee and voters.
Wrote
whelk
: He should have been elected a HOF'er as a player in the first place. However, it was his coaching that kept reminding people he was out there. Without the coaching, this deserving player likely would have been forgotten.
And who was that deserving player? You engaged in some of the most interesting debate we've had in Have at It.
Elkman812002
pointed to
this analysis
from Pro Football Reference. The piece notes LeBeau totaled 62 interceptions during an era when teams passed much less frequently than they do now. But it also points out interceptions were much more frequent relative to passing attempts during those times. "Even though only 14 games were played per season in LeBeau's era it was in fact easier to get interceptions," concluded Elkman812002.
Jerious6
countered with what we noted in the original post: LeBeau had more interceptions than any other NFL player during the meat of his career from 1960-71.
Wrote Jerious6: "No matter how easy or hard interceptions were to come by during that time, having more total picks than anyone over that period accounts for something, mostly his consistency."
I think it accounts for more than that.
My take?
I realize there was some gray area in LeBeau's candidacy. There is a reason it took 38 years after his retirement for him to be elected. He was surrounded by some better-known Hall of Fame players, including cornerback Lem Barney, cornerback Dick "Night Train" Lane and safety Yale Lary. The presence of high-caliber teammates tends to lead to the argument that LeBeau got more opportunities for interceptions because opponents chose to "pick" on him rather than challenge ostensibly more talented players.
To me, however, the point is LeBeau made teams pay if they in fact took that approach. He didn't just intercept some passes. When he retired, he had more interceptions than all but one player in the history of the game. Even today, his total ranks among the top 10 of all time. It's overthinking to suggest there is a mitigating circumstances that should overshadow 62 interceptions in 14 seasons.
Interceptions should be a weighted statistic, in my book. In general terms, turnovers are as closely associated to wins and losses than any other figure. Even if LeBeau was a less-skilled cover man than some other Hall of Fame players on his own team and elsewhere, he made up for it at the end of the day.
I understand why it took LeBeau so long to reach the Pro Football Hall of Fame. I also understand why he has finally been included.
NFL SCOREBOARD
Thursday, 11/27
Sunday, 11/30
Monday, 12/1
WEEKLY LEADERS