June, 29, 2010
6/29/10
11:00
AM ET
[+] Enlarge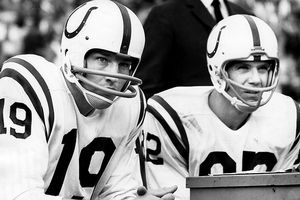 NFL/Getty ImagesJohn Unitas and Raymond Berry led the 1958 Colts to victory in "The Greatest Game Ever Played."
Notable players:
QB John Unitas, WR Raymond Berry, LT Jim Parker, HB Lenny Moore, RB Alan Ameche, DT Gene Lipscomb, DE Don Joyce, DE Gino Marchetti, DT Art Donovan.
Analysis:
It's very difficult to choose against the 1958 NFL champions, who took the crown with an overtime win in "The Greatest Game Ever Played." That win over the Giants at Yankee Stadium avenged a regular-season road loss to New York and did much to propel the NFL and football to prominence.
It's prompted books with subtitles like "The Birth of the Modern NFL" and "How the 1958 NFL Championship Changed Football Forever."
And Baltimore's lineup featured six players -- Berry, Donovan, Marchetti, Moore, Parker and Unitas -- who are in the Pro Football Hall of Fame, as is their coach, Weeb Ewbank.
These Colts were 6-0 at home and finished 10-3. Before the title tilt, they'd won by an average of 17 points and only once by a margin as small as seven. Their three losses were by 14 points. While Unitas threw 19 touchdowns against seven interceptions, the offense was really run-based with 24 rushing touchdowns and an average of 177.3 ground yards per game.
The defense posted even more impressive numbers, allowing only nine touchdown passes while intercepting 35 passes. Safeties Andy Nelson and Ray Brown had eight interceptions each.
And, before you fire off that e-mail: Sorry if Indy folks don't like it, but yes, Baltimore and Indianapolis are the same franchise. Check the nickname, check the record books, check with the league. We're following its lead. This is what happens with relocated teams, with only the Browns/Ravens exception.
Most impressive win:
Did we mention "The Greatest Game Ever Played?"
Research room:
The 1958 Colts were the first team in league history to win a game in overtime, regular season or postseason.
Honorable mentions:
1959:
These Baltimore Colts finished 9-3 and beat the Giants for the title again, with the same core of eventual Hall of Famers the 1958 team had.
1968
: The famous clip of Joe Namath running off the field, his raised index finger wagging, overshadows these Baltimore Colts. They outscored opponents 402-144 and won the NFL title but lost Super Bowl III to the
New York Jets
in another game crucial to the league's growth.
2006:
Peyton Manning
and the
Indianapolis Colts
went 16-4 and their four-game playoff run produced a Super Bowl title. Yes, 2005 may have been a better team, but this one gets the nod because it got the trophy.
1970:
In the last five seconds of Super Bowl V, rookie kicker Jim O'Brien's 32-yard field goal lifted the Baltimore Colts to victory over the Dallas Cowboys.
June, 23, 2010
6/23/10
12:30
PM ET
Notable players:
RB Jim Brown, WR Paul Warfield, K Lou Groza, G Gene Hickerson, RB Leroy Kelly, QB Frank Ryan, LB Jim Houston.
Analysis:
Jim Brown and Paul Warfield in the same offense.
Does any more need to be said?
[+] Enlarge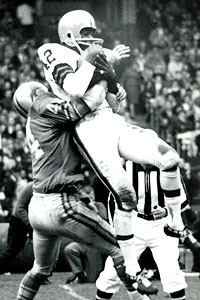 Malcolm Emmons/ US PresswirePaul Warfield averaged 17.7 yards per catch during his rookie season in 1964.
Often you hear Cleveland fans longing for the glory days, and this group led by Brown and Warfield -- perhaps the two best to play their respective positions -- tops the list.
This team was ahead of its time. Cleveland, which finished 10-3-1 in 1964, scored more than 400 points in an era when that was extremely difficult. For perspective, only eight teams scored more than 400 points in 2009 with two more regular-season games (16) and numerous advancements in the NFL game.
Brown, 28 and in his prime, rushed for 1,446 yards and averaged 5.2 yards per carry. He averaged more than 100 yards rushing per game. Warfield, then a 22-year-old rookie, had 920 receiving yards and nine touchdowns, as he was a key figure who helped revolutionize the vertical passing game. He averaged 17.7 yards per catch in '64, a stat that would still be impressive today.
To further prove Cleveland's dominance, they won the NFL Championship, 27-0, over the Baltimore Colts. The high-powered offense with Brown, Warfield and Ryan (25 touchdown passes) at quarterback was too advanced. Cleveland scored 30 points or more in half of its games that season.
Brown, Warfield, Groza, Hickerson and Kelly -- who was a rookie kick returner in '64 -- are all Hall of Famers from this group.
Most impressive win:
As mentioned earlier, Cleveland's 27-0 rout of the Baltimore Colts was the exclamation point of the '64 season.
Both teams had an amazing collection of talent. But Baltimore Hall of Famers such as quarterback Johnny Unitas, running back Lenny Moore and tight end John Mackey were stifled by Cleveland's defense, which forced four turnovers. Brown rushed for 114 yards for Cleveland and Ryan threw three touchdown passes in the blowout win.
Research room:
Groza had one of the most interesting careers in football history. He played 22 years in Cleveland and arrived as an offensive lineman. He made the Pro Bowl nine times as a left tackle and also played some right tackle, center, defensive tackle and kicker during his career. Groza was the kicker for the '64 team at age 40. He made 22 field goals and all 49 extra-point attempts.
Sudden retirement:
Following the championship in '64, Brown would play one more season before suddenly retiring to pursue a movie career.
Brown rushed for an astounding 1,544 yards and 17 touchdowns in his final season. Most of Brown's rushing records have been broken. But he's widely considered the best running back of all time.
Honorable mention:
1950:
Another elite, championship team stacked with talented players such as Otto Graham and Marion Motley. This Browns team would give the '64 group a run for its money. But not having Warfield or Brown on this squad makes the difference.
1953:
The Browns, again led by Graham at quarterback, ran off 11 consecutive wins before losing a meaningless final regular-season game. But Cleveland lost to the Detroit Lions, 17-16, in the NFL Championship for a disappointing end to an otherwise dominant season.
1986:
This team is best known for falling victim to "The Drive" led by quarterback John Elway of the Denver Broncos. Elway orchestrated a 15-play, 98-yard drive in Cleveland to force overtime and Denver eventually won the game, costing a talented Browns team a shot at the Super Bowl. One year later, a chance at revenge against Denver in the AFC title game was thwarted by "The Fumble."

NFL SCOREBOARD
Thursday, 12/18
Saturday, 12/20
Sunday, 12/21
Monday, 12/22