NFL Nation:

Leonard Myers
September, 8, 2010
9/08/10
12:03
PM ET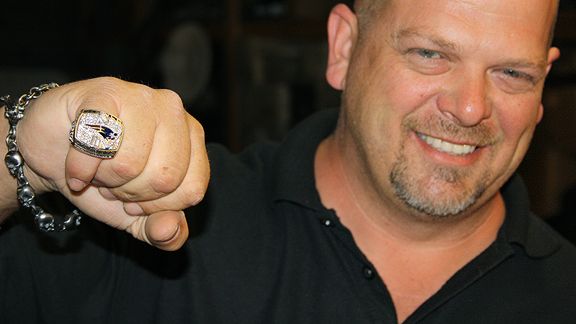 Laura Karaer"Pawn Stars" leading man Rick Harrison wears the New England Patriots' 2001 Super Bowl ring that used to belong to Brock Williams.
In the daily routine at his Las Vegas pawn shop, Rick Harrison ambles to his vault and takes inventory. He processes valuables cash-strapped folks deposited for collateral on loans. Whatever items are unclaimed after 120 days become his property.
In July 2006, he came across a sacred item abandoned.
"I actually made the joke that morning 'You know, one of these days I might open one of these envelopes and the Holy Grail's going to fall out,'" Harrison said.
What he came across that day was the NFL's holy grail, the object every player will pursue when the regular-season quest begins Thursday night: a sparkly Super Bowl ring.
A
New England Patriots
2001 championship ring now sits in Harrison's mirrored showcase, but you don't need to drop by Gold & Silver Pawn Shop at 713 South Las Vegas Blvd. to check it out.
That ring is the centerpiece of the opening to "Pawn Stars," the History Channel's hit series about the day-to-day operations of Harrison's family-owned shop. The most prominent item you see at the top of each show is the bauble and its shimmering Patriots logo.
To see the symbol of their franchise's
crowning achievement reduced to a pawn prop
must make the Patriots sick.
"That ring means the world to me," former Patriots linebacker Tedy Bruschi said. "When I look at it I think of guys like Roman Phifer, Drew Bledsoe and especially Dick Rehbein [the quarterback coach who died in August 2001]. So many men came together to bring the first-ever Super Bowl title to the fans of New England.
"Rings are hard to come by, but life can be even harder sometimes. If you needed the money, I understand. But if you just sold it for kicks, then you never truly understood the mission."
The "Pawn Stars" ring was issued to rookie defensive back Brock Williams, a third-round draft choice from Notre Dame in 2001. A knee injury prevented him from playing a down for the Patriots, but he was on the roster when they won that precious first title.
Williams did finally see some action, playing 10 games for the
Chicago Bears
and two more with the
Oakland Raiders
before recurring knee injuries forced him to retire.
[+] Enlarge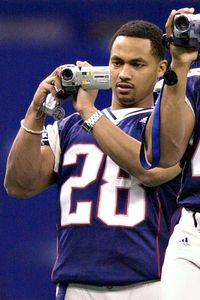 AP Photo/Steven SenneBrock Williams never played a down on the Patriots' 2001 team, but still received a Super Bowl ring.
Down on his luck and in need of a few bucks, Williams stopped by Harrison's pawn shop to hock the NFL's ultimate reminder of greatness.
Super Bowl XXXVI rings were the largest and most expensive produced up until then. They weighed 2.6 ounces, were
cast of 14-karat white gold and included 143 diamonds
. Faces featured Patriots logos in garnets and blue sapphires.
"It's the top of the heap," said Harrison. "The '01 Patriots ring is a pretty special ring."
Harrison recalled offering Williams a loan over $10,000. Williams declined, requesting just $2,600. By Nevada law, he had 120 days to pick up his item. With interest on the modest loan, he would've needed to pay about $3,600.
"We don't tell the customer this in the store, but we give everybody an extra three weeks because inevitably people are late," Harrison said. "So if people come in up to three weeks later, we say 'No problem.'
"But you can hold onto an item only so long. I've got a business to run."
Williams never showed up. To this day, he hasn't contacted Gold & Silver Pawn Shop about the item he left behind.
Harrison, a San Diego native who gave up his Chargers season tickets last year, has purchased several championship rings. He has a 1998
Denver Broncos
ring, a 2006 Miami Heat ring, a 1990 Cincinnati Reds ring, a Tampa Bay Rays 2008 ALCS ring and 50 or so college bowl rings. He has a couple of Olympic bronze medals.
But of the 40 to 50 championship rings pawned in his shop, all were reclaimed -- except this one.
"Most players, they treat them with reverence," Harrison said. "Apparently to some other players they don't mean as much."
Williams did not return messages for this story.
A couple Super Bowl XXXVI rings have changed hands for much more than $2,600.
Destitute linebacker Leonard Myers sold his on eBay for $32,600 in 2005. A staff ring (presented to a member of the front office)
sold at auction for $37,511 in 2008
.
Defensive back and special-teams player Je'Rod Cherry
raffled his ring for charity
in 2008. He said the ring raised $171,000 to build orphanages in Thailand and Cambodia, save children from sex trafficking there and feed impoverished children in Massachusetts and Ohio.
"A lot of people got help," Cherry said. "Children were taken out of brothels and given homes to live in. It's definitely something I'm proud to be a part of."
[+] Enlarge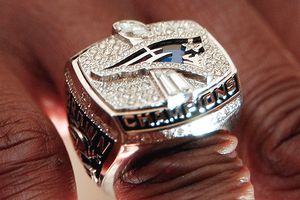 AP Photo/SEVANSBrock Williams' Super Bowl XXXVI ring isn't the only one that has changed ownership.
But to see one of those rings being lost for $2,600?
"Maybe if he was living in a third-world country, but he's living in America," Cherry said. "That money probably didn't go far.
"It saddens me that he was in that place, that the desperation kicked in and he needed to do that. I understand when you're struggling and need to do what you have to to get by. You have this nice ring and bills to pay."
Cherry, now an ESPNU broadcaster based in the Cleveland area, was on all three of New England's title teams and kept his other two rings. He could get the first one back if he wanted badly enough. It's back on the market for $40,000.
"If I didn't have two more it might be a greater sting to part with it," said Cherry, who also co-hosts "X's and O's with the Pros" on ESPN 850 in Cleveland. "But I do love what that ring represents, that Super Bowl championship."
That's certainly not what Williams' ring represents anymore on "Pawn Stars."
Now it's an eye-catching prop seen by multitudes. For the week ending Aug. 22, "Pawn Stars" ranked third and fourth in the cable ratings. Each episode drew more than 6 million viewers.
The
New York Jets
versus
New York Giants
preseason opener on "Monday Night Football" finished fifth with 5.6 million viewers. For another comparison, HBO's "Hard Knocks" has averaged about 845,000 viewers.
Harrison appeared on Tuesday night's "The Late Show with David Letterman," sitting down with the host for two segments, an invitation generally reserved for A-list celebrities.
Harrison told Letterman his business generates between $4 million and $5 million in jewelry-related pawn interest annually and that in a normal economy only 10 percent of hocked items go unclaimed.
But whatever's left behind doesn't compare to a Patriots ring.
Harrison said he won't sell the ring for less than $100,000, a wild sum, but one that reflects how much he loves the attention it generates for his store.
For him, the joy of owning a Super Bowl ring will last much longer than it did for Williams.
November, 26, 2008
11/26/08
12:00
PM ET
| | |
| --- | --- |
| | |
| | Bob Falcetti/Icon SMI |
| | Je'Rod Cherry won three Super Bowl rings with the Patriots. |
Posted by ESPN.com's Tim Graham
Je'Rod Cherry was oblivious to the fact he was poor until he was in the second grade. That's when his family moved from North Carolina to cultured and progressive Berkeley, Calif.
"I grew up wearing Toughskins and kids used to pick on me," said Cherry, who played nine seasons in the NFL. "I used to say, 'I'm going to grow up and be a football player and get all these things.'
"Well, I got all those things and thought, 'This is it?'"
The moment that summed up Cherry's restlessness is considered the most joyous moment in New England Patriots history. The special-teams ace anxiously watched from the same sideline as Tom Brady and Willie McGinest and Troy Brown and Bill Belichick while Adam Vinatieri kicked the 48-yard field goal to win the franchise's first Super Bowl.
The last of the confetti hadn't flittered to the turf before a curbing realization struck Cherry.
"I thought there would be a sense of completeness by winning the Super Bowl," Cherry said. "There definitely was a sense of accomplishment, but the sense of completeness didn't last a millisecond.
"I could see the confetti dropping, and then I thought, 'Man, there's got to be more.' There was no sense of fulfillment. You want to do it again. You have to do it again."
The symbol of ultimate victory is the championship ring. Cherry won three of them with the Patriots. None brought total satisfaction, not like he guessed.
Maybe that's what happens when you ripen in a place like Berkeley. You become highly introspective and philosophical about life. You consider the merits of unconventional thought to the point there's a healthy chance somebody eventually will consider you kooky.
| | |
| --- | --- |
| | |
| | Kaitlyn Montagna/Celebrities for Charity |
| | Je'Rod Cherry and his wife, Samua, hope to raise $200,000 by raffling off one of his Super Bowl rings. |
All of Cherry's distinctive life experiences have come together for Thanksgiving. Molded by his upbringing, influenced by his three Super Bowl victories and inspired by his profound religious beliefs, Cherry is making what many would consider the ultimate sporting sacrifice.
Cherry on Thanksgiving -- against the wishes of some adamant he keep it -- will raffle off his first Super Bowl ring, the one that started a dynasty, to raise money for several charities: Asia's Hope, Boston for Africa, Feed My Starving Children, the Italian Home for Children and the Celebrities for Charity Foundation.
Cherry wants to build orphanages in Thailand and Cambodia to save children from the sex trafficking that's common there. He also wants to feed poverty-stricken children in Massachusetts and Ohio, where he splits his time.
"He has a bigger purpose, and Super Bowl rings are just stuff," said Don Davis, who played special teams alongside Cherry with the Patriots and New Orleans Saints. "To most it might sound crazy, but he's got three of them.
"It's a great tribute to what kind of man he is. He's willing to show the world all that stuff is meaningless."
Cherry said that by Monday afternoon the raffle had generated $140,000 in tickets sold, but he's hoping a late push will increase the figure to $200,000. Anybody who wants to enter the drawing still has until 9 a.m. Thursday to buy tickets for $2, with a five-ticket minimum required. The drawing will be held later in the day.
He opted for a raffle-style fundraiser because he didn't want a few wealthy collectors bidding in an auction. Now the average fan has the opportunity to win it.

NFL SCOREBOARD
Thursday, 9/11
Sunday, 9/14
Monday, 9/15
WEEKLY LEADERS