NFL Nation:

Lerentee McCray
October, 1, 2014
Oct 1
5:25
PM ET
ENGLEWOOD, Colo. -- With linebacker
Danny Trevathan
on track to play Sunday against the
Arizona Cardinals
, the
Denver Broncos
will be at full strength as they play their first game coming off a Week 4 bye.
Trevathan
Trevathan, who suffered a fracture at the top of his tibia in an Aug. 12 training camp practice, practiced fully on Monday and again on Wednesday. He was the team's leading tackler last season and his return gives the Broncos plenty of options in their personnel groupings on defense, especially since his replacement,
Brandon Marshall
, has performed well enough to be tied for the team lead in tackles after three games.
"I still think [Marshall] is going to play a lot," cornerback
Chris Harris
Jr. said " … But getting Danny back means we have everybody in there and can do whatever we need to do."
Asked about how Trevathan has worked in practice, Broncos head coach John Fox said following Wednesday's practice: "He looked good Monday as well, it's good to have him back. … He's very happy to be back."
Overall, following their earlier bye week since 2006, the Broncos are healthy as safety
David Bruton
Jr. (ankle) was the only Broncos player held out of Wednesday's practice. Linebacker
Lerentee McCray
(knee), who has not played since the Broncos' Week 2 win over the
Kansas City Chiefs
, was limited in practice as was guard
Louis Vasquez
.
Fox said Vasquez, who has battled some stiffness in his back this season, had a "rib cage'' injury. Vasquez has not missed a game since he signed with the Broncos before the 2013 season and is expected to be in the lineup on Sunday.
September, 17, 2014
Sep 17
2:55
PM ET
ENGLEWOOD, Colo. -- His return to the practice field was overshadowed plenty by wide receiver
Wes Welker
's presence in practice as well, but linebacker
Danny Trevathan
's ability to do at least some work with the team's strength and conditioning coaches was good news for the Broncos and an indication that one of the team's most productive players is closing in on a return.
Trevathan, who was the team's leading tackler last season and an every-down player in Jack Del Rio's scheme, suffered a fracture at the top of his tibia on Aug. 12. Though he did not take part in the Broncos' practice Wednesday -- he stretched with the team -- Trevathan's work was his first appearance on the field in a practice jersey since the injury.
Trevathan said last week, "I'm getting there, I'll be ready to get back in there soon."
Trevathan is five weeks out from the injury. The Broncos have been optimistic throughout Trevathan's recovery that he would need six to eight weeks before a return to the lineup.
The Broncos face Seattle this weekend, but then have a Week 4 bye, so Trevathan, if he continues at his current pace, may be available for the Broncos' Week 5 game against the
Arizona Cardinals
.
The Broncos will likely practice at least twice during their bye week.
Linebacker
Von Miller
, who left the Broncos' win over the
Kansas City Chiefs
this past Sunday with a groin injury, practiced Wednesday.
Linebacker
Lerentee McCray
(knee) and defensive tackle
Marvin Austin
(excused) did not practice. Austin's father, Marvin Sr., was involved in an automobile accident Sunday.
September, 14, 2014
Sep 14
9:00
PM ET
DENVER – Observed and heard in the Broncos' locker room after their win 24-17 over the
Kansas City Chiefs
Sunday:
August, 9, 2014
Aug 9
7:30
PM ET
ENGLEWOOD, Colo. – A daily review of the hot topics coming out of
Denver Broncos
training camp:
Linebacker Lerentee McCray, who has worked at Von Miller's strong-side linebacker spot as the Broncos weave Miller into practice on a graduated basis after Miller's ACL surgery, continues to flash in practice. In Saturday morning's workout, McCray returned a Peyton Manning pass that was tipped at the line of scrimmage for a touchdown. "It was a pretty good feeling to get my hands on the ball and go the other way.'' McCray, Brandon Marshall and rookie Lamin Barrow are poised to be the fourth, fifth and sixth linebackers who will make the roster behind the starters when cuts come. The Broncos could have room for one more if they keep seven – they did in 2011 and 2012. The Broncos kept six last season.
Emmanuel Sanders, who played 20 plays in Thursday night's preseason opener against the Seattle Seahawks after being held out of practice Tuesday, was again held out of Saturday morning's full practice – he took part in the Saturday evening walk-through. The Broncos lined up Demaryius Thomas and Andre Caldwell with the starting offense in the two outside spots. At one point in team drills, Manning tried to power a ball up the right sideline to Caldwell, but cornerback Aqib Talib closed the gap and knocked the ball away.
Much like Thursday's effort when backup quarterback Brock Osweiler rebounded from an interception to throw a touchdown pass, the third-year passer rebounded from a rough set of drills to far better work later in practice. Osweiler had a tipped pass intercepted by Omar Bolden and had another pass intercepted deep down the field in the same drill by John Boyett. But Osweiler recovered quickly and later hooked up for a touchdown with Cody Latimer. On Osweiler's progress overall, Broncos coach John Fox said Saturday; "He's just gotten better … how he functions under pressure, I think, continues to improve and I think he took a big step Thursday night,''
With Montee Ball coming off an appendectomy and C.J. Anderson recovering from a concussion, undrafted rookie Juwan Thompson continues to make his presence felt. Thompson got some snaps with the first-team offense Saturday. With the second-team offense later, he broke off the biggest run of the day, out-running safety Duke Ihenacho the final 25 yards or so to close the deal. Thompson, who played for David Cutcliffe at Duke, is well-versed in pass protection and has shown consistent hands. But in the run game he has shown quality decisiveness -- he squares his shoulders and hits the hole -- and more top-end speed than perhaps the Broncos' believed he had.
Odds and ends: Rookie Michael Schofield was the right tackle with the second-team offense in Saturday's practice. Schofield did not play on offense in the preseason opener, but did play six snaps on special teams … Will Montgomery took a smattering of snaps at center with first-team offense … Cornerback Kayvon Webster was doing extra sprints after practice, running a hill adjacent to the team's fields.
August, 30, 2013
8/30/13
12:24
AM ET
DENVER -- The
Denver Broncos
' plan Thursday night was easy to see when, just more than three hours before kickoff, most of the players who sit at the top of the depth chart at their respective positions were working with strength-and-conditioning coach Luke Richesson, as Richesson prodded them all from one end of the field to the other over and over again in something far more stringent than just a warm-up.

That's because they weren't going to play in the game that followed. And with just a few roster spots still in play, the Broncos' reserves closed out the preseason with a
32-24 loss
to Arizona at Invesco Field at Mile High.
Some things to consider as the Broncos now turn their attention to the
Baltimore Ravens
:
There was almost as much to learn by who the Broncos did play as by who they didn't. Tight end Julius Thomas earned the night off as a starter, but Jacob Tamme did not, as Tamme played in several two-tight end sets, lining up in the slot. Some of that was a numbers game with Joel Dreessen still coming back from two knee surgeries since late May, but it's clear the Broncos have big plans for Thomas in the front-line offense. Running back Montee Ball also was in the pregame workout with the starters, but Ronnie Hillman was not. Hillman started at running back, likely just to give him confidence with a carry or two early in the game given his recent fumbles -- he had a fumble returned for a touchdown in each of the previous two preseason games -- and given he is still very much in the mix to be a mainstay in the run game. Hillman carried twice for 14 yards on the Broncos' first two plays of the game and then headed for the sideline with his work finished for the night. Knowshon Moreno also did not play, so Ball, Hillman and Moreno are solidly the top three.
Broncos coach John Fox said last week that linebacker Von Miller, who is suspended for the first six games of the regular season for violating the league's substance-abuse policy, would play in the final two preseason games because Fox didn't want to turn a six-game suspension into eight games. Miller did play last weekend against the Rams, but he was held out of Thursday night's game. Miller's suspension officially begins Saturday since the Broncos play next Thursday night. In the end the Broncos elected to give some young players those snaps instead of risking an injury to Miller.
And one of the Broncos' undrafted rookies made the most of that decision. Lerentee McCray, who has made a strong push for a roster spot since training camp opened, started in Miller's strong-side linebacker spot and finished the first half with three tackles, a sack and a forced fumble. (McCray blocked a punt in the previous game against the Rams.) But McCray was helped off the field with just under four minutes left in the third quarter with a right ankle injury. He had difficulty putting weight on the leg, and if an MRI shows any significant problems Friday, it could complicate what the Broncos can do with him if it's an injury that would keep him on the sideline for several weeks. But McCray certainly earned a spot with his play on the field.
The Broncos have struggled to protect the quarterback with the backup linemen in front of him during the preseason -- Brock Osweiler had been sacked eight times in three preseason games coming into his start against the Cardinals -- so the Broncos bulked things up in front to open the game. After not using the two-back look for anything more than a smattering of plays in the first three preseason games, the Broncos worked out of it for most of the first half. They used it on six of 10 plays in their opening drive of the game -- an 80-yard touchdown drive -- and 12 plays in all in the first half. They used a two-tight end/two-back look once and a two-tight end look six times in the opening half. The move did give fullback Jacob Hester a chance to get some work on offense. Hester was the fullback in all of those two-back sets after playing just 25 plays on offense in the first three preseason games combined. Hester's chances of making the final roster are enhanced by the fact he is the only running back who has lined up at fullback in the offense, that he can play running back and that he is a key special-teams player.
The Broncos have plenty of tough decisions awaiting in the secondary for final cuts, but they unveiled at least one of their potential solutions against the Cardinals. Cornerback Omar Bolden, who has played plenty on the outside with the second-team defense in the preseason, lined up at free safety in the base defense for much of the first half. He showed himself to be physical, quick to the ball and comfortable despite it being his first game at the position. It means the Broncos consider him a potential swing player in the secondary, one who could line up at corner and work at safety as well. If the game video confirms for the coaches what seemed clear in real time -- that Bolden can function well at safety if needed -- that likely makes it difficult for veteran Quentin Jammer to make the roster. The Broncos had originally signed Jammer because they envisioned him being able to be a combination player in the secondary.
Rookie quarterback Zac Dysert got his first significant action of the preseason. He tossed a 25-yard touchdown pass late in the third quarter and led another touchdown drive in the fourth quarter that included a short toss to running back Lance Ball that turned into a 69-yard catch-and-run. Dysert will be around the team, whether on the practice squad or as one of those to get one of the final two or three roster spots. If the Broncos feel they can't afford the luxury of three quarterbacks on the 53-man roster, they will have to get Dysert through waivers to get him to the practice squad.
Rookie cornerback Kayvon Webster could get a look from the league office with an unnecessary-roughness penalty in the first half -- he was called for striking an opponent with his helmet -- to go with another personal foul in the opening half for intentionally slamming a player to the ground.
August, 29, 2013
8/29/13
6:30
AM ET
The
Denver Broncos
, like the rest of the league, will tie a bow on the preseason Thursday night. Most of the team's regulars will get the night off against the visiting
Arizona Cardinals
, but decisions still need to be made at a few spots at the back end of the roster.
With that in mind, some things to keep an eye on:


One of the most difficult spots for the Broncos to make cuts ahead of Saturday's deadline to pare the roster to 53 players -- the bulk of which will come Friday -- will be in the secondary.
The Broncos kept nine defensive backs on the opening-weekend roster in 2011 and 10 last season -- five cornerbacks and five safeties. The issue this year is that Denver has two young, homegrown cornerback prospects in
Omar Bolden
and rookie
Kayvon Webster
, who have shown themselves to be worthy of the roster and would raise the overall athleticism at the position.
With
Champ Bailey
,
Dominique Rodgers-Cromartie
,
Rahim Moore
,
Duke Ihenacho
,
Chris Harris
,
David Bruton
and
Tony Carter
having worked in the top seven slots all through the preseason, that doesn't leave room for Webster, Bolden,
Mike Adams
and
Quentin Jammer
to all make it.
If the Broncos stick with nine players in the secondary, they are essentially choosing between youth and experience for those final two spots. If they keep an extra cornerback, however, it may be an indication they feel they need to open the season with some insurance for Bailey's foot injury.
Unless Denver takes the uncharacteristic step and keeps 11 defensive backs, Bolden and Webster both figure to play plenty against the Cardinals to state their cases.
Brock Osweiler is slated to get the start at quarterback behind what is largely a backup line. That has been a tough combination thus far in the preseason for Osweiler, who has been sacked eight times in the three previous games behind the reserves. It makes it difficult for the Broncos to work out of the three-wide look as much as they'd like given that they haven't consistently protected the quarterback in it -- even when the starters have been in the game -- this preseason. If things get dicey they might have to go big again, as they did last weekend against the Rams. After opening the game with three wide receivers and allowing too many rushers to get too close to Peyton Manning, the Broncos went to a two-tight-end look. They lined up in a two-tight-end look on 29 of the next 35 plays after the opening three-and-out, including all 12 in a drive that ended with a blocked field goal. The Broncos might feel like they need to give Osweiler a little more beef up front.

The last few rosters spots will be decided on special teams, and the Broncos could use a good showing there. In the past two games they have surrendered a 107-yard kickoff return for a score, a 33-yard punt return, an 81-yard punt return and seen a field goal blocked. Many of the Broncos' youngest players will have a chance to help their causes against Arizona, with Denver special-teams coach Jeff Rodgers looking for those who display speed and smarts.

[+] Enlarge

AP Photo/Eric BakkeCornerback Kayvon Webster, a third-round pick, gets a last chance tonight to show he deserves a roster spot.

The Broncos have lost five fumbles in three preseason games -- two by Osweiler, two by Ronnie Hillman and one by Julius Thomas. Hillman is not expected to play Thursday, but things need to be cleaned up. Lance Ball and Jacob Hester figure to get some work as the Broncos face some tough decisions at running back as well. Hester has not had a carry in the preseason and is the only back that has lined up at fullback thus far.

The Broncos have to sort things out in the offensive line, where they kept nine players in both 2011 and last season. After the starting five -- Ryan Clady, Zane Beadles, Manny Ramirez, Louis Vasquez and Orlando Franklin -- the Broncos need a swing tackle, likely Chris Clark, and a swing guard/center or two, with Ryan Lilja, Steve Vallos and Philip Blake in the mix. Blake, a fourth-round pick in 2012, has been headed the wrong way on the depth chart -- the Broncos didn't even work him much at center in the preseason, a position he played in college and one they originally drafted him for. Blake is decidedly on the bubble -- a long way down for a player some believed was pushing to start before a thumb injury ended his rookie season. He has regressed since that point, so he's either not getting the message about the changes in the offense or is not reacting well to the coaching he's getting. Rookie tackle Vinston Painter has shown the kind of athleticism that deserves a roster spot, but the Broncos may be in a position where they have to hope he makes it through waivers so they can sign him to their practice squad. Lilja is a tough call, too. Denver certainly likes him in the offense, but he had microfracture surgery on his knee just a few months ago and has missed significant amount of practice time of late because of the knee.

Rookie quarterback Zac Dysert will likely get his most significant work of the preseason. Dysert has shown some quality scrambling skills in practice, so he could have an entertaining down or two if he gets loose. He projects to the practice squad, but the Broncos would like to see some better accuracy from the pocket, especially in the shorter and intermediate routes.

Linebacker Lerentee McCray and wide receiver Lamaar Thomas are the undrafted rookies with the best chance to make the final 53 -- especially McCray. If the Broncos don't keep McCray, there are at least two other teams that would consider signing him. He's a big-bodied linebacker who, while not always showing good instincts, has the ability to disrupt an offense and closes to the ball with speed and intent.
August, 10, 2013
8/10/13
2:45
PM ET
It's been nine years now so one more makes an even decade. Nine years of playoff teams and the 4-12 crater that was 2010, a depth of franchise despair the Broncos still look to be clawing their way out of at times.
But in each of the last nine seasons the Broncos have had an undrafted rookie make the opening day roster.
Some no longer call the NFL home like
Wesley Duke
(a Broncos undrafted rookie in 2005) and
Selvin Young
(2007), some are starting elsewhere like
Tyler Polumbus
(2008) and
Cassius Vaughn
(2010) and some are starting for the Broncos like
Chris Harris
(2011) and
Wesley Woodyard
(2008).
It's testament to the constraints of the salary cap -- an undrafted rookie is, by nature, usually the most cap-friendly player on the league's landscape -- but also a willingness to hit the road and scout prospects who possess the holy trinity of attributes (height, weight, speed). It's a chance to find those edge-of-the-radar guys who fit what the Broncos do.
[+] Enlarge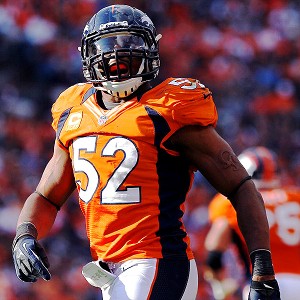 Ric Tapia/Icon SMIUndrafted linebacker Wesley Woodyard became just the 12th player in the last three decades to finish a season with at least 100 tackles, five sacks and three interceptions in the same season.
"Usually if a guy makes it as an undrafted rookie, it's an indication of his work ethic, that he put in the time, studied and didn't let the moment be too big for him,'' said Broncos executive vice president John Elway. "But they also have to fit what you do. You may like him for some things and other people wouldn't. I'm sure we like some players other people may not like as much, but the job isn't to find players for everybody else, it's is to find the best players to be
Denver Broncos
."
The Broncos current streak started with University of Washington cornerback
Roc Alexander
, who was kept by Mike Shanahan in September of 2004 and then rotisseried by current Broncos quarterback
Peyton Manning
in Denver's loss to Indianapolis in the wild-card round to close out that season. Three undrafted rookies made the 2008 roster -- Shanahan's last year with the team -- in Polumbus, Woodyard and punter
Brett Kern
.
Two -- long snapper
Aaron Brewer
and linebacker
Steven Johnson
-- made the Broncos last year (a team that finished 13-3) out of training camp.
The list of the league's best over the past nine years at finding those undrafted gems includes several perennial playoff teams. Indianapolis leads the way with 14 consecutive years with an undrafted rookie making the roster. Manning was behind center for most of the streak since it started in 1999 and the team has made the playoffs 12 times in that span.
Kansas City has had an undrafted rookie make the roster in 10 consecutive years, while Baltimore and New England are tied with the Broncos at nine consecutive years. That's some fairly heady company.
Sometimes it's simply a result of the seven-round draft. An undrafted player now would have been selected in the eighth, ninth or 10th rounds in years gone by.
Sometimes it's just a bit of a whiff. Woodyard led the SEC in tackles in his final season at Kentucky, and while personnel people around the league thought he may be undersized for a linebacker and too big to be a safety, the fact he led the nation's power college conference in tackles should have likely given him a more stout résumé than many players drafted ahead of him.
Last season Woodyard became just the 12th player in the last three decades to finish a season with at least 100 tackles, five sacks and three interceptions in the same season. Oh, and he was somehow passed over by his peers, the league's coaches and in the fan voting as even a Pro Bowl alternate.
"I'm just trying to outlast every guy drafted before me, I'm just being honest with you," Woodyard said. "I think it's a combination of talent, confidence, work ethic, everything. You can't let yourself worry too much because you're not making the picks so you can't worry about that. Play every day like it's your last day, study, make some plays, you got a chance. Just give yourself a chance."
Harris, at 5-10, was simply declared too short by many scouts, but was also stuck on a struggling defense and moved to safety to close out his career at Kansas because the team needed him to.
He has since won over folks like
Champ Bailey
, who called the shot early on in Harris' first training camp in 2011 when Bailey said; "that kid has got it, he's making this team.''
Harris has since started 16 games, having played both outside and been the go-to guy in the slot when the team goes to the nickel package.
"When it happens you wonder how a whole draft could go by and they don't call your name," Harris said. "But after that, you just want to get somewhere and show them why they and everybody else made a mistake. When I first got here I really believed what the coaches all say that it doesn't matter where you're picked or whatever and I just wanted to produce."
But an undrafted rookie was often a tick slow on somebody's stopwatch, a little short on somebody's tape measure, a little light or perhaps and little too much of a problem wherever he was before someone in the league gave him a look.
This year's Broncos crop includes a player or two who could make it 10 years in a row for the team. Linebacker
Lerentee McCray
had a sack in the preseason opener Thursday night and at 6-foot-3, 249 pounds is one of the biggest linebackers on the Broncos roster. McCray is unpolished in some of his techniques, but is disruptive when chasing the ballcarrier.
Wide receiver/kick returner
Quincy McDuffie
has already flashed some special teams chops as well before a hamstring injury kept him out of the game against the 49ers Thursday night. Wide receiver
Lamaar Thomas
made the most of his time in the game against the 49ers with some quality work in the second half.
"In the end the young guys who make it, whether you draft them or not, make it because they compete every day, no matter what,'' Elway said. "The bounce back from mistakes and they don't make the same ones over and over. They study and they work. It's not all that magical or anything. They have some ability and they put in the work."
August, 7, 2013
8/07/13
4:34
PM ET
ENGLEWOOD, Colo. -- Despite the Broncos' recent run of 30-something signings -- offensive linemen
Dan Koppen
and
Ryan Lilja
to go with defensive back
Quentin Jammer
in late May -- the key to remaining a Super Bowl contender and managing some coming salary-cap dilemmas will be how well they draft and develop those draft picks.
Or as Tony Dungy often said during his coaching career; "you can't be afraid of young players."
After all this is a team with 33.4 percent of its cap space in 2013 devoted to three players (
Peyton Manning
with a $17.5 million cap figure,
Ryan Clady
at $12.6 million and
Champ Bailey
at $11 million).
In light of that, we will be doing a weekly check-in with how the team's first-year players are doing. Let's get to it:
THE DRAFT CLASS
Defensive tackle Sylvester Williams.
The Broncos' first-rounder was slowed early in camp with a knee injury that cost him a few days worth of practices, but it's clear the Broncos have plans for him in their pass-rush looks early on. Williams has most often lined up as
Terrance Knighton
's backup on the nose in the team's base 4-3 look. But when defensive coordinator Jack Del Rio goes to the specialty looks that feature a variety of fronts, Williams has been in the mix with the regulars. At least early on, he figures to play on longer-yardage situations most often.
[+] Enlarge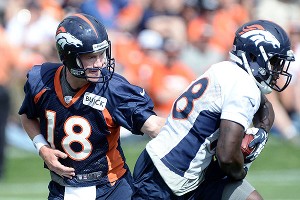 Ron Chenoy/USA TODAY SportsSecond-rounder Montee Ball, right, could be a red zone threat for the Broncos.
Running back Montee Ball.
Ball has consistently said he "attacked'' the playbook before training camp as well as in his limited free time since the team began its preseason work. He is already at the top tier of the rotation in the run game -- a No. 1B to
Ronnie Hillman
's No. 1A status. Ball cannot match Hillman's speed or big-play ability. But Ball has good vision, quick feet and
has shown the team better hands in the passing game than some scouts believed he had. Ball is also bigger than Hillman -- Ball weighs about 214 pounds compared to Hillman's 195 -- so could appear in some scoring situations deep in the red zone. But Ball will have to continue to progress in pass protection to see work in longer-yardage situations.
Cornerback Kayvon Webster.
Webster has shown good speed in practices thus far and a willingness to match up in both press coverage and play with awareness off the ball in zone. But he also finds himself at one of the more crowded spots on the depth chart. Champ Bailey,
Dominique Rodgers-Cromartie
,
Chris Harris
,
Tony Carter
and
Omar Bolden
are ahead of him at the moment. Rodgers-Cromartie will miss some time with an ankle injury so Webster will get the benefit of some additional practice snaps in the coming weeks.
Defensive end Quanterus Smith.
Smith is coming back from surgery to repair a torn ACL he suffered in the 10th game of the 2012 season at Western Kentucky. The Broncos worked him back slowly through the offseason program. Other than one practice he left early because of the knee, he has practiced fully throughout training camp. The Broncos believe -- and he has shown it in practice thus far -- that he can contribute immediately as an edge player in some of their nickel and dime packages. He has worked as the No. 3 right defensive end in most team drills behind
Robert Ayers
and
Shaun Phillips
but has moved up the ladder when the team goes to its long-yardage groupings.
Wide receiver Tavarres King
. On another team or in another situation, King would have the potential to be a rookie of notice league-wide. But he arrived to a team with plenty of veteran production at wideout in
Demaryius Thomas
,
Eric Decker
and Wes Welker. King, who played a school-record 56 games at Georgia, has shown a savvy about how to conduct himself in practice to go with upper-level ball skills, an understanding of a complicated offense and the ability to make plays in traffic. He was slowed during offseason workouts with a thigh injury, but has been healthy so far in camp and is making a legitimate push to be the No. 4 player at the position, especially if he can show some value on special teams in the preseason.
Tackle Vinston Painter
. When the Broncos selected Painter in the sixth round this past April, they saw an athletic project with a pile of potential. What they got was a player who has steadily worked his way up the depth chart, some by necessity because of injuries and some because he has advanced slightly more quickly than expected. Painter has worked much of the time as the backup right tackle, just behind
Orlando Franklin
. But the coaching staff showed this past week it doesn't think he's quite ready for work with the starters yet. Rather than simply elevating Painter after Franklin was injured, the coaches jumbled things up front, moving
Louis Vasquez
to right tackle in one practice and
Chris Clark
there in another.
Quarterback Zac Dysert
. There is no rush for Dysert, whose task right now is to show enough to force the Broncos to keep three quarterbacks among the final 53. He's shown mobility and the ability to improvise as things break down in front of him. But he'll need to be more accurate, especially throwing to his right as well as in the short and intermediate areas.
UNDRAFTED ROOKIES
The Broncos have had at least one undrafted rookie make the roster for nine consecutive seasons. A number of undrafted rookies have stood out as candidates to keep the streak going.
Running back
C.J. Anderson
, at 224 pounds, has flashed some quality work with the ball in his hands, especially on runs between the guards. But his attention to detail wavers at times and he has made just the kind of assignment errors that get players ushered out. He needs a quality, no-nonsense showing in the first two preseason games, especially if he can make a play or two on special teams.
Linebacker
Lerentee McCray
is one of the biggest players, at 6-foot-3 and 249 pounds, the Broncos have at the position. He had just 25 tackles in 11 starts for the Florida Gators last season, but has shown the Broncos enough to have worked as the No. 3 strongside linebacker behind
Von Miller
and Phillips. If he can do some quality special-teams work in the coming weeks that could be the difference for him, especially if Miller loses his appeal of a four-game suspension to open the regular season for violating the league's substance-abuse policy.
Wide receiver/Kick returner
Quincy McDuffie
has missed some time of late with a hamstring injury and will have a difficult time getting many quality snaps at wideout. But he has done good work in the return game and while he would not supplant
Trindon Holliday
as the team's top returner, he has certainly gotten the Broncos' attention.
May, 3, 2013
5/03/13
8:00
AM ET
I asked Steve Muench of Scouts Inc. to rank the top 10 undrafted free agent signings in the AFC West this week. This is what Muench had to say:
1. Tennessee QB Tyler Bray, Kansas City
Whether or not Bray can improve the way he prepares and puts in the necessary work to realize his considerable potential remains to be seen. There is no question he has the frame, arm strength and accuracy to develop into an NFL starter.
2. Georgia NT Kwame Geathers, San Diego
At 6-foot-5 and 342 pounds, Geathers is a mountain of a man with the size and lower-body strength to hold his ground against double teams and clog up the middle when he keeps his pads down. However, he struggles to stay low, and doesn't offer much as a pass-rusher, either.
3. Louisville DB Adrian Bushell, Oakland
Bushell bounced around a little bit in college, enrolling at Florida in 2009, transferring to a community college in 2010 and then to Louisville in 2011. He doesn't have great burst, he's on the smaller side and he's not a playmaker, but is fluid and anticipates breaks well. He could also push for time as a kickoff-return man.
4. Florida DE/OLB Lerentee McCray, Denver
McCray doesn't show great top-end speed on tape and his lengthy injury history raises a red flag. His durability is the bigger issue because he has the skill set to contribute as a role player if he can stay healthy. He is an effective hand fighter whether he's rushing the passer or defending the run, and he has an above-average motor.
5. Duke WR Conner Vernon, Oakland
Vernon isn't much of a big-play threat. He doesn't have enough speed to stretch the field or run away from pursuit after the catch. The strength of his game is his willingness to do the dirty work over the middle. He doesn't take his eyes off the ball to locate defenders and he is aggressive fighting for 50-50 balls in traffic.
6. Boston College OT John Wetzel, Oakland
Wetzel isn't as naturally gifted or as fundamentally sound as some of the other offensive linemen that Boston College has produced over the years. He does have the frame, length and awareness to be an effective swing tackle who can provide depth on the right and left side.
7. Kansas S Bradley McDougald, Kansas City
McDougald is a jack of all trades who played wide receiver and safety in addition to returning kicks his first two seasons at Kansas. It should come as little surprise that he fields the ball well for a safety but his marginal top-end speed is an issue. He isn't fast enough to match up with slot receivers in man coverage and shows just adequate range covering the deep half of the field.
8. New Mexico TE Lucas Reed, Denver
Reed, the younger brother of Houston OLB
Brooks Reed
, isn't a physical player. He needs to develop an edge as a run-blocker and improve his ability to make plays in traffic over the middle. On the other hand, he's fast enough to work the seam and has a big catching radius. He has 10.5-inch hands, 35.5-inch arms and a 37-inch vertical.
9. Virginia Tech OT Nick Becton, San Diego
A one-year starter, Becton doesn't have great foot speed and needs to learn to sink his hips both as a run-blocker and in pass protection. He is an intriguing addition because he has the frame, length and enough of a mean streak to develop into an effective backup who can provide depth at right tackle and guard.
10. Youngstown State OG Lamar Mady, Oakland
There are concerns about Mady's ability to make the jump to the NFL. He is a small-school prospect who doesn't have the frame to carry a lot of weight and doesn't move well laterally. He's still worth giving a shot in training camp because he's a wide body who can play center and guard.
NFL SCOREBOARD
Thursday, 10/16
Sunday, 10/19
Monday, 10/20
WEEKLY LEADERS