January, 31, 2012
1/31/12
10:52
AM ET
There's a very
interesting blog item
by The Palm Beach Post's Brian Briggane. He caught up with former Green Bay defensive back Leroy Butler, who is unhappy that former Green Bay coach Mike Sherman did not get the job as head coach in Tampa Bay.

Butler is unhappy with the Glazer family that owns the Buccaneers, and with former Tampa Bay defensive tackle Warren Sapp. Butler said he believes Sapp influenced the Glazers' decision to not hire Sherman.
There's history between Sapp and Sherman. Back in 2002, Sapp turned from defensive tackle to blocker after a Tampa Bay interception. Sapp hit Green Bay offensive lineman
Chad Clifton
and knocked him out of the game. Sherman and Sapp had a heated exchange that got a lot of national attention.
Sapp later left the Bucs, and Sherman left the Packers. But their paths crossed again last week when reports surfaced that Sherman was about to get hired to coach the Bucs.
Sapp sent out some tweets that blasted Sherman and general manager Mark Dominik, who use the same agent. Sherman had interviewed with the Bucs early in the process and again last week.
Butler claims that Sapp's tweets influenced the Glazers to pass on Sherman and hire Greg Schiano away from Rutgers.
Part of me would like to say Butler is categorically wrong. I don't think the Glazers use Sapp as some sort of advisor, and I'd like to say the owners probably weren't sitting around reading his tweets when they were in the middle of making such an important decision. But I can't say that definitively when it comes to the Bucs. As I've written before, the Bucs sometimes are way too sensitive about how they are perceived.
I'd like to think this was not one of those times. I'd like to think that, after meeting with Sherman and Schiano, the Bucs simply decided Schiano was the better fit for their franchise.
December, 29, 2009
12/29/09
11:04
AM ET
»
NFC Stock Watch
:
East
|
West
|
North
|
South
»
AFC
:
East
|
West
|
North
|
South
Falling
1. Matt Hasselbeck, Seahawks QB.
Eight interceptions in two games will drag down the stock for any quarterback. Hasselbeck appears to be forcing throws as if desperate to make something happen.
Brett Favre
seemed to go through something similar after Mike Holmgren departed Green Bay and the Packers went through some ups and downs. Hasselbeck held it together most of the season, fighting through various injuries and never complaining about them. Hasselbeck looks like a quarterback determined to go down swinging.
2. Jim Mora, Seahawks coach.
Football isn't always fair and Mora certainly isn't solely to blame for what ails Seattle. He's playing with the players former general manager Tim Ruskell assembled and it's clearly quite a few of them aren't as good as expected. Still, quite a few other bad teams have occasionally risen up to surprise superior opponents. The Raiders, Browns and Bucs have pulled upsets from time to time. Watching the Seahawks against Green Bay, I had the feeling they wouldn't win one of a 100 games between the teams. If the Seahawks are responding to coaching, they are hiding it well.
3. Keith Null, Rams QB.
Three interceptions against the Cardinals gave Null nine picks in three starts. Those struggles are understandable for a third-string rookie quarterback facing a playoff-tested defense on the road (or anywhere). And yet the performance qualified as a step backward after Null performed reasonably well during a 16-13 defeat to Houston a week earlier. Null had one touchdown, one interception and an 81.2 rating in that game against the Texans. He had one touchdown, three picks and a 50.0 rating during the 31-10 defeat at Arizona, dropping his rating for the season to 49.8.
Rising
[+] Enlarge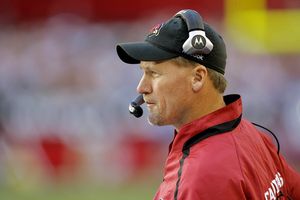 AP Photo/Matt YorkUnder Ken Whisenhunt, Arizona has improved its record every season.
1. Ken Whisenhunt, Cardinals coach.
The Cardinals have improved their record every season under Whisenhunt. They made a three-game improvement to 8-8 in 2007, Whisenhunt's first season. The team went 9-7 in 2008 and Arizona will finish no worse than 10-6 this season after beating the Rams in Week 16. Arizona and Minnesota are the only NFL teams to improve their records in each of the last three seasons. This will be the Cardinals' first season since 1975 without back-to-back defeats.
2. Adrian Wilson, Cardinals SS.
The veteran defender had a sack and interception in the fourth quarter against St. Louis. The sack made him the 10th player with at least 20 sacks and 20 interceptions in a career since sacks became an official stat. Wilson joins a list featuring
Ronde Barber
,
LeRoy Butler
,
Brian Dawkins
,
Donnie Edwards
,
Rodney Harrison
,
Seth Joyner
,
Ray Lewis
,
Wilber Marshall
and
William Thomas
. Wilson has a career-high five interceptions this season. He needs one interception to tie
Kwamie Lassiter
(24 interceptions) for sixth on the Cardinals' career list.
3. Frank Gore, 49ers RB.
The switch from 14- to 16-game schedule in 1978 diminished the value of the 1,000-yard rushing season in quite a few cases. Gore stands as an exception. He has needed no more than 14 games to reach 1,000 yards in each of the last four seasons, becoming the only 49ers running back to accomplish the feat in four consecutive seasons. Gore worked hard for 71 yards on 28 carries against the Lions while setting a season high with 81 yards receiving. His 48-yard gain on a pass from quarterback
Alex Smith
showcased Gore's versatility. He is also an excellent pass protector.
April, 24, 2009
4/24/09
8:11
AM ET
Posted by ESPN.com's Kevin Seifert
How did Minnesota miss its pick in the first round of the 2003 draft? For some reason, former Vikings owner Red McCombs re-visited that issue Friday with Rick Alonzo of the St. Paul Pioneer Press.

As you might recall, the Vikings believed they had made a deal with Baltimore to move from No. 7 to No. 9, but the trade was never fully reported to the NFL before time expired. The Vikings ended up selecting defensive tackle Kevin Williams with the No. 9 pick after Baltimore and Jacksonville leapfrogged them in positioning.
McCombs told Alonzo that the mistake occurred "because Mike [Tice] and the guys didn't have their damn signals straight. That was like junior high school handling of a situation. We didn't go up and get our draft pick in. That showed lack of organization."
The story that has always been told is that then-Vikings president Gary Woods, a McCombs associate from San Antonio, ordered the Vikings to trade down moments before the snafu occurred. In an e-mail to Alonzo, Tice said: "Being told MINUTES before the pick was to be made... 'TRADE THE PICK'... thanks."
McCombs, however, disputed that version and said: "That never happened."
Check out the story for Tice's full response to McCombs' finger-pointing.
I look at this exchange as an unfortunate addition to some of the bizarre chapters McCombs wrote at the end of his tenure with the team. Tice technically had veto power over draft decisions, but to blame him and his coaching staff alone for the mistake is a stretch.
Missing the pick reflected franchise-wide disorganization and confusion, starting at the very top. There was undoubtedly an error made, but to rub anyone's nose in it six years later seems totally unnecessary. I think the statute of limitations would have passed by now.

Continuing around the NFC North:
NFL SCOREBOARD
Sunday, 2/2
WEEKLY LEADERS