August, 1, 2014
8/01/14
4:40
PM ET
GREEN BAY, Wis. – LeRoy Butler, the inventor of the Lambeau Leap, is not in the statue unveiled outside the stadium on Friday that commemorates the
Green Bay Packers
' trademark touchdown celebration, and that's OK with him.
The former All-Pro safety wants the fans to be able to play his role.
The statue features four fans behind a padded stadium wall with room in the middle for the would-be leaper.
"I wanted the people to experience being me and being one of the fans," Butler said after the statue was unveiled. "You can actually take a picture on top of it and you can come around back, your family can get in it as if they're the paying fans."
[+] Enlarge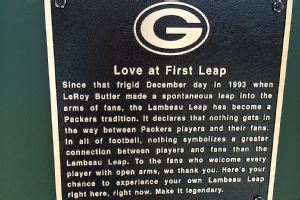 Courtesy of Rob DemovskyA statue and plaque outside Lambeau Field honors the history of the Lambeau Leap.
And so it is. Visitors to the recently rededicated Harlan Plaza, which also features statues of Vince Lombardi and Curly Lambeau, will be able to pose just like Butler did when he invented the leap on Dec. 26, 1993 after he scored a touchdown against the Los Angeles Raiders and jumped into the south end zone stands.
There was nothing posed or planned about the first leap, Butler said. On the play, Butler forced a fumble that was picked up by Reggie White. Although it appeared he stepped out of bounds first, White lateraled the ball back to Butler, who returned it for a touchdown.
"It was very spontaneous," Butler said. "I can't even tell a fib and say I thought about it."
While Butler started it, players such as former Packers receiver Robert Brooks took it to another level when he made
a song and video
about it.
The NFL has outlawed other celebrations, but the Lambeau Leap
has been grandfathered in
.
"You look across the league, to me it's one of the greatest traditions in the league," Packers president Mark Murphy said. "To me, it kind of personifies the special bond our players have with the fans. We thought it'd be kind of fun to have something a little different and our fans could have some fun with."
Although Butler is not depicted in the statue, an attached plaque reads: "Since that frigid December day in 1993 when LeRoy Butler made that spontaneous leap into the arms of the fans, the Lambeau Leap has become a Packers tradition. It declares that nothing gets in the way between the Packers players and their fans. In all of football, nothing symbolizes a greater connection between players and fans than the Lambeau Leap. To the fans who welcome every player with open arms, we thank you. Here's your chance to experience your own Lambeau Leap right here, right now. Make it legendary."
April, 17, 2014
4/17/14
10:00
AM ET
GREEN BAY, Wis. -- Pick after pick crawled across the bottom of television screens last April 25, 26 and 27 and those wondering when the
Green Bay Packers
would draft a safety got their answer when the 254
th
-- and final -- pick in the 2013 NFL draft was announced.
Three safeties went in the first round, but none to the Packers.
Two more came off the board in Round 2, but neither was a Packers pick.
[+] Enlarge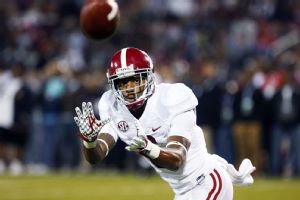 AP Photo/Rogelio SolisHa Ha Clinton-Dix may be available to the Packers when they draft in the first round.
Seventeen more were drafted on the third and final day, yet the Packers still had not filled one of their biggest needs.
That's not to say they went into last year's draft wholly convinced that they didn't need help at the position. But when it came time to exercise each of his selections, there wasn't a safety sitting there that intrigued general manager Ted Thompson enough to make that call.
Thompson liked a few of the safeties in the draft, but the ones he was sold on were either already off the board or would have been a reach at the time of his pick.
So here are the Packers, nearly a year later, and Thompson still has not put pen to paper on a contract for a new safety of any consequence. (And no, street free agent
Chris Banjo
does not count.)
That has to change next month, when Thompson will take nine selections into the May 8-10 NFL draft, doesn't it?
If Thompson fails to land one of the top, say, five or six safeties in this draft -- be it
Ha Ha Clinton-Dix
of Alabama or
Calvin Pryor
of Louisville, both of who are locks to go in the first round; or possible second- and third-round picks like
Jimmie Ward
of Northern Illinois,
Deone Bucannon
of Washington State or
Terrence Brooks
of Florida State -- then he will be handcuffing defensive coordinator Dom Capers in much the same fashion he did last season.
Last summer, Capers and coach Mike McCarthy opened the competition at free safety to a pair of second-year players,
Jerron McMillian
(a 2012 fourth-round round pick) and M.D. Jennings (an undrafted free agent the same year). It was a close competition, more so because neither one stood out, and when strong safety
Morgan Burnett
was unavailable for the season opener because of a hamstring injury, that duo started Week 1 at the two safety spots.
The Packers thought so little of their performances that they cut McMillian late last season and did not even bother this offseason to offer Jennings a restricted free agent tender, which would not have cost them any guaranteed money.
"Obviously we didn't get the production that we wanted from that [free safety] position," safeties coach Darren Perry said this offseason.
To be sure, the Packers need Burnett to show that Thompson wasn't misguided when he signed him to a four-year, $24.75 million contract last summer.
"I think he's fully capable of doing it," McCarthy said this offseason. "Morgan's going to do everything he can. He needs to be more assertive in play-making opportunities."
In order for Burnett to flourish, he can't be worried about the player lined up next to him. That player was supposed to be Nick Collins, the three-time Pro Bowl safety whose career was cut short in 2011 by a neck injury. At age 30, he still would have been in the prime of his career last season.
If the Packers don't find another Collins, they must at least come close.
Since the team's resurgence in the early 1990s, they have enjoyed a strong group of safeties -- from LeRoy Butler to Darren Sharper to Collins; all were Pro Bowl selections during their time in Green Bay.
The dynamic of the position has changed in recent years. Whereas Butler was a fierce hitter, today's safeties are judged just as much on speed and ball skills as anything else. What NFL teams need now are safeties than can cover chunks of yardage in milliseconds and knock passes away or, better yet, intercept them. The Packers were the only team in the NFL last season that didn't get a single interception from a safety.
"The intimidator isn't necessarily needed anymore," ESPN draft expert Mel Kiper Jr. said. "The big hitters, you don't need that."
Kiper doesn't believe Clinton-Dix will be around when the Packers come up at No. 21 in the first round, but Pryor very well could be available.
Even if Pryor is gone or Thompson passes on him, he will have other options, says Kiper.
"
Jimmy Ward
from Northern Illinois you could make an argument is the best cover safety in the draft," Kiper said. "He's coming off the [foot] injury but he had a very good career, has great ball skills, real good hands for the interception. And Ward is a decent tackler, but he doesn't have tremendous size [5-foot-11, 193 pounds].
"The days of that big, intimidating safety are just about over. Terrence Brooks from Florida State would fill that void at that point as a safety that could come in and help you right away."
No matter what Thompson does in the draft, Capers and McCarthy plan to work cornerback
Micah Hyde
at safety this offseason. Perhaps the fifth-round pick out of Iowa last year will be the full-time answer; he certainly showed enough as a rookie to warrant more than the 39.4 percent playing time he got last year. But if the Packers think Hyde can allow them to concentrate on other areas of need in the draft, they'd better be right.
March, 25, 2014
3/25/14
7:15
PM ET
GREEN BAY, Wis. -- No more dunking over the goal posts.
What's next, no more Lambeau Leaps?
It was worth wondering if that could be abolished after NFL vice president of officiating Dean Blandino said Tuesday the league will penalize players if they
celebrate with a dunk
over the crossbar.
Like the Lambeau Leap, which dates to 1993, the goalpost dunk was previously grandfathered in by the league, making it exempt from a celebration penalty.
Unlike the dunk, it looks like the Lambeau Leap is safe.
In response to an email seeking clarification about whether the Lambeau Leap could eventually join the goalpost dunk on the list of banned celebrations, NFL senior vice president of communications Greg Aiello wrote: "The goalpost issue is the potential delay of game for having to re-set the crossbar after being knocked askew by a dunker. It has happened a few times. Not the case for the leap."
The Lambeau Leap has become expected of all
Green Bay Packers
players who reach the end zone during a home game. It began when then-safety LeRoy Butler jumped into the stands during a game on Dec. 23, 1993, after he scored on a 25-yard fumble return that was originally recovered by defensive end Reggie White, who lateraled the ball to Butler.
"We grandfathered in some [celebrations], the Lambeau Leap and things like that, but dunking will come out," Blandino said, according to NFL.com. "Using the ball as a prop or any object as a prop, whether that's the goalpost, the crossbar, that will come out and that will be a foul next season."
January, 31, 2012
1/31/12
10:52
AM ET
There's a very
interesting blog item
by The Palm Beach Post's Brian Briggane. He caught up with former Green Bay defensive back Leroy Butler, who is unhappy that former Green Bay coach Mike Sherman did not get the job as head coach in Tampa Bay.

Butler is unhappy with the Glazer family that owns the Buccaneers, and with former Tampa Bay defensive tackle Warren Sapp. Butler said he believes Sapp influenced the Glazers' decision to not hire Sherman.
There's history between Sapp and Sherman. Back in 2002, Sapp turned from defensive tackle to blocker after a Tampa Bay interception. Sapp hit Green Bay offensive lineman
Chad Clifton
and knocked him out of the game. Sherman and Sapp had a heated exchange that got a lot of national attention.
Sapp later left the Bucs, and Sherman left the Packers. But their paths crossed again last week when reports surfaced that Sherman was about to get hired to coach the Bucs.
Sapp sent out some tweets that blasted Sherman and general manager Mark Dominik, who use the same agent. Sherman had interviewed with the Bucs early in the process and again last week.
Butler claims that Sapp's tweets influenced the Glazers to pass on Sherman and hire Greg Schiano away from Rutgers.
Part of me would like to say Butler is categorically wrong. I don't think the Glazers use Sapp as some sort of advisor, and I'd like to say the owners probably weren't sitting around reading his tweets when they were in the middle of making such an important decision. But I can't say that definitively when it comes to the Bucs. As I've written before, the Bucs sometimes are way too sensitive about how they are perceived.
I'd like to think this was not one of those times. I'd like to think that, after meeting with Sherman and Schiano, the Bucs simply decided Schiano was the better fit for their franchise.
December, 29, 2009
12/29/09
11:04
AM ET
»
NFC Stock Watch
:
East
|
West
|
North
|
South
»
AFC
:
East
|
West
|
North
|
South
Falling
1. Matt Hasselbeck, Seahawks QB.
Eight interceptions in two games will drag down the stock for any quarterback. Hasselbeck appears to be forcing throws as if desperate to make something happen.
Brett Favre
seemed to go through something similar after Mike Holmgren departed Green Bay and the Packers went through some ups and downs. Hasselbeck held it together most of the season, fighting through various injuries and never complaining about them. Hasselbeck looks like a quarterback determined to go down swinging.
2. Jim Mora, Seahawks coach.
Football isn't always fair and Mora certainly isn't solely to blame for what ails Seattle. He's playing with the players former general manager Tim Ruskell assembled and it's clearly quite a few of them aren't as good as expected. Still, quite a few other bad teams have occasionally risen up to surprise superior opponents. The Raiders, Browns and Bucs have pulled upsets from time to time. Watching the Seahawks against Green Bay, I had the feeling they wouldn't win one of a 100 games between the teams. If the Seahawks are responding to coaching, they are hiding it well.
3. Keith Null, Rams QB.
Three interceptions against the Cardinals gave Null nine picks in three starts. Those struggles are understandable for a third-string rookie quarterback facing a playoff-tested defense on the road (or anywhere). And yet the performance qualified as a step backward after Null performed reasonably well during a 16-13 defeat to Houston a week earlier. Null had one touchdown, one interception and an 81.2 rating in that game against the Texans. He had one touchdown, three picks and a 50.0 rating during the 31-10 defeat at Arizona, dropping his rating for the season to 49.8.
Rising
[+] Enlarge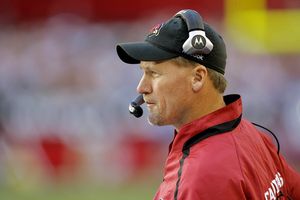 AP Photo/Matt YorkUnder Ken Whisenhunt, Arizona has improved its record every season.
1. Ken Whisenhunt, Cardinals coach.
The Cardinals have improved their record every season under Whisenhunt. They made a three-game improvement to 8-8 in 2007, Whisenhunt's first season. The team went 9-7 in 2008 and Arizona will finish no worse than 10-6 this season after beating the Rams in Week 16. Arizona and Minnesota are the only NFL teams to improve their records in each of the last three seasons. This will be the Cardinals' first season since 1975 without back-to-back defeats.
2. Adrian Wilson, Cardinals SS.
The veteran defender had a sack and interception in the fourth quarter against St. Louis. The sack made him the 10th player with at least 20 sacks and 20 interceptions in a career since sacks became an official stat. Wilson joins a list featuring
Ronde Barber
,
LeRoy Butler
,
Brian Dawkins
,
Donnie Edwards
,
Rodney Harrison
,
Seth Joyner
,
Ray Lewis
,
Wilber Marshall
and
William Thomas
. Wilson has a career-high five interceptions this season. He needs one interception to tie
Kwamie Lassiter
(24 interceptions) for sixth on the Cardinals' career list.
3. Frank Gore, 49ers RB.
The switch from 14- to 16-game schedule in 1978 diminished the value of the 1,000-yard rushing season in quite a few cases. Gore stands as an exception. He has needed no more than 14 games to reach 1,000 yards in each of the last four seasons, becoming the only 49ers running back to accomplish the feat in four consecutive seasons. Gore worked hard for 71 yards on 28 carries against the Lions while setting a season high with 81 yards receiving. His 48-yard gain on a pass from quarterback
Alex Smith
showcased Gore's versatility. He is also an excellent pass protector.
April, 24, 2009
4/24/09
8:11
AM ET
Posted by ESPN.com's Kevin Seifert
How did Minnesota miss its pick in the first round of the 2003 draft? For some reason, former Vikings owner Red McCombs re-visited that issue Friday with Rick Alonzo of the St. Paul Pioneer Press.

As you might recall, the Vikings believed they had made a deal with Baltimore to move from No. 7 to No. 9, but the trade was never fully reported to the NFL before time expired. The Vikings ended up selecting defensive tackle Kevin Williams with the No. 9 pick after Baltimore and Jacksonville leapfrogged them in positioning.
McCombs told Alonzo that the mistake occurred "because Mike [Tice] and the guys didn't have their damn signals straight. That was like junior high school handling of a situation. We didn't go up and get our draft pick in. That showed lack of organization."
The story that has always been told is that then-Vikings president Gary Woods, a McCombs associate from San Antonio, ordered the Vikings to trade down moments before the snafu occurred. In an e-mail to Alonzo, Tice said: "Being told MINUTES before the pick was to be made... 'TRADE THE PICK'... thanks."
McCombs, however, disputed that version and said: "That never happened."
Check out the story for Tice's full response to McCombs' finger-pointing.
I look at this exchange as an unfortunate addition to some of the bizarre chapters McCombs wrote at the end of his tenure with the team. Tice technically had veto power over draft decisions, but to blame him and his coaching staff alone for the mistake is a stretch.
Missing the pick reflected franchise-wide disorganization and confusion, starting at the very top. There was undoubtedly an error made, but to rub anyone's nose in it six years later seems totally unnecessary. I think the statute of limitations would have passed by now.

Continuing around the NFC North: