April, 11, 2013
4/11/13
11:01
AM ET
New Titans receiver
Kevin Walter
had some conversations with Tennessee media Monday, and one of them was on my radio show.
I was really surprised when he said this: "I know they're installing the same offense that I've been in the past seven years. It's a fun offense to be in. It's going to be a good transition, a smooth transition."
[+] Enlarge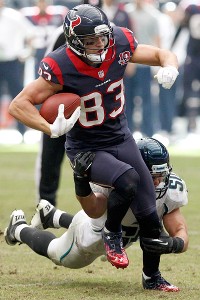 Thomas B. Shea/Getty ImagesKevin Walter caught 41 passes for 518 yards for the Texans during the 2012 regular season.
Upon further examination, it shouldn't be a surprise to hear him say that.
Offensive coordinator Dowell Loggains is a disciple of the late Mike Heimerdinger, and Heimerdinger was a disciple of Mike Shanahan, just like Gary Kubiak is.
In language and philosophy there will be a lot of similarities.
It will usually be a run-first scheme with a lot of play-action. We will see
Jake Locker
rolling out and running the sort of bootlegs
Matt Schaub
executes in Houston.
But I think it'll look more like Houston's offense from Walter's vantage point than it will from ours. I don't expect we're going to do a double take and look to the sideline to see if Kubiak is calling the plays.
The Titans will utilize plenty of zone blocking, but I don't think they will be close to exclusively zone the way the Texans are. If they add Chance Warmack in the draft, they'll be adding a major power element.
Walter's new team lacks the clear-cut No. 1 receiver who keys much of what the Texans do in Houston thanks to
Andre Johnson
.
And the Titans' use of an H-back will be completely different than what Houston does.
Mike Munchak hired the tight ends coach, George Henshaw, who was with the franchise when Frank Wycheck (now a radio colleague of mine) was putting up big numbers as an H-back. Tennessee signed
Delanie Walker
to operate in much the same fashion, and that's different than what Houston does.
When Heimerdinger landed in Nashville in 2000, he absorbed some of the offensive principles left behind by Les Steckel, particularly the use of the H-back since it rated as a strength of the offense that was in place.
While Chris Palmer's term as offensive coordinator rated a failure, Loggains worked closely with him and will likely carry some Palmer stuff that he liked best.
So in terms of offensive foundation, there will be a lot of similarities and Walter will feel right at home. The final product, however, will hardly be a carbon copy.
July, 6, 2009
7/06/09
4:20
PM ET
Posted by ESPN.com's Paul Kuharsky
When the president and CEO of the Fellowship of Christian Athletes kneels to pray in his office, he does so on a thick blue rectangular pad that's about 3 feet wide and 2 feet deep.
| | |
| --- | --- |
| | |
| | AP Photo/Larry Salzman |
| | Les Steckel, Steve McNair's coordinator from 1997-1999, nicknamed the quarterback "Silk." |
Each time Les Steckel uses it, he thinks of its origin: It's the pad Steve McNair knelt on in meetings in 1999, when the Tennessee Titans quarterback struggled to find a comfortable position for his ailing back.
McNair had surgery that year because of a ruptured disc, missing five games but returning to lead the team on a run to the franchise's lone Super Bowl.
The former Houston/Tennessee and Baltimore quarterback was shot and killed on Saturday. Since the terrible news spread, old teammates, coaches and others who knew McNair have been reminiscing as they try to come to terms with his passing.
As an Oiler and Titan, McNair played for four coordinators: Jerry Rhome, Les Steckel, Mike Heimerdinger and Norm Chow. Heimerdinger has since returned to the post.
Monday, Rhome, Steckel and Chow took some time to talk about the hard-nosed signal caller who was widely respected for his humble personality as well as his strong arm, excellent mobility and ability to produce on Sundays even when injuries sidelined him for practices.
Rhome held the job for the team's final two seasons in Houston, 1995-1996. McNair, who was drafted third overall in '95, missed the bulk of training camp as a rookie while his contract was being ironed out and was way behind. But he showed a real commitment to football in the early months of 1996.
"He came in four days a week for about three, three-and-a-half hours to my office, February all the way to May," said Rhome, who got a "yes" from McNair anytime he asked him to visit with underprivileged kids. "I would teach him and I'd test him. Then we'd go out on the field and work. He was a very hard worker, made up a whole lot of ground and learned a lot that spring. ... That was the beginning of Steve McNair and pro ball."
Steckel called McNair "Silk," because when his sons once called their father's attention to McNair in an Alcorn State game on TV, Steckel's review after four or five plays was that the "kid is smooth as silk."
"I've never seen an athlete like that," Steckel said.
Just as he had private work with Rhome, McNair had a lot of one-on-one time with Steckel.
"Tuesday, Wednesday and Thursday nights, he would be at our house, having dinner and we'd be talking football and looking at film," Steckel said of the spring of 1997. "We watched tape, and then we would set up drills behind these high hedges there in Houston, where nobody could see us work out or bother us, and we'd work out a couple hours, just he and I against the air, and eventually we'd bring in a receiver or two. Just to see his incredible athleticism take shape was pure joy as a coach. I mean, nothing is greater than working with great athletes getting better. And that's what happened with Steve."
Amid all the talk of McNair's toughness, Steckel might have a broader context in which to classify it: He spent 30 years in the Marine Corps and said he's been around "some very strong and tough, warrior kind of people."
"But I've never seen a body built like his where he just had the highest threshold of pain," Steckel said. "I was told he once did a root canal without medication, I still struggle with that one, but somebody swore to that."
Steckel said the only player he'd been connected with who qualified in McNair's class as a physically tough football player was O.J. Simpson.
While Rhome and Steckel had McNair on his way up, Chow had him as a veteran quarterback who was beaten up and was trying to lead a team depleted by a salary-cap purge in 2005.
"I quite admired the guy," Chow said. "Here I'm some guy from college coming in for his first pro job, and he tried to do what we asked him to do. He was set in some of his ways which was fine; he'd been in the league a long time. ... Despite my inexperience, he was very willing to kind of share and to respect what we were talking about. He never gave you an ounce of trouble or disrespect or anything like that."
| | |
| --- | --- |
| | |
| | Joe Robbins/Getty Images |
| | Former Titans coordinator Norm Chow remembers Steve McNair's "tremendous heart." |
Chow, now coordinator at UCLA, has long preached to his quarterbacks that when feeling pressure they didn't have to give up on the possibilities downfield. "Over one and up one," he still preaches: Take a side step and step up and you can do a lot to keep a play alive.
"A lot of guys when they feel pressure want to get out of there," Chow said. "I still use one play of Steve on a training tape, where he went over one and up one, dodged a guy, stepped up and rifled a corner route to I think it was Brandon Jones. It was a perfect example of what a quarterback should be like. I show young quarterbacks: 'That right there is just like you would draw it up in a book.'"
Steckel and Chow both talked of McNair's manner, the soft and sincere personality that won so many people over.
"He was always gracious," said Steckel, whose son Luke wore No. 9 as a high school player because of McNair and whose daughter, Leslie, babysat McNair's kids. "I think about how he was so humble and so gracious. ... He was so coachable and so obedient. It was a lot of fun to work with him and to see him grow as a professional quarterback."
"He was really a respectful, kind, gentle guy," said Chow, who once complimented a golf shirt McNair wore and then saw the quarterback bring him a boxful a few weeks later. "He had a tremendous heart and played awfully hard. ... [He was] very candid, very open, very respectful and you could tell that people responded to him."
It's been 10 years since Steckel called plays for McNair. The old coach's prized blue praying pad surfaced as McNair worked his way back from back surgery in 1999.
"He would just kneel down on this big thick pad -- he couldn't sit; his back was still recouping," Steckel said. "I kept that pad; he gave it to me, and I said I could put it to good use. ..."
"I think of Steve every day when I pull it out."
January, 15, 2009
1/15/09
5:18
PM ET
Posted by ESPN.com's Paul Kuharsky
The Colts had Jim Caldwell in place ahead of time and expect a seamless transition into the post-Tony Dungy era.
It looks like a sound plan.
| | |
| --- | --- |
| | |
| | AP Photo/Michael Conroy |
| | Jim Caldwell has big shoes to fill in Indianapolis, but many in his position have been successful before. |
But popular wisdom says you don't want to be the guy to replace the guy. It's the replacement's replacement, the theory follows, who gains the distance necessary from a legendary name to be able to succeed.
For many, the thought of replacing a popular and successful coach brings back memories of some infamous NFL names.
Former Minnesota coach Les Steckel is still remembered for a 3-13 year in 1984 that wound up being a sabbatical season for Bud Grant. Ray Handley replaced Bill Parcells for the Giants in 1991 and went 14-18 in two seasons. Richie Petitbon replaced Joe Gibbs in 1993 and flamed out with a 4-12 season.
Are you familiar with Phil Bengtson or Paul Wiggin? Me neither.
Bengtson followed up Vince Lombardi in Green Bay and managed three third-place finishes. Wiggin was 11-24 in two-and-a-half seasons following Hank Stram in Kansas City.
But none of that is reason for Colts devotees to fear the dawn of the Caldwell era as he replaces a potential Hall of Famer who takes a .668 winning percentage with him into retirement.
Thanks to some help from Keith Hawkins of ESPN Stats & Information, we can take a detailed look at how the successors to the winningest coaches have fared.
While there were some strikeouts, the history is hardly a horror story. Two successors won multiple Super Bowls, two more were playoff regulars and another is leading his team into the AFC Championship Game on Sunday.
So here's a run through how things have panned out after big-time winning coaches stepped away or were removed. These are the top 10 coaches with the best winning percentages in the Super Bowl era (minimum 100 games coached since the 1966 season):
| | |
| --- | --- |
| | |
| | Andy Hayt/Getty Images |
| | Tom Flores did very well as John Madden's successor, winning two Super Bowls for the Silver-and-Black. |
1) John Madden, .759 (Raiders)
Tom Flores replaced Madden in 1979 and Flores went 91-56 in nine seasons, leading the Raiders to wins in Super Bowl XV and XVII.
2) George Allen, .712 (Rams and Redskins)
Jack Pardee replaced Allen in Washington, and Pardee was 24-24 in three seasons (1978-80). Joe Gibbs replaced Pardee and won 140 games from 1981-92 and three Super Bowls.
3) Tom Landry, .674 (Cowboys)
Jimmy Johnson replaced Landry in 1989 and Johnson won back to back Super Bowls in the 1992 and 1993 seasons. Johnson was 51-37 from 1989-93.
4) Don Shula, .672 (Colts and Dolphins)
Like Landry, Shula was replaced by Johnson. In four seasons (1996-99), Johnson was 38-31 and 2-3 in the postseason. Since Shula, Miami has had six different head coaches.
5) Tony Dungy, .668 (Buccaneers and Colts)
Replaced by Caldwell this week.
6) George Seifert, .648 (49ers and Panthers)
Seifert did some replacing himself, following Bil Walsh. Steve Mariucci replaced Seifert in San Francisco in 1997, and Mariucci got the Niners to the NFC Championship in his first season. In six seasons, Mariucci made the playoffs four times. Since Mariucci left, the 49ers have had three different head coaches.
7) Bill Cowher, .623 (Steelers)
Mike Tomlin replaced Cowher in 2007. In his second season, Tomlin is preparing the Steelers to host Baltimore in the AFC Championship Game.
8-T) Joe Gibbs, .621 (Redskins)
Petitbon was a dud.
8-T) Bud Grant, .621 (Vikings)
Returned for another season after Steckel bombed, then saw Jerry Burns go 55-46 from 1986-91.
10) Bill Belichick .616 (Browns and Patriots)
When he finishes his term in New England, he'll leave a tough headset to fill.
And here's one from outside the top 10: a succession scenario the Colts would be thrilled to mimic.
Bill Walsh, .609 (49ers) -- Replaced by Seifert in 1989, Seifert went on to win two Super Bowls in his first six seasons. He won at least 10 games in all eight of his seasons and only missed the playoffs once. Like Caldwell, Seifert inherited a pretty good quarterback situation, getting two years of Joe Montana and six with Steve Young.
| | |
| --- | --- |
| | |
| | David Boss/US Presswire |
| | Blanton Collier replaced the legendary Paul Brown, and never had a losing season. |
As I couldn't stop asking, here are the succession stories of some other Hall of Fame coaches:
Paul Brown -- Blanton Collier was in Cleveland from 1963-70, and didn't have a losing season, going 76-34-2.
Weeb Eubank -- Charley Winner took over the Jets in 1974 and went 9-14 and didn't last two seasons. He was let go after nine games in 1975.
George Halas -- Following the 1967 season in Chicago when Halas left the Bears' post for the final time, he was replaced by Jim Dooley, who was 16 games under .500 (20-36) from 1968-71.
Marv Levy -- Was replaced by Wade Phillips in 1998, and Phillips went 29-19 in three seasons, losing two playoff games.
Chuck Noll -- Bill Cowher took over in 1992 and went 149-90-1 in 15 seasons, reaching two Super Bowls and winning one.