January, 10, 2014
Jan 10
8:00
AM ET
ALAMEDA, Calif. -- While Tim Brown is a finalist for the Pro Football Hall of Fame for the fifth consecutive year and is deserving of being inducted, the former Oakland Raiders receiver may not be the most, let's say,
worthy
candidate of former Raiders.
Now, that's not a slap at Brown, who certainly had a Canton-worthy career with eye-popping stats. It's just that the manner in which the Hall's 46-member selection committee chooses the enshrinees sets up a logjam that have many just-as-deserving candidates biding their time and waiting for the seniors committee to come their way with a life preserver.
That's how Ray Guy, the punter who changed the game, is likely to get in this year ... as one of two senior candidates to join the 15 finalists the committee votes on to elect its class the day before the Super Bowl. It will be a class of between four and seven members.
One observer's opinion, then, of 10 Raiders deserving of having busts in Canton, and garish gold jackets in their wardrobe ...
[+] Enlarge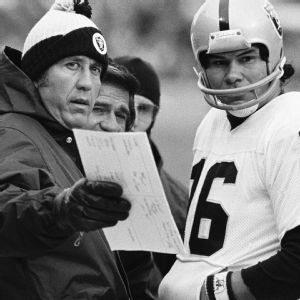 AP PhotoCoach Tom Flores and QB Jim Plunkett won Super Bowl XV and XVIII together.
1) Jim Plunkett
-- The ultimate Lazarus tale who won not one, but two Super Bowl titles after being given up on by not one, but two franchises. The quarterback's career stats compare to those of Joe Namath's and, oh yeah, Plunkett won twice as many titles as Broadway Joe. You cannot tell the story of the NFL in full without mentioning Plunkett's tale. His fate now rests with the seniors committee.
2) Tom Flores
-- The first minority coach to win a Super Bowl (I bet you thought that title went to Tony Dungy, right?), Flores won two titles as the Raiders' head coach and, truly, it's hard to separate him from Plunkett as they accomplished so much together. Still, Flores owns four rings total (two as head coach, a third as an assistant on John Madden's SB XI-winning staff and the fourth as Len Dawson's backup in SB IV).
3) Ray Guy
-- A trailblazer who made opponents plan for a punter, Guy likely gets in this year as a seniors committee nominee. If so, it would be an honor long overdue and he would be the first true punter to get into Canton. Oh yeah, and he was also a first-round draft pick, was on all three Raiders Super Bowl championship teams and his athletic punt in SB XVIII was a game-saving play.
4) Cliff Branch
-- Speed kills, right? A key member of all three of the Raiders' Super Bowl title teams, the receiver's snub remains a mystery. Especially when you compare his stats to those of Hall of Famer Lynn Swann. Branch caught 501 passes for 8,685 yards (17.3 yards per catch average) and 67 TDs in 14 seasons; Swann had 336 catches for 5,462 yards (16.3) and 51 TDs in nine seasons.
[+] Enlarge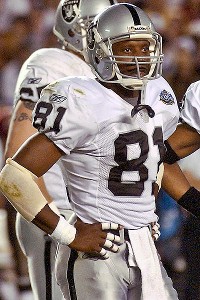 AP Photo/Al GolubTim Brown is No. 5 all-time in receptions (1,094) and No. 6 in career receiving yards (14,943).
5) Tim Brown
-- Spare the "what if Tim Brown switched places with Jerry Rice" arguments and simply admire Brown's body of work. No, he never won a Super Bowl, but he did amass 1,094 receptions for 14,943 yards and 100 TDs in 17 years. He deserves a spot in Canton, no doubt. It's just, among former Raiders, he should take a number.
6) Ken Stabler
-- The Snake was the embodiment of the 1970s Raiders as an unorthodox left-handed quarterback. Winning only one Super Bowl shouldn't be held against him, right? He's already been a finalist for the Hall three times but his legend is getting lost in the fog of time. Someone had to throw all those passes to the already-enshrined Fred Biletnikoff and Branch in the Disco Decade.
7) Lester Hayes
-- The Judge was a self-described Jedi Knight of Silver and Blackdom. Opponents simply saw him as a physical cornerback dripping with Stickum who intercepted 13 passes in 1980. He's been a Hall finalist four times already, but not since 2004, and was second-team all-1980s by the Hall despite retiring in 1986. With two rings, he was an impact player.
8) Dave Dalby
-- He replaced Jim Otto and started at center for all three of the Raiders' title teams. Dalby, though, was unappreciated as he was selected to just one Pro Bowl, in 1977. He was the anchor of a line early in his 14-year career that had Hall of Famers on his left in guard Gene Upshaw and tackle Art Shell.
9) Steve Wisniewski
-- "Wiz" was a Hall semifinalist this past year for the first time and the left guard is sure to get more love in the future as the selection committee gives the grunts on the O-line longer looks. The eight-time Pro Bowler and two-time All-Pro only missed one game in his 13-year career.
10) Jack Tatum
-- One of the most ferocious and intimidating hitters of any era, hence the "Assassin" nickname, the free safety also had 37 interceptions in his 10-year career. Many critics, though, think he did not show enough remorse after his paralyzing hit of New England receiver Darryl Stingley in a 1978 preseason game.
November, 28, 2010
11/28/10
3:25
PM ET
The Pro Football Hall of Fame announced 26 semifinalists for election in 2011.
The list will be pared down to 15 finalists. The vote will be held in February.
Here are the semifinalists who spent to a big portion of their careers in the AFC West:
Tim Brown, wide receiver:
Raiders, 1988-2003
Don Coryell, coach:
Chargers, 1978-86
Terrell Davis, running back:
1995-2001
Denver Broncos
Ray Guy, punter:
1973-1986 Oakland/Los Angeles Raiders
Lester Hayes, cornerback:
1977-1986 Oakland/Los Angeles Raiders
Willie Roaf, tackle:
Chiefs, 2002-05
Shannon Sharpe, tight end:
1990-99, 2002-03 Denver Bronco
Brown, Coryell and Sharpe made big runs last year. I wouldn't be shocked if one of the three, perhaps Sharpe, is enshrined this year. Sharpe and Brown will eventually get in at some point, and both probably should be in now. Roaf is also a real possibility.
Davis and Guy also might get in, but it could take a while. Guy has a lot of support because he was a dominant player, but still some people have been reluctant to vote for a punter. I think that is an outdated opinion. Guy changed games. He was a major contributor to the NFL and he deserves recognition.
March, 24, 2010
3/24/10
11:29
AM ET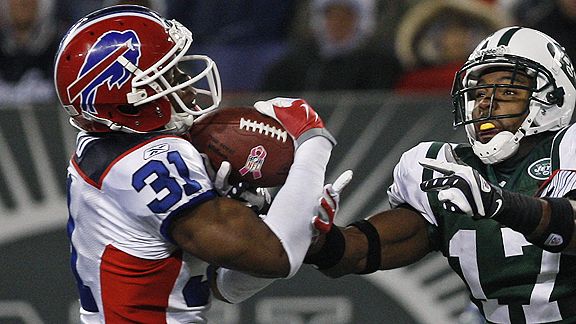 Ed Mulholland/US PresswireLed by rookie Jairus Byrd, the Buffalo secondary was one of the deepest in the league.
ORLANDO, Fla. -- The
Buffalo Bills
are an organization engulfed by uncertainty.
Who will be their quarterback?
What difference will new head coach Chan Gailey and rookie general manager Buddy Nix make?
Will Pro Bowl pass-rusher
Aaron Schobel
play or retire?
Can running back
Marshawn Lynch
bounce back?
How will they transition into their new 3-4 defense?
One area that cannot be questioned is the depth in Buffalo's secondary.
The Bills' defensive backfield isn't loaded with star power, but the quality of depth is remarkable.
The Bills ranked second in pass defense last year despite injuries pushing them to the limit. Ten defensive backs started for them.
Right cornerback
Leodis McKelvin
, the 11th overall pick from 2008, lasted only three games before getting hurt. Free safety
Donte Whitner
, the eighth overall pick from 2006, lost his job to rookie
Jairus Byrd
, who tied for the NFL interception lead and was selected for the Pro Bowl. Left cornerback
Terrence McGee
missed five games with a knee injury. Strong safety
Bryan Scott
started six games at linebacker.
Despite all that, the Bills allowed only 184.2 passing yards a game (second in the NFL) and 14 touchdowns (tied for second).
Now that's depth.
"I've gone to a lot of teams," Gailey said at the NFL owners meetings. "I don't know that I've ever gone to a team that the secondary -- I'm taking corner and safety position -- is as strong as we have right now overall.
"When I went to Dallas, when I went to Miami, when I went to Pittsburgh they were all good. But I'm not so sure that this isn't the strongest group."
Gailey isn't about to compare them player for player. After all, when he was head coach of the
Dallas Cowboys
he had cornerback Deion Sanders and safety Darren Woodson together.
"Those are two pretty good players," Gailey said. "We had a couple of other good players, but we were always trying to fill a hole."
Gailey joined the
Denver Broncos
as a defensive assistant the year safety Dennis Smith and cornerback Louis Wright went to the Pro Bowl. The Broncos later lined up Smith and Steve Atwater at safety while Gailey was there.
Gailey was on the
Pittsburgh Steelers
' offensive staff when they had future Hall of Famer
Rod Woodson
. As offensive coordinator of the
Miami Dolphins
, Gailey practiced against three repeat Pro Bowlers:
Sam Madison
,
Patrick Surtain
and
Brock Marion
.
No, the Bills aren't that good yet. Gailey isn't going to make like
New York Jets
coach Rex Ryan and proclaim they could reach legendary status. On Tuesday, Ryan said his star cornerbacks,
Darrelle Revis
and
Antonio Cromartie
,
remind him of the renowned Los Angeles Raiders tandem
of Mike Haynes and Lester Hayes.
What the Bills do have is a quality starter and backup at every spot. One of only three assistants Gailey retained from Dick Jauron's staff was defensive back coach George Catavolos.
"Even the backups at Buffalo, I'm talking about eight players, your top eight players," Gailey said, "this is as strong a group as I've ever been around."
The importance of depth in the secondary can't be emphasized enough.
As
Detroit Lions
head coach Jim Schwartz explained Wednesday morning, you can't have too many serviceable defensive backs.
"You're going to play more defensive backs than you are at other positions," said Schwartz, known as one of the NFL's brightest defensive minds. "You're not just going to play four. You're going to play five for half the game and you may even have a quarter of the game when you're playing six defensive backs.
"The other thing to look at is defensive backs get hurt at a higher rate than just about every other position on the field. Other positions have gotten bigger and bigger and bigger. Defensive backs have stayed the same, particularly corners. So with everybody else getting bigger and corners staying the same, it's not a matter of if somebody gets hurt and has to miss a game, it's a matter of when."
Five Buffalo defensive backs finished the season on injured reserve, including both of the opening-day starting cornerbacks, McGee and McKelvin.
Schwartz mentioned another important facet of defensive backfield depth.
"One person in the secondary that doesn't play well makes the whole secondary look bad," Schwartz said. "It's how the whole group plays, and if there's one weak link in that chain, then the whole group can look bad, and offenses are real good at finding that one guy and exploiting him."
Nobody can look at the Bills and call their secondary a weak link.
March, 24, 2010
3/24/10
8:13
AM ET
ORLANDO, Fla. -- When he considers the possibilities cornerback tandem
Darrelle Revis
and
Antonio Cromartie
will provide,
New York Jets
head coach Rex Ryan imagines legendary greatness.

Revis

Cromartie
"It reminds me of when the Raiders had Hayes and Haynes, where it was just 'Lockdown and here we come,' " Ryan said, referring to sublime Los Angeles cornerbacks Lester Hayes and Mike Haynes.
Hayes went to five Pro Bowls. Haynes went to nine and is in the Pro Football Hall of Fame.
That's a lofty comparison, especially considering Cromartie's past two years have been disappointing on the field and off. But Ryan is elated to partner up Cromartie with Revis.
Ryan spoke with reporters Tuesday at the NFL owners meetings in Orlando, where he held court for the first time since the Jets acquired Cromartie in a trade with the
San Diego Chargers
.
"He might have as much talent as any player I've ever been around at the corner position," Ryan said. "He's got everything. He's got the size, the height, the length, the speed, the recovery speed, probably as good ball skills as any corner I've been around."
OK, let's keep in mind Revis was an All-Pro last year and Ryan banged the drum for Revis to win the NFL's defensive player of the year award. Cromartie was an All-Pro in 2007, when he led the league with 10 interceptions.
"That's going to be a pretty lethal combination," Ryan said. "It's going to allow us to not just roll our coverage to one corner or another, which we had to do a lot last year. We're not going to let teams lock in on what we're doing defensively.
"From a matchup standpoint, this will be a tremendous advantage for us.
"You might know there's man coverage over there, but you've got to deal with nine guys coming at you. I think that might be a problem."
Ryan believes the Jets will provide the right organizational environment to help settle Cromartie's turbulent life. The Jets advanced him $500,000 from his contract to address various paternity issues. He has seven children in five states.
"I think it's probably pretty obvious to him now," Ryan said. "He had some maturing to do. He's a nice young man. Is he perfect? Probably not, but I don't think anybody is. That's just some issues off the field. It doesn't affect him as a football player.
"We're going to let him come out here and be himself and join his teammates. He was there the first day of offseason workouts. He's just happy to get a fresh start, meet his new teammates. He had a lot of success at San Diego. It's going to be exciting.
"I think our whole team is excited about seeing Darrelle Revis and Cromartie out there."
September, 16, 2009
9/16/09
4:38
PM ET
| | |
| --- | --- |
| | |
| | US Presswire |
| | Jets coach Rex Ryan and Patriots coach Bill Belichick have different philosophies on what they say to the media. |

Posted by ESPN.com's Tim Graham
Bill Belichick has deftly avoided discussing Rex Ryan's commentary about not being intimidated by the
New England Patriots
and their Super Bowl rings.
Belichick chuckles at the questions, deflects them, dismisses the issue as trivial.
In his Gillette Stadium sacristy, however, Belichick will be taking Ryan's words far more seriously and expecting his players to do the same in preparations for Sunday's game against the
New York Jets
at the Meadowlands.
Ryan, the Jets' rookie head coach,
thumbed his nose at the Patriots' success
during a June interview on New York radio station WFAN.
"I never came here to kiss Bill Belichick's rings," Ryan said. "I came to win. Let's just put it that way. So we'll see what happens. I'm certainly not intimidated by New England or anybody else.
"I think we already have sent a message to them. So they can read between the lines. ... They can figure it out. And when they come here that second week of the season, we'll see."
Podcast: Rex Ryan voicemail
Jets coach Rex Ryan delivered a voicemail to Jets fans asking them for their help in the game against the Patriots. Listen

Ryan's bravado certainly will be used against him three months later. Bulletin board material? You better believe it.
"It'll be laminated, maybe even a banner over the stadium," said Je'Rod Cherry, a safety and special-teams ace on New England's three championship teams. "It'll be utilized.
"Bill is a smart, crafty guy. He will present it as blatant disrespect for the guys who were there throughout that run of Super Bowls, and he will use it to help the new guys identify with the Patriots' legacy. It will be a rallying call."
Cherry spent four seasons within Belichick's inner sanctum and is quite familiar with the coach's tactics for getting his players jacked.
Bulletin-board material is one of Belichick's favorite methods to stimulate players a little more in a sport that sometimes can be consumed by weekly routines.
"Whatever is between me and the team I think should stay between me and the team," Belichick said Wednesday when asked how he would implement Ryan's comments into this week's prep work.
Belichick is masterful at using the media to fire up his men. One of the more well-known examples came before the 2001 AFC championship game. Former
Pittsburgh Steelers
linebacker
Joey Porter
and safety
Lee Flowers
openly dismissed the Patriots.
Flowers said the Patriots were "one play away from being home," referring to the infamously lucky tuck-rule call. Porter bemoaned the hassles of making arrangements for family and friends to attend the Super Bowl.
Before the game Belichick showed the video clips to his team.
"You talk about fired up," Cherry said. "Just off the charts. That played huge."
The Patriots beat the Steelers and eventually claimed their first Super Bowl title.
The concept of such a motivational tool is easy to harrumph. After all, players get paid exorbitant sums of money to perform. Pride and will should be enough to get the juices flowing, right?
"You're dealing with guys with super egos," said Cherry, who
auctioned off his first Super Bowl ring
last year to build orphanages and save children from sex trafficking. "This is a gladiator sport. It's about toughness and making the other guy submit. If you can play off something to get an edge and to get that desired effect, you do it."
That's why Belichick was quick to silence receivers
Randy Moss
and
Wes Welker
for saying this year's offense could be better than the one that set records in 2007. That's why the
Miami Dolphins
hushed linebacker
Channing Crowder
, who engaged Ryan in an entertaining smackfest.
"As long as I can remember," said former Patriots linebacker
Andre Tippett
, a Hall of Famer, "I've always been cautioned to be careful with what you say, from high school to college to the pro level."
Few coaches discuss the importance of using the media as a device. Players like to pretend they pay no attention to what's being said in the media.
They insist they don't read newspaper clips, don't go on the Internet, don't tune into talk radio or turn or turn on the television. Never mind that most NFL locker rooms have ESPN showing at all times on several screens.
"Guys read the papers," Cherry said. "They want to know what you think about us."
Bulletin boards aren't mythological. They not only exist, but they also are an important tool whether or not teams want to admit it.
"It's part of the game," said Mike Haynes, a Hall of Fame cornerback for the Patriots and
Oakland Raiders
. "When I was on the Patriots it was right by where you came in to pick up your mail [in Schaefer Stadium]. You could not miss seeing it.
"On the Raiders, it was on a bulletin board, and the trainers would talk about it all the time. 'Hey, did you read that quote in the paper?' You couldn't avoid it."
Haynes claimed he never paid much attention to what opponents were saying, but there were teammates who bewildered him. Raiders cornerback Lester Hayes was prolific in talking junk through the press.
"Who am I to tell somebody not to talk?" Haynes said. "I always felt like if you have to do that, if it's going to help you, going to help us, by all means."
Former
Buffalo Bills
coach Marv Levy constantly harped on his players to refrain from making declarations that would might get an opponent riled up.
"We had guys that loved to talk," said Levy's quarterback and fellow Hall of Famer, Jim Kelly. "But he always would bring it up, whether it was a tough loss or a good game. He'd say 'Praise your opponent and don't you be the bulletin board for somebody else's team.' "
Perhaps talk is cheap, but it can prove costly.
In the days leading up to Super Bowl XXVI, gregarious Bills defensive line coach Chuck Dickerson ragged on the Redskins' offensive linemen. Dickerson, who later became a love-him-or-hate-him Buffalo radio personality, declared Mark Rypien hadn't been tested all year like he would by the Bills.
"It definitely made the bulletin board for the Redskins, and they thrived off it," Kelly said. "They used it to their advantage."
Rick Telander, covering Super Bowl XXVI for Time magazine, wrote that if the Bills and Redskins played 10 times, the Redskins would win nine -- "
10 if Dickerson were allowed to speak before every game
."
A passage from Telander's story:
Then came Dickerson's ill-timed assessment of the Hogs: Tackle Joe Jacoby was a "Neanderthal" who "slobbers a lot;" tackle Jim Lachey was a "ballerina in a 310-pound body;" and center [Jeff] Bostic was "ugly like the rest of them." The night before the game [head coach Joe] Gibbs showed the Skins a videotape of Dickerson making the remarks, in case anybody needed further motivation.
Tippett would start searching newspaper clips on Monday morning in search of fuel. The Internet wasn't available when he played. There was no trash talking through Facebook or Twitter like you see today.
But Tippett often stumbled across an item he could use for added inspiration.
"You just look for guys like a quarterback or a receiver, who at some point are vulnerable in games," Tippett said. "Cat says something he shouldn't be saying or is dogging your teammate, you take the opportunity to maybe hit them a little bit harder or hold them up a little longer. You have fun with it.
"At some point after a victory, you make note of that to him. You just go up and whisper in their ear to make them think about it: 'I remember what you said. What do you think about it now?'"
Was Ryan foolish to be so colorful in explaining why he's confident about his team?
That depends on which team you're rooting for.
"If I'm a Jets player, I'm excited about what he said," Cherry said. "I'd be thinking 'Screw the Patriots.' "
Or at least thumbtack them.
January, 14, 2009
1/14/09
3:00
PM ET
Posted by ESPN.com's Matt Mosley
Most Postseason Interceptions
Eagles cornerback Asante Samuel is now tied with former teammate Rodney Harrison for most postseason interceptions among current players.
Player
INT
Games
Charlie Waters
9
25
Bill Simpson
9
11
Ronnie Lott
9
20
Lester Hayes
8
13
Asante Samuel
7
16
Willie Brown
7
17
Dennis Thurman
7
14
Rodney Harrison
7
13
Source: ESPN Stats & Information
As we talked about recently, Eagles cornerback Asante Samuel needs just two more interceptions to tie the all-time record for most postseason picks, which is shared by the immortal Charlie Waters, the lesser known Bill Simpson and the great Ronnie Lott. Pretty remarkable that Simpson, an ex-Ram and Bill, had nine interceptions in only 11 postseason games.
Waters needed 25 games and Lott 20. Samuel has seven in 16 games. He's had an interception in each of the Eagles' playoff wins, so there's a chance he ties or breaks the record in this postseason. I put in a request to visit with him via phone today, but he doesn't do a lot of one-on-ones -- unless he's on the field. The chart shows how Samuel stacks up against some of the great ones. You'll find three players who spent time with the Raiders, two who spent the majority of their careers with the Cowboys and two players who combined to spend 11 years with the Patriots.
Posted by ESPN.com's Bill Williamson
Denver
Longtime assistant Rick Dennison gets his chance to be the man in Denver.
My take: The Broncos respect Dennison, the run game coordinator and offensive line coach under Mike Shanahan, enough to give him an interview to replace Shanahan. It would still be a surprise if Dennison emerged as the hire. Still, it wouldn't be a shock if Dennison, with long Colorado ties, sticks around the team in some form.
Kansas City
Carl Peterson was defiant in his final press conference in Kansas City.
My take: This is just another example that it was time for Peterson to move on. After 20 years in Kansas City, it was clear both the Chiefs and Peterson need to go in a new direction. Peterson had his good times in Kansas City but this switch is the best for everyone involved.
Oakland
The Raiders will not have any new hall of famers this year.
My take: Ray Guy, Lester Hayes and Ken Stabler were among the 25 semifinalists but when the final list of 17 candidates was announced Tuesday, none had advanced. The Raiders are well represented in Canton but these players are having difficulty making the final step. It is particularly interesting that Stabler can't get enough steam for induction.
San Diego
Darren Sproles is coming out of his media-shy shell.
My take: The diminutive Sproles may be explosive on the field but he is shy and reserved off it. I found him to be a very nice person in my limited dealings with him, but he seems uncomfortable in the spotlight. But he better get used to it because if he continues to play so well, the spotlight will shine even brighter than it has.
January, 7, 2009
1/07/09
9:37
AM ET
Posted by ESPN.com's Bill Williamson
The Pro Football Hall of Fame announced its 17 finalists for enshrinement in 2009. The vote will be Jan. 31. Two players who spent a significant part of their careers in the AFC West are among the finalists while four players from the division didn't make the final cut.
Here are the finalists:
Shannon Sharpe, tight end: 1990-99, 2002-03 Denver Broncos; 2000-01 Baltimore Ravens
Will he get in? He is considered one of the best players ever to play his position but because there is a logjam at other positions and tight end is not considered a glamor position by many voters, Sharpe may have to wait a year or two.
Derrick Thomas, linebacker: 1989-99 Kansas City Chiefs
Will he get in? It says here he gets in either in 2009 or 2010.
Here is a list of semifinalists who spent most of their careers in the AFC West but did not make the cut to the finalists list:
Terrell Davis, running back: 1995-2001 Denver Broncos
Ray Guy, punter: 1973-1986 Oakland/Los Angeles Raiders
Lester Hayes, cornerback: 1977-1986 Oakland/Los Angeles Raiders
Ken Stabler, quarterback: 1970-79 Oakland Raiders; 1980-1981 Houston Oilers; 1982-1984 New Orleans Saints

NFL SCOREBOARD
Sunday, 2/2
WEEKLY LEADERS