NFL Nation:

Lindy Infante
November, 11, 2011
11/11/11
4:21
PM ET
Chris Brown's piece for Grantland
on the
San Francisco 49ers
' passing game is a must-read for anyone hoping to better understand how
Alex Smith
is avoiding mistakes.
The premise, in short, says the 49ers have eliminated sight-adjustment routes from the playbook, instead building into the offense alternatives against blitzes by design, not simply in reaction to what the defense might be doing. This is spot on, and a reflection of what Harbaugh learned from Lindy Infante during his days as the
Indianapolis Colts
' quarterback.
[+] Enlarge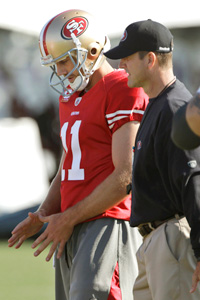 AP Photo/Paul SakumaCoach Jim Harbaugh has made philosophical changes to the offense that allow Alex Smith to feel more comfortable.
I've tried to
explain
those
Infante-based roots
at
various points
. Brown's piece has brought into focus the application of those coaching principles.
The changes Harbaugh has made are not specific to Smith. They are philosophical. The
Green Bay Packers
are using similar principles to an even greater degree. The 49ers would be using the same concepts if
Aaron Rodgers
or
Peyton Manning
were their quarterback. They are running their offense, not an Alex Smith offense, independent of whether or not the team would be more pass-oriented with another quarterback.
The approach suits Smith well because it eliminates doubt about whether or not the receiver has seen the same thing and reacted the same way. Smith knows what the receivers are going to do before the snap. He adjusts based upon what he sees from the defense. He should not have to wonder whether or not the receiver read the defense the same way he did.
"If you are in a three-step tempo to one side of the field, you could run a three-step tempo to that side, check it out, if it's not there, you are in rhythm to a five-step tempo to the other side," Harbaugh said when I asked him about the concepts during training camp. "Or you could go a five-step tempo to this side, check it out, it's not there, then come back to the other side of the field, you didn't take any more steps, but you are still in seven-step timing on a five-step drop."
Smith's college coach, Urban Meyer, has long maintained that Smith is at his best when he's comfortable with every aspect of an offense. Some of the NFL's top quarterbacks have similar mindsets. Manning,
Tom Brady
and others, including
Matt Hasselbeck
, also covet more certainty. Others -- think
Jay Cutler
and
Brett Favre
-- have an easier time cutting loose.
The principles Harbaugh and his offensive staff have implemented were new to Harbaugh when he signed with Infante's Colts in 1994. Infante had expanded upon the option-route concepts Don Coryell used in San Diego.
I'm not certain how the 49ers are using these concepts, but the basic idea is relatively simple. Let's say a receiver has two options on a route. If the quarterback doesn't throw to him on the first option, the receiver goes to the second option. Either way, the quarterback knows the options and throws the ball when he's comfortable with what he sees.
"You could be reading two receivers," Harbaugh explained. "They are in a principle, say, a 'go' and then you come back to a deep option route. Five-step tempo back to a seven. If it is open, you throw it. If it is not open, I come back. It's open or it's not."
One key for the 49ers and other teams using these concepts is to make sure the the routes designed to beat blitzes don't compromise the offense if the defense plays coverage instead.
For example, let's say the offense is facing facing third-and-7. The play might feature longer routes on the front side, with slant routes on the back side. The longer routes would be set to five- or seven-step timing, but if the quarterback noticed trouble quickly, he could still throw the slant on a three-step drop. But you're still running slant routes on third-and-7.
Smith has 10 touchdown passes and only two interceptions this season. He had eight touchdowns with one interception while posting a 3-2 record in his final five starts last season, before Harbaugh arrived. For that reason, I wouldn't attribute all Smith's success to Harbaugh or eliminating sight adjustments, etc. But if Smith appears more comfortable with the offense, the changes are very likely playing a role.
May, 21, 2011
5/21/11
12:53
PM ET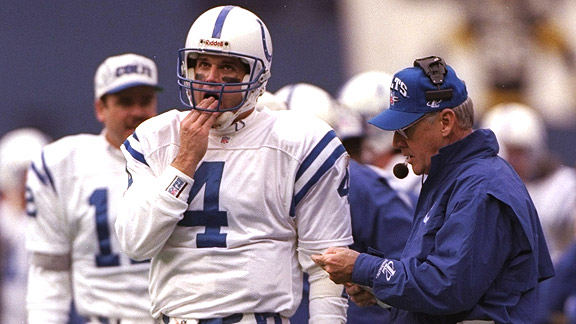 Doug Pensinger/Getty ImagesJim Harbaugh, left, says former coach Lindy Infante, right, had a huge impact on his career.
Jim Harbaugh
's reverence for Bill Walsh has been palpable since the
San Francisco 49ers
named him head coach this offseason.
Harbaugh has sought to round up
old coaching tapes
featuring Walsh installing game plans. He has embraced Walsh's offensive philosophy, pledging to run
a similar version
of the West Coast system. He has paid homage to 49ers tradition. Before Walsh died in 2007, he backed Harbaugh at Stanford, where Walsh was twice head coach. Walsh even
spoke to players
at Harbaugh's first spring practice.
Harbaugh has also been around the NFL long enough to know the league has produced a long list of outstanding coaches, even if few match Walsh in terms of success and overall legacy.
Lindy Infante
was one of those coaches in Harbaugh's eyes.
"Lindy doesn't get near the credit that Bill Walsh does," Harbaugh said this offseason, "but in many ways they are equals in terms of football minds. I never played for Bill Walsh, but there's no question in my mind."
This statement struck me as profound, but context is key. Harbaugh wasn't comparing their careers. He was comparing football acumen. One of the things Harbaugh admires most about Infante, who coached him in Indianapolis and is now retired, applies directly to Harbaugh's current challenge with the 49ers.
"It would be the ability to make a quarterback really play well," Harbaugh said.
Not just any quarterback, but quarterbacks with limitations.
"I went to the Pro Bowl playing for Lindy and up until that point, I wasn't thought of as a good quarterback at all," Harbaugh said. "But coaching made a difference."
Bernie Kosar and Don Majkowski enjoyed their best statistical seasons with Infante coaching them.
[+] Enlarge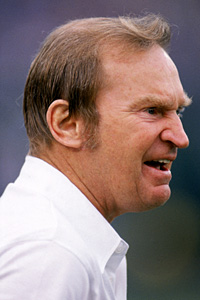 Photo by George Rose/Getty ImagesThe passing concepts taught by longtime NFL coach Don Coryell influenced the coaches who influenced Jim Harbaugh.
All of this came to mind Thursday during our blog discussion measuring
Don Coryell's impact on Walsh
and, by extension, on the 49ers.
Coryell never won a championship as a head coach, but he affected modern football tremendously through his innovative scheming.
Walsh served as Coryell's offensive coordinator before landing at Stanford and, two years later, with the 49ers. Though Walsh and Infante never worked together, Coryell influenced both. Infante expanded upon Coryell's innovations while serving as offensive coordinator for the
Cincinnati Bengals
during the early 1980s. The concepts became staples within offenses around the league, including the one Infante taught to Harbaugh while both were with the Colts during the 1990s.
Infante, reached by phone at his Florida home, spoke specifically of the option routes Coryell used in San Diego to make Chargers tight end Kellen Winslow more dangerous.
The way Infante tells it, he was studying the Chargers' offense under Coryell when something unusual stood out on film. San Diego would run what appeared to be the same play from the same formation, but Winslow seemed to be acting on his own.
The first time, Winslow might run 12 yards and break toward the outside right. Ten or 12 plays would pass, and then the same play would come up again, but this time Winslow would run a tight hook to the inside, getting open for a first down. A quarter might pass and the same play would appear, with Winslow breaking across the field to his left.
"I kept writing these things down and diagramming them and I sat back and said, 'It looks to me like they are giving Winslow the right to go where he wants to go,' " Infante said. "We started playing around with what we call the 'Y' or tight end option. The first day out on the practice field, we had a full scrimmage and I said, 'Here goes, we're going to find out whether this thing is going to work.' "
It worked.
"By about the third or fourth time we ran it, Kenny Anderson and the tight end, Danny Ross, ended up on the same timing-type situation, but the quarterback got to the point where he could tell where the receiver was going to go way before he went," Infante said. "He was trying to get the ball there early and we had the ball hit Danny Ross in the face because he couldn't get turned around fast enough. We had to do some on-the-job training, but that is what got us thinking."
If the tight end could make such adjustments, Infante thought, why couldn't wide receivers do the same? If wide receivers could do it, why not the running backs? Before long, receivers could have as many as five options on a particular route based on the coverage, blitzes and the other factors.
Ross caught 71 passes for 910 yards and five touchdowns in 1981. He was on pace for even bigger numbers a year later, finishing the strike-shortened 1982 season with 47 catches for 508 yards in just nine games. Ross went to the Pro Bowl that season.
"It evolved to the point where we were doing a lot of option-route running, a lot of route adjustments after the snap of the ball and the quarterback would have the right to change certain plays if certain things were going on," Infante said. "It was exciting because it was inventive and you had to feel free to go and try to invent something. When I started coaching with Harbaugh, they brought me in to Indianapolis and the idea was I would bring my offense with me."
Harbaugh finished his playing career under Ted Marchibroda (
Baltimore Ravens
), Mike Riley (
San Diego Chargers
) and Marty Mornhinweg (
Detroit Lions
). He coached under Bill Callahan in Oakland before becoming a head coach at the University of San Diego and then Stanford.
The lockout has prevented Harbaugh and offensive coordinator Greg Roman from installing their offense with the 49ers. The coaching staff has used the time to refine exactly how they'll present information to players once the lockout finally does end.
Players might not know it, but former coaches will influence the process, at least indirectly.
"For this offense, there's a lot of Lindy Infante principles," Harbaugh said, "but I don't think it's exclusive to this offense. You talk about the option routes. The
smash route
now is a universally run route, but that was Lindy Infante.
"From a quarterback standpoint, I learned from him that there were more ways to read a route than just through a progression. I learned how to throw people open from him, that covered did not mean covered. That is a huge part of football now. The whole option game, the option routes, the smash concepts -- all those things I learned from him. He was very technical, very detailed. Just a
different way to understand the passing game
is what I learned from him."
March, 24, 2011
3/24/11
12:00
PM ET
»
NFC Draft Watch
:
East
|
West
|
North
|
South
»
AFC
:
East
|
West
|
North
|
South
Each Thursday leading up to the NFL draft (April 28-30), the ESPN.com NFL blog network will take a division-by-division look at key aspects of the draft. Today's topic: schemes and themes.

Arizona Cardinals
Theme: Amping up the pass rush.
New defensive coordinator Ray Horton has already guaranteed that the Cardinals will blitz on their first play under his watch. Why would Horton say such a thing? He's looking to establish an aggressive, blitzing mindset similar to what the
Pittsburgh Steelers
have established under his mentor, Dick LeBeau. To do that, the Cardinals will need to upgrade their pass rush by targeting at least one outside linebacker in the draft -- perhaps even with the fifth overall choice. Von Miller from Texas A&M comes to mind as one option. The team also expects more from youngsters
O'Brien Schofield
and
Will Davis
, coach Ken Whisenhunt said from the NFL owners meeting. To ease the transition, Horton will adapt much of the terminology used under former coordinator Bill Davis. Both favor 3-4 schemes.

St. Louis Rams
Scheme: Away from the West Coast offense.
Josh McDaniels' hiring as offensive coordinator signals a significant scheme change even though the team has held over most offensive assistants from last season. McDaniels traces his roots to New England. The Rams will be looking to upgrade at wide receiver, where injuries diminished a group that had question marks already. McDaniels' teams have drafted
bigger receivers
over the years. The diminutive
Deion Branch
stands out as an exception to the rule. Otherwise, McDaniels' New England and Denver teams have targeted receivers in the draft averaging taller than 6-foot-1. His Broncos drafted three receivers in his two years there. All three were at least 6 feet tall. Two weighed at least 220 pounds. Alabama's Julio Jones, a candidate for the Rams at No. 14 overall, fits the profile at 6-2 and 220.

San Francisco 49ers
Scheme: New coordinators proliferate.
Jim Harbaugh
turned over both coordinator positions, but the 49ers could still be looking for similar types of players. They are sticking with a 3-4 defense, so that helps. Trent Baalke ran the draft last year and will do so again as general manager this offseason. Even though Harbaugh has emphasized the switch to a West Coast scheme on offense, he wants to play an extremely physical brand of football, just like predecessor Mike Singletary. He wants tight ends and fullbacks to be the face of the offense. At quarterback, Harbaugh believes he can make imperfect quarterbacks play winning football. His former coach at Indianapolis, Lindy Infante, made a career of this. As a result, there's no directive to find a quarterback in the first round, even though the position is obviously one of great need.

Seattle Seahawks
Scheme: New offensive coordinator in place.
Darrell Bevell's hiring away from the
Minnesota Vikings
indicated, on the surface, that the Seahawks might not value mobility as much from their quarterbacks. Coach Pete Carroll said otherwise over breakfast during the recent NFL owners meeting. He said Bevell and new assistant head coach/offensive line Tom Cable "totally believe in the moving of the quarterback as a complement to the running game and play-action passing game." That was likewise a point of emphasis under previous coordinator Jeremy Bates. Cable's hiring means the Seahawks will target bigger interior offensive linemen in the draft, a departure from how former offensive line coach Alex Gibbs approached the position. That brings the coaching and personnel mindsets into better alignment.
March, 21, 2011
3/21/11
8:18
PM ET
NEW ORLEANS -- Jim Harbaugh had just finished explaining why he thought football was the greatest game when the giggling began.
We were 13 minutes into a 15-minute interview session tacked onto another long day for the
San Francisco 49ers
' new head coach. Harbaugh had traveled to New Orleans from a charity event in Lake Tahoe, Nev., and he was two days into his first NFL owners meeting.
"It is the greatest game ever invented," Harbaugh had said. "It works every muscle of your body. You go to bed and sleep good after you have played football. You don't think about anything else except scoring a touchdown or making a play when you are out there on the field. I love it."
[+] Enlarge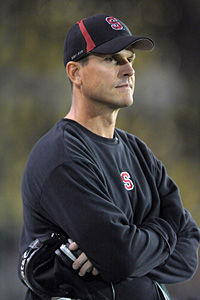 Kirby Lee/Image of Sport/US PresswireIt's clear from a conversation with Jim Harbaugh, who left Stanford to coach the 49ers, that he loves football.
Then came the giggling, which I figured was my cue, a 2-minute warning of sorts. Harbaugh had to be winding down. Hearing owners ramble on about labor relations and arcane rules changes would wear on any coach.
I glanced toward the 49ers' public-relations director and asked, lightheartedly, whether our 15-minute window had closed. There was no time for him to respond.
"It tests a man's courage," Harbaugh said.
At the time, I figured Harbaugh was joking about the courage it would take to extend him past the agreed-upon time limit. But after listening to a tape of our conversation, I realized Harbaugh was merely picking up where he had left off regarding his love for the game. He apparently hadn't noticed my little aside.
"You know, I could go on," Harbaugh said. "You start in the heat and go through a season that ends in the cold. The elements."
Now he was sounding more like an NFL Films narrative, without the dramatic intonations.
"Nothing makes you feel more like a man than when you defeat an opponent in the cold," Harbaugh went on. "Cold, bitter weather. Because now you have also not only beaten an opponent, but you conquered the elements as well. Hundreds of things I love about football."
There were times during our interview when Harbaugh ignored or did not see obvious cues, such as when I opened by asking what it's like to attend the NFL owners meeting as a first-time head coach. It had to be pretty cool.
"Well, it's informative," Harbaugh said. "It's been business-like. Business-like and informative. There is an agenda and people are packing it all in to, so far, a day and a half. There is no frills to this."
A computer could not have answered any more dryly.
Perhaps he had misunderstood. After settling into the job at the 49ers' headquarters, I noted, Harbaugh was now mingling with the other head coaches for the first time. I wondered whether the overall experience made his hiring as head coach sink in a little more. Has it been meaningful to him?
"It hasn't been nostalgic in any way," Harbaugh said. "It's really just trying to keep pace, learn and apply it to the task at hand."
Perhaps it's as simple as this: Football excites Harbaugh. The rest he endures.
Harbaugh's mind appeared to be running at all times. He tapped a pen on the end table next to him throughout the interview -- not rudely or to signal boredom, but more as though he were discharging excess energy. I counted 32 taps of the pen during one 11-second sequence.
Harbaugh is an equal-opportunity tapper. He tapped the pen when he spoke, too, including after I asked him about the importance of the tight end in his offense.
"In our philosophy, the tight end is a needed component because of the physical nature with which you want to play football," Harbaugh said.
His words became measured.
"The tight end. A fullback. Needed. Without those two positions, you tend more to be a finesse type of team."
Now he was rolling again.
"Especially if you can get a fullback, a man who lives a spartan life, who goes to bed and dreams about physical confrontation and getting from Point A to Point B to go hit somebody," Harbaugh said. "If you have that kind of face as your identity for your team, then you can play the kind of football that we are talking about."
Harbaugh traces his offensive lineage to Lindy Infante, who coached him as a player at Indianapolis, and Bill Walsh, who played a leading role in hiring him at Stanford and made famous the basic West Coast system Harbaugh is implementing with the 49ers.
Decades ago, critics slapped the "finesse" label on the West Coast system because it substituted short, precise passes for more manly running plays. The more offenses have gravitated toward three- and four-receiver personnel groupings in recent years, the more smash-mouth Walsh's approach appears by comparison. Harbaugh's background under Infante with Indianapolis and Bo Schembechler at Michigan are at play here. Infante worked under Marty Schottenheimer in Cleveland and Forrest Gregg in Cincinnati.
"It's a belief that the surest ways to win are if you can physically dominate an opponent, out-hustle them -- those are the surest ways to win," Harbaugh said.
Former 49ers coach Mike Singletary couldn't have said it better, but his background as a linebacker complicated efforts at implementation. With Harbaugh, the 49ers have a longtime former NFL quarterback with college head coaching experience and the proven ability to install a successful, creative offense.
"I feel that everything that has led up to this point where I am now -- playing, coaching, growing up with a dad who is a coach, a brother who is a coach, all that time, all those lessons, all that competition -- has prepared me for this one task, this one task of coaching the 49ers," Harbaugh said.
It's a huge challenge. The 49ers haven't been to the playoffs in nearly a decade. They won the last of their championships after the 1994 season.
Harbaugh won't be the only one giggling if he can turn them around.
March, 5, 2010
3/05/10
2:22
PM ET
I've counted 43 unrestricted free agents with Pro Bowls on their résumés.
Four are in their 40s, 15 others are at least 35, 21 more are at least 30 and the other three -- specialist
Kassim Osgood
, safety Roy Williams and running back
Willie Parker
-- are 29.
Some of them broke into the league under head coaches Dan Henning, Tom Flores, Bruce Coslet, George Seifert, Lindy Infante, Dom Capers, Pete Carroll (the first time), Ray Rhodes (in Philadelphia), Mike Holmgren (in Green Bay) and Dick Vermeil.
Great crop.
The restricted market could be more interesting, but even then, it's tough to justify parting with first- and second-round choices for players seeking lucrative long-term contracts.
NFL SCOREBOARD
Thursday, 10/16
Sunday, 10/19
Monday, 10/20
WEEKLY LEADERS