September, 11, 2012
9/11/12
2:45
PM ET
I was working in the Lambeau Field press box late Sunday night when I stole a glance at a bank of televisions I thought were broadcasting the Pittsburgh-Denver debut of "Sunday Night Football." At that moment, on five screens hanging side-by-side, there was
Detroit Lions
coach Jim Schwartz sprinting down the Ford Field sideline after
San Francisco 49ers
coach Jim Harbaugh.
[+] Enlarge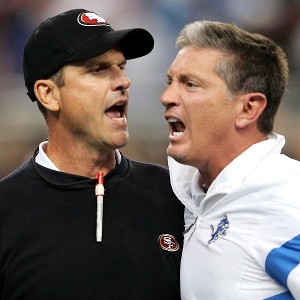 Leon Halip/Getty ImagesJim Harbaugh, left, and Jim Schwartz insist they have moved on from their postgame incident from last October.
The Steelers and Broncos were still playing, but already the hype machine had moved to the following Sunday night matchup between the Lions and 49ers. Both coaches
have already taken steps to push past the narrative
-- Harbaugh called it "irrelevant" Monday and Schwartz said it was "long in the past" -- and I'm inclined to comply.
We had our fun
with their confrontation last year, and it's hard to conceive of a way it will directly impact Sunday night's game.
(What? Will Schwartz really, really, really want to win instead of just really, really? Here's what would be funny: If Harbaugh walked onto the field with his left arm tied behind his back. Ah, well. ...)
If anything, this week provides Schwartz a perfect opportunity to follow through on a pledge he made after his first season as the Lions' coach: To lower his sideline blood pressure once the Lions were consistently competitive.
Here is what he said in March 2010
:
"When we get this team the way we need to be, you'll see a lot different me. Because if you look at me for all my years [as a defensive assistant/coordinator] in Tennessee, I wasn't that guy with veins popping out of my head. But you can only do that when you have good players and you have confidence in them and they know you really well. We're not at that point."
It stands to reason that a good team will give its coach fewer reasons to lose his mind. The Lions have compiled a 15-6 regular-season record since December 2010. Does that meet the standard Schwartz was referencing? I'm not sure, but I do know this: keeping his cool Sunday night would be a perfect response to a nation discussing his temper.
A better question is if there is any competitive advantage to a calm sideline demeanor. Some teams feed off the energy of the head coach, especially when their key players are young, and so I can understand how in some cases it might help to let your fiery side loose.
For what it's worth, my personal preference has always been for coaches who maintain composure amid the insanity of an NFL game. It seems to me a metaphor for the entire game: Poise is preferable to the alternative, especially when "fiery" becomes a euphemism for "poor decision making." I'm not sure that an outburst has ever led Schwartz to a bad sideline decision, but his players' outbursts have without a doubt led to bad choices between the white lines.
Even Schwartz admitted in 2010 that he respected the approach of Tony Dungy and Tom Landry, two of the most successful and stoic sideline coaches in NFL history. No one can change their personality, but this will be a good week to search for glimpses of Schwartz's presumed migration.
December, 27, 2009
12/27/09
10:16
PM ET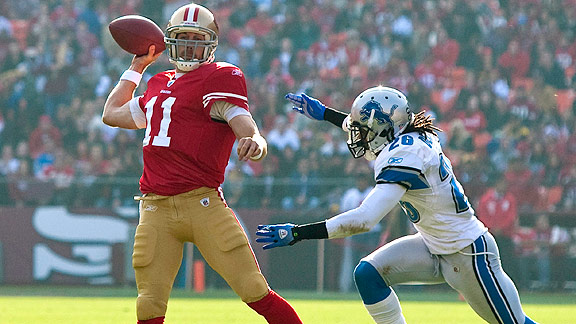 Jason O. Watson/US Presswire
San Francisco quarterback Alex Smith was an efficient 20-31 for 230 yards and a touchdown Sunday.
SAN FRANCISCO -- The end zone was within striking distance as
San Francisco 49ers
quarterback
Alex Smith
scrambled to his right Sunday.
Smith probably should have dove into the end zone instead of pulling up at the last moment and throwing a disputed 2-yard touchdown pass to tight end
Vernon Davis
.
"Alex came to the sideline and I was scratching my head and he knew what I was going to say," 49ers coach Mike Singletary said.
"Coach, be nice, be nice," Smith told Singletary upon reaching the sideline.
The
Detroit Lions
thought Smith had crossed the line of scrimmage before throwing the pass to Davis. Replays were inconclusive. The touchdown stood during the
49ers' 20-6 victory at Candlestick Park
, but the play pointed to a broader dilemma.
What should the 49ers make of Smith?
The once- and possibly future franchise quarterback has played well enough late this season to qualify as the favorite to start entering 2010. He has not shown enough to command a long-term contract, however, and that means the 49ers still cannot be sure they have the right man under center. The 49ers scored only 20 points Sunday despite collecting six turnovers and starting eight drives outside their own 40-yard-line.
"We did some good things," Smith said. "We missed some clear opportunities there, especially in the first half. ... We didn't get it done there. I think that's not only me, but the offense as well. We need to improve that."
Smith is 25 years old and improving. He has needed only nine starts and 10 total games to reach 17 touchdown passes, one more than the career high he set as a 16-game starter in 2006. He has a 4-3 record in his last seven starts, throwing more interceptions than touchdowns in only one of those games (at Philadelphia). Smith completed 20 of 31 passes for 230 yards, one touchdown and a 97.5 rating against the Lions.
Smith's 17 touchdown passes are more than any 49ers quarterback has thrown in a season since
Jeff Garcia
had 18 in 2003.
"He's come a long way," said former 49ers and Seahawks linebacker
Julian Peterson
, now with the Lions. "I thought he made good strides that one year (2006) when they beat us twice and I was in Seattle. Then they stuck him back out there when he was injured and I thought that was kind of wrong. But now he is healthy and a lot better."
The 49ers have promising young skill players around Smith. Davis, with 12 touchdown receptions, is enjoying a Pro Bowl-caliber season at tight end. Rookie receiver
Michael Crabtree
has 45 catches in 10 games.
Josh Morgan
, another young receiver, has a career-high 50 catches.
Smith showed improved touch on his shorter passes Sunday, particularly when facing pressure. He's been a little quick to backpedal out of plays in some games, making it much tougher to complete passes against the rush. Peterson was about to blast Smith on fourth-and-1 play Sunday when the quarterback floated a touch pass to an uncovered
Frank Gore
. The play produced a 48-yard gain. Earlier, Crabtree had to wait on a deep ball, but the play still produced a 50-yard gain.
"I thought he was pretty consistent -- nothing great, but consistent," Singletary said.
The 49ers remain a team in transition. They've had two quarterbacks, two left tackles and three wide receivers start at least six games. They've gone from being a power running team to a shotgun passing team to a team trying to make the disparate approaches work together. They are working with their seventh offensive coordinator in seven seasons and their fifth in five seasons since Smith was a rookie.
This hardly seems like the time to break in another quarterback.
"I think Alex has done a real good job," left tackle
Joe Staley
said. "He understands where to go with the ball every time and he creates on the run, too. We have a lot of explosive young guys and once everybody matures and knows exactly what they are doing on every play, we're going to be really, really explosive."
Becoming more comfortable within a traditional NFL offense is Smith's primary challenge as a former college spread quarterback.
The 49ers had three plays covering 20 yards or longer against Detroit. They had two running backs on the field for all of them. That is no coincidence.
For all the strides Smith has made since tossing one touchdown pass with 11 interceptions as a rookie, he hasn't shown he can carry an offense. Big plays tend to open up for the 49ers when opponents fear what Gore offers on the ground.
That was certainly the case when Smith found Crabtree wide open for that 50-yard gain. The 49ers were lined up in an offset-I formation with bruising fullback
Moran Norris
leading for Gore. The 49ers' other plays covering at least 20 yards came with two backs and two tight ends. Both were in short-yardage situations.
The Lions had to respect Gore before they could worry about Smith.
"Best back in the league," 49ers running back
Michael Robinson
said. "Some guys got more yards, but look at his feet. Look at the guys he makes miss. He is awesome."
Gore moved past 1,000 yards for the season Sunday, becoming the first 49ers player to reach that milestone in four consecutive seasons.
"It's kind of good to see us evolve into more of a balanced offense," Robinson said.
Smith and the 49ers have more to lose than gain heading into their regular-season finale at St. Louis. It's too late for Smith to prove he's definitely the man -- or not the man -- this season.
As referee Walt Anderson discovered in reviewing the scoring pass that left Singletary scratching his head, sometimes the evidence isn't conclusive.
December, 27, 2009
12/27/09
7:24
PM ET
SAN FRANCISCO -- The 49ers
won comfortably
despite squandering multiple opportunities to blow out Detroit by an even wider margin.


Quarterback
Alex Smith
's stat line was more impressive than his overall performance, particularly given the field position San Francisco enjoyed throughout the game. Smith completed 20 of 31 passes for 230 yards, one touchdown and a 97.5 passer rating. Those are winning numbers, but 98 of those yards came on passes to
Michael Crabtree
(50 yards) and
Frank Gore
(48). The performance did nothing to undermine Smith's status as the favorite to start in 2010, but neither did it give him much momentum.
This was, in some ways, a no-win situation for San Francisco. Losing to the Lions would have meant more than beating them -- for the team in general and Smith in particular.
As the season winds down, the 49ers seem to be getting back to their identity as a team that succeeds when Gore runs the football from base personnel. Gore averaged only 2.5 yards per carry overall, but he ran effectively when the 49ers needed him to, particularly from the base offense, and he caught four passes for 81 yards.
The 49ers' defense played well enough for the 49ers to score 30 or 40 points. Smith and the offense could not fully capitalize.
December, 27, 2009
12/27/09
5:59
PM ET
SAN FRANCISCO --
Joe Staley
's return is doubtful after the 49ers' starting left tackle suffered a knee contusion.
The 49ers did not say whether this was the same knee Staley injured earlier in the season. I did notice Staley struggling to hold his ground on one play when his man batted a pass at the line of scrimmage.
Barry Sims
is playing left tackle.
Also on the injury front,
Frank Gore
started the second half for the 49ers after missing the final six snaps of the second quarter.
December, 27, 2009
12/27/09
5:45
PM ET
SAN FRANCISCO -- The 49ers need a stronger second half from
Alex Smith
after managing only a 6-3 halftime lead against the Lions.
That means they'll need to protect well enough to avoid having passes batted at the line of scrimmage several more times. Smith will need to make better choices downfield.
Frank Gore
's status will be a key variable. He missed the 49ers' final six offensive snaps of the first half. He is doing some running and cutting on the sideline as the teams prepare to kick off for the third quarter. The 49ers just handed a helmet to him and Gore put it on. That probably means we'll see him again in the second half.
September, 23, 2008
9/23/08
8:56
AM ET
Posted by ESPN.com's Mike Sando
Daniel Brown of the San Jose Mercury News says Frank Gore has his eye on the NFL rushing title. I think 49ers offensive coordinator Mike Martz wouldn't mind adding a rushing champion to his pass-oriented resume, particularly after the Lions said they wanted a coordinator more committed to the ground game.
Matt Barrows of the Sacramento Bee says cornerback Allen Rossum filled the role of the small, quick receiver Martz covets.
Also from Barrows: Gore's new approach includes letting the game come to him.
Tom FitzGerald of the San Francisco Chronicle says the 49ers have come to appreciate "Cowboy" Justin Smith, a difference maker on their defense. I've watched Smith closely in the first three games and would say he's better than I anticipated.
Kent Somers of the Arizona Republic ties up loose ends from the Cardinals' defeat at Washington. Receiver Larry Fitzgerald laments missing a chance for another touchdown. Cornerback Rod Hood thought the defense let down the offense. And receiver Anquan Boldin won't forget Shawn Springs' declaration about their matchup.
Also from Somers: Coach Ken Whisenhunt explains why he elected to punt with 2:46 remaining against the Redskins. Also, nose tackle Gabe Watson might miss another game.
Mike Tulumello of the East Valley Tribune says the Cardinals still must prove they're not the same old Cardinals.
Scott Bordow of the East Valley Tribune says Edgerrin James has become an afterthought in Arizona, playing a secondary role to Kurt Warner, Larry Fitzgerald and Anquan Boldin. I've always viewed James as a solid and consistent player, never a spectacular one.
Clare Farnsworth of the Seattle Post-Intelligencer says the Seahawks will hold informal workouts today, Wednesday and Thursday before taking off for the bye weekend.
Also from Farnsworth: Seattle's ground game gives opponents something new to worry about.
Danny O'Neil of the Seattle Times says the Seahawks have some choices to make following their bye week given the expected return of injured players, notably Maurice Morris, Bobby Engram and Deion Branch.
Frank Hughes of the Tacoma News Tribune says the Seahawks haven't decided whether to put Sean Locklear back in the lineup at right tackle. Ray Willis gives the team a "physical presence" on that side of the line, coach Mike Holmgren said.
Bernie Miklasz of the St. Louis Post-Dispatch calls the Rams hopeless and the worst team in the history of football in St. Louis. He thinks firing coach Scott Linehan would be the most humane course of action in the short term.
Jim Thomas of the St. Louis Post-Dispatch says the Rams weren't competitive in Seattle even though they improved in a few key areas offensively.
Bill Coats of the St. Louis Post-Dispatch says Rams running back Brian Leonard will finally become active for a game now that an injury has knocked out Antonio Pittman.
Also from Coats: No big news from the Rams despite threats from ownership.
September, 22, 2008
9/22/08
9:08
AM ET
Posted by ESPN.com's Mike Sando
Matt Barrows of the Sacramento Bee singles out Justin Smith as the 49ers' player of the game. Smith finished with one sack, one interception and a pass deflection. Also, the 49ers appeared to escape serious injury.
Also from Barrows: A look at how the 49ers' defensive backs fared.
More from Barrows: Allen Rossum had no idea the 49ers would call on him to score the first offensive touchdown of his career.
Ailene Voison of the Sacramento Bee likes what she sees from 49ers quarterback J.T. O'Sullivan, even if she didn't see this coming.
Tom FitzGerald of the San Francisco Chronicle says the 49ers are drawing inspiration from O'Sullivan. Tackle Joe Staley: "It's probably smart to slide, but it pumps up the offense to see him [charge ahead]."
Also from FitzGerald: Frank Gore kept his eyes on the end zone even when he was bobbling the ball.
More from FitzGerald: Coach Mike Nolan was proud of the way his defensive backs held up against the Lions' big, athletic receivers.
And this: A 49ers report card showing high marks for the way San Francisco pressured Jon Kitna.
Scott Ostler of the San Francisco Chronicle writes about Mike Martz, who didn't speak with reporters following the 49ers' blowout victory over the Lions. Ostler: "Think back. At what point over the last few seasons was there this much excitement and hope, however qualified, in 49erland? And what's not to like about Martz and O'Sullivan? The other players are buying in."
Monte Poole of the Contra Costa Times says the 49ers know what it's like to have no hope, one reason they were thrilled to beat even a poor team such as the Lions.
Daniel Brown of the San Jose Mercury News looks at how the 49ers' defensive backs handled Calvin Johnson and Roy Williams. Williams: "They've got the passing mind calling the plays. So you can't compare our offense to the [49ers] offense. It makes no sense."
Also from Brown: O'Sullivan posted the 49ers' highest single-game passer rating since Jeff Garcia was quarterback.
Matt Maiocco of Instant 49ers says the 49ers have scored at least 30 points in back-to-back games for the first time since 2003.
Also from Maiocco: Martz asked defensive lineman Isaac Sopoaga to do his "haka" dance in a victorious postgame locker room. Note, too, that even Tarell Brown had a big day as the 49ers' defensive backs dominated.
More from Maiocco: Rossum scores the clinching touchdown on a fourth-down end-around after Mike Nolan decides against kicking a field goal. Kitna on O'Sullivan: "He is surrounded by some very talented players and he has an outstanding offensive coordinator." Not that the Lions had more fun with Martz.
Lowell Cohn of the Santa Rosa Press-Democrat says Martz has restored personality to the 49ers' offense. Players think Martz has all the answers, Cohn writes.
September, 21, 2008
9/21/08
11:23
AM ET
| | | | | | |
| --- | --- | --- | --- | --- | --- |
| Season | Team | Player | Touches | Total Plays | Pct. |
| 2008 | 49ers | Frank Gore | 42 | 107 | .393 |
| 2007 | 49ers | Frank Gore | 313 | 925 | .338 |
| 2006 | 49ers | Frank Gore | 373 | 918 | .406 |
Posted by ESPN.com's Mike Sando
The 49ers are getting the ball in Frank Gore's hands more frequently now that Mike Martz is offensive coordinator and the team is more competitive.
Two games aren't much to go on, but we have little choice heading into Week 3. As the chart shows, Gore is touching the ball on 39.3 percent of the 49ers' offensive snaps, up from 33.8 percent last season.
The chart shows all touches. Isolating for running plays only, we see Gore carrying the ball on 30.8 percent of offensive plays, up from 28.1 percent last season. He carried on 34 percent of snaps during the 2006 season, a career high. But his overall touches -- runs plus passes -- were about the same as this season.
September, 20, 2008
9/20/08
5:57
PM ET
Posted by ESPN.com's Mike Sando
The 49ers face one of the NFL's least-acclaimed rosters when the Lions visit Candlestick Park in Week 3. Detroit features only three players with Pro Bowl credentials. Kicker Jason Hanson is one of them. One of the others, running back Rudi Johnson, was released by the Bengals.
By my count, the Lions are the only team in the league without a single current or former Pro Bowl player on defense.
The Lions are one of the more confounding teams on the 49ers' schedule this season. A quick look at Detroit's roided-out roster offers a few clues. The Lions' 53-man roster features only four players from its 2005 and 2006 draft classes. The other 31 NFL teams have an average of eight. A league-high seven Lions backups entered the NFL as second-round draft choices.
Eight Lions starters are 30 or older, a figure that ranks tied for second behind Washington. Detroit's starting offensive line is fourth-oldest in the league. Overall, the Lions have the fifth-oldest starters in the league and the seventh-oldest roster. That's not a good sign for a team that hasn't won anything of significance.
Head coach Rod Marinelli built his reputation as a defensive line coach. The Lions are carrying 11 defensive linemen, tied for the league high and two more than the typical team that uses the 4-3. As a result, the Lions are carrying one fewer receiver and one fewer tight end than average.
For more on the Lions, check out Kevin Seifert's NFC North blog. Here's a direct link to Lions-related items on his blog.

NFL SCOREBOARD
Thursday, 12/18
Saturday, 12/20
Sunday, 12/21
Monday, 12/22
WEEKLY LEADERS