NFL Nation:

local television blackouts
August, 31, 2012
8/31/12
4:15
PM ET
More than ever, I'm struggling to figure out why the
Tampa Bay Buccaneers
have such a tough time at the box office.
That's due to this report by Roy Cummings that says the Bucs still are
9,000 seats short
of being able to sell out the Sept. 9 home opener with Carolina and prevent another in a long line of games that couldn't be shown live on local television.
I've sympathized with fans the past two seasons as the Bucs have had only two sellouts at home. I live in Tampa and frequently ask people I meet why they don't go to games regularly or even occasionally. The answers vary, but some or pretty common.
I've heard complaints about the economy, the product on the field, a curious and strong dislike for ownership and ambivalence from people that originally are from elsewhere and care more about the team they grew up following. I understand the logic, to some degree, but I really thought things would change this year.
But the Bucs are 9,000 seats short of selling out a regular-season opener against division-rival Carolina with quarterback
Cam Newton
, who comes with plenty of star power? That's kind of amazing.
I don't know that the economy has changed much from last year, but everything else has. The Glazer family, which owns the team, has been bashed in the past for not spending enough money. I don't know if that label was ever really fair, but I think anyone who believes that now is way off base.
After going 4-12 last season, the Bucs sent coach Raheem Morris packing with several million dollars remaining on his contract. They hired Greg Schiano and are paying him millions. They also made a splurge in free agency, signing
Vincent Jackson
,
Carl Nicks
and
Eric Wright
to contracts that total more than $140 million. Throw in the contracts of top three draft picks
Mark Barron
,
Doug Martin
and
Lavonte David
and the tab is more like $160 million.
The Glazers clearly have opened their checkbook. They also have lowered ticket prices and jumped on the NFL's offer to opt to use 85 percent of non-premium seating as the baseline for a sellout. The Bucs have tried selling half-season passes and have added payment plans.
They even have planned a special promotion for the Carolina game to honor defensive back
Ronde Barber
, who will make his 200th career start. The Bucs will give away something to commemorate Barber's feat, plus they're offering half off food and beverages and free parking in designated lots. I've also seen plenty of television commercials aimed at boosting ticket sales.
Sounds to me like the Bucs have done just about everything you could ask.
But it also sounds like that isn't registering with their fans and that's why it's so puzzling.
I guess this is a sign that fans are taking a "show me'' attitude. In other words, they want to see the Bucs do some winning before they really embrace the team. The only problem with that is, they won't be able to see it because it's looking like there's a very real chance the Carolina game won't be on local television.
September, 26, 2011
9/26/11
11:54
AM ET
In recent days, a lot of readers have been asking about when – if ever – was the last time a Monday Night Football game did not sell out and was blacked out on local television.
It took some extensive searching by ESPN Stats & Information and a couple calls to the NFL office. But we've got the answer.
The last time a Monday Night Football game was blacked out was Jan. 3, 2000. That was Week 17 of the 1999 season and the matchup was San Francisco at Atlanta. The game was not televised live in the Atlanta market.
This has become a very relevant question because the
Tampa Bay Buccaneers
host the
Indianapolis Colts
next Monday night. The Bucs have a streak of 10 consecutive home games that haven't sold out and it certainly doesn't help that Indianapolis quarterback
Peyton Manning
is hurt.
The Bucs aren't giving constant updates on where ticket sales stand for the Indianapolis game and they've drawn around 50,000 for their first two home games this season. Raymond James Stadium holds about 65,000.
In a recent radio interview with Steve Duemig on Tampa's WDAE (620 AM), Bucs co-chairman Bryan Glazer discussed ticket sales.
"Ticket sales are still slow," Glazer said. "We've got the two nationally televised games (against the Colts and Cowboys) which are ahead of the other games this season (in sales). But we're still a long ways to go this year. We just want to be realistic and not put expectations in people's minds."
I've got a hunch this one will go right down to the wire (72 hours before kickoff, which would be Friday night) and I think there's a reasonable chance the game will sell out and the blackout will be lifted.
But, ultimately, this is going to come down to the fans and whether they buy tickets. Manning may not be playing, but the Bucs have done their part on the field. They went 10-6 last season and are 2-1 this year, including a big win against division rival Atlanta on Sunday.
I know the local economy is in hard times, especially in Florida. But, if the Bucs can't sell out this game, they might not sell out any.
November, 14, 2010
11/14/10
7:49
PM ET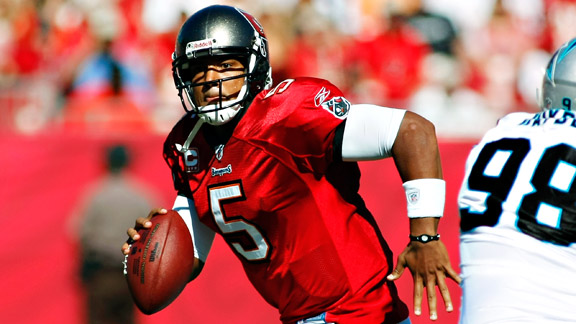 AP Photo/Brian BlancoBucs QB Josh Freeman completed 18 of 24 passes for 241 yards and two TDs against Carolina.
TAMPA, Fla. -- Once upon a time -- as in any time before Sunday -- the talk in these parts was about if the
Tampa Bay Buccaneers
could make the playoffs. Times have changed. Fact is, the Bucs
should
make the playoffs.
Look at their schedule. If the Bucs simply do what they should do, they will be in the playoffs.
That's precisely what the Bucs did Sunday as they defeated the
Carolina Panthers
31-16
. It wasn't particularly pretty and it came against a very bad team.
But guess what? The Bucs are now 6-3. Look at their remaining schedule. In San Francisco, Washington, Detroit and Seattle, the Bucs have four opponents that aren't much better than the Panthers. They've also got games with Baltimore, Atlanta and New Orleans. Pull off a surprise in one of those and the Bucs could even end up with an NFC South title or at least be above the No. 6 seed in the playoffs.
"We'll get better and better as the process of the season goes on,'' Tampa Bay coach Raheem Morris said.
They might because they already have improved more than anyone could have imagined in doubling their win total from last season. But just for the moment, let's say the Bucs go 4-3 the rest of the way and let's also say the
Atlanta Falcons
and
New Orleans Saints
do what they're supposed to do.
There could be a few variables from the NFC East and NFC North. But let's forget variables for now. If the Bucs do what they should do, they're 10-6, and that should get them into the playoffs and could give the NFC South three teams in the postseason.
You couldn't judge it from the crowd because Raymond James Stadium was far from sold out again. But some people are starting to believe.
"We feel as a whole in this locker room that there's unfinished business,'' said veteran center
Jeff Faine
.
There was some evidence of that on the field as Carolina's 16 points basically represented an offensive explosion for the Panthers, fourth-string running back
Mike Goodson
rushed for 100 yards and the Bucs committed 10 penalties for 80 yards.
Keep in mind, though, Tampa Bay started seven rookies Sunday, some by choice and some because of injuries.
"We like to say it's the non-blink factor,'' Morris said. "All these guys have the ability to go out and contribute.''
The Bucs didn't do much blinking as rookie
Arrelious Benn
caught a touchdown pass for the second straight game and rookie running back
LeGarrette Blount
rushed for 91 yards and a touchdown. All that came a week after the Bucs lost an emotional and physical game to Atlanta in the final minutes.
Pretenders blink after a loss like the one in Atlanta. Contenders do what the Bucs did against the Panthers.
As they've done all season, the Bucs simply relied on second-year quarterback
Josh Freeman
and hoped a few other guys stepped up. Freeman, who seems to get better each week, turned in a nearly flawless performance. He completed 18 of 24 passes for 241 yards, two touchdowns, no interceptions and had a 134.2 passer rating. He also found tight end
Kellen Winslow
in the end zone for the first time this season.
"When we took over this program, [general manager] Mark Dominik and I sat down together and said we know it's a lot easier to win with a quarterback,'' Morris said. "It wasn't a popular decision at the time to go against our defensive town, but it's a lot more fun to win like this with a quarterback. And it's a lot easier to win when you have a quarterback of this caliber that can go out there and get the ball to all these weapons.''
There now is no doubt drafting Freeman last year was the right call. And it sure looks like the Bucs made the right calls in the offseason to set him up with a good, although extremely young, receiving corps. For the first time in franchise history, the Bucs are a team that can win with the quarterback after generations of playing great defense and asking the quarterback to be a game manager.
"I keep saying it, but it is fun to watch,'' Morris said.
Morris was talking about watching the emergence of guys like Freeman, Benn, Blount and rookie receiver
Mike Williams
. He's right. These Buccaneers could be the most exciting offense Tampa Bay has seen since the days when Steve Spurrier was calling the plays for the Bandits of the United States Football League.
It's kind of sad, though, that much of Tampa Bay isn't seeing it in person or live on television. Last year's 3-13 record, the economy and Florida's transient population often are cited as reasons the Bucs haven't had a sellout this season after selling out every previous home game since Raymond James Stadium opened in 1998.
According to the Bucs, Sunday's paid attendance was 44,264, and the game was blacked out on television in the Tampa Bay market. The sudden winning hasn't caused attendance to jump -- yet.
Intentionally or not, the Bucs might have pulled off a marketing coup last week when they announced 2011 ticket prices would either stay the same or drop (depending on the location) and offered a 10-month payment plan.
Gee, Christmas is coming and maybe more than a few stockings will be stuffed with season tickets. Much like it's easier to win with a quarterback, it's easier to sell tickets when you've got a serious playoff contender with lots of upside for the future. Even though the Bucs are probably another offseason away from having the talent to go deep in the playoffs, they should at least get there, if they just do what they're supposed to do.
"We have the skill level to get things done and take care of business,'' Faine said. "It's going to be competitive all the way down to the end.
"And it's definitely going to be a good race.''
October, 25, 2010
10/25/10
10:23
AM ET
Other than the New Orleans Saints getting thumped by the Cleveland Browns, the most disturbing thing I saw Sunday was the numbers on the "crowd'' at Tampa Bay's Raymond James Stadium.

We knew in advance the game with St. Louis wasn't going to be sold out and would be blacked out on local television. But the actual number was shockingly low. The Bucs said they sold 42,020 tickets. According to the Tampa Sports Authority that runs the stadium, the actual
number of people who came through the turnstiles was 36,008
.
Bash the Bucs for a dismal 2009 season all you want. But they're doing their part now. They're winning and they're playing some exciting games. Their staff also ran an aggressive marketing campaign to sell tickets in the offseason.
But that has added up to hugely disappointing numbers. After selling out every game since the stadium's opening in 1998, the Bucs haven't sold out a home game this season.
I know the economy is rough, Florida is full of transplants that still follow the teams in their old hometowns and the St. Louis Rams aren't exactly a big draw. But, when a team is 4-2 and playing in one of the best stadiums in the league, shouldn't it be drawing more than 36,000 people?

NFL SCOREBOARD
Sunday, 12/28
WEEKLY LEADERS