October, 24, 2013
10/24/13
9:40
AM ET
ALLEN PARK, Mich. -- Detroit is headed to London and really, this always seemed like it would make sense. As the league tries to build its presence overseas -- including three games next season -- why wouldn't the NFL try to put a team with a bunch of marketable players in one of those games.
Detroit has the best receiver in the game,
Calvin Johnson
. It has a former No. 1 overall draft pick at quarterback in
Matthew Stafford
, and one of the game's most polarizing players in defensive tackle
Ndamukong Suh
.
Johnson
Plus, when Detroit's offense is playing well, it is one of the more exciting to watch in the league. Also consider the opponent, Atlanta. While the Falcons are struggling this season, they have been a playoff team the past few years. So the NFL is putting a matchup between two explosive offenses in England at a date and time to be determined.
Perhaps the most important thing for Detroit is it doesn't lose a home game in this deal, either. Atlanta is the home team, so the Lions now have a 2014 schedule with eight home games, seven road games and a trip overseas. That isn't a bad deal at all.
"We are excited for the opportunity to play on an international stage against a quality NFC opponent,"
Detroit Lions
president Tom Lewand said in a statement. "It will be a different challenge for our football team; one that we fully embrace.
"The global platform also presents a unique and special opportunity for our fans and business partners to join us in sharing the many positive stories about the city of Detroit, the state of Michigan and the Lions."
While I'm not too sure about all of that, there should be an excitement there. This is a chance for a lot of players to briefly see a different part of the world. Some of them have never been to London, or to Europe.
Last month, I asked a couple of Lions players whether they would play for a London-based franchise. While that didn't really get them excited, the prospect of playing one game over there was intriguing.
"I've never been to London," receiver
Ryan Broyles
said. "It would probably be kind of cool, I wouldn't mind playing over there for a weekend."
Now he could get a chance and earn a paycheck doing it.
October, 17, 2013
10/17/13
8:00
AM ET
SANTA CLARA, Calif. --
McLeod Bethel-Thompson
is on the cusp of making history. It's fitting it will happen in Wembley Stadium, where his family has golden history.
Bethel-Thompson
Bethel-Thompson was a backup quarterback for the
Minnesota Vikings
when they played Pittsburgh in London on Sept. 29. Barring a roster move in the coming days, he will head back to London to become the first player to be on a roster in England twice in the same season.
The 49ers, who claimed the San Francisco native off waivers from Minnesota last week, play Jacksonville at Wembley on Oct. 27.
Bethel-Thompson will be a story for the English media again. Last month, he was popular there because his maternal grandfather, Wilbur "Moose" Thompson won the gold medal in the 1948 Olympics in the shot put at Wembley Stadium.
"I got some interviews for sure," Bethel-Thompson said of his September visit to Wembley. "They love their Olympics over there."
His grandfather is 93 and living in Southern California. He will not attend the game, nor did he when Bethel-Thompson was wearing purple. He does have a cousin teaching in Austria and she went to the Vikings-Steelers game.
"She's hit me up for tickets again," he said with a laugh.
Bethel-Thompson realized he'll be heading back to London shortly after he was claimed by the 49ers on Oct. 9.
"It was cool to be a part of that, the whole process of being in the same stadium as my grandfather," Bethel-Thompson said. "The second thing, it was just a very cool environment. Talk about 98,000 people and they're good fans."
"It's a very different vibe than American stadiums. They're very into it, with flags all over the place. It's a very cool place to play."
The 49ers are staying and practicing at the same place the Vikings did. Bethel-Thompson will be somewhat of a tour guide for his teammates who didn't play in England three years ago, when the 49ers beat Denver at Wembley in the final year of the Mike Singletary era.
"Obviously it'll be interesting to go back and it's kind of unique, but it's not really my focus," Bethel-Thompson said. "My focus is ball."
September, 26, 2013
9/26/13
7:10
PM ET
PITTSBURGH --
Brett Keisel
planned to stop at a Verizon store Thursday on his way to the airport.
The reason: the veteran defensive end wanted to make sure he will be able to use his phone in London.
To-do lists for players like Keisel --and especially for support staff such as the Steelers' trainers were – this week were probably longer than
Troy Polamalu
's hair. And most items better have been crossed off before the Steelers took off for London.
The normalcy that coach Mike Tomlin maintained through the first half of the Steelers' work week takes a 180-degree pivot when the team touches down at Gatwick Airport Friday morning.
After landing, the Steelers will ride a chartered train to a chartered bus that will take them to their London hotel. There they will almost immediately resume preparation for their game against the
Minnesota Vikings
Sunday at Wembley Stadium.
What effect the red-eye flight has on bodies that are highly calibrated -- and need to be highly functioning by 6 p.m. London time on Sunday -- is the biggest unknown with the Steelers desperate to end a three-game losing streak.
"The trip is going to be really tough," Steelers strong safety Polamalu said. "It's going to be unlike anything we've ever experienced. It's not like going from Oakland to New York. It's just not the same."
One advantage the Vikings, who have also opened the season 0-3, would appear to have is they should be adjusted to the time change by Sunday. The Vikings have been in London since Tuesday while Tomlin opted for a late arrival so he could keep the Steelers' routine as normal as possible.
The downside to that is the Steelers will be on 3 a.m. time Friday when they arrive in London at 8 a.m.
"There's nothing you can really do to prepare for jet lag," Steelers safety
Ryan Clark
said. "There's nothing you can really do to prepare for that time change."
Not that the Steelers won't do all they can to minimize he adverse effects on both fronts.
Clark is among a group of players who are paying their own money to fly massage therapists and acupuncturists to London. The Steelers' training staff, meanwhile, put together a list of places in London where players can get such treatment in advance of the game on Sunday.
"A lot of us are get our bodies worked on the day before the game, before the game," said Keisel, who regularly gets massages. "Those are little adjustments you have to make."
Another example of such adjustments could be seen in wide receiver
Antonio Brown
's outfit for the flight to London if you look hard enough.
Brown planned to wear compression socks, which ward off swelling in the calves and prevent cramping after a long flight. He also planned to use IVs provided by the Steelers' training staff to stay properly hydrated.
Dehydration after a long flight and a significant time change is one of the biggest travel concerns that the Steelers have.
Combatting it also produced something of a conundrum to players who wanted to drink enough water on the plane but not too much that they would not be able to sleep because they had to keep going to the bathroom.
"You've got plenty of time to hydrate on Friday," right guard
David DeCastro
said. "Once I got off the plane I'll just spend all day drinking water and Gatorade."
The Steelers won't have time to do much sightseeing and Tomlin has said the trip is strictly business, at least for him.
Clark told ESPN's NFL Live on Wednesday that he does not think the NFL putting a team in London full-time is a good idea -- and that he would retire before playing for it if he had to choose between the two.
But Clark said the change of scenery will probably be good for the Steelers, who are 0-3 for the first time since 2000.
"It gets us away from everyday hearing about what's going on," Clark said. "We can spend some time together, get some of that camaraderie and fellowship that you kind of lose when offense goes into meetings and defense goes into meetings.
"It gives us an opportunity to just play football, try win a game and that what's been our focus this week. And I think the way coach Tomlin's handled it has really helped us."
August, 20, 2012
8/20/12
8:36
PM ET
With the Rams bowing out of an opportunity to play multiple games in London, it's no surprise the Jaguars are stepping in.

The team will announce tomorrow its intention to try to become London's home team by playing one home game there
in four consecutive seasons
starting in 2013.
Growing the fan base of the league's least popular team seems a smart idea, and I hardly think it means the Jaguars would be destined to land completely and permanently in London.
After all, there are a few requirements for that sort of move. League owners have to be willing to endure what an overseas team would mean to the league's operational logistics. And London has to show it would respond favorably to a full slate of American football games.
I don't think either is a guarantee.
In the meantime, I don't think owner Shad Khan will have such a hard time selling his team's American fan base on this idea.
I'd start by telling fans this: A season ticket package is expensive. It just got smaller and less expensive for the next four seasons. Instead of a 10-game slate, you get nine. (Sorry we can't fix the preseason rip-off part, that predated our ownership.) Nine is cheaper than 10. You can live without one. And that one is going to help us in the revenue department in a way that should make us a more stable franchise, assuring you at least nine.
August, 13, 2012
8/13/12
10:05
PM ET
The timing was wrong for the
St. Louis Rams
to make a three-year commitment for games in London.

The team acknowledged it Monday by canceling games scheduled there in 2013 and 2014.
This was
a good move
for the team on the field, in my view. It was also helpful in countering perceptions that the Rams, currently mired in a stadium arbitration process, had one eye on the horizon and a foot out the door.
Saying the team was committed to St. Louis was tougher when the team was agreeing to play games on another continent for the next three years, a period matching up nicely with the potential expiration of the Rams' current stadium lease.
As Rams chief operating officer Kevin Demoff told reporters in St. Louis on Monday:
"We certainly understood there would be backlash (in scheduling London games). That has never been something we've shied away from and our job is to do what's best for the organization moving forward, even if it's not always perfectly understood by fans.

"The message we want to send, since January, we have hired Jeff Fisher, we have gone out and gotten a very experienced coaching staff, we spent $100 million in free agency, we made a bold draft trade to help set along the future of this franchise, we've grown our television network 12 affiliates, nine states -- the largest span of affiliates in the NFL.

"Everything we've done is to demonstrate that we're committed to getting this right on and off the field in St. Louis. Continuing to work in the community, building another playground, going to Joplin, the focus has been on St. Louis. I think this confused the message, it confused the brand, and because of that we took a step back now and said, 'The timing's not right.' It may be right in the future; it's not right right now."
Demoff said he expects the stadium arbitration process to begin during the 2012 season. The process will include an arbiter making a proposal for upgrades to the Edward Jones Dome. The proposal would become binding for the Rams if the local stadium authority accepted it. Otherwise, the Rams' lease, currently scheduled to run to 2025, would become year-to-year in March 2015.
According to Demoff, the Rams might have stayed the course on their London plans if they had made more headway in trying to upgrade the Edward Jones Dome. Arbitration is extending the process.
The team's 2012 game against New England, set for Oct. 28, will proceed in London as planned.
January, 13, 2010
1/13/10
11:24
AM ET
Gene Frenette asked an excellent question about Wayne Weaver's press conference Tuesday:
Where was
coach Jack Del Rio?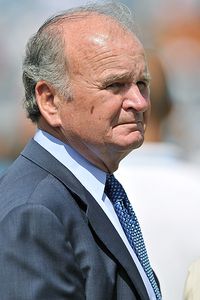 Fernando Medina/US PresswireJaguars owner Wayne Weaver described the team's recent body of work as "average."
It seemed natural that at a state-of-the-team address on a day in which it was established that Del Rio would remain in place, an appearance by the coach to say he's pleased to be around and to touch on the USC stuff once, officially, would have been prudent.
Accountability was perhaps Weaver's biggest theme, and in that light the press conference included this exchange:
In talking about accountability, do you think you could get Jack to come out here and talk to us?
Wayne Weaver
: I think right now Jack, he had his day planned. He's really in some deep meetings with his staff. You'll have a chance to get with him.
Do you think it's important that he repairs his image publicly?
WW
: I think Jack will be in front of you as he always is and he'll answer any of your questions, but I think right now with what he's got on his plate, on his agenda today … Personally I didn't feel like it was a press conference for Jack and I to sit together, (singing) Kumbaya.
And later:
Don't you think the fans would like to hear Jack say he's here and he's committed?
WW
: That's what he will say when he gets in front of you.
I think Del Rio could have altered his schedule pretty easily to make an appearance, and since he didn't, he needs to be very visible, just once, very soon.
After reviewing the transcript of Weaver provided by the team, I thought it sounded like general manager Gene Smith is almost under more pressure than Del Rio.
Weaver ran through the failures of the team and said any blame should be pointed first at him, but clearly it was also another indictment of former personnel chief James "Shack" Harris.
"We've had some good seasons but if you look at the body of work we've been average," he said. "And I think you have to go deeper than that and much of that responsibility belongs right on this guy's shoulders, is that when you look at missing first-round draft choices in multiple years, it hurt this football team; it set us back.
"Had we hit on two or three of those draft choices, we'd be a different football team than we are today. So I have to accept responsibility for that along with Jack and Gene Smith, but I have to tell you sitting here today I feel good about my meeting this morning. I feel good that Jack and I are on the same page, I feel good that the team of Gene Smith and Jack Del Rio is going to take this franchise to an elite level. I'm energized with what I saw in our last draft and the way our young players played. We've got a core of veterans and young players here that we can build around. I think (with) another meaningful draft in 2010 that my expectation is this team will compete for the playoffs next year. "
Smith had a great first draft and there is no reason to expect he won't do as well in 2010. But drafting isn't an exact science. Harris resigned in December 2008, Smith was put in place and has gotten good reviews.
It's Del Rio's 58-57 record which started that conversation about being average, and he's been the constant in the power mix.
Weaver suggested accountability and personnel are the two big issues.
It will be interesting to see how Del Rio's able to make any changes in the team's culture on the first issue, while he chimes in to help Smith on the second.
October, 21, 2008
10/21/08
2:39
PM ET
Posted by ESPN.com's Pat Yasinskas
WATFORD, England -- Just got a very interesting e-mail from Paul Carr, Jeremy Lundblad and Dennis Renno of ESPN's production research team. They did a great job compiling stats on how teams have fared when having to make major changes in time zones.
Three-hour time difference moving west to east in 2008
Week 1: SEA loses at BUF, 34-10
Week 3: OAK loses at BUF, 24-23
Week 3: ARI loses at WSH, 24-17
Week 4: ARI loses at NYJ, 56-35
Week 5: SD loses at MIA, 17-10
Week 5: SEA loses at NYG, 44-6
Week 7: SEA loses at TB, 20-10
Week 7: SF loses at NYG, 29-17
Week 7: SD loses at BUF, 23-14
Totals: 0-9, 15.8 PPG, 30.1 opp. PPG
Three-hour time difference moving east to west in 2008
Week 1: CAR wins at SD, 26-24
Week 2: MIA loses at ARI, 31-10
Week 3: DET loses at SF, 26-24
Week 3: NYJ loses at SD, 48-29
Week 5: BUF loses at ARI, 41-17
Week 5: NE wins at SF, 30-21
Week 6: PHI wins at SF, 40-26
Week 6: NE loses at SD, 30-10
Week 7: NYJ loses at OAK, 16-13 (OT)
Totals: 3-6, 20.9 PPG, 29.9 opp. PPG
Their research is based on three-hour differences in time zones. With the Saints and Chargers playing in London on Sunday and practicing here all week, this is very interesting. Obviously, the time difference is far greater for this game, but the three-hour distance is the only thing we've got that's close to a reasonable comparison.
For the record, London is five hours ahead of Eastern Time. That means the Saints are six hours ahead of New Orleans time and the Chargers are eight hours ahead of San Diego time. Also, there will be a switch in time in London (they're moving back an hour, just like "falling back'' in the U.S.).
Anyway, here's the stuff from the research guys:
It has been all the buzz this year to talk about the difficulty of traveling in the NFL and players falling out of their normal "time-body" routines.
Taking a look at the games, there is certainly an issue when teams have to make a 3-hour time difference road trip to play a game.

NOTES: For those of you who might track NFL totals, the average total points thus far in the 2008 NFL season is 44.6 PPG. In games where East Coast teams travel to the West, those games are averaging 50.7 PPG, an increase of 13.7 percent from the league average. When you include all of the games that include a 3-hour time differential, the total is 48.1, an increase of 7.8 percent from the league average.
NFL SCOREBOARD
Sunday, 2/2
WEEKLY LEADERS