NFL Nation:

Lonyae Miller
September, 3, 2011
9/03/11
6:58
PM ET
Click
here
for a complete list of the
Dallas Cowboys
' roster moves.

Biggest surprise:
I guess that they released four fullbacks, including
Chris Gronkowski
, meaning they kept none. They're obviously deep at tailback with
Felix Jones
,
Tashard Choice
,
DeMarco Murray
and
Phillip Tanner
and at tight end as well, so they either didn't see the need to use a fullback this season or are content with the idea of picking one off the scrap heap within the next couple of weeks. Other than that, I didn't find any of the cuts especially surprising.
Igor Olshansky
started 28 of their 32 games the past two seasons, so he's the biggest name among the cuts. But we'd seen this one coming for a while. It was clear that new defensive coordinator Rob Ryan preferred
Kenyon Coleman
at defensive end, and that the Cowboys weren't going to be afraid to cut ties with established veterans.
No-brainers:
Kickers
Shayne Graham
and
Dave Rayner
had their chances to win jobs but couldn't, so they're gone and the Cowboys will go with
David Buehler
for kickoffs and
Dan Bailey
for field goals.
Lonyae Miller
showed promise early but was passed by Tanner for the lone spot in the crowded running back field.
Akwasi Owusu-Ansah
clearly wasn't panning out at safety in spite of being the team's fourth-round draft pick in 2010.
What's next:
With only five wide receivers on the roster, the Cowboys could theoretically hunt around for veteran help there. But they believe the receiving ability of their tight ends and running backs minimizes the importance of adding there. They will surely continue looking for a kicker, because
they're obviously not satisfied with what they have, and they may be on the lookout for added depth in the secondary. They kept 10 offensive linemen, but that doesn't mean it's impossible to see them bringing someone in from the outside if they can find a reliable veteran backup for some of their young starters.
August, 21, 2011
8/21/11
11:15
PM ET
Thoughts from the Cowboys' 20-7 preseason loss to the visiting Chargers.
Defense is what matters for the
Dallas Cowboys
. Defense is what killed them in 2010, and defense will determine whether or not they can rebound and return to playoff contention in 2011. And so, when you tune in to watch a Cowboys preseason game, you're going to watch the defense. And it is, as we mentioned in
Camp Confidential
, a work in progress.

New defensive coordinator Rob Ryan's defense is based on multiple and varied looks. It's intended to confuse the opposing offense, but before it can do that, the players playing the defense must learn the scheme and develop trust and confidence in it. Since the lockout eliminated OTAs and minicamps, the Cowboys couldn't start practicing their roles in Ryan's new scheme until a couple of weeks ago, and the lack of experience in the new system has shown in both of their preseason games so far.
The best example was
Randy McMichael
's touchdown catch from Chargers quarterback
Philip Rivers
. The Cowboys' pass rush had Rivers cold and he looked as though he was about to throw the ball away. But because cornerback
Alan Ball
and safety
Gerald Sensabaugh
had both gone after the same receiver, McMichael was wide open. Rivers saw him and found him for the touchdown, and Ryan had something to say to Sensabaugh when he came off the field.
There were good things that happened, too.
Barry Church
had an excellent game, knocking down a touchdown pass in the first half and making a great open-field tackle in the third quarter. And Ryan lined top linebacker
DeMarcus Ware
in several different spots -- left side, right side, dropped him into pass coverage. As a coordinator, Ryan's never had a player as good as Ware, and he's going to have more and more fun with him as everybody gets comfortable in the new system and he can keep moving Ware (and others) all over the field into unexpected spots.
But the question is how soon that will be. Can this Cowboys team learn and become comfortable in this new system in just two more preseason games and three more weeks of practice? There are still communication issues in the secondary, and injured starting cornerbacks
Mike Jenkins
and
Terence Newman
haven't even played yet, so there's no way to even know if they'll be good enough to allow Ryan to do what he wants to do up front. Long way to go before the Cowboys' defense looks like a cohesive unit, and they don't have a lot of time.
Here are some other things I saw in the loss to San Diego:
1. The first-team offensive line looked good.
Especially rookie right tackle
Tyron Smith
, who is big and strong and athletic and just looks like a nightmare to try and get past. They've been working with Smith on his footwork, specifically the alignment of his left foot, and it's a matter of him getting comfortable with the new foot position and trusting it. He looked better and protecting the outside Sunday night than he had in the first game. Fellow rookie
Bill Nagy
got the start at left guard and handled himself well, but he gets overpowered by stronger defensive linemen, as rookie
David Arkin
did a bit last week. If everyone's healthy (including starting center
Andre Gurode
), I still think either
Montrae Holland
or
Phil Costa
starts at left guard three weeks from now in New York. But Nagy and Arkin will still get opportunities in the meantime to show what they can do, and there are plenty of reasons to like both -- for the near future, if not immediately. You can always build strength.
2. I don't have anything, really, to say on Tony Romo.
Yes, his interception was terrible -- terrible decision, terrible throw, terrible all the way around. But from the Twitter reaction you'd have thought it was his 700th consecutive pass attempt that resulted in an interception. His touchdown pass was a very good throw, and while it seems clear that those who don't like Romo will always be looking for reasons to point and shout, "See? Told ya!", he has offered no reason to worry and remains very low on the Cowboys' list of concerns.
3. Lonyae Miller and Phillip Tanner.
With
Tashard Choice
and
DeMarco Murray
injured, the younger running backs on the Cowboys roster have had a chance to show their stuff. Miller looked good early, and the block he threw against the blitz early in the third quarter will show up on his personal highlight film. But his fumble will not, and fumbles can kill a fringe guy's chances of making the team. Tanner struggled in pass protection last week, but he looks like a better runner than Miller does. I don't think any defenders let up on the play after he lost his helmet on the touchdown that got called back, so on tape that's going to show up as a tough touchdown run. Difficult call, if it comes down to two of these guys for one spot, or if they're looking to see whether or not one can unseat Choice.
4. Oh, and the starting running back.
Felix Jones
, for the second week in a row... wow. Fast, tough and resilient. Guy is moving up those fantasy draft boards, I guarantee. He's running like he means it. His teammates like the spark he brings. He's seeing the field and his lanes from the backfield, and he's working for extra yards against a very good defense in a game that doesn't count. Everything you'd want to see out of Jones when presented with a chance to be the every-down guy, he's showing. My only concern? He's taking a lot of hits, and hasn't exactly shown himself to be Mr. Durable in the past. If he can hold up, he's got a chance to bring something special.
5. The No. 3 receiver issue.
If it's
Kevin Ogletree
's job to lose, he didn't do anything to lose it Sunday. He looked very speedy and very determined, and we didn't see any of the
Dwayne Harris
magic we saw last year.
Manuel Johnson
was the down-the-roster receiver who made the strongest second-half impression with
Stephen McGee
under center. Which is probably another reason for Ogletree to feel good about things.
6. No blood in the kicking battle
. Neither
Dan Bailey
nor
David Buehler
got a field goal attempt, and I'm not sure I get why neither got one in the final minute. Is it more important right now for the Cowboys to see these guys kick or see if their third-team offense can get in on fourth-and-goal? I guess you could say a 20-yard field goal would be a poor indicator anyway, but still. Why not put one of the kickers in a real game situation if you can?
7. Finally, I'm a little bit surprised by the choice of James Spader for "The Office."
My hope is that it allows the very funny people that populate the rest of the cast to shine now that they don't all have to orbit Steve Carell.
December, 7, 2010
12/07/10
3:00
PM ET
By
Matt Mosley
| ESPN.com
»
NFC High Energy
:
East
|
West
|
North
|
South
»
AFC
:
East
|
West
|
North
|
South
A look at a player who gave his team a significant boost in Week 13.
[+] Enlarge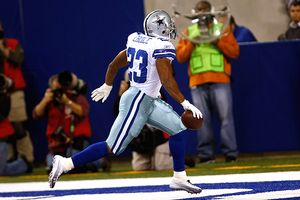 Scott Boehm/Getty ImagesTashard Choice made a case that he's the best running back on the Cowboys' roster.
Perhaps we'll never know why it took so long for the
Dallas Cowboys
to give
Tashard Choice
some significant playing time this season. You'd think all those 2-yard carries for
Marion Barber
might have done the trick, but interim coach Jason Garrett was firm in saying last week that Choice was the team's third tailback.
Choice forced Garrett to eat those words when he finished with 100 yards on 19 carries in the
Cowboys' 38-35 overtime win
over the
Indianapolis Colts
. And I don't think Garrett minded one bit that Choice made the coaches look bad with his performance Sunday. Owner Jerry Jones said last week that Choice wasn't doing enough on special teams. But if he's the first or second back on this team, someone like
Lonyae Miller
can pick up those special-teams duties.
"I think if you go back and look at Tashard, how he's played when he's gotten opportunities, he's played fairly well," said Garrett. "So seeing him make the runs, both inside and outside, that's stuff that we've seen from him before. He's a good football player. There's no question about that."
I think Choice may be the Cowboys' most complete running back at this point. And with his performance in Week 13, he pretty much assured everyone that Barber won't be back in 2011.
December, 7, 2010
12/07/10
1:00
PM ET
By
Matt Mosley
| ESPN.com
»
NFC Decisive Moments
:
East
|
West
|
North
|
South
»
AFC
:
East
|
West
|
North
|
South
The
Dallas Cowboys
signed former Fresno State backup tailback
Lonyae Miller
to an undrafted free-agent contract last April. And on Friday, they called him up from the practice squad as insurance with
Marion Barber
out with an injury.

With 21 seconds remaining in regulation, Miller made perhaps the most important play of the game against the Colts.
Bryan McCann
had the ball poked away from him during a kickoff return and Miller, playing on special teams for the first time this season, made the recovery. The Cowboys probably wouldn't have won the game in overtime if not for Miller's hustle on the play.
"I can't think of a more significant play in the game, to be honest with you," Garrett said. "When you go about it the right way and you're hustling to the football and the ball comes out [and] you're able to get in there and make a play like that, it's a game-changer. I think our team understands that. Lonyae got his first opportunity to be an active player this past week and he took advantage of it."
Miller will accept his decisive moment ribbon Wednesday at Valley Ranch.
August, 22, 2010
8/22/10
1:47
PM ET
By
Matt Mosley
| ESPN.com
I thought the most significant thing to come out of Saturday's preseason game was the debut of Cowboys rookie linebacker
Sean Lee
in Dallas'
16-14 victory
against San Diego. The second-round pick made back to back plays in the fourth quarter to shut down the Chargers' short-yardage running game. I wondered how he'd react to game speed, but it didn't seem to faze him. Watching him fight off a lead blocker and then tackle the tailback on his own was the most impressive play of the evening.
Now, let's look at some of other aspects of the Cowboys' win:
Nice job by cornerback Terence Newman bouncing back from getting burned to undercut a route and intercept Philip Rivers in the first quarter. This defense looks a lot more opportunistic after three preseason games.
The Cowboys better hope Ryan Mathews is the second coming of LaDainian Tomlinson, because he made them look bad at times Saturday night. The Chargers were able to run down hill with all three of their main backs. Wade Phillips' defense will have to work on tackling this week, because it kept bouncing off Chargers running backs. I've been a fan of Mike Tolbert's ever since he came out of Coastal Carolina. Impossible to bring him down if you go high, and Orlando Scandrick learned that lesson the hard way.
I didn't like the looks of Gerald Sensabaugh's left shoulder injury. Keith Brooking injured his right shoulder and said it was a "mild AC strain." Neither injury is serious, but don't be shocked if they sit out the final two preseason games.
I know that Tony Romo had linebacker Stephen Cooper closing in on him, but you can't throw that pass into the middle of the field. You'd rather see Romo take the sack in that situation, and he admitted that after the game. It wasn't a great night for Romo and the offense, but the red-zone touchdown pass to Miles Austin was a thing of beauty. Romo throws that back-shoulder fade as well as any quarterback in the league right now.
Norv Turner burned the Cowboys with those little slip screens to Darren Sproles. He used the Cowboys' speed against them by letting DeMarcus Ware and Anthony Spencer come free before dumping the ball over their heads. Not even Brooking could make a play in the open field as Sproles raced for daylight.
Marion Barber and Felix Jones aren't doing much in the preseason games. Jones needs to turn some of those runs upfield quicker instead of gliding down the line of scrimmage, hoping to find a seam.
Rookie free-agent safety Danny McCray has become a special teams phenom. I saw him make at least three tackles in coverage. He's already among the Cowboys' top two or three special-teams players, and he's not finished climbing.
It's fun watching left tackle Doug Free get out in space on screen passes. He flattened a defender to lead the way for Barber's 8-yard reception.
Let's give offensive tackle Robert Brewster his due. He certainly had some help at right tackle when Romo was on the field, but I thought he played pretty well. And when he moved over to the left side, Brewster did a nice job of anchoring and giving Jon Kitna a clean pocket. Backup center Phil Costa also receives kudos for some excellent work. He does a nice job on those middle screens. He's been the under-the-radar star of the offensive line in this camp. Mark that down somewhere.
Spencer is pretty much impossible to block right now. He had one sack wiped out because of defensive holding, but he was constantly in the face of Rivers or Billy Volek. He's poised to have a huge season.
During my time in Oxnard, Calif., last week, I kept telling you guys that Martellus Bennett could be a threat in the red zone. Well, Kitna realized that Saturday night. Bennett was a nice third-down option for both Romo and Kitna. He's an enormous target who is too big for safeties to cover and too fast for linebackers. That might have been the best all-around game I've seen him play in a Cowboys uniform. Let's see if he can take it to the regular season.
Linebacker Leon Williams didn't help himself by missing a tackle in the backfield on Tolbert. And fellow linebacker Victor Butler helped himself big time with a strip sack in the second half that led to the game-winning safety. Butler has had an excellent camp.
Cornerback Cletis Gordon's the biggest surprise from this camp. The former Charger snagged an interception with his right hand while running step for step with a wide receiver in the second half. If you count practice, I think he has at least 14 interceptions this preseason.
I like how rookie running back Lonyae Miller runs the ball. He played better than Herb Donaldson on Saturday. I'd try to get Miller on the practice squad. I'm sure he wanted to show off for his former Fresno State teammate Mathews.
August, 9, 2010
8/09/10
1:53
AM ET
By
Matt Mosley
| ESPN.com
This was a Hall of Fame Game in name only. It wasn't pretty to watch either offense, but the Cowboys have reason feel good about their defense, which provided their only touchdown. Tight end
John Phillips
had an excellent evening, but it was cut short by what appears
to be a serious knee injury
. With
Martellus Bennett
's inconsistency last season, the Cowboys were counting on Phillips to play a significant role in the offense. The way his knee completely gave out as he started his route was not a good sign. Now, let's talk about what stood out to me in the Cowboys'
16-7 win
over the Bengals.
I know it was only one series, but left tackle Doug Free was outstanding in protecting Tony Romo. Antwan Odom's a pretty solid pass-rusher, but Free controlled him throughout the series. Even when he got knocked off balance on one play, he stayed in front of Odom. Before he got hurt, second-team left tackle Alex Barron did not impress me at all. The Cowboys' backup linemen made Geno Atkins look like he belonged in Canton, Ohio, on a permanent basis. And Michael Johnson also gave the Cowboys' blockers fits. John Phillips was the only player who consistently stayed with his blocks throughout the first half.
When I saw that Ron Winter was running the show, I knew we were in for a long evening. I know it wasn't his usual officiating crew, but he made sure they called everything. They hit Andre Gurode for a holding penalty on the Cowboys' first drive.
That was pretty entertaining to watch Miles Austin and Patrick Crayton match up with Adam Jones. The cornerback held his own for the most part, but Crayton and Romo fooled him on an excellent back-shoulder pass. Just exquisite timing -- especially since it's so early in camp.
Romo connected with Roy Williams on a crossing route during that first drive. The ball was a little behind Williams and it was high, but he snagged it anyway. That's a really good sign for Williams. I thought he and Austin made the most of their limited opportunities. Jason Garrett made it a point to get Williams involved quite a bit.
Felix Jones got bailed out by an offside call when the Cowboys were inside the Bengals' 10-yard line. He has to secure the ball in that situation.
[+] Enlarge

AP Photo/Ron SchwaneBrandon Sharpe of Dallas scored the Cowboys' only touchdown, returning an interception 6 yards against the Bengals.

Through one preseason game, it doesn't look like the Cowboys have solved those red-zone issues. It was only one opportunity, but there was no reason to get bogged down inside the 5-yard line.
David Buehler made his short field-goal attempts, but he missed a 49-yarder by about 20 yards to the left. It was a gigantic hook, and that's something that has to concern Wade Phillips. You can handle a miss from 49 yards, but it's concerning when the ball's not even close. I Thought I was watching more "highlights" of Tiger at the World Golf Challenge.
I loved how defensive end Stephen Bowen played Sunday night. He was an absolute beast from the right side. He forced a poor throw from Carson Palmer by collapsing the pocket in the first quarter. The Cowboys will be just fine if Marcus Spears isn't able to make it back for the first game. Jason Hatcher and Bowen both played well against the Bengals.
What an awful deal for John Phillips. He was the Cowboys' best offensive player in the first half and he hurt his knee in a non-contact situation. I seriously think he was ready to surpass Bennett. He can line up in the backfield as the lead blocker and he can make nice catches downfield. He was on his way to being the best blocking tight end on the team. I really believe that. Tough, tough injury for a guy who was having an excellent camp.
Kevin Ogletree caught everything thrown his way, but he has to know where he is on the field. On his first catch, he sort of staggered forward and lost the first down. It was an awkward play from a normally smooth player.
Tashard Choice showed some nice acceleration on that 21-yard run around the right side. You have to find a way to get him more involved in the offense. He's too good to only have two or three carries per game.
Herb Donaldson, it was nice knowing you. You can't fumble on your first carry of the evening. Gibril Wilson made a nice play to poke it out of there, but Donaldson did not secure the ball properly.
I thought Cris Collinsworth made a really nice assessment of Bowen when he compared him to Jim Jeffcoat. He's obviously not there yet, but he sort of moves like Jeffcoat. He doesn't look very fast, but he always seems to be causing trouble in the backfield. Really good night for him.
I'm not sure what happened to third-string quarterback Stephen McGee. He looked confident early in completing his first five passes. But as the night went on, he became more and more tentative. You're going to get sacked if you hold it that long. He reminded me of Drew Henson tonight because he just took too long to process things. McGee has good athleticism and an excellent arm, but you need to unload the ball. Otherwise, a guy named Michael Johnson suddenly looks like an All-Pro linebacker. Mike Zimmer appears to be onto something with that guy.
It was a good night for former Texas Tech players. Jamar Wall did an excellent job in coverage. On one particular play, Chad Ochocinco could not shake Wall. And linebackers Brandon Williams and Brandon Sharpe both had big interceptions. Williams had a nice return that should've set up a touchdown. Sharpe picked off a Jordan Palmer pass and returned it for a touchdown in the fourth quarter. Sort of fun to see Tony Romo cut off an interview with NBC to celebrate the touchdown with a loud, "Yes!" And if I'm Carson Palmer, I'm in there tomorrow morning begging the coaches not to cut my little brother. For goodness sakes, Jordan Palmer looked nothing like an NFL quarterback. He held the ball too long, and then he made backbreaking decisions.
Sorry, but Robert Brewster looked like a bust on this evening. The former Ball State offensive tackle was taken in the third round in '09. He promptly tore a pectoral muscle while lifting weights. On Sunday, he had no chance against the Bengals backup defensive ends and linebackers. He wasn't strong enough to anchor his body and he just got bullied the whole time he was in there. I was not impressed with anything about his performance.
Brian McCann's back there trying to make a play on a punt return and Brandon Ghee just nails him. I know they said Ghee was blocked into McCann, but I thought the play could've been avoided. You hate to see a defenseless player take a shot in the chest like that.
I thought Danny McCray had a nice outing. He had the interception, but he also was very active on special teams. The Cowboys wanted more turnovers this season, and on Sunday, they caused four. Jason Hatcher applied the pressure that led to McCray's interception. Did I mention how poorly the Bengals' backup quarterbacks played?
Wall had a solid game, but he got burned going for an interception on a pass to Matt Jones.
The Cowboys' young linebackers were incredibly active. Insider backer Jason Williams flattened one of the Bengals' running backs and Brandon Williams was flying all over the field. Also strong showings by Victor Butler and Steve Octavien. It looks like the Cowboys have a ton of depth at linebacker based on what we saw Sunday night. And rookie Sean Lee didn't even play because of a quadriceps injury that has slowed him early in camp.
Great special teams play by former Oklahoma standout Manuel Johnson to help the Cowboys down a Mat McBriar punt at the 1-yard line.
I liked how Marcus Dixon played in the second half. He was very active and he always seemed to be in the right place. If Jordan Palmer's going to hold the ball, Butler and Dixon are going to get to him. For a first preseason game, the defense was very impressive.
I thought Marion Barber looked quick early in the game. And he brought a ton of energy to the offense. I think the Cowboys will try to do a better job of keeping him fresh for the fourth quarter this season.
Former University of Texas star Jordan Shipley burned the Cowboys for a 64-yard punt return. Apparently Carson Palmer has been raving about Shipley. Shipley and Wall have faced each other several times in Big 12 play. Shipley certainly got the best of Wall with a nice move in the open field. And McBriar's one of the best punters in the league, but open-field tackling's not his strength.
It's probably time to end the Pat McQuistan era in Dallas. He's just not quick enough to hold off defensive tackles. And if you run a stunt against him, he's in big trouble.
Rookie running back Lonyae Miller out of Fresno State had his moments. He'll be a good practice squad candidate.
Overall, not a bad first outing. The Phillips injury is tough blow.
June, 3, 2010
6/03/10
2:55
PM ET
By
Matt Mosley
| ESPN.com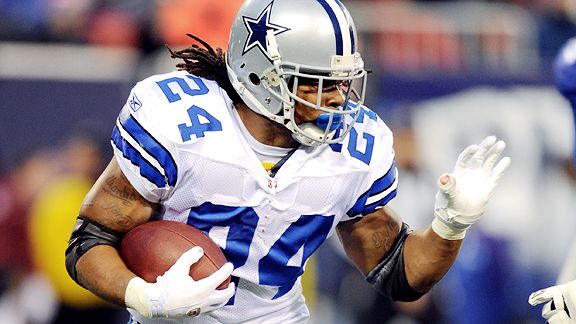 Rich Kane/Icon SMIThe Cowboys hope a trimmed down Marion Barber will be able to return to his 2007 form.
ARLINGTON, Texas -- I've put in a request to the league asking for
less
access to Cowboys owner Jerry Jones. By my count, we've heard from him three times in the past two weeks -- and he's delivered wildly different messages each time.
From what I can tell,
Felix Jones
pretty much became the starting running back in March, lost the job to the svelte
Marion Barber
during last month's one-day owners meeting and then regained it after a remarkable showing in OTAs on Wednesday. If you're in the market for good sound bites and awkwardly long eye contact, Jerry's your guy. If it's clarity you're seeking, I'd probably point you in a different direction.
A week after strongly indicating the Cowboys would likely stick with the rotation of Barber/Felix Jones/
Tashard Choice
, the Cowboys' master of suspense said Wednesday that "nothing's set in stone" and that he looked forward to a lively competition in training camp. Things really took an interesting turn when he suggested that undrafted rookie
Lonyae Miller
of Fresno State would also be in the thick of things. Miller averaged 5.6 yards per carry and had 20 touchdowns in college, but he was overshadowed by first-round pick
Ryan Mathews
.
But the most compelling storyline at OTAs this side of
Dez Bryant
is Barber's new look. The man who was nicknamed "the Barbarian" for his punishing style has lost at least 10 pounds and I've actually seen him sidestep defenders in practice. As most of you know, Barber cashed in on a superb '07 season with a lucrative long-term contract and the starting job. And he hasn't been the same since.
April, 26, 2010
4/26/10
7:41
PM ET
By
Matt Mosley
| ESPN.com
The good people at Scouts Inc.
released their list of the top-10 undrafted players
Sunday. You have to spend a dime or two to read the whole thing, but I'll tell you that new Cowboys quarterback
Matt Nichols
of Eastern Washington showed up at No. 10.
"He has the tools and mental aptitude to become a serviceable reserve with proper coaching and development," said Scouts Inc. of Nichols.
I've spent a portion of the day asking scouts about some of the undrafted players. It looks like the Chargers landed a couple of the top undrafted players with Troy defensive end
Brandon Lang
and Fresno State wide receiver
Seyi Ajirotutu
. I also had two different AFC scouts tell me that Fresno State running back
Lonyae Miller
was an excellent pickup by the
Dallas Cowboys
.
Miller backed up
Ryan Mathews
(12th overall to Chargers) last season
but he impressed scouts
at the Senior Bowl with nine carries for 44 yards. I'm told that Miller has a good chance of making the practice squad and that he has the potential to be a contributor down the road.
NFL SCOREBOARD
Sunday, 2/2
WEEKLY LEADERS