March, 21, 2013
3/21/13
3:00
PM ET
Phil Dawson
was a class act during his 14 years as the
Cleveland Browns
' kicker and he stayed that way as he left for the
San Francisco 49ers
. In a conference call that he requested to do with Cleveland-area media, Dawson chose not to stir up any trouble even though he probably could have done so.
Dawson
When asked if the Browns had made a contract offer to him, Dawson sidestepped the question by saying, "I appreciate the interest in that, but I'm 100 percent moving forward, and that's just how I'm going to roll with this."
This is what we know: Dawson signed a one-year deal with the 49ers worth $2.25 million, which includes a $1 million signing bonus. So, here are the likely scenarios: either the Browns didn't make him an offer or they severely low-balled the most productive player of the expansion era Browns. Either way, the Browns wouldn't look good if Dawson confirmed that to reporters and fans.
The old regime paid Dawson $3.81 million last season with the franchise tag, but the new regime led by chief executive officer Joe Banner never seemed interested in keeping Dawson. There's always a chance Dawson wouldn't return for any Browns offer because he knew he had a better shot at winning a Super Bowl with San Francisco. But I just can't see that being the case after listening to Dawson say he
wanted to finish his career
with the Browns just nine months ago. He even acknowledged his goal was to become the Browns' all-time leader scorer back when he was competing for the kicking job in 1999.
Dawson declined to address what would have happened if the Browns had matched the 49ers' offer. "If worms had guns, birds wouldn't eat 'em," Dawson said. "Once it became apparent San Francisco was legit, I got excited."
Dawson said he leaves with no regrets, even though he did come up 78 points shy of surpassing Lou Groza as the franchise's all-time leading scorer.
"He is Mr. Cleveland Brown," Dawson said of Groza. "It only seems right that he's going to be the all-time leading scorer there."
June, 5, 2012
6/05/12
6:19
PM ET
BEREA, Ohio --
Phil Dawson
spent his entire offseason away from the
Cleveland Browns
after being given the franchise tag for a second straight year.
Dawson
So, it came as a surprise when the kicker said he wants to end his career with the Browns.
"You know what, I'd like to. I really would," Dawson said after the first day of mandatory minicamp. "I'm not thinking about my career being over at this point, but it just doesn't make a whole lot of sense to go play somewhere else. So, we'll see what happens. I've told you guys before I'm not very good at predicting the future, but I'm just going to go to work like I always do and hope that things get worked out."
Dawson, 37, had previously expressed a desire to play closer to his family in Texas. But he seems committed to finishing up with the Browns.
When asked about if he thought about Lou Groza's all-time franchise points record, Dawson blurted out it would take two and a half years before the reporter was done asking the question. Dawson is 194 points behind Groza.
"
That was a goal I set in 1999 when
Danny Kight
and
Chris Boniol
were out here competing against me in training camp," Dawson said. "If I would had admitted back then that, that was one of my goals you guys would have laughed me out of town and I wouldn't have blamed you. So a lot of work, a lot of years and a lot of effort has taken place since then. To even be remotely on the horizon close to that is a pretty neat thing."
October, 17, 2010
10/17/10
2:27
PM ET
PITTSBURGH -- Two AFC North quarterbacks are making their 2010 debuts Sunday as the Steelers host the
Cleveland Browns
. Pittsburgh quarterback
Ben Roethlisberger
is coming off a four-game suspension and Cleveland rookie
Colt McCoy
is playing his first NFL game.


Here are some notes at intermission as the Steelers lead,
7-3
:
June, 23, 2010
6/23/10
12:30
PM ET
Notable players:
RB Jim Brown, WR Paul Warfield, K Lou Groza, G Gene Hickerson, RB Leroy Kelly, QB Frank Ryan, LB Jim Houston.
Analysis:
Jim Brown and Paul Warfield in the same offense.
Does any more need to be said?
[+] Enlarge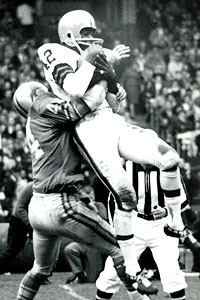 Malcolm Emmons/ US PresswirePaul Warfield averaged 17.7 yards per catch during his rookie season in 1964.
Often you hear Cleveland fans longing for the glory days, and this group led by Brown and Warfield -- perhaps the two best to play their respective positions -- tops the list.
This team was ahead of its time. Cleveland, which finished 10-3-1 in 1964, scored more than 400 points in an era when that was extremely difficult. For perspective, only eight teams scored more than 400 points in 2009 with two more regular-season games (16) and numerous advancements in the NFL game.
Brown, 28 and in his prime, rushed for 1,446 yards and averaged 5.2 yards per carry. He averaged more than 100 yards rushing per game. Warfield, then a 22-year-old rookie, had 920 receiving yards and nine touchdowns, as he was a key figure who helped revolutionize the vertical passing game. He averaged 17.7 yards per catch in '64, a stat that would still be impressive today.
To further prove Cleveland's dominance, they won the NFL Championship, 27-0, over the Baltimore Colts. The high-powered offense with Brown, Warfield and Ryan (25 touchdown passes) at quarterback was too advanced. Cleveland scored 30 points or more in half of its games that season.
Brown, Warfield, Groza, Hickerson and Kelly -- who was a rookie kick returner in '64 -- are all Hall of Famers from this group.
Most impressive win:
As mentioned earlier, Cleveland's 27-0 rout of the Baltimore Colts was the exclamation point of the '64 season.
Both teams had an amazing collection of talent. But Baltimore Hall of Famers such as quarterback Johnny Unitas, running back Lenny Moore and tight end John Mackey were stifled by Cleveland's defense, which forced four turnovers. Brown rushed for 114 yards for Cleveland and Ryan threw three touchdown passes in the blowout win.
Research room:
Groza had one of the most interesting careers in football history. He played 22 years in Cleveland and arrived as an offensive lineman. He made the Pro Bowl nine times as a left tackle and also played some right tackle, center, defensive tackle and kicker during his career. Groza was the kicker for the '64 team at age 40. He made 22 field goals and all 49 extra-point attempts.
Sudden retirement:
Following the championship in '64, Brown would play one more season before suddenly retiring to pursue a movie career.
Brown rushed for an astounding 1,544 yards and 17 touchdowns in his final season. Most of Brown's rushing records have been broken. But he's widely considered the best running back of all time.
Honorable mention:
1950:
Another elite, championship team stacked with talented players such as Otto Graham and Marion Motley. This Browns team would give the '64 group a run for its money. But not having Warfield or Brown on this squad makes the difference.
1953:
The Browns, again led by Graham at quarterback, ran off 11 consecutive wins before losing a meaningless final regular-season game. But Cleveland lost to the Detroit Lions, 17-16, in the NFL Championship for a disappointing end to an otherwise dominant season.
1986:
This team is best known for falling victim to "The Drive" led by quarterback John Elway of the Denver Broncos. Elway orchestrated a 15-play, 98-yard drive in Cleveland to force overtime and Denver eventually won the game, costing a talented Browns team a shot at the Super Bowl. One year later, a chance at revenge against Denver in the AFC title game was thwarted by "The Fumble."
Posted by ESPN.com's Tim Graham
The latest Pro Football Hall of Fame class was chosen Saturday. It was the 47th election, and for the 46th time, a full-time kicker or punter wasn't in the group.
They simply don't rate.
That's why Rick Sang founded the American Football Kicking Hall of Fame last year.
"The most impacting statement is that in 90 years of pro football, there's only one kicker inducted," Sang said. "You think about that. It's a major void.
| | |
| --- | --- |
| | |
| | Malcolm Emmons-US PRESSWIRE |
| | Jan Stenerud is the only kicker on the Hall of Fame. |
"The American Football Kicking Hall of Fame was about being proactive and not complaining about what the NFL wasn't doing. Their names aren't even coming up. There's so many guys you have to think about 'Who are they?'
"We just don't want them to be forgotten."
While part-time kickers such as Sammy Baugh, George Blanda and Lou Groza are enshrined in Canton, Jan Stenerud is the only pure leg-swinger to be honored.
The Kicking Hall of Fame inducted its second class two weeks ago. Added to the inaugural class of Baugh, Blanda, Groza and Jim Thorpe were Ray Guy, Pete Gogolak and Ben Agajanian.
"You make fun of kickers for not getting their uniforms dirty, or you say 'They don't hardly play.' And then you turn around and induct an owner," said Sang, also the director of ProKicker.com and a member of the Greater Augusta Sports Council in Georgia.
"It's a team sport, and if you're the best at your position and you impacted the game you deserve to be recognized."
Not acknowledging kickers isn't limited to Canton. Three AFC East teams fete their finest -- the Buffalo Bills have a Wall of Fame, the Miami Dolphins have an Honor Roll, the New England constructed the Hall at Patriot Place -- and none salute a kicker.
With Sang's cause in mind, here are the greatest kickers and punters in each AFC East club's history:
NFL SCOREBOARD
Sunday, 2/2
WEEKLY LEADERS