NFL Nation:

Louisiana Superdome
December, 26, 2010
12/26/10
7:14
PM ET
A quick wrap-up of Tampa Bay's victory against Seattle.
What it means:
At 9-6, the Buccaneers have clinched a winning season and remain mathematically alive for a playoff berth. I'll update you on playoff scenarios when I get to Atlanta later tonight. We'll see what the playoff situation is, but I think it's safe to go ahead and declare the season a success for the Bucs no matter what happens. A winning record is a lot better than most people expected this year.


Hero:
Josh Freeman
. I was driving to Tampa International Airport about the time Freeman was throwing two second-quarter touchdowns and the road runs pretty close to Raymond James Stadium. The wind was making my car sway and forcing me to keep both hands on the wheel. If you can throw a football with precision through that kind of wind, you have a big-time arm. By the way, Freeman had three other touchdown passes. He never had more than three touchdowns passes in a game before and the five touchdown passes tied the team record. At 22 years old, Freeman now has 23 touchdown passes this season.
Unsung hero
:
Connor Barth
. Tampa Bay's young kicker made a 46-yard field goal into a very strong wind in the first quarter. The Bucs were trailing 7-0 at that point and considered punting on fourth-and-long. But they decided to trust Barth and his line-drive kick sliced through the wind.
Stepping up:
We've talked repeatedly about how the Bucs have been getting banged up in recent weeks and how young guys continue to step up. Well, it happened again. With
Sammie Stroughter
out with injury, the Bucs gave more playing time to receivers
Preston Parker
and
Dezmon Briscoe
. Even veteran
Maurice Stovall
, who has been silent much of the season, contributed to the passing game. They also lost fullback
Earnest Graham
to injury during the game and used their tight ends as fullbacks to get through.
Look who's stepping up
:
Kellen Winslow
's been pretty good all season, even though he frequently sits out practices because of knee problems. But Winslow was great Sunday, catching two touchdown passes. Winslow's second touchdown in the third quarter capped a 98-yard drive, which tied the franchise record.
Lucky break:
Although he's not the player he once was,
Matt Hasselbeck
is still a veteran quarterback and that kind of experience can help a lot at this time of year. Hasselbeck ran for a first-quarter touchdown, but hurt his hip on the play and left the game. The Seahawks were forced to turn to
Charlie Whitehurst
.
Redemption time:
Linebacker
Geno Hayes
got into some off-field trouble a couple of weeks ago and had some very strong talks with coach Raheem Morris. Whatever was said seems to have worked. Hayes produced two third-quarter sacks.
What I liked:
Even though center
Jeff Faine
and guard
Davin Joseph
are on injured reserve, the Bucs still were productive in the running game. Most of that simply was due to
LeGarrette Blount
's physical running style, but the blocking must have had something to do with it. The Bucs should watch the film of their young linemen because Faine is aging and has been having injury problems for a couple of years and Joseph could be a free agent.
Rookie of the Year
: St. Louis quarterback
Sam Bradford
will win the league's award, mostly because he's a quarterback. But Blount and receiver
Mike Williams
are going to finish high in the voting. If you had to pick a Tampa Bay rookie of the year at this point, I think you'd have to split it between Blount and Williams.
What's next:
The Buccaneers close the regular season next Sunday against the
New Orleans Saints
at the Louisiana Superdome.
September, 24, 2010
9/24/10
11:28
AM ET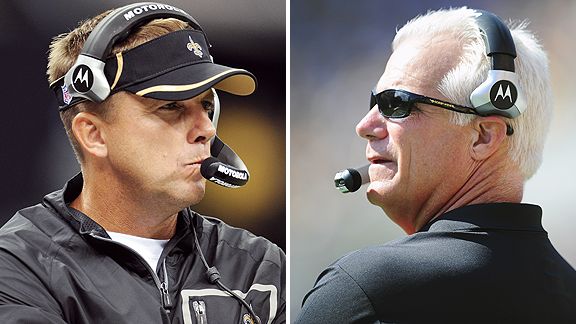 US Presswire, Icon SMICoaches Sean Payton and Mike Smith lead their teams into an NFC South showdown Sunday, and whichever team is victorious will have the early lead for the division title.
The man with perhaps the best vision in the NFL was asked the other day for his view of the
Atlanta Falcons
.
Drew Brees
surveyed the field as he was asked if the Falcons appear to be "on the cusp'' like the Saints were last year. He spotted something he liked in the question and he threw deep down the middle.
"Yes, because you have the offensive and defensive system that guys have been running for a while, so there's a comfort level, and I know their personnel's been very consistent,'' the
New Orleans Saints'
quarterback said. "The young players they've added are talented guys, so I think they're as good as they are from a personnel standpoint, defensively at least, as I've seen them."
Welcome to the NFC South, where, at least on the surface, things are a little more laid back. Rivalries aren't played out in the media and coaches and players go out of their way to kill each other with kindness.
"This is a tough division,'' Brees said. "Anytime you play a divisional opponent there's a lot of familiarity there and you just know that there are always close games. They're always fighting . You both know each other's personnel pretty well. I think a lot of it is about who can out-execute the other. It's not about fooling them with trick plays or anything else. It's just about lining up and being able to play better. They have a good football team and obviously they'll be ready to play us. It's a big challenge."
Probably even bigger than the Saints and Falcons are willing to admit publicly. Let's face it, the best rivalry in the NFC South these days is Atlanta and New Orleans. They were the top teams in the division last year and whatever happens Sunday when they play in the Louisiana Superdome will go a long way in deciding who wins the division.
Yes, Tampa Bay is 2-0, but let's see that bandwagon roll a little bit more before including the Buccaneers in discussions about the division title. From the time predictions started rolling out this summer, the NFC South has been a two-team race.
In fact, the Falcons were a trendy pick to win the division, maybe even go to the Super Bowl. That may have ruffled some feathers in New Orleans, where fans can still feel the Lombardi Trophy. Even in the New Orleans locker room, there have been a few comments about how the Falcons were getting credit before they'd done anything.
Saints head coach Sean Payton stayed clear of any hint of that this week when asked if he cared that so many people had picked Atlanta to win the division.
"What do you think?" Payton said.
One reporter followed that up by saying he thought Payton did care and that he might use it as a motivational tactic.
"Honestly, I think that all of that is unimportant to all of us, myself included,'' Payton said. "I really wouldn't know how many people have picked them to win or us to win; it's really unimportant. What's important is what happens. To be honest with you, it's not something that we've looked at and pointed at."
It's only Week 3 of the NFL season, but this is shaping up as a huge game for both teams. The Saints (2-0) arre coming off a short week and a difficult Monday night win against San Francisco after opening the season with an emotional close victory over Minnesota.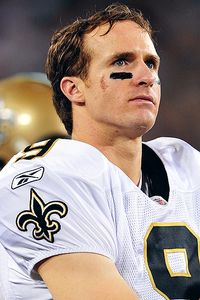 Grant Halverson/Getty ImagesDrew Brees said the Falcons are "as talented on defense as I've ever seen them."
You could look at New Orleans and say the Saints haven't played particularly well in either game and that they're banged up, especially at running back where
Reggie Bush
is out for about six weeks after suffering a broken right fibula against San Francisco. You could look at New Orleans and say the Saints are ripe for their first defeat since Week 17 last season.
But Atlanta head coach Mike Smith isn't about to do that. He sees a division rival that the Falcons played tough twice last season but lost both times. And he sees Brees.
"He is definitely going to be the best quarterback that we've faced this season," Smith said."He may very well be the best quarterback we face all season -- two times. I think the biggest challenge is the surrounding cast that is around Drew Brees. They're very, very talented at the wide receiver position. They're very talented at the running back position and they're very talented at the tight end position. It creates matchup issues, not only for our team but for any team that the New Orleans Saints play."
The Falcons (1-1) had a dud game in Pittsburgh in their opener followed by a near-perfect game in routing Arizona in Week 2. If you've followed the Falcons at all, you know they limped to a 9-7 record last season with a bunch of injuries and some problems on defense.
If you followed the Falcons at all through the offseason, you know they spent their downtime working on ways to level the playing field with the Saints. They made one big move in free agency, signing
Dunta Robinson
. A team that hadn't had a No. 1 cornerback in several years now does and that could help against Brees and his cast of receivers. The Falcons also drafted outside linebacker
Sean Weatherspoon
, a guy who has the speed to match up with New Orleans tight end
Jeremy Shockey
and the ability to surprise Brees with blitzes.
Let's turn back to the guy who can see the whole field for a scouting report on Atlanta's defense.
"I think they're as talented on defense as I've ever seen them,'' Brees said. "They've got very active and athletic front four as well as some linebackers that can fly around, make all of the plays and a lot of tackles, get involved in the pressure packages quite a bit. Everybody in their secondary is pretty athletic with pretty good ball skills, and I just think they work well as a group collectively.''
The volleys of praise could continue going back and forth a lot longer. The Saints and Falcons may be genuine in their respect for each other. But, in the best rivalry in the NFC South, all the sweet talk will go out the window when the Saints and Falcons hit the field Sunday.
Southern hospitality is one thing. Supremacy in the NFC South is something else entirely, and that's what the Falcons and Saints will be playing for Sunday.
January, 25, 2010
1/25/10
1:23
AM ET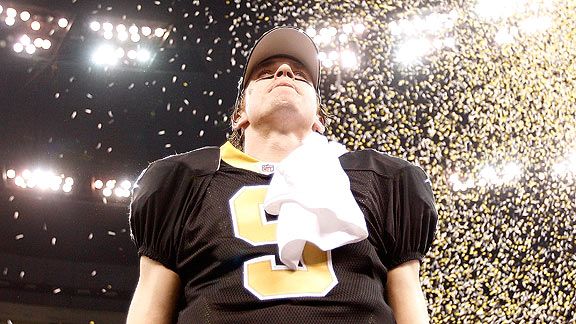 Chris Graythen/Getty ImagesDrew Brees and the Saints are going to the Super Bowl for the first time in franchise history.
NEW ORLEANS -- If you weren't in the Superdome on Sunday night, and a lot of
New Orleans Saints
fans are going to claim that honor for years, let's make you feel as if you were.
Let's turn it over to Jerry Romig, the official public address announcer in the Louisiana Superdome. If you've been to a Saints game, you've heard the voice because Romig has been here for a long time. Here's the microphone, Jerry:
"Ain't this beautiful?" Romig said over the speakers a couple of minutes after the Saints defeated the
Minnesota Vikings
31-28
in overtime in the NFC Championship Game. "The Saints are going to the Super Bowl.''
There, you heard the official word -- and isn't it kind of ironic that Romig used the word "ain't"? Yes, the team that once was called the Aints and had fans wearing bags over their heads, is going to the Super Bowl. They'll play the
Indianapolis Colts
-- and New Orleans native
Peyton Manning
-- in Super Bowl XLIV in Miami on Feb. 7.
It's over now, but what a strange path the Saints took to get there -- both Sunday night and throughout their history.
"Anybody want a rejuvenated ulcer?'' an elevator operator in the Superdome press box asked a few minutes after the game.
"I'm just trying to congest all this,'' a fan said as she walked down a Superdome tunnel.
Congest it, ingest it, digest it or whatever, but enjoy it. This was about more than one of the best postseason games in NFL history. This was about the city of New Orleans, really the whole Gulf region. From Bogalusa to Lake Charles, La., from Biloxi, Miss., to Mobile, Ala., and even into parts of extreme northwest Florida, they're celebrating more than the first Super Bowl trip in franchise history.
They're celebrating a way of life -- a way of life that's helped this region come back from one of the worst natural disasters in history.
"Brett Favre is a great story,'' New Orleans linebacker
Scott Fujita
said. "But the New Orleans Saints are a better story.''
Fujita's right. What happened Sunday night was about history and legacies, but not about Favre. Sure, the stage was set for another legendary Favre moment. You know, something like the old gunslinger comes home (he grew up just up the road in Kiln, Miss.), takes an incredible beating, spends most of the game limping around and, in the end, makes a play to take his team to the Super Bowl.
Another chapter in the storybook. And all of it except the very last part came true. On a night when
Adrian Peterson
and
Percy Harvin
were bouncing balls off the Superdome floor, Favre almost overcame them.
But you want to talk about overcoming things? Let's go back to the Saints and the community around them.
"This is for everybody in this city," coach Sean Payton said as he raised the George S. Halas Trophy over his head. "This stadium used to have holes in it and be wet. It's not wet anymore."
No, it's not. Looking out at the Superdome floor afterward, all you could see was confetti. Lots and lots of it. You also could see Payton dressed in a suit, throwing passes to his son and a few of his friends.
It's playtime for the Paytons and party time for Saints fans everywhere. The days of rooting for lovable losers are over. The misery is over. At least for one night, what happened a little over four years ago is a distant memory, kind of like Archie Manning and Tom Dempsey.
What happened was the world changed for New Orleans. Hurricane Katrina hit. The city and the region were devastated.
"The city is on its way to recovery and in a lot of ways it's come back better than ever," New Orleans quarterback
Drew Brees
said.
The Saints have come back better than ever, after temporarily seeking shelter in San Antonio, and that has done a lot to boost morale. But this moment is, without a doubt, the highest point yet.
"We said we were going to keep fighting until they kick us off the field and go home,'' New Orleans linebacker
Jonathan Vilma
said.
That's exactly what the Saints did Sunday night and, really, what their fans have been doing since the hurricane. The Saints beat the heck out of Favre, repeatedly stripped the ball from the hands of Peterson and Harvin and won the turnover battle five to one.
Still, in the end, they needed Favre to try to throw a cross-field pass that turned into an interception near the end of regulation, and a 40-yard field goal by 23-year-old kicker
Garrett Hartley
to win it nearly five minutes into overtime.
Hartley's kick replaces Dempsey's 63-yard field goal as the most famous kick, and probably the most famous play, in New Orleans history.
But you want one play to define this moment and the history of the Saints and New Orleans? Turn back to just before the end of the first half, with the score tied 14-14 and
Reggie Bush
standing near his own end zone waiting to field a punt.
Bush failed to catch the ball and the Vikings recovered at the New Orleans 10-yard line with 1:13 left in the first half.
"That's a gut-wrenching feeling," Bush said.
Bush could have been the goat to top all goats in Saints' history had the Vikings punched in a quick touchdown and gone on to win. Thing is, this time, it didn't happen.
Two plays later, Favre and Peterson messed up an exchange on a handoff and Fujita recovered. Payton made it a point to have Brees hand the ball to Bush on the next two plays as the Saints ran out the clock.
That was about keeping confidence and a shot at redemption. We're not just talking about Bush's confidence or about Bush's redemption, although he did score the final New Orleans touchdown. We're talking about redemption for a franchise, a city and an entire region. Bush just happened to sum it all up perfectly in what he did on the field and what he said after the game.
"For anybody who thinks we didn't deserve to win, they weren't watching the same game we were," Bush said.
September, 17, 2009
9/17/09
11:49
AM ET

Posted by ESPN.com's Pat Yasinskas
Tampa Bay Buccaneers (Raymond James Stadium, capacity 65,857)
Opened in 1998, this stadium was considered cutting edge at the time and it's still considered one of the best facilities in the league. The natural grass surface consistently has been rated the best, or very close to the best, in the league in surveys by the NFL Players Association.
| | |
| --- | --- |
| | |
| | Doug Benc/Getty Images |
| | Raymond James Stadium is consistently voted by players as one of the best places to play. |
Also known as "Ray Jay'' by the locals, this stadium's crown jewel is a pirate ship in the end zone that is one of the most identifying characteristics in the league. The firing of the cannons when the Bucs get inside the 20-yard line fits perfectly with the stadium's pirate theme. The one carryover from the old days at Tampa Stadium (a.k.a. "The Big Sombrero'') is the chant where one side of the stadium yells "Tampa'' and the other responds with "Bay.''
Wow factor:
4 wows (out of 5)
Carolina Panthers (Bank of America Stadium, capacity 73,504)


Ideally located in Uptown Charlotte, which is really downtown, this stadium is the hub of center city on game days. Without a lot of true stadium parking, tailgates create a festive atmosphere throughout the city streets and the traffic situation is one of the best in the league because there are countless exit routes.
Like Tampa Bay's stadium, the natural grass field in Charlotte consistently is ranked among the best in surveys of NFL players. This stadium helped pioneer seat licensing, so fans feel like they have an ownership stake. Carolina fans sometimes get labeled as a wine-and-cheese crowd and they can be a little slow in coming back to their seats after halftime. But, when the Panthers are playing well, this stadium can be as loud as any in the league.
Wow factor:
3 wows
New Orleans Saints (Louisiana Superdome, capacity 72,003)


The oldest facility in the NFC South opened in 1975, but renovations have kept this dome up with the rest of the league. The facility was largely redone after Hurricane Katrina and the Saints recently reached a new long-term lease agreement that also will bring the 2013 Super Bowl back to New Orleans.
The atmosphere is festive on game days as the party New Orleans throws on every day of the year escalates. The tailgates here are as good as any in the league. Games are a social event in New Orleans and the dome has been sold out for every game since the Saints returned in 2006 (all of this year's games already are sold out). Although some fans are coming off very long nights, the noise inside the Superdome can be incredibly loud when the Saints are on the field.
Wow factor: 3 wows
Atlanta Falcons (Georgia Dome, capacity 71,228)


Despite lots of renovations (FieldTurf installed in 2003, upgrades to the club seats in 2007 and new paint on the outside and new seats in 2008), the Falcons are making noise about their desire for a new stadium. They're looking at several venues around Atlanta, but building a new stadium close to or on the existing site seems to be a strong possibility. That would be good because the location is on the fringes of downtown and the game-day atmosphere can be festive.
The Georgia Dome has played host to every event imaginable, but the Falcons are the main tenant. The team has endured some lean years, but the dome came to life last year when quarterback
Matt Ryan
arrived and the Falcons started winning. That might help the Falcons get a new stadium, but the last few years in the dome have the potential to be memorable.
Wow factor:
1 wow