August, 31, 2013
8/31/13
7:20
PM ET
Most significant move:
After the Packers released
Graham Harrell
on Aug. 24, the backup quarterback job was
Vince Young
's to lose. The former first-round draft pick on the
Tennessee Titans
lost it. After an unimpressive performance in the preseason finale at Kansas City on Thursday, when Young led only two field goal drives in 11 possessions, the Packers
released him on Saturday
.

Perhaps he was fighting a losing battle from the start, considering he wasn't signed until Aug. 5. That was 11 days after the Packers opened training camp. He missed the first seven practices and a scrimmage.
It leaves an unsettled situation behind starter
Aaron Rodgers
. For now, the only other quarterback on the roster is
B.J. Coleman
, who spent all of last season on the practice squad. Coleman opened training camp as the No. 3 quarterback but slipped to fourth string after Young was signed and before Harrell was released. In the preseason, Coleman completed just 14 of 34 passes (41.2 percent) for 128 yards with one touchdown and one interception. It's hard to imagine the Packers won't explore other options over the weekend.
2011 revisited
: With running back
Alex Green
and tight end
D.J. Williams
among the most surprising cuts on Saturday, it made a strong statement about the 2011 draft class. Packers general manager Ted Thompson drafted 10 players in April of that year. Only three of them – receiver
Randall Cobb
(second round), cornerback
Davon House
(fourth round) and tight end
Ryan Taylor
(seventh round) – remain on the roster. Tackle
Derek Sherrod
(first round) will start the season on the physically unable to perform list. He still has not returned from the broken leg he sustained on Dec. 18, 2011. Green was a third-round pick, while Williams was taken in the fifth round.
What's next:
Like all teams, the Packers will scour the waiver wire and free-agent lists. Their focus likely will be on the quarterbacks. Even if they find one they like, they might have to use Coleman as the No. 2 early in the season while the newcomer gets acclimated to the offense. The Packers haven't carried three quarterbacks on their active roster since late in the 2011 season. They also can begin signing players to their eight-man practice squad on Sunday afternoon. Thompson is scheduled to meet with reporters on Sunday afternoon.
Players cut
: QB: Vince Young. RB: Alex Green. FB:
Jonathan Amosa
. TE:
Matthew Mulligan
,
Jake Stoneburner
, D.J. Williams. WR:
Charles Johnson
, Tyrone Walker,
Myles White
. OL:
Andrew Datko
,
Garth Gerhart
,
Kevin Hughes
,
Patrick Lewis
. DL:
Jordan Miller
. LB:
Terrell Manning
,
Dezman Moses
,
Donte Savage
. CB:
Loyce Means
,
Brandon Smith
,
James Nixon
. S:
David Fulton
,
Chaz Powell
.
August, 31, 2013
8/31/13
3:50
PM ET
GREEN BAY, Wis. -- The biggest name among the
Green Bay Packers
' cuts so far clearly was quarterback
Vince Young
, who
was released on Saturday morning
.
But they also have cut a couple of players who saw significant playing time last season in running back
Alex Green
and tight end
D.J. Williams
.
Green was their leading rusher last season with 464 yards, and Williams played in 14 of 18 games last season (including playoffs).
With a few hours left before teams have to trim their rosters to 53 players, here's the latest list of the players who have been released.
Note:
This list is a compilation of our own reporting here at ESPN plus reports from the Green Bay Press-Gazette, Milwaukee Journal Sentinel, Packer Report, ESPNMilwaukee.com and players with verified Twitter accounts. With 18 cuts already confirmed, the Packers will have to make four more roster moves to reach the 53-man limit.
August, 27, 2013
8/27/13
7:04
PM ET
GREEN BAY, Wis. -- Perhaps the best thing that could happen now for
Mason Crosby
is that there are no field goals to even attempt in Thursday's preseason finale at Kansas City.
Things can't get any better for the seventh-year kicker, who is trying to win back his job.
When he woke up on Monday morning, he was one of three kickers on the Green Bay Packers' roster. By the end of Tuesday, he was the only one.
In successive days,
the Packers cut
kickers
Giorgio Tavecchio
and
Zach Ramirez
.
[+] Enlarge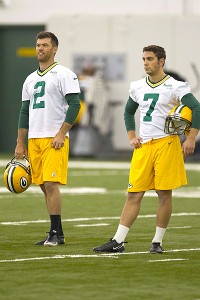 AP Photo/Mike RoemerMason Crosby (2) beat out Giorgio Tavecchio (7) and Zach Ramirez, not pictured, for the Packers kicking job, but may still have work to do.
On Tuesday, Crosby drilled all 14 of his field goals, half of which were into a strong wind.
Meanwhile, Ramirez, who was signed on Sunday, failed to back up his
10-for-11 performance
from practice two days earlier.
Ramirez made only 6-of-16 field goals. He got two more attempts thanks Crosby in the second of the two kicking periods because special teams coach Shawn Slocum wanted him to finish on a make. But he couldn't do it, missing three straight to finish the period.
While coach Mike McCarthy refused to declare the kicking competition over shortly after practice, less than three hours later Ramirez was released.
It's always possible the Packers will watch the waiver wire and add another kicker before the regular-season opener at San Francisco on Sept. 8. But as long as Crosby doesn't stumble against the Chiefs, he may have won his job back.
Since Ramirez's arrival, Crosby has missed just one of 25 field goals.
On Tuesday, Crosby made kicks of 33, 37, 40, 42, 45, 48 and 58 yards into the wind and 35, 40, 44, 47, 51, 54 and 64 yards going downwind. He improved his camp-long mark to 67-of-81, not including 4-of-4 in preseason game action.
"I thought Mason hit the ball very well this week," McCarthy said. "As you look forward, that's what he's done in the early part of his career. I've been very impressed with Mason in his last two kicking opportunities, lining up with a three-way competition on Sunday and then today. So, he's had a very good week."
In one practice, Ramirez missed more kicks than Tavecchio did the entire training camp before he was released on Monday. Tavecchio was 56-of-64 in practice/scrimmage situations and 1-of-2 in preseason games, and the Packers
left open the possibility of bringing him back
.
Kicking from the same distances as Crosby but with two extra attempts from 58 yards at the end of practice, Ramirez only put the ball through the uprights from 33, 37, 40 and 45 yards into the wind and from 40 and 51 yards downwind.
"He's only been here three days," McCarthy said. "He really didn't have the rhythm and cadence and the snap down. I think it affected him on the first set of kicks, and it carried over the to the second."
In other developments on Tuesday:
Quarterback Aaron Rodgers took all of his snaps with the scout team for the third straight game, which is an indication he may not play in the preseason finale. "There's a couple of conversations we need to have before we determine the play time for all those guys," McCarthy said.

Rookie receiver Tyrone Walker closed out training camp by making another impressive catch. On second-and-10 from the defense's 25-yard line, Walker ran a fade route against cornerback Loyce Means and made an over-the-shoulder catch against tight coverage before he went out of bounds at the 3-yard line.

Not only did quarterback B.J. Coleman put the ball right on the money to Walker but on the next play, he completed the drive with a 3-yard touchdown pass to tight end Brandon Bostick.

Despite practicing in pads, there were no one-on-one pass rushing/passing blocking drills for the seventh straight practice. The last time they conducted the highly-competitive drill was on Aug. 14, meaning there was no change to the one-on-one statistics since the last time they were updated. Said defensive coordinator Dom Capers: "This has been a short week, so we've tried to eliminate a few of those things this week."

Following practice, most players walked along the fence in front of the stands on the East side of Ray Nitschke Field and thanked the fans by giving them high fives.
Medical report:
Linebacker
Dezman Moses
returned to practice after dropping out a day earlier because of a toe injury.
That was the only change.
Those who did not practice were WR
Kevin Dorsey
(toe), CB
Jarrett Bush
(ankle), CB
James Nixon
(ankle, knee), S
Sean Richardson
(neck), CB
Casey Hayward
(hamstring), S
Morgan Burnett
(hamstring), LB
Jarvis Reed
(ankle), LB
Brad Jones
(hamstring), OL
J.C. Tretter
(ankle), T
Bryan Bulaga
(knee), T
Derek Sherrod
(leg) and DE
Jerel Worthy
(knee).
What's next
: Wednesday is a travel day in advance of Thursday's preseason finale at Kansas City.
July, 30, 2013
7/30/13
7:15
PM ET
GREEN BAY, Wis. -- If you're going to play running back for
Green Bay Packers
coach Mike McCarthy, there's one thing you better learn in a hurry: pass protection ranks high on the job description list.
As impressive as fourth-round draft pick
Johnathan Franklin
of UCLA has looked carrying the ball -- his speed and shiftiness have been on display daily -- he appeared overmatched on Tuesday morning during a one-on-one drill that called for the running back to block a blitzing linebacker.
[+] Enlarge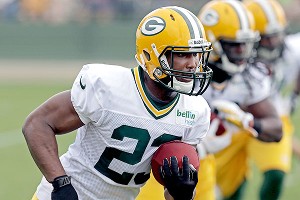 AP Photo/Morry GashIf Tuesday's workout was any indication, blocking drills will likely be in the future for Packers rookie RB Johnathan Franklin.
Franklin had all kinds of trouble with outside linebacker
Nick Perry. To be sure, Perry has a 60-pound advantage over the 205-pound Franklin, but the Packers expect the running back to at least slow down the blitzer's path to the quarterback. Instead, Franklin allowed Perry to overpower him. Later in the same drill, Franklin fared no better against rookie outside linebacker Donte Savage.

"I felt like the outside linebackers clearly got the best of the running backs today," Packers coach Mike McCarthy said after practice. "We were too high. We weren't sitting down. We didn't have our head up. So it'll be good tape to watch. So that's a drill I'm sure we'll do again."

During a team (11-on-11) blitz period later in practice, Franklin proved adept in picking up a blitz by cornerback Jarrett Bush, giving quarterback Aaron Rodgers time to stay in the pocket.

New special-teams ace?: It's rare for the Packers to line up a first-round draft pick on special teams. It's even rarer when that first-round pick is a defensive end, and he's on the kickoff coverage team.

But there was Datone Jones, the 26th overall pick in the draft, lined up at one of the middle positions and running down to cover a kickoff on Tuesday.

"He can run," McCarthy said. "He's a major matchup problem. But we'll work him as a backup. I don't see that as a primary role for Datone, but he has a unique skill set, and it's important for our young guys to come in and make sure they're ready to go on special teams."

Bits and pieces: Jones also showed his athletic ability by dropping into coverage and breaking up a pass intended for running back James Starks during a team period. … First-year cornerback Loyce Means flashed his impressive speed by returning an interception of quarterback B.J. Coleman for a touchdown in a 7-on-7 drill. … Second-year pro Mike Daniels has been one of the top defensive performers in the 1-on-1 pass-rushing/pass-blocking drill. He won a pair of reps on Tuesday after scoring two wins in the previous practice on Sunday.

Medical report: Though the Packers have avoided any major injuries to starters through the first four practices of training camp, they will be without starting cornerback Tramon Williams indefinitely. Williams dropped out of Sunday's practice with a knee injury.

McCarthy said Williams may miss a couple of weeks. The cornerback position is especially thin because Casey Hayward (hamstring) remains out. Davon House practiced for the first time on Tuesday after missing the first three practices because of an illness. It was his first time on the field following offseason shoulder surgery. Rookie Micah Hyde lined up with the starters in place of Williams and Hayward and continued to impress.

Others who did not practice were: receivers Sederrick Cunningham (wrist), Kevin Dorsey (leg), Charles Johnson (knee), RB DuJuan Harris (knee), S Sean Richardson (neck), T Kevin Hughes (headaches), OL JC Tretter (ankle), DE Mike Neal (abdominal), T Derek Sherrod (leg) and DE Jerel Worthy (knee).
CB James Nixon (knee) and OLB Dezman Moses (foot) appeared to drop out of practice.
It was the first practice for WR Omarius Hines and S Chris Banjo, a pair of rookies signed on Monday.

What's next: The Packers return to the practice field at 9:20 a.m. Wednesday for another full-pads practice.
July, 29, 2013
7/29/13
3:28
PM ET
GREEN BAY, Wis. -- When you have a kicker who converted an NFL-worst 63.6 percent of his field goals and had a slump during which he missed 12 of 14 attempts -- and for the first time in six years you have two kickers in camp -- every training camp kick will be scrutinized.
Through three days of practice, we've seen exactly one live kicking session. But it was enough to add to the intrigue of the Packers' competition between incumbent
Mason Crosby
and young challenger
Giorgio Tavecchio
.
Here's what we've learned about the Packers' special teams so far:

Crosby vs. Tavecchio
: If the first live field goal period was any indication, this could be a hotly contested race. Crosby appeared to pull himself out of his slump late last season by making his final six field goals (including playoffs). During the six-kick session over the weekend, he missed a pair of kicks (from 50 and 53 yards). Tavecchio missed just once, from 53 yards. Both also made 53-yarders. In reality, Crosby is competing against himself. If his percentage doesn't improve, the Packers may decide to move on, whether Tavecchio or someone else is the answer. Whatever fundamental tweaks special-teams coach Shawn Slocum made to Crosby's technique at this point have taken a backseat to Crosby's mental approach. "As you come into camp, you want to find that [mental] picture, that thing where you get into that rhythm when you're just swinging free and hitting the ball to the line you want," Crosby said.
Returner rotation
: Considering how much receiver
Randall Cobb
will be involved in the offense following the departure of
Greg Jennings
in free agency, the Packers would like to find someone else to return kicks. But they're not willing to do so at the expense of special-teams production. That's why Cobb, who has three career special-teams touchdowns in two NFL seasons, continues to take reps in the return game. But he's not always getting the first rep, which can typically be used to figure out who tops the depth chart. During Sunday's kickoff return period, backup receiver
Jeremy Ross
got the first rep. Cobb went second. Slocum also used starting cornerback
Sam Shields
, backup cornerbacks
James Nixon
and
Loyce Means
and rookie running back
Johnathan Franklin
. Ross is the most likely challenger, but he has to prove his costly muffed punt in the playoff loss at San Francisco was a fluke. Franklin is an intriguing candidate. He didn't return kicks in games at UCLA but said he often did so in practice.

NFL SCOREBOARD
Thursday, 9/18
Sunday, 9/21
Monday, 9/22
WEEKLY LEADERS