July, 17, 2014
7/17/14
10:00
AM ET
»
NFC Preview:
East
|
West
|
North
|
South
»
AFC:
East
|
West
|
North
|
South
NFL Nation's Paul Gutierrez examines the three biggest issues facing the
Oakland Raiders
heading into training camp.
Matt Schaub
: Dennis Allen told anyone who would listen this offseason that Schaub, a two-time Pro Bowler who once passed for 4,770 yards but is coming off a nightmarish final season in Houston, is a top-10 quarterback. And even if a project by ESPN.com found that NFL insiders ranked Schaub 25th in the 32-team NFL, that will not dissuade Allen. Far from it. Schaub is his guy. Still, the question of Schaub's confidence after he threw 14 interceptions (with four pick-sixes in four straight games) and lost his job with the Texans will continue to hound Schaub and the Raiders until he proves it is
not
an issue. To his credit, Schaub, who looked impressive in the offseason non-padded practices open to the media, insists it's in the past. Besides, a change of scenery might do wonders for him. It's not like the Raiders are putting everything on the 10-year veteran; a running attack spearheaded by
Darren McFadden
and
Maurice Jones-Drew
should get the play-action passing game going … unless Schaub is shot. Which brings us to the intriguing figure that is
Derek Carr
, Oakland's second-round draft pick who was elevated to second string in minicamp. But Allen appears ready to ride or die with Schaub, for better or worse.
Khalil Mack
: You could say that Mack, whom many saw as the most versatile defensive player in the draft, simply fell into the Raiders' lap at No. 5 overall. And that would be just fine with Oakland. Because in remaking the defense, Allen has compared Mack to
Denver Broncos
All-Pro linebacker
Von Miller
, whom Allen coached as a rookie. If Mack, who has stepped in at strongside linebacker, shows a smidgen of Miller's pass rushing acumen -- 35 sacks in 40 career games -- the Raiders have a cornerstone. Mack's blend of size, speed and athleticism were evident in the offseason workouts as he appeared to be a physical marvel with quick feet and balance. Alas, the game will change in camp when the pads come on. No, he's not nervous; Mack is looking forward to knocking heads with the pros. Or did you miss his declaration that he is most looking forward to sacking the Broncos'
Peyton Manning
? Mack has impressed the staff and teammates alike by constantly being in veterans' ears, picking the brain of players such as
Justin Tuck
. Mack is a sponge. Yes, similar praise was heaped upon Rolando McClain when the middle linebacker was drafted in 2010. This just
feels
different.
D.J. Hayden
: The Raiders were impressed enough with Hayden to make him their top pick last year, even though he was still recovering from the practice injury to his heart at the University of Houston that nearly killed him. After an up-and-down rookie season that ended with a trip to injured reserve, Hayden again hit a speed bump. This time, he missed the second and third organized team activities (OTAs) sessions as well as minicamp due to a sprained ankle. Allen has said that the only player he expects to be a question mark health-wise entering camp is offensive lineman
Lucas Nix
. But with so many hopes tied into Hayden -- he was penciled in to start at right cornerback -- his injury history has to have Oakland worried. Even if he is a full go at the start of camp, he missed valuable reps in the offseason. Sure, Hayden got mental reps, but they are not nearly as important or effective, especially for a player who many in the organization see as a bonus draft pick since he appeared in only eight games (two starts) last season.
June, 20, 2014
6/20/14
8:00
AM ET
ALAMEDA, Calif. -- The
Oakland Raiders
' offseason workouts began on April 22. They concluded Thursday with the end of a mandatory three-day minicamp.
So what did Dennis Allen, entering his third season as the Raiders' head coach, glean from nearly two months of being around his team as it begins its reconstruction in earnest, especially with training camp about five weeks away?
Consider: Every Raiders draft pick is signed and every Raiders player under contract was in attendance for the minicamp. No contract haggling, squabbling or unnecessary drama.
"I like the direction we're headed as a football team," Allen said. "I think we've got a group of guys that are committed to winning. I think they're committed to this organization, and I think we have a lot of guys who have a lot to prove. That's an exciting thing for a football coach. That's an exciting thing for these football players.
"So I like our direction, I like our commitment and we've just got to keep working."
An infusion of veteran talent with past success, especially on the defensive side of the ball, such as
Justin Tuck
,
LaMarr Woodley
and
Antonio Smith
-- as well as Oakland taking linebacker
Khalil Mack
with the No. 5 overall draft pick -- has given the team a new identity.
And on offense, the Raiders have a seasoned, new quarterback in
Matt Schaub
and a hot prospect in second-round draft pick
Derek Carr
, who has overtaken
Matt McGloin
as Oakland's second-string signal-caller.
Injury-wise, guard
Lucas Nix
(knee) is the only player Allen sees as potentially missing the start of training camp, even though cornerback
D.J. Hayden
(foot) participated in just one organized team activities (OTAs) session and linebacker
Kevin Burnett
(ankle) and Smith (undisclosed) missed them all while recovering from injuries.
Allen was asked if there was a palpable feel on the practice field that this was, indeed, a better team than he had the previous two years.
"I don't think there's any question you can feel that," Allen said. "You guys have been around here too, so I think you've seen these practices around here for a while.
"I think we've had an outstanding offseason and I think our team from the day that we started the offseason program to where we're at now, we've improved tremendously. But we've still got to go out there and do it when we get to training camp and do it when we get to the regular season."
September, 25, 2013
9/25/13
6:30
PM ET
ALAMEDA, Calif. -- While quarterback
Terrelle Pryor
(concussion) did not practice Wednesday, two other previously concussed Raiders players returned: cornerback
Tracy Porter
and linebacker
Sio Moore
.
Porter and Moore were listed as limited, as was left guard
Lucas Nix
(ankle) and fullback
Jamize Olawale
(ankle).
Three others did not participate in strong safety
Tyvon Branch
(ankle), left tackle
Menelik Watson
(knee) and defensive end
Jason Hunter
(quad). Hunter was not mentioned as being injured after Monday night's 37-21 loss in Denver.
September, 22, 2013
9/22/13
6:50
PM ET
DENVER – Upon arriving in Colorado on Sunday, the
Oakland Raiders
added starting strongside linebacker
Sio Moore
to their injury report with a concussion. The rookie's status for Monday night's game against the
Denver Broncos
is questionable.
Moore
The Raiders did not elaborate on the cause of Moore's concussion, though
he did tweet
: "Talk about a scary morning man. Just thank god I'm safe and made it safely to CO."
Moore, who dealt with a toe injury and came off the bench in the season opener at Indianapolis, started the Raiders' home opener against Jacksonville last week. He was not on the Raiders' injury report during the week.
Strong safety
Tyvon Branch
(ankle), left tackle
Menelik Watson
(knee) and tight end
David Ausberry
(shoulder) already were ruled out of the Broncos game, while left guard
Lucas Nix
(ankle) was listed as questionable.
September, 21, 2013
9/21/13
3:35
PM ET
There were no surprises on the Raiders' injury report Saturday as strong safety
Tyvon Branch
(ankle), left tackle
Menelik Watson
(knee) and tight end
David Ausberry
(shoulder) were all ruled out of Monday night's game at Denver.
Left guard
Lucas Nix
, who injured an ankle in Sunday's home-opening victory over Jacksonville and did not practice until Friday, was listed as questionable. Nix was replaced in the game by
Andre Gurode
.
Linebacker
Kevin Burnett
was no longer on the injury report after leaving Thursday's practice early due to illness.
September, 20, 2013
9/20/13
6:05
PM ET
ENGLEWOOD, Colo. -- When
Denver Broncos
quarterback
Peyton Manning
looks over the Raiders' defense Monday night, he will be looking at a group that has gotten the bulk of its sacks from guys wearing jerseys with numbers in the 20s on the front.
The Raiders have nine sacks this season, and the team's defensive backs have five. When the Broncos go to the three-wide look, which they most often do when they have the ball, it will put the Broncos' running backs on the spot in pass protection. That's especially true when the Raiders add a player or two to the rush from off the line of scrimmage.
[+] Enlarge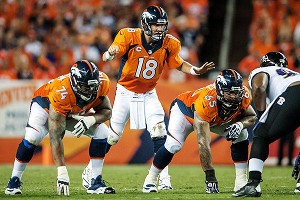 Dustin Bradford/Getty ImagesThe Broncos know pass protection will be crucial against the Raiders.
The Broncos backs have worked plenty this week on different scenarios to know who to pick up when those defensive backs arrive in the rush after the initial surge following the snap.
"They do a good job of freeing guys up,'' said Broncos offensive coordinator Adam Gase. " … We just better be on whatever blockings assignments we have. If one guy's on the wrong page, we've got an issue.''
It also won't be a matter of simply sliding the protection to the rusher doing to the most damage, either. The Raiders have nine sacks distributed among seven players. Defensive end
Jason Hunter
has two to lead the way, and cornerback
Tracy Porter
(both are former Broncos) has 1.5.
"When you have multiple DBs on the field, you have multiple DBs rushing,'' said Broncos coach John Fox. " … They do do a lot of that.''
Manning was not sacked last weekend against the Giants after being sacked three times in the season opener against the Ravens.
Broncos guard Chris Kuper practiced fully for the second consecutive day Friday. The eighth-year veteran has spent roughly a year and a half battling back from a dislocated ankle he suffered in the 2011 regular-season finale, as well as the multiple surgeries and infection that followed. Kuper has been a gameday inactive in the Broncos' first two games this season, but Fox said following Friday's practice that Kuper continues to close in on being game-ready. "He's doing well, he's getting better every day … when he stops having soreness and is able to put a whole week together, he could even be in the mix this week,'' Fox said. Given Kuper's versatility -- he worked sparingly at center in training camp and the Broncos consider him a stop-gap option there, he will almost certainly be in the mix at tackle as well moving forward. With left tackle Ryan Clady on injured reserve, the Broncos will have to address depth issues at the position. After current starter Chris Clark, they do not have a player who has predominantly been a left tackle in the NFL on the depth chart. Winston Justice, signed Wednesday, has been a right tackle for most of this career. Zane Beadles was a left tackle at Utah in his college career and played some tackle early in his career with the Broncos before being moved inside to guard. Fox has said repeatedly he wants to work guards like Beadles and Kuper at tackle from time to time, so they could play there at game speed if needed.
Broncos' guard Louis Vasquez has been one of the least penalized players in the league in his career -- he was not flagged for a penalty in either of the 2011 or 2012 seasons with the Chargers. But he was flagged for a false start in the opener against the Ravens. He did not have one of the 13 penalties the Broncos were assessed against the Giants this past Sunday. The Broncos had eight of those penalties against New York called on defensive backs, several of which the Broncos challenged with the league's officiating department this week in their weekly review. Before the opener, Vasquez' last penalty had been a false-start penalty on a field-goal attempt Oct. 24, 2010, against the Patriots. The only other time Vasquez had been flagged in his career was for holding in Week 6 of his rookie season (2009), but the penalty was declined.
Safety Rahim Moore, who was flagged for unnecessary roughness for a sideline hit on Giants wide receiver Hakeem Nicks this past Sunday, was not fined for the play. Many of the Broncos players, because Moore had made first contact with Nicks with his shoulder, didn't believe the play even warranted a penalty.
Broncos defensive coordinator Jack Del Rio on whether or not a running quarterback like the Raiders' Terrelle Pryor keeps him up at night more than a traditional drop-back passer; "I don't like giving quarterbacks too much credit, but they all keep us up.''
Raiders guard Lucas Nix was limited in the team's practice Friday because of an ankle injury. If Nix cannot play Monday night, former University of Colorado offensive lineman Andre Gurode figures to get the start at left guard.
September, 20, 2013
9/20/13
4:55
PM ET

Oakland Raiders
linebacker
Kevin Burnett
returned to practice Friday and was a full participant after being limited the day before, and left guard
Lucas Nix
, who missed the previous two days of practice with an ankle injury, practiced on a limited basis.
The other three players on the Raiders' injury report -- tight end
David Ausberry
(shoulder), strong safety
Tyvon Branch
(ankle) and left tackle
Menelik Watson
(knee) -- did not participate.
Raiders coach Dennis Allen said after practice that
Brandian Ross
would likely start at strong safety in place of Branch on Monday night in Denver.
September, 19, 2013
9/19/13
3:16
PM ET
ALAMEDA, Calif. -- Left guard
Lucas Nix
(ankle) remained an observer at
Oakland Raiders
practice Thursday, and the other known injured players -- strong safety
Tyvon Branch
(right leg), left tackle
Menelik Watson
(right knee) and tight end
David Ausberry
(right shoulder) -- were not on the field.
Linebacker
Kevin Burnett
, though, left practice early, taking off his helmet and jersey as he walked off the field. Burnett paused, took a knee and then was joined by a team trainer as he made his way to the locker room.
The official injury report will be made available by the Raiders following practice.
September, 18, 2013
9/18/13
3:25
PM ET
ALAMEDA, Calif. --
Oakland Raiders
left guard
Lucas Nix
, who was pulled in the third quarter of Sunday's home-opening win against Jacksonville due to a combination of an ankle injury and ineffectiveness, was an observer during the media window at practice Wednesday.

Andre Gurode
replaced Nix in the game and figures to get the nod for Monday night's game at Denver if Nix is unable to go.
Place-kicker
Sebastian Janikowski
, who has been on the injury report with a right calf issue, was not seen on the practice field. Neither were strong safety
Tyvon Branch
(right leg), left tackle
Menelik Watson
(knee) nor tight end
David Ausberry
(shoulder).
The official injury report will be issued by the Raiders following practice.
UPDATE:
Raiders coach Dennis Allen, citing NFL policy, said he did not have to discuss injuries on Wednesdays when the team does not play until Monday. Thus, the team did not issue an official injury report Wednesday.
May, 28, 2013
5/28/13
7:27
PM ET
Reggie McKenzie's first draft pick in Oakland is facing some spring competition.

The Bay Area News Group reported that
Lucas Nix
was working ahead of
Tony Bergstrom
at left guard Tuesday at the Raiders' organized team activities (OTAs). Of course, it is early, and I'd expect both to compete through the summer at the spot previously occupied by
Cooper Carlisle
, who has since been released.
That said, it has to be a bit disappointing that Bergstrom, a third-round pick in 2012, is not taking the early lead. Nix was an undrafted free agent signing last year out of Pittsburgh.
The Raiders drafted Bergstrom as a fit for the zone-blocking scheme Oakland used on offense last season -- an unsuccessful approach the team has since scrapped in favor of a more traditional power-blocking scheme. In February, I asked McKenzie, who took over as general manager in 2012, if he was confident Bergstrom could be part of the future. He was firm in his belief that Bergstrom could indeed fit in the new scheme.
Bergstrom failed to make to a push for major playing time as a rookie. Now it appears he will have to fight Nix moving forward.
In another interesting Oakland OTA note, second-year player
Christo Bilukidi
and free-agent pickup
Vance Walker
were working with the first unit at defensive tackle. Bilukidi showed flashes as a rookie late in the season. Walker was a productive situational player in Atlanta.
As at many positions in Oakland, the Raiders want to see some players take the next step and grab a lead role at defensive tackle. While it is early, Bilukidi and Walker are getting the chance to show they deserve to start.
In other AFC West notes:
Peyton Manning
is
enjoying this offseason much more
than last, when he was recovering from four neck surgeries and adjusting to life in Denver.
Former No. 3 overall pick
Tyson Jackson
is impressing the
new Kansas City brass at defensive end
.
Some bookkeeping reminders: Oakland gets $8 million in salary-cap relief for the
Michael Huff
cut and San Diego gets $4.5 million relief after cutting
Jared Gaither
on Saturday. Both teams will primarily use the money to sign draft picks.