November, 14, 2014
Nov 14
3:30
PM ET
CHARLOTTE, N.C. -- Imagine every other time you went to hit the keys on your laptop somebody tapped you on the shoulder. Or every other time you went to drive a nail somebody knocked the hammer out of your hand. Or every other time you went to give a speech somebody turned on the fire alarm.
It would be distracting. It likely would prevent you from doing your job at maximum efficiency.
Throw in the pain of being slammed to the ground, and that's what a quarterback goes through when he's constantly being pressured. He begins looking for the rush before getting to his second and third reads. He leaves the pocket even before the pocket crumbles.
[+] Enlarge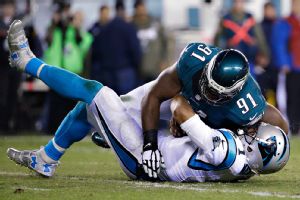 AP Photo/Matt RourkeCam Newton, who was sacked nine times in Philadelphia on Monday, has been sacked 30 times this season, second most in the NFL.
His head is on swivel. There is concern, sometimes fear, in his eyes.
"I've seen it,"
Carolina Panthers
defensive tackle
Colin Cole
said. "I've seen it plenty of times. ... The biggest thing you have when you get to a guy that many times, he starts to take his eyes from downfield to look at the rush."
Cole saw it in last season's finale against Atlanta, Sunday's opponent at Bank of America Stadium, when the Panthers sacked quarterback
Matt Ryan
nine times. He expects Carolina quarterback
Cam Newton
experienced that to some degree in Sunday's 45-21 loss at Philadelphia when he was sacked nine times.
"I can't really speak on Cam's situation, but I know in general when you're able to get after the quarterback like we were against [Atlanta] last year, more times than not they're going to be concerned with getting hit more than they are delivering that shot," Cole said.
"That's what we're hoping to bring to the field on Sunday, get him to stop looking down field for his big-time targets and look at us a little bit more and get after it."
Newton was criticized for not looking like himself against Philadelphia. There was speculation his surgically repaired left ankle -- as well as his right ankle -- were bothering him, even though Newton said that wasn't an issue.
Cole wouldn't expect his or any other quarterback to look like himself with the kind of pressure Newton was under Monday -- and has been all season.
Newton has been sacked 30 times, second in the NFL to San Francisco's
Colin Kaepernick
. Neither is having a particularly good season statistically. Newton ranks 26
th
in passer rating at 80.1. Kaepernick is 15
th
at 92.7.
To put that in perspective, Denver's
Peyton Manning
ranks second in passer rating at 112.0. He has been sacked nine times.
Pressure doesn't always correlate to statistics. Pittsburgh's Ben Roethlisberger has been sacked 25 times, and he ranks third at 107.3.
But the average number of sacks for the top 10 quarterbacks in passer rating is 15.8, almost half of what Newton has. The average number of sacks for quarterbacks 11-20 is 20.3.
Ryan, No. 11 in passer rating, has been sacked 18 times.
"It's tough," Ryan said as he recalled last season's game against Carolina. "Certainly the best way to stop a passing game is to get the quarterback on the ground.
"You've got to try as hard as you can to not let it affect the next play, and that is the mindset that I've tried to take into games that shake out like [last year's against Carolina]."
Ryan's numbers were surprisingly good for all the hits he took against the Panthers at the Georgia Dome. He completed 28 of 40 passes for 280 yards and two touchdowns. He was intercepted only once.
"If you're hitting a guy, and you have guys around him, bumping on him, it's going to make him uncomfortable," Carolina linebacker
Luke Kuechly
said. "It's human nature. One thing [Ryan] does well is he stands in there and throws the ball."
Newton tends to take off quicker because he's used to using his legs as a weapon. That often results in him holding onto the ball too long, which results in sacks he could avoid.
"What happens is sometimes they try to make plays, try to go beyond what they need to," Carolina coach Ron Rivera said of quarterbacks in general. "It's hard. It's difficult, especially when you're behind and put yourself in that position."
Kuechly has seen quarterbacks flustered. He's seen fear in their eyes. He hasn't seen fear in Newton's eyes.
"You watch, he gets hit a million times and then he gets right back up and he's right back out there," he said. "That's Cam. That's what he takes pride in, and that's why I like playing with him. He's tough. Mentally, he's very strong as far as that goes."
But at some point the hits have to impact Newton or any quarterback doing his job efficiently.
NFL SCOREBOARD
Thursday, 11/20
Sunday, 11/23
Monday, 11/24